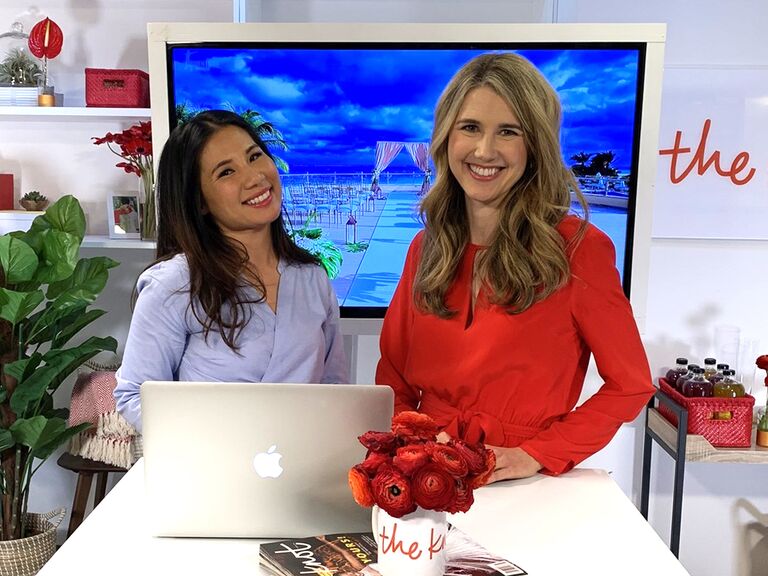 Whether you're dreaming of a full-on destination wedding, booking a bachelorette weekend, or deciding where to go on your honeymoon, travel is bound to be one of the things you're most excited to plan. That's why we devoted a portion of The Knot National Wedding Planning Day Live Plan-a-Thon to helping newly engaged couples figure out the logistics—including tips on where to go, when to plan, and how to budget for each of these events. Read on for the latest travel trends and planning advice from The Knot editors for each type of getaway, and watch the full travel segment below.

Bachelorette Party

While one-night bachelorette parties used to be the norm, extended weekend getaways are gaining popularity. Just keep in mind that if you decide to head to another city in the US or to an international locale, the costs can quickly add up for your wedding party. "Being a bridesmaid or a groomsman is one of those things that definitely is an honor, but it's also an expense," says Lauren Kay, The Knot deputy editor.
One way to keep the cost under control? Going to an all-inclusive like Breathless Resorts and Spas, which has locations in Mexico, Jamaica and the Dominican Republic. Unlimited luxury inclusions like gourmet dining and cocktails, 24-hour room and concierge service, and lively day and night entertainment mean you'll know up front exactly how much you'll be shelling out for your friend. "It's nice and transparent, and that's really helpful when you're in the wedding party," Kay says. "You can go and treat it like a vacation and enjoy yourselves, and not be worried about how much extra you're going to spend beyond the hotel and airfare." Breathless even offers a bachelorette party package, which comes with a group photo shoot, reserved table and bottle service for your big night out, spa treatments and more.
Destination Wedding
A wedding is a once-in-a-lifetime opportunity to gather all of your loved ones in one place. "And if you're able to plan an entire weekend to celebrate, you get quality time with each of your guests in a way that you don't if it's a one-day affair," Kay says. This is just one of the reasons why some couples are opting for wedding weekends, whether in the US (the most common type of wedding away, known as a "domestination wedding") or outside the country, aka a destination wedding. Last year, Riviera Maya and Cancun in Mexico and the Dominican Republic were the most popular destination wedding spots for The Knot couples. The gorgeous weather is definitely a draw, but so is the fact that they're easy locations to get to (think: nonstop flights from major US cities), notes Kay.
As you're picking a destination, be sure to keep your guests in mind. (For example, if your group is on the more adventurous side, consider a destination with excursions and ways to take in nature; if you're having kids attend, look for a resort with activities for all ages, like movies on the beach.) With resorts in these areas plus Costa Rica and Panama, Dreams Resorts and Spas are ideal places for a multigenerational celebration. Their wedding packages are customizable and family-friendly, and include an on-site wedding coordinator to ease planning from afar, which really goes a long way, says Esther Lee, The Knot senior news editor.
Honeymoon
No matter where you choose to hold your ceremony and reception, heading out of town with your new spouse is definitely something to look forward to after months of wedding planning. If a beach getaway with plenty of R&R sounds ideal, consider an all-inclusive honeymoon. "You don't have to worry about anything, just sitting back, relaxing and enjoying being pampered," Kay says. To find the right spot, keep your vacation style in mind and look for a location with the accommodations, activities and entertainment that stand out to you. Secrets Resorts and Spas has adults-only resorts across Mexico, Jamaica, Dominican Republic, Costa Rica and Spain that offer unlimited luxury honeymoon packages, including perks like breakfast in bed, massages, beachfront private dinners and more.
And remember, if costs are a concern, your guests can contribute to your honeymoon, Lee says. She suggests setting up a cash fund on The Knot Registry: "It's very easy, and we promise it's no longer taboo to ask for money instead of traditional gifts, because experiences are considered gifts now too." Wherever you decide to go, it's sure to be a romantic experience you'll look back on forever.
Watch the National Wedding Planning Day travel segment: 

The Knot partnered with AM Resorts to present Paradise Found, a sponsored series full of tips and ideas for planning all of your wedding-related travel plans, including bachelorette parties, destination weddings and honeymoons. Visit AMResorts.com to find the perfect location for every celebration.