What Cece and Schmidt's Wedding Registry Would've Included
Lifetime supply of lemons? Check.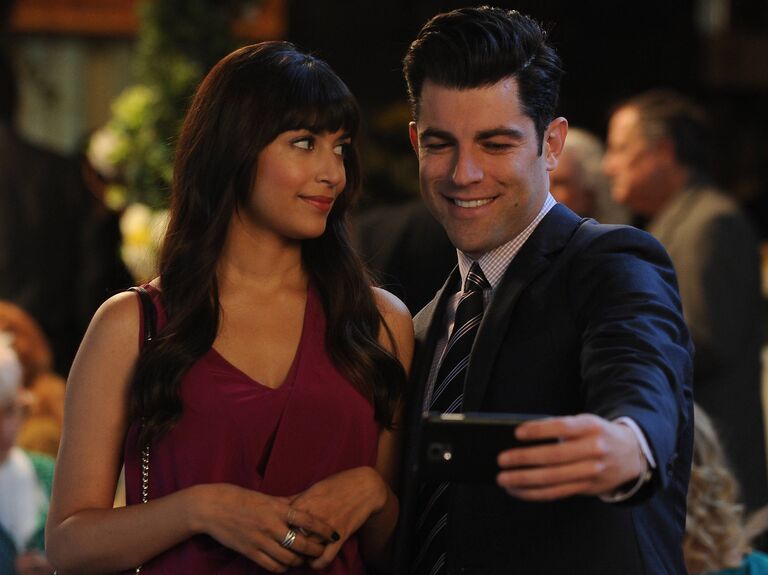 FOX / Contributor / Getty.com
We have included third party products to help you navigate and enjoy life's biggest moments. Purchases made through links on this page may earn us a commission.
We're always rooting for a good love story. Take Cece and Schmidt from New Girl, for example. The two start out as friends, but eventually fall in love with each other. After a sweet, sentimental proposal, viewers happily watched Cece and Schmidt plan their wedding. The series depicts the couple going through the planning process (including the ways they incorporate their respective cultural backgrounds into the ceremony). As creating a wedding registry is one of the most fun parts of planning a wedding, we thought of all the items the Schmidt's would register for.
From a sangria pitcher to a custom painting of a Lionfish to a lifetime supply of lemons, here are all the things Cece and Scmidt's wedding registry would include. If you're in need of wedding wishlist inspiration, consider adding a few of the items to your own registry.
Lifetime Supply of Lemons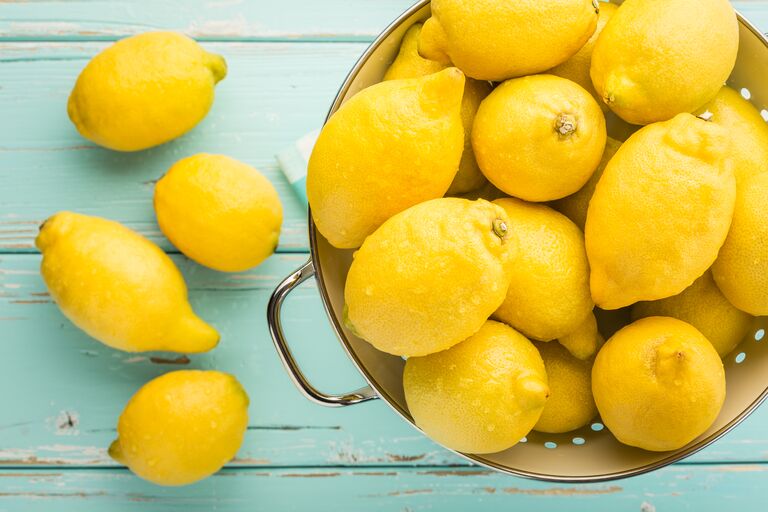 The crew of apartment 4D is known for their hilarious games and pranks. But Lemon Mouth is a favorite (the group even plays it while they're at a party at Prince's house). The game tests how long you can hold a lemon rind in your mouth. Schmidt, however, sets a new record when he eats the entire lemon rind. The couple will no doubt continue to play the silly game with their friends, so it makes sense they'd register for a lifetime supply of lemons with the help of The Knot Cash Fund.
Custom Painting of a Lionfish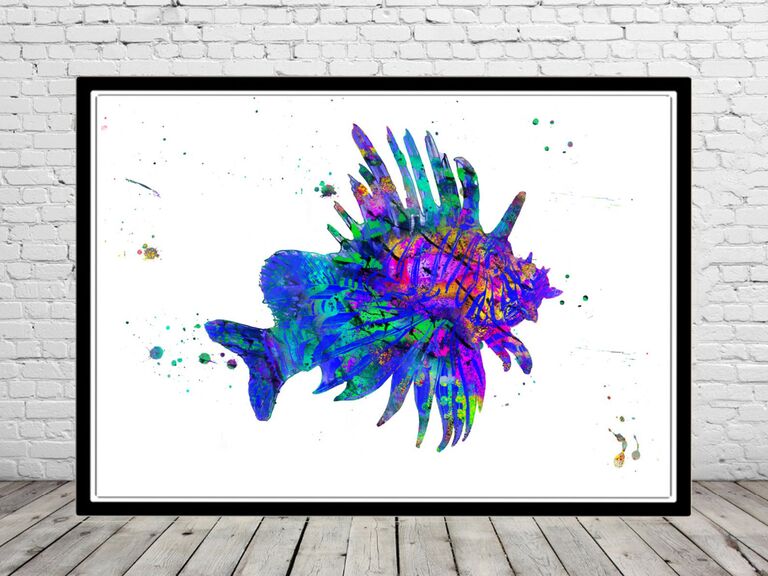 Midway through the comedy series, Cece gets engaged to Shivrang (after being on-and-off with Schmidt). Devastated, Schmidt becomes fixated on having a Lionfish—which turns out to be a metaphor for having Cece as his partner. Later, Schmidt finally realizes that he must let Cece go, so he sets the fish free. The couple would likely get a custom work of art to commemorate this important time in their relationship.
Rosali's Art Lionfish ocean art, from $10, Etsy.com
KitchenAid Stand Mixer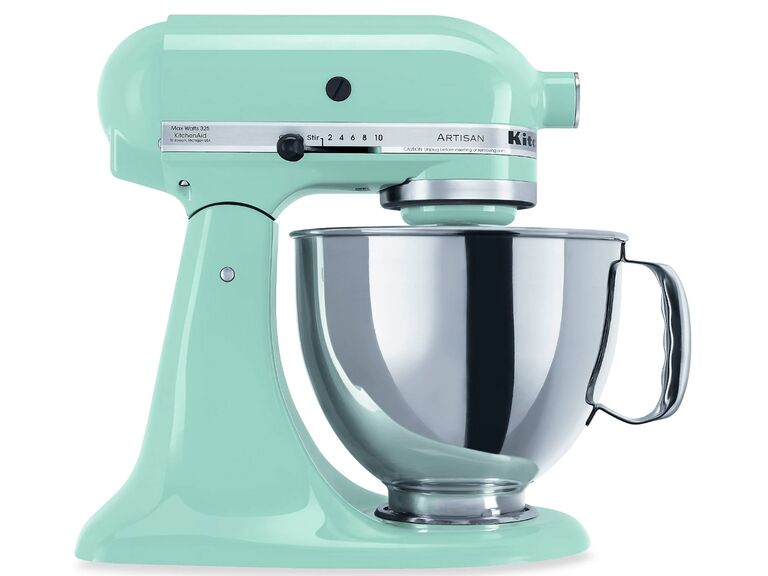 Schmidt is talented at cooking, and he has an aptitude for baking as well. When Cece and Coach go on a date, Schmidt tries to distract himself by baking a peach cobbler. To help with all of his baking endeavors, the pair could register for a top-notch appliance: the KitchenAid stand mixer. Psst: kitchen electrics like this mixer were the most popular registry items of 2019, according to Bed Bath & Beyond.
KitchenAid Artisan 5 qt. stand mixer in Aqua, $400, Kitchenaid.com
High-End Knife Set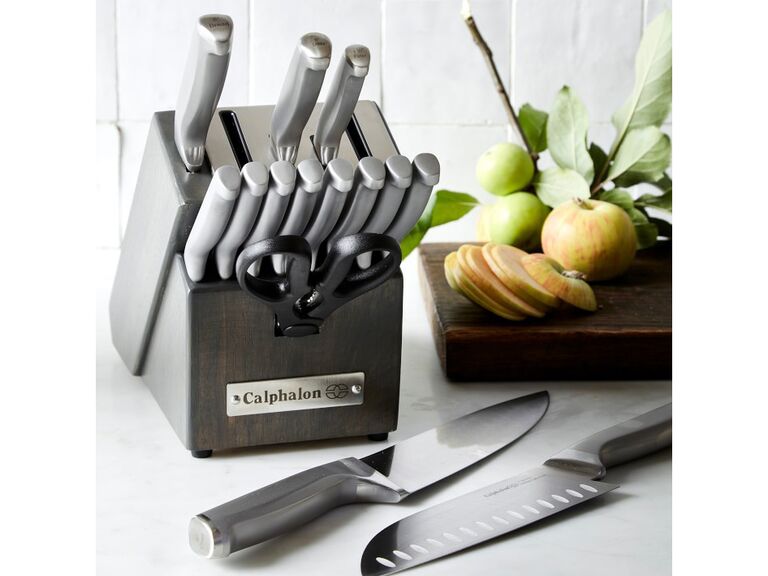 Schmidt loves to cook, so a great knife set is an absolute must. This 15-piece set can help him make anything, from homemade sushi to mashed potatoes. He can even use them to help out with Nick's signature "Sauce."
Calphalon classic sharpIN stainless steel 15-piece knife set in Grey, $220, Williams-Sonoma.com
Slim Hangers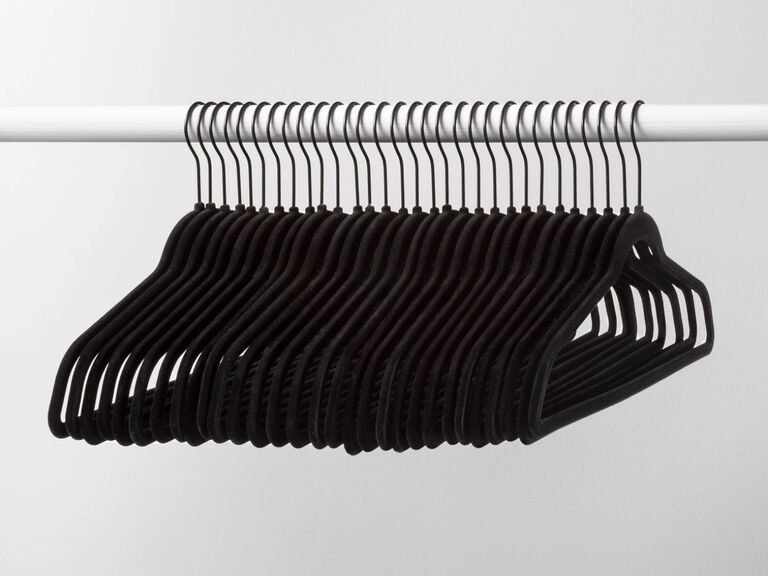 Given Cece's modeling profession, she's likely acquired heaps of clothing. To help keep the pair's home organized, we think the couple would ask for special slim hangers. They take up less room, so the couple can maximize the space in their closets. We think Cece and Scmidt would particularly love these no-slip ones, which prevent clothing from ending up on the floor.
Made by Design 30 pack non-slip velvet hanger in Black, $15, Target.com
Cash Fund
While they may have already registered to a lifetime supply of lemons, we think Cece and Schmidt would make even more use out of their cash fund. The couple could put it towards even more Bollywood dance lessons (like the ones Schmidt got to impress Cece's mom), a trip to the mountain Cece was climbing when she found out Schmidt loves her or more flaming baton classes so Schmidt doesn't cause a fire again.
Sangria Pitcher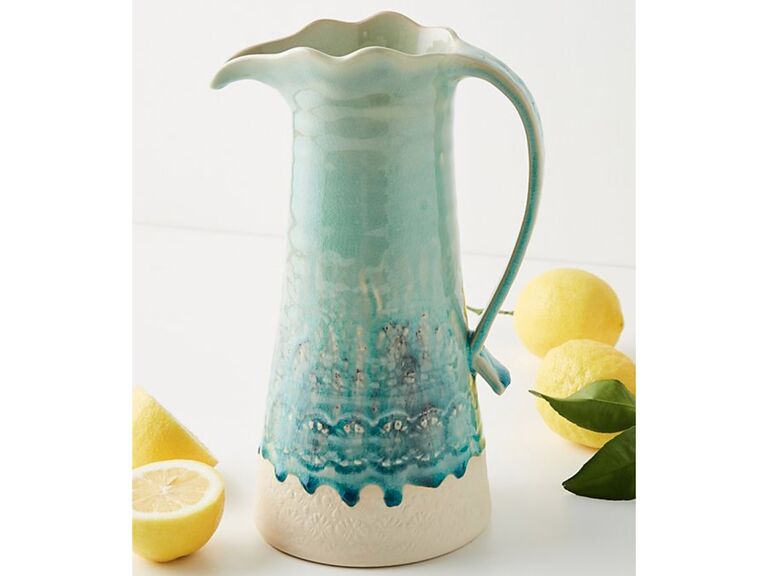 Schmidt's talents in the kitchen go beyond making food: he's known also for his signature sangria, which he memorably makes for Nick and Winston when they have a "guys night" in the apartment. To help him serve his speciality cocktail, the couple could use this gorgeous pitcher. Not only will it easily serve guests at parties, it's also beautiful enough to serve as decor for the table.
Anthropologie old Havana pitcher in Mint, $48, Anthropologie.com
Frame for Schmidt's Special Five-Dollar Bill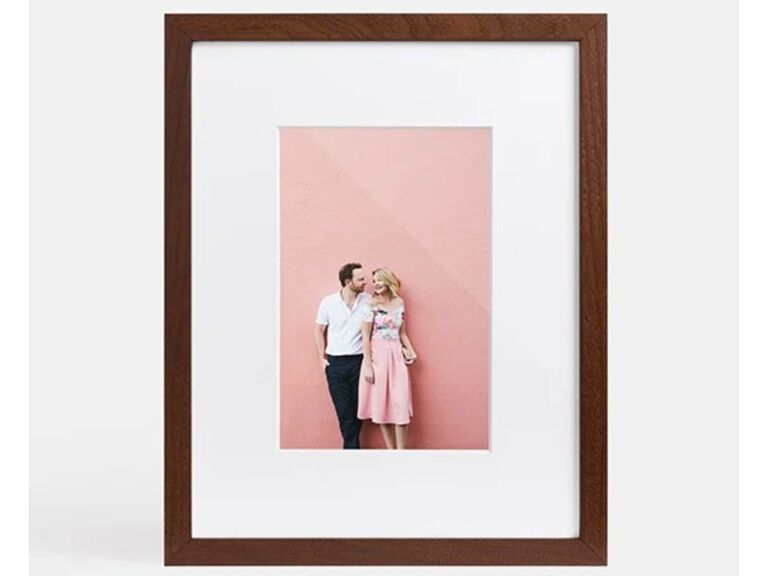 When Schmidt first meets Cece, he says, "Girl, I'm going to marry you." The statement is out of left field, so his friends require him to put money in a jar made for offhand comments (similar to a swear jar). He places a five-dollar bill in the jar after making the comment to Cece. Unbeknownst to Cece, Schmidt keeps the five-dollar bill with him over the years until he finally proposes to her. Because the memento carries so much history, the couple would likely ask for a frame so they can hang it in their new home.
Artifact Uprising gallery frame in Walnut, from $69, ArtifactUprising.com
Le Creuset Pan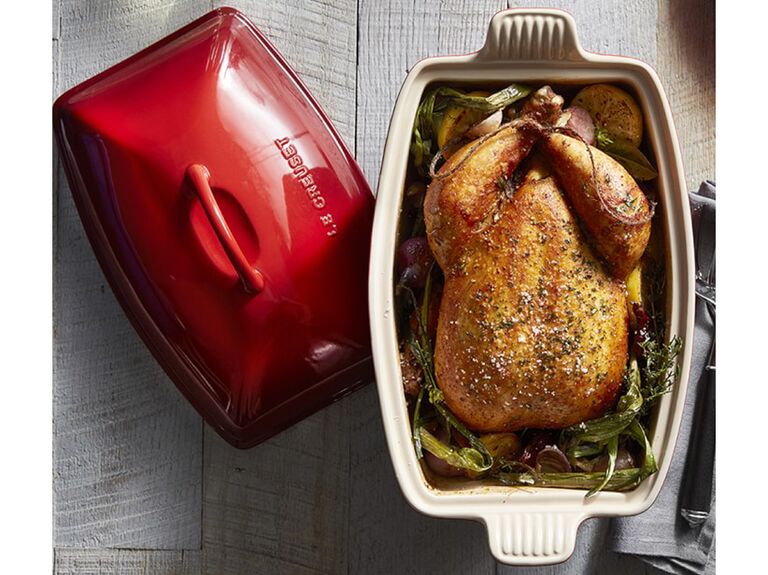 While Jess has made Thanksgiving for the loft before, Schmidt typically saves the day when plans go awry. Since he regularly contributes to Thanksgiving with his friends, he'll need the best cookware to help make it happen. With this tray, he can cook turkey for the whole gang (so they can skip using the laundry dryer). Plus, this dish is beautiful enough to double as a serving dish, eliminating extra dishes.
Le Creuset Heritage stoneware deep covered baker, $100, Williams-Sonoma.com
Bluetooth Speaker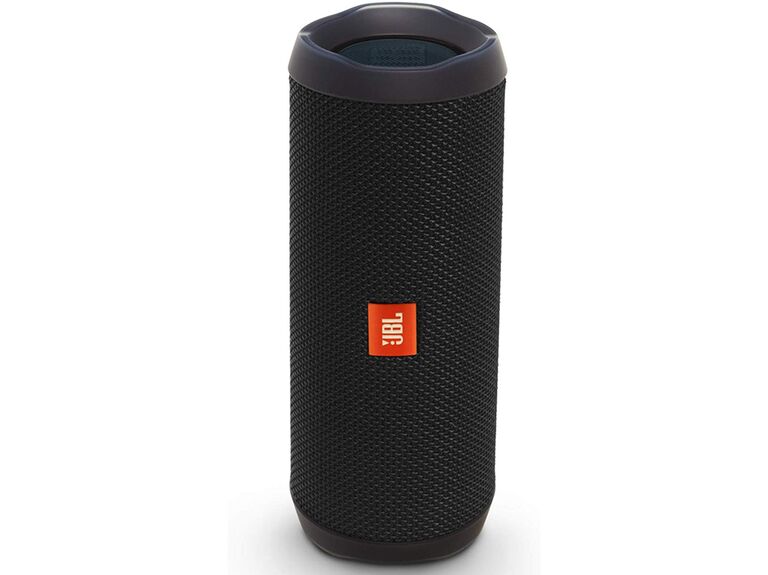 In the first season, viewers learn that Cece loves to dance after she's had a few drinks. When she crashes in the apartment after a night out, she starts a full-blown dance party with the guys. To keep the dance party going after their wedding, we think the couple would register for this bluetooth speaker. With it, they can listen to all of their favorite tunes, like Cotton-Eyed Joe.
JBL Flip 4 waterproof portable bluetooth speaker in Black, $75, Amazon.com
Standing Desk
After Schmidt and Cece get married, Cece starts her own modeling agency called "Cece's Boys." To help counter the effects of sitting down all day in her new home office, the couple could register for a standing desk.
Skarsta desk sit/stand in White, $269, Ikea.com
Coffee Maker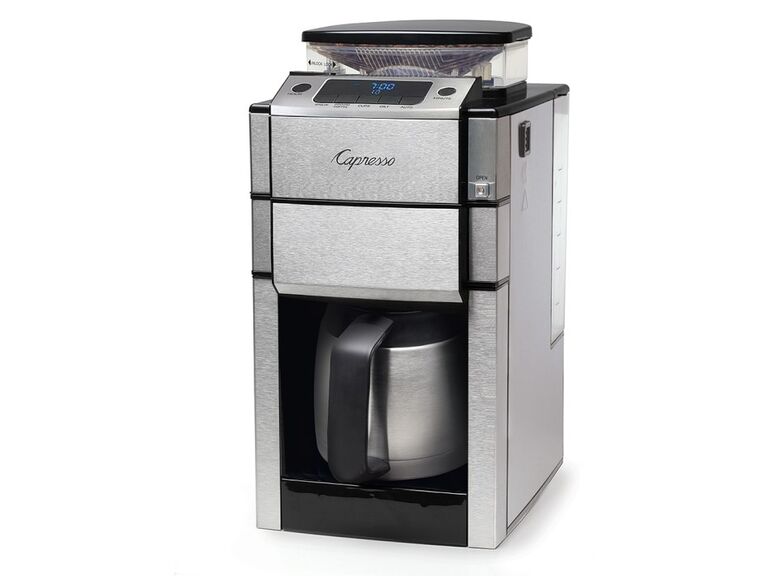 The day before Cece has to move out of her apartment, she gets nervous and procrastinates on packing. The next morning, Schmidt comes to her place early, makes her coffee and packs up everything for her. It's one of the sweetest moments of their relationship, as they both admit that marriage is scary. Schmidt calms Cece down by saying, "We'll be scared together. And we'll be really happy together too." To help them keep up the tradition of making each other coffee, they would likely register for a nice coffee maker.
Capresso coffee team pro coffee maker with thermal carafe, $260, Williams-Sonoma.com
Food Processor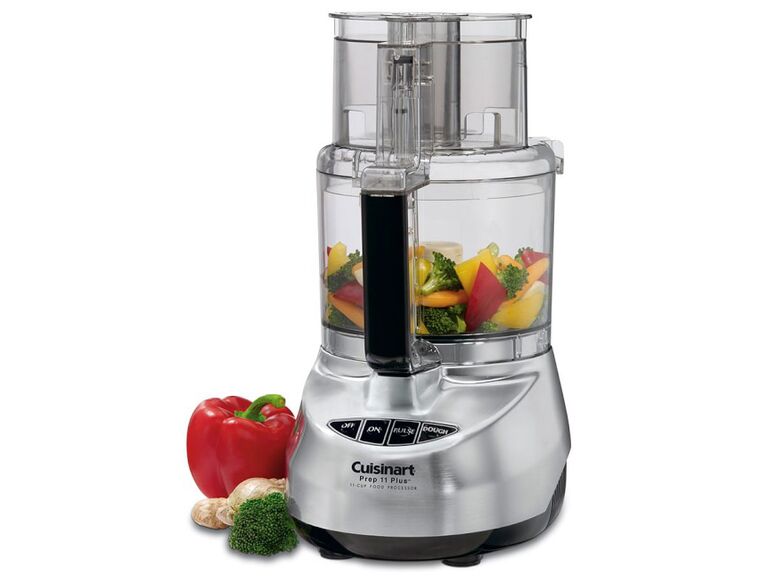 Cooking together can be a great activity for newly engaged or newly married couples, as it requires teamwork and communication. But Schmidt is very particular about people touching food, and he and Cece get into a fight about it early on in their friendship. To help the couple avoid any conflict in the kitchen, we think the couple could register for a food processor. That way, Cece can help prepare any vegetables without Schmidt worrying about germs.
Cuisinart prep 11 & 11-cup food processor stainless, $180, Williams-Sonoma.com
Bathroom Organizer
Schmidt is notorious for the amount of bathroom products he has in the loft (even Cece notices the first time she stays at the apartment). In order to ensure that there's enough room for all of his items, they'll appreciate this bathroom organizer. Not only will it hold Schmidt's products, it will also free up space for Cece's items as well.
Pottery Barn Ainsley over-the-toilet baskets, set of 3, $200, PotteryBarn.com
Dyson Vacuum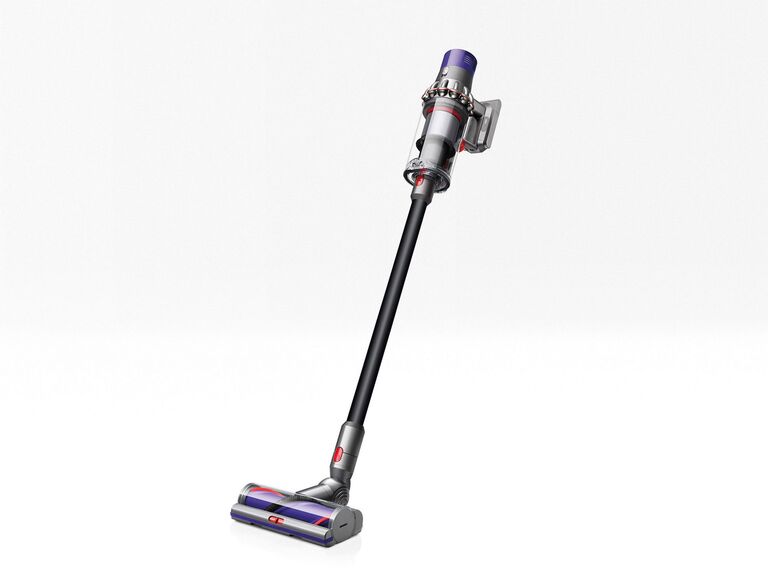 It's no secret tha Schmidt loves to clean (the loft nearly falls apart when he refuses to tidy up), so what better gift than this state-of-the-art vacuum? The cordless feature will help Cece and Schmidt easily clean up their brand new home.
Dyson Cyclone V10 Absolute, $600, Dyson.com
Bar Cart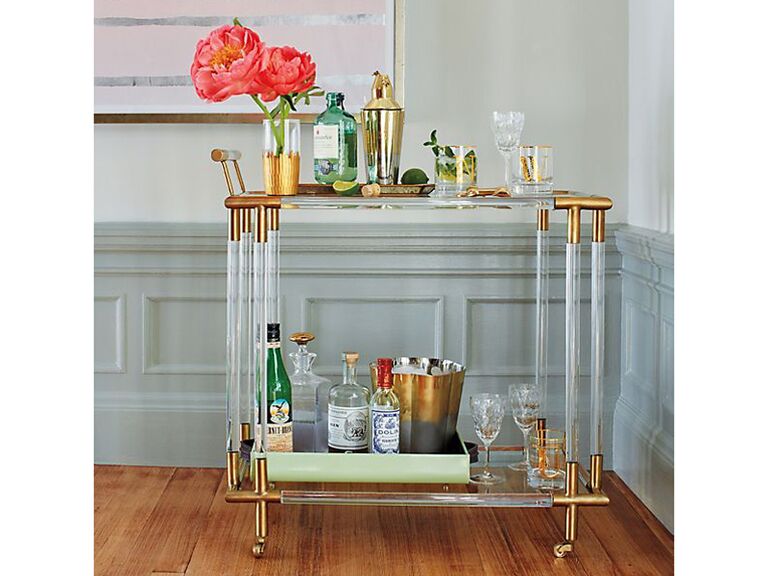 Cece worked in Schmidt and Nick's bar, which allowed her to become a professional bartender. She can continue to use that expertise in their new home with the help of this chic bar cart. It can hold all of their favorite wine and spirits—and it's pretty enough to double as decor for the room.
Oscarine Lucite bar cart in Brass, $698, Anthropologie.com
Glasses for Old Fashioneds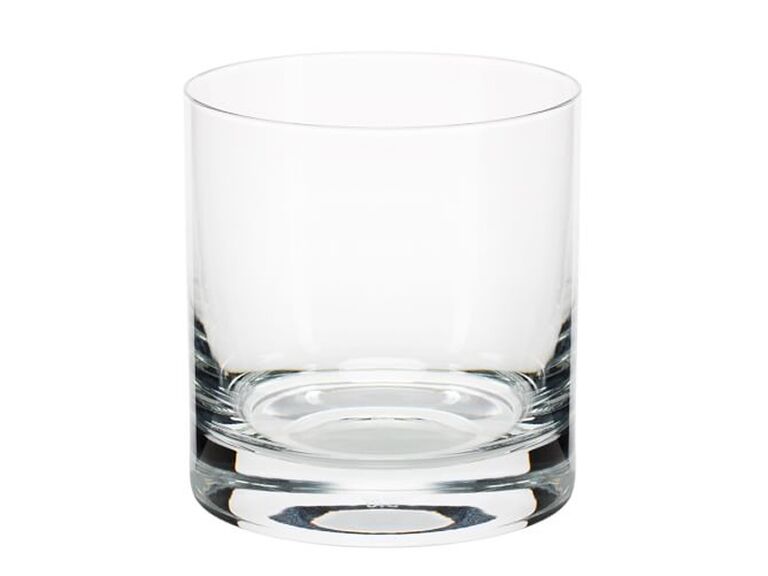 While Cece eventually became a bartending pro, she had a rocky start. She didn't know how to make drinks, and the other bartender at the time gave her a hard time for it. In one instance, the bartender told Cece she needed to make an old fashioned or she would lose her job. Luckily, Schmidt was there to tell her how to make the classic drink. To remember that meaningful moment in their relationship, we think the couple would register for a set of glasses made specifically for this whiskey cocktail.
Schott Zwiesel classic double old fashioned, set of 6, $60, PotteryBarn.com