Why It's Worth Sending a Wedding Invitation to Someone You Know Can't Come
Should you mail an invite to someone you already know is busy on your wedding day? Here's our take.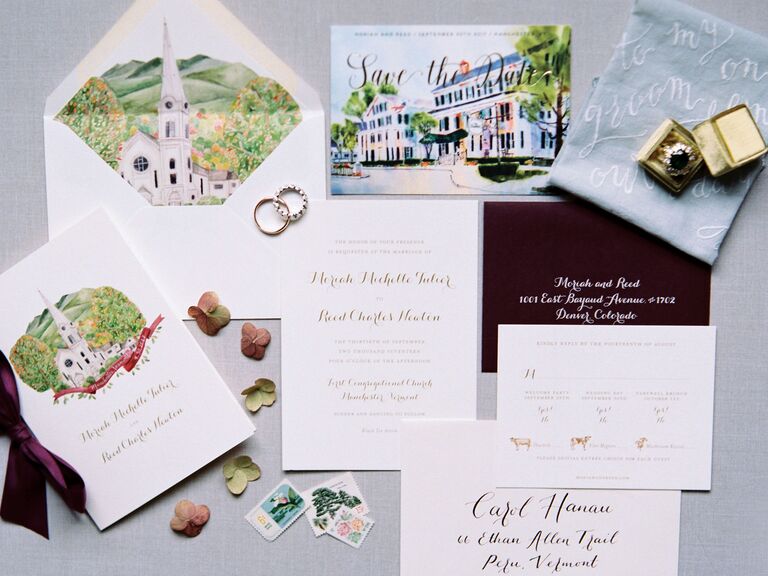 Ashley Sawtelle Photography LLC
One of the hard truths about choosing a wedding date is there's no such thing as an absolutely perfect date—as in, it's virtually impossible to find a day that's ideal for you two and convenient for everyone you plan to invite.
That's why, before you've even sent out invitations, it's possible you already know of a potential guest who can't make it. Maybe your chosen wedding date happens to coincide with your uncle's surgery, a friend's baby's due date or a cousin's girlfriend's sister's graduation—whatever the reason, it's always a bummer to learn someone won't be able to celebrate with you. Besides the bummer, it poses another invitation etiquette question: Do you still need to send an invite if you know they can't come?
We understand why you might be hesitant to "waste" an invitation on a guaranteed "no"—they're expensive, it could appear gift-grabby and it might seem unnecessary. In some cases, it's probably fine not to. Take the cousin's girlfriend scenario, for example. However serious they're relationship, you two might not be that close—so you're not offended she has to prioritize her sister's graduation and she won't take it to heart if you save a stamp and hold on her invite.
However, if the person is a dear friend or relative, here's why it's worth sending them an official invite.
1. It's a meaningful keepsake.
Sure, there's a chance they'll throw it away (hopefully not), but they might also tack it on their kitchen cork board as a sweet reminder of your upcoming wedding. Think of it this way: Your grandparents may be in no condition to travel across the country for your nuptials, but they'll absolutely want an invitation to hold onto and make feel like they're there with you.
2. It'll make them (and you) feel good.
Even though they won't be able to RSVP "yes" no matter how many you send, receiving an invite lets them know you're still thinking of them, had them in mind to celebrate with you from the start and will miss them. If you're so inclined, include a brief, handwritten insert saying you love them, will miss them, good luck with whatever they're busy with and that there's no need to mail back a response card. (You could even make an exception and leave out a response card from their envelope to avoid wasting more paper and causing confusion.)
3. It provides need-to-know gift info.
Worried it'll seem like you're begging for gifts? Don't be. First of all, guests aren't technically obligated to give a gift, so if anyone gets judgy about that, that's on them. Second, your loved ones want to buy you a wedding gift—and they're probably planning to regardless of whether or not they can come. And though gift-giving isn't strictly required, most people give at least a little token of congratulations, even if (sometimes especially if) they can't attend. Long story short, they'll be happy to have your registry and wedding website info for reference. (Psst—put website and gift information on a separate insert inside your invitation suite, instead of right on the official invite.)