Everything You Need to Know About Getting Married in South Dakota
Look to The Knot for local details about getting married in South Dakota, from choosing your wedding venue to getting your marriage license.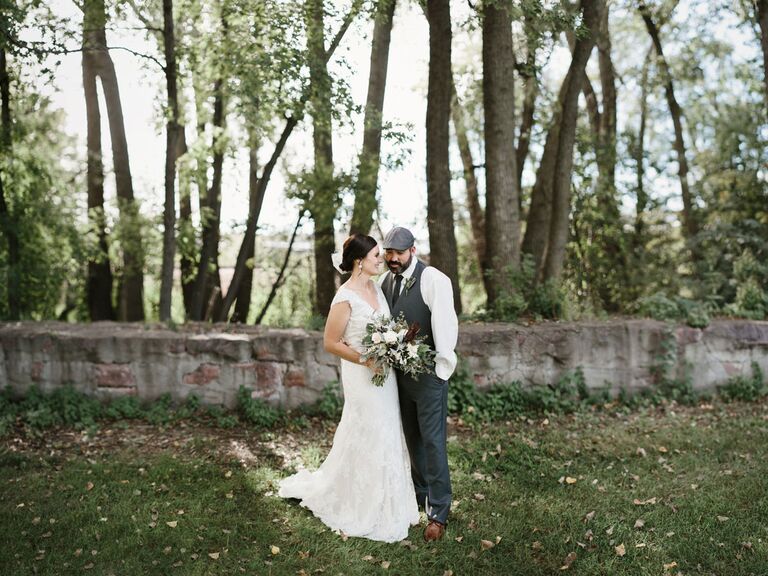 Michael Liedtke
Ultimate Guide to Getting Married in South Dakota
Famous for its many natural wonders and friendly folks, South Dakota lives up to its state slogan, "Great faces. Great places." This Midwest state's diverse landscapes include miles of open prairies, farmland and lakes in the east, while the impressive peaks of the Black Hills soar into western skies. Thanks to the state's abundant natural beauty, finding stunning wedding venues in South Dakota won't be hard for you—but choosing just one might be!
Getting married in The Mount Rushmore State gives you the chance to create a truly one-of-a-kind experience. Wedding venues in South Dakota are just as varied as the state's stunning scenery and include everything from classic event halls to modern barns with rustic touches. You can even set a romantic scene in one of the state's butterfly gardens. In addition to practical information, like how to get your South Dakota marriage license and average wedding costs, this guide also includes details about national parks, museums and other fun attractions that make your wedding weekend a memorable one for you and your guests.
Top Wedding Trends in South Dakota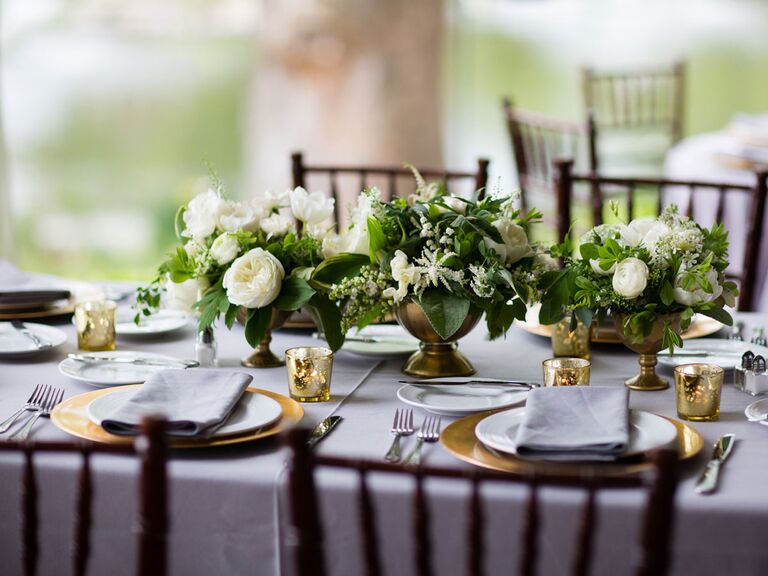 The weather in South Dakota can stay cool until May, which is why many couples opt for indoor weddings throughout much of the year. According to The Knot 2015 Real Wedding Study, 60 percent of wedding ceremonies take place indoors, making banquet halls and religious institutions popular choices for wedding venues in South Dakota. Seventy-two percent of couples have a semi-formal or formal/black tie wedding, while 26 percent choose a more casual affair. So, despite the state's laid-back ambiance, lots of couples like to juxtapose the classic with the casual.
For outdoor weddings, couples often choose farms, resorts and country clubs to take advantage of South Dakota's scenic backdrops. While a rustic theme with worn wood, burlap and delicate lace details is popular here, couples freely incorporate their own creative spins, like adding a nautical theme as a nod to Lewis and Clark's famous midwest expedition.
There are many ways for South Dakota couples to personalize their wedding experience, but tried-and-true traditions also have their place. For example, polka music is a staple at many Midwest weddings. Ideal for dancing, polka's lively tunes get even the most reserved guests off their feet and celebrating like pros. And you'll have the photos to prove it.
South Dakota Marriage Rates and Wedding Costs
Planning a wedding can be a lot of fun, but affording it is another story entirely. No matter which type of wedding venue you choose or what type of theme fits your personalities, make sure you've created a budget and that you're sticking with it. The Knot Budgeter can help keep you on track! But before you take that important step, here's a little background info on how many couples are tying the knot in South Dakota, plus what you can expect to pay

South Dakota Marriage Rates
So how many couples are actually getting married in South Dakota? Turns out that marriage rates in South Dakota are just above average with 7.1 per 1,000 people getting married each year. As for wedding costs, The Knot's 2015 Real Weddings Study reports that South Dakota couples on average spend about $14,000 on their wedding, not including engagement rings or honeymoon costs, which is well below the national average.
Budget Breakdown: Average Costs for South Dakota Weddings
Getting a sense of what you'll pay for your wedding day expenses will make it easier to budget and negotiate with vendors. Above you'll find average costs for some of the more common wedding categories.
Top Cities in South Dakota to Tie the Knot
From the Badlands to Mount Rushmore to the Black Hills, South Dakota is brimming with beautiful places to get married. But it's the state's two largest cities, Sioux Falls in the southeast and Rapid City in the west, that stand out as top places to get married because of their exceptional wedding venues and surrounding activities and attractions:
Make It Legal
While you're having tons of fun planning your wedding, don't forget to take care of business. The outline below tells you everything you need to know about getting your marriage license in South Dakota, the required event permits and how to change your name(s). Nobody likes paperwork, but it's all pretty simple if you follow a few steps.
Getting Your South Dakota Marriage License: The Basics
You'll get your South Dakota marriage license from a Register of Deeds Office in the county where you live or the county where you're getting married. Find yours in this complete list of Register of Deeds Offices in South Dakota to determine where you need to submit your paperwork.
For those getting married during the Sturgis Motorcycle Rally, area Register of Deeds Offices include:
Sturgis: 1300 Sherman St., Ste 138 - (605) 347-2356
Rapid City: 315 St. Joseph St. - (605) 394-2177
Deadwood: 90 Sherman St. - (605) 578-3930
Custer: 420 Mount Rushmore Rd. - (605) 673-8109
Hot Springs: 906 N. River - (605) 745-5139
Belle Fourche: 839 5th Ave. - (605) 892-2912
To get your marriage license, you'll need to do the following:

Complete the Marriage License Application Worksheet.
Pay $40. Note: Some offices accept only cash and traveler's checks, so call ahead to make sure you come prepared with the right form of payment.
Identification is required—either a driver's license or a certified copy of a birth certificate. Keep in mind that couples ages 16 and 17 must have parental consent, and parents need to fill out a notarized form authorizing the license. South Dakota law does not permit marriage of those under 16.
While there is no waiting period to get your license, the marriage must be solemnized within 20 days from the purchase of your license or the license becomes void.
Once you are married, your officiant must return the license to the Register of Deeds within 10 days. If not, there will be no record of your marriage.
Your marriage may be solemnized by a justice of the supreme court, a judge of the circuit court, a magistrate or any person authorized by a church to solemnize marriages.
Get one or two official copies of your certificate, as you will need to provide it when changing your name and for other legal reasons. These are usually an additional cost, but that may depend on the Register of Deeds Office you visit, so bring extra cash.
And there's one really important step: When choosing an officiant, confirm he or she is legally authorized to solemnize marriages in South Dakota. You may also be able to get a list of officiants from the Register of Deeds Office in your county.
Permits & Other Legal Requirements for South Dakota Wedding Venues
Each wedding venue in South Dakota may have its own requirements for additional permits, so review this with your venue before signing a contract. Many outdoor spaces, especially public parks, require specific permits for tents, alcohol consumption and amplified music. There may also be sound ordinances or other rules you need to follow if you're having your wedding in a public space. For example, the famous waterfalls at Falls Park in Sioux Falls make it a popular choice for outdoor weddings, but if you want to host your reception here, you can't serve beverages in glass containers but you can set up an inflatable bounce house for younger guests if you procure the right permit from the Park Office. Visit the City of Sioux Falls' website to learn more about specific event rules and restrictions for all parks throughout the state.
On the other side of the state, national parks near Rapid City like Mount Rushmore and Black Hills National Forest are also stunning spots for wedding ceremonies in South Dakota. You must apply for a permit to use specific areas and adhere to other regulations, like getting an additional permit for photography or film and paying additional fees for park rangers who must be on duty during the event.
How to Change Your Name in South Dakota
If you decide to change your name after the wedding, the process in South Dakota is pretty straightforward. Check out HitchSwitch professional name change service or follow The Knot's simple guide to changing your name. If you decide to do it yourself, the first step is to get a new Social Security card with your new surname. Submit the following documents to your Social Security Office either in person or by mail:
An original or a certified copy of your marriage certificate
Driver's license or passport
U.S. birth certificate or U.S. citizenship certificate
Once you get your new Social Security card, you can then get your new driver's license. You'll need to provide several documents, such as a utility bill or other proof of residence, your marriage certificate and your Social Security card, and pay a fee for your new license. All of those specific details can be found on South Dakota's Department of Public Safety website.
It's All About Timing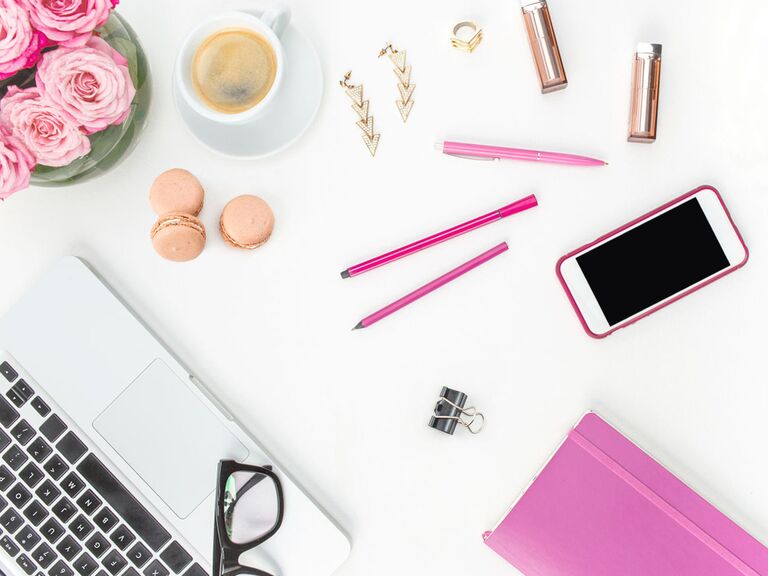 With South Dakota's cool temperatures in the winter and spring, June, July and August are the most popular months for weddings. According to The Knot 2015 Real Weddings Survey, 49 percent of South Dakota couples marry in the summer. The warm but mild weather of summer stretches into fall, and 35 percent of couples choose to exchange vows in September, October and November.
The Four Seasons in South Dakota
If you're planning a winter wonderland theme for your wedding, December, January and February are the best months to marry in South Dakota. However, you may also be in for ice storms, below-freezing temps and blizzards, which is probably why only 2 percent of South Dakota couples choose to brave the winter weather for their nuptials. These conditions also make it much more difficult for your guests to travel, so keep that in mind if you're planning to invite out-of-towners.
While summer daytime temps average in the 80s, evenings cool down to the mid-50s or 60s—ideal for those getting down on the dance floor at an outdoor reception. As seasons change and the fall foliage emerges, brilliant reds and yellows light up South Dakota's landscapes. On average, temps stay comfortably in the 60s and 70s during the day, but evenings dip down into to the 30s and 40s in autumn. The fall colors make outdoor ceremonies even more gorgeous, and many wedding venues have indoor reception spaces so guests can comfortably continue the party inside as the sun goes down.
South Dakota Wedding Dates to Avoid
Before making your wedding date official, check to see if your date falls on any other holidays or major events in your area of South Dakota. Depending on what else is going on, venue rentals and accommodations for guests might be more expensive, and traffic and parking may also be impacted. Use our 2016-18 comprehensive guide to learn more about significant dates to avoid. Should your wedding happen to coincide with other events, your wedding planner and/or venue should be able to help you work around any inconveniences that may arise.
You'll also want to note these major annual events in South Dakota, as they can present extra road congestion and make it nearly impossible for your guests to find lodging:
Black Hills Stock Show & Rodeo, Rapid City (late January/early February)
Mount Rushmore Independence Day Celebration, Mount Rushmore (July 3-4)
JazzFest, Sioux Falls (mid-July)
Corn Palace Stampede Rodeo, Mitchell (mid-July)
Days of 76, Deadwood (late July)
Sturgis Motorcycle Rally, Sturgis (early August)
Yankton Riverboat Days & Summer Arts Festival, Yankton (mid-August)
Buffalo Roundup & Arts Festival, Custer (late September to early October)
Black Hills Pow Wow, Rapid City (October)
Great Guest Experiences
Helping your guests feel comfortable and welcome is one of the key ingredients to wedding success. Some may not be familiar with the area, so in addition to providing vital information like directions and a schedule of events, give guests plenty of recommendations for restaurants, things to do, places to shop and stay and area attractions. The Knot makes it easy to create your own free wedding website so your guests can easily access all sorts of important info surrounding your wedding.
Finding Your Way: South Dakota Travel Info
While the Missouri River runs right through the middle of South Dakota, there are plenty of ways to get around in the state. There are 17 airports in South Dakota, with the five major ones spread out throughout the state:
Sioux Falls Regional Airport (Joe Foss Field) (Sioux Falls)
Rapid City Regional Airport (Rapid City)
Pierre Regional Airport (Pierre)
Huron Regional Airport (Huron)
Aberdeen Regional Airport (Aberdeen)
Keep in mind there are no international airports in South Dakota, so guests abroad will need to fly into a gateway airport serving South Dakota. The two closest gateway airports are the Minneapolis-St. Paul International Airport and Chicago O'Hare International Airport.
As for driving, South Dakota has two major interstates that serve all major cities. I-90 runs east and west, and I-29 runs north to south in the eastern part of the state.
Around Town: What to Do and See in South Dakota
With South Dakota's rich frontier history and many notable attractions, there is plenty to do year-round throughout The Mount Rushmore State. Thanks to the national and state parks, memorials and caverns, outdoor recreation is a popular pastime of South Dakotans and visitors alike. Adventure tours, museums, casinos and zoos offer lots of fun wedding weekend activities.
Some top attractions include:
Mount Rushmore
Badlands National Park
Crazy Horse Memorial
Historic Deadwood
Jewel Cave
Falls Park
Great Plains Zoo
Black Hills Adventure Tours
Geographic Center of the Nation Monument
Corn Palace
Go Local: Food & Favors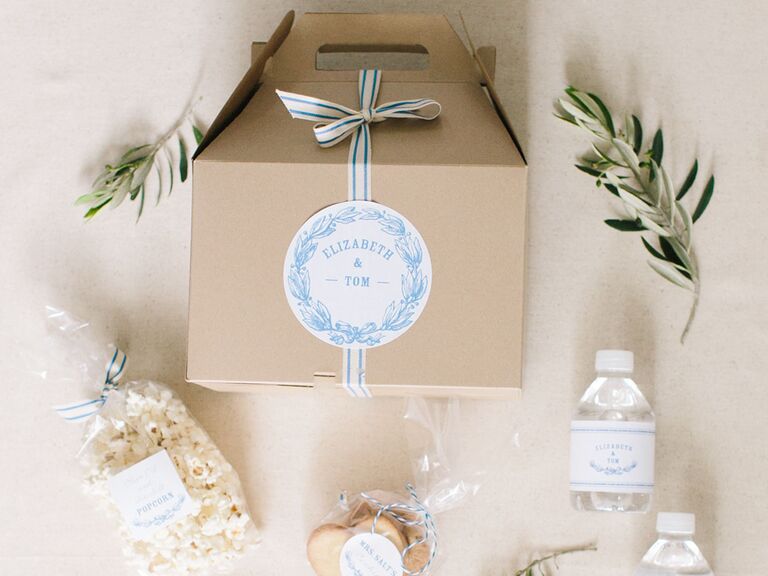 Every couple is unique, and so is every wedding. While your wedding will highlight your tastes, interests and maybe even a few inside jokes between you and your significant other, remember to add some local flair by incorporating elements of South Dakota culture that guests might not get anywhere else—it'd be a shame not to take advantage of all the regional delights the state has to offer.
South Dakota: Unique Regional Foods for Your Wedding
South Dakota had many Scandinavian and European settlers, and several traditional dishes have a German influence. It's common to see Chislic, which is cubed red meat (lamb, venison or other game) that's been marinated and deep-fried, on menus in South Dakota, but not anywhere else. This dish certainly makes for an original and authentic appetizer.
In keeping with their Native American heritage, many local restaurants also offer a couple state staples: bison burgers and steaks. Kuchen (the German word for "cake") is the official dessert of South Dakota and comes in many varieties and fruit flavors. Like mini cupcakes, bite-size kuchen make a unique addition to your traditional wedding cake.
Do Your Guests a Favor: South Dakota-Inspired Take Home Treats
Whether South Dakota makes you think of Mount Rushmore, the Wild West or Sioux Falls, there are many ways to give your guests a little piece of the state to take home. Here are a few fun, region-themed ideas:
While South Dakota doesn't have a famous sports team, it does have the famous motorcycle rally, Sturgis. Sturgis is also home to Sturgis Jerky, a tasty local treat that makes a unique and hearty wedding favor.
Cookie cutters, cookies or anything else non-cookie-related in the shape of a buffalo is a definite must-have.
Because South Dakota's state insect is the honey bee, a small jar of local honey fits the bill for such a sweet day.
A candy bar, filled with local favorites like Railroad Bill's Cashew Crunch and Rushmore Mountain Taffy, can be enjoyed both during and after the celebration.
Check out The Knot Shop for other personalized favors.
South Dakota City Guides
South Dakota has many beautiful places to get married, from the waterfalls on the east side of the state to the national monuments and forests in the west. But there are two cities that stand out for their variety of wedding venues, things to do and rich history: Sioux Falls and Rapid City.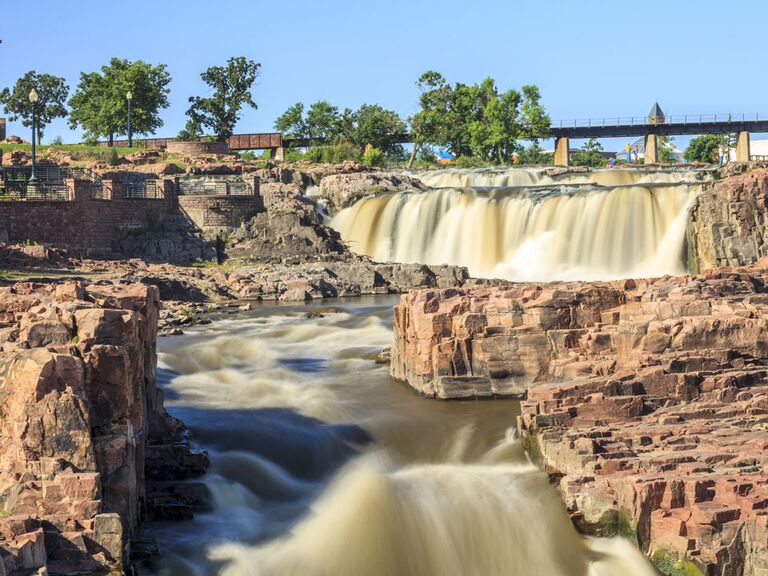 Sioux Falls, dubbed The Heart of America for bordering both Iowa and Minnesota, is named for the Sioux Tribe of American Indians and the waterfalls of the Big Sioux River located just a few blocks from today's downtown district. From Falls Park and the Butterfly House & Marine Cove to the many museums, wineries and theatres, South Dakota couples have plenty of options for charming indoor and outdoor Sioux Falls wedding venues.
As South Dakota's largest city, you'll also have your pick of vendors for wedding photographers in Sioux Falls, florists, music and everything else you need for your event. Here's a list to get you started: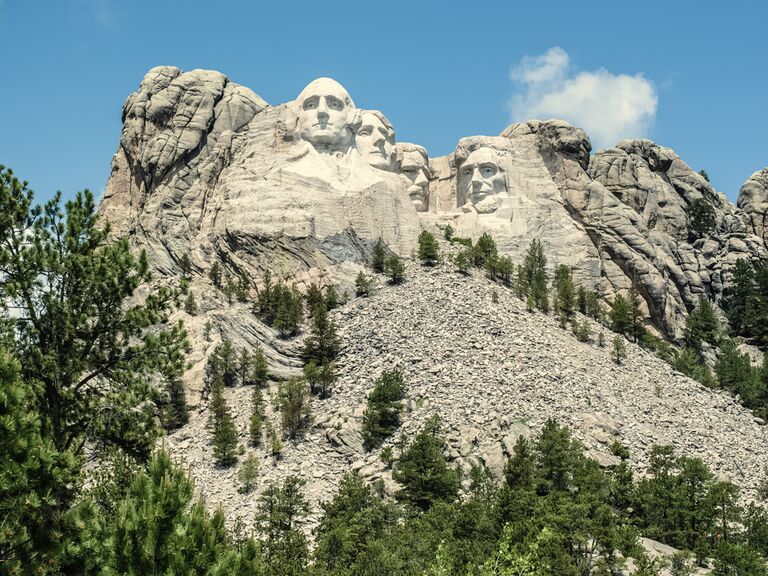 Rapid City is home to Mount Rushmore and a whole lot more. South Dakota's second-largest city is located on the western side of the state near the Black Hills National Forest and the famous cities of Deadwood and Sturgis. The rodeo, motorcycles, Native American heritage and museums are just a few of Rapid City's trademark characteristics. It also has a thriving arts scene with a surprising number of galleries, theatres and public sculptures for a city of its size. From the Wild West to gold mining to the beauty of the Black Hills, couples can draw on Rapid City's history and vibrant attractions to create a unique wedding theme. Your selection of Rapid City wedding venues includes event halls, resorts, vineyards, gardens, museums and much more.
Check out this list of Rapid City vendors to streamline your planning:
Check out more South Dakota wedding inspiration here.
Don't forget to download The Knot Wedding Planner app—it's a must-have for on-the-go planning.
Download for iOS: Wedding Planner App by The Knot
Download for Android: The Knot Wedding Planner