How to Get Legally Married in South Dakota and Plan Your SD Wedding
Everything you need to know about planning a South Dakota wedding, explained.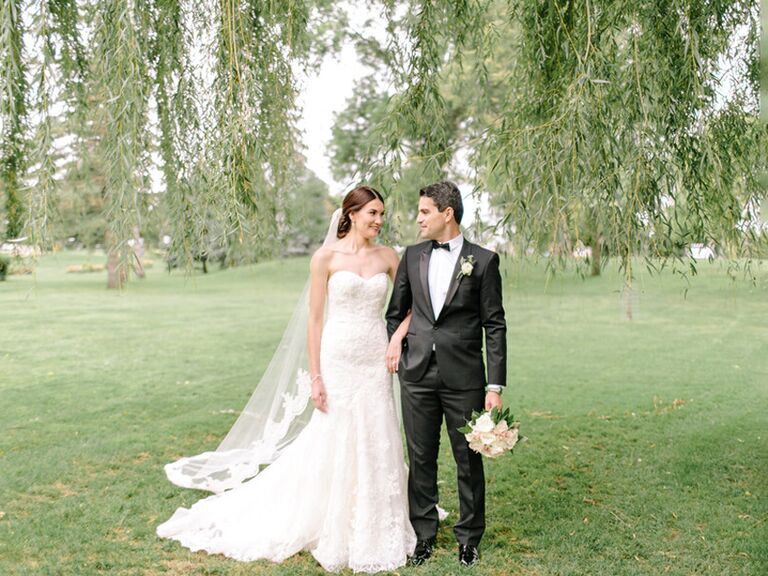 Mackenzie Orth Photography
From the expansive Badlands National Park to the greenery- and park-filled city of Sioux Falls, South Dakota is home to an abundance of natural beauty and tranquility. Surprisingly, despite its midwestern location, the state also boasts more miles of shoreline than the entire state of Florida. (Waterfront wedding, anyone?)
What's more, there's no doubt that South Dakota offers a postcard-worthy backdrop for your nuptials, regardless of where you choose to say "I do." But, before you walk down the aisle, you'll need to navigate the process of getting a marriage license, which can certainly feel overwhelming between the paperwork, logistics and application process itself. Fortunately, obtaining your marriage license in South Dakota is fairly simple, as is changing your surname.
Read on for more need-to-know info when it comes to getting married in South Dakota, including information on how to obtain a marriage certificate, wedding planning tips (for example, secure your wedding vendors, stat!) and much more.
How to Get Married In South Dakota
When it comes to planning your South Dakota wedding, be mindful of key details and logistics. However, we're here to help. Everything you need to know about getting married in South Dakota—including FAQs, logistics and legal requirements—are listed below.
Is there a waiting period to get married in South Dakota?
Good news: There is no waiting period required to get married in South Dakota. However, your marriage license expires after 90 days of receiving it, which means you'll need to get married within that time frame.
What are the legal requirements to get married in South Dakota?
In order to get legally married in South Dakota, both parties must be present at the Register of Deeds Office. Be sure to bring a photo ID (think: driver's license, passport or Social Security Card) or a certified copy of a birth certificate. You'll also need to provide your Social Security Number.
What's considered a common law marriage in South Dakota?
To be considered legally married in the state of South Dakota, you must obtain your marriage license. According to South Dakota law, couples who live together and/or change their surnames without a marriage license are not considered to be legally married. In other words, these individuals are not part of a common law marriage.
South Dakota Marriage License 101
Obtaining your South Dakota marriage license may seem like a daunting process. However, don't fret: Below, you'll find answers to the most frequently asked questions about getting a marriage certificate in South Dakota.
What do you need to get a marriage license in South Dakota?
To receive your South Dakota marriage license, both you and your significant other must be present. Identification is required for both of you, though blood tests are not. While you don't need to bring your Social Security Cards, you will have to provide Social Security Numbers.
Meanwhile, if you have been previously married, you'll have to provide a copy of your marriage records. It's also worth noting that those under 18 years of age (the minimum age to get married in South Dakota is 16) must provide written parental consent, along with the consent of a judge.
What does a South Dakota marriage license cost?
A South Dakota marriage license clocks in at a cool $40.
How Long Does It Take to Get A Marriage License in South Dakota?
Since South Dakota does not require a waiting period after obtaining your marriage license, you can say "I do" in any South Dakota county immediately after receiving your marriage certificate. Also, keep in mind that the state of South Dakota requires you to host a marriage ceremony within 90 days upon the issuance of the marriage license. Otherwise, the license becomes invalid.
Can you apply for a marriage license online in South Dakota?
Applying for a South Dakota marriage license online is easier than ever. Simply download, print and fill out this marriage license application worksheet.
How do you get a copy of your South Dakota marriage license?
To retrieve a copy of your South Dakota marriage license, you'll need to go through the state's Department of Health Office of Vital Records. Fortunately, the process is easy and (essentially) effortless: Opt to do it in-person, online, over the phone (the phone number is 605-773-4961) or via mail. Payments can be made with cash, a check, a money order, a credit card or a debit card.
How To Plan A South Dakota Wedding
Wedding planning can be stressful, which is why we've compiled some expert tips and insight. Keep scrolling for everything you need to know in order to plan your South Dakota wedding, ensuring it all goes off without a hitch.
The Different Cities And Areas to Consider For A South Dakota Wedding
Whether you prefer a rustic barn wedding, a spectacular waterfront affair or an elegant city soiree, South Dakota offers it all. The state's varied landscapes include rolling fields and farmland, iconic peaks (think The Black Hills and Badlands National Park) and seemingly endless miles of shoreline. Plus, you can't forget Rapid City (known as the gateway to Badlands National Park) or scenic Sioux Falls, with its charming small-town-like vibe.
What To Look For In A South Dakota Wedding Venue
The options are truly limitless when it comes to picking a wedding venue in South Dakota. For example, are you going for a rustic barn vibe (think: prairie fields and rolling farmland as far as the eye can see)? Or, do you prefer a lakeside venue overlooking the water? Meanwhile, in Sioux Falls or Rapid City, you can exchange vows at a museum, farm or brewery. To narrow down your options, you'll need to decide what type of wedding you want and envision.
How To Find South Dakota Vendors
Many South Dakota wedding vendors will cater to you and your future spouse by incorporating your requests into their services—while also working in familial and/or regional traditions (i.e., cheery polka music)—without blowing your budget.
What's more, in South Dakota, there are dozens of vendors to choose from based—bands, venues, florists and more—based on location, budget and so on. Check out The Knot Marketplace to start researching wedding pros near you.
The Best Times Of Year To Have A South Dakota Wedding For Good Weather
If you're planning an outdoor wedding in South Dakota, consider the summer months of June, July or August, which is when the weather will be the warmest. Fall weddings can be beautiful, but snow can come as early as October in South Dakota—so be prepared. Springtime brings lush greenery and beautiful wildlife—plus temperatures ranging from 50° to 60° during the day. However, you can still experience below-freezing temps in the evenings. Being said, if you do opt for a spring wedding in South Dakota, you may want to call an early start time.
Winters in South Dakota are rough, with heavy snowfall and frigid weather. If you do choose to move forward with a winter wedding in South Dakota, be sure to ask your vendor about snow removal (does it cost extra, for example?). Also, consider incorporating functional and fun experiences into your wedding budget to keep guests comfy (i.e., blankets as wedding favors, a hot chocolate bar and transportation, since folks may be afraid to drive given the harsh conditions).