11 Wedding Registry Picks for Your Bedroom and Bathroom
Don't forget about the essentials that make for a proper newlywed nest.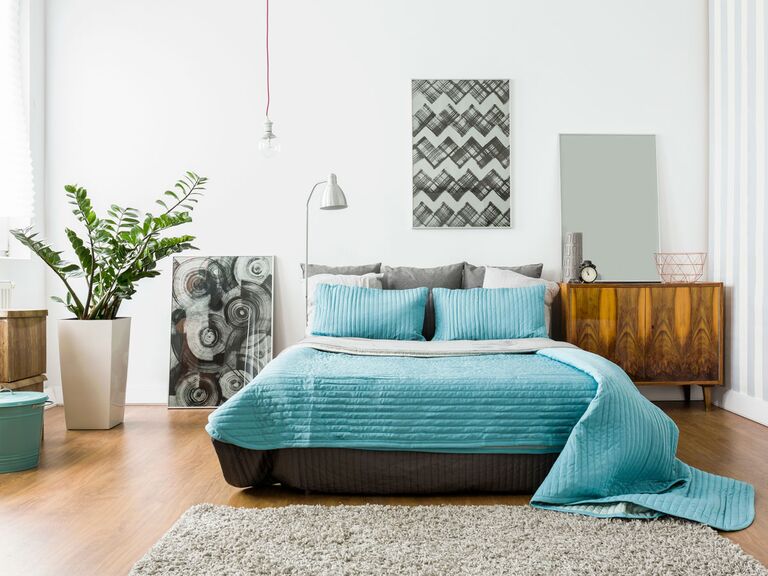 ​The focus of any wedding registry usually falls onto new toys—the electrics. More specifically, the kitchen and living room electrics like stand mixers or sound systems. Don't get us wrong, you totally have a right to be psyched about those upgrades, but don't forget about the bed and bath basics that should be on your registry too. Trust us when we say a genuine down comforter will make you just as excited as that new smart TV.
Mattress Pad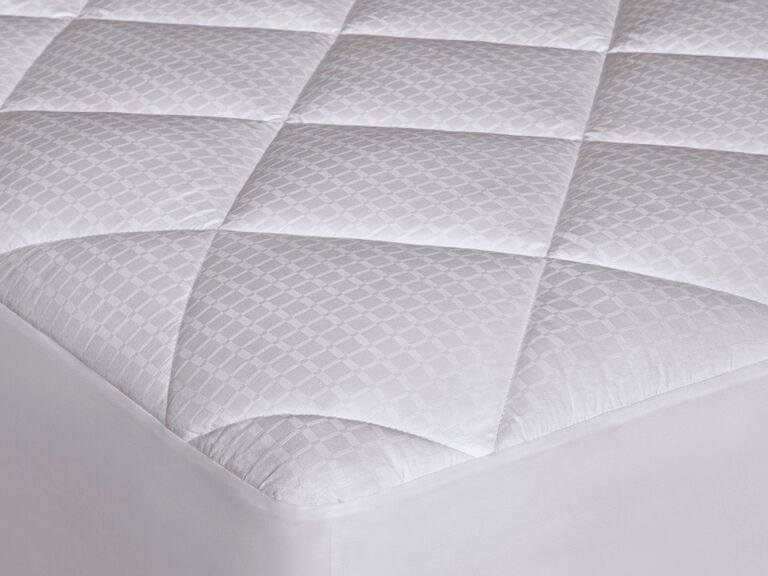 Look for a mattress pad that will protect your mattress, repel moisture and act as an extra layer of softness. Some even have dust mite and allergen barriers for a super clean night's sleep. Make sure whatever you choose is machine washable.
Register for: 1
Dream Solutions mattress pad, from $42, Sears.com
Sheet Sets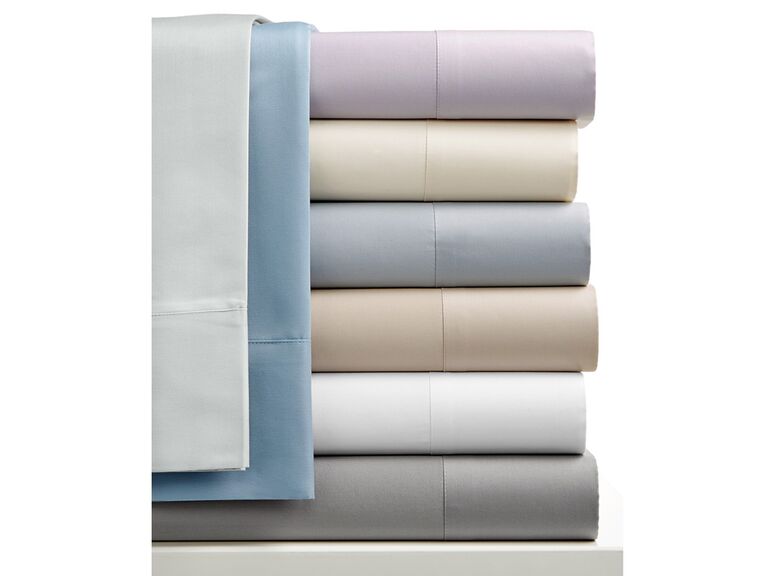 For each bed in your home, plan on having one set of sheets on the bed (a flat sheet and fitted sheet), one in the laundry and one tucked away in the linen closet. And remember, the higher the thread count, the softer the sheet.
Register for: 3
Charter Club opulence 800 thread count sheet set, from $40, Macys.com
Down Comforter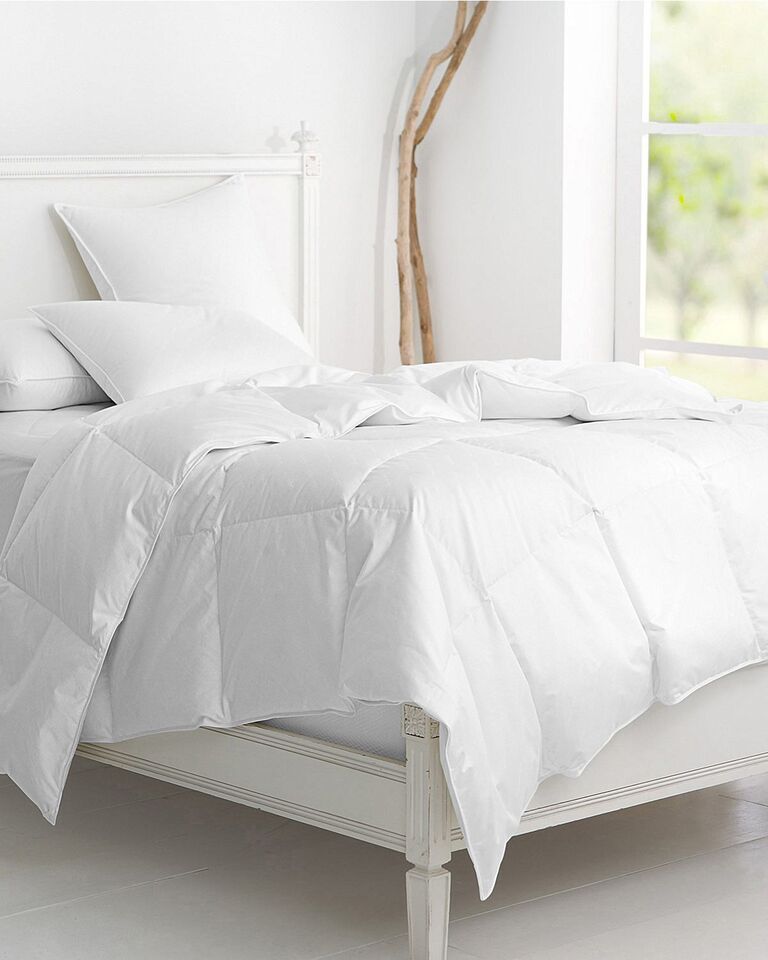 Any grown-up bed needs a quality comforter—one that just calls your name after a long day and envelops you in a cocoon of coziness. Chose between the light, medium or winter weight to achieve your perfect balance. Or register for two weights and swap with the seasons.
Register for: 1
Garnet Hill siganture white down comforter, from $228, GarnetHill.com
Duvet Covers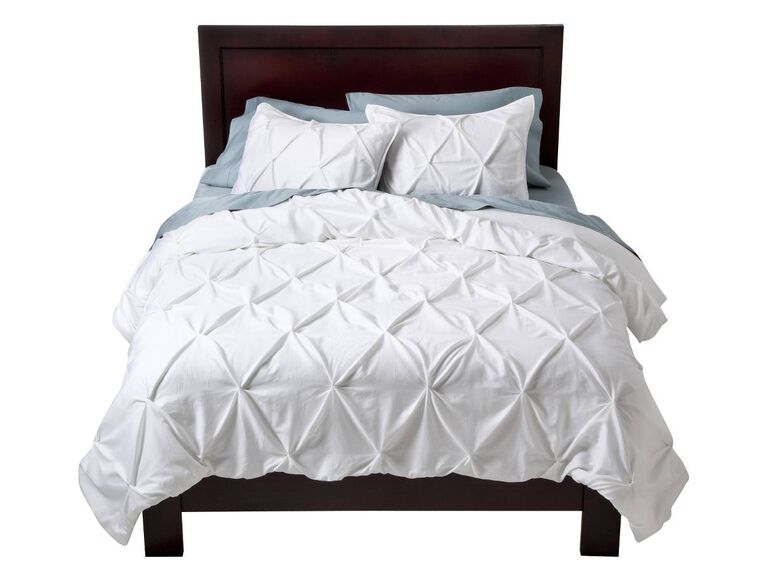 A washable cover for your comforter is always a good idea—it can easily be thrown into the washing machine if breakfast-in-bed goes wrong—unlike most comforters. Register for two duvet covers and matching shams so you can change up your look seasonally.
Register for: 2
Threshold pinch pleat duvet cover set, from $60, Target.com
Bed Blanket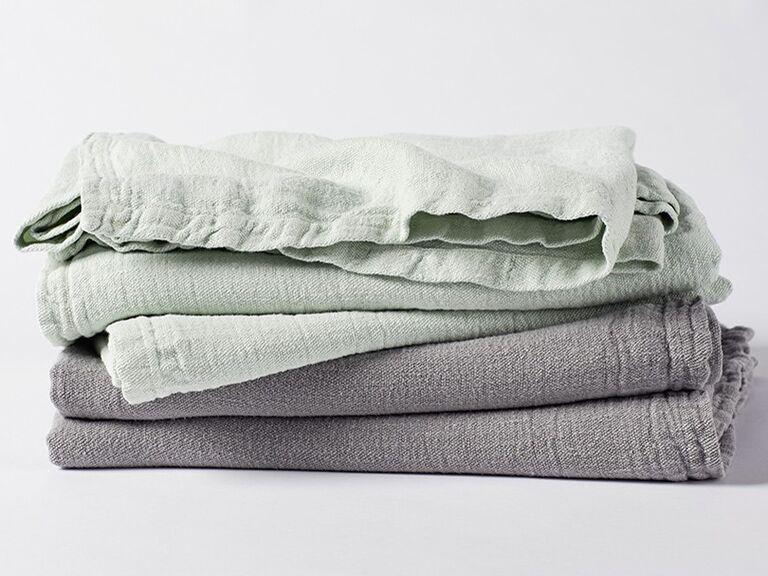 A light blanket can be a good alternative for warmer months and the perfect added layer come winter when the temps drop. A stone-washed linen is soft to the touch—especially if you go organic.
Register for: 1
Coyuchi larkspur linen coverlet, from $198, Coyuchi.com
Sound Machine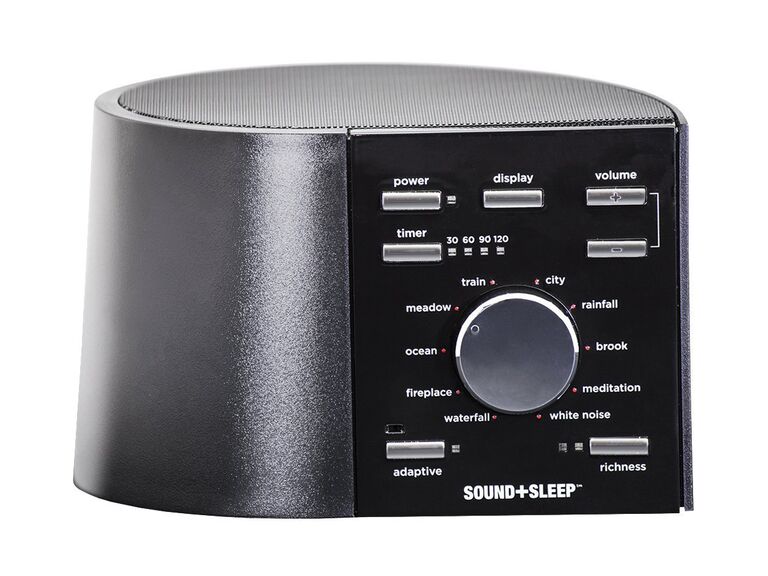 Masking out disruptive noise makes for a much more restful night's sleep (especially if the noise is coming from your partner!). This sound machine has over 10 sounds to choose from and it has adaptive sound technology, so it adjusts in real-time to noise levels around you.
Adaptive Sound Technologies sound machine, $73, Amazon.com
Bath Mat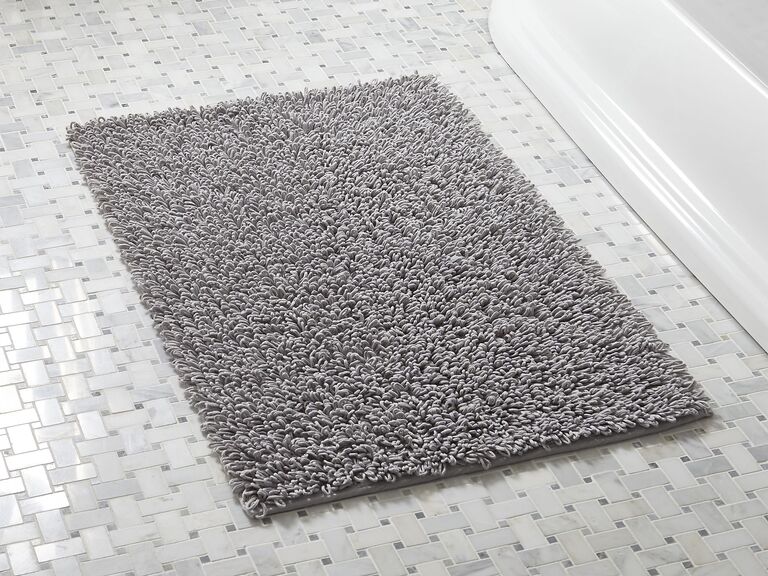 Stepping out of the shower onto a cold tile floor is never pleasant. Cushion your step with a bath mat. Make sure to choose one with high absorbency—you don't want it to get soggy from a single shower.
Register for: 1
Crate and Barrel loop light grey bath rug, $30, CrateandBarrel.com
Bath Towels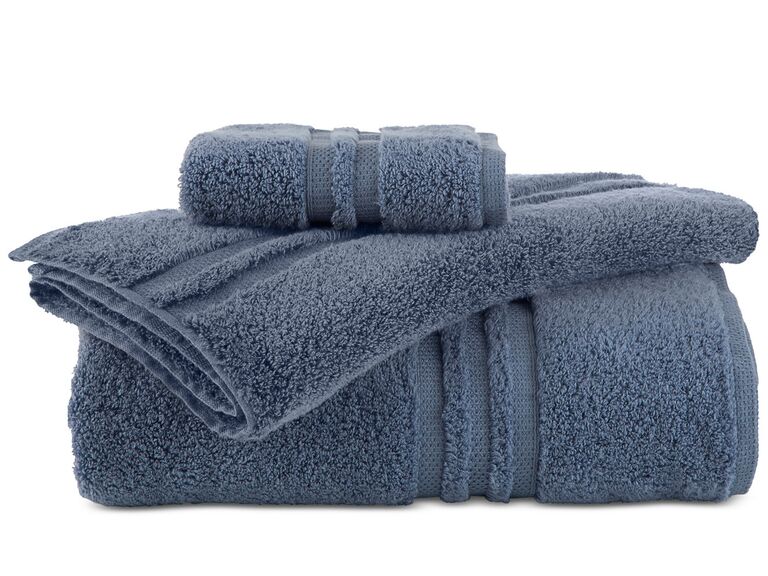 Plush bath towels will lend some luxe vibes to any bathroom. Choose bath-sheets for a cozy oversized towel, or the standard size for a better fit when sharing the towel bar.
Register for: 4 to 6
Under the Canopy organic bath towel, $25, Macys.com
Hand Towels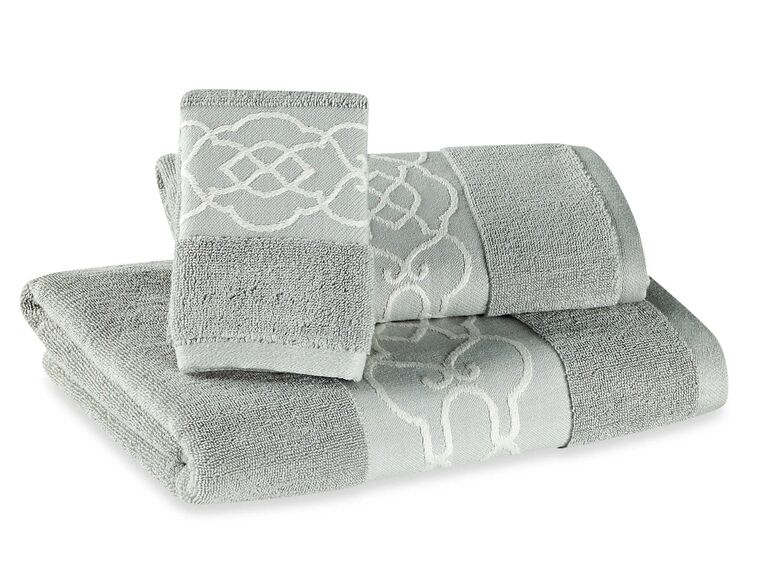 If you're in love with towels that don't come with coordinating hand towels, don't forget to scan a few of those too. Go with colors or a pattern in a similar palette, but a few shades darker or lighter than your current linens so they all look cohesive.
Register for: 4 to 6
Iron Gates hand towel, $20, BedBathandBeyond.com
Scale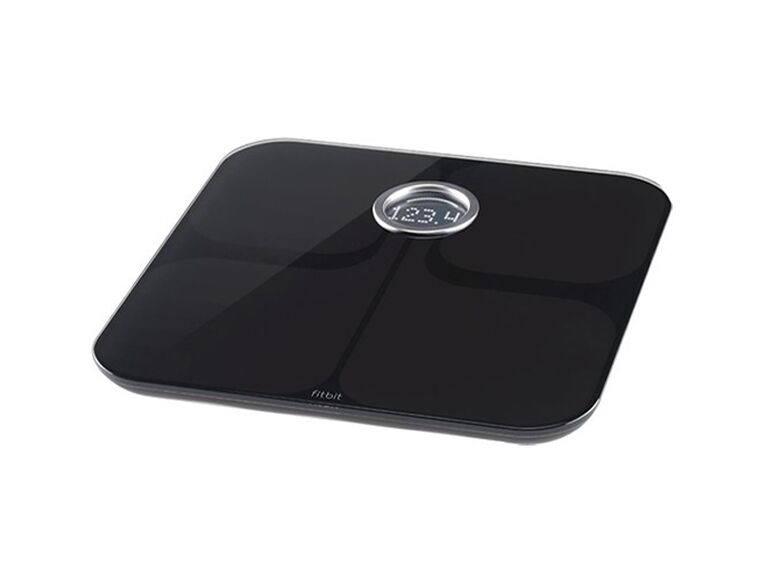 Calling all health-conscious couples: don't forget about a tech-forward scale. This model can track weight, BMI and body fat and connect with your Fitbit tracking for easy monitoring.
Register for: 1
Fitbit Aria Wi-Fi smart scale, $108, BestBuy.com
Ready to tackle your registry? Of course you are! Check out our registry tool for more help.