6 Ways Your Wedding Can Give Back
Planning a wedding can also be a great opportunity to do some good in the world. Consider one (or more!) of these five ways to make a difference, from building a charity registry with The Knot Gifts Back to recycling your decor.
by The Knot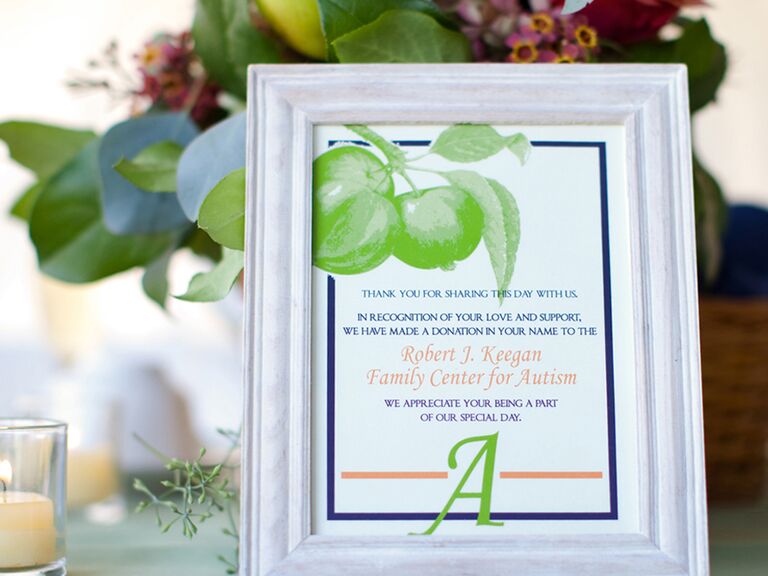 Elizabeth Ryan Photography
From your venue to your vows, your wedding is a unique opportunity for you and your partner to express everything that makes your relationship special. With so many amazing charities and causes, it's no surprise that couples are finding ways to give back amid the flurry of wedding planning. Through our online charitable registry option, The Knot Gifts Back, you can choose from more than 100 participating charity partners who will receive a donation each time a guest buys a gift through your registry or wedding website. We work closely with the I Do Foundation, a national nonprofit organization that pre-screens each charity and ensures those donations are received. In honor of #GivingTuesday, we've rounded up some more easy ways to give back as you plan your day, because we know that giving back is an invaluable wedding gift.
1. Use Your Registry
You've already started a charitable registry with The Knot Gifts Back—now what? When you're choosing registry items, consider products that give back in some way. Many of our retail partners have fair-trade initiatives that directly give back to the artisans who made them. Macy's Gifts That Give Hope program, for example, features gorgeous handmade home decor products.
2. Hire Socially and Environmentally Responsible Wedding Vendors
Some of our favorite vendors prove that being "green" can be beautiful. For example, Bella Figura stationery design donates 1 percent of sales to environmental organizations. It also prints using environmentally friendly paper and wind power to operate. Companies like Rebloom allow you to buy centerpieces that have been recycled (and refreshed) from other local events, then donate a large portion of the cost to a charity of your choice. Vaseful, a floral vendor, employs men and women with disabilities to create beautiful floral arrangements.
3. Use Sustainable Decor and Favors
Tell your florist you want in-season flowers and plants that don't have to be flown in from out of state. If it's your style, consider arrangements that don't involve cut flowers. Not only are they are less likely to wilt at the end of the night but can more easily be repurposed. Forgo elaborately packaged wedding favors and send your guests home with potted succulents and orchids. Or—in lieu of favors—make a donation through the I Do Foundation in honor of your guests.
4. Donate Your Wedding Goods
Talk to your vendors about what can be done with leftover material and or if they know where you can donate extra supplies. Local food shelters and community organizations could always use the boost. Ask your florist about donating all the arrangements to a local nursing home or hospital. If you're not tied to it, consider donating your wedding dress through Brides for a Cause.
5. Opt for Charitable Bridesmaid Outings
Ask your bridesmaids if they'd be up for spending time together working in a community garden or soup kitchen. Whether it's sign up for a 5K or raising money for your favorite cause, giving back is a great bonding opportunity.
6. Donate to Charity in Lieu of Favors
Instead of spending money on favors for your gifts, forego the koozies or treats and donate to a charity that means something to you as a couple. Put a prominent sign on a table or put a note on each guest's place setting saying a donation has been made in their name. A great cause and worthy choice is Wish Upon a Wedding, a non-profit charity that grants wedding "wishes" to couples in need.