5 Ways Your Wedding Can Give Back
Planning a wedding can also be a great opportunity to do some good in the world. Consider one (or more!) of these five ways to make a difference, from building a charity registry to using recycled decor.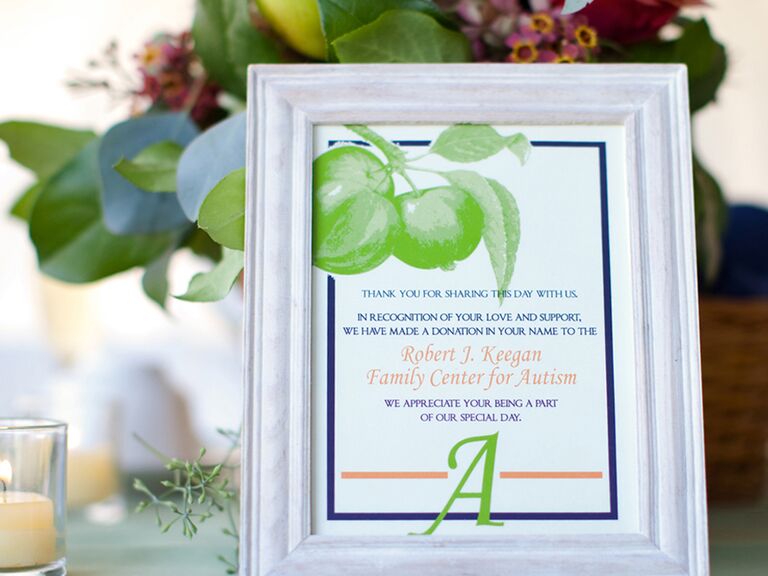 Photo by
Elizabeth Ryan Photography
From the type of location you choose to the vows you say to each other, your wedding is a super-personal expression of you two and your relationship. As you plan your day, think about including these meaningful ways to give back that also reflect your values.
Start a Charity Registry
One of the easiest ways to give back is to start a charitable registry fund where guests directly contribute money to your favorite charities through a site like Crowdrise. And if you manage your registries through The Knot, you can choose from more than 100 charity partners who will receive a donation each time a guest buys a gift through your registry or wedding website. Also, think about the types of items you add to your gift registry and consider a few pieces with altruistic benefits. For example, Macy's has an entire home decor section called Gifts That Give Hope, featuring handmade, fair-trade products that directly give back to the artisans who made them.
Hire Socially and Environmentally Responsible Wedding Vendors
The events industry can be a wasteful one. Before you sign on the dotted line with a wedding venue, caterer or even stationery designer, ask them what they do with the leftovers and whether they donate extra supplies. A green vendor doesn't mean "crunchy." For example, Bella Figura stationery design (with incredible stationery suites) donates 1 percent of sales to environmental organizations. It also prints on environmentally friendly paper and uses wind power to operate. Vaseful, a floral vendor, employs men and women with disabilities, providing beautiful arrangements and wonderful employment opportunities. Those are all-star cases, but you see what we're saying.
Use Sustainable Decor and Favors
Tell your florist you want in-season flowers and plants that don't have to be flown in from out of state. You might even consider arrangements that don't involve cut flowers (and that won't wilt at the end of the night). Potted succulents and orchids make for great take-home favors, and paper blooms are always super-chic. Elaborately packaged wedding favors may look pretty, but they create a lot of waste—instead, why not give to a charity that's meaningful to you in lieu of favors? The I Do Foundation allows you to easily make a donation and let your guests know about it with cards you can order or print yourself. Or feed your guests (and a good cause) with Cookies for Kids' Cancer—serve their cookies as a late-night snack and you'll benefit child cancer research.
Donate Your Wedding Goods
After it's all over, figure out what can be given away. Some caterers donate to local food shelters and community organizations that could really use the boost. Ask your florist about donating all the arrangements to a local nursing home or hospital. Some companies, like Rebloom, allow you to buy centerpieces that have been recycled (and refreshed) from other local events, then donate a large portion of the cost to a charity of your choice. If you're not tied to it, consider donating your wedding dress to an organization like Brides Against Breast Cancer, whose proceeds support programs for cancer patients and their families.
Opt for Charitable Bridesmaid Outings and a Volunteer Honeymoon
Instead of getting all the girls together to tie bows around ceremony programs or favors, ask your bridesmaids whether they'd like to spend some bonding time together working in a community garden or soup kitchen. Or sign up for a road race or walk and raise money for your favorite cause. Another trend we love: volunteer honeymoons. Instead of a traditional honeymoon, some couples are choosing to visit high-need villages in South America or Africa to hand out supplies like blankets, books, crayons, clothes and shoes to families and children in need.