5 Ways to Incorporate a Marriage Box Into Your Wedding
Wedding boxes are basically romantic time capsules, and they're super-popular right now. Here's why you should incorporate one into your wedding.
by Catherine Jessee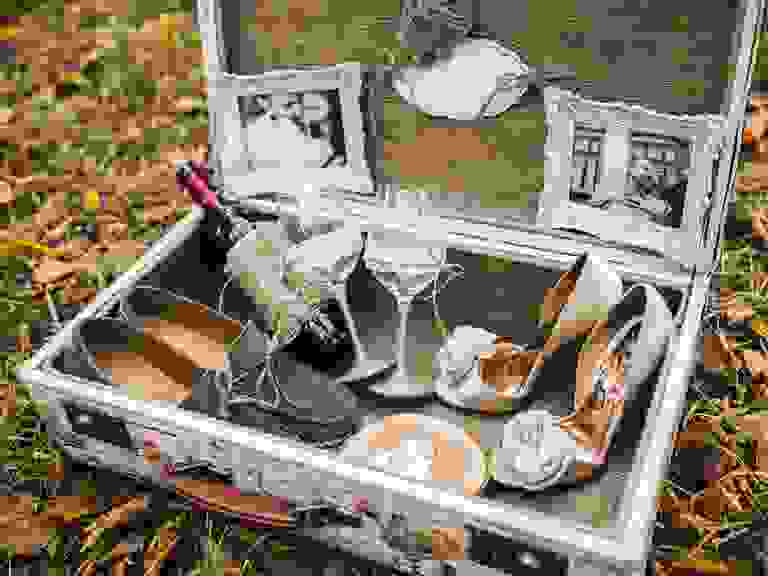 Remember that note your fifth-grade teacher made you write to your future self? Well, this is something like that, but for your wedding day. The marriage box is a tradition where couples write love letters to each other on their wedding day and place them in a special box to open at a later date. Some couples challenge themselves to pull it out only on specific landmark anniversaries, and other couples plan to open theirs to soften a heated argument (which is why it's sometimes called a "fight box").
Don't get us wrong, the purpose of the marriage box isn't just for resolving disagreements. They're also a great way to spread a piece of your wedding day over a long period of time, not to mention how fun they are to put together. Here are five fun ideas to incorporate the marriage box into your wedding. And remember, even if you're already married there's no rule saying you can't make one now.
Assemble It Together
We love that this tradition suggests that marriage is, at first, an empty box: You have to do your part to fill it up before you can take anything from it. Whether you buy a simple rustic wood box and ceremoniously nail it closed during the ceremony or engrave a vintage box and enclose your letters in private, you and your partner are free to get creative with it. And who says it has to be a box? Slip your love letters into a glass bottle for a touch of charm and whimsy.
Place a Bottle of Wine (or Two) Inside
As if a well-written love letter isn't enough, throw in some wine for an extra treat. Just picture it—you have your first newlywed fight, crack open the special bottle and read the notes you wrote each other on your wedding day. It won't be long until you forget why you were mad. And one more tip: When the first bottle's gone, replace it with another from the top shelf. After all, wine (along with your marriage) does get better with age.
Include Wishes and Goals
Give each other some love letter guidelines. What are your wishes and goals, as individuals and a couple? It's an opportunity to get sappy about your other half and remember that marriage isn't about any one moment, but a sum of them over the course of a lifetime.
Involve Friends and Family
Display your marriage box at a reception table near or in lieu of a guest book so your friends and family can offer their own sweet messages, well wishes, funny memories and words of advice. Your guests will love being a part of the project, and years down the line you'll find their words even more touching and inspiring.
Stow It Away—or Not
What you decide to do with your romantic stash once it's filled is up to you. Put it away and challenge yourself not to open it until a specific anniversary or moment, or display it for all to see as a sweet reminder of your wedding day and all the love you put into it. Either way, building a marriage box is the perfect way to personalize your wedding and start your life together.