Wedding Uplighting: Everything You Need to Know
Take your lighting to the next level.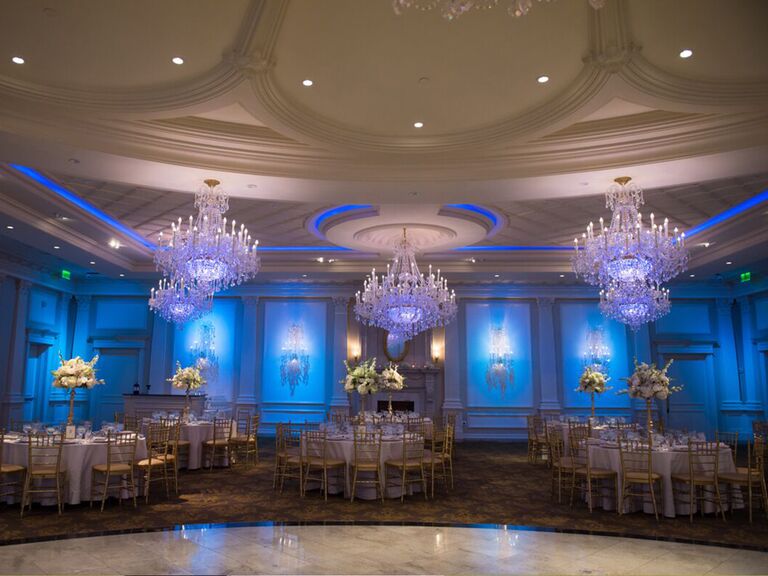 Anyafoto
Wedding lighting isn't a reception detail to overlook: uplighting has the power to completely transform a room with the flick of a switch. By creating depth and setting the atmosphere while also strategically highlighting details you want seen and distracting away from others you might want to hide, event lighting is a conversation to have while wedding planning. But what do you couples, especially those with different budgets, need to know about wedding uplighting? We asked the pros to break it down and share the uplighting essentials that every couple should be aware of while making wedding decor decisions.
What exactly is wedding uplighting?
Wedding uplighting is when event lighting is used in various points, typically around the perimeter, of a space to create ambience and depth, explains wedding planner Amber Anderson of Heavenly Day Events. "These lights are situated discreetly on the ground and they project light upwards, creating a pillar effect of lights," she says. This type of wedding lighting can be done in any color, tying event design and different spaces like the cake table, head table, and dance floor, together in a nice and sustainable way.
By placing led uplight sources on the ground level and pointing them up, the resulting wedding uplighting highlights the wedding venue space and creates drama, explains Kevin Dennis, owner of Fantasy Sound Event Services. Lighting companies see this LED light trend typically used in evening wedding receptions, both indoor and outdoor.
"This creates more of an ambient lighting feel, and it can enhance the architecture, decor, or overall vibe of the wedding," says Dennis. "Not only does it set the mood as the reception transitions from dinner to cocktails and dancing but also it's the perfect solution for keeping an area well-lit for guests to mingle."
Why is uplighting important and what should couples know about it?
For Dennis, lighting is one of the most effective ways to elevate your wedding decor and uplighting can feel especially luxurious when used strategically around your wedding ceremony or reception venue. "This is a great solution for venues where the existing lighting isn't the most flattering or even in outdoor venues where there isn't the option for hanging fixtures," he says.
Another thing about led uplighting to note Dennis says is that some couples dislike the use of flash in their wedding photos. "However, creating an atmosphere with natural light can make for much softer pictures," he says. "Utilizing these washes of light can truly make the space your own."
But for couples with budget in mind, Anderson points out that wedding lighting can be an incredible cost effective way to make a major impact on your space. "Most couples tour venues in the daytime, where detail is obvious and decor may not seem as important," she says. "However, as the sun goes down, rooms lose their muster and need assistance with keeping things grandiose.
Plus, with the ability for color mixing, you can opt for anything from purple uplighting to anything that reflects your wedding inspiration to enhance the ambiance. "Decor such as uplighting shows a level of thoughtfulness for the feel of the entire room as the sun goes down," she says. "Uplighting can also be used again and again, making them a sustainable decor option for couples."
Is uplighting necessary at my wedding?
In the world of weddings, Anderson reminds couples to remember that "necessary" is an arbitrary term. However, lighting effects do bring dimension to a room, making it warm and inviting. "Ballroom weddings most certainly take advantage of uplighting," she says. "And if your space lacks detail or lighting, it may also be a good candidate for uplighting."
That's why whether you and your partner deem wedding lighting necessary or not entirely depends on your vision and location for your wedding day. "For instance, if you're looking to have an outdoor wedding or a wedding in a dream venue that's dimly lit, uplighting could be the solution you're looking for," says Dennis.
In his experience, many incorporate event lighting into their wedding decor due to the ambience and intimate feel they're looking to achieve, but there are a number of other reasons why this style is particularly popular in lieu of traditional lighting on wedding days."Uplighting will give you a bit more freedom than existing lighting will, and it's actually a wonderful addition to venues with existing fixtures, or spaces that need just a little something extra," he says. "Not only does uplighting highlight the venue in ways traditional lighting cannot but also it removes any worry of harsh fluorescents that can negatively impact your decor and overall space."
Another benefit to this lighting design is that it's completely customizable and can work within any vision both a larger or smaller scale. "Uplighting sources can also be programmable to be dimmed or change colors, so it can complement your palette with a wash of amber or soft ivory — even something a little more avant-garde like a pink or deep red!" he says. "That said, if you're planning on a daytime ceremony and reception, extensive uplighting may not be necessary unless you're unhappy with the current lighting of your indoor space."
How much is uplighting for a wedding?
Although the cost of uplighting packages depends on a number of factors, Dennis says there's one key determining element that will have the biggest impact on the final cost: your wedding venue. The location's size and existing lighting will have a major impact on how much lighting is required to bring your wedding decor vision to life. "What's needed for a relatively intimate reception for 50 people will not be enough to light a reception for 150," he says. "It's important to understand that guests won't be able to appreciate the hard work and attention to detail that went into your wedding planning if you don't provide enough light in a dark space."
However there are different event lighting options in a range of budgets.
"You can expect professional lighting to start at $1,800 in California," he says. "Rest assured, the right lighting company can work with you to discuss what is possible within your budget."
But for each individual uplight, Anderson says they typical range from $25 to $50 per piece.
Can you DIY uplighting for weddings?
When doing wedding uplighting, Anderson says that one light should be placed at every anchoring point or pillar in the room and on average, she uses six to 12 at a time.
However, although it may be tempting to want to jump into DIY uplighting to bring depth and ambiance to the wedding venue, there's a few things to keep in mind. "As with anything, DIY needs to involve a person that is solely dedicated to the project, skilled at the task and willing to troubleshoot during the wedding if anything goes wrong," says Anderson. "DIY projects are not the responsibility of vendors, planners, or venues."
In her opinion, couples should think twice before tackling this wedding planning aspect on their own and instead utilize a lighting company or their other vendors; depending on their market, many wedding DJs and rental companies offer uplighting as an add on. "This is the best option if you don't already have a lighting company coming for other elements," she says. "Uplighting bears little cost burden so my belief is that it's better to have a professional handle this component."
As a budget-friendly alternative to professional uplighting, Dennis suggests couples consider a different DIY alternative: candles and votives. "I personally recommend battery operated options, that way you don't have to worry about guests knocking over burning candles. Not to mention, many come with remotes, so you can adjust the lighting yourself as the night goes on," he says. "These are much more cost-effective, and you can donate them after the wedding or use them for a later event."
What is the best uplighting?
A popular choice among professions for wedding uplighting are LED lights. "These are also deemed the safest since they put off little heat in comparison to how brightly they shine," says Dennis. "Additionally, anything wireless is going to be the most recommended, especially if you want to eliminate the possibility of guests tripping over long extension cords throughout the night."
But above all, he says it's crucial to make sure your materials — whether DIY or professionally installed — are safe to use for long periods of time and regardless of weather. "It's a common misconception that all uplighting can be used outdoors, so keep this in mind and opt for waterproof lights, even if the likelihood of rain is slim," he adds.
What are uplighting color dos and don'ts?
One of the appeals of wedding uplighting is that you can select different colors for any combination that you want. Whether you're drawn to real weddings with a moody deep purple or sultry deep amber, the wedding color options are endless.
But to avoid wedding day disappointment, Anderson recommends that you be very communicative in the exact color you're envisioning by using visuals from real weddings. "Often 'soft white' comes out as 'amber' so make sure you're on the same page with the tech," she says. "Couples are often surprised to learn you can also dim them, change colors throughout the evening and even move them around if you'd like."
However, she doesn't suggest moving the uplighting throughout the night but there are certain times of transition when this can make sense. Just don't be afraid to think outside of the box and ask questions!