29 of the Most Creative Baseball Wedding Ideas We've Ever Seen
Everything you need for a big win on your wedding day!
We have included third party products to help you navigate and enjoy life's biggest moments. Purchases made through links on this page may earn us a commission.
One of the best parts about planning a wedding is coming up with creative ways to honor your favorite hobbies, colors and interests. For some couples, that means a nod to baseball! Fill your field of dreams with adorable baseball wedding details that'll wow your crowd. From a wedding ceremony at home plate to a baseball bat guest book, we've rounded up our favorite ideas for a baseball-themed wedding.
1. Stadium Wedding Venue
For all things baseball on your big day, book a stadium for your wedding venue. Not only will you have an amazing backdrop for your ceremony and wedding photos, but many have banquet halls overlooking the field.
2. Baseball Engagement Photos
Give your guests a hint of what's to come with a baseball-themed engagement shoot. For a sporty look wear jerseys representing your favorite team(s) and takes some shots on the field or in the stands. For something more subtle you could wear team colors for your engagement photo outfits.
3. Baseball Save-the-Dates
During your engagement shoot, bring along some baseballs with your wedding date for an adorable shot to put on your save-the-dates and your wedding website. Another option is to use a ticket design.
4. Baseball Wedding Invitations
When it comes to your wedding invitations and stationery, you can have a lot of fun here. You can take inspiration from red baseball stitching to inspire a graphic treatment as shown here or create a monogram featuring a crest made with bats and balls. Using a vintage sports-based font such as Fenway Script or Auckland Bold Script will also give you a classic baseball style.
5. Home Plate Wedding Ceremony
The obvious place to say your "I Dos" is at home plate. Add some levity to the moment and ask your officiant to wear an umpire mask at some point during the ceremony.
6. Baseball Wedding Ring
If you really want to show your commitment to the game, a baseball-stitched wedding ring is a timeless design—perfect for a professional or amateur baseball player or fan.
7. Baseball Ring Holder
Once you've selected your wedding rings, you'll need something to hold them. We love this baseball that's been converted into a wedding ring box. A compact size for the best man or a ring bearer to hang onto until the exchanging of rings.
8. Baseball Mit as Ring Pillow
If you're looking for a way to integrate a baseball mitt into your theme, here's a clever idea. Dress one up with some ribbons to make a wedding ring pillow.
9. Red and White Bridal Bouquet
Now let's turn our attention to wedding flowers for a baseball-themed wedding. Naturally, a red and white color scheme works well as there are lots of flower choices including a romantic rose bridal bouquet. This bouquet has a few stitched baseball leather roses inserted among the stems.
10. A Baseball Boutonniere
Coordinate the wedding boutonnieres with the bouquet with one or two stitched baseball leather roses and a little greenery.
11. Baseball Stitched Wedding Shoes
A fresh pair of sneakers is a fun and comfortable choice. Take your style up a notch with custom-painted wedding shoes by Butter Makes Me Happy featuring a baseball design.
12. Baseball Bat Ceremony Exit
Have your wedding party form an arch with baseball bats for a playful exit from your ceremony or reception. P.S. These make great wedding party gifts, too.
13. Stadium Portraits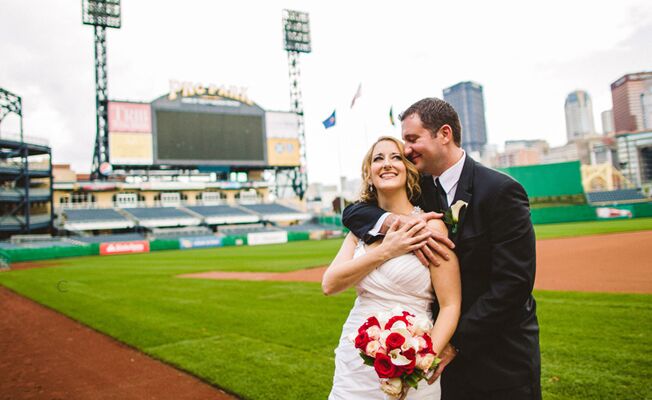 Stroll around the stadium for some amazing wedding photos on the field and in the stands. Don't forget to cozy up in the dugout and ask your venue coordinator about customizing the scoreboard with your names and wedding date. Take some photos as the sun goes down for that romantic 'Field of Dreams' glow.
14. Baseball Wedding Escort Cards
For a playful seating chart, use a faux boxwood screen with shelves to hold a baseball for each guest with their name and table number written on it. These can do double duty as a wedding favor.
15. Baseball Table Numbers
When it comes to creating baseball wedding centerpieces, the sky's the limit. You can go colorful and casual, as shown here, with a red, white and blue color scheme featuring pennant table numbers. Or work with textures and items associated with the game such as boxwood decorations, jars of peanuts, leather and stitched accents.
16. Wedding-Themed Baseballs
We've shown you how to integrate baseballs into your wedding, but how about applying a wedding theme to some baseballs? These designs from Unforgettaballs can be used as wedding decorations, wedding party gifts or sweet keepsakes.
17. Baseball Stadium Appetizers
Keep your food menu on theme too and serve up some baseball stadium appetizers. A small cone or glass filled with a dipping sauce and pile of fries makes it easy for guests to nibble during cocktail hour or as a late-night snack.
18. Mini Hot Dogs and Beer

A baseball-themed wedding menu would not be complete without hot dogs and beer. But rather than offering up a foot long and pint, downsize it to a mini hotdog and taster of beer.
19. Baseball Wedding Cake
You can really hit a home run with your wedding cake. For example, you can honor the home team with tiers decorated in team graphics. This couple even managed to display their Minnesota Twins cake in the center of a model of the stadium.
20. Baseball Wedding Cake Topper
If you'd like to go with a simpler or classic wedding cake design, then simply top it off with a baseball wedding cake topper. P.S. Prefer pie to cake? Serve up some all-American apple pie instead.
21. Baseball Cap Groom's Cake
Here's a great baseball wedding idea for a groom's cake. Fashion a baseball cap for your favorite team like this Astros wedding cake by Edith Meyer Wedding Cakes.
22. Baseball Wedding Cookies
Add more sweet treats to your spread with some baseball wedding cookies. A scoreboard, baseballs and pennants with your initials are all Instagram-worthy designs for your dessert display.
23. Baseball Photo Booth Backdrop
You'll want to get all your guests in on the action with a baseball-themed photo booth. Include some baseball equipment for some classic baseball game-style shots.
24. Baseball Photo Booth Props
Hit up Etsy for some additional photo booth props that could play double duty as baseball wedding decorations.
25. Baseball Ticket Wedding Favors
"Let's all go to the ball game!" Here's a fabulous baseball wedding favor idea. Buy a block of seats to a baseball game. Nestle the tickets in alphabetical order in a box filled with peanuts for a fun display. It will be amazing to reunite with all of your guests to watch the game and catch up on your newlywed life.
26. Cracker Jack Favors
Foodie wedding favors never disappoint and who wouldn't love a box of Cracker Jack for the road or some late-night fuel.
27. 'Batter Up' Pancake Mix Favors
Or, play it up with a baseball pun with "hey batter, batter" pancake mix.
28. Pose with Your Team's Mascot
Work some magic and arrange for a photo opp with the local team mascot.
29. Baseball Bat Guest Book
Hit it 'outta the park' with your wedding guest book. Get a pair of baseball bats for your guests to sign with their good wishes for a treasured keepsake.