Sweet 27th Wedding Anniversary Gifts Perfect for Celebrating True Love
From creative sculptures to personalized whiskey glasses, these anniversary gift ideas celebrate marriage in style.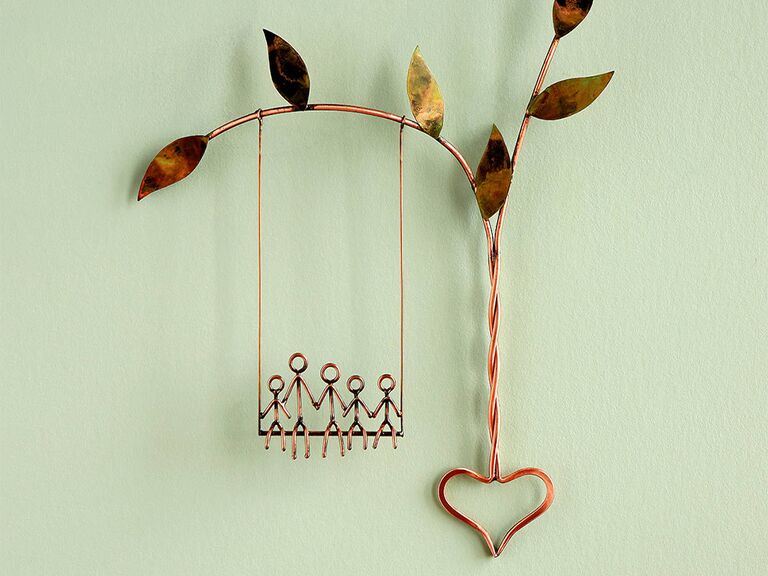 We have included third party products to help you navigate and enjoy life's biggest moments. Purchases made through links on this page may earn us a commission.
Marking 27 years of marriage together is cause for celebration no matter what way you look at it. While there have surely been ups and downs along the way, achieving such a milestone is worthy of a thoughtful gift that celebrates how far you've come (and all the goodness on the horizon!).
We know it can be tough to come up with gift ideas year after year, but we've got you covered when it comes to choosing a thoughtful and personal 27th anniversary gift. Whether you want to shop the modern theme (sculptures), stick with tradition or prefer to go an alternative route, we've got you covered with the best gift ideas for celebrating your 27th wedding anniversary (or recognizing a couple you know and love).
In this article:
What Should You Give as a 27th Anniversary Gift?
There are traditional anniversary gift themes for all the big marriage milestones, and some years also have gemstones, flower and colors associated with them. While the 27th year might not be seen as a typical milestone year, it's certainly one worth celebrating, and the modern theme for this anniversary can give you some inspiration if you aren't sure where to start.
Although there's no traditional theme for year 27, the modern theme for the 27th wedding anniversary is sculptures. Opt for a beautiful sculpture to add to the home, make your own in a pottery class or go all out on a destination vacation to a location known for its sculptures, such as Florence. If sculptures aren't something that resonates with you, consider finding the perfect gift with something off-theme such as a personalized piece of jewelry or home decor.
Our Favorite 27th Anniversary Gifts
Make your 27th wedding anniversary your best one yet. We've rounded up some of our favorite gifts for couples celebrating their 27th wedding anniversary. With a mix of on-theme and alternative gift ideas, we've got you covered, no matter what you're looking for (or who you're shopping for).
Beantown Burlap 27th Wedding Anniversary Gift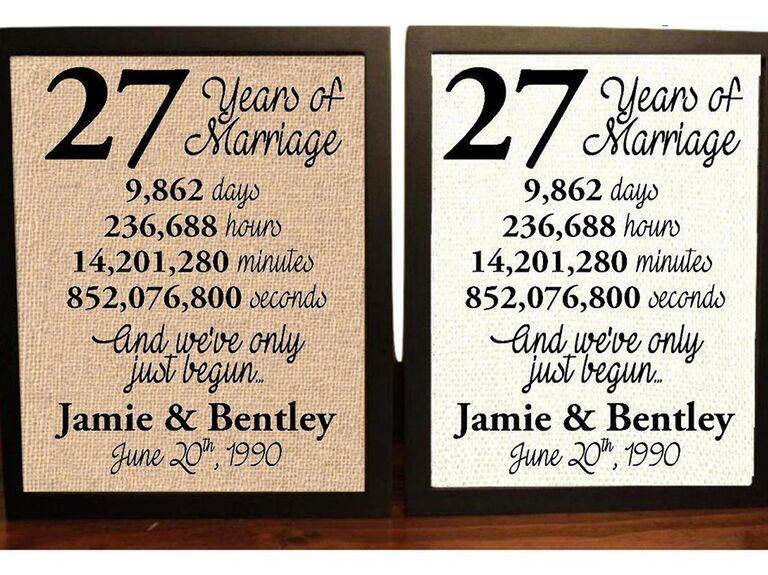 Looking for a unique gift for your spouse? Give your partner a 27th wedding anniversary print with your names and wedding date. This charming piece counts down the exact amount of time you've spent together for a numerical reminder of all you share.
David Goldhagen Rainbow Glass Infinity Sculpture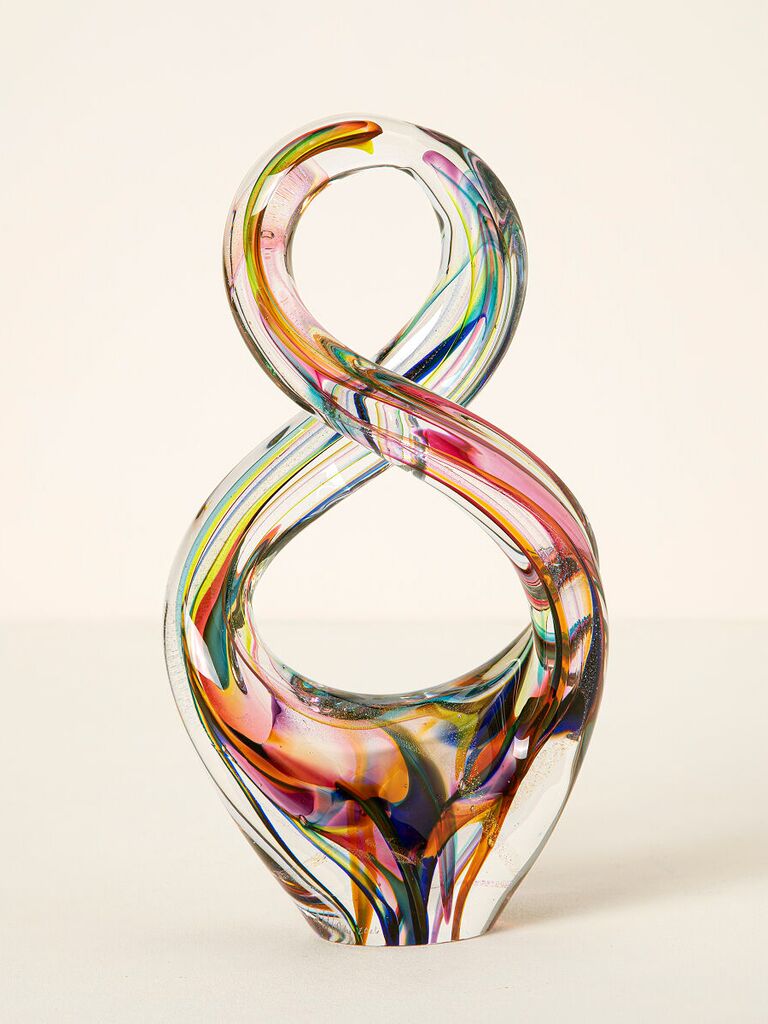 We love this exquisite and colorful rainbow glass sculpture. The infinity symbol is the perfect representation of your everlasting love for your partner, while the colorful glass will bring a playful touch to any room in your home.
LOL Glass 27th Wedding Anniversary Gift Stemless Wine Glass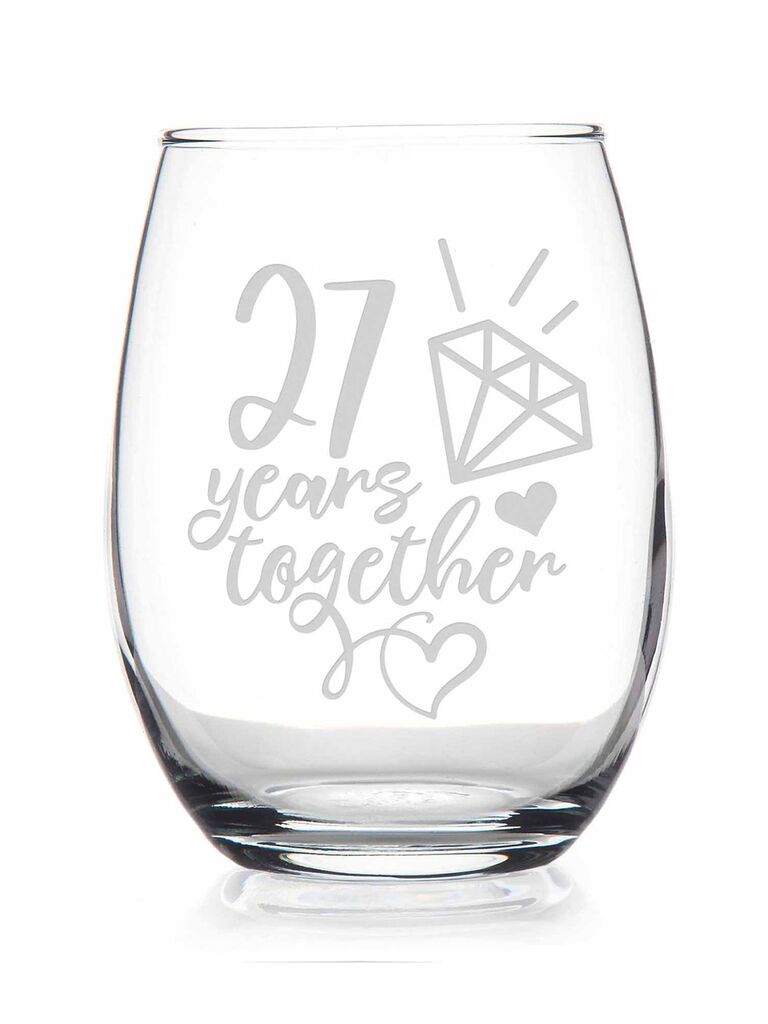 Toast to 27 incredible years of marriage with these fun stemless wine glasses just for the occasion. They'll make the moment memorable and they're etched, so they'll hold up for many years to come.
The Sill The Editor's Pick Bundle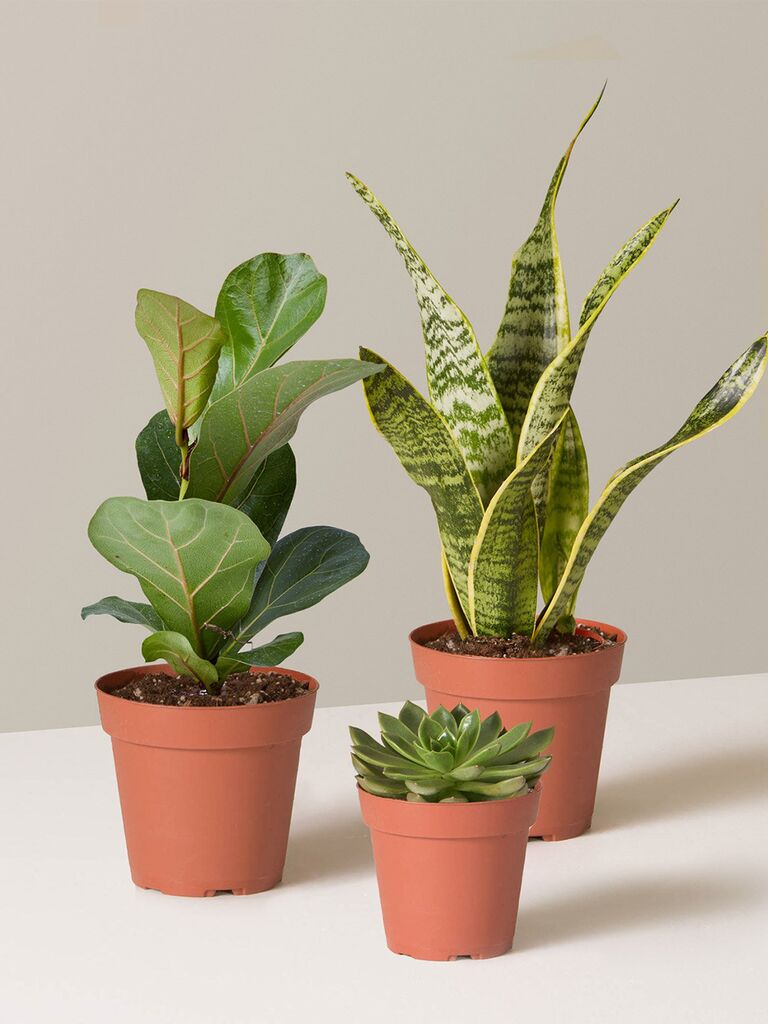 Married to a green thumb? Treat them to some beautiful houseplants to celebrate your years together. This bundle features three different types of plants (a fiddle leaf fig, a snake plant and a low maintenance succulent) and is sure to spruce up any home.
Sheenashona 27th Sculpture Wedding Anniversary Personalised Soy Wax Honey Pot Candle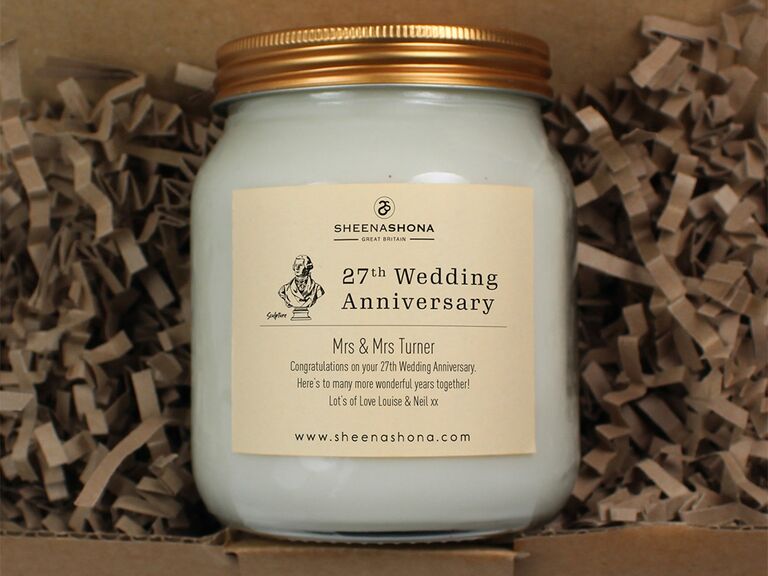 Custom candles make for a simple and timeless anniversary present. This flame includes a small sculpture drawing on the label in honor of the modern gift theme. Choose from a variety of scents for your giftee.
High Five Naturals Ceramic Wedding Figurines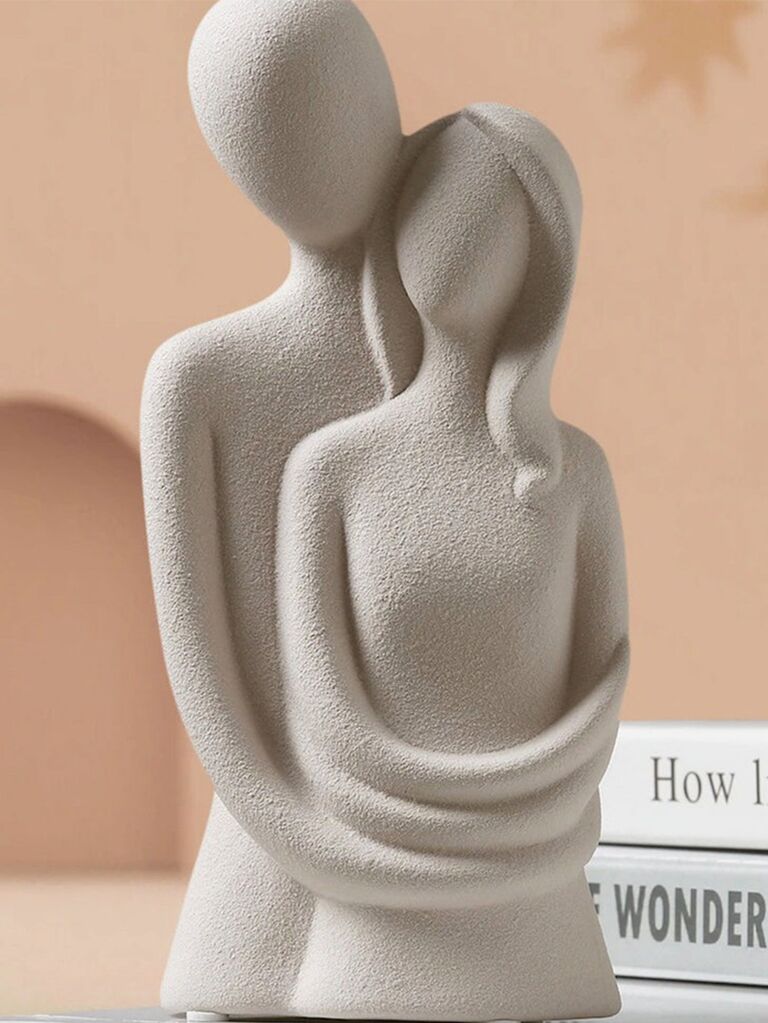 If you plan to follow the modern theme for your anniversary gift, check out this beautiful and romantic couple figurine. Ideal for just about any room of the home, this sculpture is perfect for your loved one.
Gina DeSantis Personalized Porcelain Faux Bois Mug Set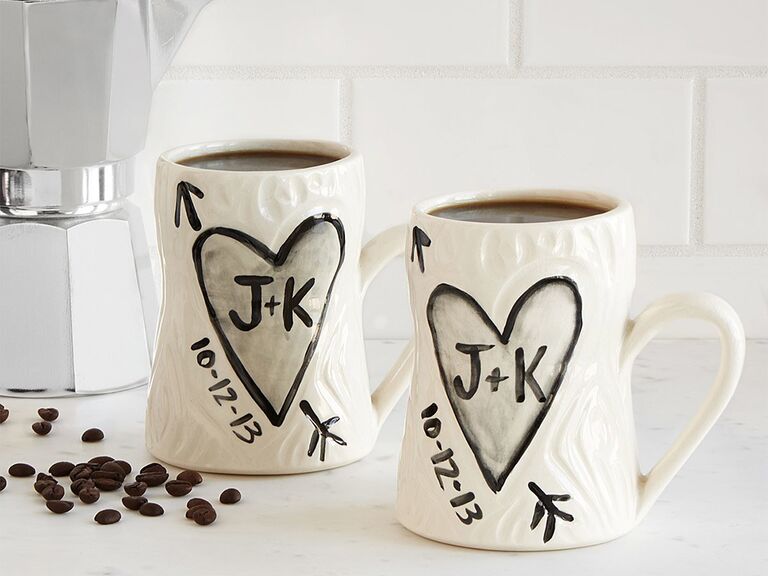 If sipping your morning coffee together has become an integral part of the last few decades, then this mug set is the perfect handmade gift for your partner. The charming design resembles the act of hand-carving your initials and anniversary date into a tree trunk.
The Spice House The Essential Spices Collection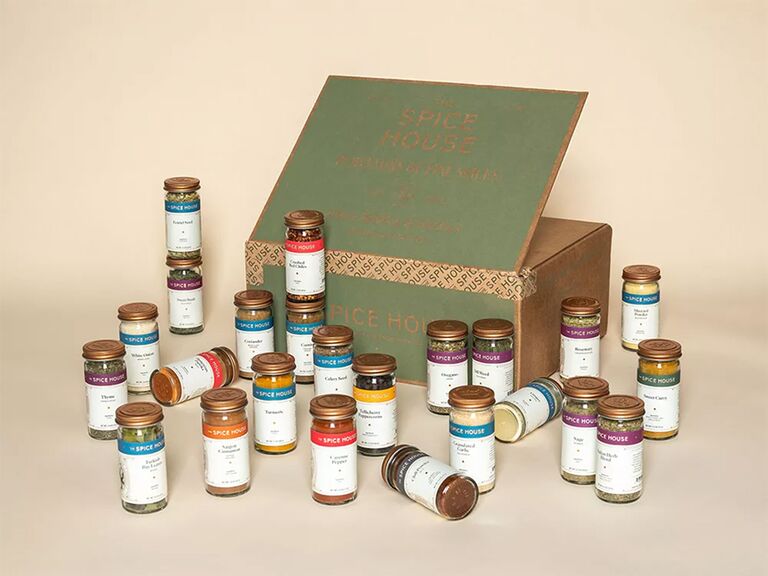 If your partner loves to cook and has a knack for unique flavors, they'll love this do-it-all spice gift set for their kitchen. The collection comes with 24 spices recommended for every home cook (including red pepper flakes, bay leaves, basil, fennel, ginger and more) and is sure to level up their recipes. You could even use the kit to cook up your anniversary dinner together.
Catherine Murphy Rooted in Love Swing Sculpture
A hand-sculpted copper piece is a surefire way to convey your love to your partner on your anniversary. This copper sculpture is all about celebrating your love and family—choose from a happy couple or a family with three, four or five children. The best part? The swing really moves!
Lenox French Perle Scallop 12-Piece Dinnerware Set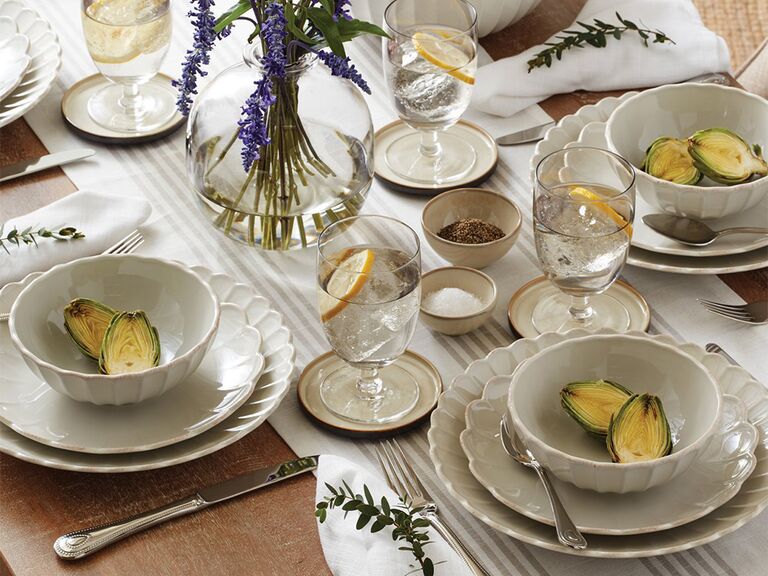 If you're still using the same dishware you received at your wedding 27 years ago, it may be time for an upgrade. Gift your partner a fresh and minimalistic dinnerware set that you can enjoy meals on for years to come. This sweet scalloped collection from Lenox is classic yet playful while still remaining totally timeless.
Mejuri Dôme Hoops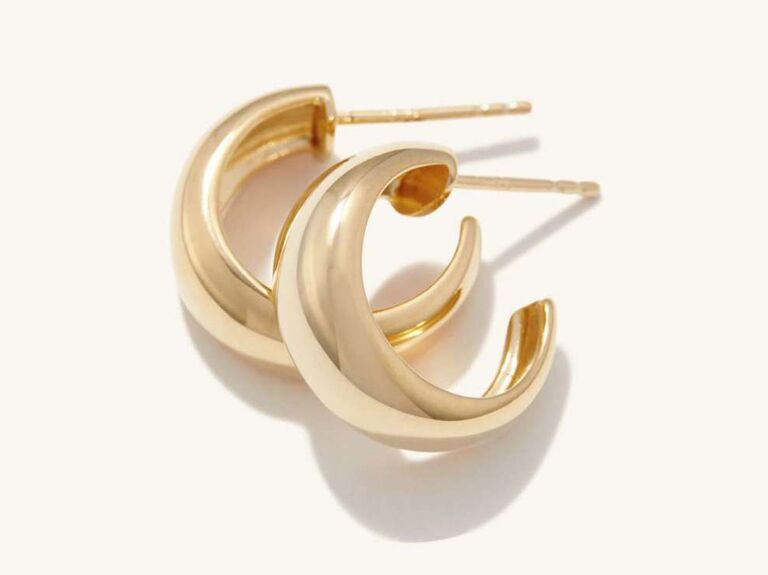 Fact: Jewelry is the perfect gift for any wedding anniversary. These vermeil earrings feature 18 karat gold atop sterling silver and are an elegant and timeless way to impress your partner.
Yenny Cocq Sculpture The Two of Us Sculpture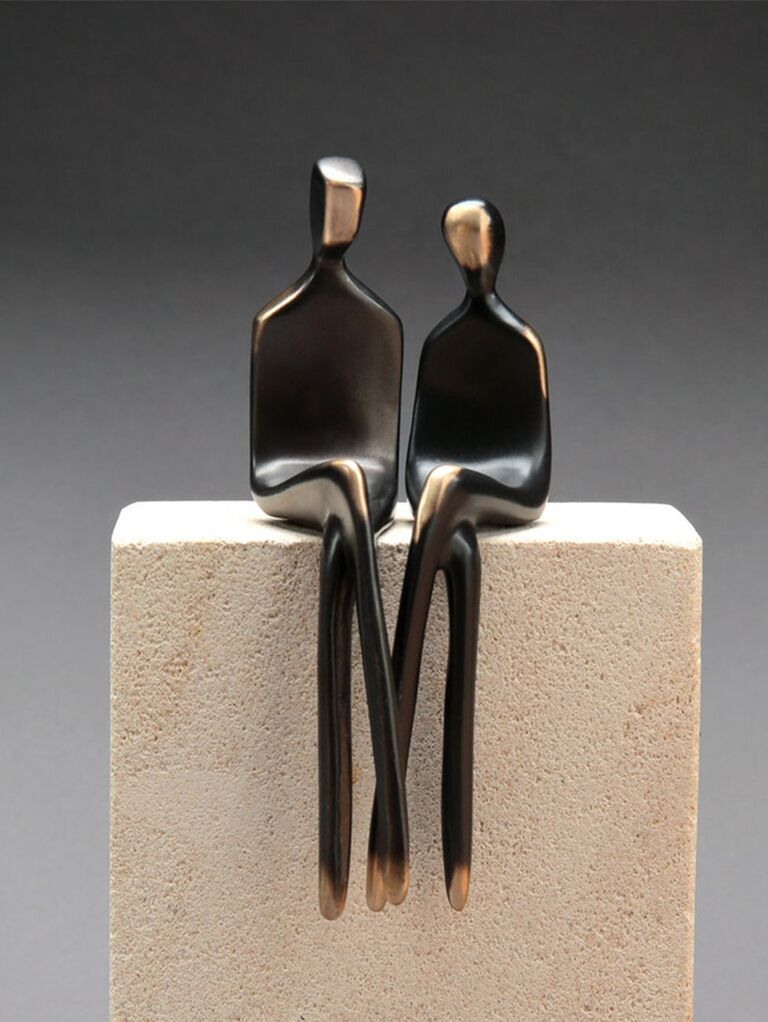 We love this bronze sculpture of a sitting couple as a 27th wedding anniversary gift. The loving duo sits next to one another elegantly, creating a simple yet dramatic statement piece for your home.
Blue Ferntree Modern Minimalist Matte Pastel Mini Ceramic Vase Collection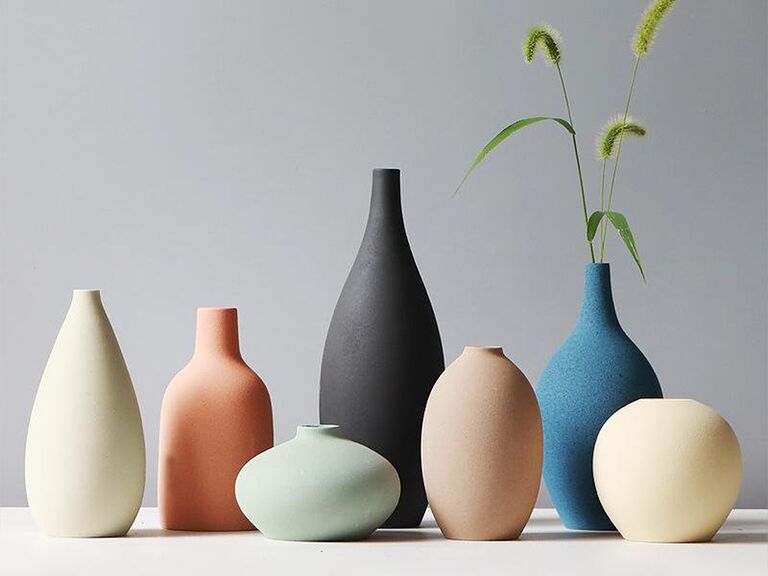 If you can't make it to a pottery class to create your own sculptures, why not snag a beautiful ceramic vase set instead? Pottery ties nicely into the modern gift theme, and these vases would make a stellar gift for any couple.
Personalization Mall Write Your Own Engraved 14oz. Whiskey Glass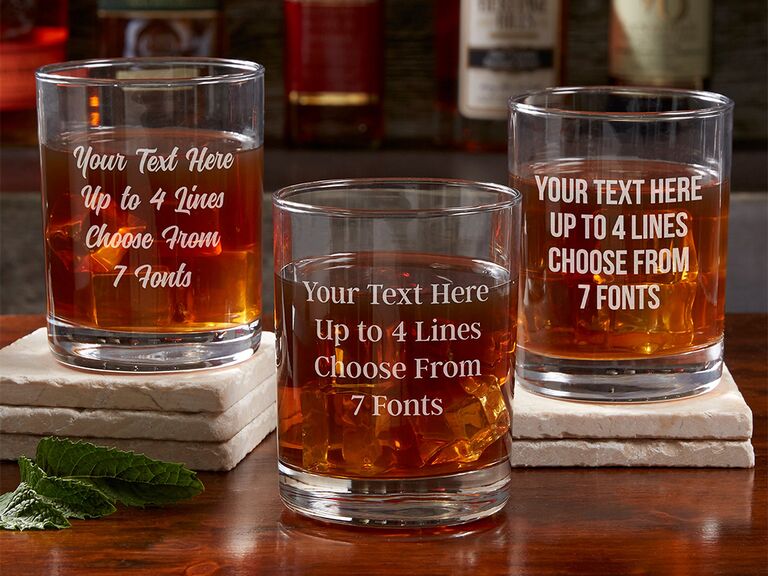 Create a custom engraved whiskey glass to toast to your 27th anniversary with the whiskey lover in your life. Choose your font and add a personalized message or simple tribute like, "27 years down, forever to go."
Jared Natural Amethyst & Natural Green Tourmaline Necklace 10K Yellow Gold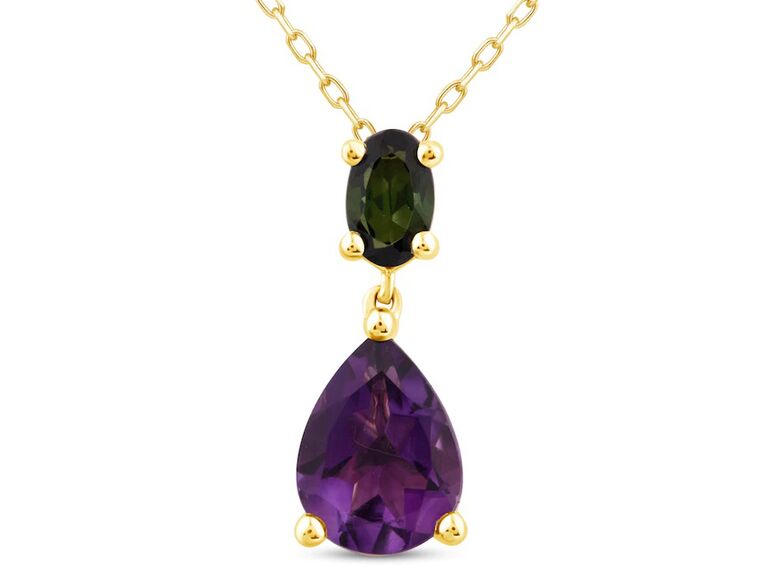 You don't have to wait for a milestone anniversary to give your partner a stunning piece of jewelry. This amethyst and tourmaline necklace is equal parts elegant and timeless, making it a one-of-a-kind anniversary gift.
Minted Filter Heart Snapshot Mix Photo Art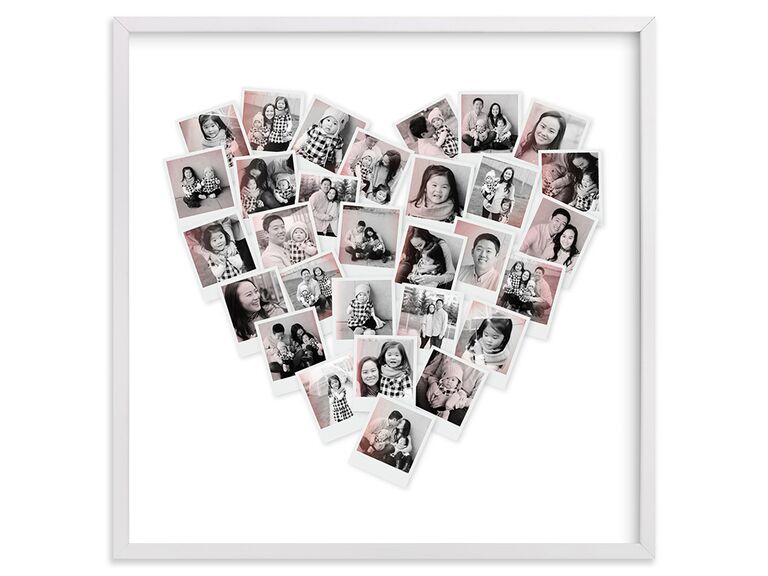 With 27 incredible years behind you, you're bound to have a million memories and photos together. Create a sentimental gift out of your favorite snapshots to help look back on married life together.
Personalization Mall Personalized Anniversary Chronicle Canvas Print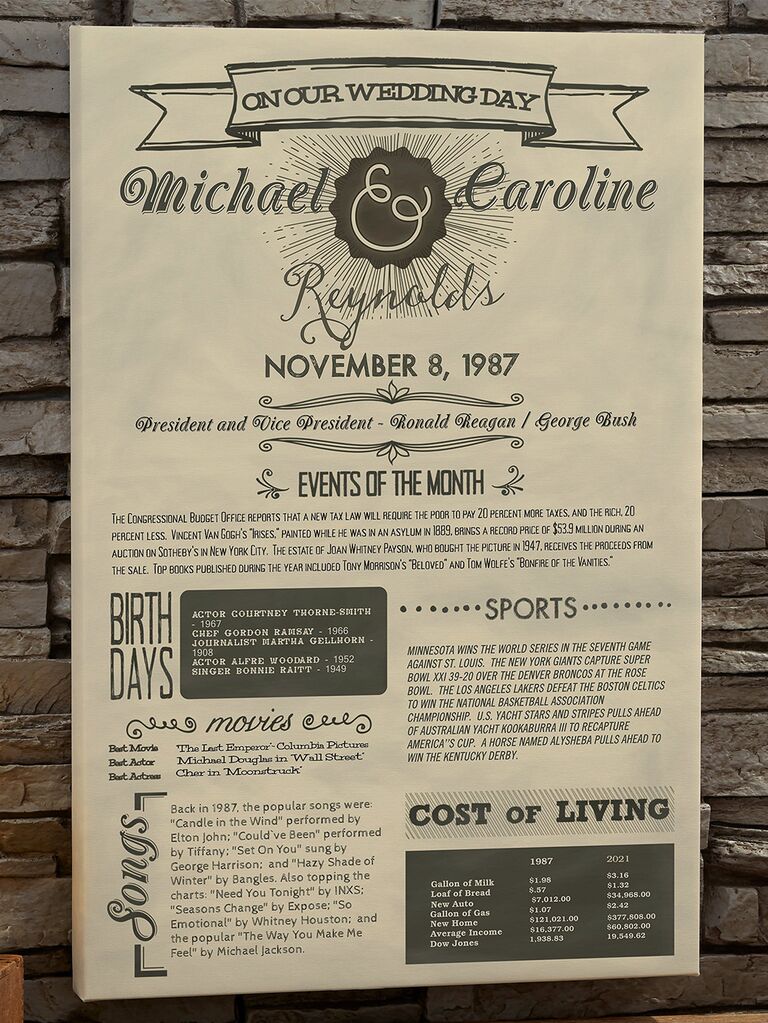 Commemorate the exact day you got married all those years ago with a special chronicle canvas print. You can look back on notable events, sports, movies and more from your big day. While it doesn't match a 27th anniversary theme, this is still a sweet way to give your partner a custom gift to mark the occasion.
Rachel and Jared Ergo Carved with Love Personalized Serve Board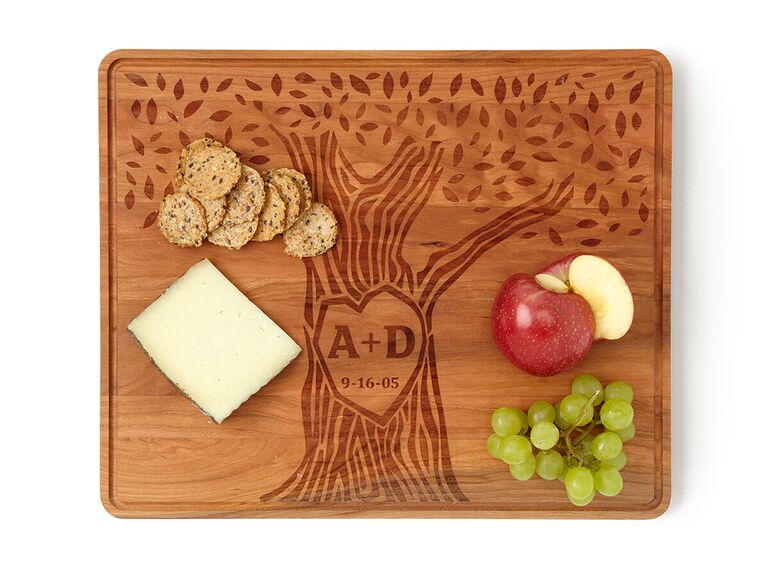 Couples who love to entertain need all of the best accessories to do so. We love this laser-engraved charcuterie board with a personalized tree trunk carving. Enjoy a date night at home with this charming gift, or invite pals over to celebrate your nuptials all over again.
Paravel Aviator Carry-On Plus Suitcase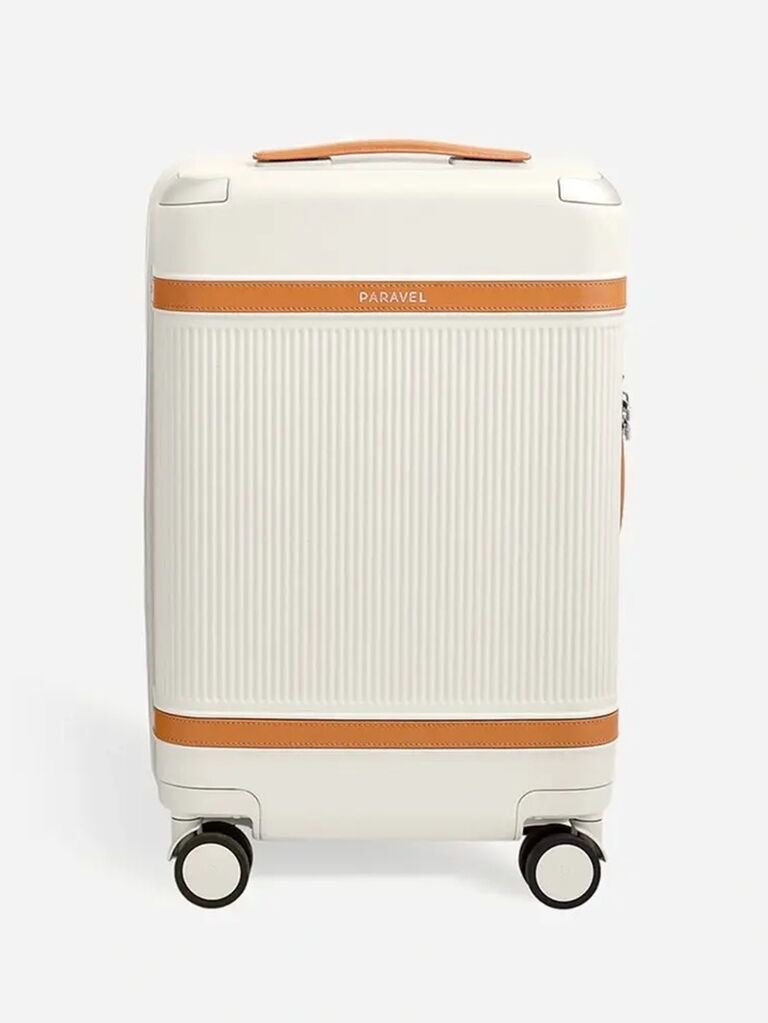 Forget traditional gifts—why not treat your person to a luxe piece of luggage and a honeymoon 2.0 trip in celebration of your upcoming anniversary. This vintage-inspired suitcase from Paravel not only makes a great gift, but it's good for the environment, too—it's made of upcycled plastic water bottles and has vegan leather details for a chic yet sustainable look.