45th Wedding Anniversary Gifts that Any Spouse or Couple Will Love
Honor four and half decades of marriage with one of these thoughtful gifts.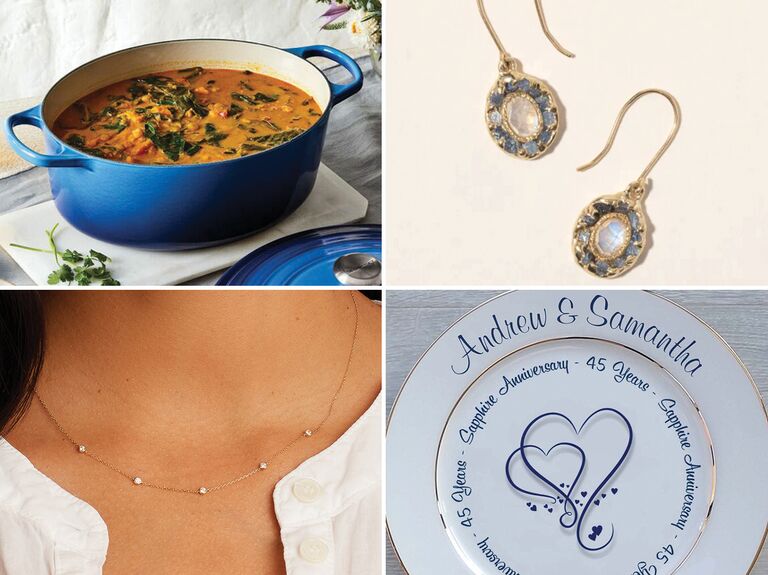 Photos: Le Creuset, Uncommon Goods, Gorjana, Etsy
We have included third party products to help you navigate and enjoy life's biggest moments. Purchases made through links on this page may earn us a commission.
Making it to 45 years of marriage is an incredible accomplishment worthy of a special celebration—and a really thoughtful 45th wedding anniversary gift. If you and your partner,or a couple you know, have reached this incredible milestone, you may be on the lookout for a meaningful present to honor the occasion. Lucky for you, we've compiled a list of the best 45-year anniversary gifts that'll fit the bill, whether you're shopping for your spouse, parents or friends. Our top picks include everything from traditional themed gifts to alternative and creative options that break the mold. Keep reading to find out more about what's traditionally known as the sapphire wedding anniversary.
In this article:
Traditional 45th Anniversary Gifts
The traditional 45th anniversary gift is the sapphire, a richly colored blue gemstone that represents a couple's deep, endless love for one another. For this marriage milestone, it's also the modern anniversary symbol, color and gemstone—allowing you to be really creative when choosing a gift for that special someone in your life. Sapphires are also associated with royalty and have been worn by nobility for centuries to protect against harm and bad luck. Whether you want to spoil your spouse with opulent jewelry or present your parents with bright blue glassware, there are numerous ways to incorporate the traditional 45th wedding anniversary symbol into your gift.
Sapphire Crystal Watch
A watch is a super thoughtful (and practical) gift to give your spouse to commemorate all the time you've spent together over the last few decades. Made from polished stainless steel, this stylish timepiece features a domed sapphire crystal face for a subtle nod to the 45th anniversary theme. The chronograph subdials accurately keep track of every minute and second that pass while adding a sporty finish to this classic accessory.
Handblown Whiskey Glass
If your spouse is a pro at whipping up fancy cocktails, this elegant glass tumbler will help them show off their handiwork. It's made from handblown glass with vibrant sapphire blue speckles along the base to represent the 45th anniversary color and gemstone. It's a standout anniversary gift that's practical, thoughtful and on theme, and one they'll treasure for years to come.
Sapphire Blue Dutch Oven
Shopping for a couple who loves to cook together? We've found a traditional 45th anniversary gift that's right on theme. This sapphire blue Dutch oven is made from enameled cast iron that's safe to use in the oven and on multiple types of stovetops. Whether you're gifting your parents or another lucky couple in your life, this practical gift will come in handy when they're making their favorite soups, stews and casseroles.
Sapphire Blue Flower Vase
Fresh flowers are a romantic gift you can always rely on, but we think the same can be said for a stylish vase. Handcrafted in Italy, this blue and white patterned vessel will add a splash of color to any well-chosen bouquet. To really wow your spouse, we suggest filling it with their favorite blooms to charm them all over again. It's a thoughtful 45th anniversary gift they'll use time and again, even after the special day has passed.
Silver Sapphire Pendant
If jewelry is on your gifting radar, the 45th anniversary gemstone offers a ton of elegant options. This sapphire necklace features a solitaire blue gem suspended from a silver cable chain. Aside from looking really beautiful, this pretty pendant is made using eco-friendly practices (like incorporating recycled metal and ethically sourced gemstones). We bet your spouse will be so thrilled with this thoughtful trinket, they'll want to wear it straight away.
Sapphire Blue Wine Glasses
Toast to 45 years of wedded bliss with a gorgeous pair of blue wine glasses (and your favorite bottle of bubbly or anniversary wine, of course). This richly colored glassware is a great way to incorporate the sapphire anniversary theme into your gift and kick off the celebrations. Whether they use these stylish glasses regularly or reserve them for special occasions, they'll make a striking addition to their bar cart.
Sapphire Anniversary Plate
A commemorative plate is a great way to celebrate your favorite couple's long-lasting union. This sapphire anniversary plate is made from fine bone china with two elegant gold rims for a gilded finish. A pair of interlocking blue hearts sits at the center, surrounded by the couple's names and milestone details for a thoughtful 45th anniversary gift they'll be proud to put on display. There's even an option to have it wrapped in a satin-lined gift box for a beautiful presentation.
Sapphire Blue Dress Shirt
Having a party for your 45th wedding anniversary? Make sure your spouse looks the part with this smart (and thematic) dress shirt. The bold blue hue will add a pop of color to their formalwear, whether that's a full tuxedo, blazer or waistcoat. While the shirt offers a slim fit, it does have a flexible collar that can stretch up to half an inch for added comfort. Choose from a wide range of sizes to find the perfect fit for your partner.
Blue Linen Bedding
It's estimated that we spend a third of our lives in bed, so it makes sense to splash out on some super comfortable bedding. This deep blue set includes a duvet cover, two shams, a fitted sheet, a flat sheet and one or two pillowcases (depending on the size). Each piece is made from 100% linen, a naturally breathable fabric that's especially suited to hot sleepers. They're a great way to guarantee you and your partner both get a restful sleep—even if one of you tends to feel like a furnace when night falls.
Sapphire Anniversary Candle
Still trying to figure out what to get your parents or loved ones? This sapphire anniversary candle is a foolproof option for anyone celebrating their 45th wedding anniversary. It comes in a reusable ceramic pot and emits a warm, beachy scent when lit, making any room feel like an oasis of calm. If that's not enough to convince you, the candle comes with a bejeweled lid in a beautifully presented gift box, so you don't even have to worry about wrapping it.
Sapphire Anniversary Ring
After 45 wonderful years of sporting their wedding band, it may be time to get your spouse some new bling. This tungsten ring (which is the strongest metal out there) features a shiny sapphire blue inlay for a bit of added style. It's a great 45th anniversary gift for anyone who likes their jewelry to make a statement and is an extra meaningful choice if you two are renewing your vows.
Sapphire Anniversary Pebble Art
You don't always have to spend a ton to find a really thoughtful 45th wedding anniversary gift. This personalized pebble art is a super cute way to honor the happy couple in your life, whether that's your friends, parents or even your grandparents. It features two pebble figures holding hands and a sapphire blue heart-shaped balloon for a meaningful keepsake they'll always cherish. Their names appear at the bottom, while the top displays a message that reads "Happy 45th Anniversary."
Sapphire and Moonstone Earrings
If you do feel like splurging on your spouse, these stunning earrings are worth every penny. They're crafted from shimmering rainbow moonstones and surrounded by a halo of sapphires for wow-worthy accessories your partner will never want to take off. The intricate rose cut gives them a distinctly vintage vibe, while the 14K gold finish adds a gorgeous glow to this unique take on the traditional 45th anniversary gemstone.
Sapphire Rock Coasters
If you're married to a dedicated coffee drinker, this sapphire blue coaster will brighten up their morning routine. It's made from a combination of glazed ceramic stoneware and recycled glass for a striking home accessory that's as unique as they are. If they think it's too pretty to be covered up with a mug of coffee, they can display it on their nightstand or table to bring a touch of boho-chic to their home.
Custom Star Map
Celebrate how the stars aligned 45 years ago when you and your love walked down the aisle. This custom map of a glittering night sky is a unique way to look back on your wedding day while also adding some new decor to your home. All you need to do is pick an important date (like your wedding day), and the stars from that special evening will be printed in a deep blue color on a white linen background. Add your names and a thoughtful message for a stellar gift that'll leave your partner starry-eyed.
Blue Crossbody Bag
Whether your spouse considers themselves a fashionista or just needs a new purse to hold their essentials, they'll love this blue crossbody bag. It's crafted from soft leather in a bold sapphire hue and features silver-tone hardware for a stylish finish. The top zipper closure will ensure their valuables stay safely stashed inside, while two exterior pockets offer easy access to everyday items like subway tickets and hand cream.
Unique 45th Anniversary Gifts
Of course, there are other options if sapphire gifts aren't leaving you inspired. The 45th wedding anniversary has a couple of other symbols associated with it, including a flower and an alternative color. The blue iris is the official bloom, representing hope and faith, while red is a fiery substitute for sapphire blue. If you're feeling more inventive, feel free to swap the themed gifts entirely for a unique 45th anniversary gift that breaks with tradition. From personalized puzzles and sentimental wall art to luxurious nightwear and delicious treats, there's something to suit everyone.
Blue Iris Flower Delivery
Take your cue from the 45th wedding anniversary flower with a beautiful bouquet of blue irises. These blue blooms look particularly vibrant paired with red tulips and are guaranteed to brighten up your spouse's day. Have them delivered straight to the doorstep to surprise your sweetheart on the morning of your 45th anniversary. Now, all you have to worry about is convincing them to answer the door once the bell rings.
Personalized Newspaper Page Puzzle
If you're scratching your head wondering what to get your parents for their 45th wedding anniversary, we've come up with the perfect solution. This 500-piece puzzle recreates the front page of The New York Times from the day they got married for a sentimental and thoughtful look back in time. History buffs are sure to get a kick out of re-reading the news from the day they said "I do" and reflecting on how much has changed since then.
Sheet Music Art
No matter how much time has passed, you'll always remember your first dance together. If you're looking for a sentimental 45th anniversary gift for your husband or wife, consider a piece of wall art inspired by your wedding song. This understated canvas displays the sheet music of your chosen track for a romantic tribute that'll make you want to re-enact the moment all over again.
Family Name Sign
Honor your favorite couple's longstanding union with a handmade sign that boasts their names, monogram and "established" date (like the year they met or when they got married). They can proudly hang it in their home to celebrate their 45th wedding anniversary and all the joyful moments they've shared over the last four and half decades.
Plush Cotton Bathrobe
A plush cotton bathrobe is a wearable anniversary gift that any spouse will appreciate, especially if they love chilling by the pool or lounging on the weekends. This one is made from soft Turkish cotton, which is perfect for wrapping up after a shower or a swim. It features an adjustable tie waist, wide sleeves and—best of all—roomy pockets for all their essentials. Be warned: When you see how comfy your partner is in this robe, you may be tempted to snag one for yourself too!
Retro Bluetooth Speaker
After 45 years together, you and your love have likely seen many changes come and go, from fashion trends to technological advancements. If you feel like throwing things back to another era, this retro Bluetooth speaker will have you reliving your golden days in no time. Designed in a Mid-century style, this vintage-inspired device is fitted with manual knobs to adjust the volume or turn the dial to local radio stations. There's also an option to switch to Bluetooth so you can listen to your favorite playlist together.
Crystal Photo Cube
We couldn't complete an anniversary gift guide without including a sentimental photo gift. Whether you're gifting your parents, spouse or friends, this crystal photo cube will bring them right back to their wedding day. All you have to do is choose a photo to display on the light-up base and add a personal engraving with a special message (think: "Happy 45th Anniversary" or "For Many More Happy Years") for a thoughtful 45th anniversary gift they'll treasure forever.
Family Story Book
If your spouse has a way with words, a gift from StoryWorth will help them flex their writing skills while taking a trip down memory lane. Every week, they'll be e-mailed a writing prompt they can respond to with photos and text they've composed themselves. After a year of reliving precious memories, their written anecdotes will be transformed into a hardcover book for a unique 45th anniversary gift that will become an instant family heirloom. Just don't be surprised if the two of you end up talking for hours about all the fun adventures you've shared over the years.
Elegant Diamond Necklace
It may be the sapphire wedding anniversary, but that doesn't mean you can't treat your love to some dazzling diamonds. This elegant necklace is a timeless accessory that any stylish spouse will be excited to unwrap. The 14K gold chain is dotted with five round cut diamonds that'll bring a subtle sparkle to any outfit (and your partner's eyes, no doubt!).
Garden Tool Set
If your spouse spends much of their downtime in the garden, this two-piece tool set is a practical anniversary gift they'll love and use. It includes a stainless steel trowel and hoe, both of which are finished with high-quality ash wood handles. Durable and compact, these gardening implements are great for transplanting, weeding and cultivating the soil. Bonus: They come with a drawstring cotton bag for handy storage and safekeeping.
Monthly Book Subscription
Whether your spouse likes to read every night before bed or just on lazy weekend mornings, they'll love this monthly book subscription. Every month they'll receive four new mystery novels selected at random to help them switch up their reading routine. If you're not sure about the genre, you can also choose contemporary, crime, fantasy and romance options.
Wine and Chocolate Set
Wine and chocolate are a match made in heaven, just like a couple that's been devoted to each other for 45 years. If you're looking for an edible anniversary gift for your parents or friends, this delicious combo is sure to please. It includes a bottle of rich red wine and an assortment of indulgent chocolate truffles for the ultimate romantic night in. It's the perfect 45th wedding anniversary gift to spoil your loved ones with on their special day.
Personalized Yarn Bowl
If your spouse has a creative streak, why not get them a gift that ties in with their favorite hobby? This stoneware yarn bowl is ideal for anyone who loves to knit or crochet to unwind after a long day. It's made from glazed ceramic and can be customized with your partner's name for a personal touch. The hooked slot keeps skeins of yarn from getting tangled, while the holes on the side are designed to keep needles secure between uses. They'll love it so much, they'll be inspired to start a new craft project right away (a scarf for you, perhaps?).
Heart-Shaped Succulent Garden
Here's a unique 45th anniversary gift that any plant lover will appreciate. This heart-shaped resin planter is packed with a variety of succulents that are super cute and easy to care for. It's available in two sizes (small and large) and is suitable for indoor spaces. The best part? These low-maintenance plants only need to be watered once every two weeks for a fuss-free gardening experience.
Luxurious Silk Pajamas
While sapphire blue is synonymous with the 45th wedding anniversary, this milestone also has an alternative color, red. If your spouse favors warm hues over cooler tones, they'll love this set of red silky pajamas. The button-down shirt and long pants are made from 100% silk that's hypoallergenic and thermoregulating for maximum comfort. But that's not all—these comfy pjs are also machine washable for hassle-free laundry days.