Our Favorite 45th Wedding Anniversary Gifts for Any Spouse or Couple
Celebrate four-and-a-half decades with a thoughtful present.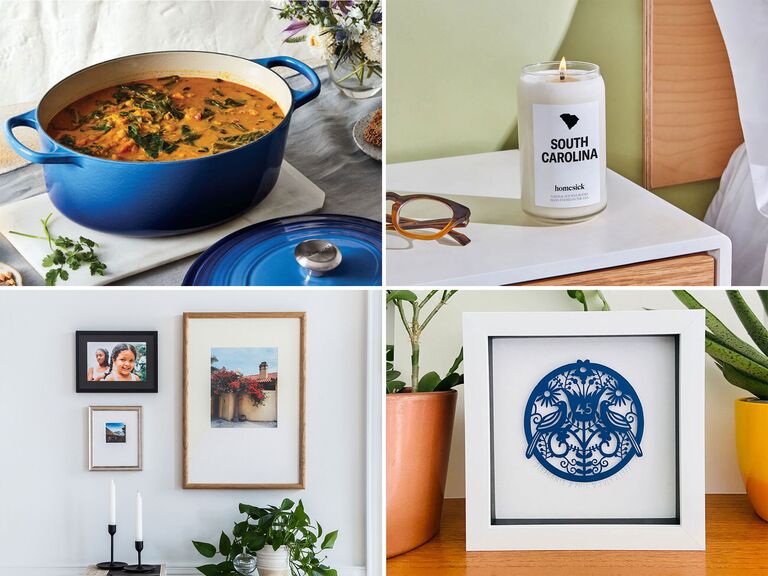 We have included third party products to help you navigate and enjoy life's biggest moments. Purchases made through links on this page may earn us a commission.
Making it to 45 years of marriage is an incredible accomplishment worthy of a special celebration. After decades of love and laughter, it's only fitting that you honor your spouse, parents or friends with a thoughtful 45th wedding anniversary gift. If you're not sure where to start, you've come to the right place. We've done the work for you and compiled a list of the best 45-year anniversary gifts you can shop for right now. Whether you take inspiration from the official 45th anniversary gift theme or go for something a little more outside the box, these presents are sure to impress.
In this article:
What Is the 45th Wedding Anniversary Gift?
Traditional and Modern 45th Anniversary Gift
The 45th anniversary is the sapphire wedding anniversary. The rich blue color of this gemstone—which is the traditional and modern anniversary gift—is representative of a couple's deep, endless love for one another. Sapphires have also been associated with royalty (peep Princess Diana's and now Kate Middleton's engagement ring) and recognized as a symbol of good fortune, though couples reaching this milestone probably already feel pretty lucky. Despite what you might assume, sapphire anniversary gifts aren't limited to just jewelry, although everyone loves an excuse for new bling. You can take inspiration from the stone's vibrant color to shop for unique home decor, practical accessories or meaningful keepsakes.
Other 45th Anniversary Symbols
The 45-year anniversary also has a specific color, gemstone and flower. The first two symbols are a bit obvious; the 45th wedding anniversary color and gemstone is sapphire (yes, sapphire again!). Likewise, in sticking with the blue theme, the 45th anniversary flower is the blue iris, which symbolizes hope for even more wonderful years together.
Sapphire Anniversary Gifts
Whether you're shopping for the perfect gift for your wife, husband, parents or friends on their 45th wedding anniversary, we've rounded up the best sapphire anniversary gifts that'll spoil that special someone in your life.
Sapphire Crystal Watch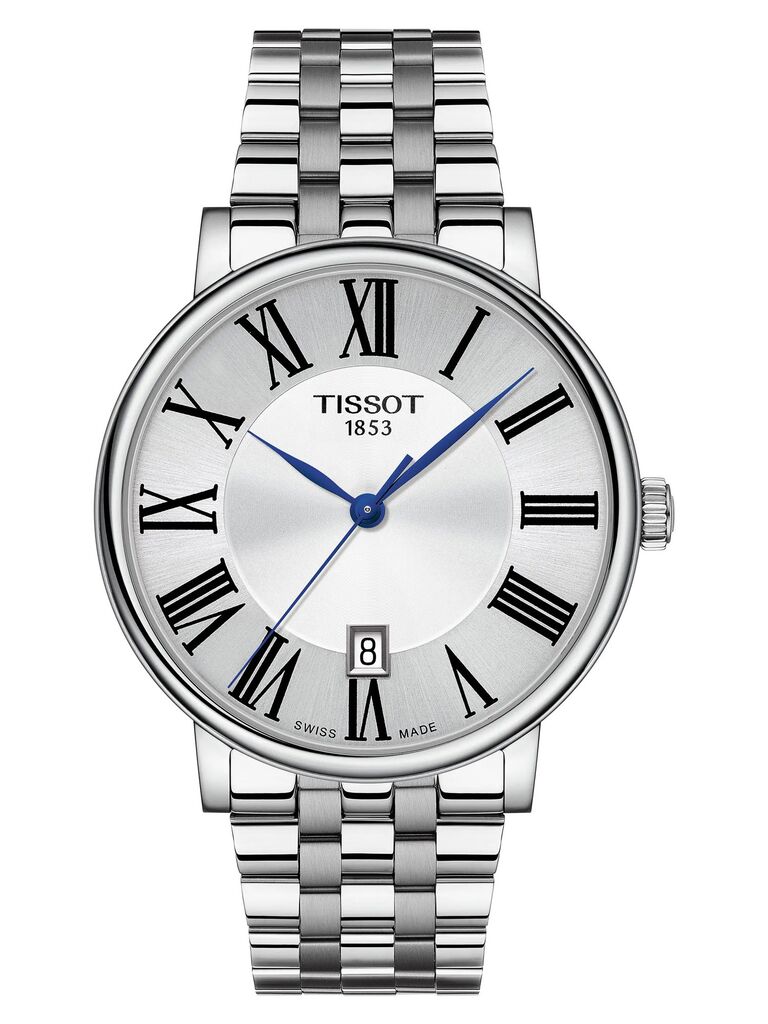 Watches are a great way to commemorate all the time that has passed—and wow, has a lot of time passed—while also celebrating the years still to come. Treat your spouse to a luxury timepiece that doubles as a traditional 45th anniversary gift. This silver watch has a sapphire crystal face and blue-toned hands for a polished accessory for him or her.
Sapphire Stud Earrings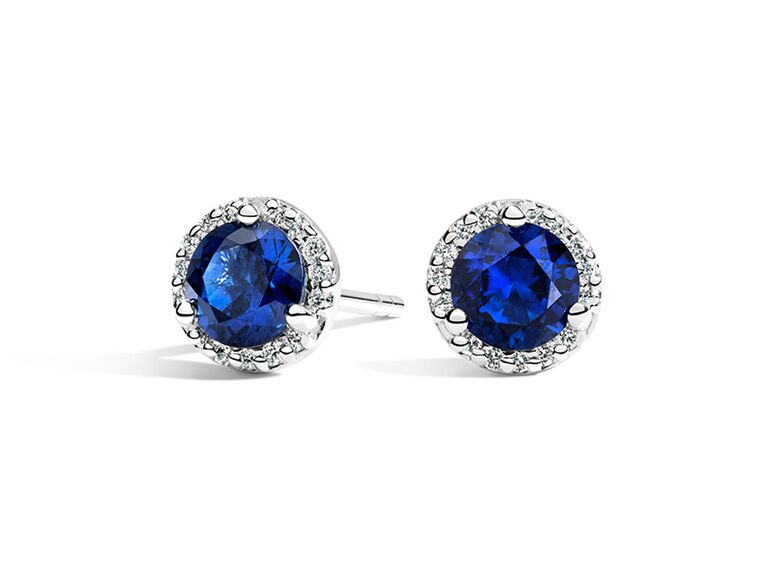 Talk about a jaw-dropping sapphire anniversary gift. These dazzling studs, which feature a pavé diamond halo, will add an eye-catching pop of color to any outfit. Best of all, Brilliant Earth uses recycled metals and ethically sourced gemstones in all their pieces, so this is a 45th anniversary gift you can feel good about.
Sapphire Blue Flower Vase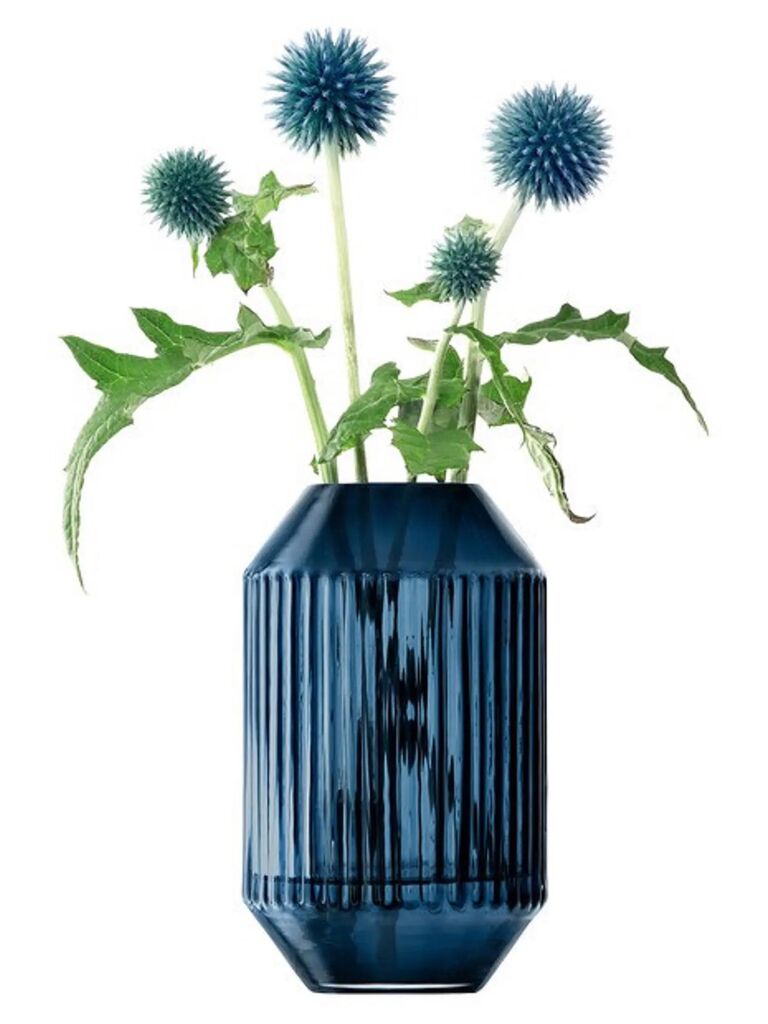 Pro tip: Even after 45 years of marriage, you can never go wrong with fresh flowers and a thoughtful card—especially if you present said blooms in a fancy new vase. Brighten up their foyer or kitchen table with this sapphire blue vessel, which is mouthblown in Poland and has a corrugated texture inspired by contemporary architecture.
Weighted Blanket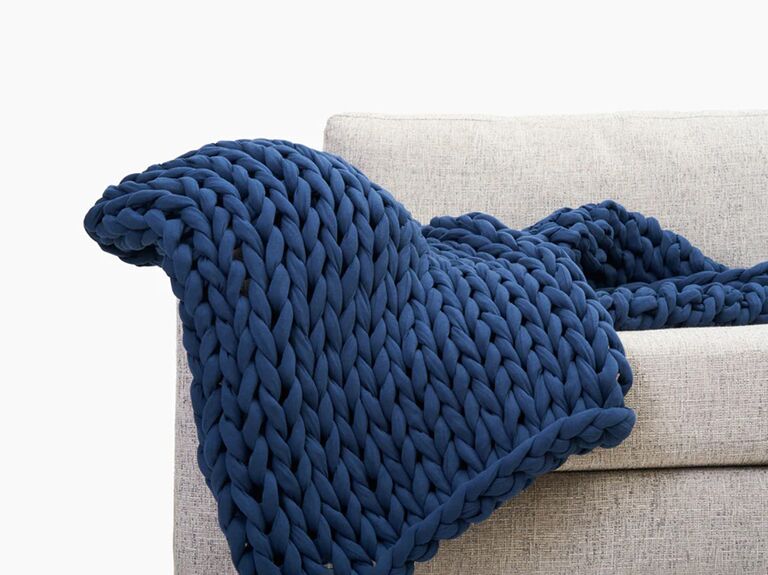 Meet the coziest way to unwind: a weighted blanket. These slightly heavy throws (this one is 10 pounds) help stimulate the happy hormone, serotonin, and reduce cortisol, which can cause stress. They can also lead to an increase in melatonin, meaning your spouse or favorite couple will feel more relaxed and well-rested after every couch cuddle or good night's sleep. The oversized knit design is made of breathable cotton fabric and comes in deep blue to fit the 45th anniversary traditional theme, making it an all-around win.
Deep Blue Stand Mixer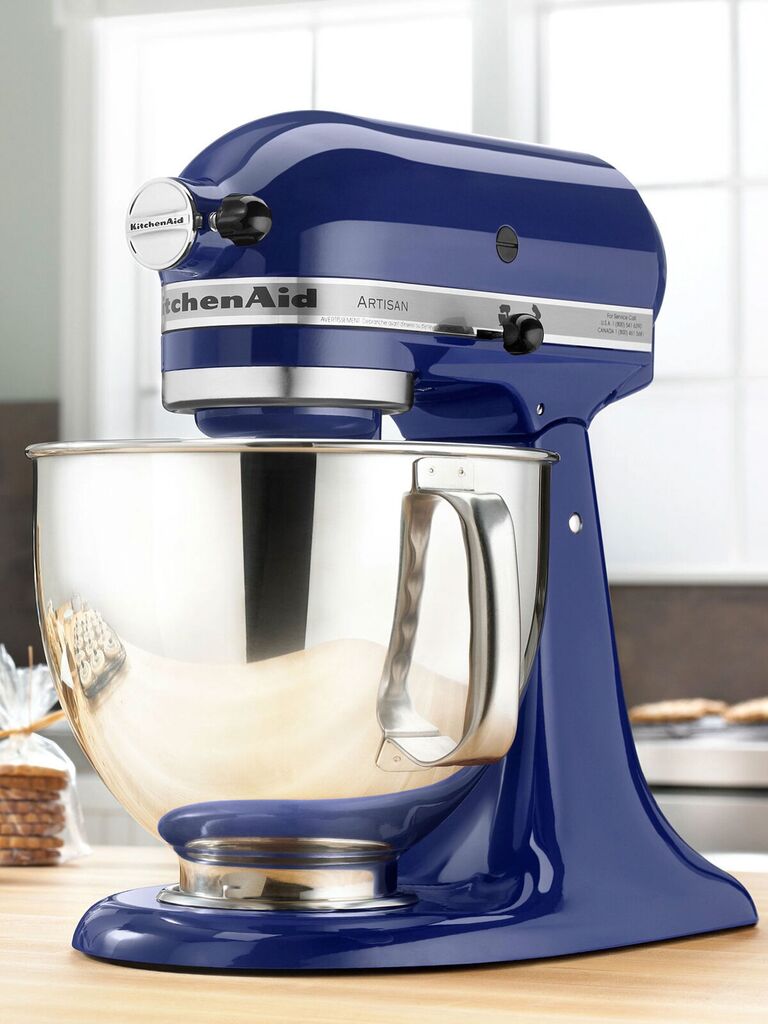 Married to a Great British Baking Show fan? Make all of their kitchen dreams come true with a KitchenAid stand mixer in an anniversary-appropriate deep blue. It comes complete with everything they'll need to whip up their favorite confections, including a beater, whisk, dough hook and a mixing bowl—plus it boasts 10 different speed settings to help them perfect their craft. Just think of all the delicious cookies, loaves of bread and cakes they'll bake. Honestly, it's almost a 45-year anniversary gift for you, too.
Sapphire Blue Wine Glasses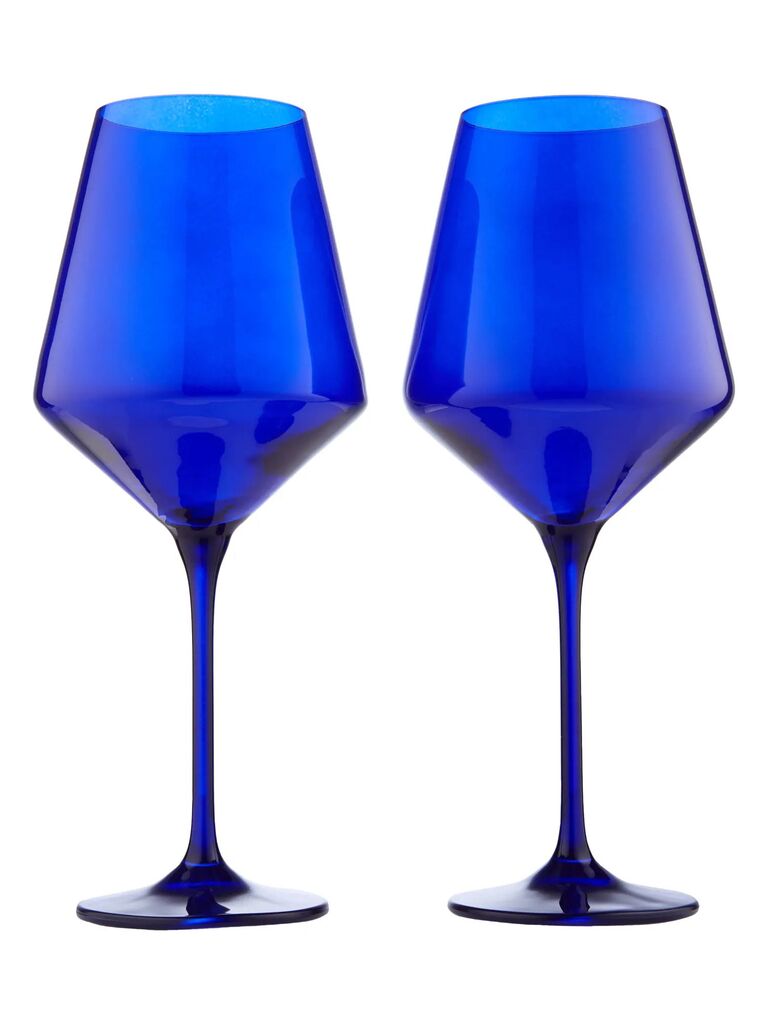 Toast to 45 years of wedded bliss with a gorgeous pair of blue wine glasses (and your favorite bottle of bubbly, of course). This rich shade is an appropriate nod to the sapphire wedding anniversary and the glasses will look stunning whether they're on display in a china cabinet or in use on their dining table.
Sapphire and Diamond Ring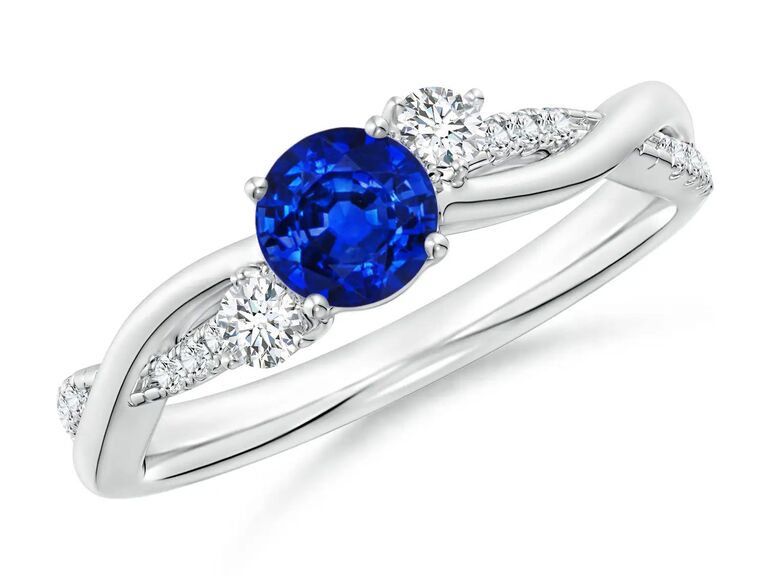 Since the 45th wedding anniversary gemstone is sapphire, what better way to ring in the celebrations than with a gorgeous blue sparkler? This elegant bauble features a captivating round sapphire stone set on a twisted band that's been adorned with diamonds. It's a timeless piece that'll be a beautiful accompaniment to any wedding band or engagement ring they already have.
Sapphire Cuff Links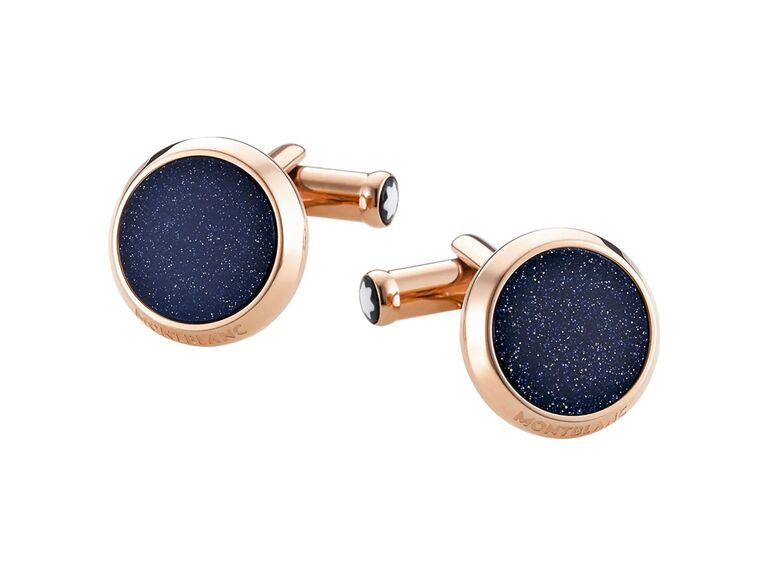 Here's a 45th wedding anniversary idea that's one for the ages: Host a party in honor of your marriage milestone completely outfitted with blue decorations—all the way down to your attire. You can even surprise your spouse with this special pair of sapphire cuff links set in rose gold to wear on the day of the celebration!
Custom Star Map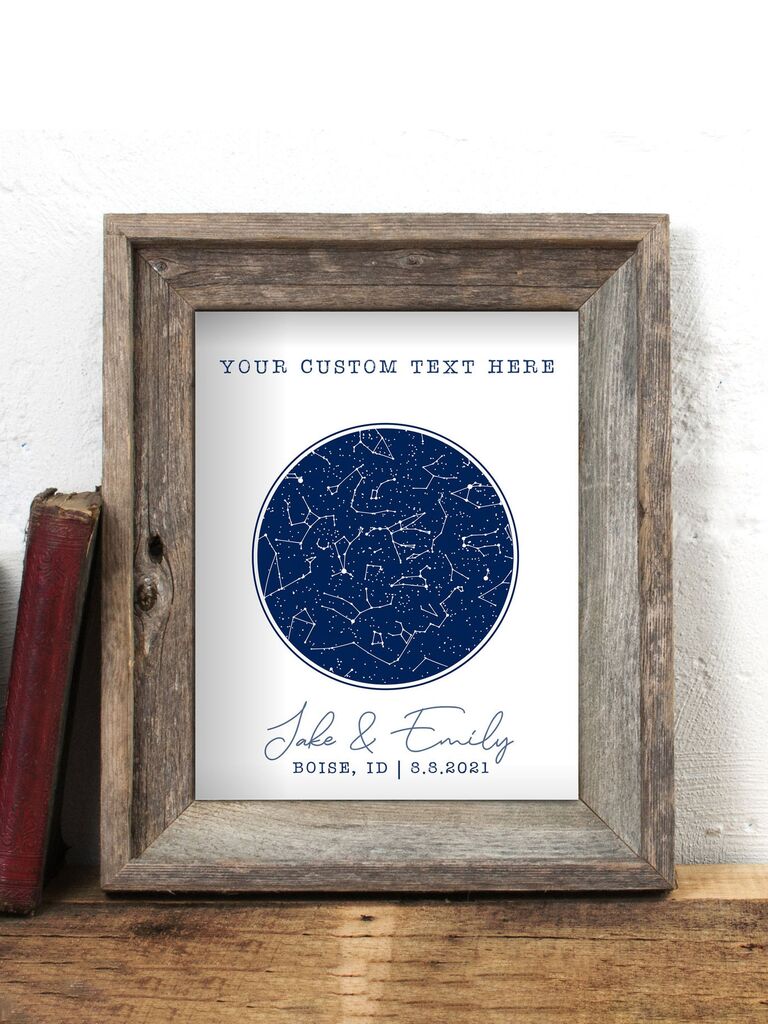 Custom maps of the starry night sky have been rising in popularity thanks to their customizable and thoughtful appeal. Here's how it works: You pick an important date in your relationship, like your wedding day, and the stars from that special evening will be printed in rich blue to honor the 45th anniversary's theme. You can even personalize this already special gift further with a sweet message. May we suggest, "Our stars from 45 years ago"?
Sapphire Blue Dutch Oven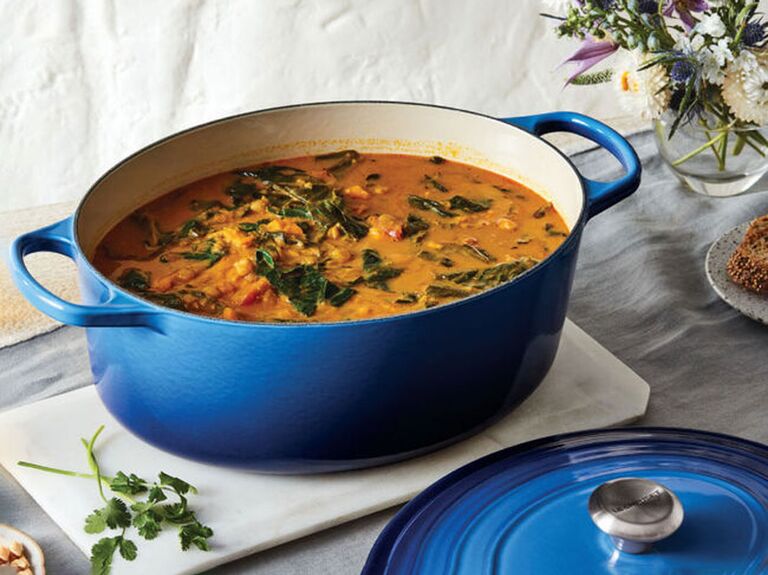 There are a lot of 45th anniversary gift ideas for couples who love to cook together, and this one just happens to come in the perfect sapphire hue. After four and a half decades of marriage, your kitchenware could probably use a refresh, right? Well then, now is the perfect time to spring for this vibrant Le Creuset Dutch oven, which will come in handy when recreating all your favorite stews, soups and casseroles.
Handblown Whiskey Glass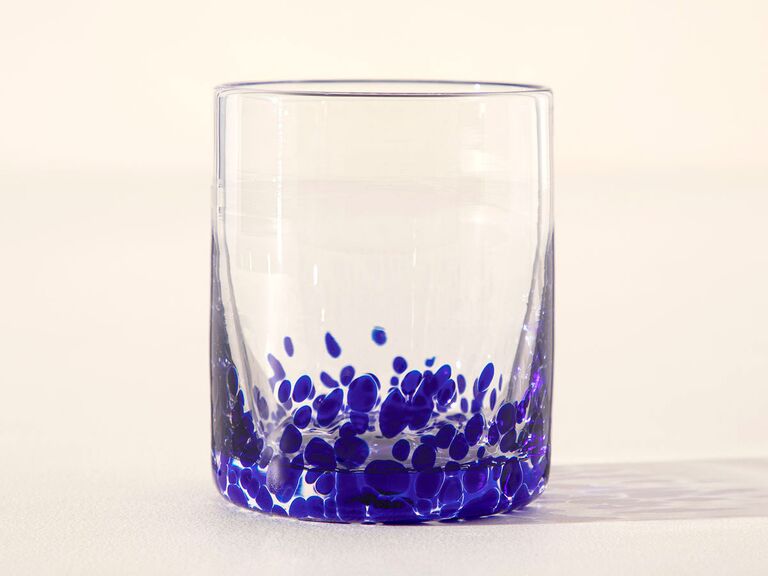 This glass tumbler is so pretty, they might not even want to use it—and that's ok! Whiskey lovers will be in awe of this creative gift whether they drink from it or just display it on their bar cart. It's a handblown rocks glass with rich, royal blue speckles along the base to represent the 45th anniversary's gemstone: sapphire.
Blue Leather Handbag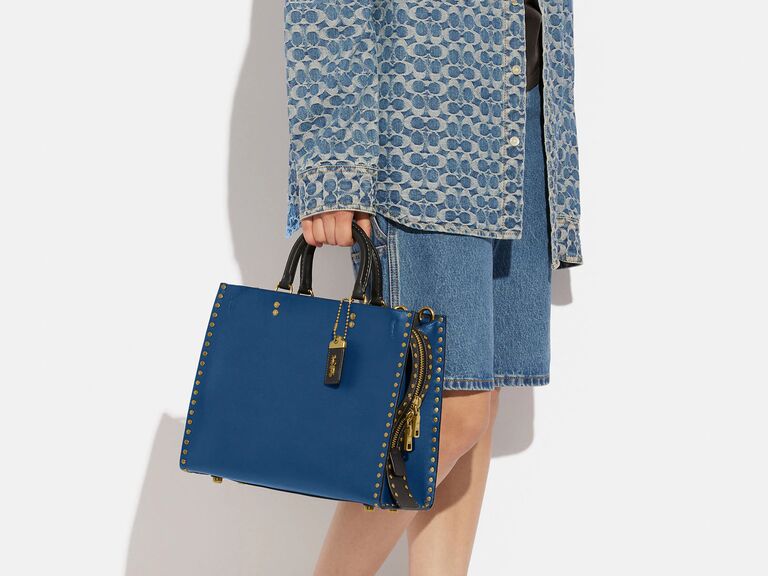 If you're looking for a 45th anniversary gift that they'll use every day, look no further than this chic handbag. This designer purse from Coach is crafted from deep blue leather and bordered with rivets, giving it just the right amount of edge. The best part? It boasts three compartments and a detachable crossbody strap for easy, on-the-go style.
Sapphire Anniversary Ring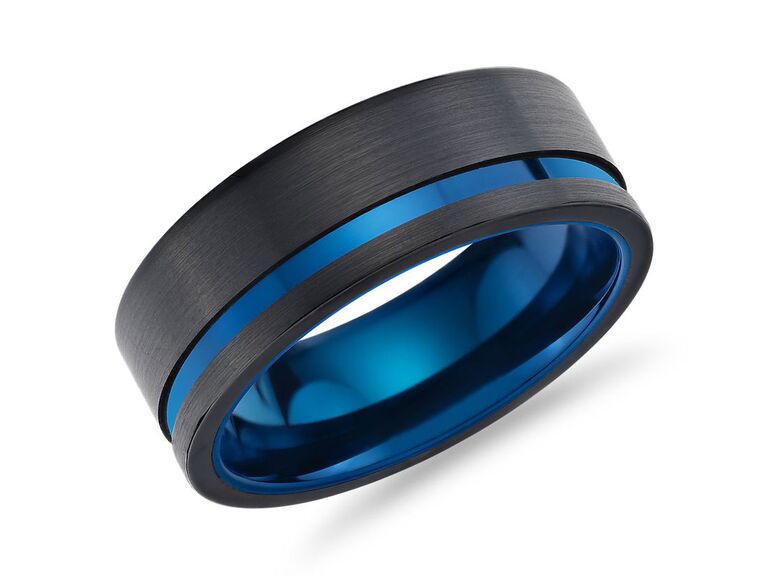 After 45 wonderful years of sporting their wedding band, it might be time for an upgrade. This tungsten ring (which is the strongest metal out there) features a shiny sapphire blue inlay for a bit of added style. We can almost guarantee it will become a signature part of their everyday look.
Blue Linen Photo Album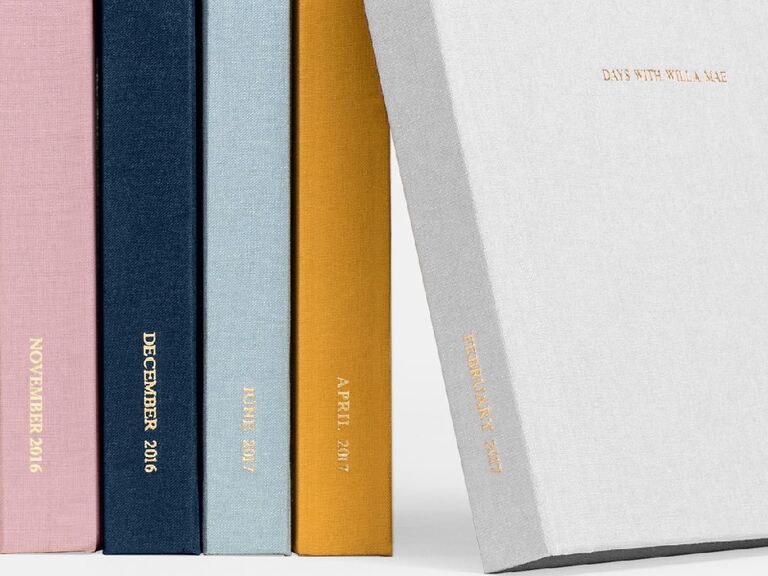 Bring on the memories! Sapphire anniversary gifts don't have to be expensive to be thoughtful. Surprise your wife, husband or parents with a linen photo album of the best moments together over the last four and a half decades. They'll love paging through this sentimental gift, which comes bound in a deep shade of sapphire blue (among other stylish hues).
Paper Artwork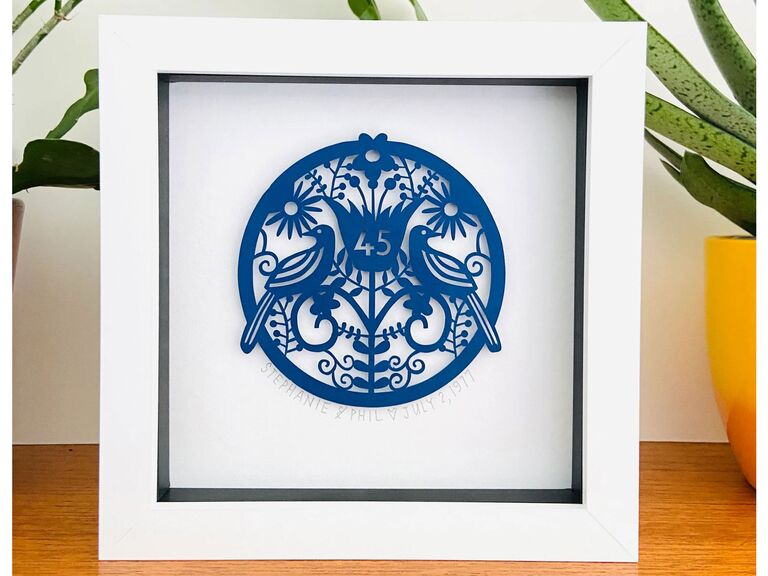 Lovebirds for the lovebirds. If you're 45th wedding anniversary shopping for your parents or friends, this unique piece of artwork will instantly become a cherished keepsake. The heavyweight royal blue paper is meticulously cut into a botanical design featuring two doves and the number "45." The couple's names and wedding date are also subtly written underneath as a memento of their 45-year marriage milestone.
Alternative 45th Wedding Anniversary Gifts
When you've been together for over four decades, it can be tough to think of a gift that you haven't already gotten for your spouse. Luckily, we're full of new ideas! If you want to forgo the sapphire tradition, here are our favorite unique 45th wedding anniversary gifts that'll make your partner (or your favorite couple) feel the love.
Guided Group Trip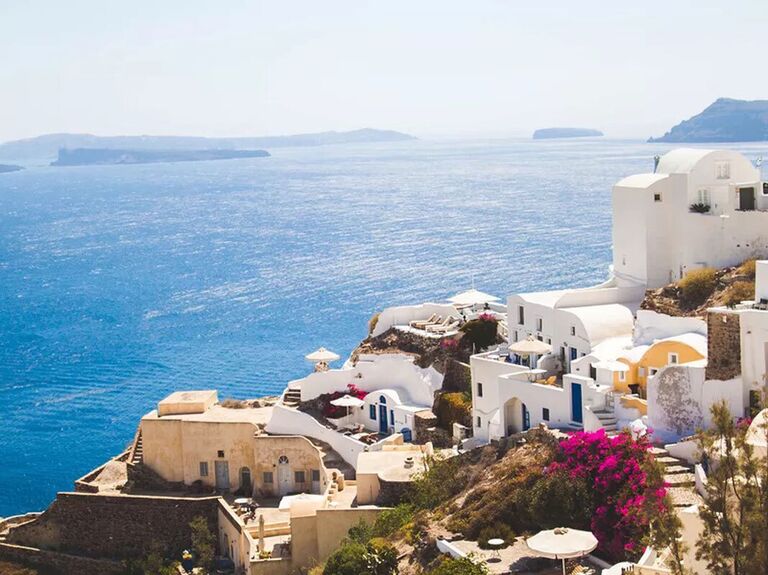 Four and a half decades of marriage is the perfect time to splurge on a fun trip abroad for you and your partner—or your whole family. With Go Ahead Tours, planning a vacation has never been easier. They find everything from hotels and flights to scenic tours and delicious restaurants for you to enjoy—they'll even pair you with local guides so you can take in the sites and culture of a new place without any stress. Choose from over 175 trips across all seven continents, including scenic Greece, which is renowned for its coastal blue architecture—a perfect sapphire anniversary destination.
New York Times Front Page Puzzle
Puzzled about what to get your parents for their 45th wedding anniversary? Here's a creative gift that will fill their downtime or date nights: a jigsaw puzzle. This 500-piece puzzle recreates the front page of the New York Times from the day they got married for a sentimental and thoughtful look back in time. History buffs are sure to get a kick out of re-reading the news from the day they said "I do."
Blue Iris Flower Delivery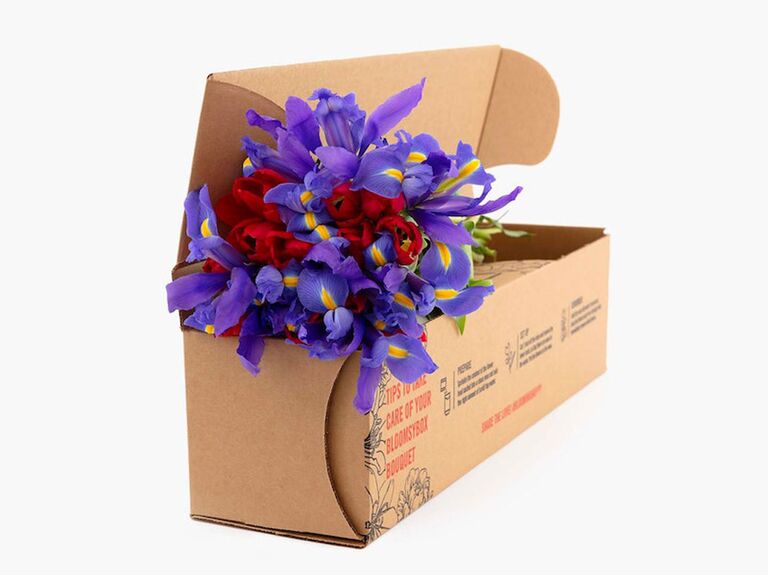 Here's a thematic 45th wedding anniversary gift idea: a bouquet of blue irises (the milestone's flower) and red tulips. This vibrant floral arrangement will be delivered straight to your recipient's door, meaning you won't need to sneak out the morning of your anniversary to grab flowers from the store. How convenient is that?
Wine Subscription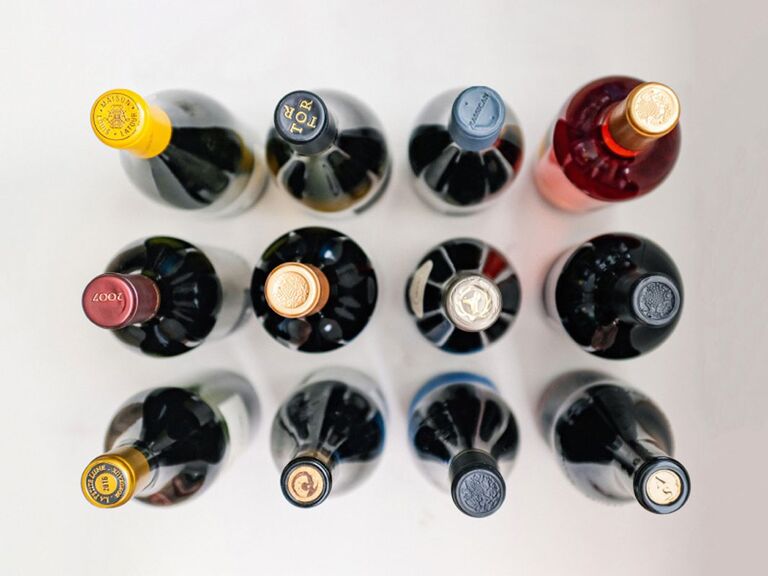 Oenophiles rejoice! You no longer need to hop on a plane to have access to the best wines from around the world. Wine Access's selection of exclusive, international wine—some of which have even been chosen by Michelin Star tastemakers—allows recipients to expand their palette without breaking the bank. This is one 45th anniversary gift that'll earn you plenty of brownie points—if they're nice, they may even share a glass with you.
Framed Gallery Wall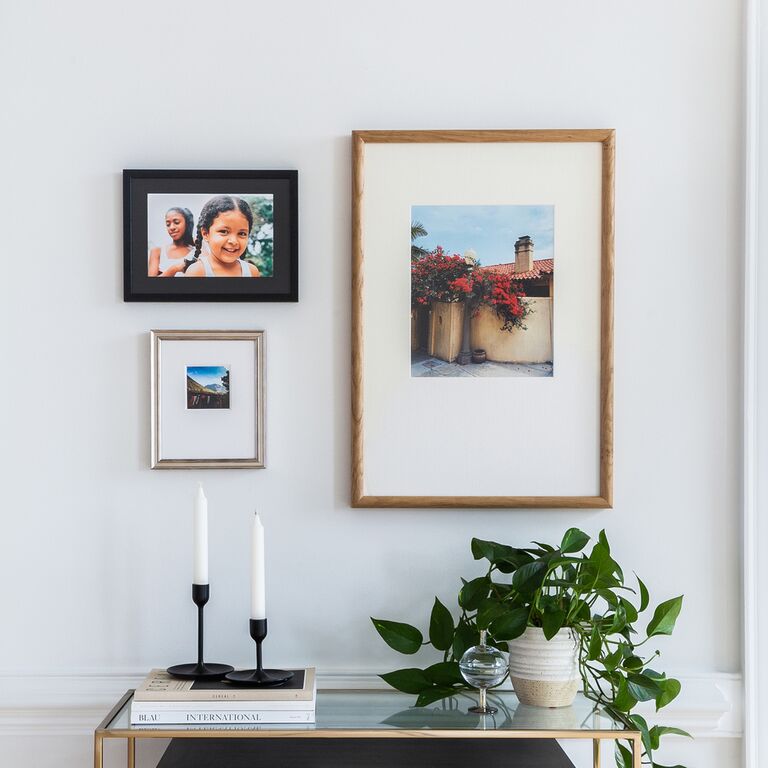 With 45 years of memories behind you, a gallery wall is a great way to display all of your most cherished moments. And now, hanging photos has never been easier. Framebridge doesn't just sell sets of elegant frames, they also custom frame your photos so everything is display-ready upon delivery (they'll even make installation more straightforward with a life-sized hanging guide). It's the sweetest way to liven up their home.
Family Name Sign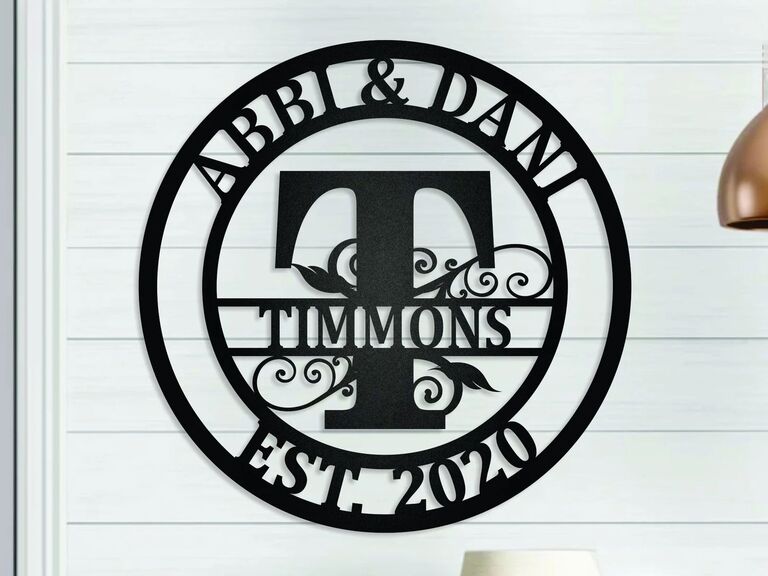 Honor your favorite couple's longstanding union with a handmade sign that boasts their first and last names, monogram and "established" date (aka wedding date). They can proudly hang it in their home as a symbol of their 45th wedding anniversary. Shopping last minute? We won't tell! You're in luck because this gift can ship in 24 hours.
Indoor Smart Garden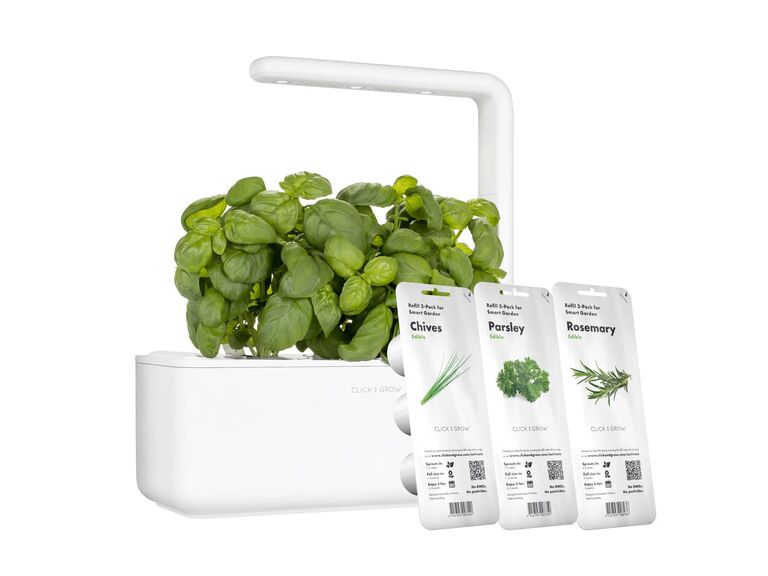 If we had to guess, your spouse, friends or parents celebrating 45-years of marriage probably have a bit of time on their hands. Why not inspire them to take on a new hobby with this indoor smart garden? Click and Grow smart gardens automate plant care—from watering to light—to make growing herbs, veggies or even flowers easier than ever. Once the plants outgrow the pods, they can transplant them outdoors for a personal vegetable garden. This gift set comes with chives, parsley and rosemary seeds, but you can also shop over 75 plant varieties to choose selects that your giftee will love.
Online Cooking Class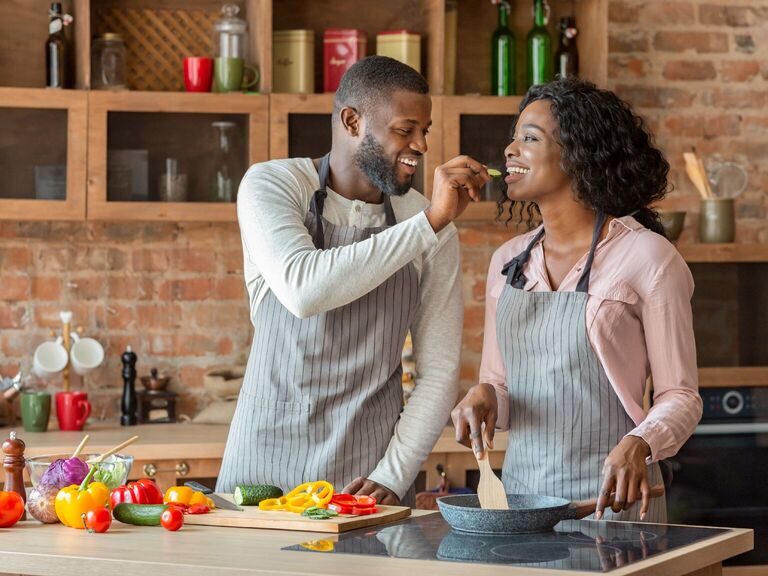 You did it! You've thought of 45 years of creative dates. Now, let us take the wheel—or more accurately, let Sur La Table. They have interactive, virtual cooking classes taught by expert chefs that make for an easy and creative date night. You and your spouse can learn how to cook, bake or grill new recipes together, then enjoy the meal and toast to many more decades together.
Premium Grilling Set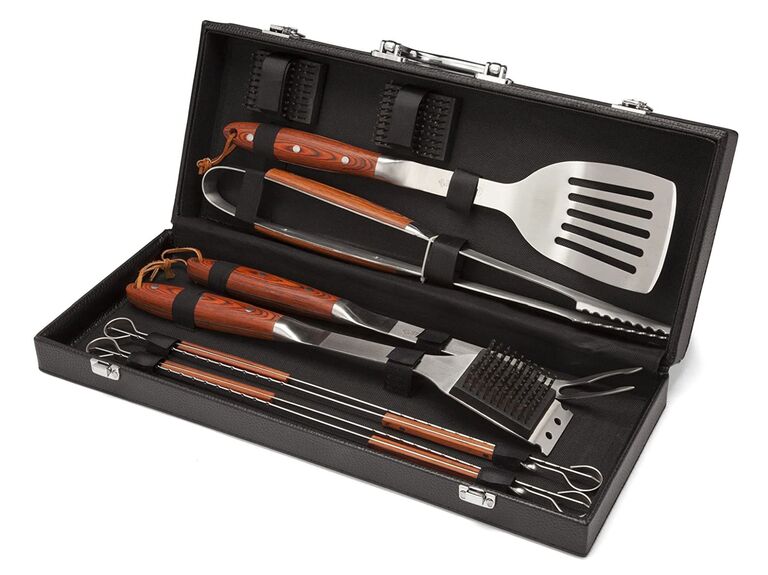 Anyone who loves to grill will appreciate a shiny new toolset. This collection includes a spatula, grill tongs, fork, grill brush, four skewers and two replacement heads, as well as a leather carry case for convenient storage and travel. It'll encourage their cooking hobby and hint at what you want for dinner on your 45th wedding anniversary. (Mmm, steaks!)
Timeless Diamond Necklace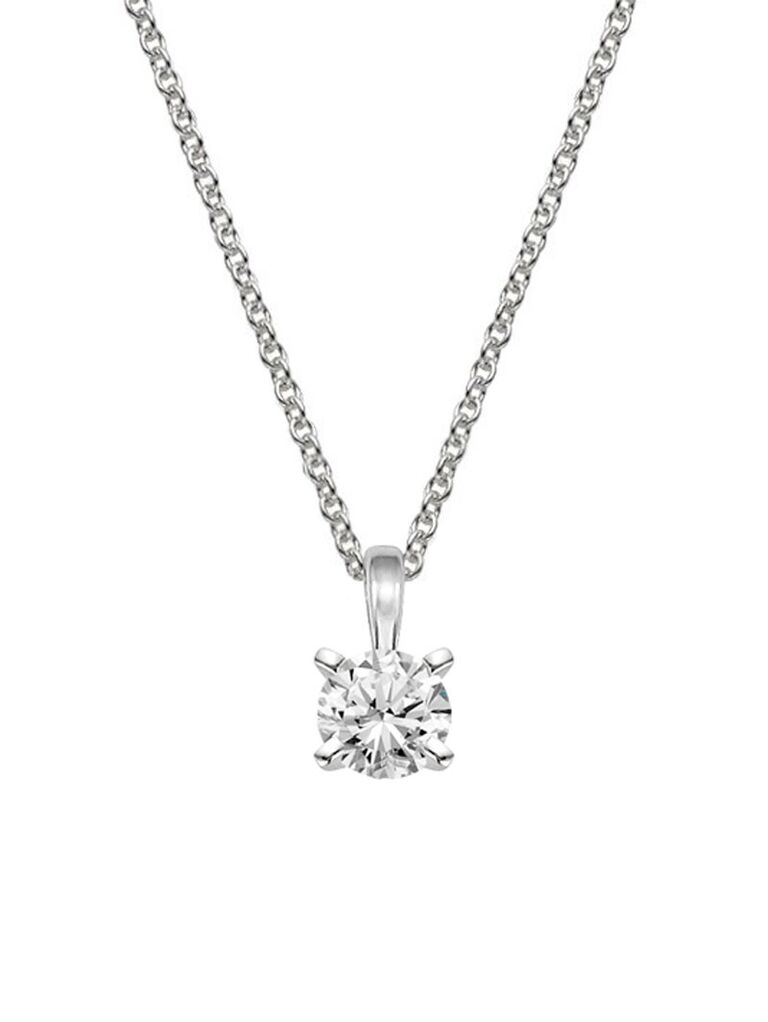 Like your love, some things never go out of style—including this single pendant diamond necklace. This splurge-worthy 45th anniversary gift boasts a round diamond in a four-prong white gold setting. Each time they wear it, your spouse will feel like a million bucks.
Monogrammed Decanter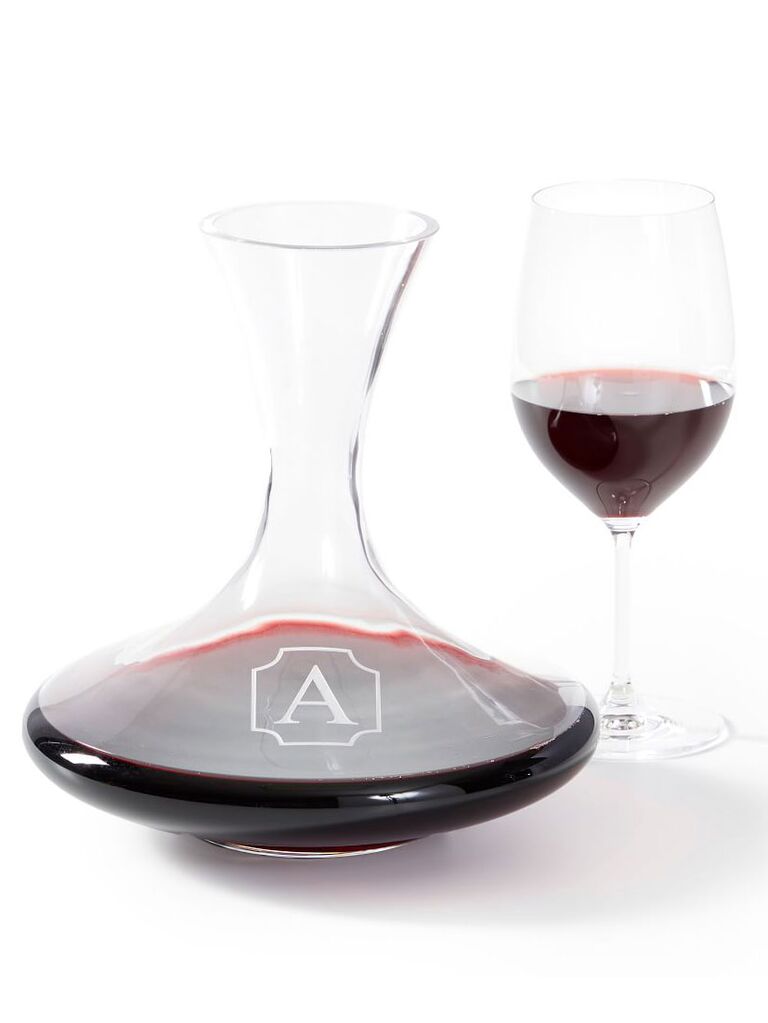 Personalized anniversary gifts always go over well. This glass decanter has an elongated oval bowl and narrow neck which gives wine room to breathe and develop its aroma and flavor. Get it engraved with the couple's monogram to make it even fancier—they'll love to pull it out every time they entertain.
Personalized Recipe Cutting Board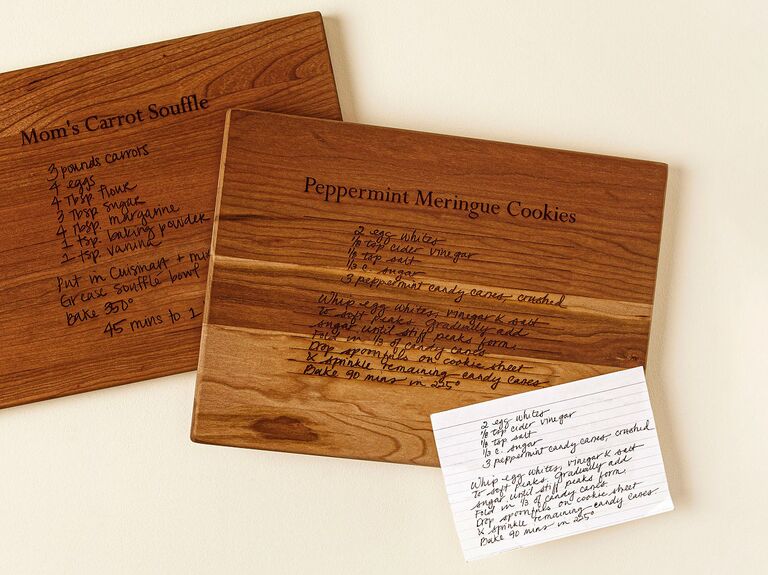 Is your soulmate a whiz in the kitchen? Preserve one of their favorite recipes on a personalized wooden cutting board. Bonus: This meaningful 45th anniversary gift for your wife or husband has the potential to become a treasured keepsake for generations to come.
State Candle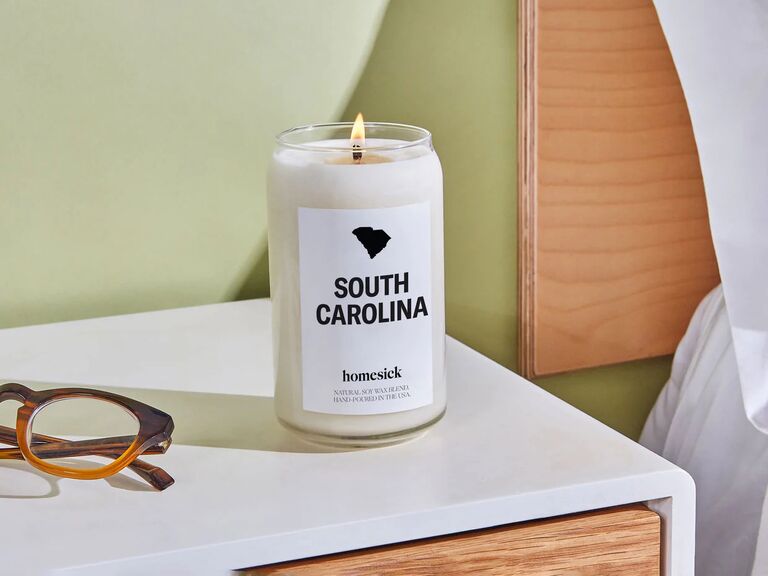 Yep, candles can be a romantic 45-year wedding anniversary gift. Homesick makes flames intended to smell like a specific location—after all, scent is strongly associated with memory. Choose a city, state or country that means a lot to you and your spouse to relive and relish in those memories. Think: the place you call home, a favorite vacation destination or where you got married. There's no doubt it'll spark joy each time they light it.
Elegant Crystal Vase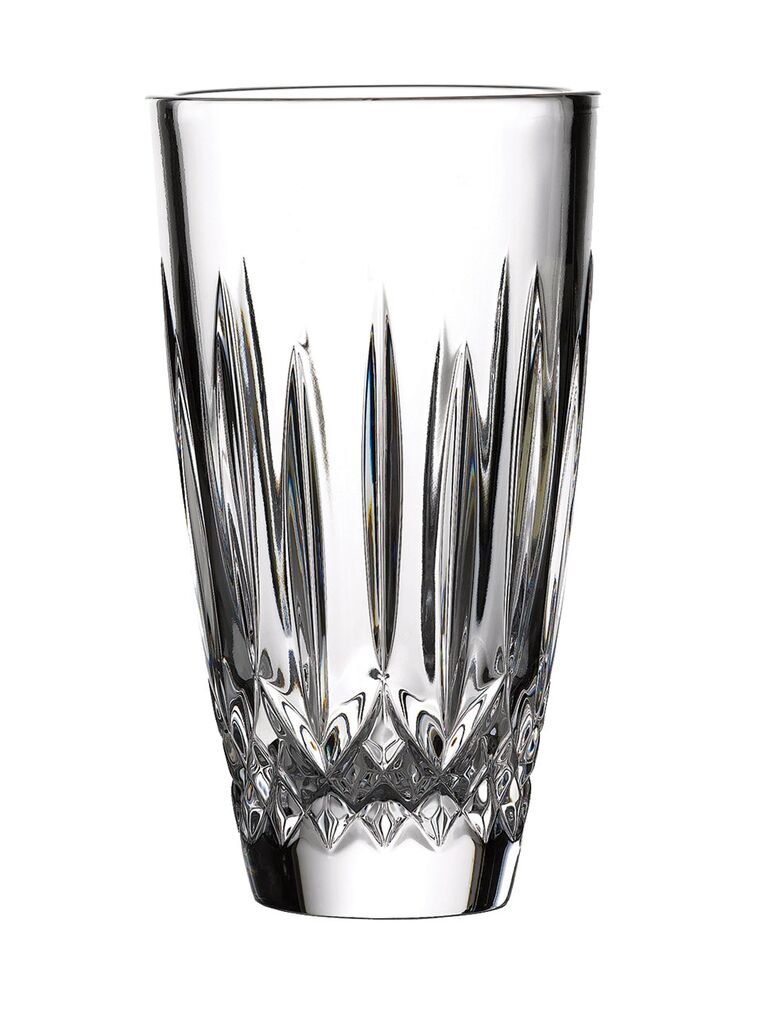 Elegant glassware is just as popular of a gift today as it was when you were registering for your wedding 45 years ago. This crystal vase features Waterford's signature diamond and wedge cuts and can be custom engraved with their monogram. Go above and beyond and fill it with your spouse's favorite flowers for an added touch.
Plush Bathrobe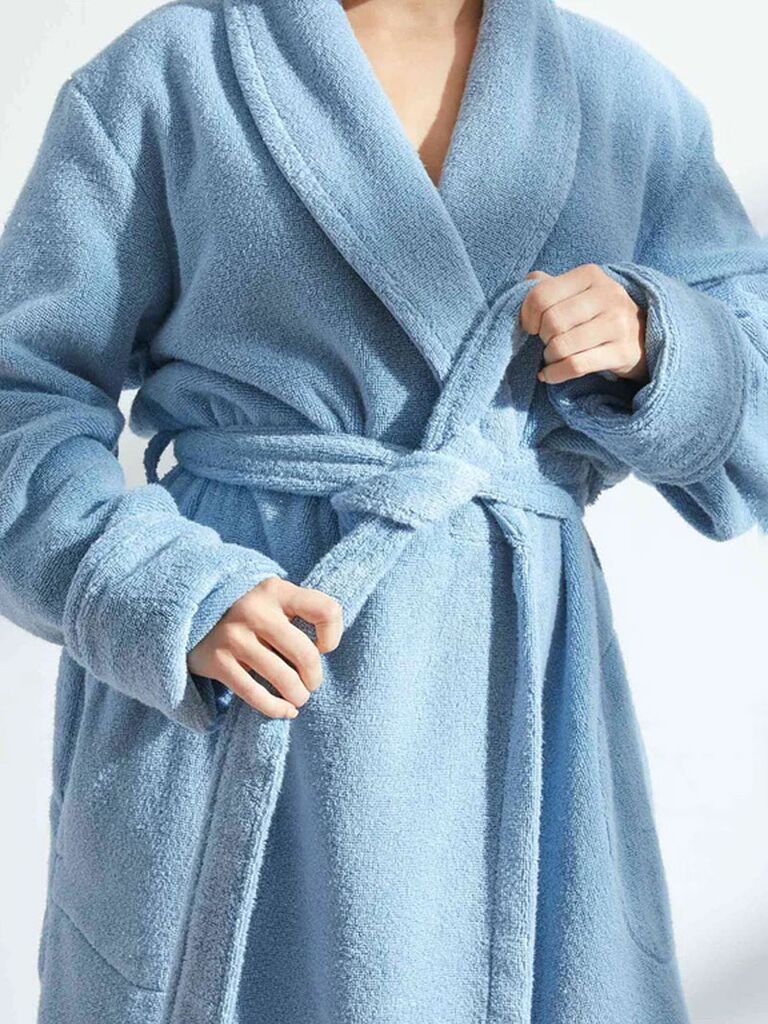 The luxury of comfort only gets more important with age. Your spouse will feel like they're wrapped in a cloud every time they wear this plush cotton bathrobe, which—of course!—comes in the 45th anniversary color, blue. Life hack: Pick up one for yourself too so you can spend a lazy weekend cozied up together.
Van Gogh Irises Tea Set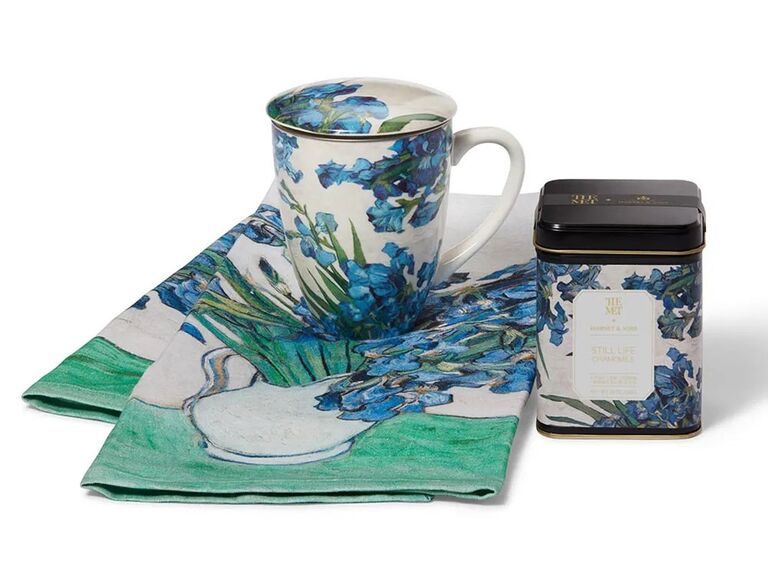 Recognize this blue and green floral print? This tea set is inspired by Vincent van Gogh's Irises oil painting for a creative nod to the 45th anniversary's flower, blue irises. It includes a tea-infusing covered mug, tea towel and a tin of loose leaf chamomile tea.
Sheet Music Art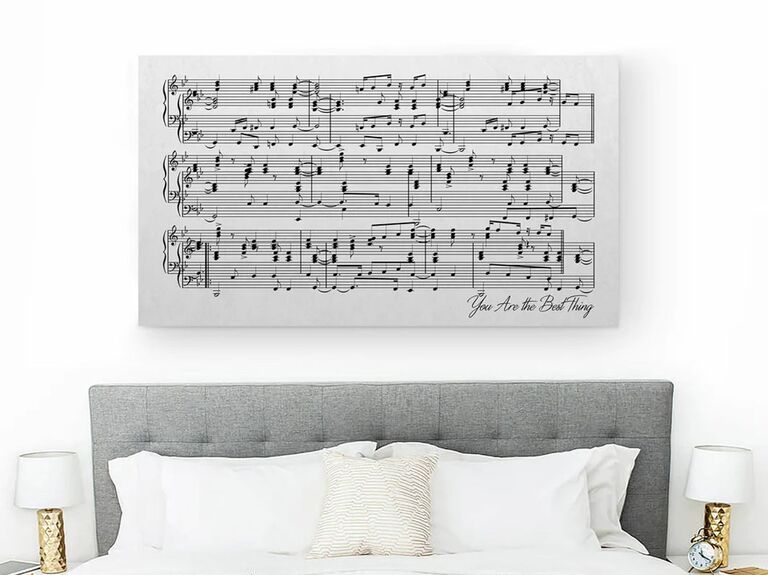 No matter how much time has passed, you'll never forget your first dance together. If you're looking for a sentimental 45th anniversary gift for your husband or wife, consider sheet music wall art of your wedding song. This understated canvas will look striking hung anywhere in the home and upon closer inspection will be a romantic tribute to your unique love story.