36 Fruit Centerpieces for Weddings, Based on the Season
They're a feast for your eyes and your palate.
Like flowers, fruits come in a vibrant range of colors—and if you need a reminder, just think about all of the different colors that are named after fruit (such as lemon yellow, apple green, peach or cherry red). If you're looking for ways to upgrade your tables, fruit centerpieces for weddings are a unique alternative to the standard flower arrangements. Whether you choose small clusters of grapes, sliced oranges, bright red apples or a smorgasbord of everything, there are more ways to incorporate fruit centerpieces than you might think. Below, we've outlined some of our favorite options for every season to show you how.
In this article:
Spring Fruit Centerpiece Ideas
The spring season is known for its many flowers in bloom, but colorful fruit can add a little extra something to your spring wedding centerpieces.
1. Pastel Flowers with Lemons
Give a subtle nod to the warm weather ahead by incorporating a few lemons alongside the floral centerpiece at each table. A pastel color palette of blush, light purple and white keeps the arrangement feeling springy versus full-on summer.
2. Early Spring Centerpiece with Kumquats
Kumquats are citrus fruits, so you might assume that they're for the summer months—but they're actually in season during the winter and early spring. Add a small wooden crate filled with kumquats to accent fresh blooms and bring in a pop of color.
3. Garden Roses and Peaches
Try this fruit centerpiece for your wedding if you're getting married at a garden venue. The orange and yellow tones of the peach peels match beautifully with garden roses and peonies in the same color palette for a charming arrangement.
4. Avocado Wedding Centerpiece
It's true: avocados are a fruit. Display them in woven baskets or more traditional vessels for a seasonal yet totally unexpected look.
5. Classic Spring Centerpiece
Your fruit wedding centerpieces don't need to be over the top. You can stick to a mostly floral arrangement, like this classic centerpiece with ranunculus, roses and tulips, and then add subtle hints of fruit (like the green grapes pictured). A kumquat at each place setting coordinated with the orange flowers.
6. Elegant Centerpiece with Grapes
Create a stunning centerpiece with a decadent spread of white ranunculus, anemones, cosmos, sweet peas and blue delphinium—plus bunches of dark purple grapes to tie the color palette together.
Summer Fruit Centerpiece Ideas
Summer brings a whole new batch of in-season fruits that you can add to your wedding centerpieces. From zesty lemons to tropical pineapples, these ideas are full of color and flavor.
7. Papaya Wedding Centerpiece
We love this centerpiece not only for its summery color palette, but also for how easy it would be to recreate. The simple fruit centerpiece includes sliced papayas, limes, bright pink bougainvillea, and tropical palms and monstera leaves. Your florist or event planner could quickly arrange the centerpieces, since they don't need to be too perfect.
8. Wildflowers and Peaches Centerpiece
Perfect for a relaxed backyard wedding, outdoor reception or even a rehearsal dinner, this centerpiece uses peaches, roses and dahlias in a red and yellow palette. It's a simple but stylish addition to picnic tables or plain linens.
9. Sliced Citrus Fruits Centerpiece
Add a fragrant element to your reception tables by using sliced grapefruits, lemons and oranges to complement the floral centerpieces.
10. Oranges with Chinoiserie Vases
Blue and orange are opposites on the color wheel, which means that these two tones look great when combined. Bring the palette to life with chinoiserie vases, fresh oranges, potted boxwood plants and glass or silver tableware.
11. Lemon Centerpiece with Roses
Bright yellow lemons can serve as an unexpected base for fresh flowers in your centerpieces. Example A: this compote vase filled with roses and wax flowers.
12. Pineapple Wedding Centerpiece
Planning a beach wedding? This pineapple centerpiece idea brings tropical island vibes to any waterfront locale, even if you're still stateside. Accent a trio of pineapples with unique flowers, like pincushion proteas or ginger torch.
13. Tropical Fruit Centerpiece
Here's another way to embrace the tropical aesthetic. Showcase an assortment of greenery, like banana or bird of paradise leaves, in various vessels alongside sliced oranges or mangoes—no flowers necessary.
14. Cylinder Vase with Lemons
Turn a simple glass vase into a statement piece by filling it up with cheerful yellow lemons. Build off of the architectural design with long grapevine or manzanita branches sticking out at the top.
15. Farm-to-Table Wedding Centerpiece
If you and your spouse love taking trips to the farmers market every weekend, use the fresh ingredients to inspire your centerpieces. Asparagus stems, green apples, grapes and farmers market-style bouquets are a summertime delight.
16. Colorful Fruit Centerpiece
Incorporate all the best colors of a summer wedding palette by using bananas, starfruit, oranges and grapes for your fruit centerpieces. Double-down on the statement arrangement with brightly colored flowers, such as amaryllis, ranunculus and pincushion proteas.
17. Lemon and Greenery Centerpiece
Looking for simple fruit centerpieces for your wedding? Lemons will add a pop of yellow to greenery table runners.
18. Apricot Centerpiece
In season from late spring to late summer, apricots are a good (but sometimes forgotten) alternative to peaches. They'll bring a more distinct orange color to your tablescapes, which makes them perfect for displaying all on their own in a decorative vase.
Fall Fruit Centerpiece Ideas
These fall flower arrangements with fruit draw inspiration from seasonal harvests and produce. Use hearty fruits like persimmons, figs, apples and grapes to adorn your autumn tables.
19. Persimmon Centerpiece
Persimmons grow on trees, which makes their branches easy to incorporate directly into your centerpieces and other flower arrangements. We love how they look paired with fall foliage and other seasonal flowers in terracotta orange or red hues.
20. Rustic Centerpiece with Figs
Sliced figs present a beautiful color palette of red, green and pale yellow. Build the rest of your centerpieces around them using greenery-filled arrangements and wooden accents.
21. Red and Green Apple Centerpiece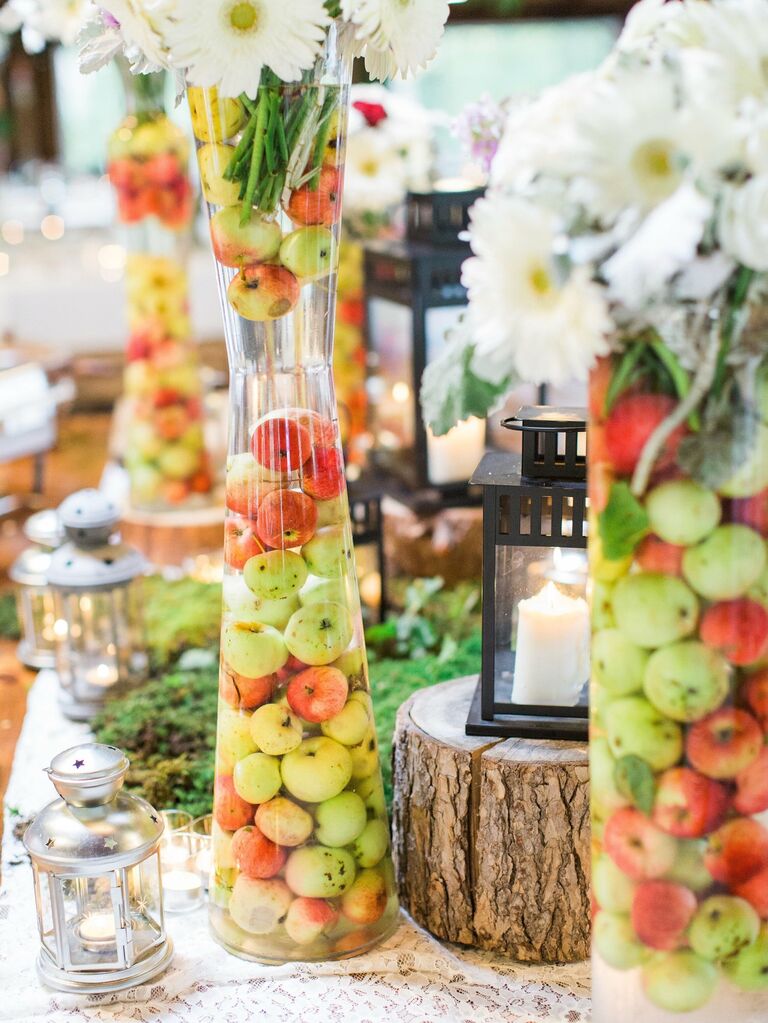 If you're planning a fall wedding, why not draw inspiration from one of the season's most popular activities? Vases filled with red and green apples will instantly bring some autumnal flair to your tablescapes. You can even pick the apples yourselves—just consult with your florist for their exact needs (and maybe enlist a couple of friends to help).
22. Heirloom Tomato Centerpiece
Potted herb plants (try rosemary, basil and lavender for a fragrant combo) look picture-perfect alongside bowls of heirloom tomatoes, apples, cherries, peaches or all of the above.
23. Wooden Crate Centerpiece with Fruit
Apple centerpieces are popular for fall weddings, but there are ways to subtly incorporate these fruits into your designs. Spear the apples onto wooden dowels and add one or two per centerpiece.
24. Cherry and Fig Centerpiece
These cherries and figs double as snacks on top of being part of the table decor. Their dark brown and burgundy tones bring a moody, autumnal contrast to lighter pink flowers.
25. Late Fall Centerpiece with Pomegranates
Pomegranates are in season starting in late fall, which makes them an ideal centerpiece addition if your wedding takes place in November or December (especially with their rich red hue). You can leave them on the branch or displayed solo on the tabletop.
26. Greenery and Plums Centerpiece
Purple plums are a natural fit for your fall wedding color palette. Place clusters of them with fresh eucalyptus or other greenery against a bare wooden table. Pair them with
27. Purple Grape Centerpiece
We can't think of a more perfect arrangement for a vineyard wedding. Presented in a wooden wine crate, this grape centerpiece is the embodiment of rustic elegance, with matching purple napkins to tie the look together.
28. Red and Pink Centerpiece with Apples
Go for a monochromatic look by matching the fruits to your wedding flowers, like this red centerpiece paired with red apples.
29. Flowers and Pears Centerpiece
Pears are another gorgeous fruit for a transitional wedding between fall and winter. Use their warm yellowish-green hue to inspire the rest of your tablescapes, with chartreuse linens, golden taper candles and seasonal foliage.
30. Fall Centerpiece with Pumpkins
Pumpkins are technically a fruit, so they're a no-brainer if you're having a fall wedding. This dahlia-filled arrangement is a stylish example of how to pull off a pumpkin centerpiece without going too rustic.
31. Sliced Kiwis Centerpiece
Kiwis will bring a pop of green to your centerpieces without having to use actual greenery. These fuzzy fruits are in season starting in late fall, and they pair wonderfully with gold or bronze accents for an Old World look.
Winter Fruit Centerpiece Ideas
You'd be surprised by how many fruits are actually in-season during the winter, including pears, cranberries and pomegranates. Here are just a few ways you can use them to enhance your winter centerpieces.
32. Artichoke and Persimmon Centerpiece
If you need to fill an empty space at your venue or accent an important area, like the bar, this oversized arrangement will get the job done. Featuring persimmons, orchids, pampas grass and pitcher plants, it's full of texture and unique details.
33. Burgundy and Blue Centerpiece
Create a simple fruit centerpiece with wooden crates, cranberries, red apples and plums. Add optional flowers in bud vases to fill out the design.
34. Cranberry Centerpiece with Orchids
Red cranberries will jazz up an ordinary glass centerpiece vase. Complete the wintry look with burgundy orchids, seeded eucalyptus and curly willow branches.
35. Elegant Grape and Pear Centerpiece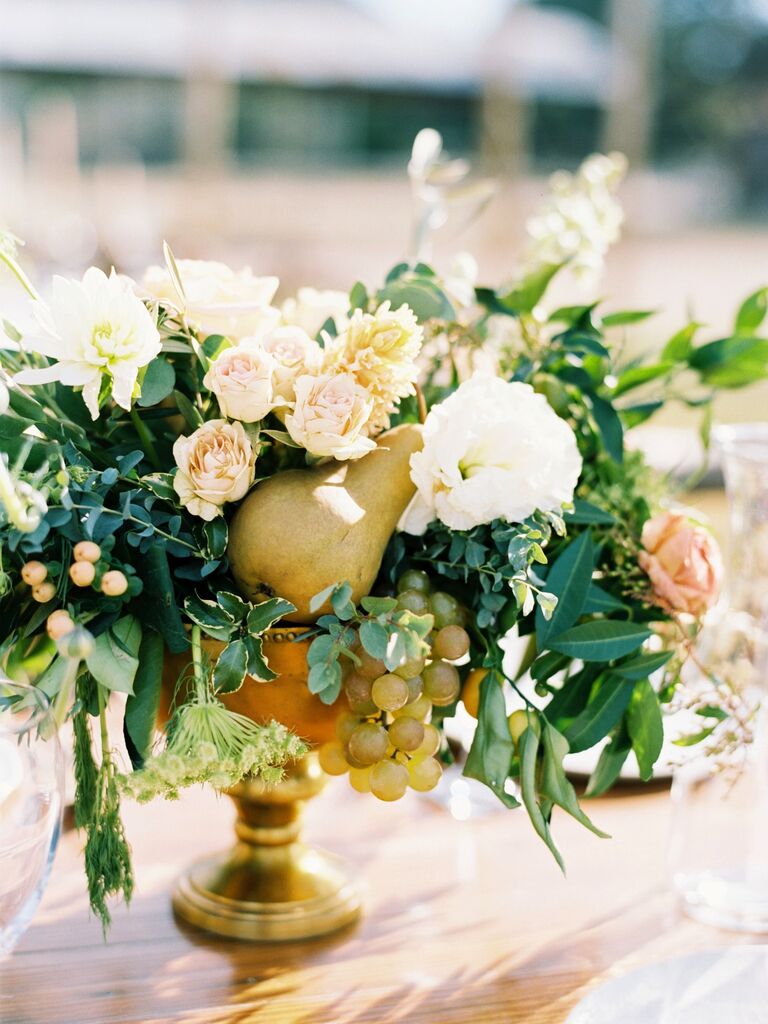 For an elegant winter wedding theme, add pears and grapes that discreetly blend into the flowers.
36. Pomegranate and Fig Centerpiece
Embrace a jewel-toned wedding color palette with a seasonal fruit bowl centerpiece of pomegranates, blackberries, purple grapes and figs. Lush greenery and amaranthus add to the sumptuous vibe.