Spread Your Wings With These 41 Butterfly Wedding Ideas
We've gathered our favorite butterfly wedding ideas that left our heart aflutter.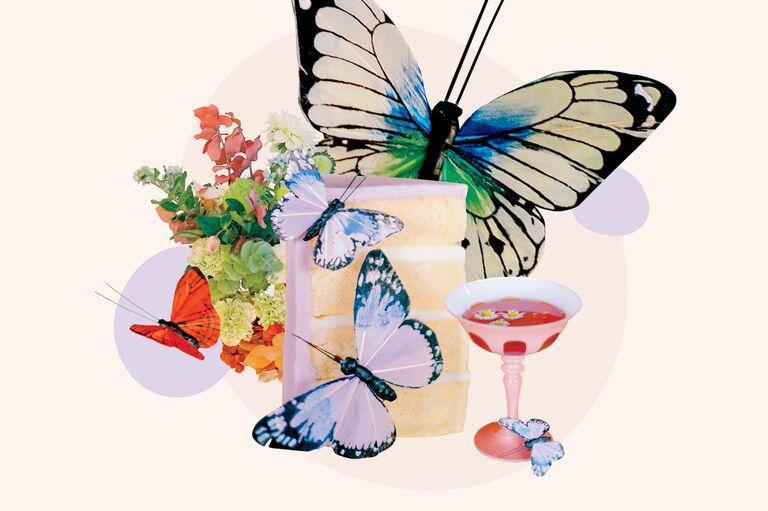 Ashley Ludaescher | Design by Ashley Detmering
Deciding on a wedding vision is no easy task, when there are so many popular wedding themes to choose from. If you want a unique aesthetic that's also packed with meaning, butterfly wedding ideas are the way to go. We've rounded up some of our favorite butterfly ideas, from butterfly wedding decor to butterfly wedding cakes, to help you along in the wedding planning process. Peruse the ideas below and save your favorite ones as inspiration for your own big day (or even to use as wedding shower or bach party inspo!). And if you want even more wedding inspiration, pick up a copy of The Knot Magazine which is packed with plenty of of-the-moment ideas and trends.
In this story:
What Does a Butterfly Mean at a Wedding?
Butterflies symbolize a new beginning and hope for the future at weddings. The butterfly motif is a symbol of a couple's entrance into a new chapter and their growth into a new life together.
The metamorphosis a butterfly experiences mirrors a couple's transition into an enduring partnership. A butterfly emerging from a cocoon has similar meaning to a couple exchanging vows and embracing positive change. If you're looking for a wedding symbol that represents growth, transition, transformation and anticipation of the future then the butterfly is the symbol for you.
Butterfly Wedding Decor Ideas
Butterfly wedding decorations are whimsical, creative and always a good idea. We've gathered up some of our favorite butterfly wedding decor ideas to inspire your own butterfly-themed wedding day plans.
1. Wedding Place Setting With Butterfly Dinnerware
Sometimes subtle nods to a motif or theme are the best way to go. We love how butterfly dinnerware brought a whimsical note to the colorful wedding place setting.
2. Butterfly Wedding Invitation Suite
How beautiful is this paper set? Although the actual invitation suite featured a dragonfly, the stationer's stunning work was styled with butterfly accents to ensure the suite really shone.
3. Watercolor Butterfly Wedding Invitation
Love dogs and butterflies? Take a cue from this wedding and combine the two.
4. Butterfly Vow Renewal Invitation
The butterfly motif works for other events beyond the wedding. This couple incorporated butterfly wedding ideas into their vow renewal.
5. Butterfly Ceremony Chair Decoration
Since the couple chose translucent ghost chairs for their wedding ceremony, the butterfly chair decorations looked as though they'd taken flight. This decoration would pair beautifully with a butterfly release unity ceremony.
6. Monarch Butterfly Wedding Decoration Garland
If you want to feel like you're celebrating at a butterfly garden, even if you've chosen a butterfly-free venue, hang butterflies from the ceiling. Garlands of monarch butterfly figurines created a festive canopy above the dance floor at this wedding.
7. Yellow Place Setting With Butterfly Plate
The great thing about butterflies is that they come in nearly every color of the rainbow. The butterfly dishware at this place setting tied together shades of yellow and blue seen across the tabletop.
8. Butterfly Name Cards for Weddings
Calling all couples with a green thumb. Since butterflies and plants go hand-in-hand, it was only natural that this couple paired butterfly name cards with succulent wedding favors.
9. Butterfly Lantern at Wedding
Insects like lights, so why not decorate a lantern with butterfly accessories? This wood lantern is nice as decor, but it would also make a lovely butterfly wedding card box if placed at the reception gift table.
10. Butterfly Escort Card Mailboxes
We can't decide which part of this escort card idea is our favorite. Not only did the actual name cards showcase butterflies, but each guest got to take home a cute mini mailbox as a gift.
11. Butterfly Vow Renewal Welcome Sign
A wedding, or in this case vow renewal, welcome sign is a perfect spot to introduce your wedding motif or theme. Including butterflies on this sign let guests know that they motif would be a central part of the day's aesthetic.
12. Butterfly Place Card
If you want to assign seats at the reception, you'll need place cards. But there's no rule that they have to be simple, plain cards. At this event, a butterfly cut from paper greeted every wedding guest as they sat down at their seat for dinner.
13. Butterfly "In Memoriam" Sign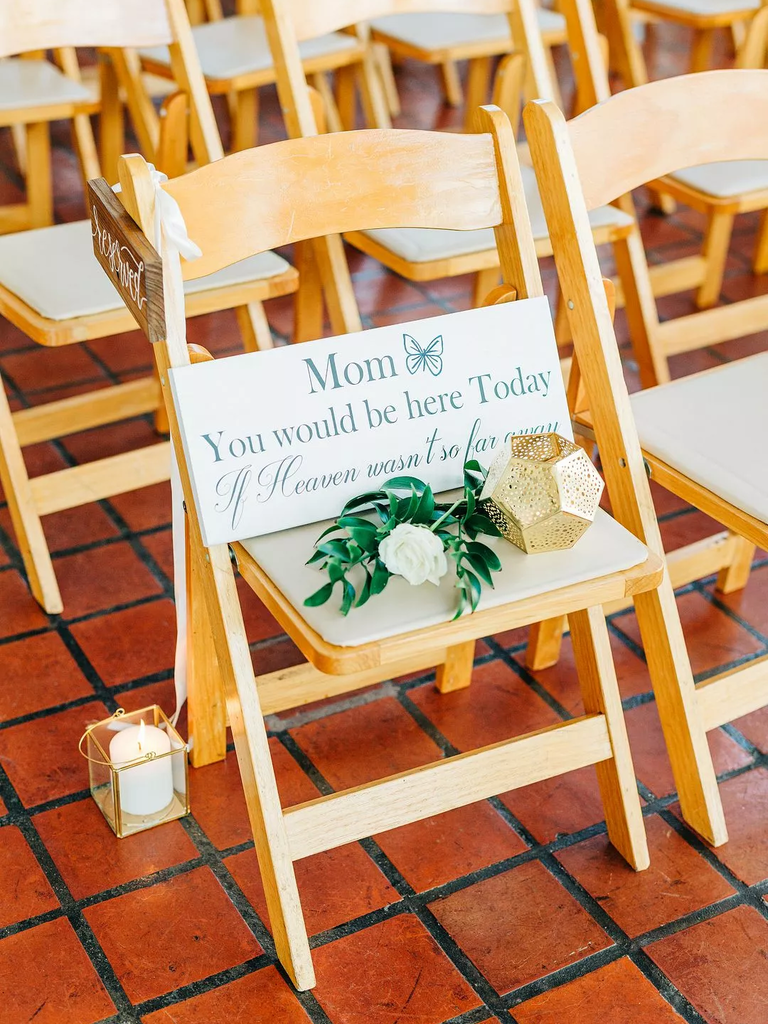 Looking for a way to honor a deceased loved one at a wedding? This wood sign at a wedding ceremony was a thoughtful way to celebrate a mother who couldn't be in attendance.
14. Butterfly Escort Card Wall With Gold Frame
Talk about making a statement. An oversized gold frame creatively housed an ombre display of butterfly escort cards at this outdoor wedding.
15. Butterfly Seating Chart Display
Have guests take flight to their seats with a butterfly seating chart. This seating chart display looked as though it had been swept away by a flock of fluttering butterflies.
16. Butterfly Wedding Welcome Sign
Instead of placing it on an easel, this couple leaned their butterfly wedding welcome sign against a clear ghost chair at the ceremony. The effect made it look as though the gold frame was almost floating.
17. Butterfly Wedding Guest Book
Your guest book is a way to remember both the people who attended your wedding, but also the overall feel and aesthetic of your big day. No butterfly wedding would be complete without a butterfly wedding guest book.
18. Butterfly Decorations at Reception Kids' Table
Even the youngsters got in on the butterfly fun at this wedding. Die-cut butterfly decorations, that almost felt like butterfly confetti, brought a whimsical feel to this wedding childrens' table.
19. Lounge Seating With Butterfly Throw Blanket
Here's a truly inspired idea for butterfly lovers. The loveseat at this reception lounge area was finished off with a throw blanket decked out with butterflies.
Butterfly Wedding Cake Ideas
While butterfly wedding decor will welcome guests into your creative theme, butterfly wedding cake is the perfect end note to cap off the butterfly-themed wedding day. From butterfly wedding cupcakes to decorating the wedding cake with a combination of butterflies and flowers, or even a glass butterfly cake topper, your butterfly wedding cake options are nearly limitless. Here are some of our favorite ideas.
20. Two-Tier Purple Butterfly Wedding Cake
This sweet wedding cake has our hearts all aflutter. Purple butterfly cake toppers complement the bake's lavender icing beautifully.
21. Lavender Cake Slice With Butterfly Wedding Cake Topper
Who says wedding cake toppers are only for uncut cakes? This wedding cake slice got some extra love in the form of butterfly cake toppers.
22. Three-Tier Butterfly Wedding Cake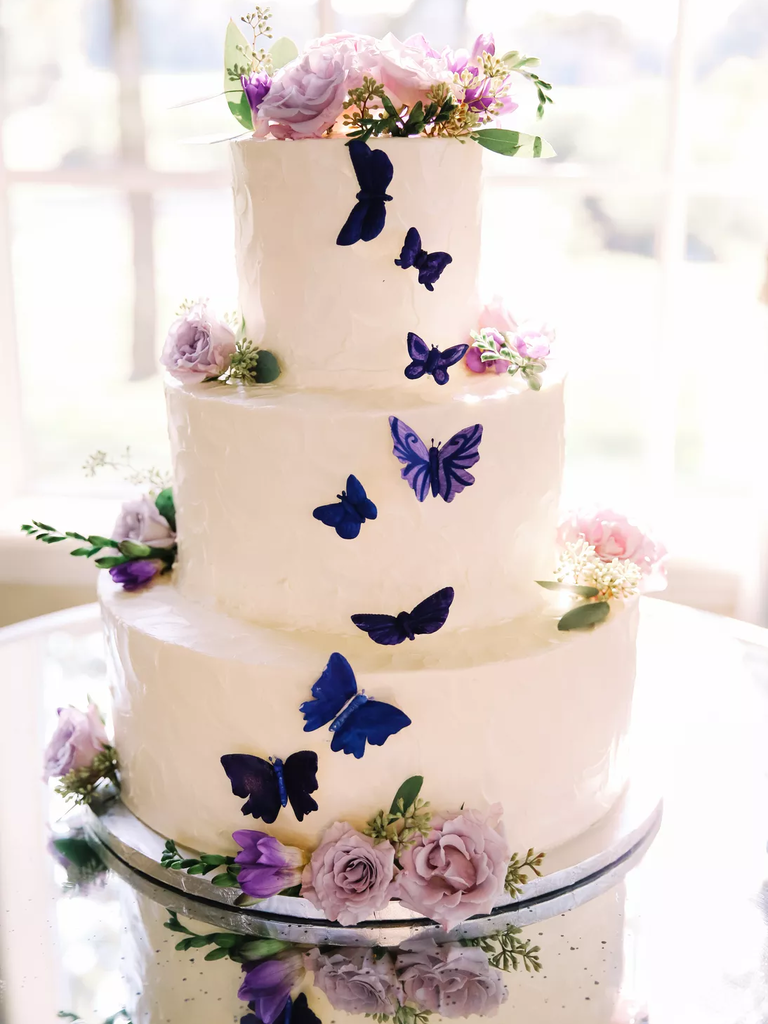 We love the balance of this butterfly and flower wedding cake. Purple and blue butterfly wedding cake accents worked harmoniously with soft purple roses to decorate this wedding dessert.
Butterfly Wedding Centerpiece Ideas
How are you planning to set your wedding reception tables to enhance a butterfly wedding theme? These butterfly wedding centerpiece ideas are all the inspiration you need.
23. Blue and Orange Centerpiece With Butterfly Table Number
Orange is a great color palette choice if you're partial to butterflies. Orange centerpiece flowers complement the vibrant shades seen in the monarch butterfly illustrations on the table numbers at this wedding.
24. Butterfly Table Number at Wedding Reception
We love how the floral illustrations on the table number coordinate with the fresh blooms sitting atop this table. The result looks as though it's a real butterfly garden.
25. Entomology-Inspired Table Number in Frame
This table number reminds us of something you might see in a museum or science classroom. The framed table number is almost like a shadowbox with a preserved insect.
26. Rustic Butterfly Wedding Centerpiece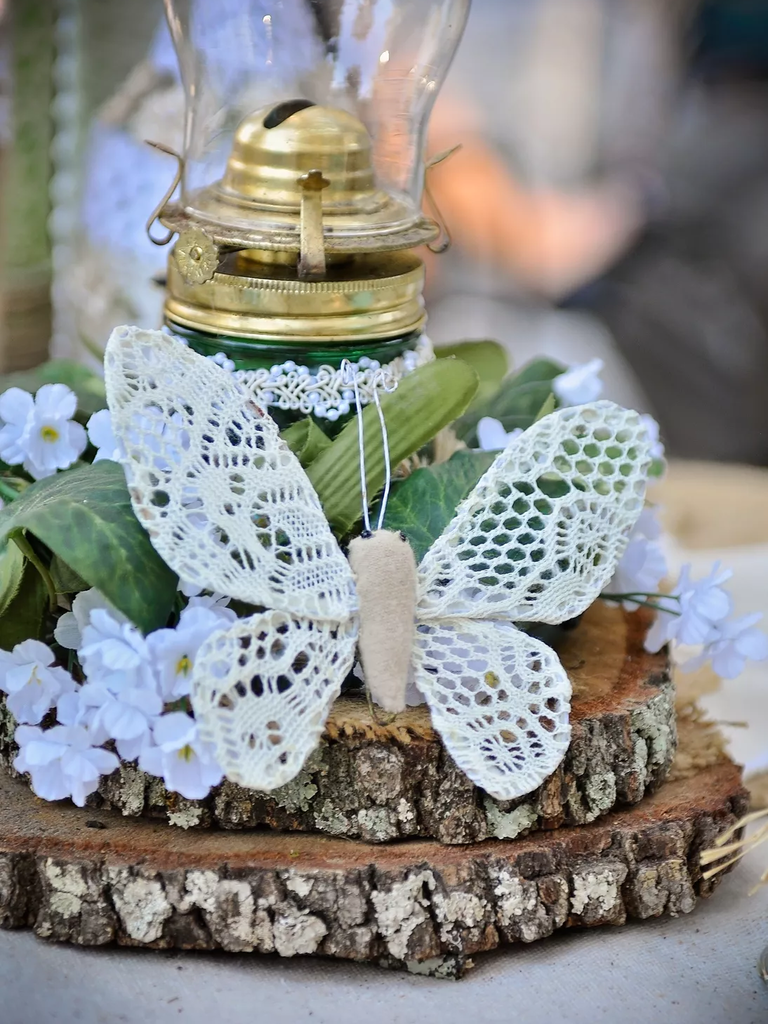 Butterflies are a common sight in gardens and among fields of wildflowers. As such, they work harmoniously with rustic wedding themes.
27. Red Butterfly Wedding Centerpiece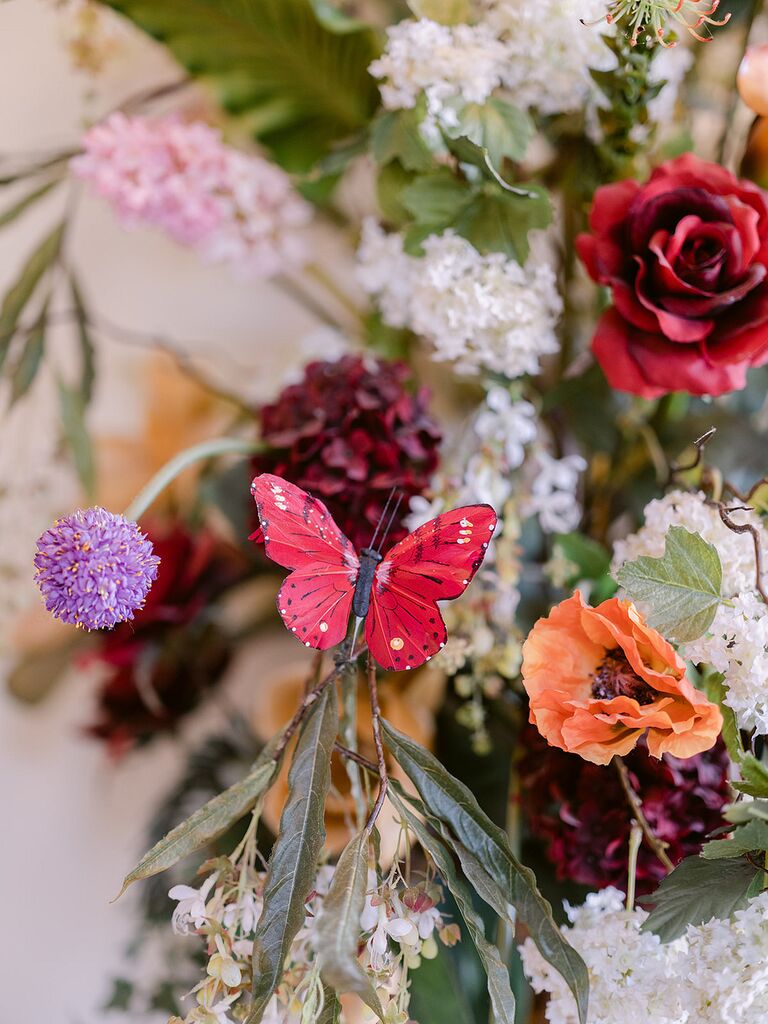 What do flowers and butterflies have in common? Color, and lots of it. We love wedding centerpieces that incorporate butterfly figurines because the end result is absolutely prismatic.
28. Monarch Butterfly Wedding Centerpiece
Not only are monarch butterflies one of the most recognizable butterflies, but they're also one of the most visually appealing. The dramatic black and orange look stunning as part of this wedding reception tablescape.
Butterfly Wedding Bouquet Ideas
Butterflies in a wedding bouquet? We're here for it. If you want an especially whimsical approach to a butterfly wedding theme, consider butterfly wedding bouquet ideas in your planning.
29. Butterfly Wedding Bouquet
A bouquet made of only butterflies? We're here for it! Instead of having an arrangement of fresh flowers, this bride walked down the aisle with an alternative wedding bouquet made of butterfly decorations.
30. Alternative Wedding Party Butterfly Bouquet Idea
If the to-be-wed is opting for an alternative wedding bouquet, why not have the wedding attendants carry non-floral bouquets as well? This wedding party carried festive fan-like butterfly "bouquets."
Butterfly Wedding Backdrop Ideas
From ceremony backdrops to photoshoot backdrops and even sweetheart table backdrops, statement backdrop installations are a way to effectively reinforce your wedding theme while anchoring any given space. We're partial to the butterfly wedding backdrop ideas below.
31. Greenery Backdrop With White Butterfly Decorations
Are we in a butterfly garden or at a wedding? Thanks to this creative backdrop, it's hard to tell.
32. Butterfly Arbor Ceremony Backdrop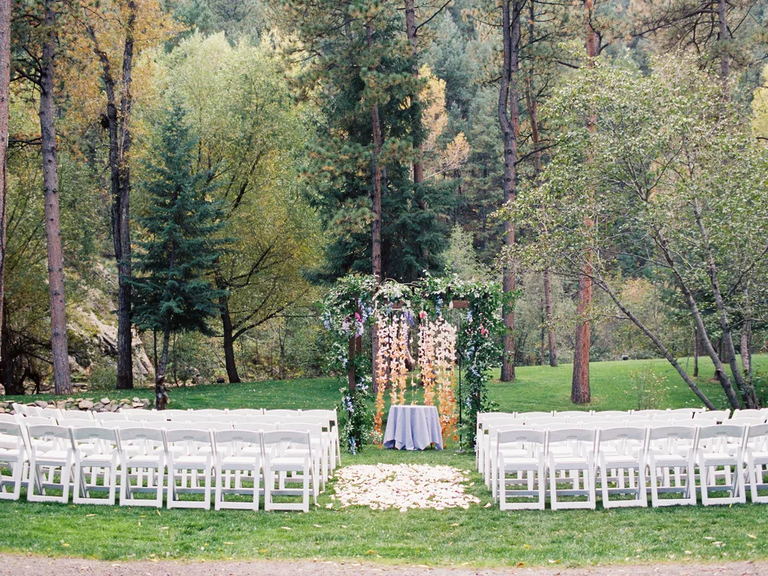 A flock of butterflies, in garland form, surrounded this couple while they tied the knot. To add a bit of pizazz to the altar arbor the couple decked it out with butterfly garlands.
33. Blue Butterfly Wedding Ceremony Backdrop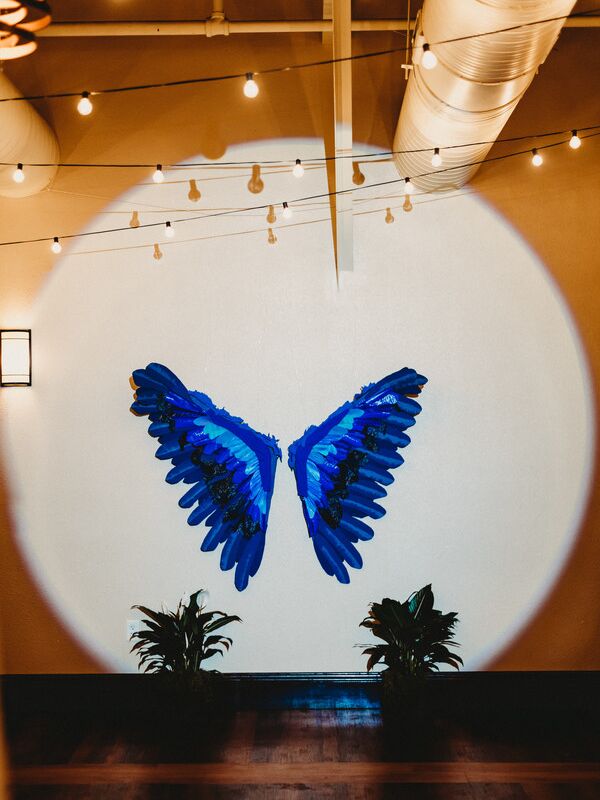 We love how interactive this backdrop is. The wings on the wall summoned guests to pose in front of the backdrop so they'd appear to have wings.
34. Butterfly Wall Mural Backdrop for Wedding Portraits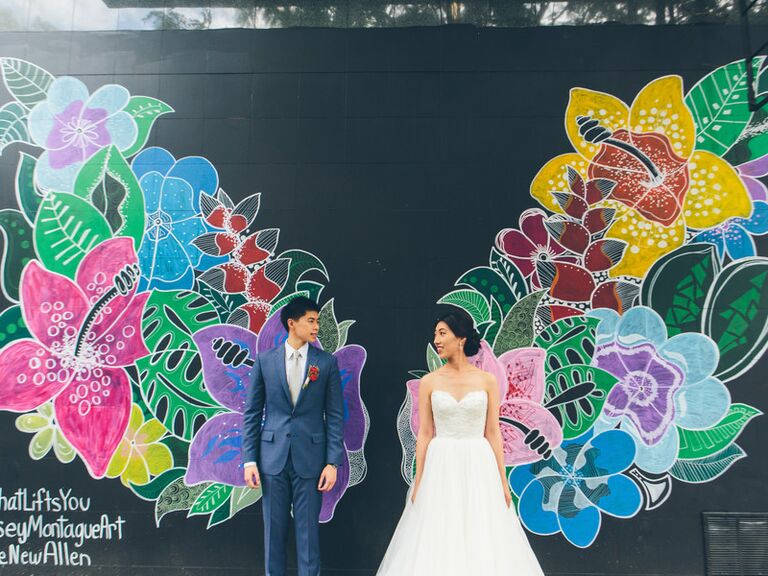 Sometimes butterfly details come along unexpectedly, as they did at this portrait session. During wedding portraits, this couple posed in front of a street mural with colorful butterflies.
Additional Butterfly-Themed Wedding Ideas
You don't have to stop with butterfly centerpieces and butterfly wedding cakes, the sky is the limit with a butterfly wedding theme. Take a peek at these additional butterfly wedding ideas for even more big-day inspiration.
35. Butterfly Signature Cocktail Garnishes
Cheers to butterflies. In addition to more traditional cocktail garnishes, like chamomile buds and orange slices, these wedding signature cocktails also got the butterfly treatment.
36. Butterfly Wedding Shoes
Want to look like Hermes, the Greek god known for his winged sandals, at your wedding? These festive wedding heels will help you do just that.
37. Wedding Ceremony Butterfly Release
Instead of a wedding recessional amid a cascade of confetti, this couple opted for a sort of butterfly confetti for their wedding. A release of live butterflies capped off the vow exchange.
38. Flower Girl Butterfly Dress
Even the flower girl got in on the butterfly action at this wedding. Her blue flower girl dress was embellished with blue butterflies.
39. Butterfly Boutonniere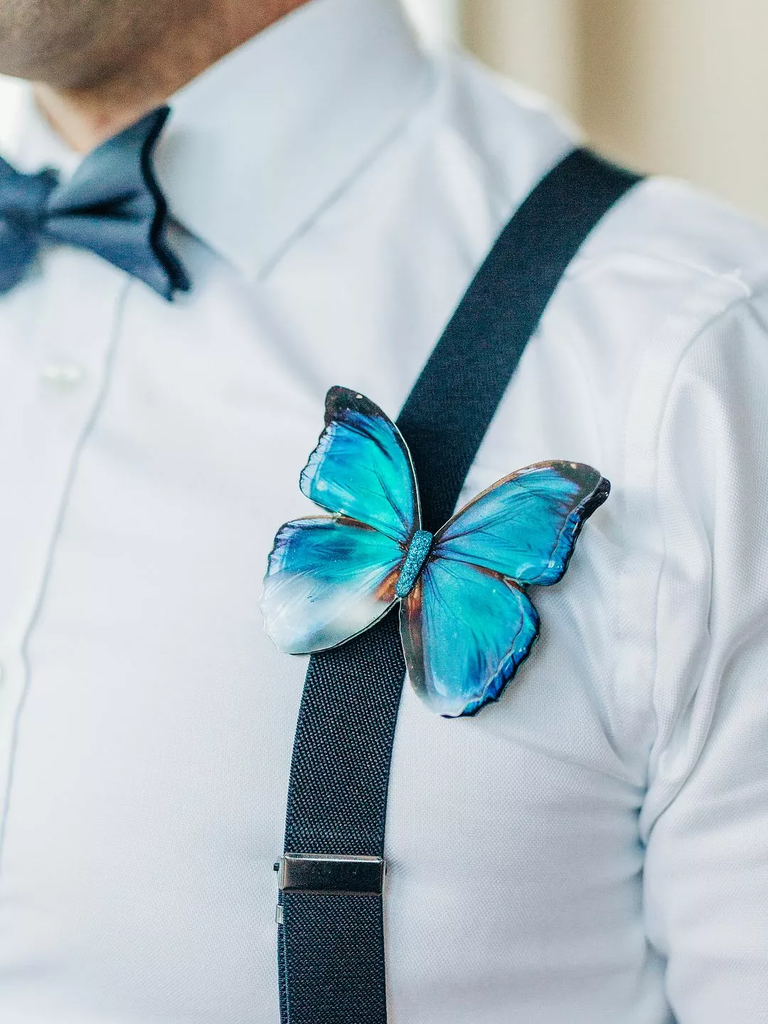 If you want a boutonniere but aren't a fan of fresh flowers, this boutonniere idea is for you. This groom accessorized with a blue butterfly pin in lieu of a flower boutonniere.
40. Butterfly Ring Pillow
What's better than one butterfly ring pillow? Two wedding ring pillows, each with a different species of butterfly.
41. Butterfly Engagement Ring
This might be one of the most creative ways we've ever seen to include a butterfly into your wedding. And the best part about a diamond butterfly engagement ring is that you will remember your wedding theme for years to come every time you look at the piece of jewelry.