15 Creative Wedding Menu Ideas
Fill your celebration with amazing bites that everyone will love.
There's so much more to wedding food than a main course. Use your happy hour as an opportunity to delight your guests with some surprising appetizers or food pairings, supplement your cocktails with a fun signature drink and follow up dinner with a childhood favorite for dessert.
Popsicle Cocktails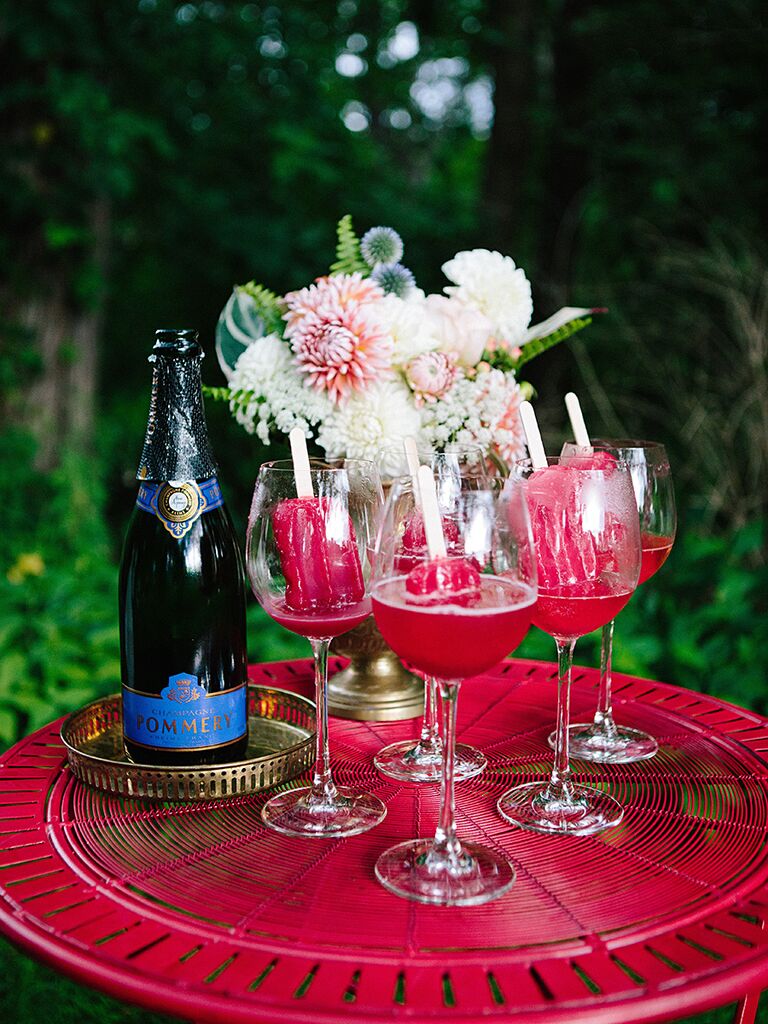 There's nothing more refreshing than a fruity popsicle. Now imagine the gourmet version, with flavors like lavender or raspberry sorbet. Sound delicious? Ask your caterer to try an adults-only version for the cocktail hour with your favorite champagne (pop included in the glass!) for a fun twist on a frozen treat.
From: A Creative Flamingo-Inspired Wedding at a Private Residence in Cleveland, Ohio
Popcorn Food Bar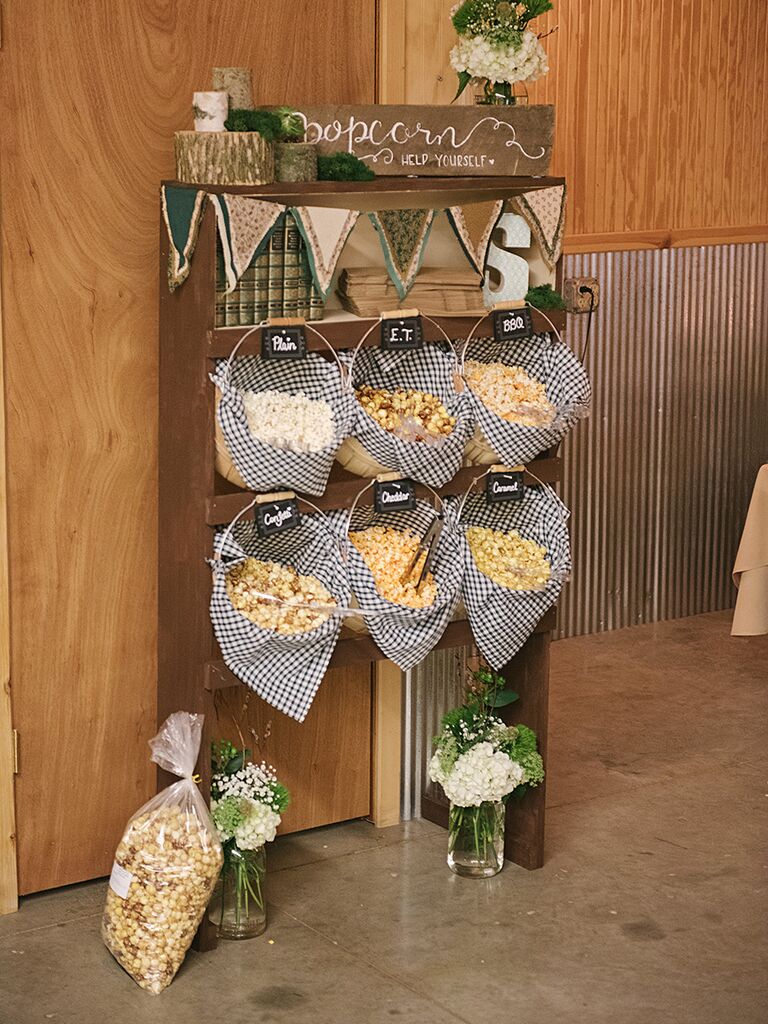 For a more casual affair, give your guests the option to mix and match what they're in the mood for. Popcorn is always a hit (the smell alone is irresistible!). Plus, the bags make it easy to grab 'n go so everyone can get back to the dance floor.
From: A DIY Woodland Wedding at a Private Residence in Bay City, Michigan
Classic Carnival Food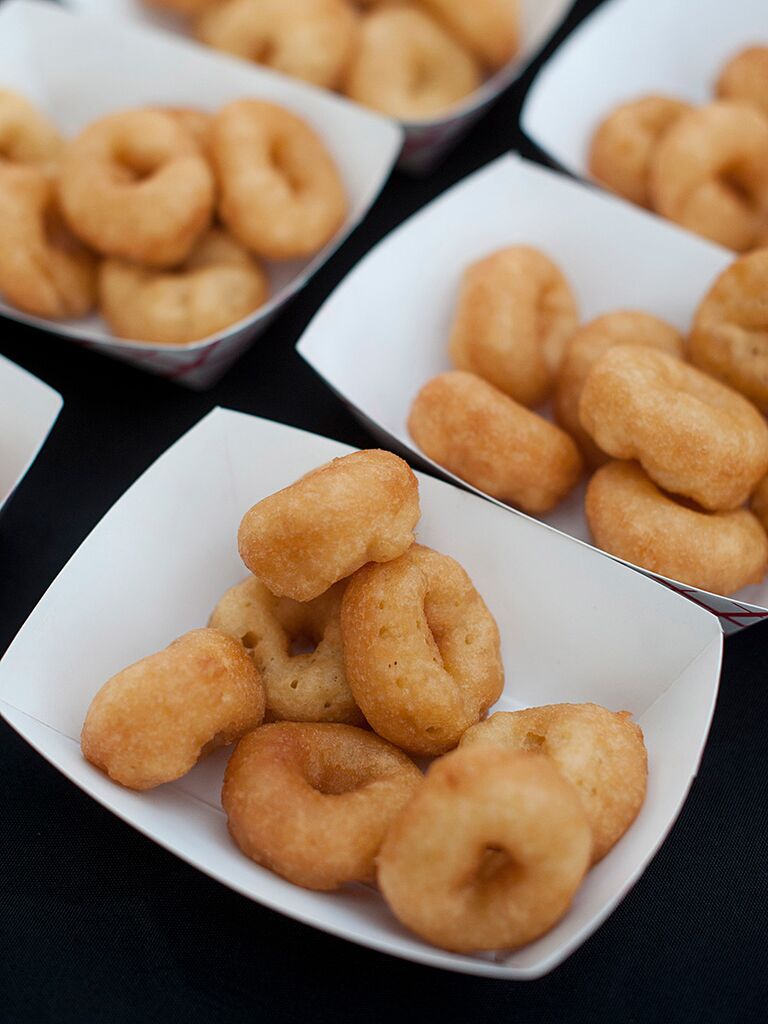 We're talking fresh donuts and fried everything—all dressed up with fancy wrappers or patterned plates. Does it get any more mouth watering than that? Complete the theme with different toppings or dipping sauces and a fresh hot funnel cake cart for a late night snack.
From: A Rustic, Romantic Wedding at Pioneer Living History Museum in Phoenix, Arizona
Coffee Desserts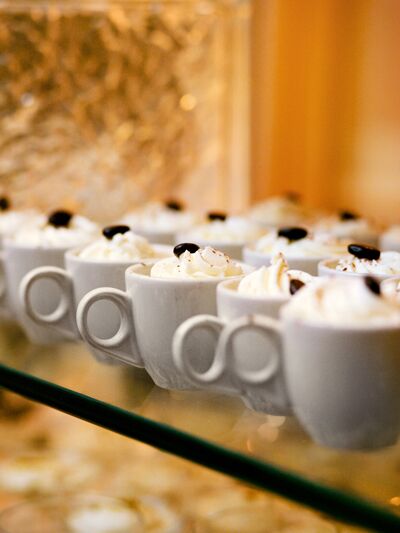 Keep your guests awake and buzzing and out on the dance floor with coffee-infused desserts. Order espresso-spiked brownies or even Starbucks-inspired coffee dessert drinks like frappuccinos piled high with homemade whipped cream. Include a few decaf options too, like chocolate milk shake shots or even flavored frothed milk.
Doughnut Bars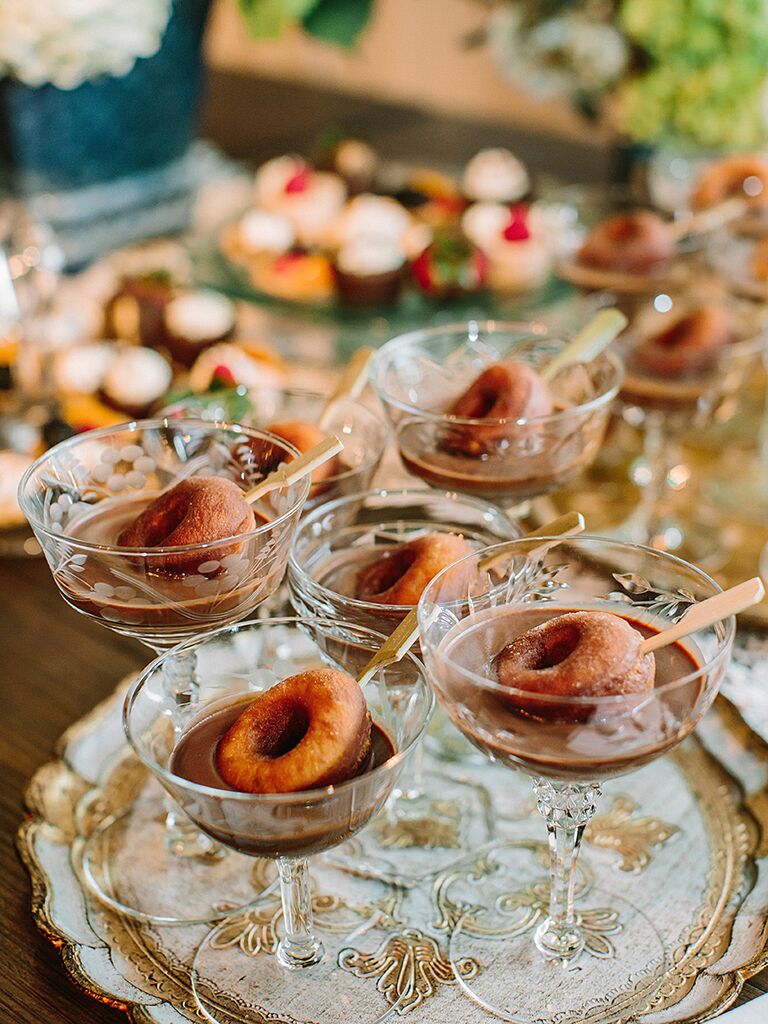 Not the biggest fan of wedding cakes? You can have an assortment of desserts instead. From toppings to colors, flavors and sizes, doughnuts are a perfect alternative to an elaborate cake cutting. Serve them up in glassware that matches your place settings and include toppings for your guests to have fun with.
From: A Grand Del Mar Wedding in Del Mar, California
Chef Stations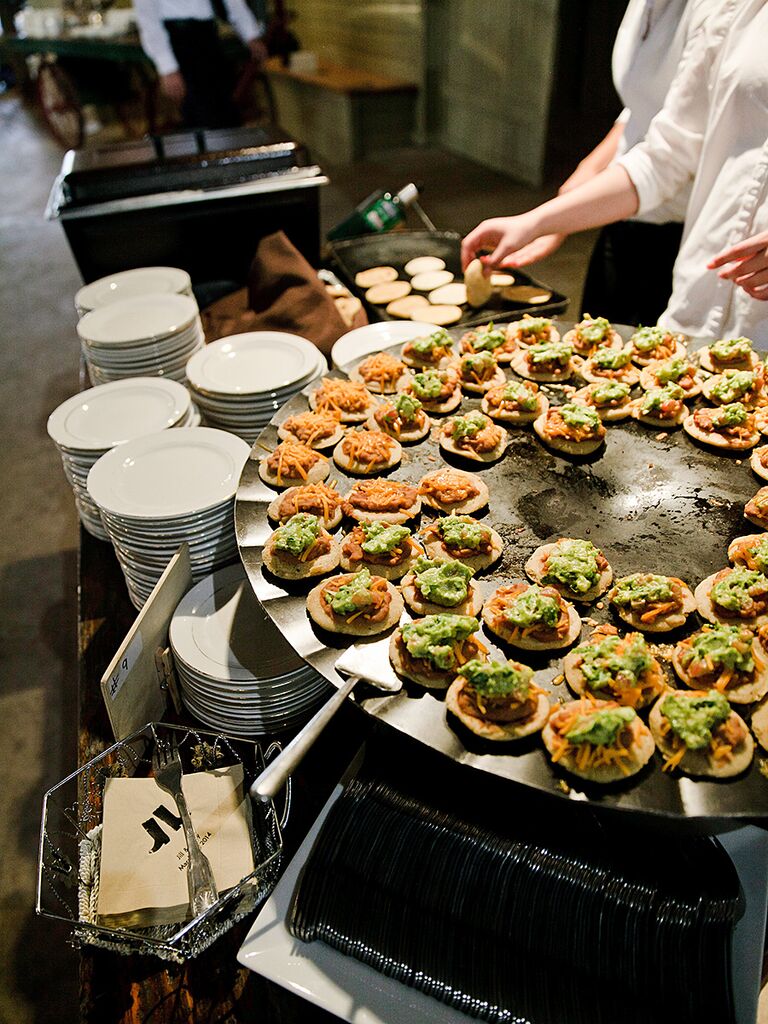 Instead of the expected passed hors d'oeuvres, ask your caterer about a more hands-on option. A few fun ideas: have a raw bar with a chef shucking oysters, rolling sushi, or cooking fresh ingredients in front of everyone. Your guests will have just as much fun watching their meal be prepared as they will eating it.
Dressed-Up Comfort Food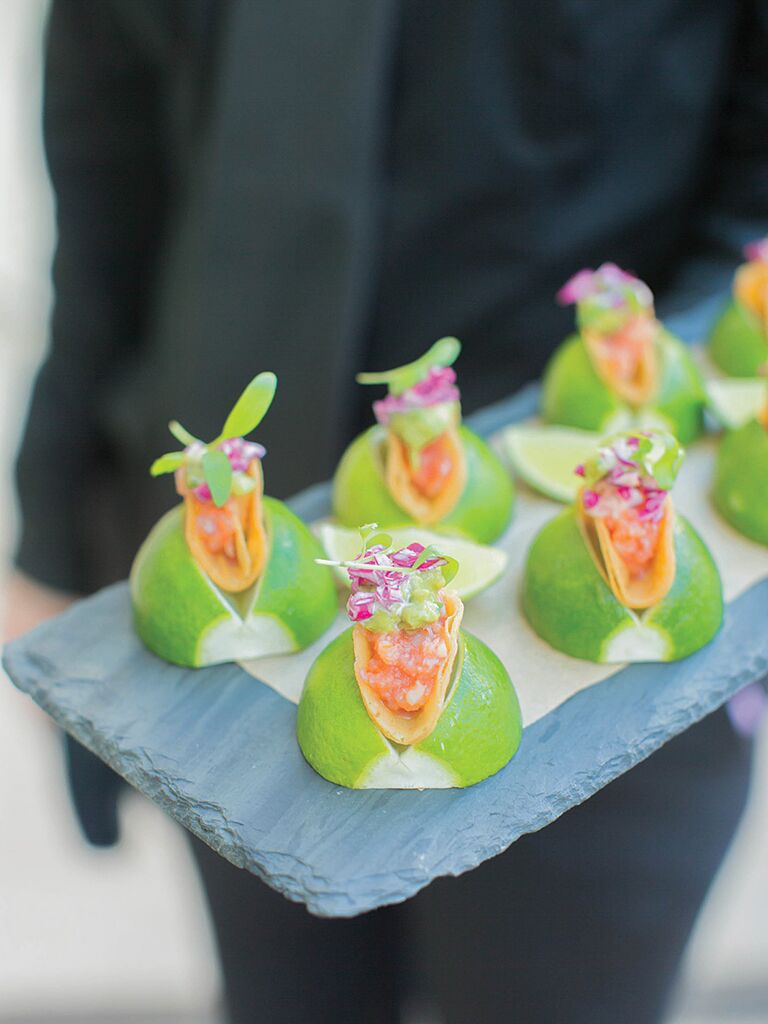 Comfort food has been popular at weddings for years, but now it's all about the presentation. Try mini tacos served up in a lime for a display that will wow everyone. Not to mention it's totally instagram-worthy.
A Childhood Favorite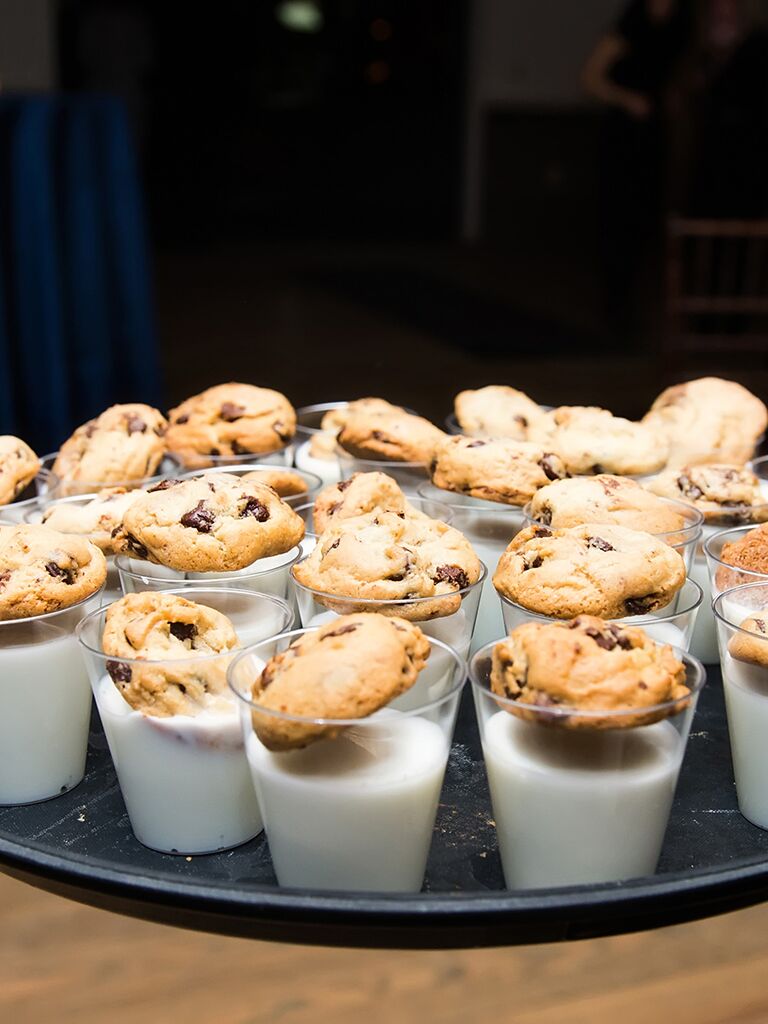 Bring back a favorite from your youth and it's a guaranteed hit. No one will expect individual sized cookies and a shot of milk, so the surprise makes it all the tastier. Whether it's banana split sundaes or syrupy slushies, a reminder of your favorite childhood sweets while you're celebrating with those who know you best will make everything more delicious.
Cheese Wheel Cakes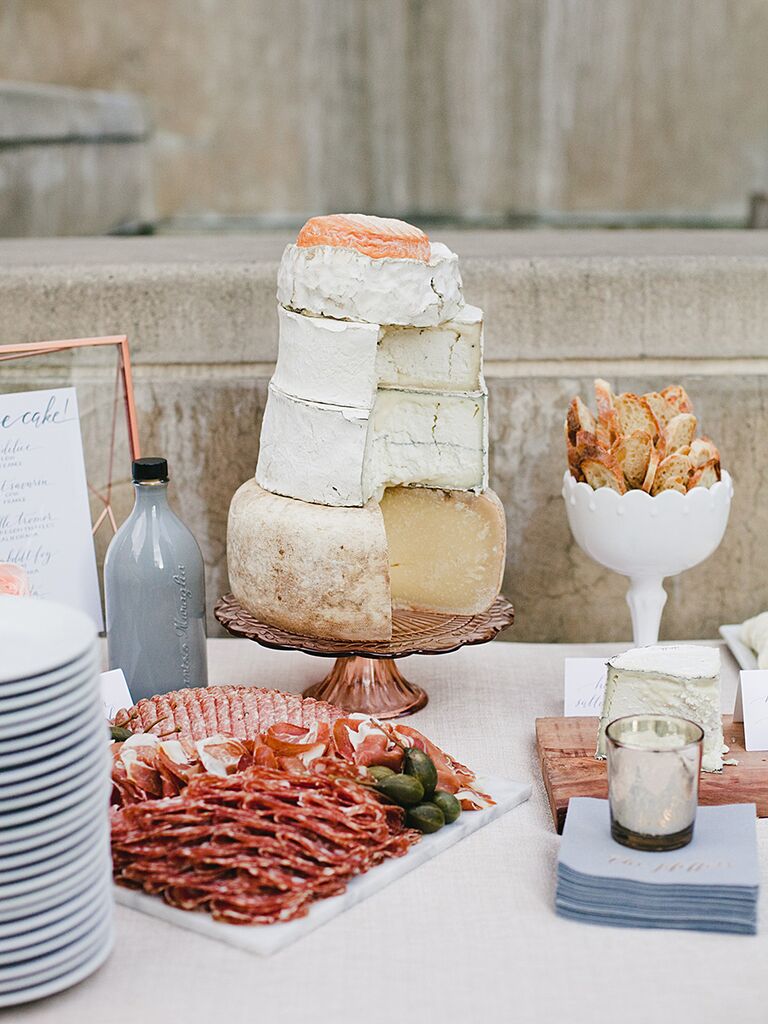 Ok, so maybe a cake made from wheels of cheese aren't going to replace traditional wedding cake, but they're perfect for a pre-reception wine and cheese hour. Imagine each layer is a different cheese flavor like creamy goat cheese, smoky gouda, or sharp cheddar with a meats and crispy bread on the side.
From: An Elegant Black-Tie Wedding at Cafe Pinot in Los Angeles, California
Whiskey Bar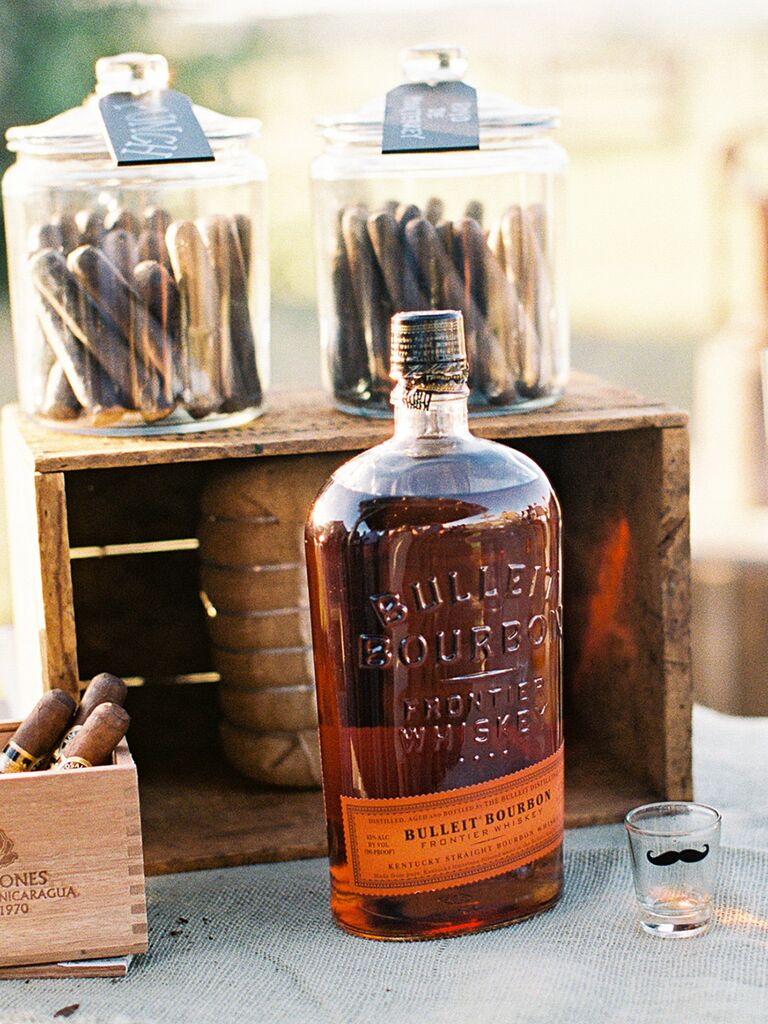 Go for that vintage 1960s vibe when it comes to your specialty bar. Feature several types of whiskeys and bourbons along with a variety of cocktail suggestions. And don't forget to spice things up—offer a classic Manhattan, but also newer pairings, like a drink made from rye whiskey, Barolo Chinato and bitters.
From: A Rustic Barn Wedding at Santa Margarita Ranch in Santa Margarita, California
Soup Shooters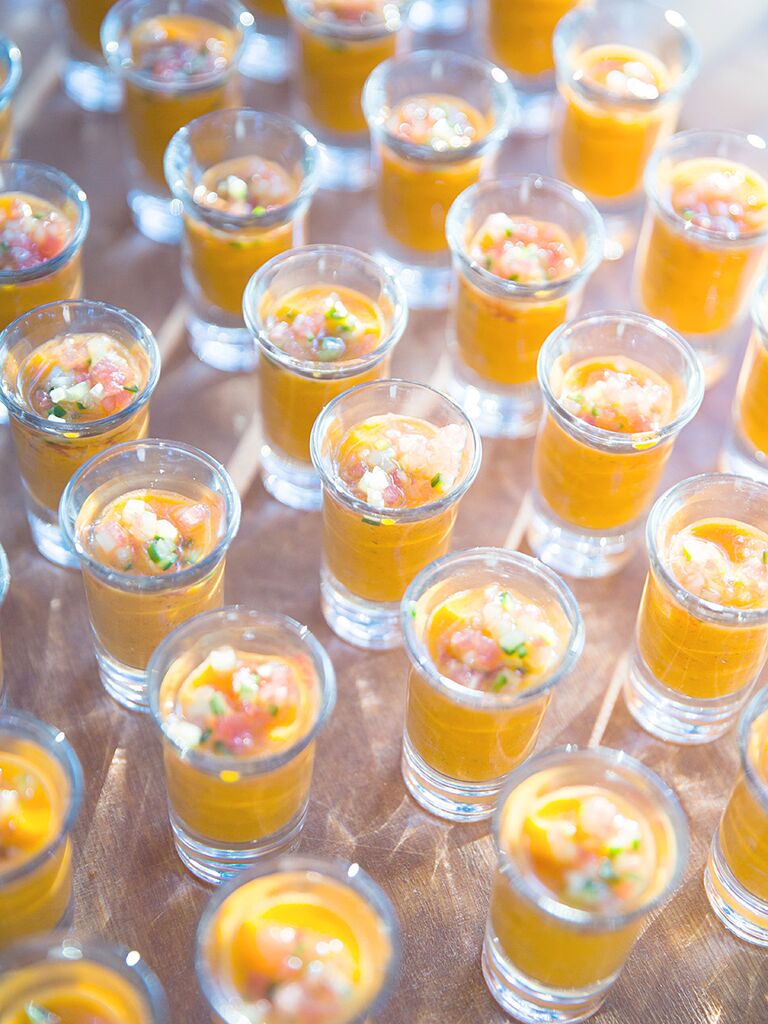 We're not talking about the shots you might have done in college—these nonalcoholic drinkable shooters are served during the cocktail hour as hors d'oeuvres. Think: cold gazpacho soup, tomato and basil puree, or even stacks of chopped veggies—all garnished with fresh herbs.
DIY Dessert Stations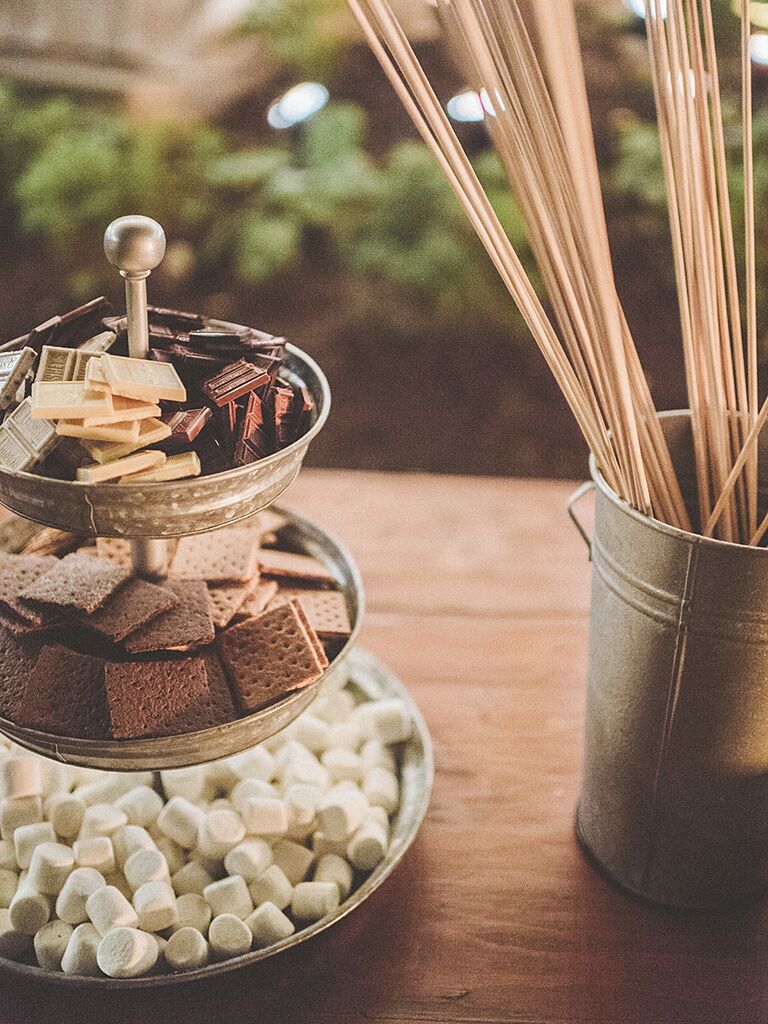 S'mores and the outdoors go hand in hand. Set up a s'mores station near an outside fire pit, or, for a more formal wedding, have a waiter serve ice cream and offer a variety of toppings for guests to choose from.
From: A Low-Key Backyard Wedding at a Private Residence in Gladwyne, Pennsylvania
Bubble Bars
Kick up your alcohol options by adding a small satellite bar like a bubble bar featuring only sparkling wines and mixers like peach and strawberry juice. You could even add a soda bar with a variety of flavored syrups so guests can make their own coffee-vanilla-flavored Coke.
From: A Rustic Southern Wedding at Cedarwood in Nashville, Tennessee
Take-Home Cake Boxes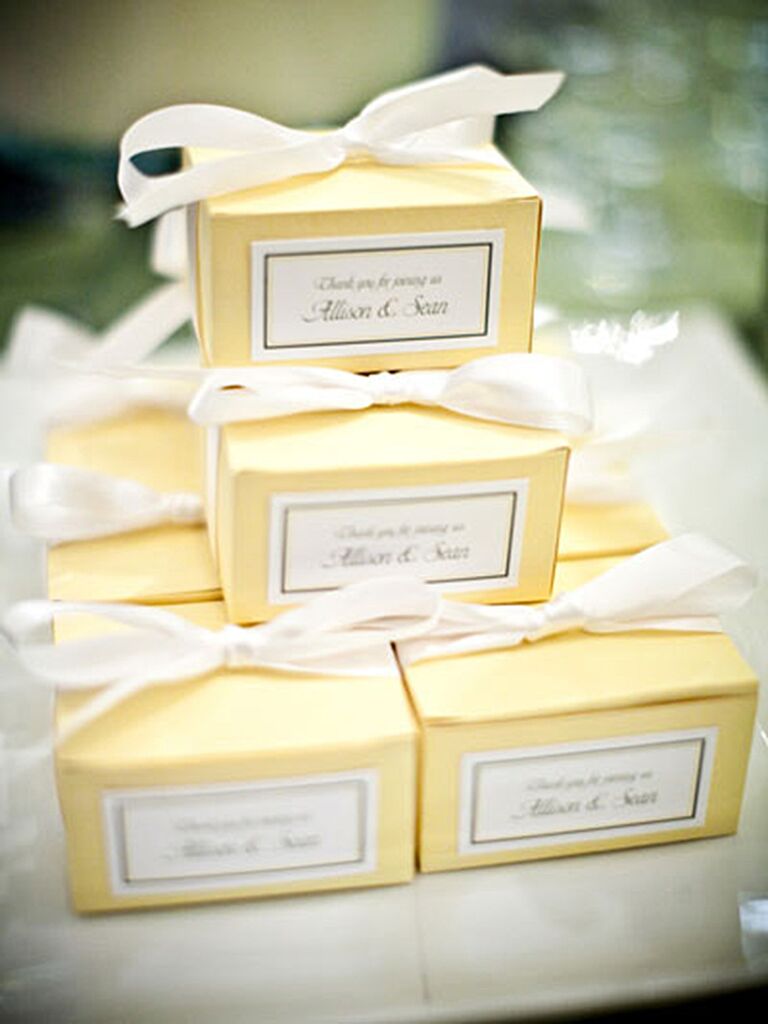 Work with your caterer and offer guests a slice of the wedding cake—or even the groom's cake—that they can take home. It's an especially great idea for out-of-towners who may want a midnight snack in their hotel room. Psst: This can also double as your wedding favors.
Cereal Bar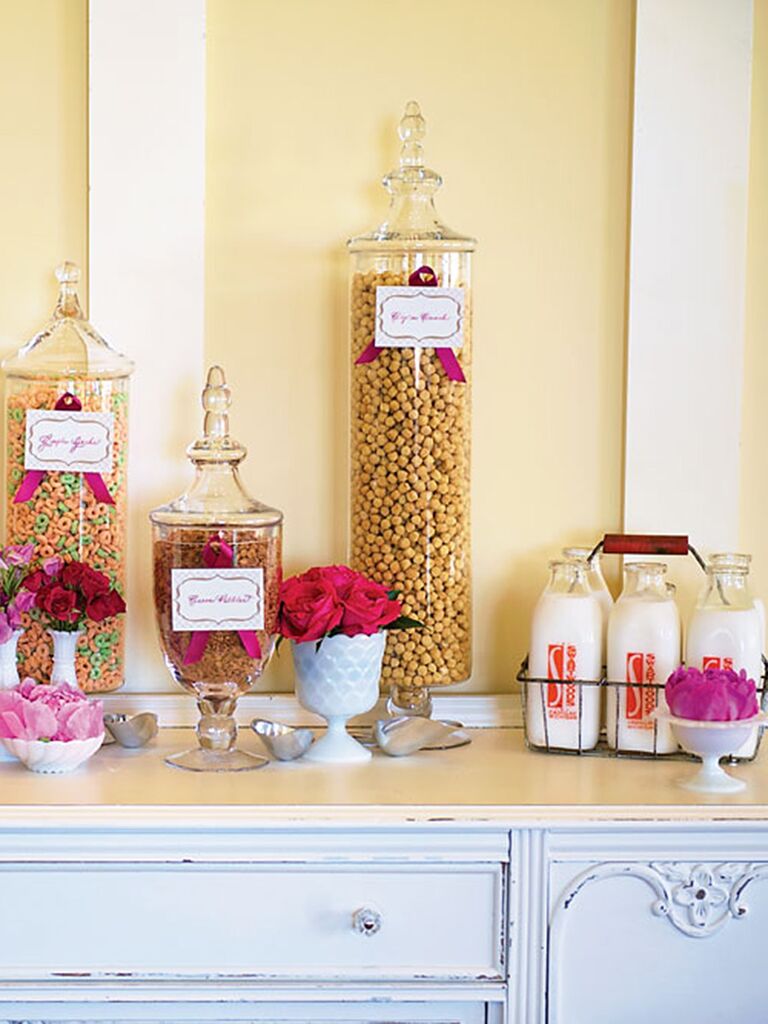 Fuel your dance party with something not so common—a cereal bar! Pick your favorites (Captain Crunch, Lucky Charms, Life – the options are endless) and then put them on display in glass apothecary jars. Skip the oversized cereal bowls and do something smaller or even bags for guests to grab and get back to celebrating.