Our 21 Favorite Father's Day Gifts for Your Husband
Because he's a super-duper dad and spouse.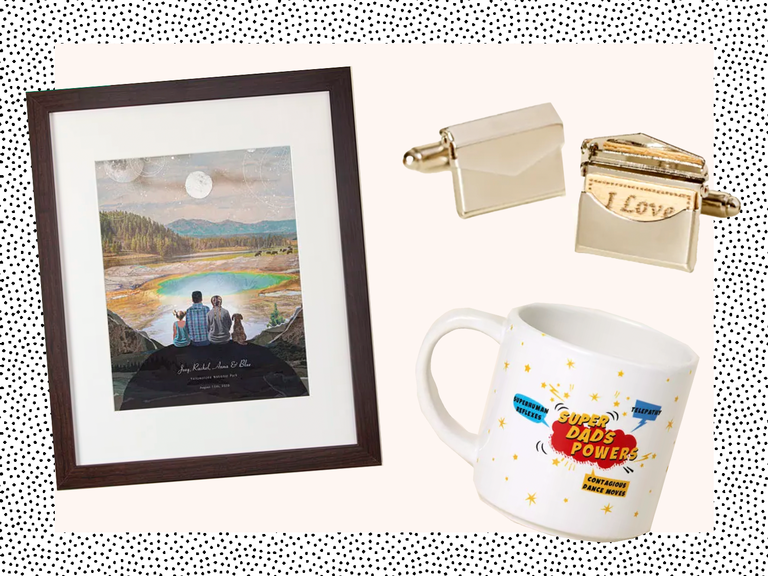 Photos: Uncommon Goods,Design: Tiana Crispino
You're thankful for your kids and for the guy who raises them with you. Say so this June with a special present for your partner. Yep, we're talking about Father's Day gifts for your husband. Whether it's his first year celebrating or he has a stack of "super-duper dad" cards, gifts for your husband from his loving spouse on this special day will be a welcome gesture—especially if your kids haven't graduated from homemade crafts yet. From something that supports his hobbies to R&R goodies that help him prop his feet up and take a break, he'll really appreciate the surprise. That's why we've rounded up the best Father's Day gift ideas for husbands so you can show him how much you love and support him.
1. Hardcover Photo Book
There's quite possibly nothing as sentimental as a photo gift. You and your husband will look back on all the memories this photo book holds for years—even decades—to come. It features a chic fabric binding, a display-worthy dust jacket with a foil title and premium printing paper for a luxe and durable construction. There's no better way to show off his fatherhood.
2. Super Dad Mug
As far as personalized Father's Day gifts for husbands go, this one is a fave. Illustrator Lizzie Lee will turn him into a superhero and then print the image on a mug he can use for his morning coffee (AKA his superpower generator). The comic will feature his likeness, name and three magnificent characteristics chosen by you. Think: "master handyman," "contagious dance moves" and "most caring husband and father."
3. Beef Jerky Flower Bouquet
Flowers are a classic gift to show love and appreciation. Step up the idea for the man of the hour with a bouquet made out of beef jerky. Simply choose between eight or a dozen "stems" and then pick his favorite flavor (original, teriyaki, hot or an assortment). It will arrive put together in a "vase" (pint glass) for him to enjoy.
4. Super Soft Sweatpants
Loungewear makes a great Father's Day gift for husbands because it'll encourage them to get comfy and relax, you've got the kids under control today. These stylish sweatpants have a contemporary, tailored fit and are made from ultra-soft French terry cloth. They come in regular and tall sizing and 15 colorways. He'll be living in these sweats from now on.
5. CBD Massage Cube
Dads are active people. Between serving as their kid's personal climbing gym and being the designated handyman, it's unsurprising if their muscles get a bit sore sometimes. Luckily, this cube is ready to smooth and soothe. Its hemp-infused organic plant butters and oils are believed to help reduce pain and inflammation, plus they moisturize the skin. Simply help your hubby massage it on his shoulders and back to unwind this Father's Day.
6. Hydrating Shaving Set
Keep your man looking sharp with this shaving care duo by Aēsop. The shaving serum will ensure his skin remains damp as he grooms his facial hair, while the lotion will hydrate his skin and soothe any irritated areas. And they both have a heavenly neroli smell. He'll be getting all the kisses this Father's Day.
7. Marvel Shirt for Dad
This is one of the best Father's Day gifts for husbands that love Marvel. The shirt defines "fathor" as "like a dad, just way mightier." It even jokes "/See also: handsome/exceptional." So pretty much everything you and your kids would say about your partner!
8. National Park Custom Family Collage
Does the perfect Father's Day outing for your husband consist of a hike or camping trip? You love how much he gets the family out in nature and this custom artwork honors that. Using handmade and digital collage techniques, artist Mia Hague will make a print featuring him and the kids admiring a national park. She can even include pets. This personalized Father's Day gift will definitely be hung in a place of prominence.
9. Outdoor Emergency Gear
Make sure your husband is prepared on his next outdoor adventure with this emergency kit. After all, it's important to you and the kids that he comes home! This compact kit is disguised as a water-resistant LED lantern (with over 20 hours of light and over 40 hours of SOS display), which is filled with customizable aluminum tins with other critical gear like the brand's signature Fire Striker Tin, multi-purpose adventure tape and a split flip carabiner.
10. Monthly Coffee Subscription
Forgot about Father's Day? Here's a good last-minute Father's Day gift for your husband—seriously, you can buy this day of and he'll have no idea. Atlas Coffee Club is a subscription service that will send a fresh bag of beans, grounds or pods from around the world to your husband every month. Each delivery also comes with a postcard from the country, tasting notes and some info on coffee history in the area. You can send him an email to let him know his first tasting adventure is on its way. (Psst, use our exclusive code THEKNOTDADS for 50% off your first month of the subscription and up to $50 off gifts.)
11. Pour-Over Coffee To Go
There's never enough time in the morning. Between getting himself ready for the day and the kids, the last thing he has time for is making a cup of smooth, pour-over coffee. Not anymore! This travel mug will let him take his brew on the road, even if it hasn't finished dripping yet. The stainless steel filter provides a balanced taste with no sediment, while the double-walled glass keeps his drink hot or cold. And the top is leakproof, so he doesn't have to worry about spilling if his hands get a bit full. This is a practical and unique Father's Day gift for your husband that's perfect for tea, coffee or cold brew and better for the environment than pods and disposable filters.
12. Kabob Grilling Baskets
There's a reason Father's Day is in June; a BBQ is a fun way to celebrate his "dad" status. Make cooking kabobs easier with these grilling baskets. No need to skewer veggies and chicken, these steel wire and hardwood handle baskets make it easier to sear and flip everyone's dinner.
13. Wireless Meat Thermometer
This rechargeable, wireless meat thermometer will really solidify your husband's title of grill master. It connects via Bluetooth to an app on his phone and will notify him when the meat is cooked, so he knows exactly when to take it off the heat. With this on his team, he'll achieve perfectly tender chicken, pork chops or steak every time. That's a win for the whole family!
14. Hot Sauce-Making Kit
Did your kids inherit his love of spicy foods? Then here's a creative Father's Day activity they can do together, thanks to you. This hot sauce-making kit includes fiery ingredients, six bottles, labels for creative sauce names and instructions, so they can push the Scoville scale together. Take it up a notch and pair it with a live, virtual class that'll teach them the art of chili sauce from an expert.
15. Tie and Sock Subscription
We're officially starting the fan club for ties and socks as gifts. Just because they're practical doesn't mean they're boring—especially if you opt for a subscription! Spiffster Tie Club will send your husband either a high-quality necktie or bow tie and a pair of super soft, antimicrobial, eco-friendly bamboo fiber socks each month for as long as you choose. And you can decide between business or bold styles or a mix of both.
16. "Leveled Up to Daddy" Shirt
Say "Happy first Father's Day!" to your husband with this surprise gift. He won't stop smiling when he sees your little one in this adorable onesie, which reads: "Player 2 has entered the game." You can even lay out a matching shirt for him that says "Leveled up to daddy." Get the camera ready!
17. Loops Earplugs
Kids, especially newborns, are loud—which makes earplugs a good Father's Day gift for first-timers. They'll really help him get his "zzzs" on when it's not his turn to feed or change diapers. They filter up to 18 dB of noise, are designed to stay put no matter how much he tosses and turns in his sleep and come with four interchangeable ear tip sizes for the perfect fit. Plus they're reusable for years. So once your child decides they want to play the drums, he's got them on hand. Of course, they're not just a clever gift for new dads; if your husband loves concerts, or even is in a band, likes riding motorcycles or simply needs help focusing sometimes, these earplugs will come in handy.
18. Sugarwish Candies
Here's a sweet Father's Day gift idea for the sweetest husband. Satisfy his sugar cravings with Sugarwish. You'll choose how much candy to gift, then he selects exactly which treats to receive—like gummy worms, malted milk balls or Tootsie rolls. The kids will want to get in on this Father's Day gift for your husband, too.
19. Leather Bracelet with Custom Name Beads
Get ready for some "oohs" and "awws." This meaningful Father's Day gift for your husband puts your kids' names on custom beads, so he can carry them around with him no matter where he goes. They're strung on a braided leather bracelet for a subtle accessory.
20. Pet Camera
If his favorite child is not-so-secretly the family dog or cat, he'll be ecstatic to receive this innovative pet camera for Father's Day. It has a 360-degree rotating view with color night vision, so he can get the best view of his furry friend any time of the day. It also has real-time, two-way audio so he can talk to them and a sensor to provide alerts on the pet's behavior, if there is a person detected and if it detects CO2 or smoke. Better still, it can be filled with treats that can be dispensed to his pet using an app.
21. Romantic Cuff Links
Jewelry that isn't just stylish, but also meaningful, is the best. These cuff links look like mail and actually open to reveal a letter that says, "I love you." If you want something even more personal, the maker will customize the letter text. May we suggest: "We love you" for an extra thoughtful Father's Day gift for your husband?