Geeky Wedding Ideas for Your Inner Nerd
It's official, you and your partner have chemistry. Satisfy your inner nerd with these ideas.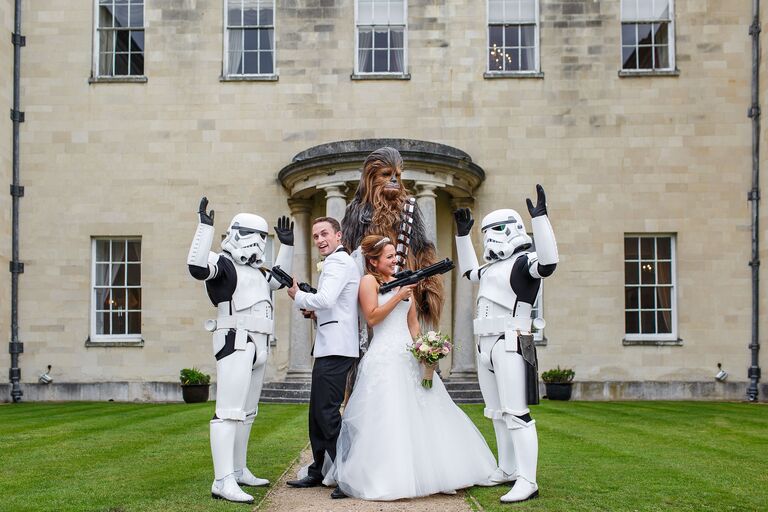 Fortitude Press / Barcroft Media / Barcroft Media via Getty Images

Embrace your fandom and go for the geeky wedding of your dreams. As couples are increasingly personalizing the wedding day, buck tradition for something more exciting, a little nerdy even, that speaks to your love of a certain show or pastime that will allow your guests to fully experience you. Star Wars wedding cake toppers, superhero centerpieces and geeky wedding rings with secret messages are just a few ideas to help you make your special day completely your own. Keep scrolling to see the geeky wedding ideas we've collected for tons of different nerdy categories. 
Superhero Wedding Theme
Whether you're Team Marvel or Team DC, superhero fans certainly assemble. Having geeky interests doesn't prevent you from having a comic book wedding (think fairytale wedding, but better). Although wedding planning isn't as simple as snapping your fingers or just saying "Shazam," alleviate the process by showing off your favorite characters (and achieving hero status while you're at it).

Harry Potter
Wedding Theme
If only Hogwarts was a wedding venue. Nevertheless, it's time to start planning your magical Harry Potter-inspired wedding with the help of a Sorting Hat of course. Tap into your favorite quotes from the books and movies, and leverage each house's colors to build the perfect reception hall. A tip for the wise: don't forget the Butterbeer.
Star Wars Wedding Theme
"A long time ago in a galaxy far, far away"... you got engaged. As you plan your wedding, know that it doesn't have to take place on May 4th for you to achieve a stunning Star Wars theme. Include the characters in your fashion, decor and guest experience that will leave your guests awestruck.

Game of Thrones Wedding Theme
Mother of dragons, you're getting married. For the sake of your upcoming nuptials, let's pretend that all  Game of Thrones weddings end beautifully. There are many sophisticated ways to express your love for binge-ing the show together without going totally Red Wedding. With a few tasteful elements, your special day will be deserving of the iron throne.

Lord of the Rings Wedding Theme
Your epic and unexpected journey of love deserves quite the celebration. Delight your loved ones with a Lord of the Rings adventure. Whether you use the books to ask your friends to be in your fellowship (wedding party) or you give adventurous favors to mark the night, there are plenty of ways to incorporate the magic of Middle Earth.

Science Wedding Theme
It's official, you and your partner have chemistry. If you periodically speak in science puns or if you're most in your element at a science museum, consider throwing a science-theme wedding. With a celebration based everything from biology to physics, your guests will have fun, and learn something along the way.

Pokémon Wedding Theme
If you've caught "the one," it's time to change your job title from Pokémon Trainer to wedding planner. Bring the world of Pokémon Go and Detective Pikachu to your celebration and keep your wedding bands safe in a Pokéball.
Video Games Wedding Theme
Take your geeky wedding to the next level with a video game theme. While we advise shutting down your gaming console for your big day, reference your favorite games with fun photo props or an extravagantly designed seating chart. 
Board Games Wedding Theme
You're not playing games with your wedding, but your events can be inspired by one of your favorite pastimes. Put out your favorite games for your guests or even create a stack of games they can eat at the reception. Your only worry will be making sure your guests don't get too competitive.