25 Ideas For Hydrangea Wedding Bouquets That Will Make Your Big Day Even More Special
Don't worry, these flowers are available year-round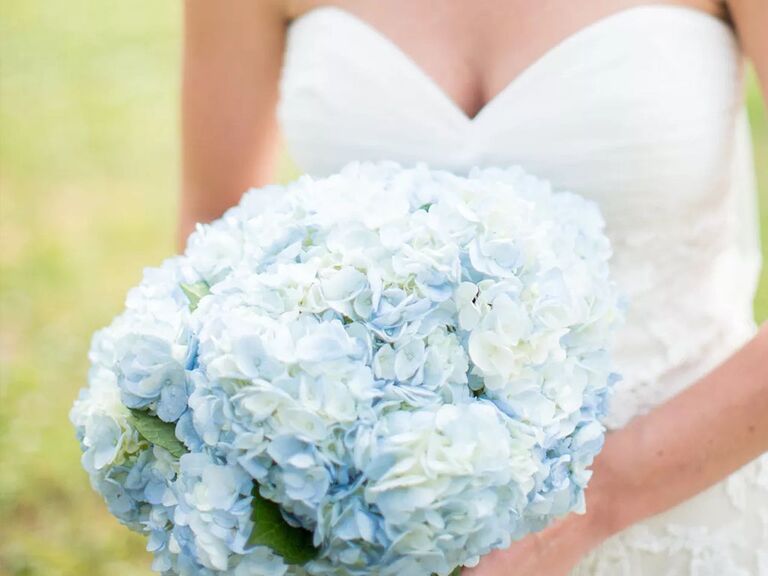 Tangled Lilac Photography
Are you currently in the process of selecting flowers to incorporate into your wedding bouquets? Hydrangea wedding bouquets may be pricey but are worth it for their beautiful blooms. If you're looking for lush, dense bouquets, hydrangeas are the way to go.
In this story:
What Are Hydrangeas?
Hydrangeas are beautiful flowers native to Asia and the Americas. "Typically, hydrangeas have large clusters of flowers growing together in a rounded shape," says floral designer Mari Riggs of Wild Bunches Floral. "This can vary with antique hydrangea in overall shape and size."
Hydrangea Colors
Wedding flower expert Althea Wiles of Rose of Sharon Floral Design Studio shares that "hydrangeas come in a variety of colors including white, pastel pink, light blue and light green. They are also available in darker tones of blue and purple; vibrant green and muted 'antique' red, green & blue-purple. They can also be tinted to almost any color."
Hydrangea Flower Season
One of the best qualities of hydrangeas is that they are not seasonal and are available all year round. Whether you're having a summer or winter wedding, you can rest assured that hydrangeas will be available for your special day.
Average Hydrangea Wedding Bouquet Cost
Riggs explains that the average hydrangea wedding bouquet cost ranges between $200-$300. However, "this can vary depending on other flowers and greenery that are incorporated into the design," she adds.
Florists' Tips for Adding Hydrangeas to Your Wedding Bouquet
When looking for inspiration for your wedding bouquets, it's important to keep a couple of things in mind such as which flowers work well together, how long a flower lasts before it starts to wilt and what you can do to prevent wilting on your special day. We recommend checking out The Knot Marketplace to find a florist to bring your hydrangea wedding bouquet visions to life. All you have to do is enter your location into the search feature and a list of recommended florists in your area will appear.
What Flowers Go With Hydrangeas in a Bouquet?
Riggs recommends complementing Hydrangeas in a wedding bouquet with other round-shaped flowers including silver dollar eucalyptus, roses and ranunculus.
Wiles adds that hydrangeas pair well with most flowers and serve as "a great base for orchids and roses for an upscale look and work well with sunflowers and tulips for a more casual look."
How Do You Keep Hydrangeas From Wilting in Your Wedding Bouquet?
Keeping hydrangeas from wilting is not impossible but does require some effort. Wiles suggests having "a water source handy and placing the bouquet in the water as much as possible." She also says that "your florist should treat the hydrangea prior to designing to increase the hydrangea's water-saving abilities."
Hydrangea Wedding Bouquet Ideas
If you want to incorporate this beautiful flower into your wedding bouquets, continue reading for 25 of our favorite ideas for creating stunning hydrangea wedding bouquets:
Blue Hydrangea Wedding Bouquet With Roses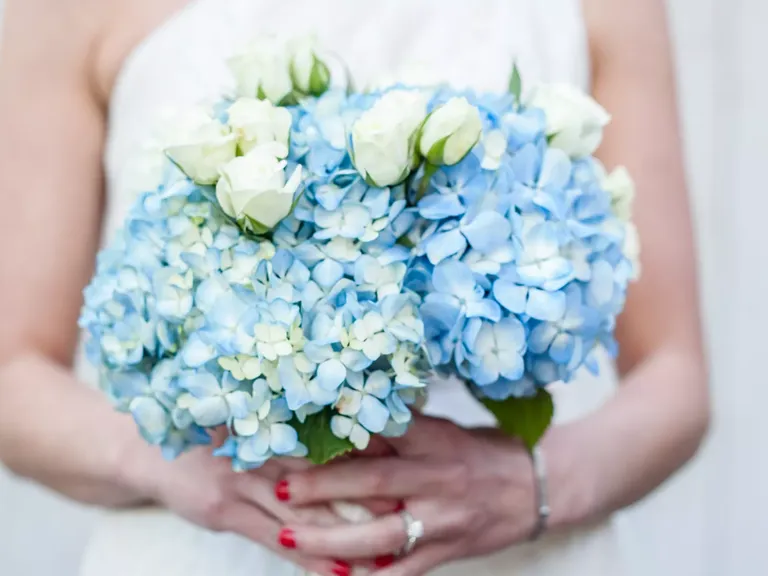 A combination of blue hydrangeas and white roses creates a more upscale-looking bouquet. If you're looking to keep your bouquet simple, this fusion of flowers will do just the trick.
All White Hydrangea and Orchid Wedding Bouquet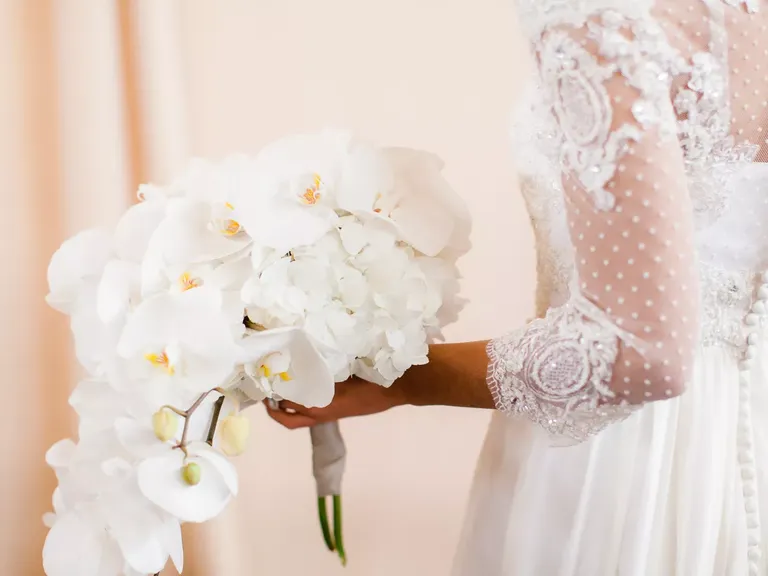 If you're looking for your bouquet to match your white dress perfectly, opt for an all-white bouquet. The bouquet's one color will add to the clean look you'll have when walking down the aisle. Wiles says that hydrangeas "are a great base for orchids" as both flowers complement one another.
Positively Purple Hydrangea Bridesmaid Bouquet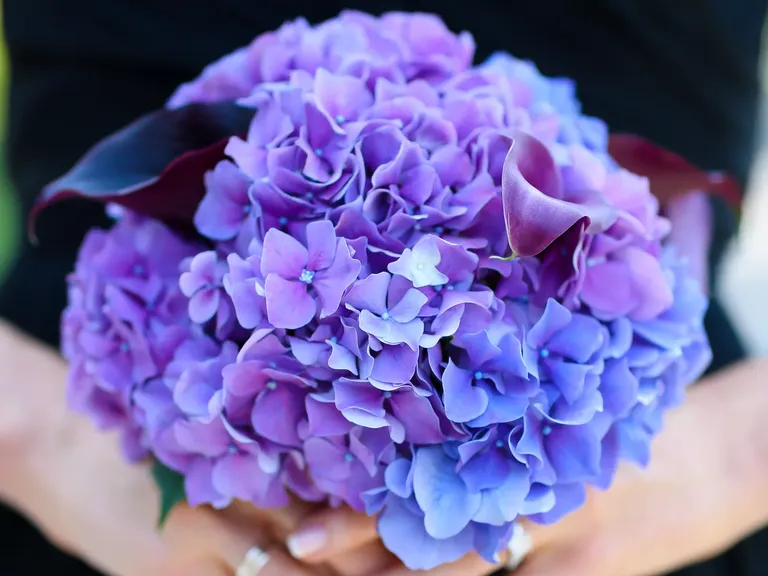 Is purple your favorite color? Do you want to add purple accents to your wedding? If your answer to any of those questions is yes, you cannot go wrong with having your bridesmaids hold bouquets made entirely out of purple hydrangeas. Purple flowers radiate regal and luxurious energy – perfect for your wedding day.
Fall Hydrangea Wedding Bouquet With Antique Hydrangeas, Roses, Dahlias and Astrantias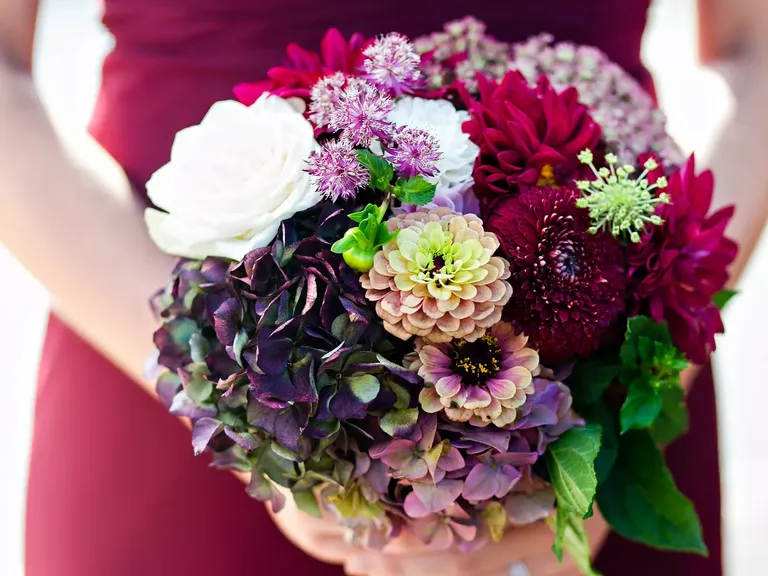 Pair antique hydrangeas with roses, dahlias and astrantias to create a fall-inspired bouquet. Opt for soft or muted colored flowers to complement an autumn wedding.
Ivory and Pink Hydrangea and Rose Bouquet
Add even more romance to your big day with a lush pink bouquet complete with pink and ivory hydrangeas, roses and dahlias. Tie the flowers up with a pink ribbon for an additional touch of pink.
Summer Wedding Hydrangea Bouquet With Sunflowers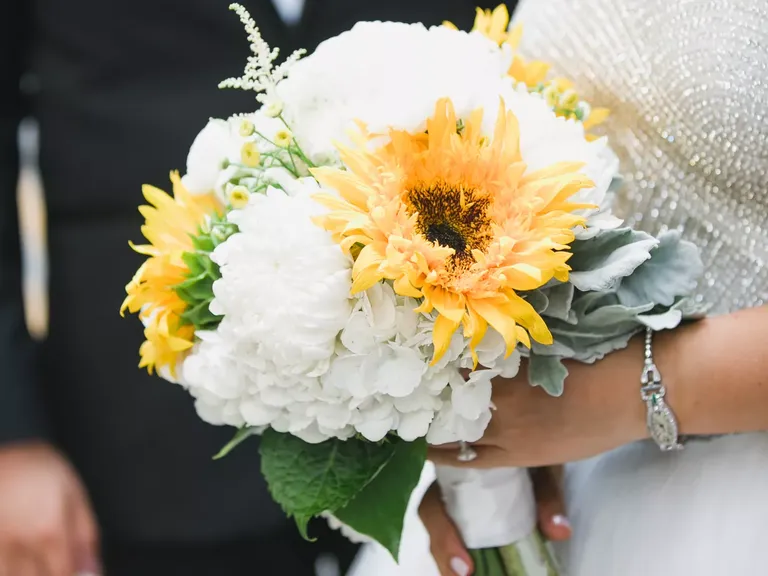 If you're planning a summer wedding, you can't go wrong with a white hydrangea bouquet. Add a couple of sunflowers for a pop of color and extra vibrancy.
Perfect Pastel Hydrangea and Rose Bouquet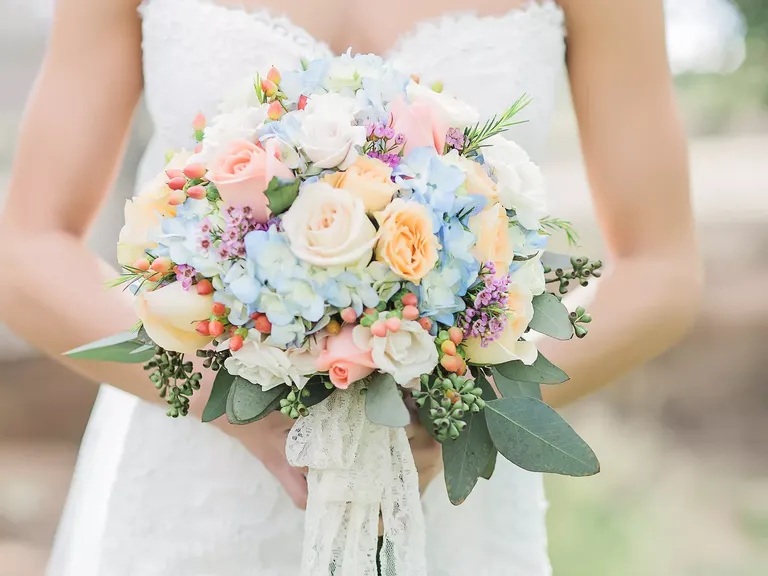 A pastel bouquet is perfect for outdoor weddings. Whether it be at the beach, a state park, or a farm, these pastel tones create an elegant bouquet while adding some color. Plus, Riggs notes that round-shaped flowers such as roses pair well with hydrangeas as they "allow the hydrangea to really shine."
White Hydrangea Bouquet with Purple Ranunculus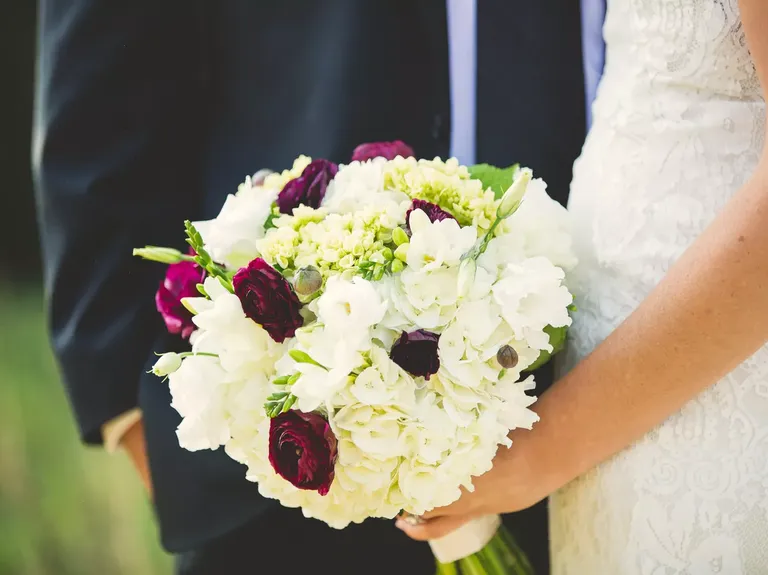 Pair a white hydrangea wedding bouquet with some purple ranunculus to create one that's perfect for an elegant fall wedding. You can replace the purple ranunculus with some yellow ones for a summer wedding. The white hydrangea bouquet base works either way.
Peach Bouquet with Hydrangeas and Gerbera Daisies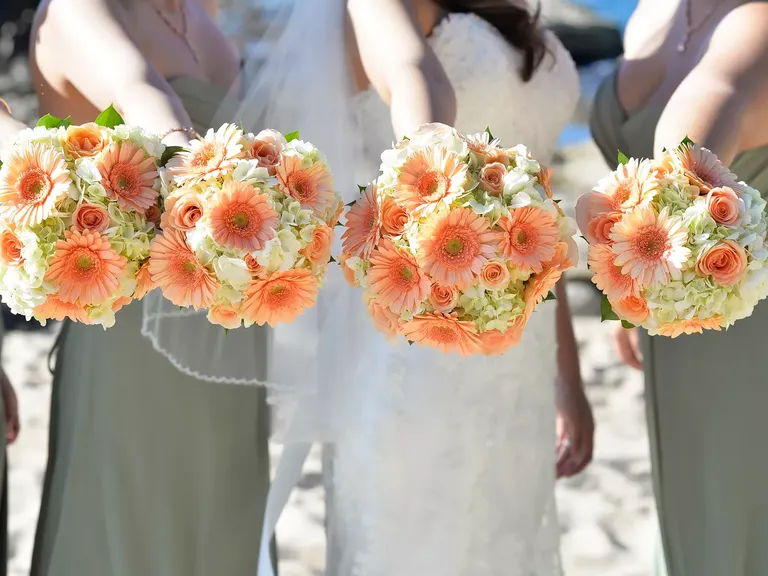 Add a playful twist to a simple hydrangea bouquet by adding some peach-colored gerbera daisies. This combination makes for the perfect summer or waterfront wedding bouquet. We love this bouquet's warm and spirited tones.
Blush Hydrangea Bridesmaid Bouquet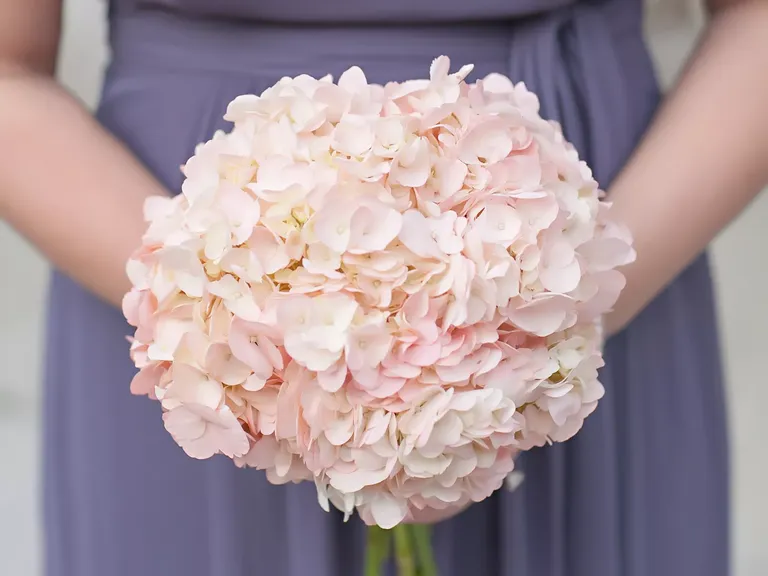 If you're looking for ideas for bouquets for your bridesmaids, consider small round bouquets of blush hydrangeas. We especially recommend this bouquet if your bridesmaids are wearing darker-colored dresses as it will more effectively stand out.
Elegant Green Bouquet With Hydrangeas, Green Orchids and Succulents
If you're looking to keep things green for your outdoor wedding, this bouquet filled with green orchids, succulents and white hydrangeas is a great choice. The white hydrangea works well as a base to help the green tones shine through.
Charming Round Flower Bouquet With Green and White Hydrangeas and Pink Peonies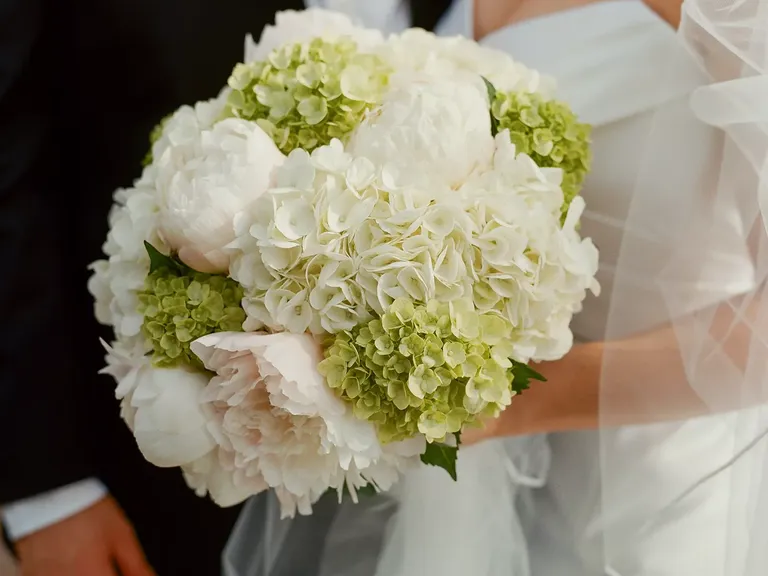 This round flower bouquet is simply stunning with its green and white hydrangeas. Throw in a couple of light pink or blush peonies and you'll have one of the most alluring bouquets. Although this bouquet could work for an indoor wedding, we recommend it for outside ceremonies.
Colorful Hydrangea Wedding Bouquet
If you're wanting to add color to your wedding, consider opting for a bouquet filled with blue hydrangeas, blue anemones, purple tulips and purple ​​delphiniums. Whether you're having a lively summer wedding or an ethereal winter wedding, this bouquet is sure to add vibrancy to your special day.
Pink Bouquet With Hydrangea, Roses and Cafe au Lait Dahlias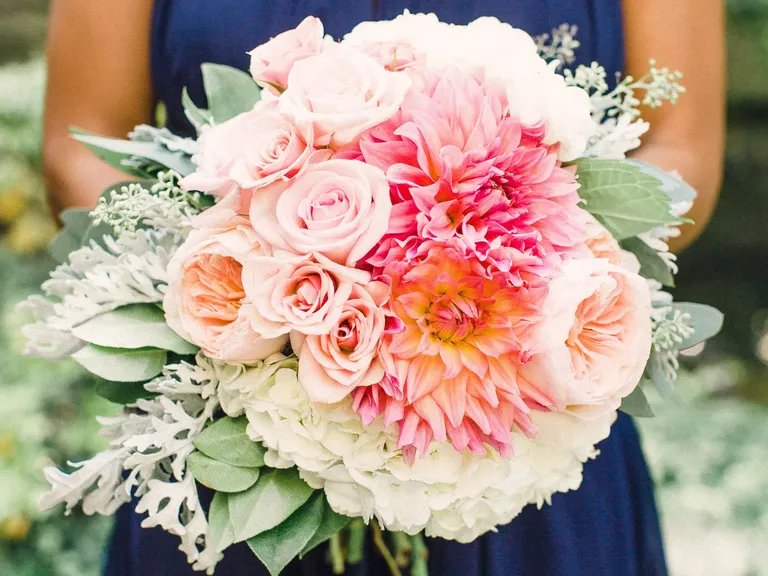 Filled with plenty of pink hues, this bouquet with hydrangea, roses and cafe au lait dahlias, is perfect for a barn or rustic wedding. You can add some greenery to the outer rim for more of a country feel.
Cascading Bridal Bouquet
If you're looking to do something different with your wedding bouquet, give a cascading bouquet a try. Incorporate some champagne-colored hydrangeas into the center of your bouquet to create a focal point amongst the dripping greenery. Although champagne blooms work well in a cascading bouquet, you can play with the colors to best match the theme of your wedding.
A Vintage Wedding Bouquet Featuring Ivory Hydrangeas and Pink Garden Roses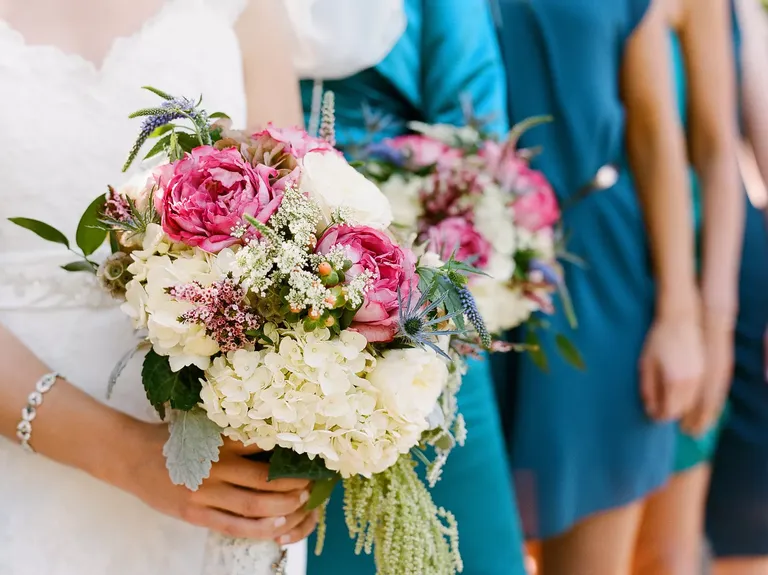 Looking for a vintage bouquet for your special day? This arrangement of ivory hydrangeas and pink garden roses is wonderful for a picture-perfect bouquet. You can add some thistle, scabiosa pods, veronica and other blooms of your choosing for some more texture.
Rustic Textured Bouquet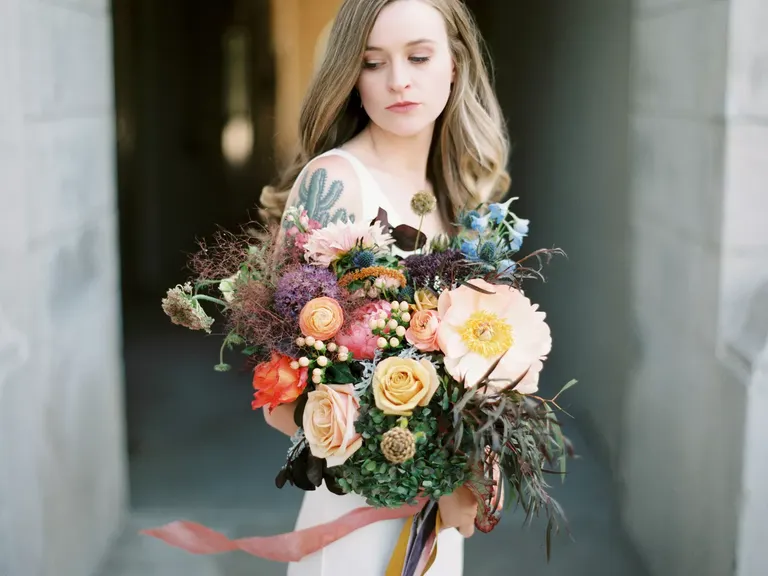 This textured and colorful bouquet beautifully combines several varieties of flowers, including hydrangeas. If you're looking for an eye-catching wedding bouquet, save this page as photo inspiration for your florist.
Summery Hydrangea Bridesmaid Bouquet
Purple and green hydrangeas, roses, veronica and eucalyptus are wonderful choices for a summer wedding bouquet. We love how well these colors work together in the arrangement. However, you could opt for a bouquet with the same flowers and style using another set of colors depending on the colors of your bridesmaid dresses.
A Red and Blue Bridal Bouquet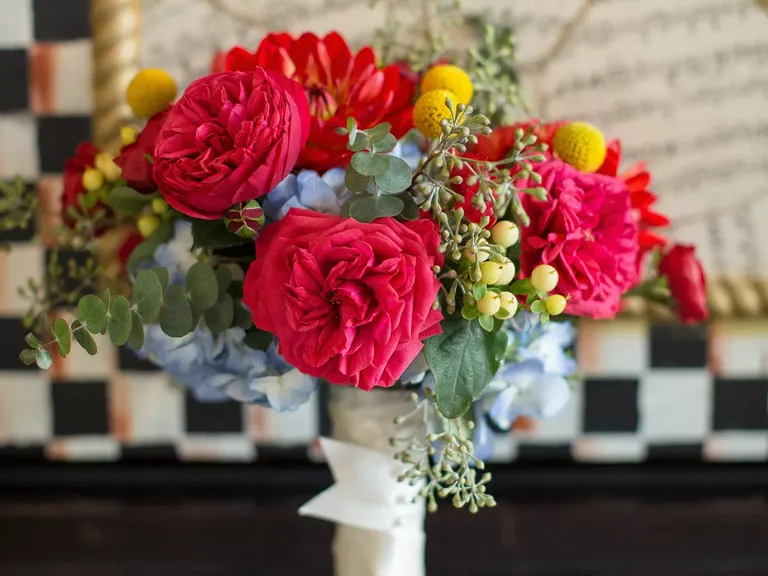 If you're looking for some bouquet inspiration for your fall wedding, don't rule out this red and blue bouquet with blue hydrangeas and red garden roses. Although this bouquet may be more vibrant than what you were initially thinking about for your autumn wedding, this combination of flowers will make a statement.
Flowy Purple and White Bridal Bouquet With Hydrangeas, Peonies and Lavender
Having a barn wedding? A purple and white bouquet is a perfect match. This classic bouquet is filled with hydrangeas, peonies and lavender. The dusty miller accents make the bouquet look even flowier and stunning which we love.
Picturesque Round Bouquet With White Hydrangeas, Craspedia and Yellow Roses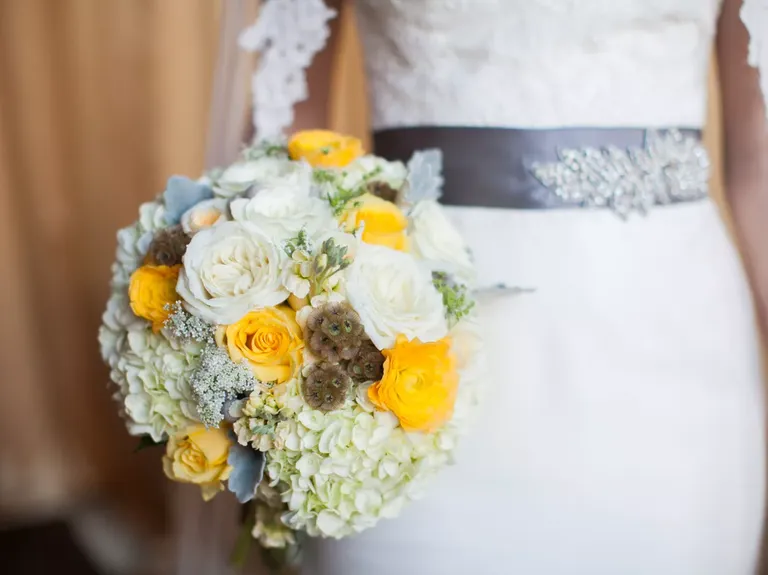 Make a statement with this picturesque bouquet starring some white hydrangeas, craspedia and yellow roses. This yellow and white combination works well for rustic weddings and those with a yellow in their color scheme.
Chic Hydrangea and Rose Bouquet With Gold Leaves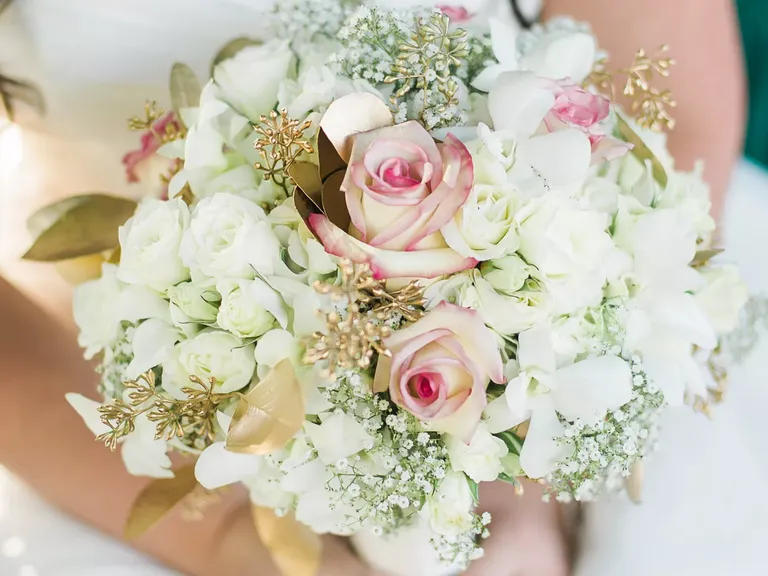 A chic bride should be accompanied by a chic bouquet. This bouquet with white hydrangeas, baby's breath, pink-tipped roses and gold leaves at the forefront will leave any stylish bride satisfied.
Simple Hydrangea Wedding Bouquet Featuring Limelight Hydrangeas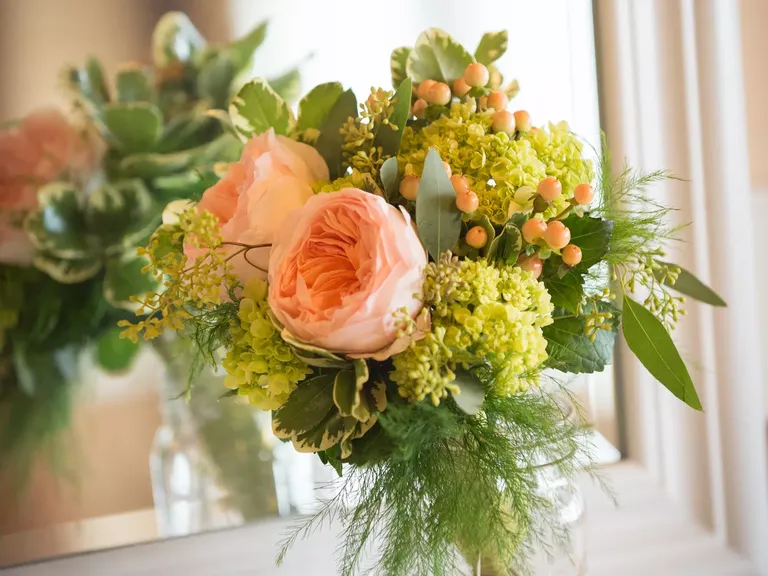 If you're looking to keep your bouquet simple look no further than this bouquet featuring limelight hydrangeas, pink garden roses, feathery greenery, seeded eucalyptus and peach hypericum berries. Even though this bouquet is a simple one, it will add a touch of elegance to your big day.
Whimsical Hydrangea, Ranunculus and Cornflower Bouquet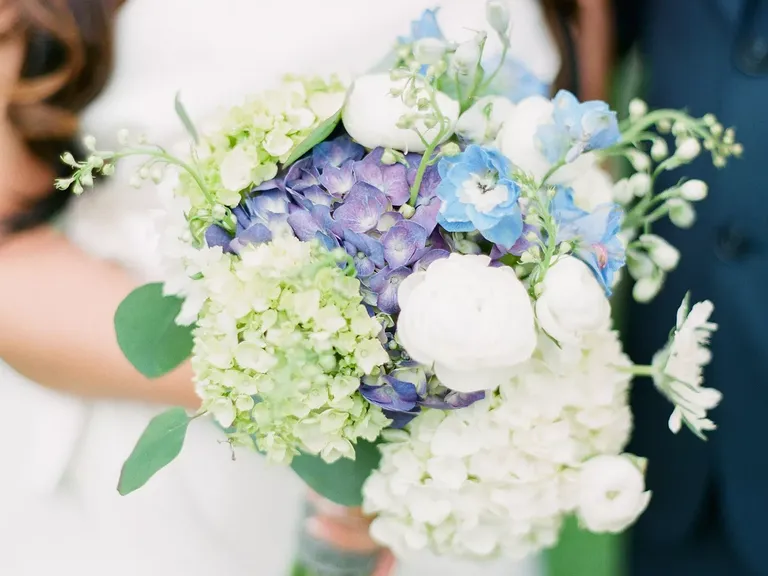 This whimsical bridal bouquet filled with blue and purple hydrangeas, ranunculus and cornflower makes a great addition to any wedding, but most especially waterfront ones. Although we'd recommend tying up this bouquet with some ribbon, it's optional and completely up to you.
Blue and Purple Ombre Bouquet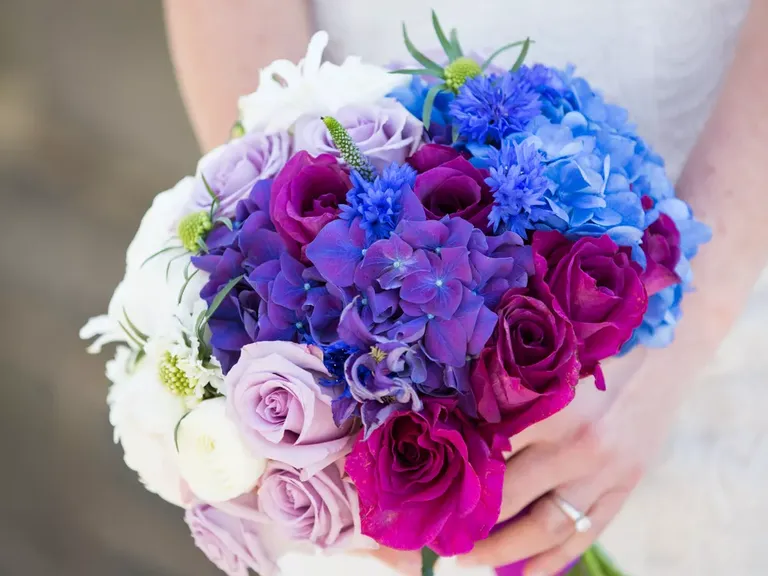 This creative bouquet consists of several shades of blue and purple hydrangeas that fade to white hydrangeas. We recommend this particular bouquet for spring weddings, but ombre hydrangea bouquets can be used year-round. If you're having a summer wedding, you could request an ombre using brighter colors.