The Best Kitchen Gadgets To Add To Your Wedding Registry
The best kitchen gadgets to add to your wedding registry, chosen by the pros at The Knot for our 2019 Registry Awards.
No kitchen is complete without a stacked selection of utensils and gadgets to make everything from meal prep to cooking much much easier. While you may think all spoons or spatulas are created equal, there are definitely standouts in the market. And boy, have we rounded them up for you. Here are our picks for best kitchen gadgets.
In this article:


Best Utensil Set
Get everything you need to whip up a souffle or sear up a steak in one go with a do-it-all utensil set. These bundles have everything you need to complete your kitchen without having to shop around to complete your set.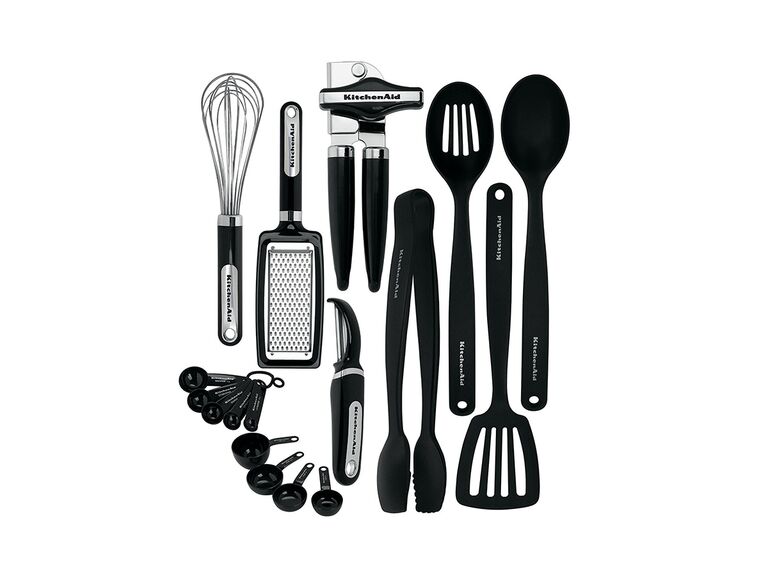 Editor's Pick: KitchenAid 17-Piece Tools and Gadget Set, $39, Amazon.com

Our editor chose this Kitchen Aid collection as a best utensil set because it has literally everything. The 17 pieces include everything from turners and spatulas to a peeler and even measuring cup sets. Made with durable plastic and steel, it will last for years to come.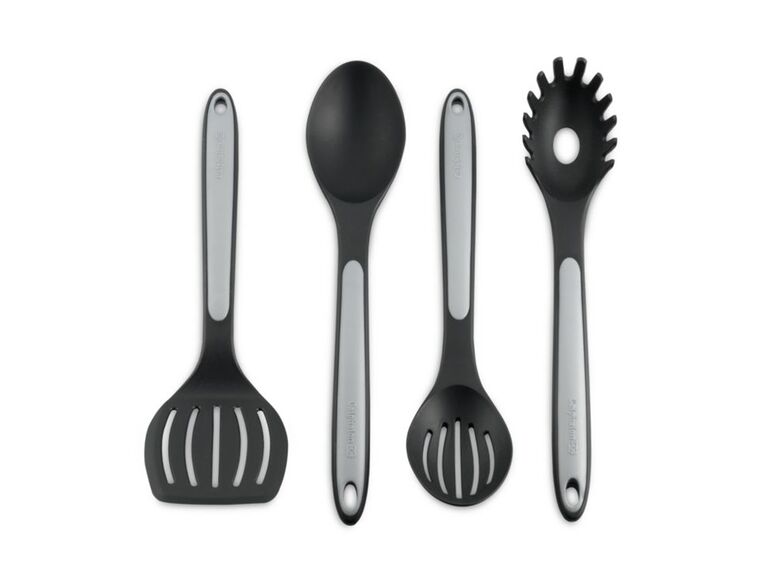 Couple's Pick: Calphalon Nylon 4-piece Utensil Set, $23, BedBathAndBeyond.com

This pick for best utensil set (chosen by our couples!) is mean and lean, with four essential pieces that will carry you through basically any recipe. They're also made using nylon, which is heat resistant up to 400-degrees (essential!) and won't scratch your ceramic nonstick cookware.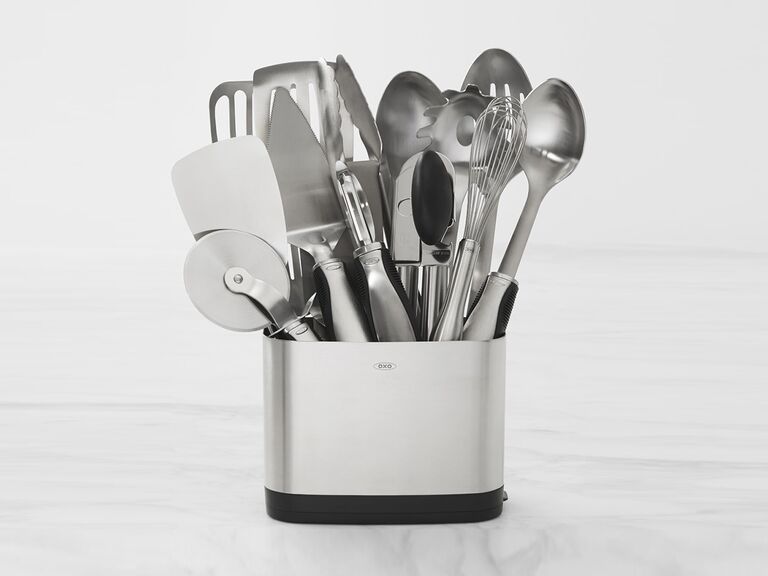 Best Stainless Steel Utensil Set: OXO Stainless Steel 15-Piece Utensil Set, $150, Williams-Sonoma.com

We love this stylish stainless steel utensil set for so many reason. First off, it's stacked with 15 pieces, pairing essentials like a slotted spoon pasta spoon with more niche items like a fish turner and pizza cutter. Each piece has a comfort grip handle and can be washed in the dishwasher (with the exception of the can opener), so use and cleanup is a breeze. Plus, it comes with a convenient countertop storage bin, so everything remains contained and not clogging up a drawer.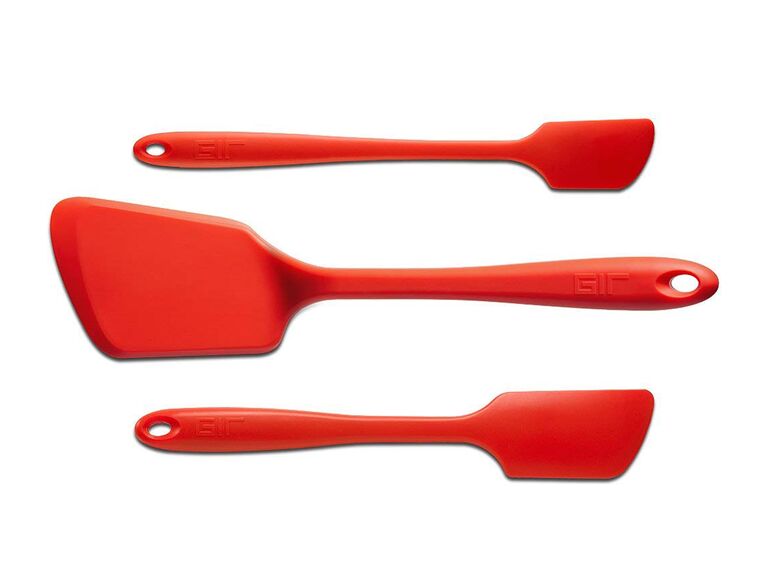 Best Silicone Utensil Set: Get It Right 3 Piece Premium Silicone Spatula Set $40, Amazon.com

Not only are these cute silicone utensils non-stick and indestructible, but they're made from 100% ecologically friendly, non-toxic silicone, so they're safe on the environment and on your family. The set includes a flipping spatula for everything from burgers to pancakes and two scraping spatulas to help with baking and mixing.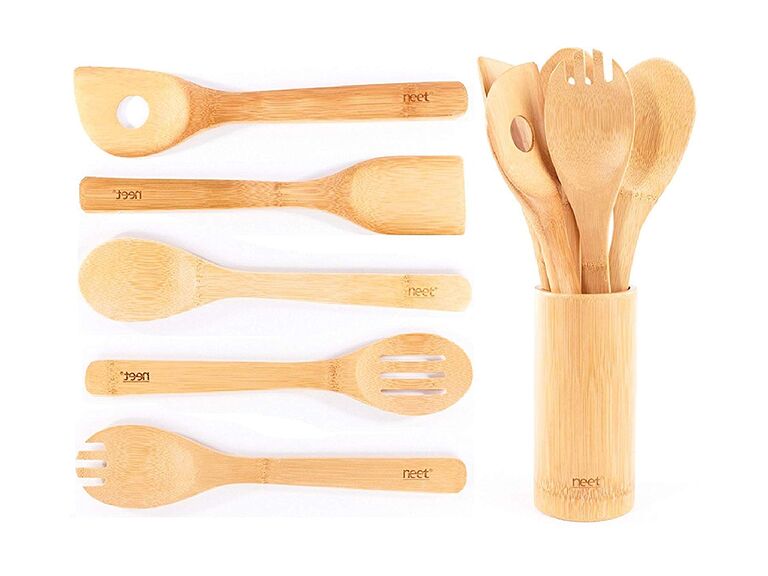 Best Bamboo Utensil Set: Neet Organic Bamboo Cooking and Serving Set, $20, Amazon.com

If you love cooking with wood, you should consider switching to bamboo utensils. They're stronger than regular wood, so they'll hold up better against the wear and tea of everyday cooking. Plus, they're all-natural (duh!) and easy on your pots and pans, so you can truly use them guilt-free. We love the mix of spoons and spatulas in this Neet set, and the bamboo storage canister would look great in a rustic kitchen.
Best Slicers and Dicers
What if we told you you don't have to cut everything by hand? It's true! While we love a good knife set, there are sometimes sneaky hacks that can help you cut your meal prep time in half (literally!). Peek at our selects for best kitchen gadgets when it comes to slicing and dicing.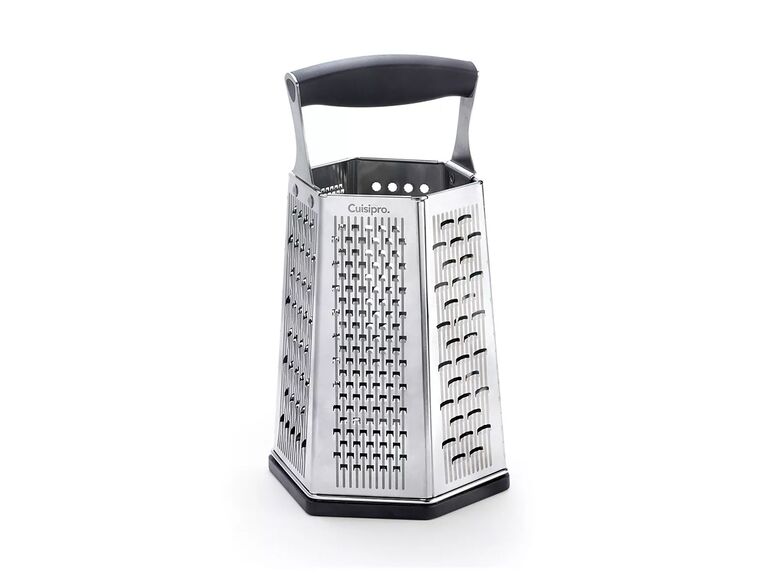 Editor's Pick: Cuisipro 6-sided Grater, $38, Bloomingdales.com

Have you ever seen a six-sided grater? Neither had we! Which is why we had to award it our editors pick in this category. The various sizes and shapes of the blade makes it perfect for grating various types of cheeses and vegetables, and zesting citrus. An easy-grip handle on top and non-slip base help you make less of a mess while prepping (the rest is up to you though!).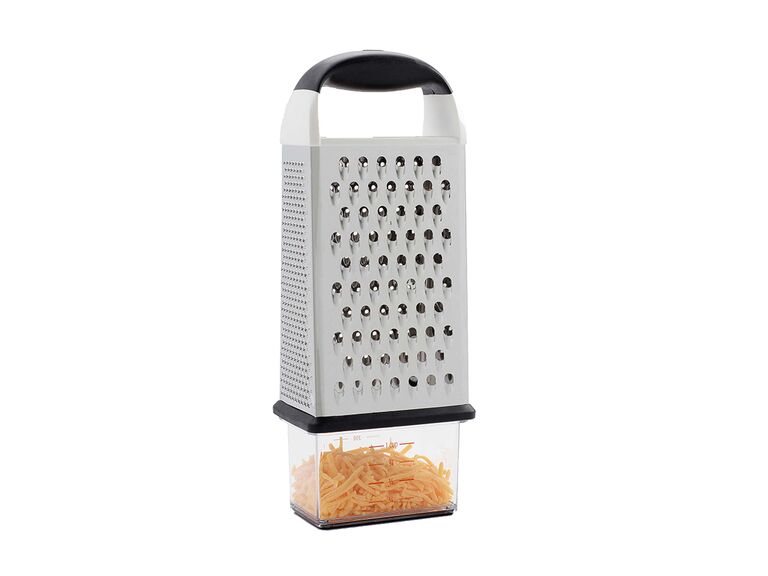 Couple's Pick: OXO Good Grips Box Grater with Storage, $20, BedBathAndBeyond.com

We love how our couples always select the most ingenious products with smart little hacks that make everyday life easier. This box grater from OXO definitely falls into that category. Sure it has blades of different sizes and shapes and a non-slip handle but the true "ah ha" moment comes from the attachable base that catches whatever you're grating. Translation: no more chasing carrot peels or parmesan cheese all over your kitchen.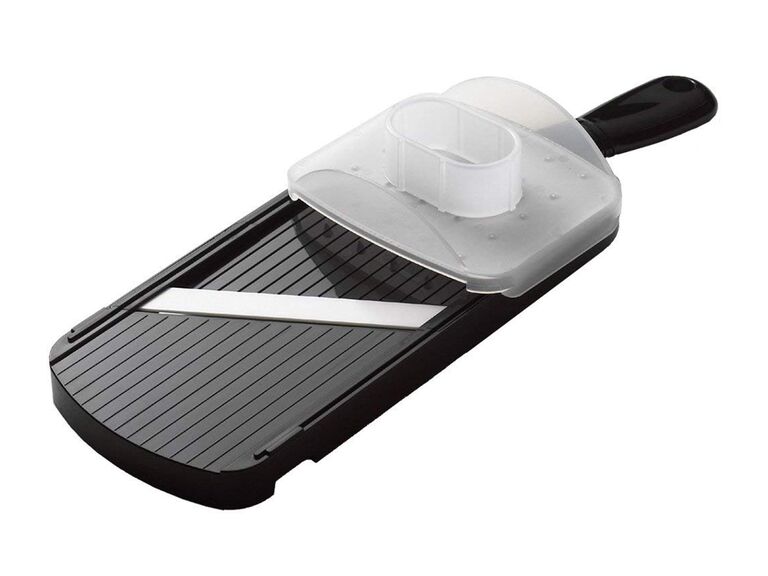 Best Mandoline: Kyocera Advanced Ceramic Adjustable Mandoline with Handguard, $20, Amazon.com
Mandolines are great for quickly cutting up fruits or veggies, especially if you're aiming for really thin slices for a tart or pie. This ceramic version from Kyocera will stay sharp longer than its steel blade counterparts, and won't rust or brown with food contact. Bonus: it includes a handguard for added protection, so you don't have to worry about catching your fingers.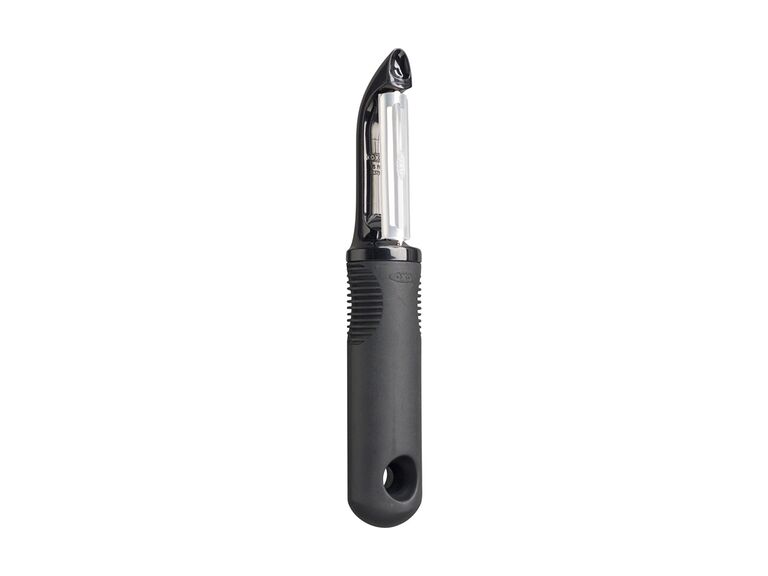 Best Peeler: OXO Good Grips Swivel Peeler, $10, CrateAndBarrel.com

This OXO peeler is indisputably one of the best out there. It has an easy-grip handle to ensure you're not slipping and sliding while peeling potatoes, and the whole thing is dishwasher safe, so you don't have to worry about trying to clean all its nooks and crannies by hand.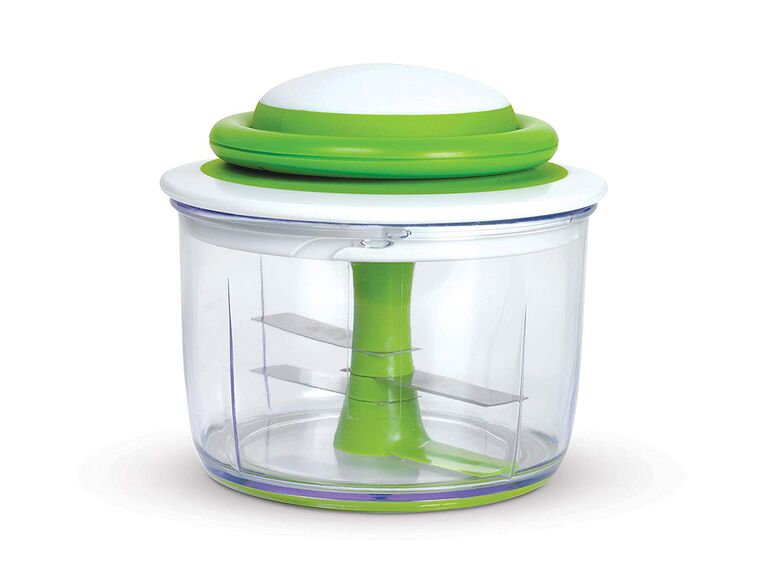 Best Dicer: Chef'n Swivel Peeler, $20, Chefn.com

Chop everything from ice to salsa by hand with help from this diced from Chef'n. It features an internal rotating blade that operates with just the press of the top and will keep everything your dicing contained within the bowl. You can even assemble all the ingredients to guac inside, chop it up and serve directly from the bowl. In the words of Ina Garten, how easy is that? Add this dicer to your wishlist with our Universal Registry tool. 
Best Colanders and Strainers
We know you love pasta. Come on, who doesn't? And if you plan on splitting spaghetti lady and the tramp style once you're married, you're going to need a strainer. Not to mention it will also come in handy for everything from rinsing veggies and beans to sifting flour. But guys, pasta. It all comes back to pasta.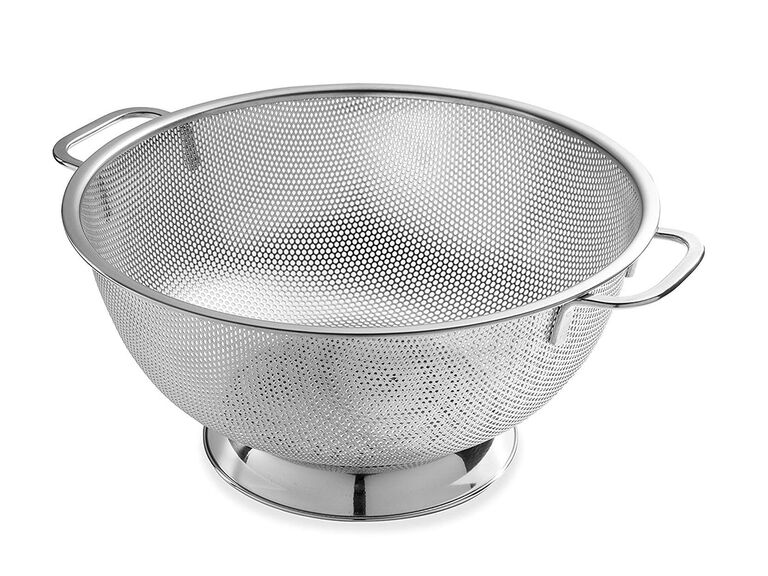 Editor's Pick: Bellemain Micro-Perforated Stainless Steel Colander, $17, Amazon.com
There's nothing worse than losing a few precious noodles or grains of rice to the sink thanks to a strainer with holes too big. That's why we love this Bellemain strainer. The holes are actually very tiny microperforations that will strain the water quickly but won't sacrifice any of your goodies inside. Win win.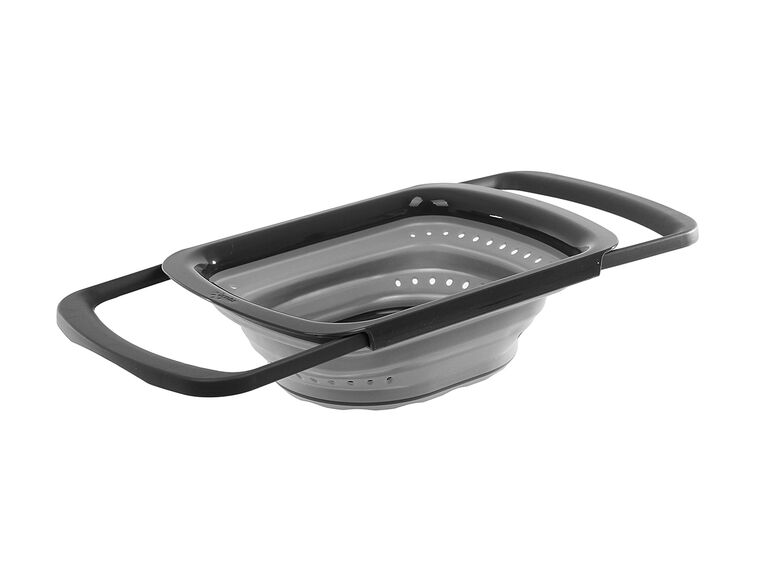 Couple's Pick: Squish Collapsible Over-the-Sink Colander, $20, BedBathAndBeyond.com

This colander is another score for our couples! They selected Squish's collapsible over-the-sink colander as one of their best kitchen gadgets because of its space-saving easy. Simply pull out the sides to mount over your sink for easy washing and rinsing. When you're done, just collapse the silicone body for seamless storage.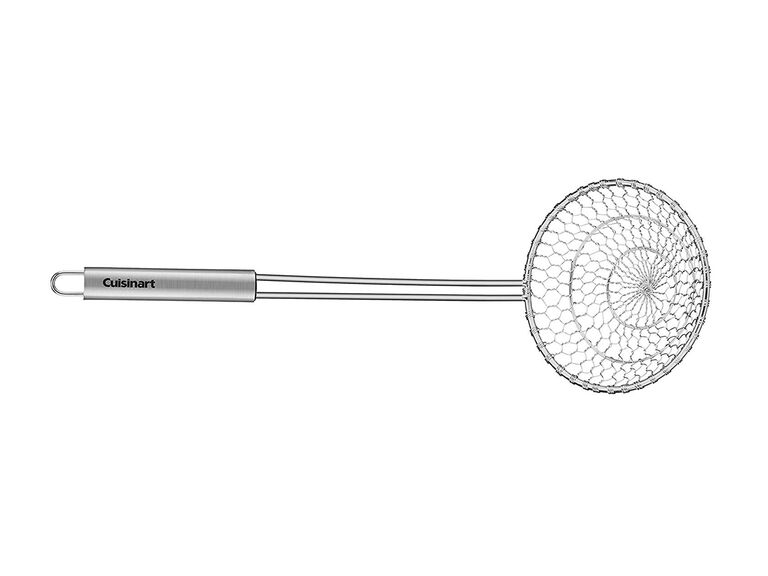 Best Strainer for Frying: Cuisinart Stainless Steel Asian Strainer, $15, Amazon.com

You've probably seen this style of strainer used in food trucks or Asian restaurants. Also known as a spider strainer. It's great to have on hand if you're doing a lot of frying or cooking up things like soup dumplings or ravioli. You can use it to easily fish food out of oil or water instead of dumping the whole pot into a traditional strainer.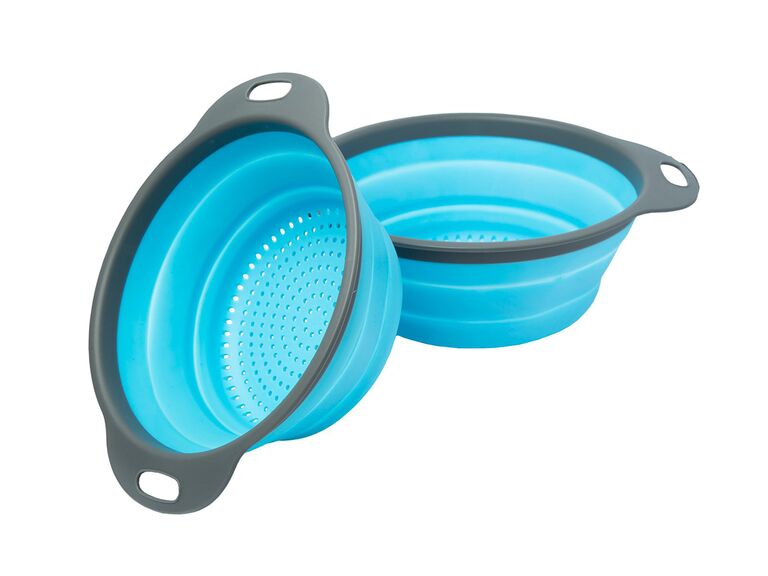 Best Collapsible Strainer: Comfify Collapsible Colander Set, $10, Amazon.com

Another genius collapsible option coming your way! This one takes the shape of a more traditional strainer, with plastic handles and a silicone base. It's actually a set, giving you two gadgets for the footprint of (barely) one.
Kitchen Gadget Cash Fund Ideas
One of the best things about getting married in 2019 is the ability to register for anything (and we mean anything!) you want. Here at The Knot, we want to make that as easy for you as possible, which is why we offer Cash Funds. They're a simple way to add the things you really want to your registry and allow your guests to contribute any amount they desire towards your goals. Into cooking? Here are some of our favorite cash fund ideas to get you going:
Editor's Pick: A cash fund cooking technique class at Williams-Sonoma
Learn to use all those gizmos and gadgets at a cooking class focused on technique. You'll get the details on how to use a variety of kitchen utensils and basic techniques that would be great for a couple just starting out on their cooking adventure. Sound like you guys? Start a cash fund on your registry to help you get there.   
Couple's Pick: A meal subscription service cash fund
Flex your chef muscles and try out new-to-you cuisines with help from a meal subscription service like Blue Apron or Plated. Just start a cash fund on your registry to finance a monthly (or yearly!) subscription and you'll be on your way to home cooked goodness in no time.


The Knot Gifts Back: Feeding America
Give back on your big day! The Knot Gifts Back is a seamless way to support a charitable organization every time you receive a wedding gift—at no cost to you or your guests. Once you select your choice of 100+ participating organizations, The Knot will donate a percentage of the purchase price of every gift bought off your participating registry to that organization.
Did you know The Knot Gifts Back supports Feeding America? In 2018, our couple's registries raised enough money for Feeding America to provide 9,680 meals to families in need. Join the movement to end hunger by selecting Feeding America as your charity to support through your registry. We have a responsibility to the next generation to give them every opportunity to succeed. That's why feeding kids facing hunger is a main priority of the Feeding America network of food banks. 1 in 6 kids face hunger—a reality that effects every community in America. But you can help change this reality.