28 Gorgeous Lighting Ideas for Outdoor Weddings
These ideas are fire (pun intended).
The right outdoor wedding lighting ideas can set the perfect mood for your ceremony and reception. It's a small (but impactful) detail that can set any mood at your wedding or reception. An elegant chandelier over the dance floor will make your reception space feel like a royal ballroom, and a few strings of lights can turn a barn into an elegant, rustic reception space. (Searching for lighting vendors? Find one on The Knot Vendor Marketplace.) But your lighting doesn't have to stay inside. Take your celebration outside with outdoor wedding lights: Hang chandeliers from oak trees, drape lights over your ceremony arbor or string Edison bulbs above your reception tables. Whatever you choose for your lighting wedding needs, light the way to a beautiful celebration with any one of these outdoor lighting options.
In this story:
Outdoor Wedding Lighting Ideas
Outdoor wedding lights add extra sparkle to any ceremony. Extra romantic and bright, your outdoor wedding with lights will illuminate your backyard ceremony or outdoor tent and encourage your guests to keep dancing all night. Struggling to find your vibe? Here are some of the best lighting ideas for outdoor wedding receptions.
1. Disco Ball, Neon Sign and Lantern Display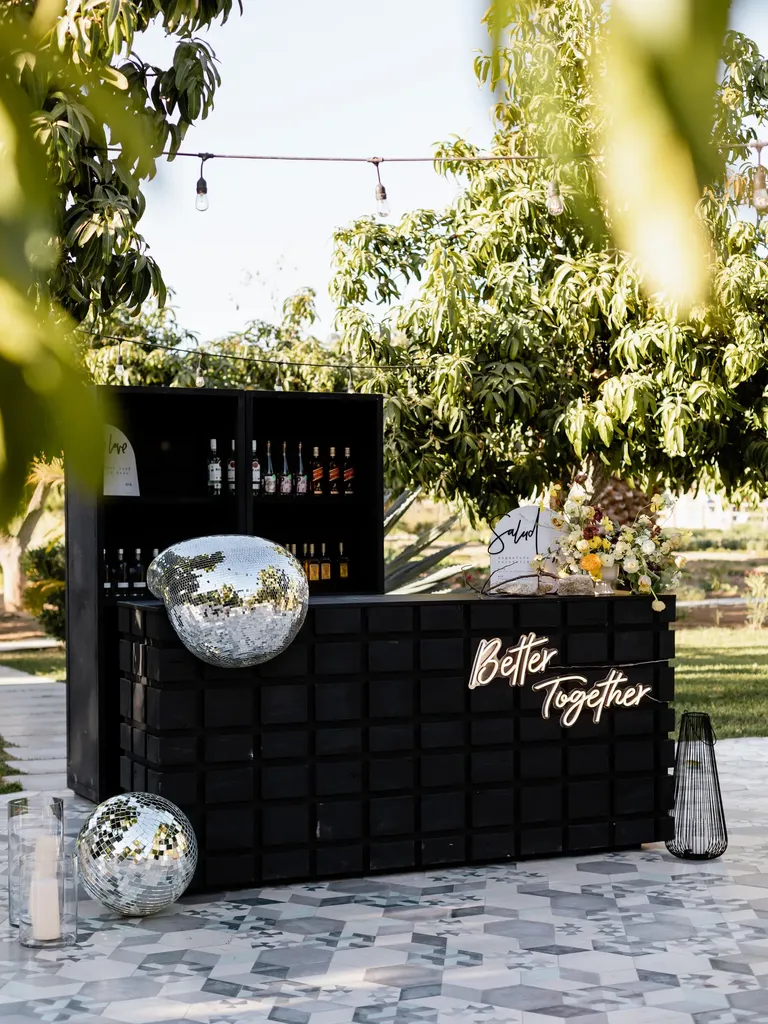 Including disco balls beside lighting elements is a nice touch because the mirrored tiles will reflect the light. The couple at this wedding illuminated their bar with a neon sign, multiple lanterns and a few disco balls.
2. Retro Chandeliers
Going for a mod vibe? These retro chandeliers will transform your outdoor wedding reception into a Palm Springs dream.
3. Rattan Chandeliers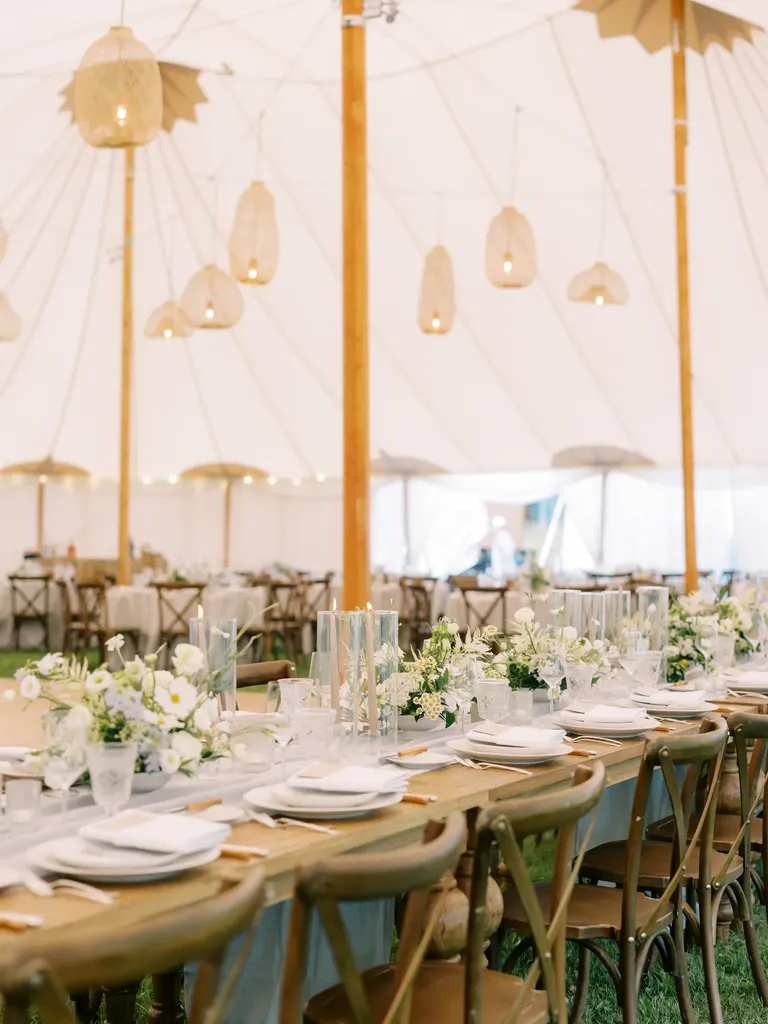 Rattan is made of strands of palm. Light and airy, they will add even more natural elements to your outdoor wedding ceremony.
4. String Light Ceiling and Wall
String light walls will take an elevated spin if you also string them on the ceiling. Your guests will be illuminated from above and behind as they enjoy their dinner.
5. Woven Chandeliers
Hang woven chandeliers from homemade posts with laurel wrapped around them.
6. Moravian Stars
Moravian Stars are a gorgeous take on a lantern. Hang them at different heights and hang with additional string lights.
7. Marquee Lights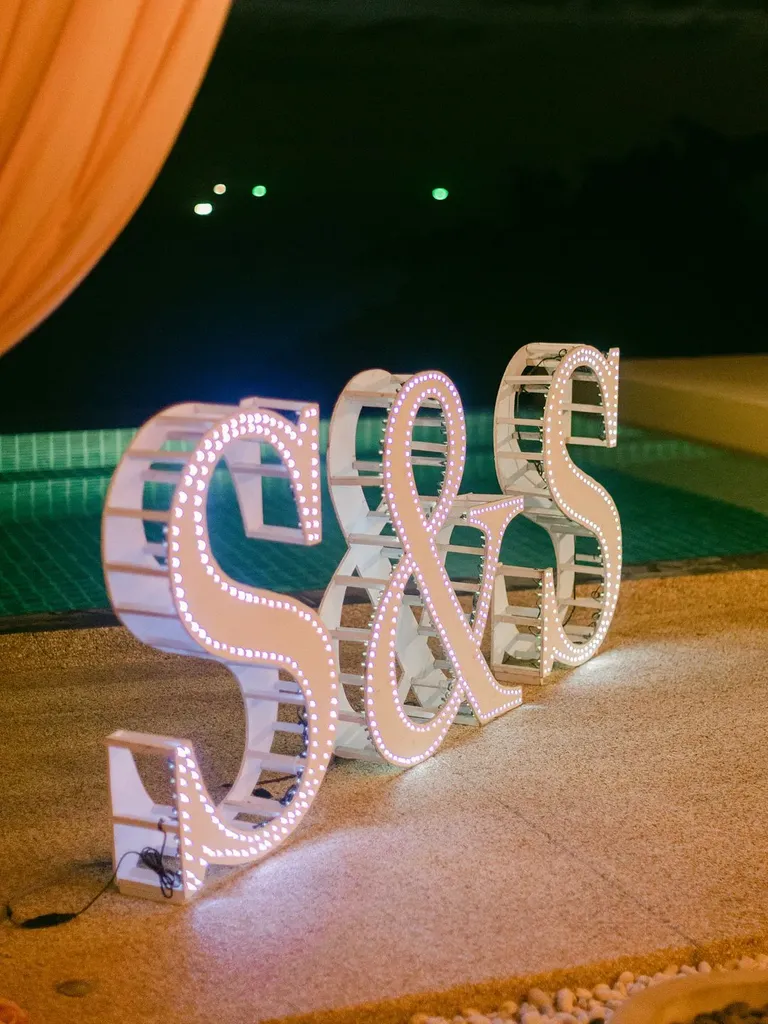 Large letters of the bride and groom's names are the perfect backdrop lighting for photos or to fill open space at your outdoor reception.
8. Fire Pit
A cozy fire pit will set the tone for a relaxing evening and give your guests a homey place to sit and chat.
9. Low to High Chandeliers
Play with the hanging height of your chandeliers. Add ombre florals above for even more dimension.
10. Moroccan Lanterns
Get inspired by the North African country of Morocco for your reception with colorful glass and metal lanterns dotted throughout the guest seating area.
11. Illuminated Globes
Hang globes of different light textures from your outdoor reception ceremony. Spiky, round–the more variety the better.
12. Paper Lanterns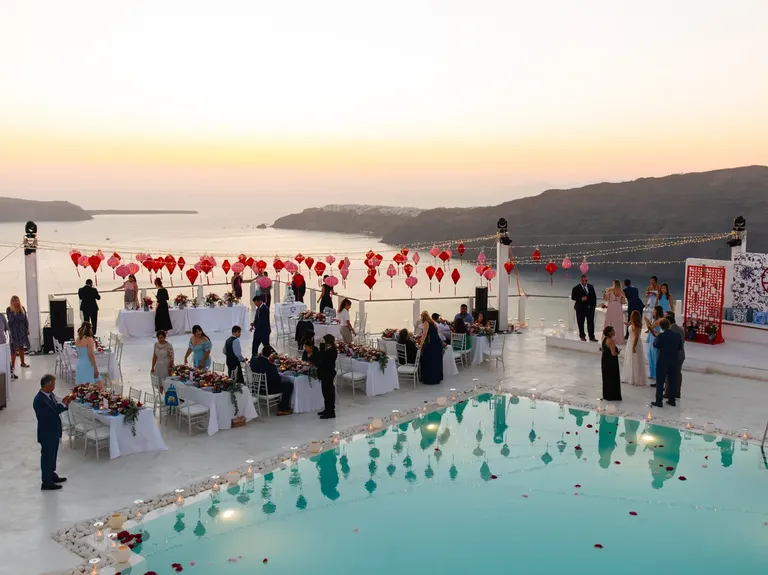 Paper lanterns in bold colors (especially ones with tassels) will add a subtle glow with lots of style points.
13. Lit Tree Centerpiece
Your outdoor tent ceremony will have a majestic feel with a beautiful tree in the center of it that's lit with string lights.
14. Multicolor Chandeliers
Add some color with multicolored chandeliers for your outdoor reception. Whether your wedding is splashed with color or monochrome, they're a fun lighting addition.
15. Beachside Lights
Drape simple market lights across tropical tree limbs for a beautiful glow at your beachside reception.
16. Gold Chandeliers
Hang ornate gold chandeliers above banquet tables to give your outdoor tent the Midas touch.
17. Low Arbor With String Lights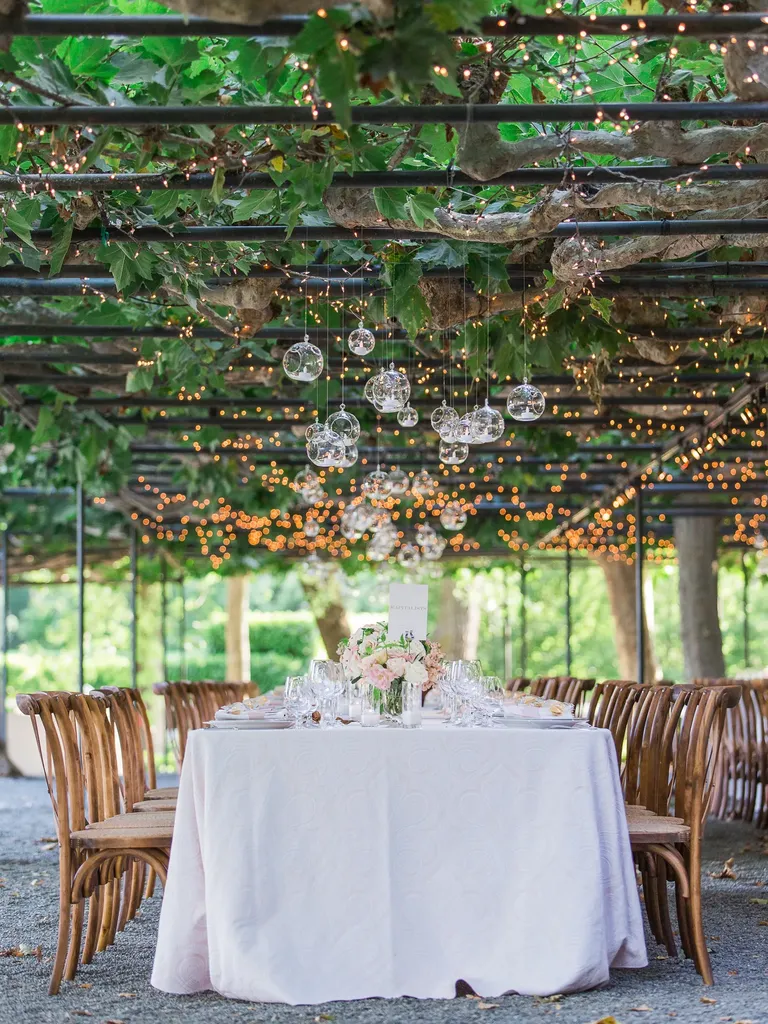 Seat your guests beneath a woodland-inspired arbor with lots of greenery. Weave twinkling lights between the leaves and branches for captivating reception decor, including hanging blown glass orbs with tiny tea lights.
18. Steel Lanterns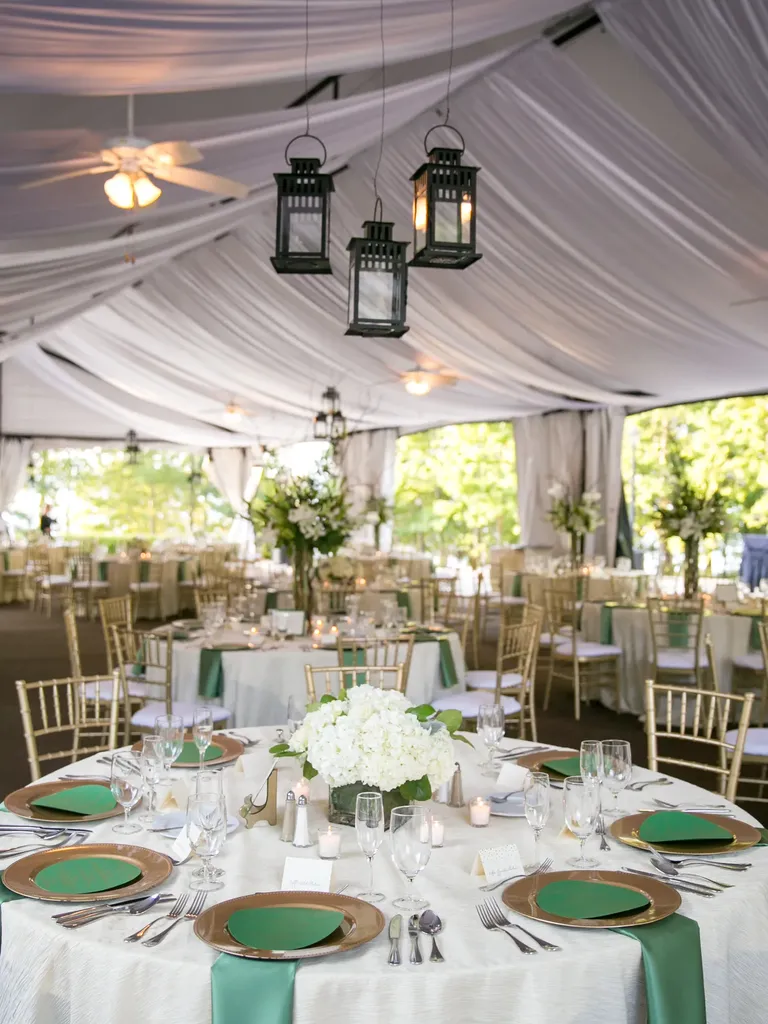 Chic lanterns instantly upgrade an outdoor seating area while providing an intimate glow thanks to lit candles.
19. Chandelier in the Trees
Who said chandeliers are meant to stay indoors? A glitzy chandelier adds whimsy and glamour to an outdoor reception. Hang the chandelier from a large tree branch to take advantage of the natural setting.
20. Tree Limb Wedding Lighting
Add dimension to your reception by stringing lights on hanging tree limbs. If your reception area has a canopy of trees with long, low-reaching limbs (like oak trees), use them to your advantage by dangling clusters of lights from the branches.
21. Geometric Glow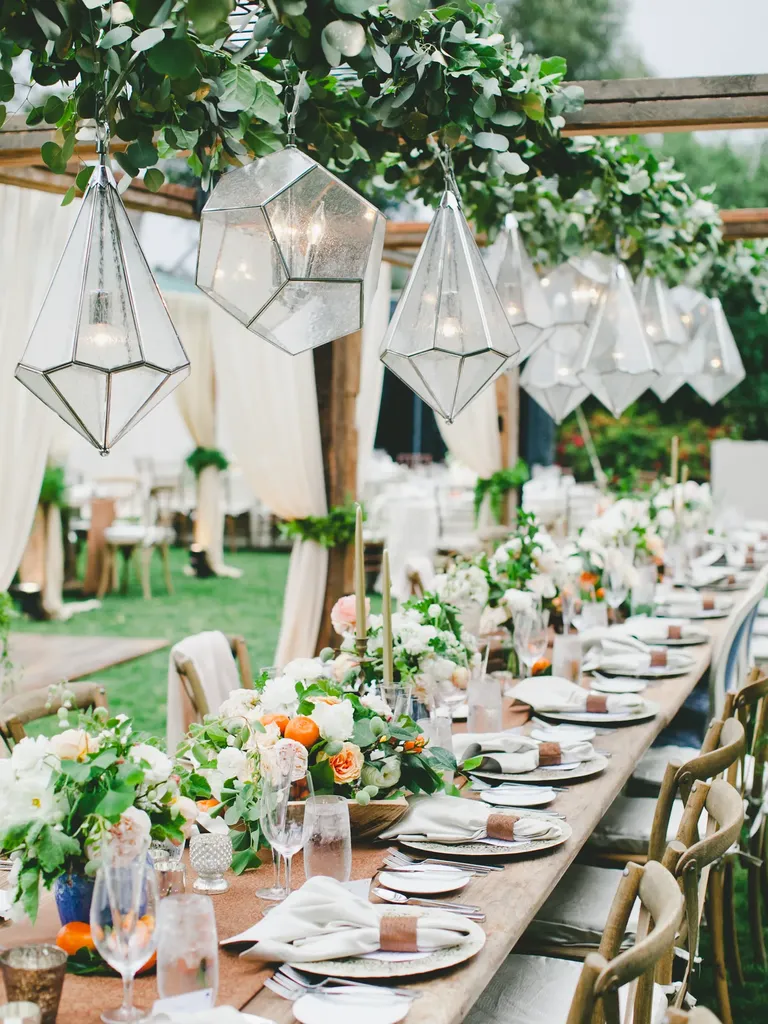 Hang chic, architectural chandeliers along banquet tables to add light and cozy ambiance. Fill them with different-shaped light bulbs for added style details.
22. Lanterns on Vines
No need to intertwine lights on vines directly. Incorporate an array of lanterns in different metals and designs for your rustic reception. Wrap the lanterns in verdant garlands and hang them over your tables.
23. Tented Lights
How fun is this idea for outdoor wedding light decoration? Add whimsy to your reception with delicately strung tented lights. String market lights from the top of a pole to create a charming and impressive tent-shaped light display.
24. Edison Lightbulbs
Chasing daylight at an evening reception? Add a touch of boldness and hang industrial-chic bulbs along your tables for a beautiful visual that your guests will love—especially when they can still see their entreés after the sun sets.
25. Rustic Candlelight
Bring romantic candlelight to your outdoor reception tables with tall silver candelabras holding classic white tapers spaced throughout. Incorporate lots of greenery and fresh florals for elegant centerpieces.
26. Lanterns on Tree Limbs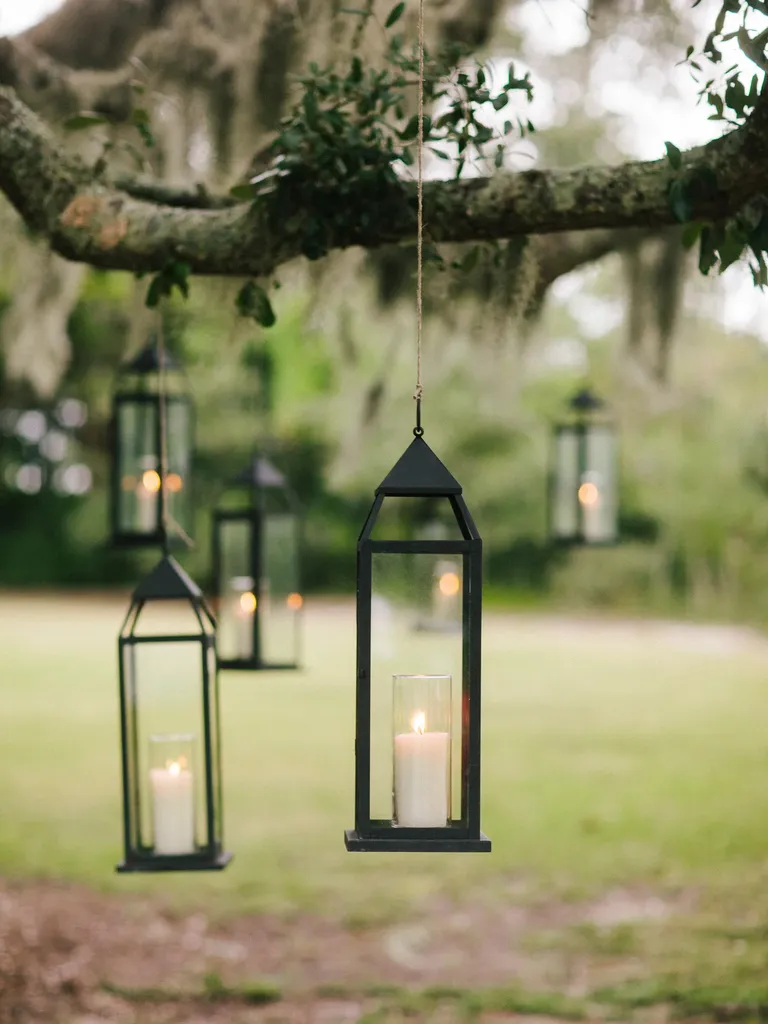 This is a simple option for couples who want creative backyard wedding lighting ideas. Hang lanterns from low limbs with lit candles inside for an alternative ceremony backdrop or cocktail hour setting that's cozy, unexpected and just a touch magical thanks to a warm glow.
27. Vintage Hanging Lamps
Vintage glass lamps will offer a soft glow during your outdoor ceremony, highlighting your one-of-a-kind antique lighting fixtures. Hang them from a homemade arbor and decorate with delicate blooms and lots of greenery.
28. Lanterns on the Beach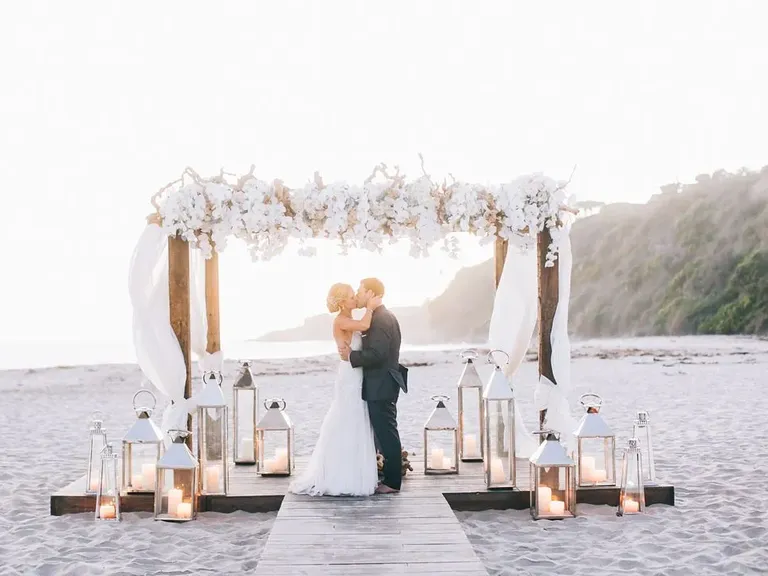 A set of simple lanterns will look breathtaking at your sunset wedding on the beach. Fill them with candles and light once the sun goes down.
Outdoor Wedding Lighting Tips
Nailing the perfect outdoor wedding lighting can be tricky. How do you light an outdoor wedding at night? Here are five tips to help you illuminate your space perfectly.
Avoid too much uplighting.
While uplighting can really light up your event space, it can wreak havoc on your photos–especially if you opt for colored lighting.
Check your power source.
Unless you're sticking strictly with candles (or battery-powered lights), you need to make sure you have access (and enough of it) to power outlets wherever you hang or place your lights. Extension cords can help, but also consider how you plan to conceal them (and avoid tripping hazards.)
Ask your venue what's allowed.
It's important to ask your venue the right questions. Candlelight may provide a soft glow, but many venues consider it a fire hazard. And if you plan to hang or affix any fixtures, double check the venue gives you the go-ahead.
Have extras on hand.
In case a light bulb or battery goes out before the night ends, make sure you have extras on hand. The same goes for extension cords.
Hire a pro.
Feeling overwhelmed? Step aside and hire a lighting professional. Ask your event designer, florist or coordinator for help with lighting first, as many are able to do their own. If not, they may work with lighting pros and point you in the right direction–or check out The Knot Vendor Marketplace.