Pantone Just Announced the 2017 Color of the Year
Hint: It's garden fresh and fabulous.
by Catherine Jessee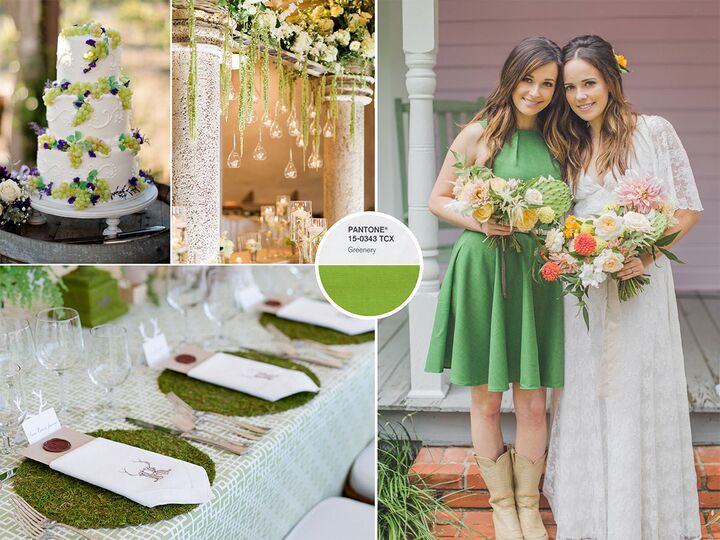 Clockwise from left: Courtney McManaway Photography, The Photography Of Haley Sheffield, Nbarrett Photography, Carrie Patterson
Pantone just announced Greenery as its 2017 Color of the Year, a yellow-green shade (think: lime zest, freshly manicured lawns and sunlight streaming through summer trees) that celebrates the natural world, the first days of spring and new beginnings. Calling it "nature's neutral," Pantone says this fresh hue is a symbolic nod to the beauty around us.
"Satisfying our growing desire to rejuvenate and revitalize, Greenery symbolizes the reconnection we seek with nature, one another and a larger purpose," says Leatrice Eiseman, Pantone's executive director.  This message will resonate with couples planning their wedding and searching for just the right color to tie their theme together. Greenery is, according to Pantone, a uniquely trans-seasonal shade—both bright and adaptable—and we couldn't agree more.
2017's color comes after 2016's Rose-Quartz and Serenity, a blush pink and periwinkle blue combo that balances light, airy pastel palettes and inspired wedding and home décor trends throughout the year. Let Pantone's most recent pick breathe new life into your favorite palettes—from earthy, neutral tones (like taupe or beige) to dazzling metallics. Whether it means doubling up on lush greenery for your tablescapes or playing with bold accents, 2017 is all about fresh inspiration.