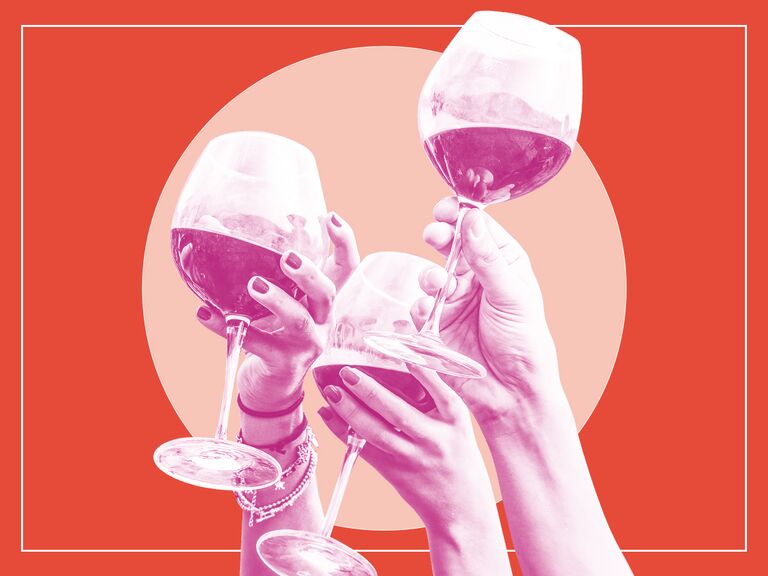 If your bride-to-be BFF is allergic to bridal shower party games, why not put a boozy twist on the tradition and throw a wine-tasting party instead? Whether her wedding venue is a vineyard or she's just seriously into vino, you can toast to her milestone while upping everyone's oenophile status. Just follow our step-by-step guide to hosting a fun wine-tasting bridal shower, and by party's end, you'll all be swirling, swishing and sipping like sommeliers.


Wine-Tasting Tip #1: Pick the Perfect Location
A restaurant locale sounds fancy and fun, but an at-home shower is more intimate (and cheaper!). You'll have total control over the wine, food and the space, so you can celebrate for as long as your wine-soaked hearts desire—no last call necessary.


Wine-Tasting Tip #2: Find Just the Right Wine 
Before you go overboard and select dozens of wines, stick with four to six different bottles. Too many options can be overwhelming for your guests, says Alyssa Vitrano, founder of wine and pop culture website Grapefriend.com. You can choose a specific varietal to taste, like Sauvignon Blanc, or different types of wine from the same region. The latter approach allows you to serve a range of reds and whites that'll likely appeal to varying tastes. California-based Chateau Souverain focuses on the favorites done right; we suggest picking up bottles of each of their varietals: Cabernet Sauvignon, Merlot, Sauvignon Blanc and Chardonnay. A good rule of thumb is to make sure you have at least one bottle of wine for every two to three people, Vitrano says. And remember to start by serving the lightest wine first.  


Wine-Tasting Tip #3: Personalize the Tasting Technique
A typical wine-tasting setup includes buckets for tossing unwanted wine, tasting grids to record results, and breadsticks to cleanse the palate after each sample. The process can delve into visual, aromatic and tasting tests, but if you want a more fun, interactive atmosphere, try making a game of it and tying the wines to something unexpected. You can have the guests compare wine characteristics to celebrities, TV show characters or even fellow guests, suggests Vitrano. (Say, a dry but robust red to match John Oliver's deadpan sense of humor or a refreshing, yet complex white wine reminiscent of Ariana Grande's sweet but sexy reputation, for example.) "People will walk away thinking it was a really fun shower, and they'll hopefully also get to understand wine in a new way," Vitrano says.


Wine-Tasting Tip #4: Polish the Menu 
Wine was always meant to be enjoyed with food (really!) and you can't have a bridal shower without some delectable eats. "The general rule is that the wine should be sweeter than what you're eating," Vitrano says. If you decide on drier wines for the tasting, serve saltier snacks that bring out the characteristics of the wine. (A charcuterie plate with cheese, olives and cured meat is always a crowd-pleaser.) Save desserts for the end of the party: "Keep in mind that sweet wines should be consumed alongside sugary treats," Vitrano says. Try a wine-pairing app like Hello Vino to find more specific food and wine combinations.  


Wine-Tasting Tip #5: Focus on the Décor 
Channel your vino theme with small touches, from the invitations to the favors. Look for invitations with wine bottle designs or even some cut into the shape of a bottle. When it comes to decorating, use empty wine bottles as candleholders or flower vases. You can even have a cork-counting contest: Throw a bunch of corks in a glass jar and gift the guest who guesses closest to the number with a wine-related prize, like a corkscrew or wine chiller. And for a sweet way to commemorate the day, customize every bottle of Chateau Souverain with a free personalized label featuring the bride's name (or her soon-to-be married name). Then get ready to toast to their brand new lives together, and to your party-planning prowess.  
This article is sponsored by Chateau Souverain Wines. Learn more about choosing wine for all your wedding events from The Knot and get to know Chateau Souverain's varietals at Souverain.com.