Everything You Need to Know About Getting Married in Tennessee
Look to The Knot for local details about getting married in Tennessee, from choosing your wedding venue to getting your marriage license.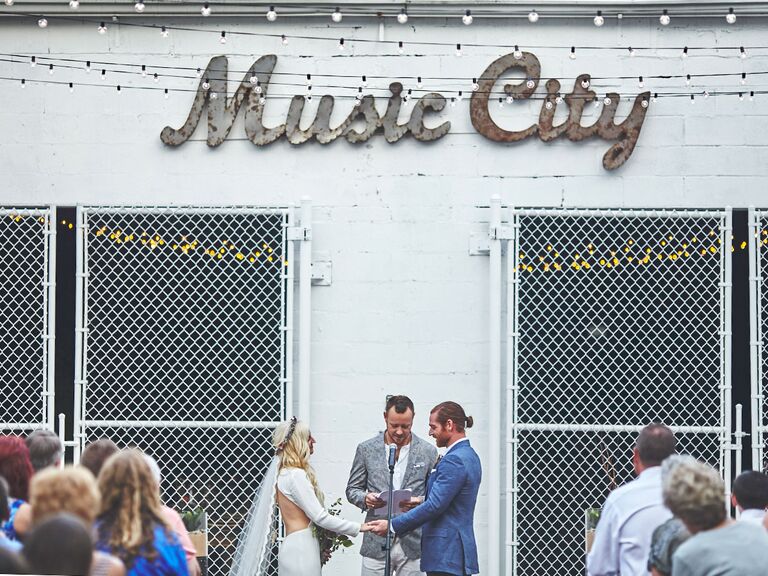 Stephanie Sorenson Photography
Ultimate Guide to Getting Married in Tennessee
Home to the Great Smoky Mountains, country music and plenty of Southern culture, Tennessee is truly "America at Its Best." Located in the heart of the South, Tennessee shares the Blue Ridge Mountains with North Carolina on its eastern border, while the Mississippi River runs up the western side of the state and rolling hills are scattered throughout the middle. In addition to its rich frontier history, the influence of many musical legends can be found across the state as well, from Elvis Presley's Graceland in Memphis to Dolly Parton's theme park, Dollywood, in Pigeon Forge.
Wedding venues in Tennessee are just as historic and beautiful as its varied surroundings. From mountainside farms and vineyards to upscale ballrooms and mansions, Tennessee's wedding venues suit traditional Southern weddings, avant-garde soirees and everything in between. Not only does this guide outline practical details surrounding your wedding, like how to get your Tennessee marriage license and change your name, you'll also get the inside scoop on Tennessee's most popular cities for weddings and fun ways to incorporate local tastes and traditions into your nuptials. Follow your wedding checklist to make sure everything is done on time.
Top Wedding Trends in Tennessee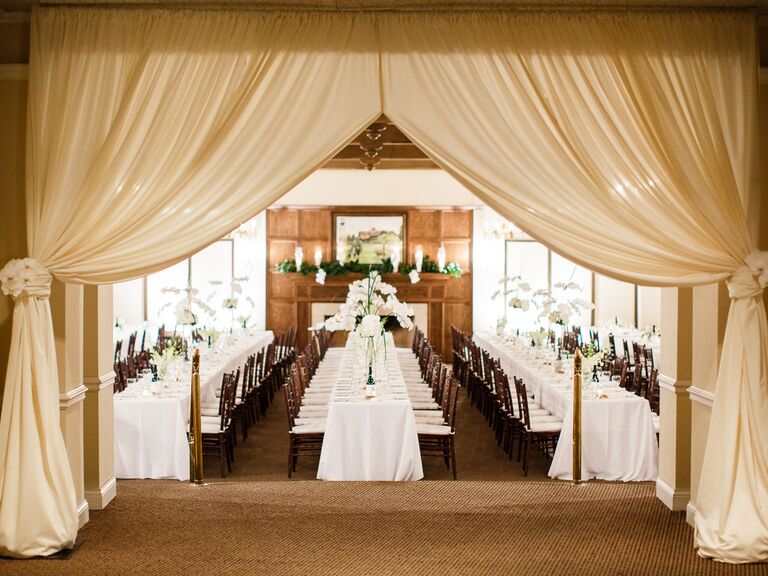 So what's a Tennessee wedding like? It varies across the state, but here's an outline of the most popular venues and wedding styles, as well as regional customs you can incorporate and personalize to make your Tennessee wedding one of a kind.
According to The Knot 2015 Real Weddings Study, 72 percent of Tennessee couples have a formal or semiformal wedding, while 26 percent have a more casual affair. However, the split between indoor and outdoor wedding ceremonies is about 50/50, with the most common venues being religious institutions, historic homes or buildings, farms and private gardens.
Being in the South, rustic touches like mason jars, wildflowers and simple, natural centerpieces are also common for many outdoor events and nuptials with a folksy mountain touch, like Gatlinburg weddings. But many couples opt for more classic décor, like elegant tablecloths, grand floral arrangements and ornate wedding cakes.
As for traditions, burying the bourbon is one you've probably only heard of if you're Southern. Because outdoor weddings are so popular in the South, the legend goes that a bride can keep the rain away on her wedding if she buries a bottle of bourbon upside-down at the venue one month before her wedding day. We can't say for sure if it works, but it certainly can't hurt. And it's also a fun photo op.
If you're planning an outdoor spring or summer wedding, you may want to offer parasols to your bridal party. Both pretty and functional, they'll keep your guests cool and stylish at the same time. The bride usually wears pearls, while the groom gets something special as well: a groom's cake from the bride (designed to be a reflection of his interests and tastes).
Tennessee Marriage Rates and Wedding Costs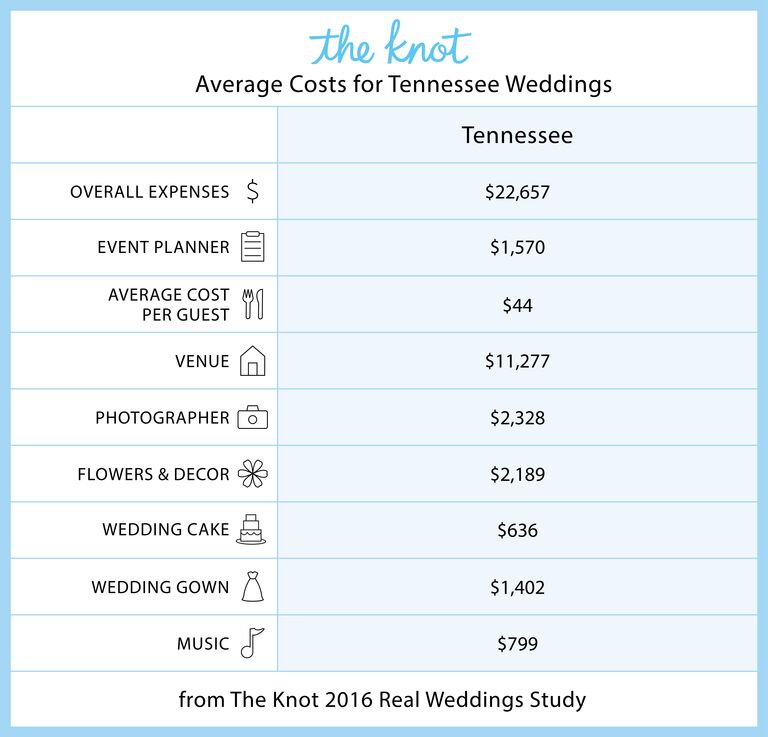 Cake tasting and visiting wedding venues are probably on your wedding to-do list, but before you start putting down deposits, creating your budget should be your top priority. The Knot Budgeter tool can help you calculate your budget and track expenses so you can have the day you've always wanted without overspending. Curious about the average costs of a Tennessee wedding? Take a look at the numbers we've compiled from The Knot 2015 Real Weddings Study to get an idea of what to expect.

Tennessee Marriage Stats
With 8.4 per 1,000 people getting married each year (slightly higher than the national average of 6.8 people per 1,000), Tennessee is a very popular state for weddings. As for wedding costs, Tennessee couples can expect to spend about $19,000 (excluding the engagement ring and honeymoon). While more people are getting married in the Volunteer State compared with the national average, they do spend less than the $25,894—the average cost of a wedding in the United States in 2015.
Budget Breakdown: Average Costs for Tennessee Weddings
There are many pieces involved in planning your ideal wedding, starting with your budget, and we've outlined some of the main items and services you'll need to make your wedding a hit. While you may be able to source some Tennessee wedding packages that lower your expenditures a bit, this cost breakdown gives you an idea of what the average vendors charge, whether you're on the lookout for wedding chapels in Tennessee or need to nail down your playlist with the help of a skilled DJ.
Top Cities in Tennessee to Tie the Knot
There's no shortage of charming wedding venues in Tennessee, whether you're planning a rock 'n' roll bash in the heart of the city or prefer the quiet, rustic country charm of Smoky Mountain weddings, but three cities do stand out as the most popular for weddings:
Make It Legal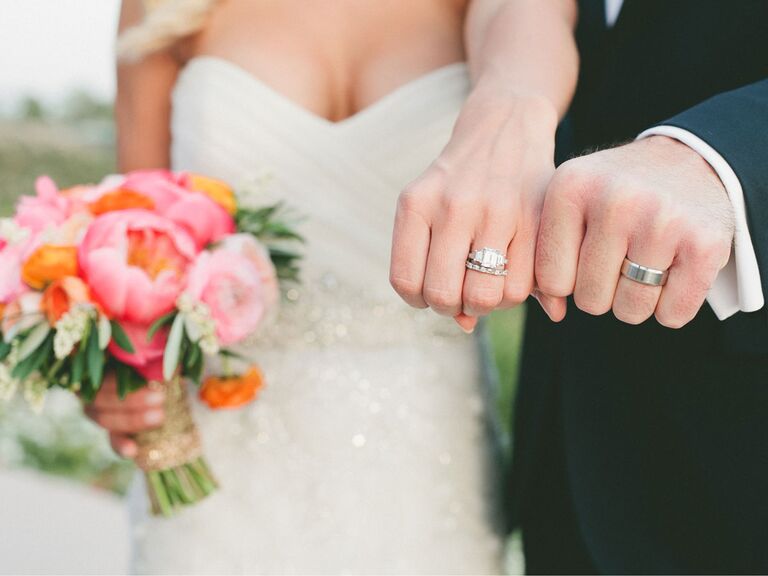 While you're having tons of fun planning your wedding, don't forget the most important step in making your "I do" official: getting your Tennessee marriage license. Understanding everything you need to know about how to get your marriage license, how to change your name(s) if you choose to do so and how to procure any additional event permits you may need for your wedding day really makes the planning process go smoother. It might sound daunting, but we've included all the details below.
Getting a Tennessee Marriage License: The Basics
To get your Tennessee marriage license, both you and your significant other need to go to your County Clerk's Office in person. See this list of County Clerk Offices in Tennessee to find yours. You don't have to be a resident of Tennessee to get your license, but you do need to complete the following steps:
First and foremost, Tennessee recommends completing online the Marriage Pre-Application before going to your County Clerk's Office to streamline the license application process. This application will automatically be forwarded to your County Clerk's Office.
Pay a fee. The amount depends on the county, but if you complete a Premarital Preparation Course with a qualified professional within one year of your marriage, you may receive a discount off the license fee. After the course, you'll need to draft up a Certificate of Completion and bring it with you to your County Clerk's Office. The qualification requirements for professionals are listed on the completion form and include psychologists, social workers and licensed marital and family therapists.
Provide one form of ID such as a valid driver's license, passport or original birth certificate and your Social Security number.
There is no waiting period to receive your license, and you can get married as soon as you get your license. It's valid for only 30 days, so time everything right.
No witnesses are required, but you can have one witness sign the marriage license if you'd like.
To get copies of your marriage certificate (and you'll want a few for other legal reasons, like when you change your name), there may be a small extra fee per copy.
You'll also need to make sure your wedding officiant is legally able to solemnize marriage ceremonies. The following officials can perform your wedding ceremony:
Minister
Rabbi
Priest
Mayor
Judge
County Clerk
Tennessee Governor
Court Commissioner
Particular member of the legislature
After the wedding, your officiant must sign the certificate of marriage and file it. Contact your County Clerk's Office if you have additional questions about officiant requirements.
Permits and Other Important Legal Requirements for Tennessee Wedding Venues
If you choose an outdoor wedding, you may need to get additional permits and pay fees for using public spaces. For instance, the Great Smoky Mountain National Park is federally protected land and requires a special use permit for all wedding ceremonies. There are other stipulations, like how many guests can attend, volume limits for music, and restrictions on tents or canopies. Make sure you review all requirements before signing your event contract or applying for additional permits. Tennessee has also outlined special rules for weddings held in state parks, such as applying for an Alcohol Use Permit if you plan to serve drinks in the park.
How to Change Your Name in Tennessee
If you choose to change your last name, the first step is to get a new Social Security card with your new name. Submit the following documents to your Social Security Office, either in person or by mail:
A copy of your marriage certificate
Driver's license or passport
US birth certificate or US citizenship certificate to prove US citizenship
Once you get your new Social Security card, you can then get your new driver's license. Bring your current driver's license and the original or certified copy of your marriage license and pay a fee for your new license.
Make sure you update your name on the rest of your important documents and accounts once you have your new Social Security card and driver's license.
It's All About Timing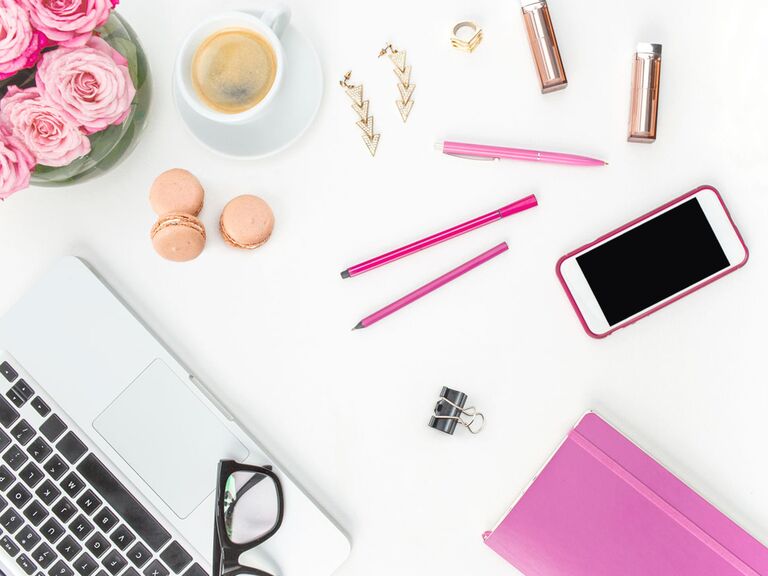 According to The Knot 2015 Real Weddings Study, fall is the most popular time for couples to wed in Tennessee. Thirty-nine percent of Tennessee couples say "I do" in September, October and November. A little over a quarter of couples choose either spring or summer, but winter is by far the least popular season—because about half of weddings in Tennessee take place outdoors, only 9 percent of couples get married in the winter.
The Four Seasons in Tennessee
While Tennessee is in the heart of the South and temperatures often climb to the 90s in July and August, the state still has four distinct seasons. Temps cool down to the 60s and 70s in October and November, bringing the brilliant fall foliage the Appalachian Mountains are known for. Winters are chilly but mild with average lows in the 30s and an inch or two of snow in January and February—just enough to create a winter wonderland without the treacherous conditions blizzards can cause. Spring blooms make an appearance in late March and April as temperatures warm up to the pleasant 50s to 70s. Aside from high humidity in the warmer weather, the climate in Tennessee is fairly mild, making it an ideal wedding location year-round.
Tennessee Wedding Dates to Avoid
Tennessee is known for its many festivals and events, so take note of major annual happenings and holidays when choosing your wedding date. Venue rentals and accommodations for guests might be more expensive during these peak times, and traffic and parking may also be impacted. Our 2016 to 2018 comprehensive guide includes important dates to avoid, and if your wedding happens to overlap with other events, your wedding planner and/or venue should be able to help you work around any inconveniences.
Here's a list of the biggest events taking place throughout Tennessee each year:
Antiques & Garden Show of Nashville (early February, Nashville)
Nashville Film Festival (mid-April, Nashville)
Bonnaroo (early-mid June, Manchester)
Chattanooga Riverbend Music Festival (early-mid June, Chattanooga)
CMA Music Festival (early June, Nashville; this is one of the top 20 events attended in the entire US)
Great Tennessee Air Show (June, Smyrna)
July 4th Celebration (Nashville)
Italian Lights Festival (early September, Nashville)
Memphis Music & Heritage Festival (Labor Day weekend)
Oktoberfest (mid-October, historic Germantown Nashville)
Fantasy of Lights Christmas Parade (early December, Gatlinburg)
Great Guest Experiences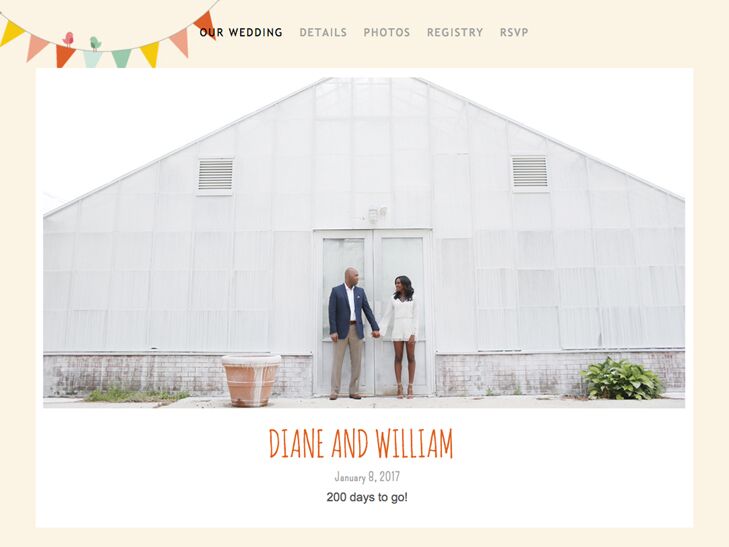 Whether your guests are near or far, they're coming to your wedding to celebrate you and your love. In turn, you can provide them with a memorable wedding weekend by offering plenty of recommendations for things to do, restaurants to chow down at and other information specific to your area. You can keep all this information, along with details regarding accommodations, directions and a schedule of events, in one handy place—your very own customizable wedding website.
Finding Your Way: Tennessee Travel Info
With two international airports that serve millions of annual visitors—Memphis International Airport and Nashville International—as well as Chattanooga Metropolitan Airport and McGhee Tyson Airport in Knoxville serving domestic travelers, Tennessee is very accessible from within the United States and abroad.
Driving around Tennessee is also easy, and beautiful, thanks to the mountains and rolling hills. Interstate 40 runs through the middle of the state from east to west, and Interstates 24 and 65 run through the middle of the state from north to south. Your guests can also enter eastern Tennessee from Interstates 26, 81 and 75.
Around Town: What to Do and See in Tennessee
Across the three divisions of Tennessee, from east to middle to west, you'll find mountains, music, museums and even moonshine—what more could you ask for? Here are several of the state's top attractions your guests can explore when they have a little downtime:
Great Smoky Mountains National Park
Grand Ole Opry
Country Music Hall of Fame and Museum
Memphis Rock 'n' Soul Museum
Elvis Presley's Graceland
Dollywood
Ruby Falls
National Civil Rights Museum
Discovery Park of America
Jack Daniel's Distillery
Ripley's Aquarium of the Smokies
Go Local: Food and Favors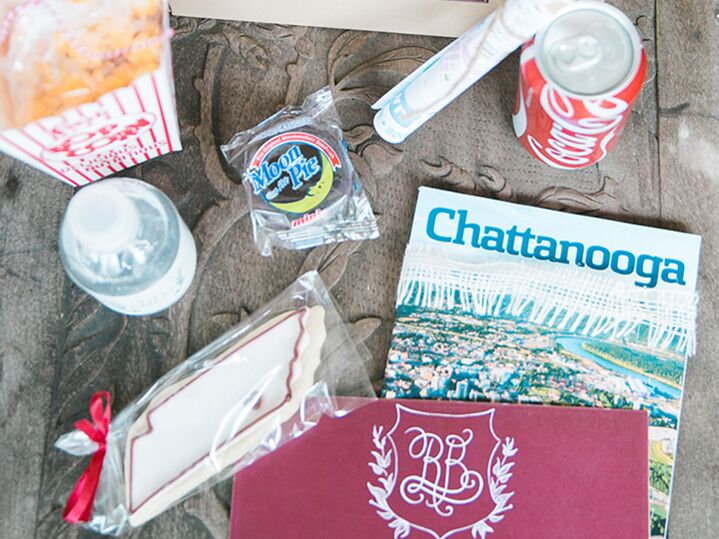 While your wedding is a reflection of your tastes and interests, you can make your celebration even more memorable by adding elements of Tennessee culture guests may not get anywhere else. The South is known for its food, so you have plenty of options for incorporating local flavors into your wedding's cuisine (and giving them your own personal twist). And we've got some cute ideas for unique wedding favors your guests will love.
Tennessee Flavors: Unique Regional Foods for Your Wedding
As you might expect, you can find some of the nation's best barbecue in Tennessee. With a variety of styles and flavors, barbecue is always a crowd-pleaser and easy to serve at weddings. Don't forget the cornbread or biscuits—Southerners love their baked goods! If you're adding a fish option to your menu, fried, blackened or grilled catfish meals are favorites in Tennessee.
You'll also find distilleries throughout the state (Jack Daniel's being the most well-known), so consider adding whiskey to your signature cocktail. The mint julep is also a very popular and traditional Southern cocktail that goes well with warmer temperatures. And what Southern event is complete without sweet tea?
For snacks or as accompaniments to your cake, you might also want to offer guests Mayfield ice cream, Brach candies or Little Debbie snack cakes, as they all originated in Tennessee.
Do Your Guests a Favor: Tennessee-Inspired Take-Home Treats
Whether Tennessee makes you think of the country music, mountain views or whiskey, there are many ways to give your guests a little piece of the state to take home with them. Here are a few fun, regional ideas:
Anything in the shape of a guitar
Small bottles of Jack Daniel's whiskey attached to bottles of Coca-Cola
Cookies from Christie Cookie Company, a Nashville favorite
Bottles of craft beer from one of Tennessee's many local breweries
Homemade jams, pickles, barbecue sauce or other handmade goods from local general stores
Check out The Knot Shop for other personalized favors.
Tennessee City Guides
One of the most visited states in the South, Tennessee's culture, attractions and beauty span the entire state. But Memphis, Nashville and Knoxville are the standout cities when it comes to weddings. We've outlined pros in each city for you to check out, including wedding reception venues, florists, DJs, wedding photographers and more. Visit our vendor marketplace to find your team of pros.
Memphis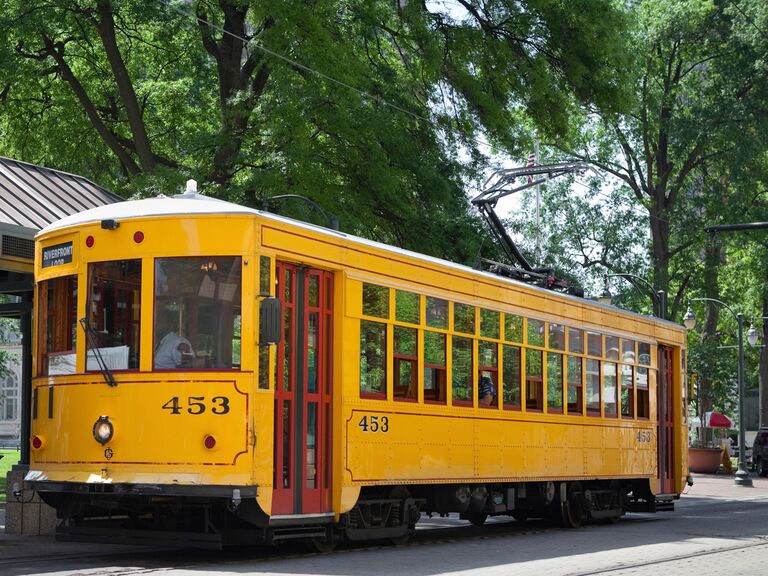 Dubbed the Home of the Blues and the Birthplace of Rock 'n' Roll, Memphis is famous for its many musical attractions, including Elvis Presley's Graceland mansion, The Rock 'n' Soul Museum and the historic Orpheum Theatre. Need an inspiration for a wedding theme? Look no further—you'll have plenty to pull from, thanks to Memphis's rich American music history.
When it comes to Tennessee wedding venues in Memphis, you have your pick of museums, mansions, ballrooms and event centers for indoor events, and parks, gardens and wineries for outdoor affairs. Here's a list of Memphis wedding professionals to get your planning started:
Nashville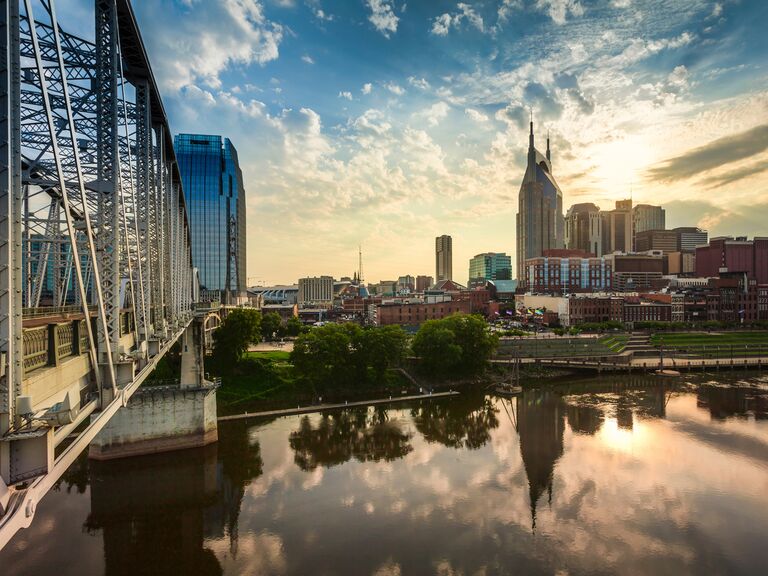 Nashville is Tennessee's capital city and is conveniently located right in the middle of the northern part of the state. Nashville, like Memphis, has a booming music scene. Appropriately known as Music City, you'll find the Country Music Hall of Fame, Grand Ole Opry and tons of live music of all genres throughout the city, setting a lively scene at a range of Nashville wedding venues.
And that's not all. Nashville is also home to many art galleries, theaters, breweries and creative restaurants. Sightseeing tours allow your wedding guests to see all the local and historic hot spots. As the state's second-largest city behind Memphis, there are plenty of wedding vendors to choose from as you're planning your Nashville wedding:
Knoxville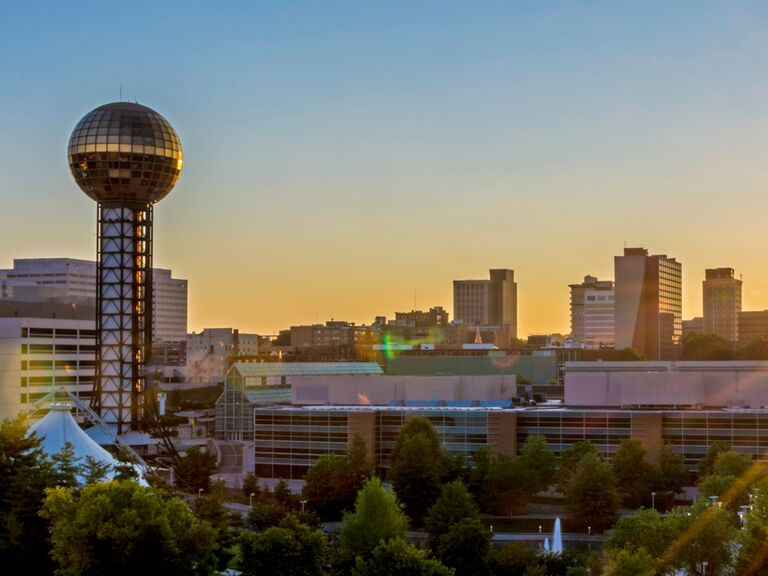 While Memphis and Nashville may be more well known for their musical contributions, Knoxville has come into its own as a must-visit city. Located on the eastern side of the state near the Great Smoky Mountains National Park, Knoxville has plenty of outdoor recreation opportunities, from wilderness and the zipline canopy adventures to the miles and miles of hiking and biking trails. Farmers markets offer the area's freshest foods, and with an abundance of local farms and freshly grown goodies, farm-to-table fare is a staple at many Knoxville restaurants.
With beautiful mountain views and plenty of green space within the city, Knoxville wedding venues include farms, country clubs, gardens, mansions, banquet halls, event centers and more. The thriving local businesses offer all the services you need to make your Knoxville wedding a hit:
Check out more Tennessee wedding inspiration here.

Don't forget to download The Knot Wedding Planner app—it's a must-have for on-the-go planning.
Download for iOS: Wedding Planner App by The Knot

Download for Android: The Knot Wedding Planner