10 Totally Unexpected Honeymoon Destinations
Because your honeymoon should be as unique as your wedding.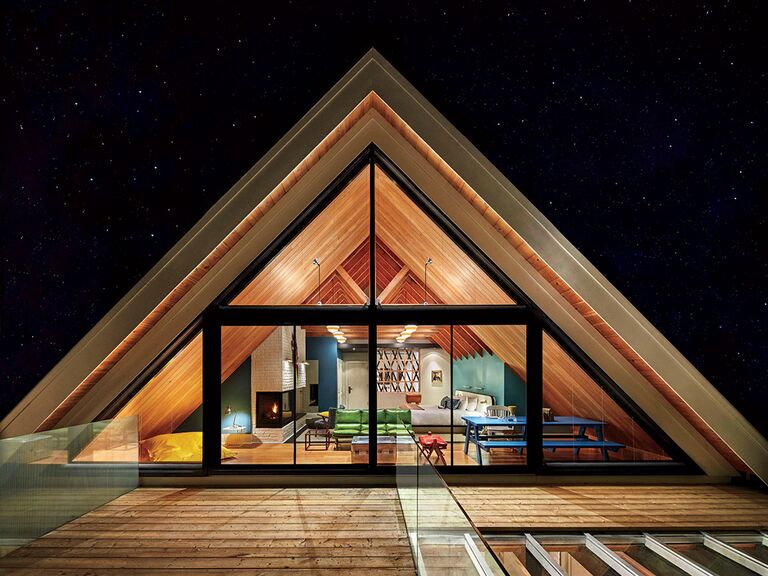 Ready to go your own way? Escape to one of these off-the-beaten-path locales after saying "I do."
1. Prince Edward County, Canada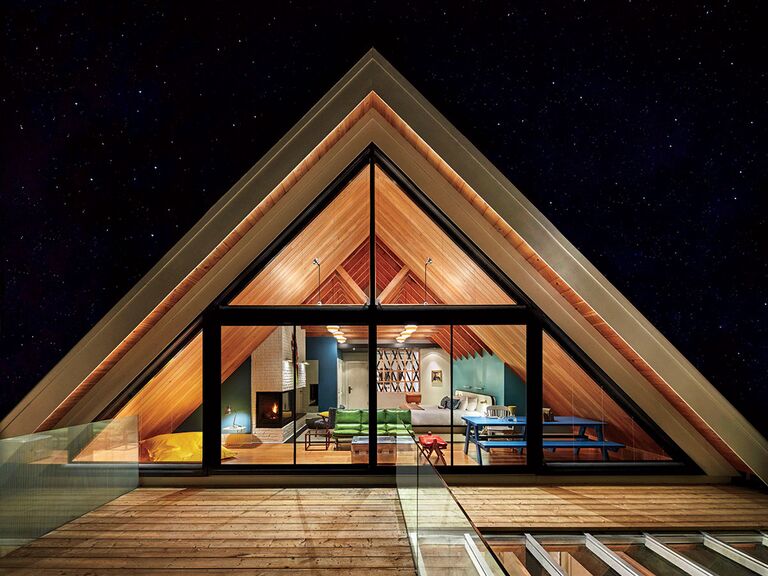 Why Go 

One of the wine world's best-kept secrets is found not in Napa Valley, California, or Bordeaux, France, but in Canada, on the shores of Lake Ontario. There, the stellar wines of Prince Edward County (not to be confused with Canada's Prince Edward Island, which is famous for its mussels) can be sampled in the tourist-free tasting rooms of 30-plus wine estates. Organic farms, hiking trails and loads of small-town charm complete the picture. Icy-cool hues and roaring waves crashing against snowy shores make winter just as alluring as the warmer months (happily, some of the wineries stay open year-round).
Where to Stay
When the Drake Devonshire Inn opened two years ago in Wellington, a two-hour drive from Toronto, it brought a welcome creative edge to the sleepy lakefront town. The vibe is summer camp meets art gallery, with a permanent collection that showcases works from Brooklyn, New York–based street-art duo Faile, and rotating exhibits from printmaker Mackenzie Browning and other artists. Each of the 11 rooms and two suites has a distinct personality. The beautifully crafted A-frame Owner's Suite boasts a mesmerizing water view and private stargazing terrace. Now, if you could only stop gazing into one another's eyes.
What to Do
The soil and climate are very similar to that of Burgundy, France, so excellent (and affordable) chardonnay and pinot noir reign supreme. Make stops at Hubbs Creek Vineyard to taste the pinot, Hinterland Wine Company for sparkling wines and Norman Hardie Winery and Vineyard for chardonnay.
Can't Miss Moment
Pick up one of your new favorite local bottles of wine and enjoy it after a sunset hike on one of the three spacious, sandy beaches in Sandbanks Provincial Park on Lake Ontario. It's Canada, but it looks like the Caribbean—how cool is that?
2. New Forest, England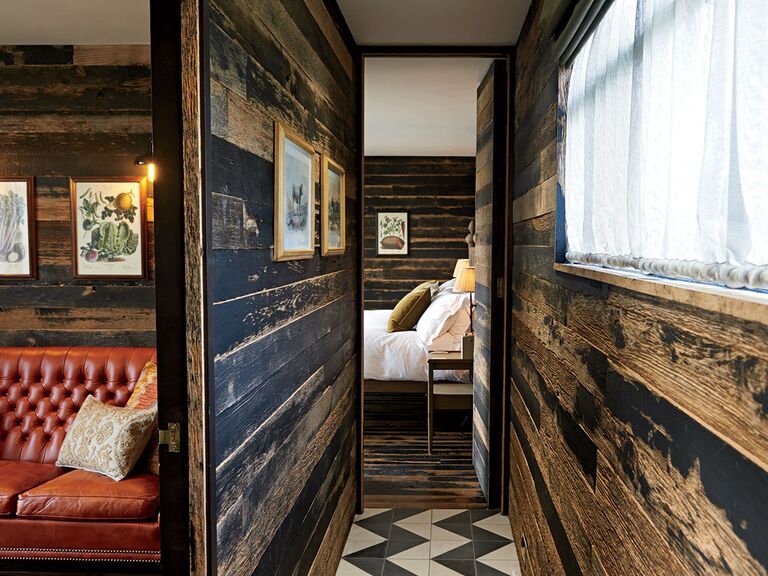 Why Go

Only 90 minutes by train from London's Waterloo Station, the New Forest feels straight out of a fairy tale, complete with free-roaming ponies grazing in the woods. A designated national park, the New Forest is perfect for hiking and biking, and its coastline boasts picturesque beaches like Calshot and Milford on Sea. Charming villages like Brockenhurst and Lyndhurst, with their artisanal food shops and family-run boutiques and cafés, are made for enjoyable wandering.
Where to Stay 
Experience a farm-to-table fantasy at The Pig, a 30-room country house hotel in Brockenhurst that combines homey charm with luxe touches. Feel free to stroll through the sprawling kitchen garden and greenhouse, or visit the five resident pigs in the paddock. With menu headings that include "literally picked this morning," expect seasonally topped flatbreads from a wood-fired oven as well as heartier fare like roast New Forest pigeon with foraged oyster mushrooms. You'll want to stay (forever) in The Pig's cleverly designed new freestanding Berts Box. Deceptively small looking, this lodge encompasses all you need: a kitchen, living room, bath, bedroom and magical forest right outside. 
What to Do 
The Pig's sister property, Lime Wood, is just 10 minutes down the road. Spend a day at its acclaimed spa, the Herb House, where a Together in the Forest treatment starts with a skin-softening mud application followed by Ayurvedic therapy tailored especially for you. Post-pampering, head to the Lime Wood's rooftop garden for a glass of juice or wine. Horseback riding and sailing are nearby activities to enjoy as well.
Can't Miss Moment 
Accompany The Pig's forager on a trip through the forest or along the coast. The shellfish, salad greens and other wild edibles you'll find are what you'll soon eat for dinner.
3. Pag, Croatia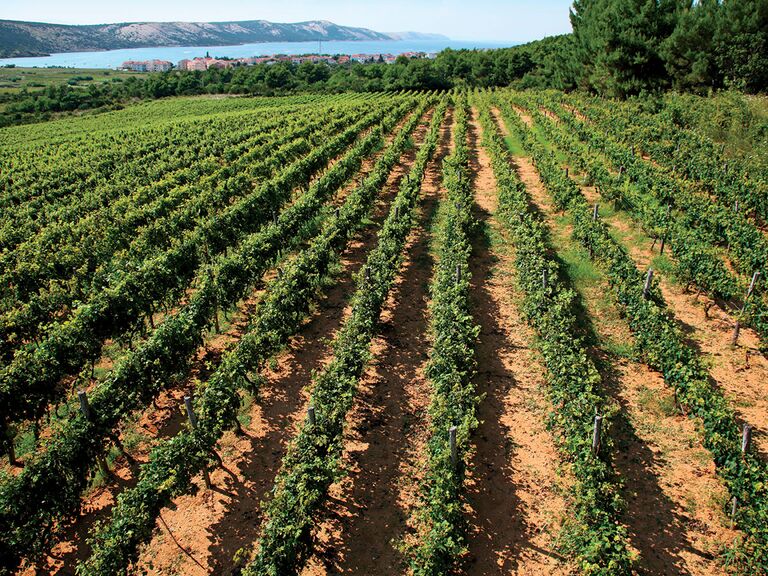 Why Go 

The rocky island of Pag may be called the Croatian Ibiza, thanks to the packed dance clubs of the famed party beach Zrce, but venture a bit farther afield and you'll find some of the prettiest beaches and coves in all of the Adriatic, not to mention vineyards, olive groves and breathtaking pastoral views.
Where to Stay 
Anthony Bourdain put the 11-room Hotel Boškinac, in the town of Novalja, on the map when he enjoyed lunch during a taping of No Reservations. Request a table overlooking the hotel's vineyards and settle in for modern versions of island specialties. A private wine tasting will introduce you to Croatia's delicious yet underrated wines, including Gegic, a dry white. Each of the hotel's rooms has its own color scheme, and the suites have views of the gardens, vineyards and sea. 
What to Do 
The narrow medieval streets of Pag are lined with palaces and churches. Stop in at the Benedictine monastery of St. Margaret, where the traditional preparation of aromatic dried breads called baškotina still takes place.
Can't Miss Moment 
Pag is one of the 1,000-plus islands (66 are inhabited) off the Croatian coast, and island-hopping is the best way to explore everything from nudist beaches to old fishing villages, or arrange a sail through Hotel Boškinac to deserted beaches for snorkeling in crystal-clear waters
4. Hudson Valley, New York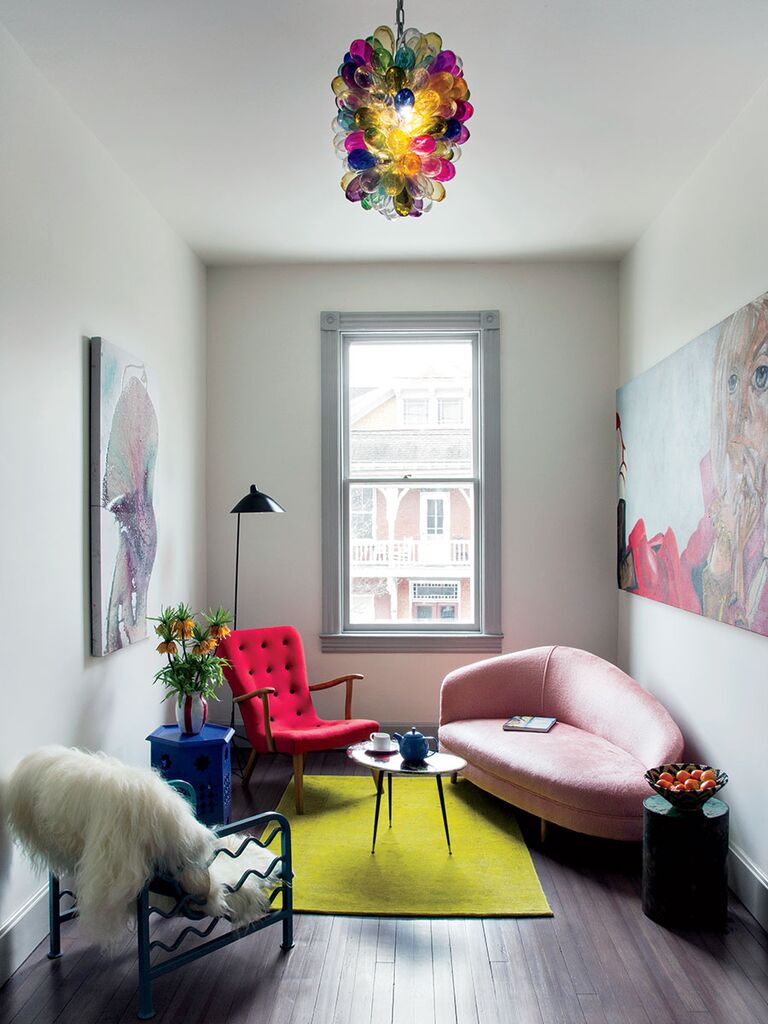 Why Go

It's hard to believe that just 90 minutes outside New York City you'll find a bucolic rolling landscape dotted with quaint towns and farmland. City dwellers who have relocated upstate have brought a hipster edge and creative energy in the form of craft breweries and distilleries, art studios and farm-to-table restaurants—both humble and haute.
Where to Stay 
It's no surprise that Hotel Tivoli feels like a modern art collector's country retreat: Opened in 2014 by New York artists Helen and Brice Marden, the tiny hotel has been carefully curated on every level. The stylish bar with its dramatically veined Fior di Pesco marble and vintage pink Murano glass pendant lighting wouldn't feel out of place in Milan, and the excellent cocktails come from Manhattan's famed mixology den Employees Only. Its restaurant, The Corner, with Mediterranean-inspired dishes like porchetta with polenta, has become an area favorite. 
What to Do 
The lush seasonal bounty and outstanding roster of suppliers found in the Hudson Valley have made it a foodie mecca. Pick your own fruit at Mead Orchards, a family-run farm that grows nearly 40 varieties of apples. Or book a table at the nose-to-tail restaurant Fish & Game, in the town of Hudson, where the talent behind the stove includes James Beard Award–winning chef Zak Pelaccio.
Can't Miss Moment 
Laced with a network of scenic trails, the Hudson Valley is a hiker's dream, particularly in fall when the trees are a blanket of riotous colors. Time a hike along Poets' Walk—an easy 2.4-mile loop with great views of the Kingston-Rhinecliff Bridge and plenty of benches and gazebos—at sunset.
5. La Paz, Bolivia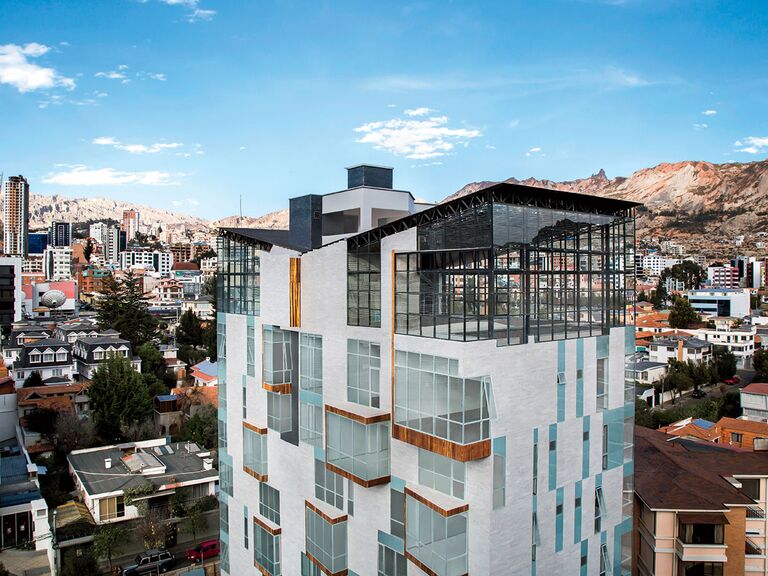 Why Go 
There aren't many places that combine vibrant urban energy (stylish boutiques, funky art galleries and seriously good restaurants) with some of the most otherworldly landscapes on the planet.
Where to Stay 
Work from renowned Bolivian artist Gastón Ugalde (the Andy Warhol of the Andes) is on display throughout the 53-room Atix Hotel, which opened in August. Each of the six floors takes inspiration from a Bolivian ecosystem, like the Amazon or Lake Titicaca. In the evening, retreat to the rooftop bar and take in panoramic city views while South America's star mixologist David Romero makes you an exceptional cocktail, or two. 
What to Do 
An hour flight puts you at one of the most surreal spots you'll ever see—Salar de Uyuni, a salt flat that stretches into infinity (more than 4,000 square miles). And just 20 minutes from downtown is Valle de la Luna (Valley of the Moon), where centuries of wind have eroded the mountains into a maze of beautiful jagged peaks, spires and canyons.
Can't Miss Moment 
Claus Meyer, the innovative cofounder of Copenhagen's Noma—one of the world's best restaurants—is reshaping Bolivia's food scene. At Gustu, poached paiche (an Amazonian fish) and smoked bagre (sea catfish) with pintaboca (one of Bolivia's 1,200 potato varieties) are just a few of the unique dishes you'll find.
6. Costa de Prata, Portugal

Why Go 
The Costa de Prata (Silver Coast) feels like Portugal's version of Big Sur, California. The ruggedly beautiful stretch of coastline starts just south of Porto and runs an hour north of Lisbon. Great surf, wild countryside and untouched beaches lure free-spirited nature lovers looking for an off-the-beaten-path escape as well as pristine seafood and culture in the form of storybook castles and monasteries.
Where to Stay 
Areias do Seixo, an eco-chic beachfront retreat less than hour from Lisbon, has just 18 rooms and villas, each whimsically decorated with driftwood furnishings, Moroccan lanterns and fireplaces. At night, sip local wine around a bonfire on the beach or from your own private terrace. 
What to Do 
Take advantage of Areias do Seixo's complimentary bikes and explore the coastline on two wheels. Bike to the picturesque Santa Rita beach, and while en route, stop for a detour to view the ruins of Penafirme convent. Lunch at Grão d'Areia, a beach bar known for its octopus salad, is just what's called for after a few hours of sun and surf. 
Can't Miss Moment 
Leave it to Areias do Seixo to arrange a romantic candlelit dinner for two lakeside or in the forest, under a canopy of pines. Dishes highlight ingredients harvested from the hotel's kitchen garden and greenhouse and are paired with Portuguese wines.
7. Kep, Cambodia
Why Go 
Cambodia offers just as much culture and incredible cuisine as its more tourist-saturated neighbors—Thailand and Vietnam—minus the selfie-stick-wielding crowds. From the turn of the century through the 1960s, Kep was Cambodia's seaside resort of choice for the colonial French elite and Khmer royalty. Today the town's unhurried pace allows you to linger over spectacular sunsets. You might also enjoy eating at one of its famed crab shacks, embarking on a sailing excursion or visiting the nearby national park and local villages.

Where to Stay 
Knai Bang Chatt's five Le Corbusier–inspired villas feature 18 rooms furnished with teak beds, local antiques and Khmer relics. Rooms with views of the Gulf of Thailand are the most popular—request one with a private terrace. Guests can rent motorbikes, kayaks or Hobie Cats at the adjacent Sailing Club, then relax with a massage, just steps from the water, and a three-course meal that might include fish amok and green peppercorn crab stir-fry. 
What to Do 
Traveling the coastal road by tuk tuk is a great way to lose yourself in the rice-paddy-dotted landscape. Knai Bang Chatt can arrange guided trips that include stops at a local pepper farm, the colorful Keo Krosang Pagoda and Chamcar Bei village, where artisans make traditional loom-woven kramas (scarves).
Can't Miss Moment 
Journey by private fisherman's boat to the remote sandy beaches of Koh Tonsay (Rabbit Island). Lounge in a palm-shaded hammock or snorkel in the calm shallow waters while a private chef prepares a seafood barbecue feast paired with ice-cold Angkor lagers. You could really get used to this.
8. Garden Route, South Africa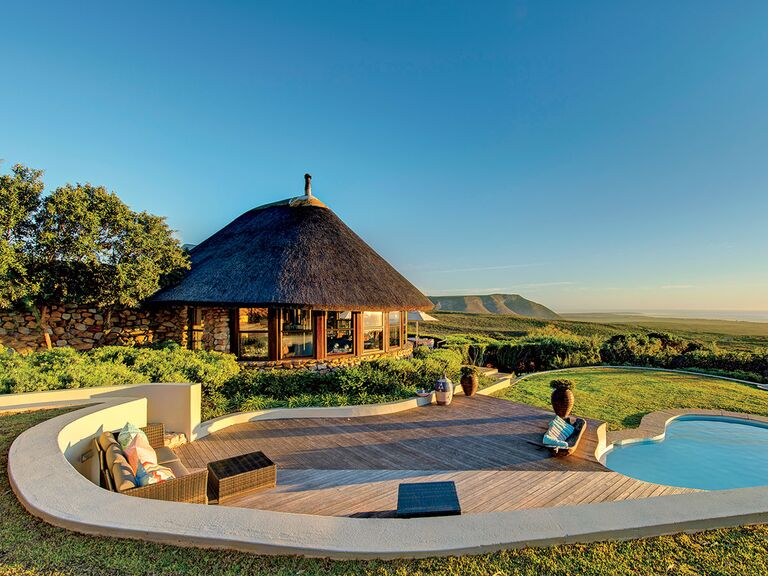 Why Go 
Rather than travel inland for a traditional safari, head to the coast to experience the Marine Big Five: whales, sharks, dolphins, seals and penguins. The Garden Route, one of the world's most scenic drives, spans 125 miles between Mossel Bay and Port Elizabeth, and it's easy to tack on a stay in dynamic Cape Town.

Where to Stay 
Grootbos Private Nature Reserve is a 2,500-acre eco-paradise with views of Walker Bay. Stay in the Garden Lodge or Forest Lodge, nestled amid ancient milkwood trees. Owner Michael Lutzeyer is a welcoming host, happy to share his knowledge of native shrub during a 4x4 flower safari as well as his passion for South African wines. 
What to Do 
Take advantage of Grootbos's stable and explore the Cape Floral Kingdom on horseback. Play your cards right and a sunset ride can end with a champagne picnic on the beach. If that sounds too tame, there's always cage diving with sharks. 
Can't Miss Moment 
The cliffs of Walker Bay are the best land-based whale-watching in the world. Or take in the marine life from above: Grootbos has its own airstrip and offers scenic flights over Walker Bay.
9. Alaska Range, Alaska
Why Go 

Towering mountains, vast open tundra and dramatic fjords provide an awe-inspiring backdrop for those looking to escape. The western edge of the Alaska Range offers both adventure and laid-back experiences. What's more romantic than cozying up to watch the Northern Lights dance across the sky?
Where to Stay 
Only accessible by float or ski plane, the family-run Winterlake Lodge offers luxury in the wilderness. The five cabins feature handmade log beds and cast-iron wood stoves. You'll be spoiled by wine and cheese tastings, a cocktail hour with nibbles like king crab beignets, and dinner offerings such as reindeer tenderloin with duck fat potatoes. Counter your indulgences with yoga in the main lodge.
What to Do 
A snowmobile excursion rewards you with an unobscured view of Denali (North America's tallest mountain). Toboggans for sledding and a snowy picnic of hot cocoa and cookies will make a soak in the lodge's hot tub all the more memorable.
Can't Miss Moment 
Time your visit to watch the Iditarod, the legendary dog-sled race, in March. Or learn to drive a team yourself with the lodge's expert and his 20 huskies.
10. Sacred Valley, Peru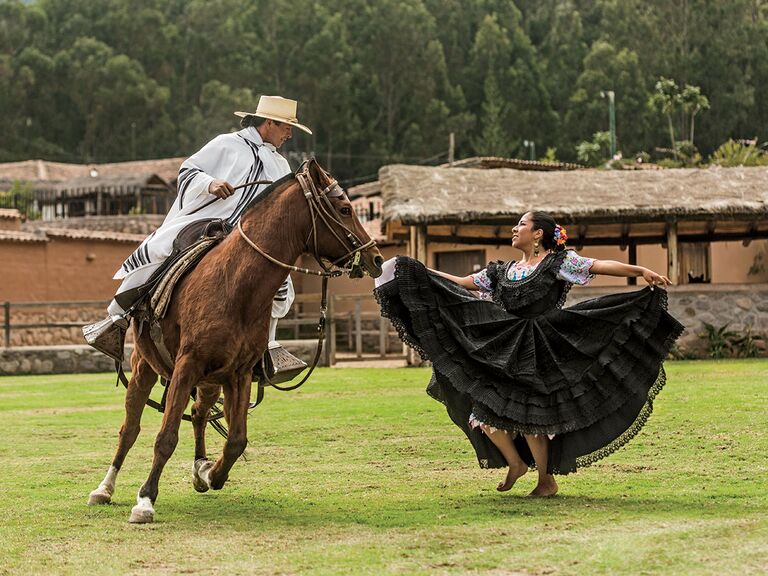 Why Go 

Surrounded by the Andes, the Sacred Valley of the Incas transports you far back in time the way nearby touristy Cuzco no longer can. It's a tranquil base from where you can make trips to archeological sites like Moray and Pisac. And while Lima put Peru on the global food map, you'll find delicious food here too. 
Where to Stay Set in the very heart of the valley, Hotel Sol y Luna feels like Eden, with its exotic gardens that attract 35 species of birds. Local architecture inspired the resort's clay-and-stone casitas on this Relaise & Châteaux property. Fireplaces and private terraces with Jacuzzis make the premium casitas worth the splurge. 
What to Do 
Book a couple's Andean Experience at Sol y Luna's spa. A salt-and-essential-oil-infused hydrotherapy session is followed by a steam bath and massage.
Can't Miss Moment 
An excursion on one of Sol y Luna's Peruvian Paso horses allows you to experience one of the world's most stunning landscapes.