9 Ways Bridesmaids Can Help the Bride
Here's how to go above and beyond as a bridesmaid.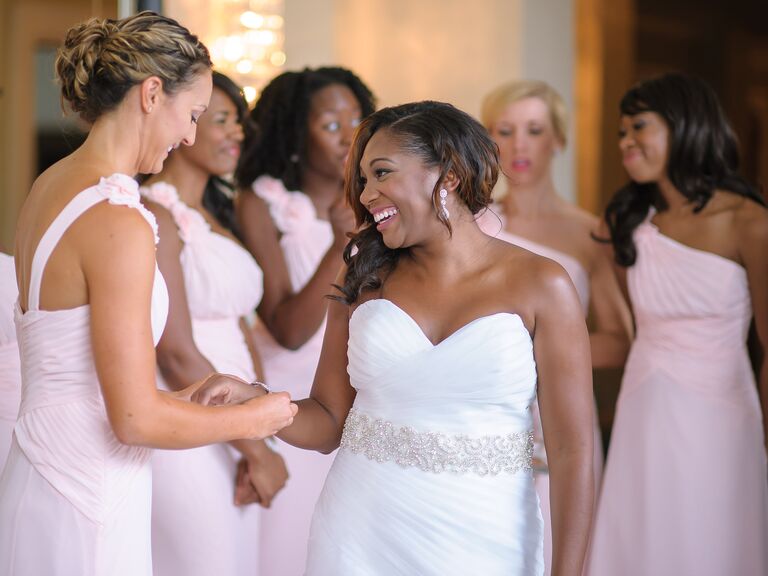 Poirier Wedding Photography
There's more to being a bridesmaid than walking down the aisle in a pretty dress (although you get to do that too). Celebrate your friend and her spouse-to-be by helping her out and bringing some extra fun to this—let's be honest—often stressful, but very special time. Here are some helpful tasks any bridesmaid can take charge of to crush the attendant game and make the bride's life easier.
1. Assemble Welcome Bags
Take responsibility for putting together and organizing gift baskets or welcome bags for out-of-town guests' hotel rooms. Include a welcome letter, maps, relevant phone numbers, snacks, postcards, city souvenirs and suggestions for fun activities.
2. Address Envelopes
Ask your friend when she expects the wedding save-the-dates and/or invitations to be ready and plan an informal gathering to help her get them ready to mail. Order in treats, make a playlist (or have your favorite wedding movie on in the background), then divide and conquer: Write addresses, stuff envelopes and add stamps. You'll instantly turn a tedious job into a fun bridal party activity.
3. Man the Favors, Escort Cards or Other Décor
Offer to supply or DIY wedding favors, or take on rehearsal dinner escort cards. If the wedding is a more casual affair, offer to asemble simple centerpieces.
4. Be a Nice Distraction
Help your friend de-stress and ward off prewedding jitters by providing a fun distraction—get tickets to an event (concert, game or even a movie), get mani-pedis or just go to a fun restaurant for a night off.
5. Keep Her Cup Full
Ask what she's drinking at the reception and keep her glass full, since the couple can rarely make it through the crowd of loved ones and well-wishers to the bar. And while you're at it, make sure she's drinking enough water and eats some of that amazing food she chose.
6. Be the Last One Out
This offer is more helpful than you'll ever know—until you get married yourself. Offer to be the end-of-the-party, final once-over person. Collect the cake topper, knives and servers, scan the room for left-behind belongings, make sure the last guest are escorted to their rides, and check in with the caterer, musicians or other pros left at the end of the night.
7. Get the Dress Cleaned
Take her wedding dress to the cleaners after the wedding and get the gown preserved for when she returns from the honeymoon.
8. Make a Honeymoon Packing List
Provide your friend with a master honeymoon packing list or even put together an "in case you forget" bag. Include must-have items and toiletries (like sunscreen, sunglasses, moisturizer) a busy bride might forget to pack.
9. Stock the Fridge
Want to go really above and beyond? Stock the couple's home with food for their return—or at least just get them a nice bottle of wine and their favorite snacks. The worst trip is the one to the grocery store the night you return from paradise. Help them avoid reality for just one more day with this awesome gesture.