20 Thoughtful Wedding Gifts From Grandparents to Grandchildren
Your grandbaby is all grown up (cue the "aww"s).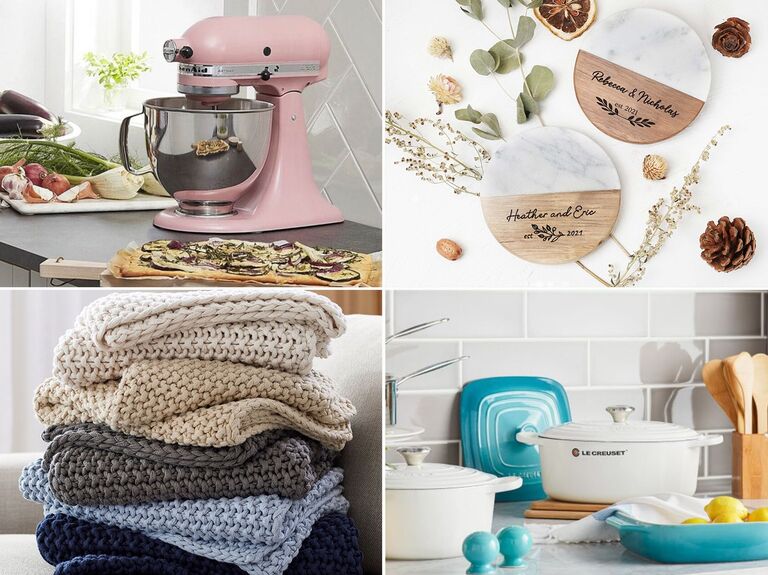 Photos, clockwise: The Knot, AvadirAndCo, The Knot, Pottery Barn
We have included third party products to help you navigate and enjoy life's biggest moments. Purchases made through links on this page may earn us a commission.
If you've got a grandchild who's getting married, please accept our congrats! What an exciting time for your family. As you prepare for your grandchild's trip down the aisle, it's time to shop for a wedding gift. If you need inspiration for an appropriate wedding gift from grandparents, you've come to the right place. Though, before you get too into the gift hunt, we recommend first checking out the couple's wedding registry to see if anything strikes your fancy there. Otherwise, if you're very confident going off-registry, keep on reading. Here, we've rounded up a curated selection of fantastic gifts you can feel confident about placing front and center on the gift table (or mailing to their home beforehand with a sweet wedding wish message). Regardless of which one of these wedding gift ideas from grandparents you choose to give, your grandchild will feel just as supported by you on their big day as they have all throughout their life. *Happy tears.*
1. KitchenAid Stand Mixer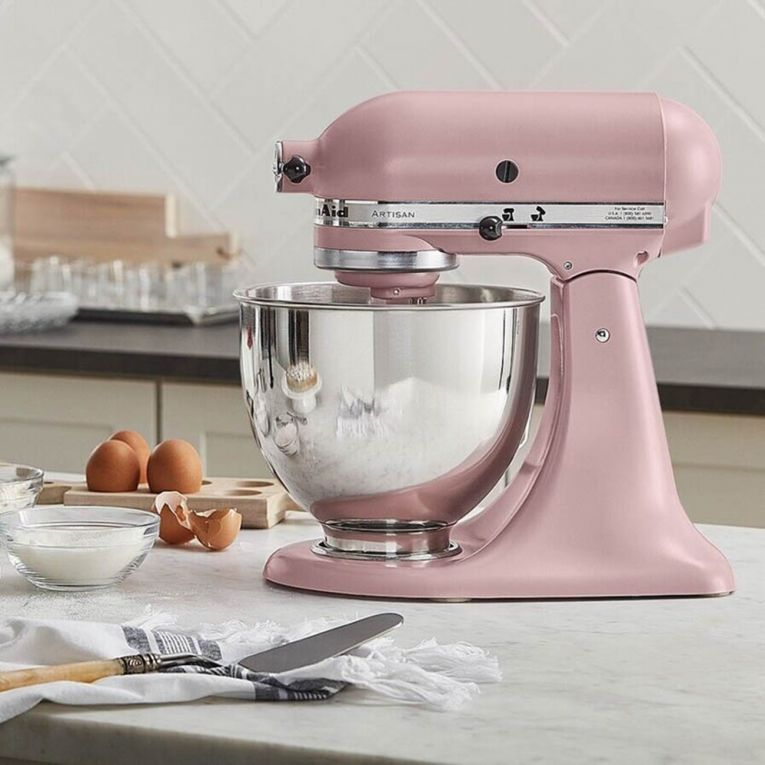 This high-capacity stand mixer is a classic big-ticket wedding gift when it comes to wedding gift ideas from grandparents, since you've likely shared some of your favorite recipes with your soon-to-be-wed grandchild. With a ton of add-on attachments, he or she can whip up some seriously amazing meals (and most importantly, desserts) in no time. Bonus if you come over to bake a batch of cookies together after the big day.
2. Le Creuset 7.25-Quart Dutch Oven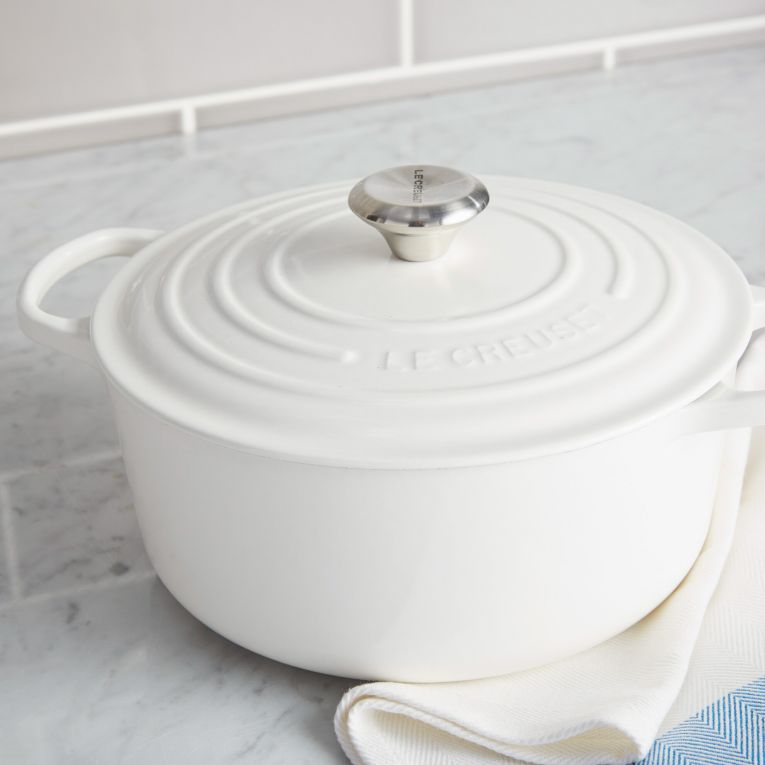 This beautiful Dutch oven from Le Creuset might come with a hefty price tag, but it'll last the happy couple forever with proper care. Made of heavy-duty cast iron finished with a sleek, shiny enamel and available in some gorgeous colors, this Dutch oven provides a perfect cooking experience for soups, stews, chilis and much more. This size, which clocks in just over seven quarts, is perfect for big batches of food for meal prep or festive holiday dinners for the whole family.
3. SMEG Electric Tea Kettle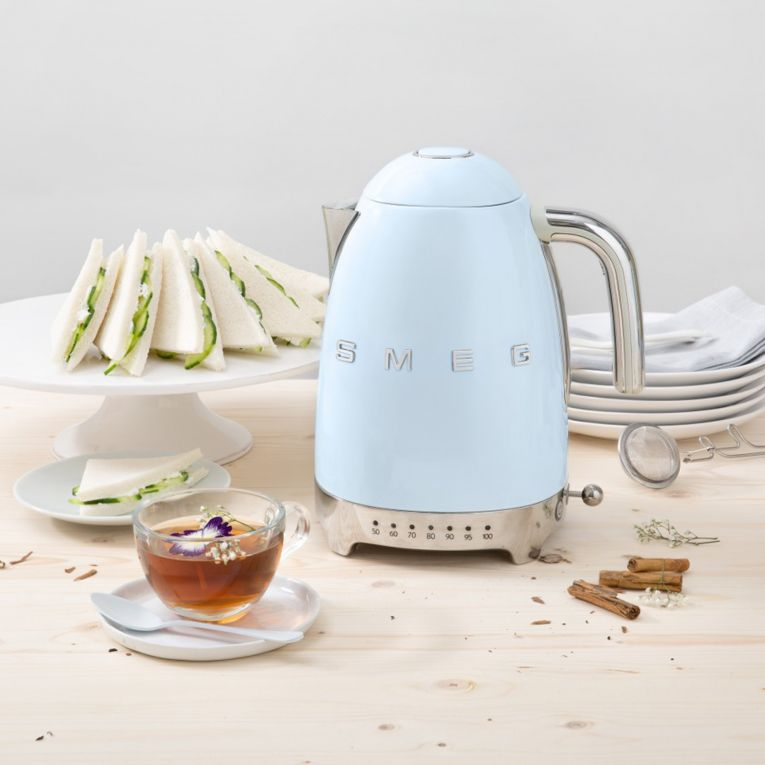 Does a tea kettle conjure up memories of your grandchild as a little one sitting in your kitchen? Probably so! That's why we consider this vintage-inspired one from SMEG as one of the best wedding gifts for grandchildren. They'll savor the memories just like they'll savor that perfect cup of tea they're drinking, thanks to this stunningly beautiful electric teapot that'll let them choose their own custom temperature for their tea. Choose from myriad pretty pastel colors to match their kitchen decor.
4. Brooklinen Luxe Sheet Set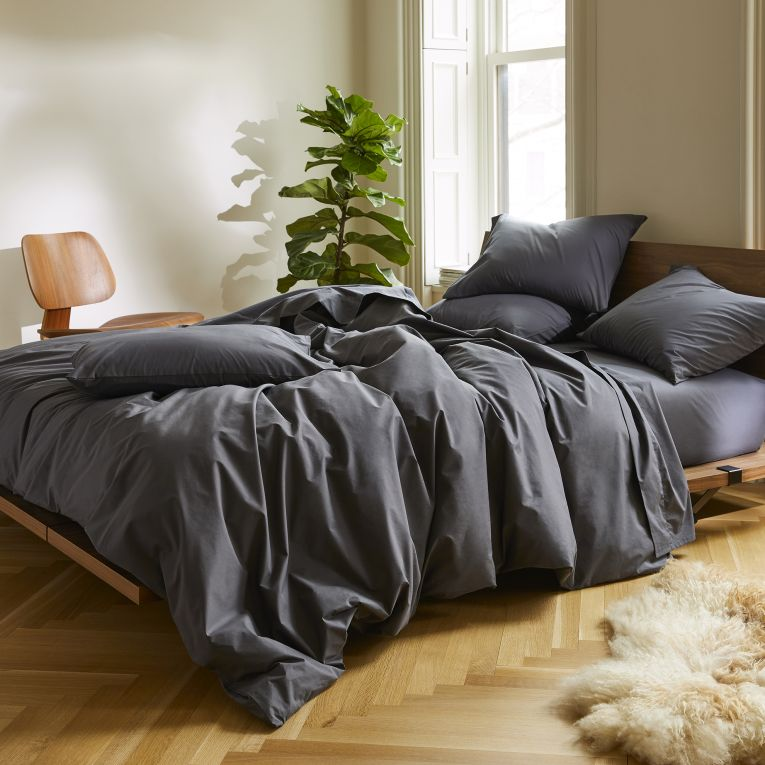 If the couple hasn't included a great sheet set on their registry, boy, do we have the gift for you! This luxurious set of sheets from Brooklinen may look basic, but it's woven with a 480-count thread for a buttery soft feel the couple will love. Plus, the simple designs ensure these sheets match with their bedroom—no matter how many times their decor evolves over the years. (And this brand is truly all the rage with the millennial crowd—they'll be so impressed!)
5. Personalized Charcuterie Board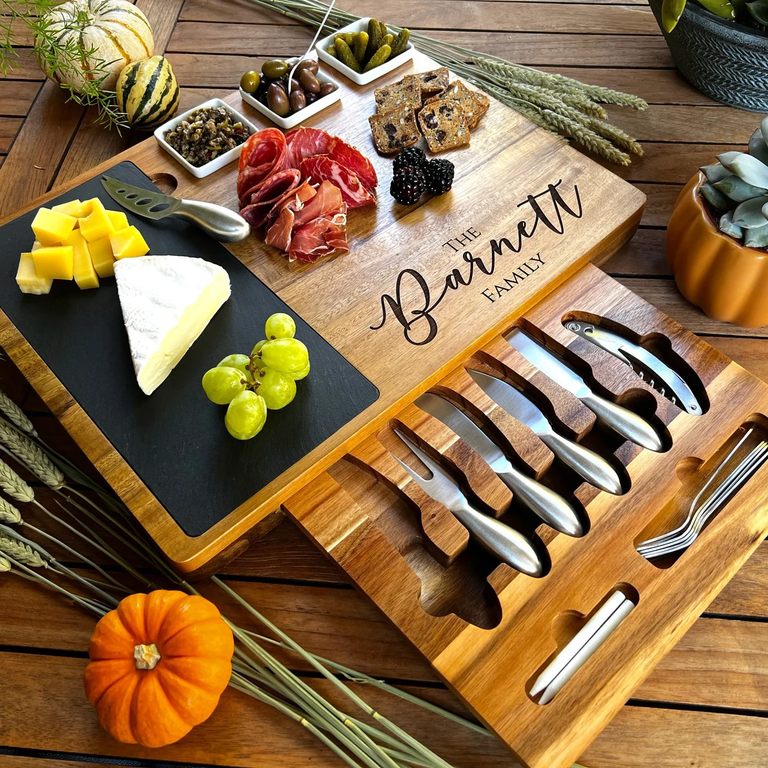 Looking for the perfect gift for the happy couple? This personalized wedding gift charcuterie board is sure to be a hit. Gorgeous acacia wood pairs with a small section of slate and sections for ceramic serving bowls to create myriad serving options. A pull-out drawer features several knives, forks and a wine opener. This one's one of our favorite wedding gift ideas from grandparents.
6. Brooklinen Super-Plush Bath Towels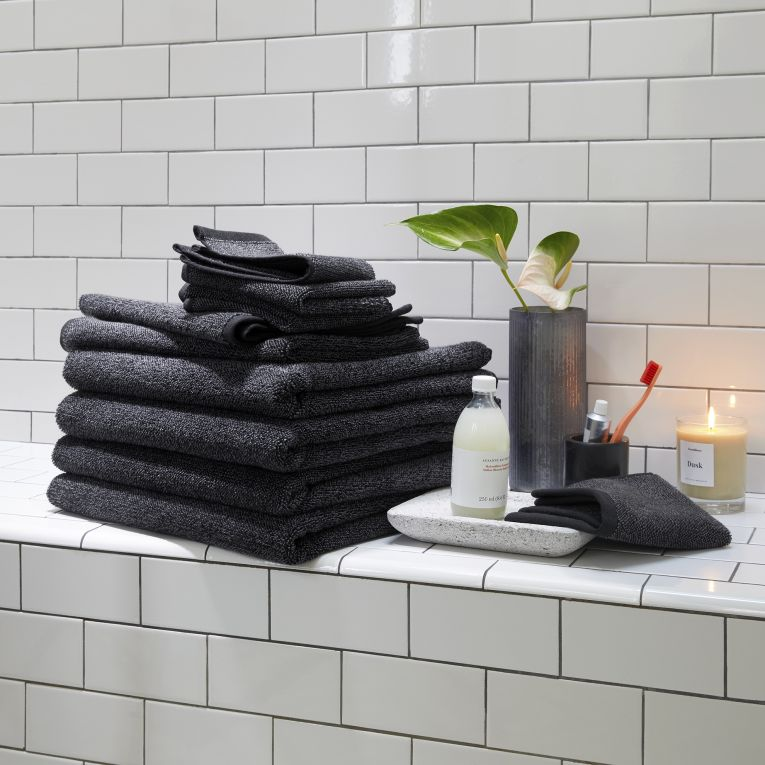 Another luxurious option from beloved Brooklinen, this set of two towels will be much appreciated. Every household could use a towel refresh—whether the happy couple is just moving in together or have been cohabiting for years. These oversized bath towels are a wonderful wedding gift from grandparents—available in four neutral colors.
7. American Tourister Luggage Set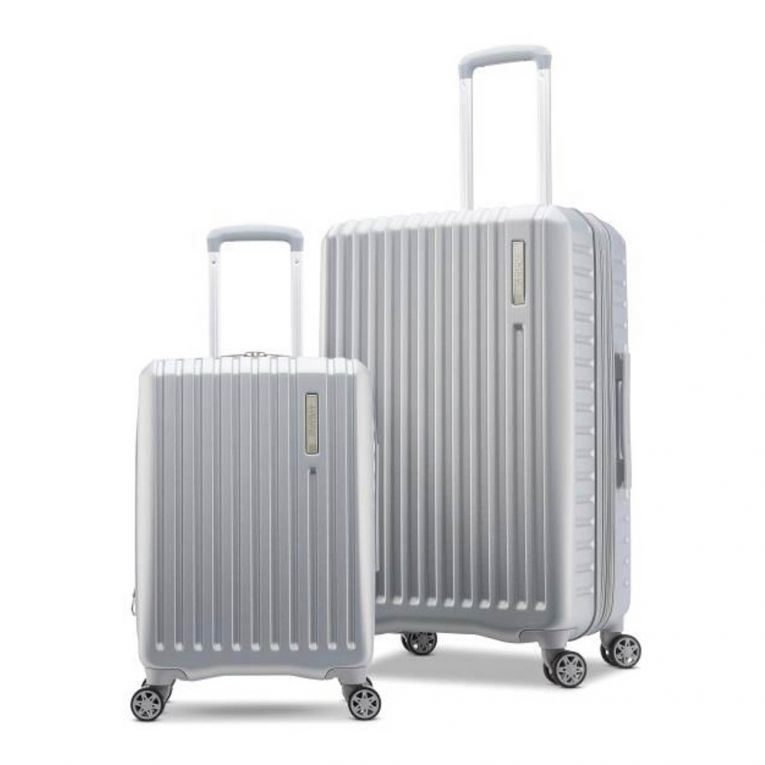 Ensure the couple's first big trip together goes off without a hitch (at least when it comes to packing) when you opt for this sturdy luggage set as a wedding gift for your grandchildren. This generously sized silver suitcase duo includes a large and small suitcase, both of which feature adjustable handles and wheels on casters that spin 360 degrees. The polycarbonate shells are equal parts sturdy and chic, too.
8. Waterford Crystal Vase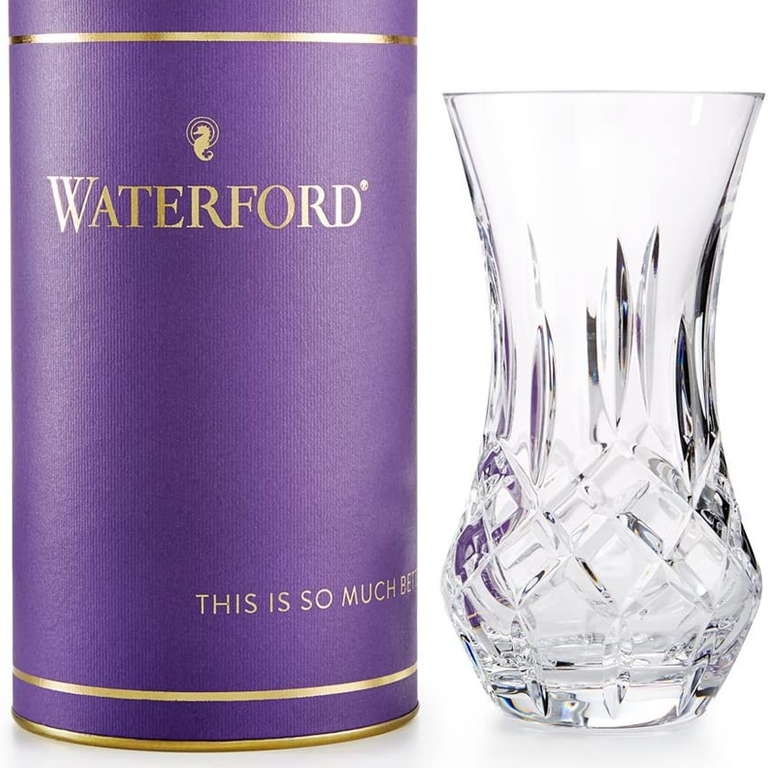 A crystal vase is another classic wedding gift that's perfectly suited for a grandparent gifting a grandchild. This symbol of enduring love will sparkle beautifully atop their dining room table or hutch and bonus: They'll think of you every time they fill it with fresh blooms.
9. Kate Spade Photo Frame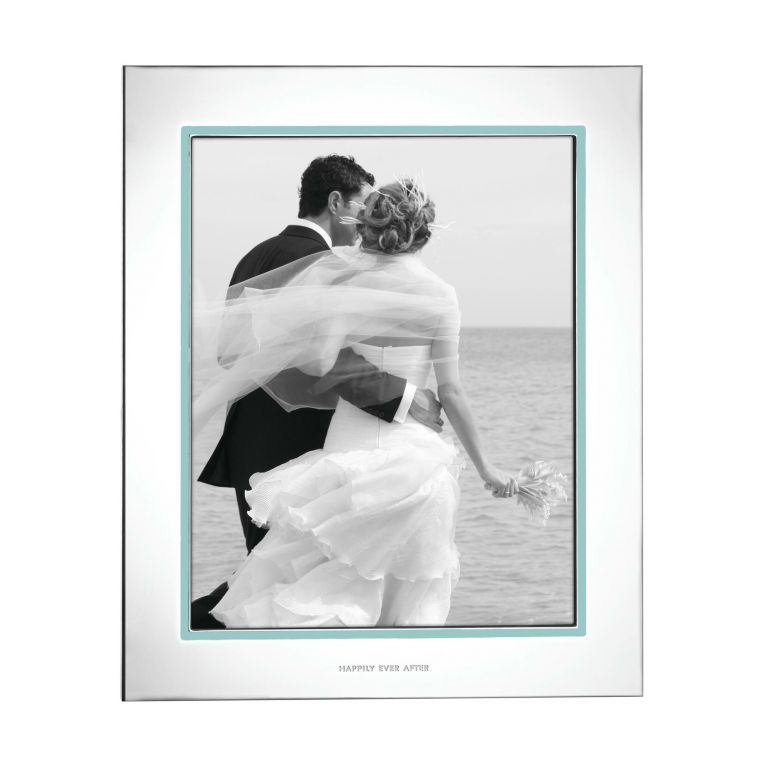 If you ask us what one of our favorite wedding gift ideas from grandparents is, we'd be quick to tell you it's this iconic silver and Tiffany-blue photo frame. Engraved with "happily ever after," it's the perfect place for the happy couple to display a favorite wedding photo. Available in two sizes.
10. Solo Stove Tabletop Fire Pit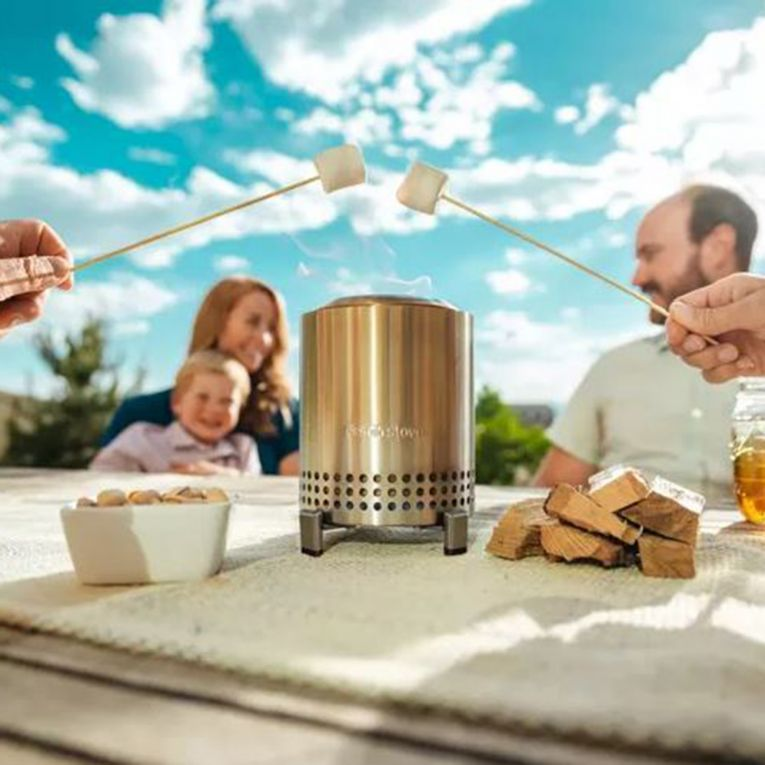 Especially suitable if your grandchild and their partner have a small outdoor space,, this tabletop fire pit makes a perfect wedding gift for a grandchild. Usable with wood or pellets (which can be purchased separately), this five-inch-in-diameter fire pit comes in three chic colors. S'mores, anyone?
11. Marble and Wood Engraved Coasters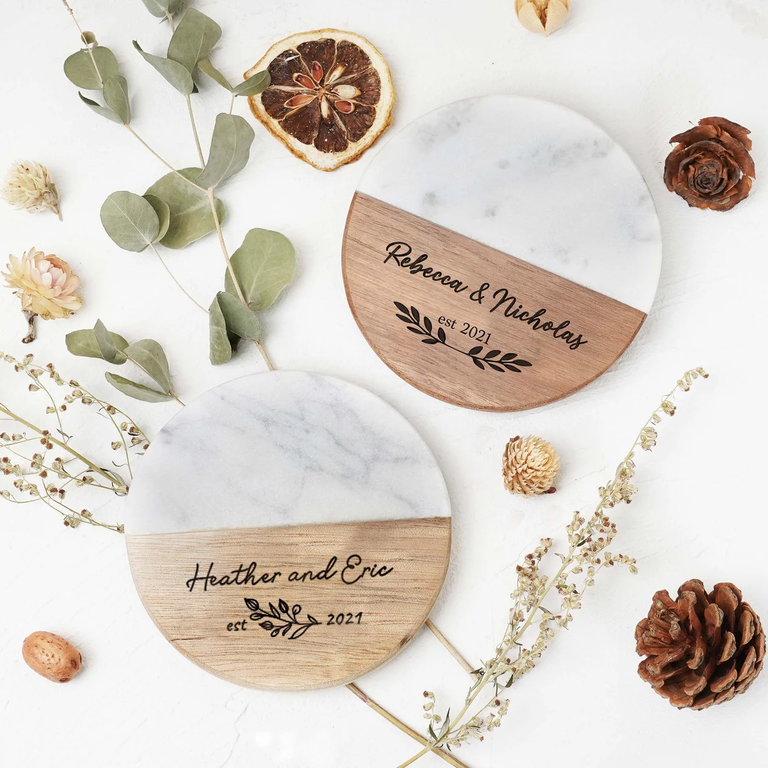 If you're on the hunt for an inexpensive wedding gift from grandparents, this custom set of wood and marble coasters makes a great option. They're beautifully crafted with a rustic look that combines the two materials in a circle. Choose from tons of engraving and customization options to suit the couple's personality.
12. Food Storage Container Set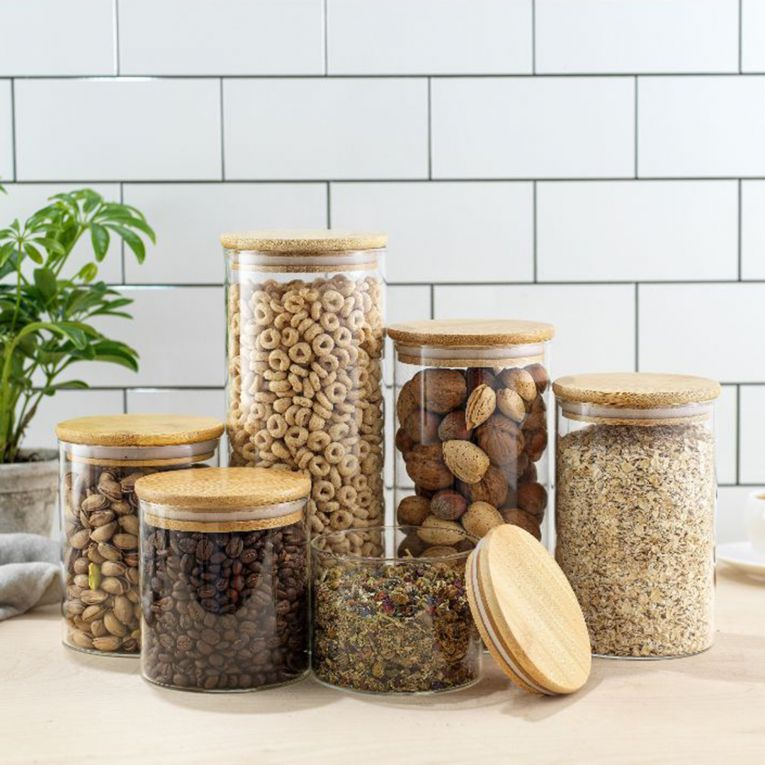 One thing you're totally allowed to do as a grandparent? Choose a practical wedding gift for your grandchild! We love this 12-piece glass food storage set, complete with eco-conscious bamboo lids. These glass jars are the perfect addition to their kitchen, and are dishwasher, microwave, fridge and freezer-safe for added convenience.
13. Instant Pot Pressure Cooker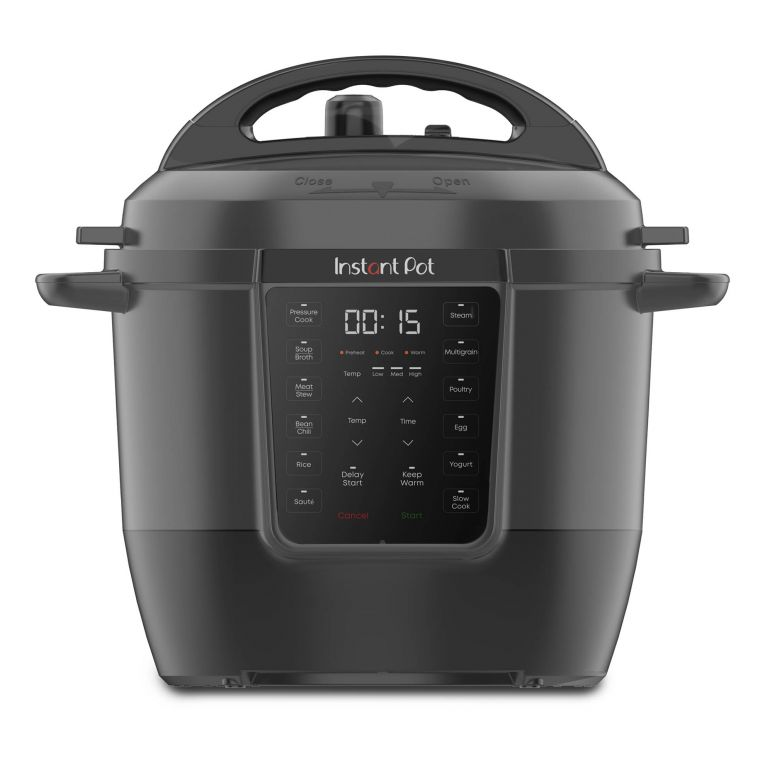 Whether or not you owned a pressure cooker in your first years of marriage, there's no doubt they're a super-hot item today. This pressure cooker from popular brand Instant Pot allows the couple to whip up some great recipes at home, which can help with weeknight meal ruts. Plus, this pressure cooker is priced right at $100, making it a great lower-cost wedding gift from grandparents.
14. Personalized Metal Sign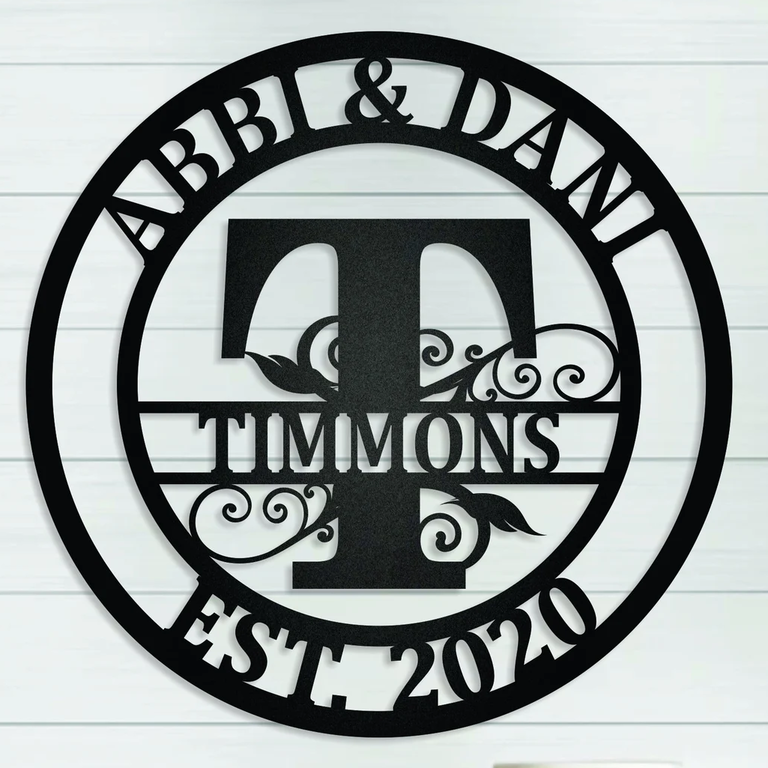 These customized metal signs are all the rage among today's young couples, making them one of our favorite wedding gift ideas from grandparents. Choose from different shapes, sizes, colors and—of course—monogram or initial options to make a design your grandchild and their partner will cherish for years to come. How sweet will it look in their new home?
15. Layflat Wedding Photo Album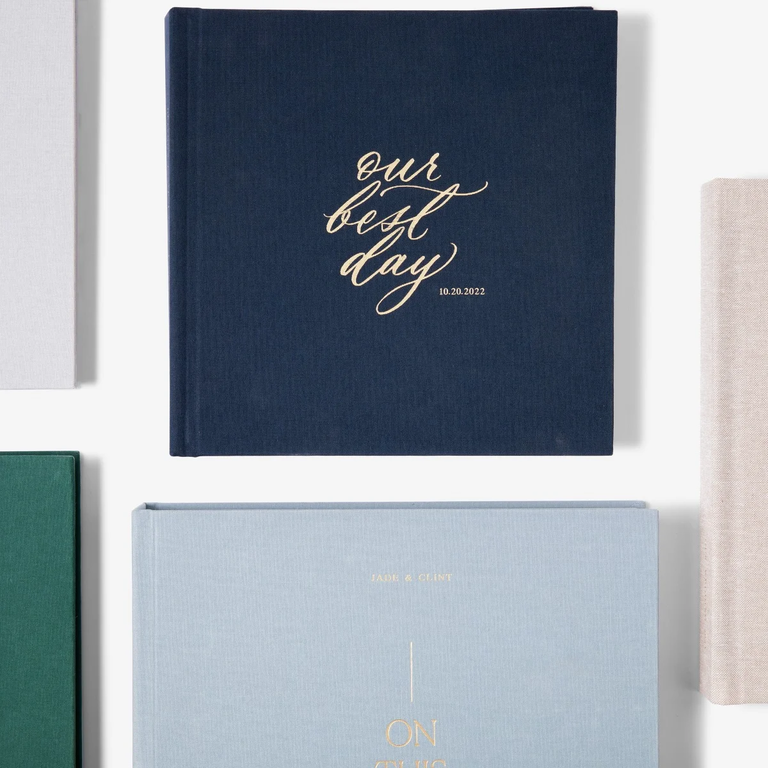 Here's a great idea: gift your grandchild and their partner this beautiful photo album so they have a place to view all their favorite memories from their special day. While they may not receive the actual gift until after their wedding, it's something they'll cherish during their entire relationship. And that makes this photo book one of the best wedding gifts for grandchildren.
16. Pottery Barn Velvet Throw Pillows
Don't be ashamed to give a gift that might seem too practical at first. Just because it may not be on their registry, doesn't mean they won't love (and use) it. That's why we think this best-selling velvet throw pillow from Pottery Barn makes a great wedding gift idea from grandparents. Available in nine beautiful, chic hues and overstuffed with down, these pillows will be an enduring part of their home for years. Give two as a sweet nod to your grandchild's couplehood.
17. Pottery Barn Chunky-Knit Throw Blanket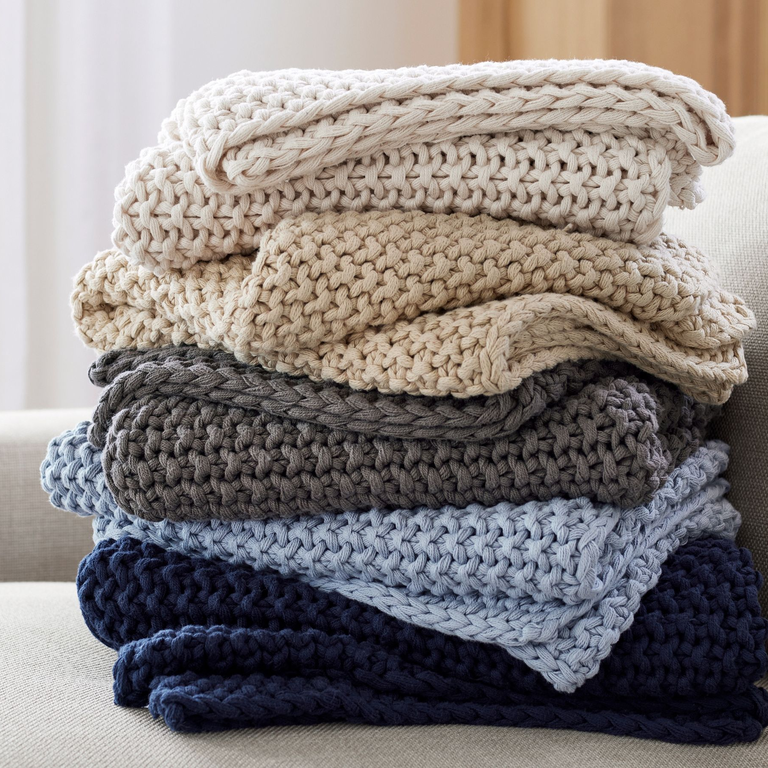 Similarly, this chunky-knit throw blanket, also from Pottery Barn, is a great wedding gift to give your grandchild. Perfect for chilly fall evenings on the front porch or just movie nights, this oversized blanket is just right for two. Available in five pretty, neutral tones.
18. Amazon Gift Card
Having trouble deciding what to give your grandchild for their upcoming nuptials? This beautifully packaged Amazon gift card allows them to decide for themselves. Available in denominations from $50 to $2,000.
19. Marriage Prayer Sign
Just about every grandparent wants to bestow the happy couple-to-be with a marriage prayer. And this sign is a great way to do just that. With sweet, meaningful words and a string to hang their favorite photos from (with cute tiny clothespins), this is one of our favorite wedding gift ideas from grandparents.
20. Coravin Timeless Three+ Wine Preservation System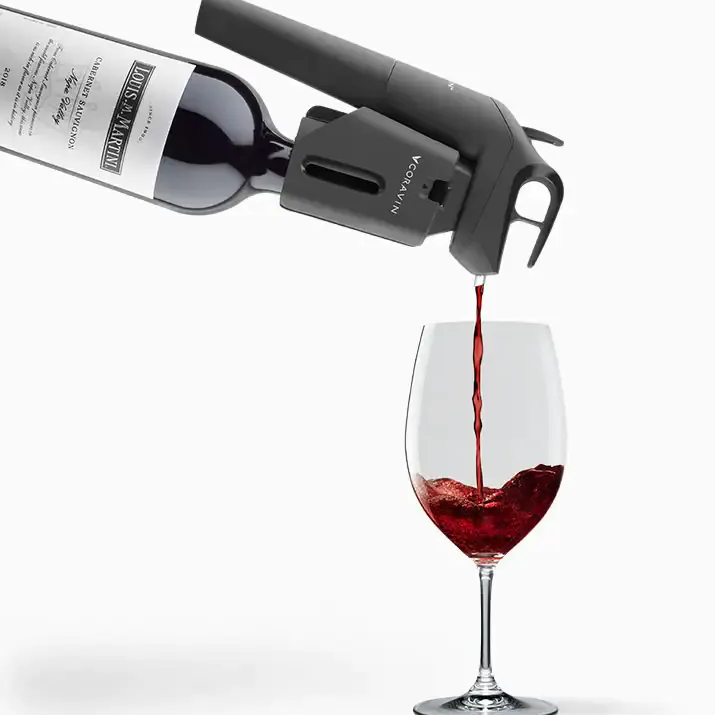 The happy couple will be so appreciative of this innovative wine system. The Coravin allows the user to pour a single glass from a bottle of wine, while still keeping the rest sealed and fresh. How cool is that?