A Planner Dishes on Surprises to Expect During the Wedding Journey
We're taking a look at a few unexpected things to expect during the wedding journey.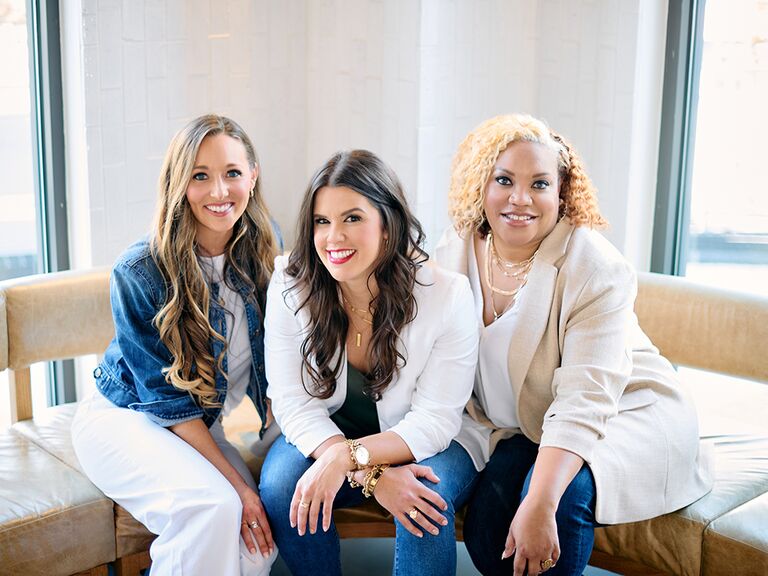 Photo: Eli Turner
Wedding planners have seen it all—the good, bad and ugly with weddings. So if you find yourself riddled with questions amid the wedding planning journey, first-hand advice from a pro is sure to be a valuable asset. We sat down with event planner Danielle Couick, founder and creative director of Magnolia Bluebird Design & Events, to get her take on surprising things about the wedding journey that you should be aware of. While her wedding experience speaks for itself, Couick is also the genius behind The Knot Gala 2022. So basically, she should be your go-to for the inside scoop on weddings. Read on to get her hot take on what to expect when planning a wedding.
1. Wedding Planning Involves Lots of Steps
First and foremost, Couick emphasizes that wedding planning involves lots of layers to get you to the big day. "Couples don't realize just how many decisions there are to be made." Our comprehensive wedding planning checklist has 161 individual tasks, to be exact. Planning a wedding involves everything from creating wedding invitations, a wedding registry and a wedding website to selecting a wedding venue, and linen rentals, writing a wedding ceremony and even creating hotel room blocks for out-of-town guests. Suffice it to say, the wedding planning process is a significant undertaking that requires plenty of time and attention. But the best part is that at the end of your wedding checklist your dream wedding awaits.
2. Wedding Costs Are Rising
If you've never planned a wedding before, the average cost of a wedding may come as a surprise. Couick emphasizes that couples are often surprised by how much everything costs. Moreover, inflation is affecting all industries, weddings included, so she advises to-be-weds to be aware of how "rapidly things are moving and changing." Building flexibility into your wedding budget is a smart move to help with any unexpected costs that may arise.
Along with that, Couick notes that the job of wedding pros is not to get couples every discount imaginable. "You should hire your vendor for their knowledge, relationships, expertise, experience and skill. Not because you think you deserve a cheaper item or service." From your caterer and makeup artist to your florist, all of your wedding pros are working to bring your ultimate wedding to life, but in order to execute all your dream wedding ideas well, they need enough time and money to do just that.
3. Sticking to a Guest List is Hard but Crucial
In order to stay within budget, sticking to a wedding guest list is critical, but to-be-weds are often shocked by just how tricky it can be to create a guest list and abide by it. Some friends and family members may ask for plus-ones and your parents might want to invite all their friends. Throughout the wedding journey, you're sure to encounter lots of opinions on who should and shouldn't be invited. In the end, make sure you and your partner are aligned on a guest count, from there everything else will fall into place. Decide on a headcount that makes sense for your wedding and then hold firm to that no matter what loved ones have to say on the matter.
4. There Are No Hard-and-Fast Requirements
Couick notes that this is especially true with regard to multiday, multievent weddings. "Some couples think there is an expectation for them to host a rehearsal dinner, welcome party, wedding day luncheon, ceremony, reception, after party and brunch... while we have some couples certainly make a weekend of it, there is no preconception or requirement to do so." If you don't want to host multiple events, don't feel pressured to do that—this is your wedding to plan your way.
This fact holds true beyond how many wedding events you want to plan. At the end of the day, the wedding is about you and your partner entering a new life stage together—you're the ones signing the marriage license after all. The opinions, expectations and perceived external requirements of the day aren't the core of what matters. Do you want a destination wedding? Do you want to skip a wedding party and have just a best man and maid of honor? Do you want a cash fund instead of wedding gifts? Ultimately, your personal answers to these questions should inform how you plan your own wedding.
Along with that, social media is full of lots of wedding ideas and lots of wedding opinions. While it can be a nice place to find inspiration, don't let the opinions of those on social media derail you from having the wedding of your dreams, whatever that looks like.
5. Your Wedding Planner is Not Your Therapist
"Your wedding planner is not a magician, your therapist or your best friend," says Couick. "While we all likely possess some or all of these qualities, it is important that you understand that your planner is a professional and should be treated as such." This goes for all wedding vendors, from your officiant to your videographer, the pros you hire for your wedding are your event team but they aren't your therapists.
"Somewhere along the way, the boundaries have been distorted and there is some unspoken expectation that planners should be available at all hours and days of the week. This is simply not true. While wedding vendors don't keep bankers' hours and are grateful for our flexibility, we are human and have friends, families and hobbies as well and relish our evenings and weekends as well. We realize everyone has different availability as well. We recommend being upfront about it so you can find the right fit."
6. Wedding Planning Shouldn't Consume Your Life
Just like couples should have boundaries with their wedding planners, they should have boundaries with all aspects of the wedding journey. "Wedding planning should not be all-consuming," advises Couick. "Just because you are engaged, work, holidays, vacations, normal conversations should not cease to exist. Hiring a professional and experienced planner is one of your best resources in maintaining somewhat of an equilibrium during your engagement."
Many couples choose to turn wedding planning activities into date nights to help bring some balance to the process. Maybe you go wedding ring shopping and finish the night with a nice dinner. Or spend an evening at home reviewing RSVPs and getting to work on your seating chart. Balance looks different to different couples, but it's important to everyone, no matter what your wedding style or wedding date.
7. Kindness Matters
This shouldn't come as a surprise but bears repeating nonetheless. Kindness matters. "Yelling at people does not actually get favorable results," says Couick. Last-minute things are sure to crop up, and wedding stress will creep in, but it's key that you remain kind amid it all.