7 Ways to Color Your Candy Buffet
It's National Candy Month! Celebrate your love of all things sweet with a decorative display that doubles as a DIY favor station.
1. Cream and Gold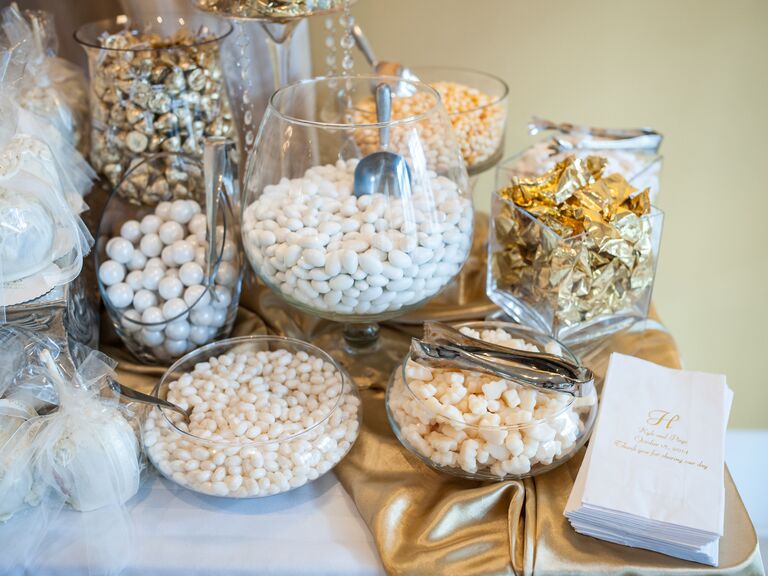 For the most glamorous looking candy bar around, limit your color scheme to gold wrappers (a.k.a. Twix, Reese's, Rolos, or Almond Hershey's) and white coated candies. It's also a good idea to supply different serving utensils, like tongs, ladles, and scoops, so each treat can be doled out with ease.
2. Brown and Arctic Blue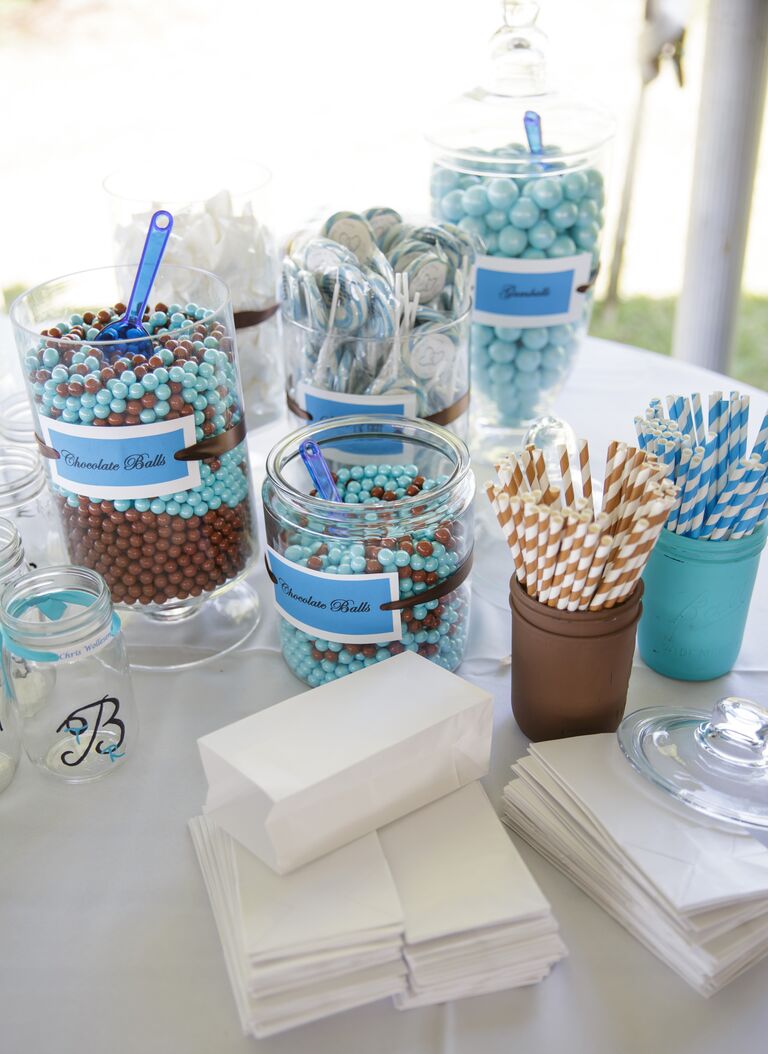 Is brown one of your wedding colors? Chocolate lovers rejoice! Let the milk and dark varieties speak for themselves and pick another color to add to the mix. If mocha isn't your chosen hue, fret not, chocolate can add sweetness to any set up. Keep in mind, chocolate can get messy (and melts!), so you might want to consider hiring an attendant to keep things looking tidy.
3. A Rustic Rainbow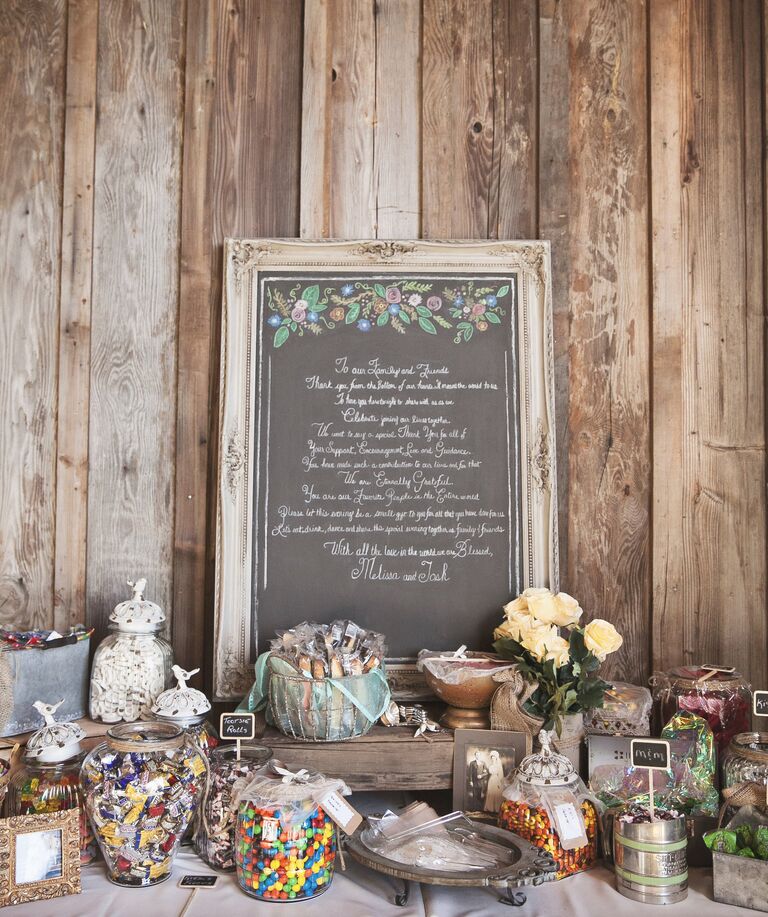 If you can't decide on a color scheme, dress up your buffet in neutrals with glass apothecary jars and let the varied candy colors take center stage. This is a good approach if you're more focused on the types of sweets you want to serve (like your hometown's specialty gooey caramels).
7. Kelly Green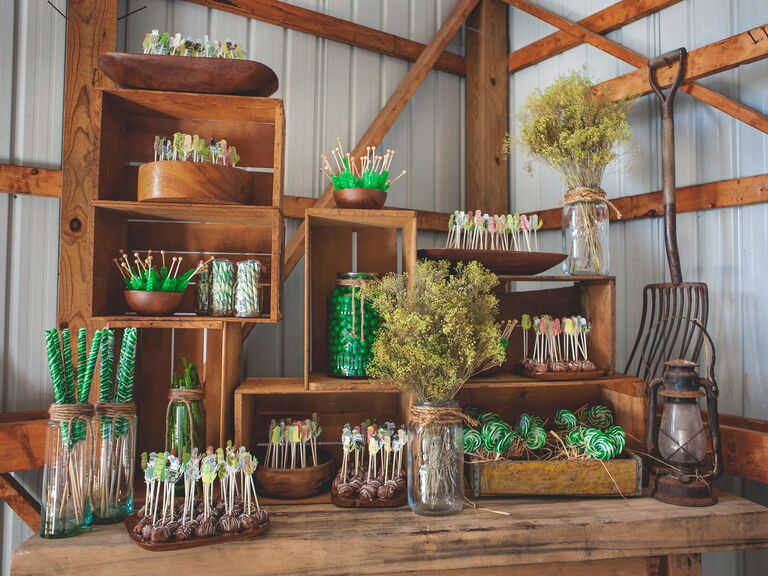 You don't need multiple colors to make a statement, pick one hue and go all out from the candies to the surrounding decor. For venues that are more susceptible to heat, this spread of rock candy and old school lollies is ideal—no melting messes to worry about.
5. Purple and Green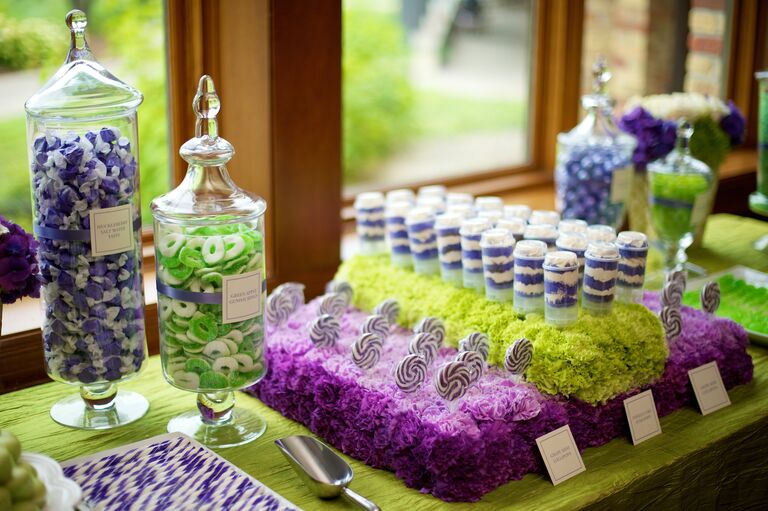 For a candy bar that won't soon be forgotten, opt for a striking color scheme of green and purple—perfect for spring and summer celebrations. We especially love the mix of vessels and the old school lollipops! Worried about quantity? Plan on about 1/4 pound per guest to keep the buffet well stocked.
6. Turquoise and Lime Green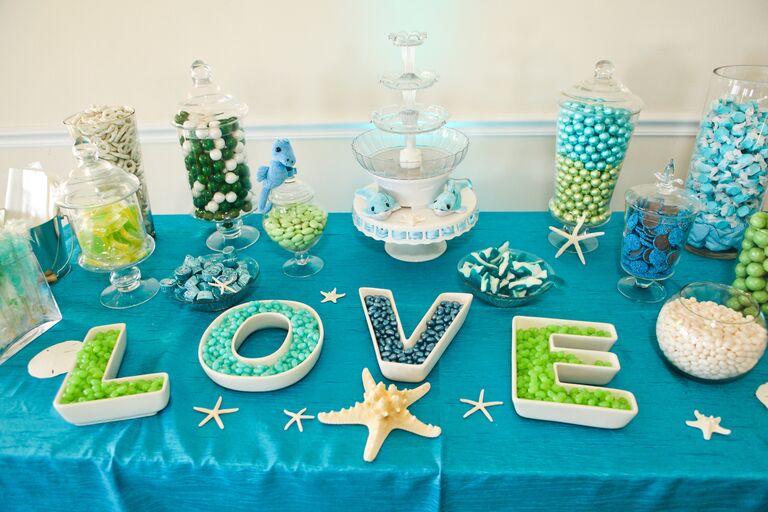 A sea of lime green and aqua blue treats are perfect for the destination wedding or beach side reception (don't forget the saltwater taffy!). Layer the colors in jars or use unique vessels, like these lettered dishes, to house treats.
4. Cherry Red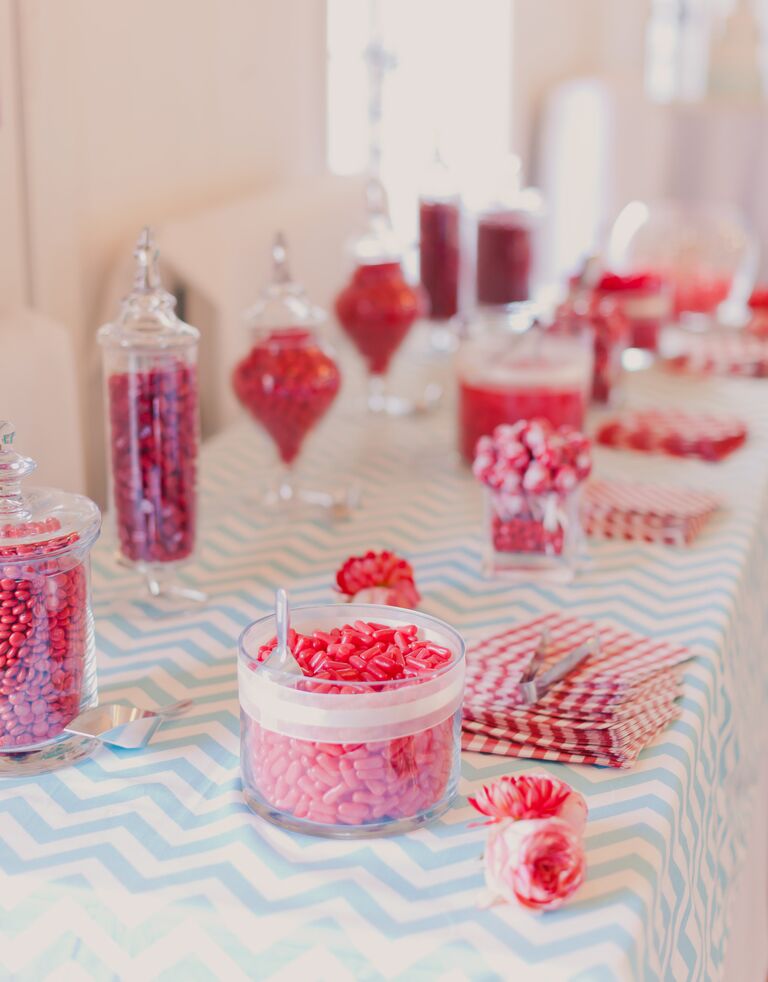 Let cherry red-colored candies like Tootsie Pops, Mike and Ikes, and M&Ms anchor the table. For a preppy look, add a mix of stripes and chevron to the table's design in the form of treat bags!