Edible Wedding Favor Ideas (That Ship Nationwide!)
Whether you want to supplement your dessert bar or send guests home with something sweet, we've got all the best goodies you can order now.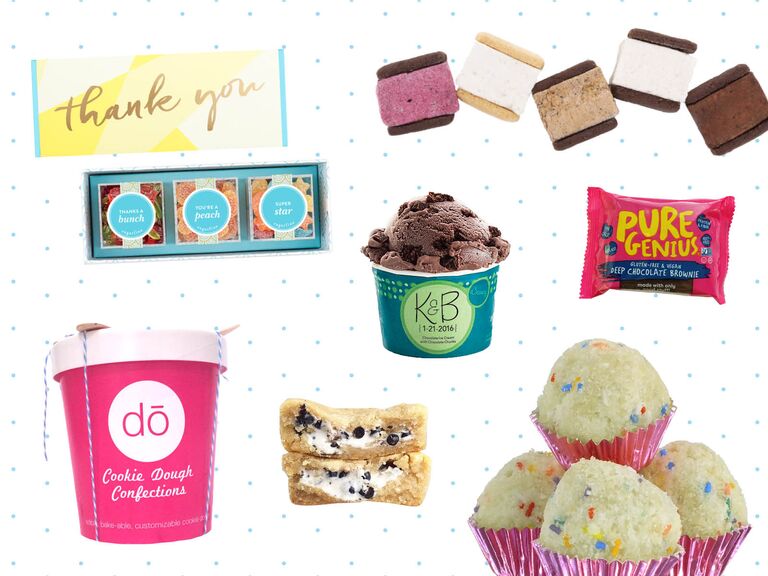 If there's one thing we know about weddings, it's that edible favors never get left behind. Of course, favors aren't required, but they're a nice way of showing your guests that you appreciate their support (and attendance!). What we love about edible wedding favors is that they're practical—aka instant gratification. For weddings with lots of out-of-town guests, a take-away treat means they can enjoy it right away and won't have to worry about packing something extra into their bags for the trek home (or worse, leave it behind altogether). Pro tip: Plan for about 10 extra favors for every 100 guests, in case any go missing.
When thinking about your favors, keep in mind that they're going to leave a lasting impression. Pick something fun that speaks to your wedding theme or personality as a couple! Are you and your hubby always on the hunt for the best French macarons? Maybe you're frequent visitors at a local ice cream parlor? Treat your guests to an indulgence that you both love.
Whether that's something sweet, foodie-worthy or a ridiculously Instagrammable confection, we've got every kind of edible wedding favor to choose from. Not only that, but all of these tasty treats will ship right to your door!
1. Mini Macaron Favors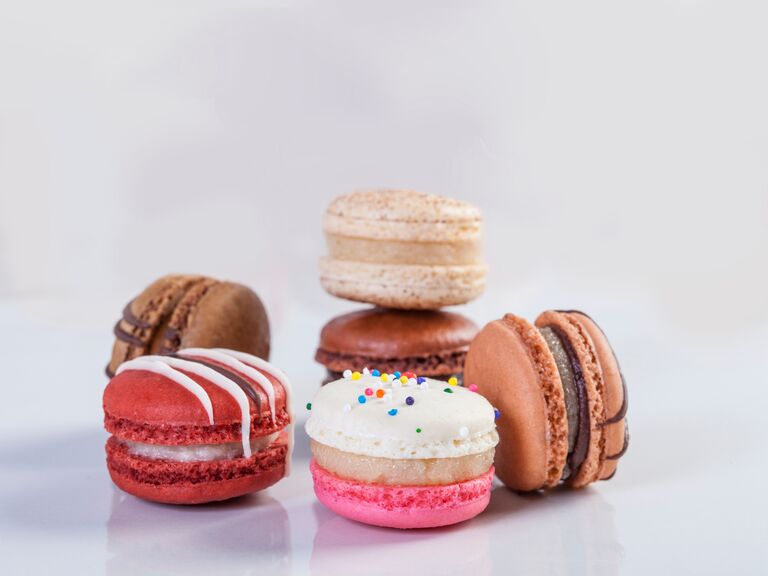 Earlier this year, Baked by Melissa launched a sweet new spin on French macarons, introducing bite-size treats in classic dessert flavors like sugar cookie, double chocolate, red velvet and snickerdoodle. (They're also gluten-free!)
Baked by Melissa macarons, $20 for 25, BakedbyMelissa.com
2. Popcorn Favors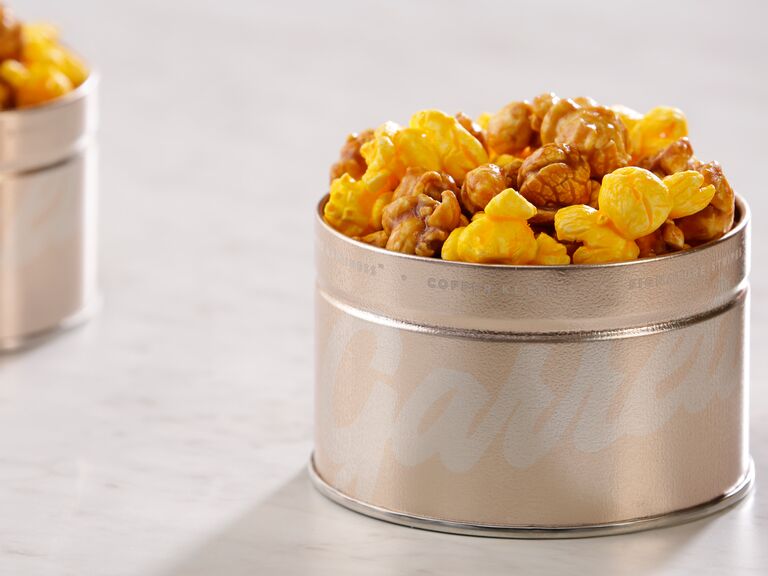 You'll be hard-pressed to find a guest who wouldn't want to take this iconic popcorn home. A delectable combo of caramel and cheese—Garrett's signature mix—it's savory and sweet at the same time.
Garrett Popcorn handcrafted Garrett Mix, $150 for 24 half-quart tins, GarrettPopcorn.com
3. B'day Cake Truffle Favors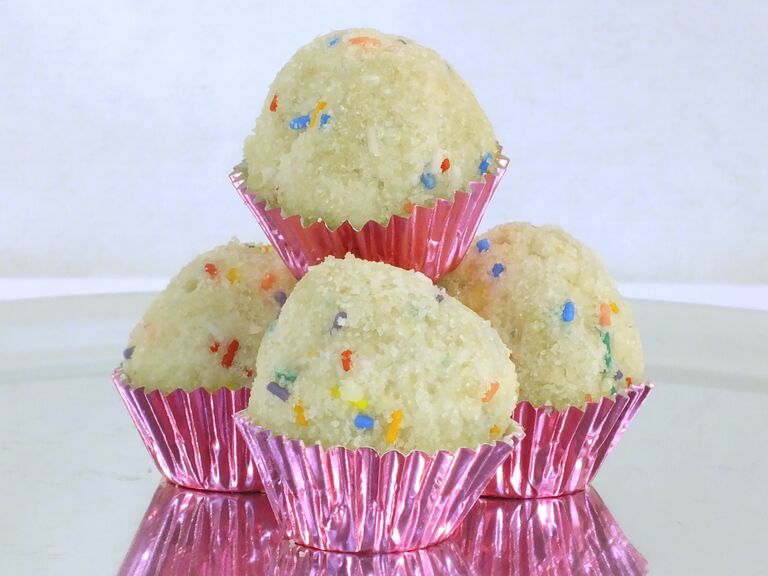 Allow us to introduce you to the ultimate truffle: vanilla rainbow cake mixed with vanilla-infused milk, coated with white chocolate and rolled in rainbow cake crumbs. Pop these little guys in pretty foil cups (coordinated with your wedding colors, of course) and place them in the middle of each guest's place setting for the perfect presentation.
Milk Bar B'day truffles, $24 for 12, MilkBarStore.com
4. Whoopie Pie Favors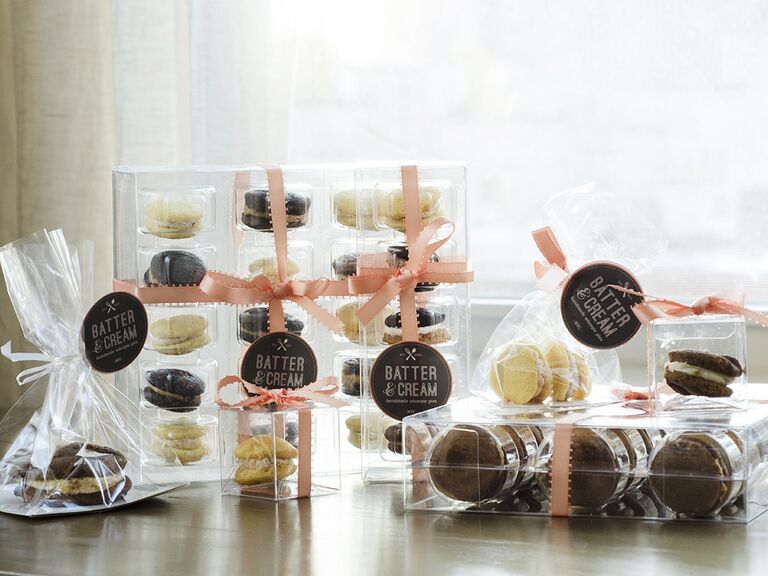 These aren't just any old whoopie pies. With their creative flavors (fig honey goat cheese, anyone?) these treats are fit for a foodie. Worry your guests might not be that adventurous? They have the classics like double chocolate and vanilla too. Everybody wins!
Batter & Cream whoopie pie favor box, $16 for 10, BatterandCream.com
5. Custom Ice Cream Favors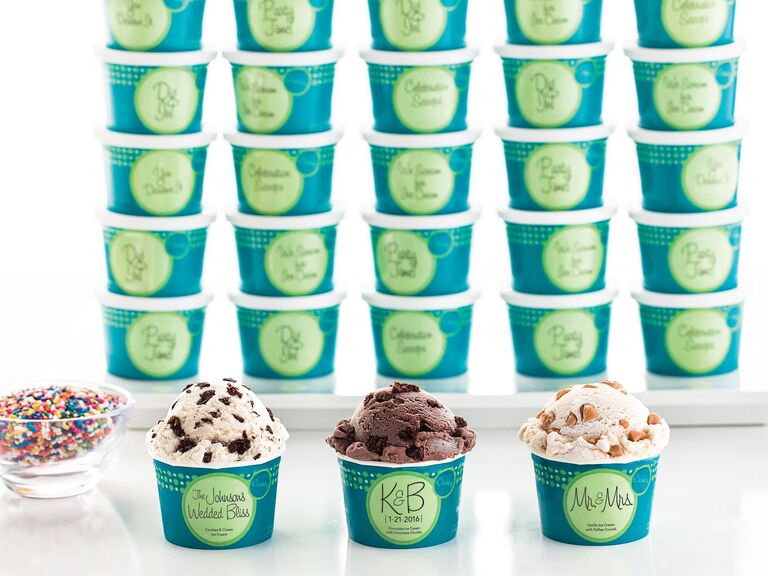 With eCreamery, you can choose from more than 30 flavors and 40 add-ins to make a custom ice cream combo all your own. The packaging can even be personalized with a fun logo or monogram. And for any guests with dietary restrictions, there's also dairy-free, gluten-free and gelato options. Just make sure to coordinate this delivery with your venue—you don't want these sitting out for too long!
eCreamery custom cups, $100 for 24, eCreamery.com
6. Marshmallow Sandwich Cookie Favors
Not only are these marshmallow cookies totally unique, they're also made with fair trade ingredients and zero artificial preservatives. Pick from fun flavors like raspberry hibiscus and spiked espresso. Thinking of having a hot chocolate bar at your winter wedding? Station these next to the cocoa for a perfect pairing. (Bonus: You can even customize the packaging for a personalized wedding favor!)
Malvi Marshmallow Confections custom marshmallow cookies, $7 for 4, MalviMallow.com
7. Brownie Favors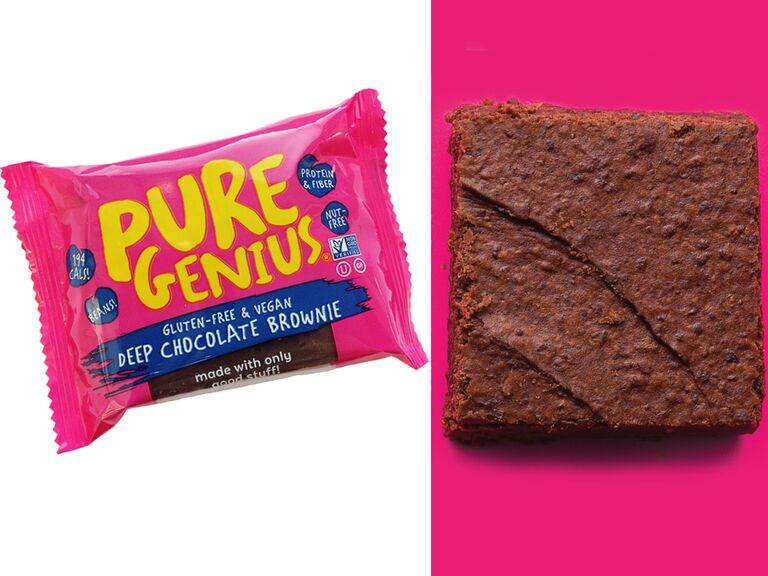 Have a handful of guests with dietary restrictions? Have something delicious on hand for them too. These treats are vegan, gluten-free, nut-free, soy-free and kosher. Basically, Pure Genius covered all the dietary bases and still slayed the brownie game.
Pure Genius Provisions deep chocolate brownie, $40 for 16, PureGeniusProvisions.com
8. Boxed Candy Favors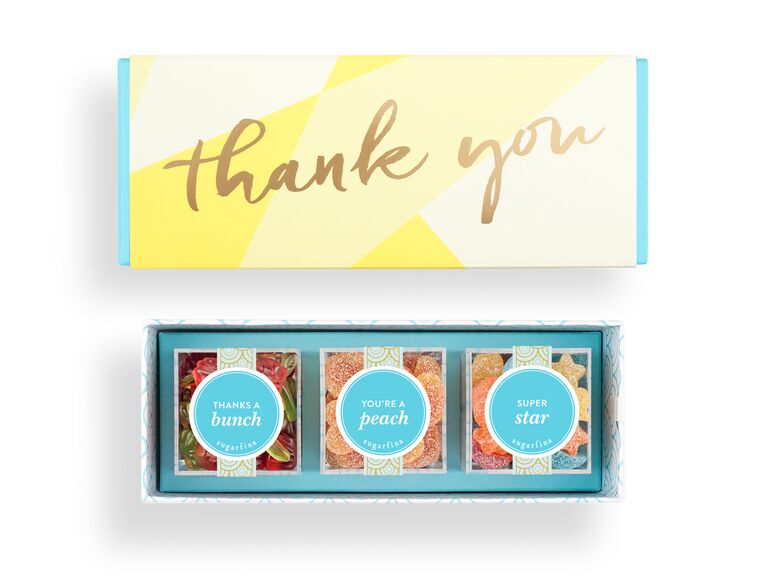 If you're thinking about giving favors out by the couple, these festive candy boxes look the part and have enough to share. Make sure someone double-checks the seating chart! You don't want your single friend going home empty-handed because they were seated at a chair meant for a spouse.
Sugarfina Thank You box, $26, Sugarfina.com
9. Cake Pop Favors
A mini bite of cake on a stick is the perfect grab-and-go treat. And with frosting like this, they double as wedding day décor. Have a bow tie clad waiter stationed by the exit to send guests off with something sweet in a grand way.
New York Cake Pops, from $39 for 12, ShopNYCakePops.com
10. Cookie Dough Favors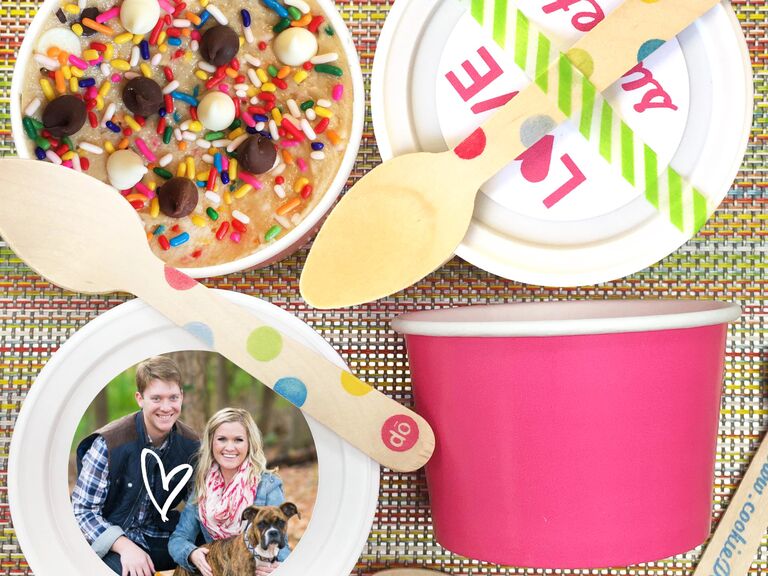 Perfectly safe to eat or bake—if you can wait that long—this cookie dough is available in 20 different flavors, most of which can be made vegan or gluten-free. We guarantee there won't be a single one left behind! (Maybe to the newlyweds' dismay.)
Cookie DO NYC cookie dough, $5 for a 4-oz. container, CookieDONYC.com
11. Cake in a Jar Favors
Surprise your guests with a take-home dessert that's as pretty as it is delicious. What do we love about this design? The exposed cake and frosting layers mimic a naked cake, but in a travel-friendly container!
Jars by Dani assorted large jars, $30 for 5, JarsbyDani.com
12. Boxed Brownie and Blondie Favors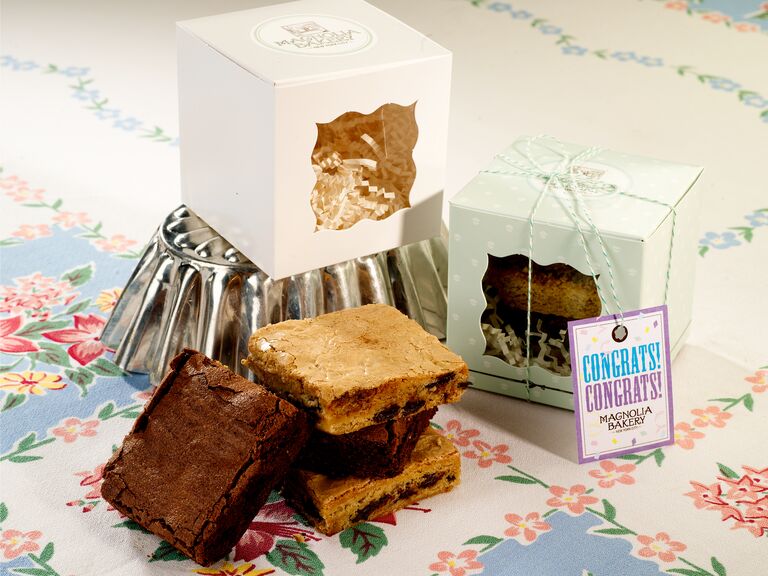 Two classics in one box: Each of these sweet favors has two brownies and two blondies packed neatly inside—even still, we're guessing no one will want to share. (We love the idea of pairing a late-night ice cream bar with these treats.)
Magnolia Bakery blondie and brownie favor box, $18, MagnoliaBakery.com
13. Flavorful Macaron Favors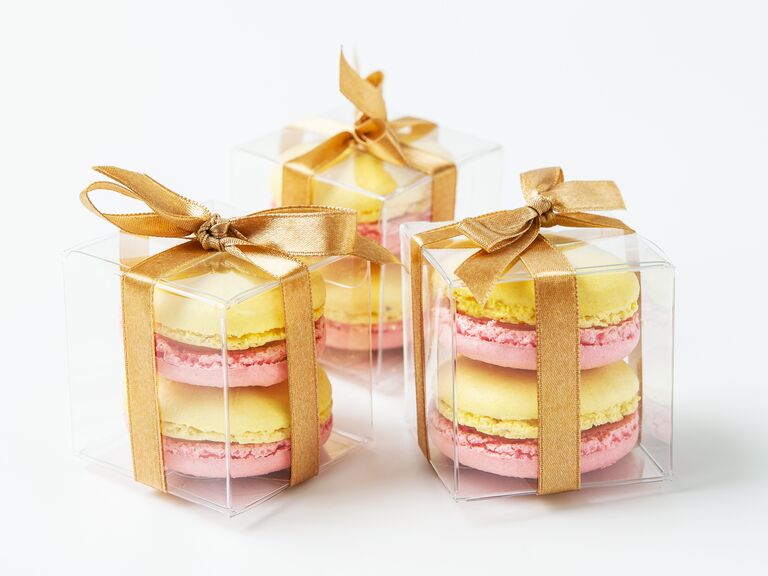 We love macarons, but we especially love macarons that push the envelope! These tasty little treats come in totally unique flavors, like chocolate-chip mint, chocolate lavender, passion fruit and white chocolate cherry. And you can rest easy knowing these are already perfectly packaged with pretty ribbon—total win.
Woops! macarons, $5 for 2-piece favor box, ByWoops.com
14. Cotton Candy Favors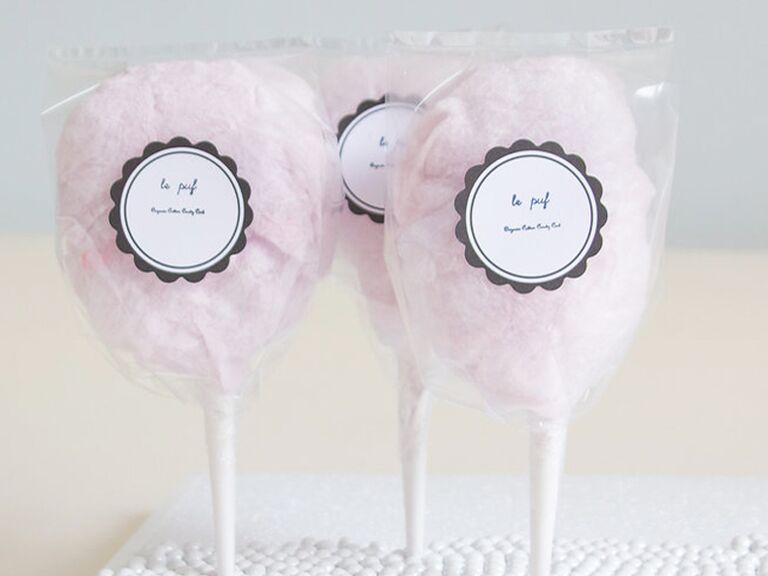 As if guests aren't already going to be pining over this childhood favorite, Le Puf offers amazing cotton candy flavors like cheesecake (and it's organic).
Le Puf cotton candy cone favors, $4, LePufOrganicCottonCandy.com
15. Crispy Treat Favors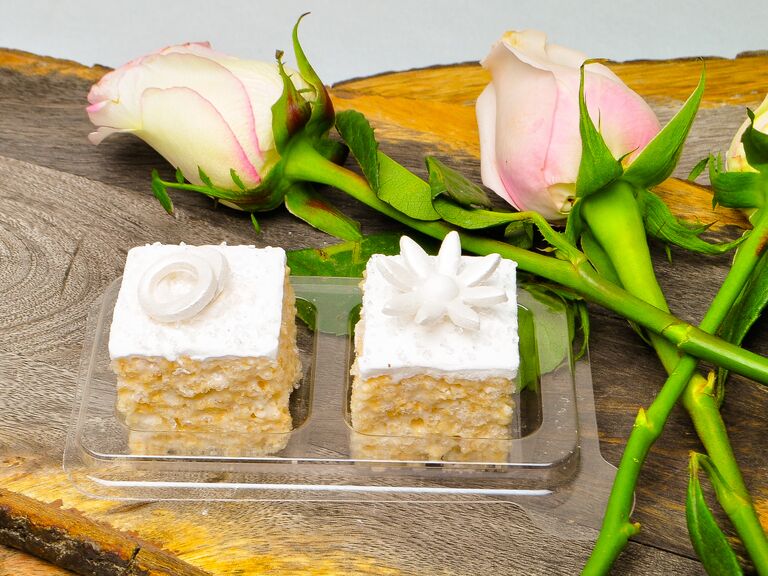 Touch on that childhood nostalgia with some bite-size crispy treats. But this gourmet version is totally fit for grown-ups. Their two-pack box is perfect for one predinner appetizer and one after-party pick-me-up.
Treat House treats, $7 for 2-pack favor box, TreatHouse.com
16. Cookie Cup Favors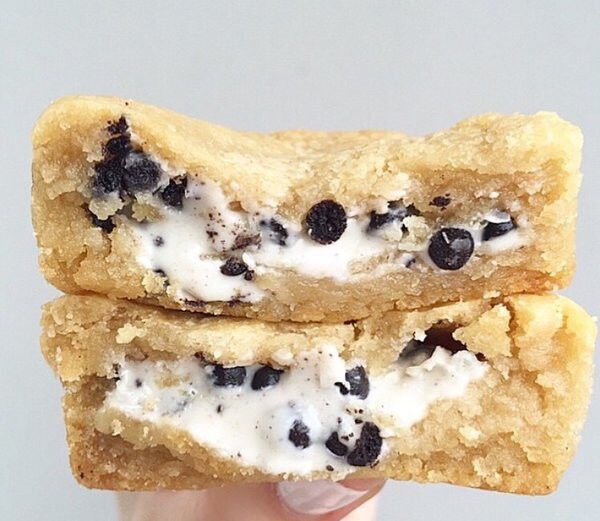 Imagine the faces of all those people who RSVP'd "no" when they see these insane cookies under your wedding hashtag on Instagram. These delectable cookie cups combine two amazing flavors: exterior cookie shells (chocolate chip, sugar, cinnamon, etc...) while sandwiching a core of filling, from butterfingers candies to spoonfuls of Nutella.
MdoughW cookie cups, $4, MdoughW.com
17. Chocolate Covered Pretzels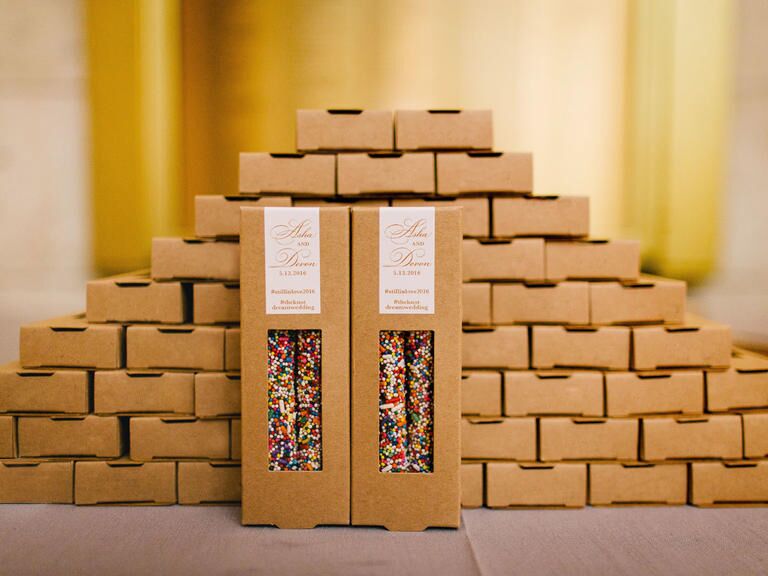 You can't go wrong with sweet and salty, especially when there are rainbow sprinkles involved.
Fatty Sundays milk chocolate pretzels, from $6, FattySundays.com