17 Wedding Favor Displays That Will Grab Guests' Attention
Favors left behind after the reception? Not a chance.
When you've put in the time and money to find great wedding favors, the last thing you want is for guests to miss them altogether. And since favors nowadays can be anything from customized cookies to reusable drinkware, dreaming up a unique wedding favor display that's equally as memorable calls for some creativity. How and when to display your wedding favors depends on exactly what you're gifting, but you can get started with these ideas that feel like an extension of your wedding reception decor, rather than an afterthought.
In this article:
Wedding Favor Display Tips
You can display your wedding favors on a table, but you don't have to.
If you're looking for a no-frills, simple way to display your wedding favors, setting them on a designated table is the easiest option. You can add decorative signage, organize them into baskets or add custom thank-you tags if you want, although it's not necessary. Be sure to place the favor table somewhere near the main entrance/exit at your venue or close to other areas of focus, like the guest book table or wedding cake table.
Showcase your wedding favors as escort cards.
If you're adding an escort card display to your wedding decor, lead guests to their seats with a thoughtful item that serves double-duty as a wedding favor. Tag bottles of infused olive oil with guests' names, write table numbers on mason jars or engrave keychains with people's corresponding seating assignments.
Present your wedding favors at individual place settings.
What better way to welcome your wedding guests to their seats than with something for them to take home? Taking the time to add favors to your place settings requires a bit of work on the front end, but you won't have to worry about handing them out later (when you should be on the dance floor).
Display your wedding favors near the exit.
It doesn't have to be grand, but a special table or wedding favor display on the perimeter of the room is always a great idea (and an unexpectedly fun reception shot to have in your photo album). Where the display goes should depend on what type of favors you're handing out. Are they customized sunglasses, flip-flops or party poppers? Place your favor table near the dance floor so people can grab them mid-celebration. Items that are meant to be used postwedding, like personalized matchboxes, candles, koozies or hangover kits, can be placed near the exit—the best place to ensure they're not forgotten. Are they edible wedding favors meant as a midnight or morning-after snack? Talk to your wedding planner or venue staff about setting up the display later in the evening so no one spoils their appetite.
Make your wedding favor display interactive.
Assembling wedding favors is usually on the to-do list in the weeks leading up to your wedding, but what if we told you there's another way? Opting for an interactive favor instead of tangible items means you're off the hook when it comes to stuffing goodie bags or tying ribbons on favor boxes. Plus, it gives guests the opportunity for an even more memorable experience. Set up a bouquet station for take-home flower arrangements, create a cigar lounge, hire a watercolor artist to create custom portraits or send guests home with treats from a self-serve doughnut bar.
Surprise your guests with unexpected wedding favors.
Edible wedding favors like cookies, macarons and popcorn are great for guests who are in a snacking mood after the wedding. But if you're looking for even more unique ways to spoil your friends and family, treat your guests to something unexpected, like a food truck, coffee bar on wheels or late-night snack delivery. Bring the treats out toward the end of your reception, or have the vendor park right outside the wedding venue so guests can grab something tasty their way out. They'll love ending the night on a high note.
Wedding Favor Display Ideas
1. Gold Étagères
Bulky favors, like tote bags, pashminas, T-shirts or blankets, can be rolled up or folded and placed on open shelving units. The great thing about this option is that you don't need to add much else (except maybe a playful sign or small floral arrangement).
2. Woven Baskets
Baskets can instantly help your wedding favor table look more organized and styled. Choose baskets that reflect the overall wedding theme: woven straw baskets are great for beachy or casual styles, while metal baskets will evoke a modern look.
3. Miniature Rowboat
If you're getting married by the water, a mini rowboat is a creative way to present favors that are easily stackable, like these drink koozies.
4. Paper Bags
Package cookies, candy or other sweet treats in paper bags decorated with your names or a cute design. It's a simple way to add a personal touch without doing an over-the-top wedding favor display.
5. Angular Bookcases
Sturdy bookshelves are ideal if you have favors that need to be standing upright, like bottles of wine or champagne. You can add pizzazz to the display by completing it with a decorative backdrop featuring a quote, your wedding hashtag or fresh flowers.
6. Gift Boxes
If you're putting favors at individual place settings, package them in containers or bags that complement the rest of your table decor. Block off your calendar and enlist your bridesmaids (or other wedding party crew) to help the packaging process go by more quickly. These mini boxes of jordan almonds are finished with raw silk ribbons and place cards, making each one feel like a personal wedding gift for the guest.
7. Wooden Crates
Use wooden crates in different sizes to add height to a basic wedding favor display table. This is a great option if you have a lot of favors to squeeze into one area—the crates act as makeshift shelves, doubling the amount of space.
8. Patterned Wallpaper Backdrop
A vertical shelving display featuring an eye-catching backdrop ensures that guests can't miss your wedding party favors. Use patterned fabric or wallpaper to create a focal point and add personality to the reception space.
9. To-Go Snack Containers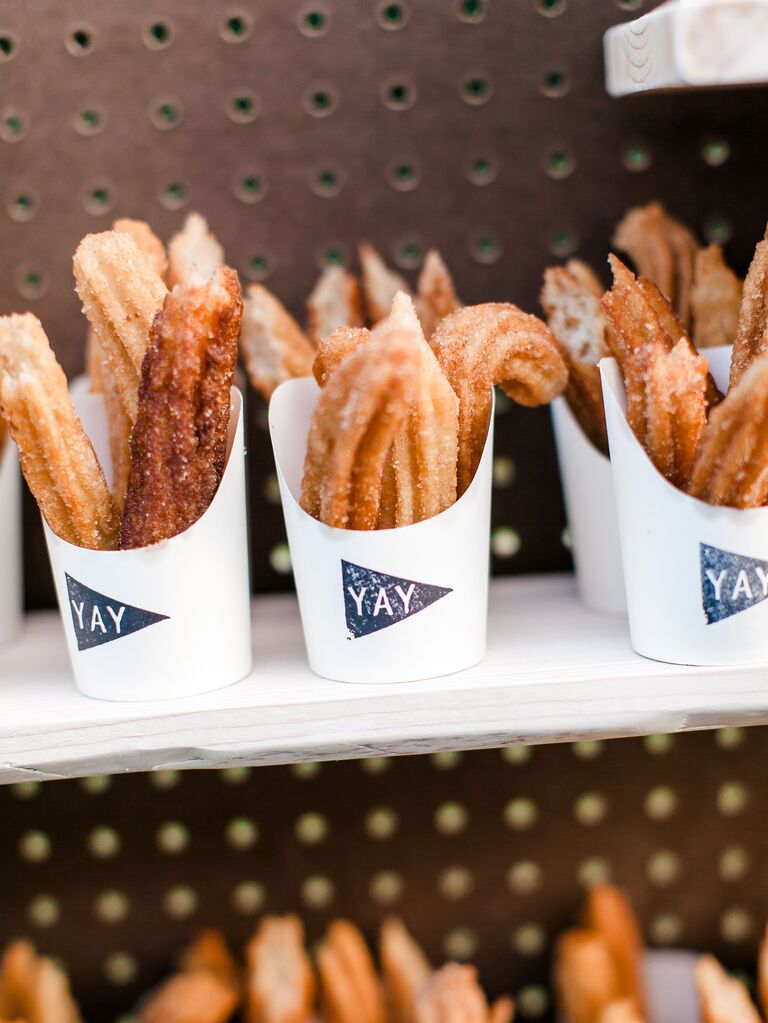 Make it easy for your guests to enjoy a late-night snack or other edible favor by serving up the goods in a convenient to-go package, no plates or napkins required.
10. Vintage Vanity
Thrifted pieces or decorative rental furniture can do wonders for your wedding favor display. Use a vintage vanity if you're having a rustic theme (it's also a cute idea for bridal shower favors).
11. Clothespin Lines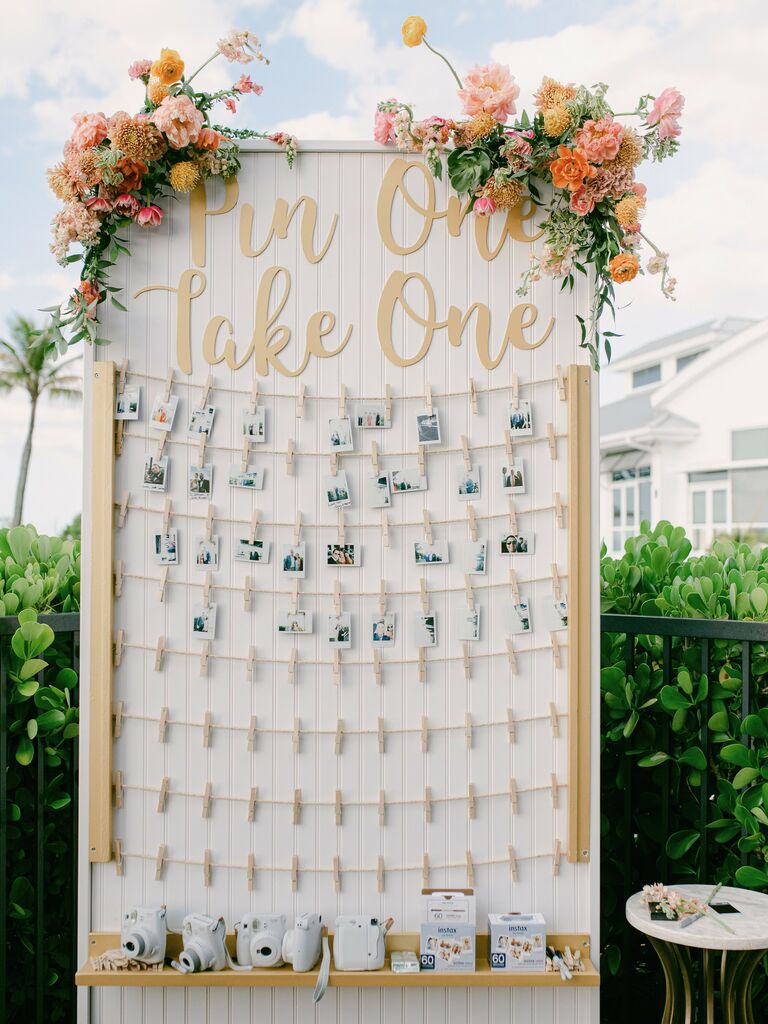 Favors that are flat and lightweight, like these Polaroid photos, can easily be displayed using clothespins and twine. Feeling crafty? Create your own by mounting a folding drying rack vertically onto a wooden panel.
12. Repurposed Ladder
Transform an ordinary ladder by adding wooden planks across each set of rungs. The finished product is perfect for stacking petite wedding favors, such as potted succulents or cupcakes.
13. Pegboard Wall
All you need is a couple of pegboard sheets and hooks to recreate this DIY wedding favor display idea. Use it to hang items with handles or loops, like mugs, ornaments or personalized luggage tags.
14. Custom Shelf Installation
Looking to max out the decor on your wedding day? A custom wedding favor installation is guaranteed to make a statement. This boho chic shelving unit was personalized with a sweet quote above rows of boxes containing handmade truffles.
15. Metal Wheelbarrow
For charming cottagecore vibes, display seed packet favors in a vintage wheelbarrow at your rustic wedding.
16. Retro File Card Cabinet
A vintage file card cabinet and jars of homemade jam are an adorable duo for a Southern-style wedding.
17. Neon Sign Wall
If you've been wondering how to pull off a trendy neon sign for your big day, here's your answer. Hang it above your wedding favors to create a focal point guests will immediately notice.