5 New Ideas That Top Wedding Pros Are Loving Now
We got to hang with some legendary talents and the rock stars who hosted the event. We're back with inspo you need to see.
JOHN CAIN PHOTOGRAPHY
Three times a year, luxury wedding leaders gather for learning, relationship building and some serious partying (even the after-parties have an after-party) at Engage Summits. Pack all that genius into one spot (this year in Sea Island Georgia) and seriously cool stuff happens. Many talented wedding pros (Preston Bailey, Mindy Weiss, Marcy Blum and Sylvia Weinstock) contributed to making this summit—hosted by Kathryn Arce and Rebecca Grinnals—extraordinary. From décor to entertainment and food, there were so many wow-worthy details. Here are some of our favorite ideas to steal for your wedding day.
1. Have a Performance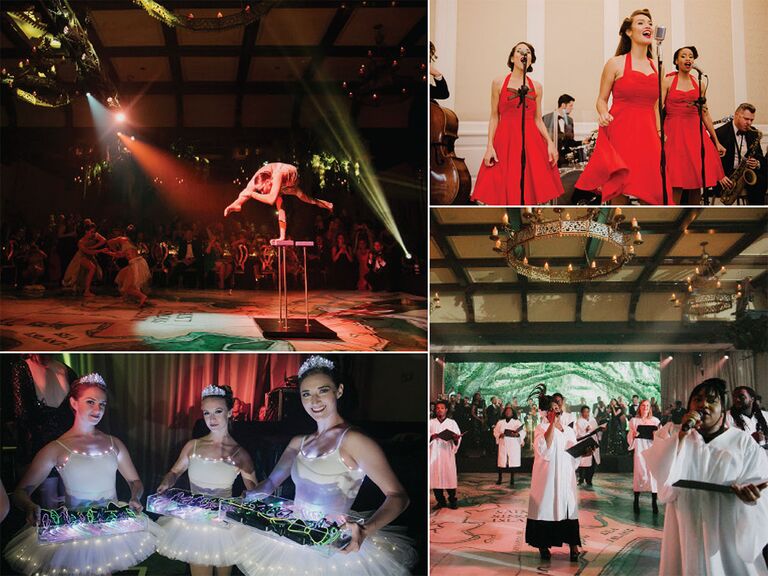 You've probably already budgeted for a band or a DJ, but don't stop there. Performances are huge—both as a way to entertain your guests and as a transition element between moments, like cocktail hour and dancing. We saw ballerinas, masked modern dancers, a contortionist and a poet, all paired with a team of stellar musicians. There was even a Silent Disco—we all wore headphones and rocked out.
Make It Yours: Try pairing music with a performance element. Don't have the budget for six ballerinas? See if your local school or church has a choir that can belt out a modern tune, like Beyoncé's Love on Top. Have a noise ordinance at your outdoor locale? Give your guests headphones and let them dance into the wee hours.
2. Feed Your Guests Well
Self-serve bars and food installations, like a plethora of desserts displayed on shelves, give your friends and family something to do and talk about. It's also a great way to personalize your day with your favorite foods. We helped ourselves to a lazy Susan of sandwiches at lunch, a twist on serving a meal family style. The presentation at every buffet was out of this world—the breakfast fruit bar was a total work of art and had people (snap)chatting together as they made their picks.
Make It Yours: Incorporate your favorite local eats, wheel a gelato cart onto the patio of your venue or set up a wall of sweet treats to double as take-home favors. Think about creative ways to present your food: Suspend your cake from a hanging table or offer single servings of dessert.
3. Bring the Outside In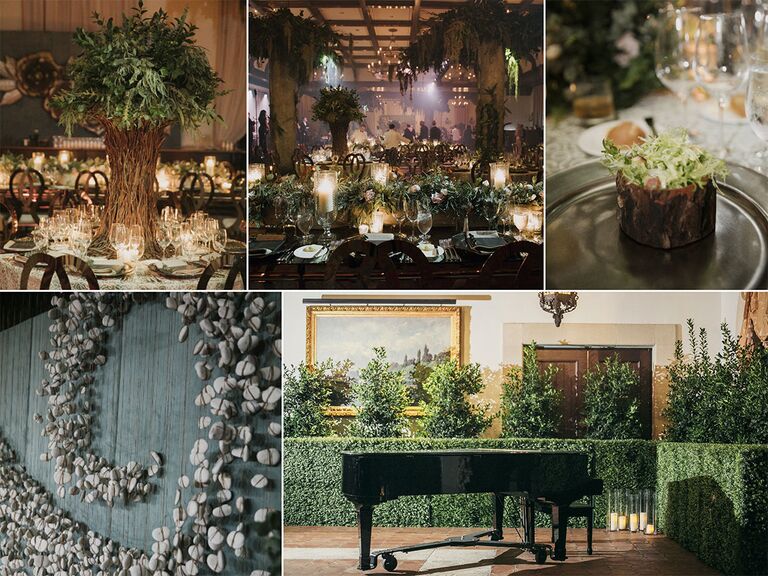 Décor trends are going au naturel. If you can't party in a forest, bring the trees to you. Nature was worked into virtually every element from boxwood escort card displays to slate menus and tree trunk bowls for salads. A cart of fresh flowers added a lush touch to lunch, while a stone installation in the form of a wave was an incredible backdrop for presentations (and really, how cool would that be for a ceremony backdrop?).
Make It Yours: If you're getting married inside, rent some potted trees to add drama to the space with little effort. Or add natural elements like stone and wood into your centerpiece and escort card displays.
4. Surprise and Delight With Gifts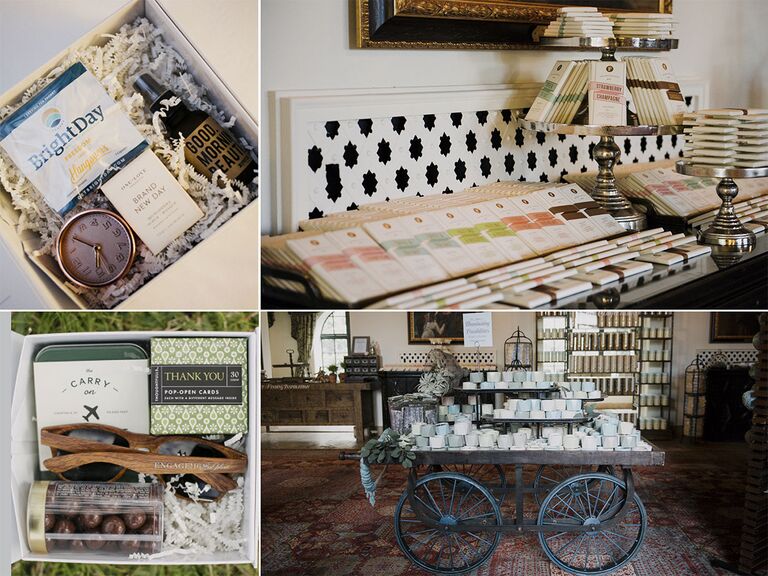 Nothing says thank-you like a well-thought-out welcome bag or decadent parting gift. And the Engage team totally got that. A "gift boutique" offered up tons of treats from caramel popcorn to fragrant candles and speciality skin care. Best of all: You chose just what you want—the ultimate welcome bag. Turn-down service was paired with surprises too, like a moisturizing spray and a carry-on cocktail mix for the trip home.
Make It Yours: If you're having a destination wedding, welcome your guests with a gift lounge and let them choose their snacks and sips. Include a list of your favorite spots in the area and a local specialty too. Or say thank-you and goodnight with breakfast for the morning after or a treat for the journey home.
5. Theme Your Cuisine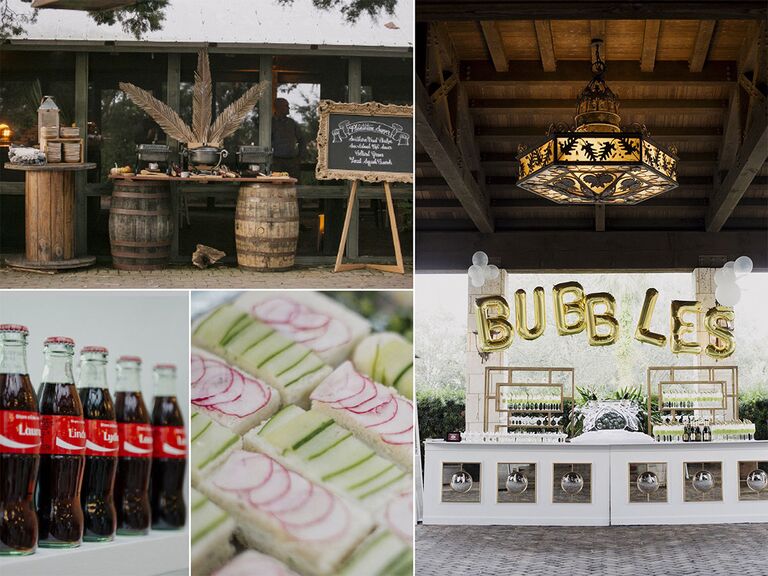 Nothing brings a crowd together like a good meal or a delicious indulgence (think: Parmesan dusted fries or throwback funnel cake). From a Southern supper to an English afternoon tea, every meal and snack at Engage had an underlying theme—sometimes rather subtle, but it was always there. A bubble bar was a fun twist on a signature sip while personalized Coca-Cola bottles made every attendee feel extra special.
Make It Yours: Theme your meal to include your favorite flavors—this is a great way to personalize the menu. Have a cake flavor you love? Include it! If you're having a destination wedding, try to incorporate some regional cuisine into the celebration or your favors.
And there's way more to see! Check out the Engage Instagram and the video of the event below for more inventive inspiration!