12 Wedding Experts You Need to Follow On Instagram
Instagram = instant wedding inspiration. Here are some pros to watch (and some "double-tap" worthy photos) to spark your planning.
by The Knot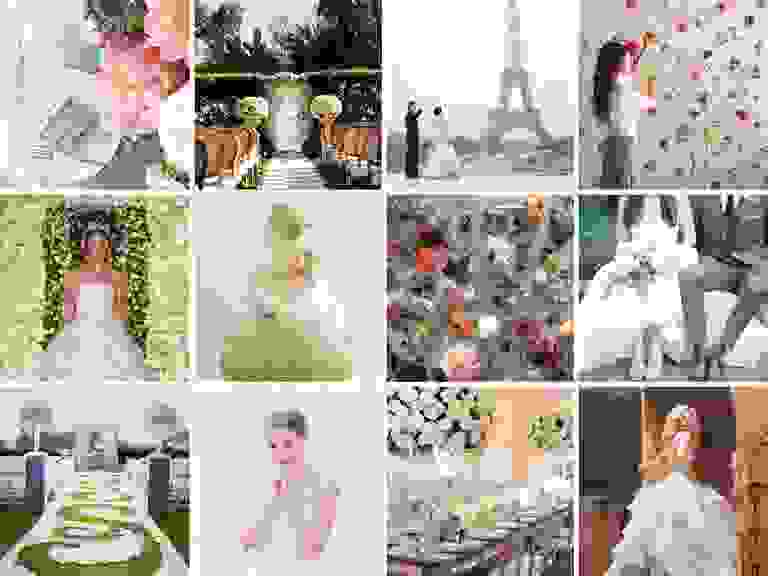 From floor-to-ceiling floral installations to the most jaw-dropping cakes around, you can find some serious wedding inspiration on Instagram, and we've rounded up the hottest pros to put on your radar now. Sure, it's fun to look at pretty pictures, but it's also super helpful to start gathering images of trends you like and ones you don't, then sharing them with your planner, designer or florist, so they can get a clear idea of your ultimate wedding day vision. Now, get ready to double-tap...
1. @JennaraeCakes
If you can dream it, Jenna Rae Illchuk can make it. This Canada-based, self-taught baker and cake designer serves up sweet inspiration. You'll love her wedding cakes and find it hard to say no to her French macarons and chocolate gems.
2. @MaggieAustinCake

From delicate ruffles to strikingly realistic sugar flowers, Maggie Austin's designs are true works of art. You'll be double-tapping every confection.
3. @MoonCanyon
If you like wild, totally untamed flowers, Kristen Caissie is your girl. The Los Angeles–based floral designer creates inspiring bouquets, centerpieces and wow-worthy wedding installations.
4. @Reem_Acra
Straight fashion and no fluff, Reem Acra has your daily fix of gorgeous designs and glamour. Stunning wedding gowns, accessories and backstage videos abound in this well-curated glimpse into her fabulous world.
5. @MissHayleyPaige
Hayley Paige designs some of the absolute hottest wedding gowns out there right now (think: studded harnesses and crop tops), and her feed is just as fresh as she is. If you're a fan of unicorns, champagne and all things whimsical and fun, Paige's photos will add some sparkle to your daily life.
6. @KarenTranEvents
Karen Tran knows how to dazzle—lush ceremony arches, gorgeous petal-lined aisles and unbelievable centerpieces fill this floral designer's feed. Inspiration overload!
7. @BowsandArrowsFlowers
Alicia and Adam Rico create stunning, slightly undone floral arrangements, like cascading bouquets and centepieces, that feel like they were plucked straight from a Dutch masterpiece.
8. @MindyWeiss
Mindy Weiss is one of the most creative and well-known names in the planning biz, and her Instagram is full of to-die-for events for lucky mortals as well as celebs.
9. @KTMerry
Whether she's shooting in George Clooney's go-to spot Lake Como in Italy or at a closer, but just-as-beautiful, affair in Florida, KT Merry's wedding albums (and Instagram) are full of romantic, dreamlike images you'll love.
10. @ChristieGrahamPhotography
Canadian shooter Christie Graham is known for her use of creative compositions and natural light for timeless portraits.
11. @CorbinGurkin
The way Corbin Gurkin skillfully captures light gives all of her photos a soft, über-romantic feel that takes every single wedding she shoots from merely beautiful to downright breathtaking.
12. @DetailsJeannie
We love browsing Jeannie Savage's behind-the-scenes snaps. From a USC marching band that served as reception entertainment to her fave lobster salad, she shows how weddings (and life!) are truly all about the details.