Is Le Creuset Worth It? Everything You Need to Know About the Famous Brand
Here's the real reason why Le Creuset Dutch ovens are so expensive.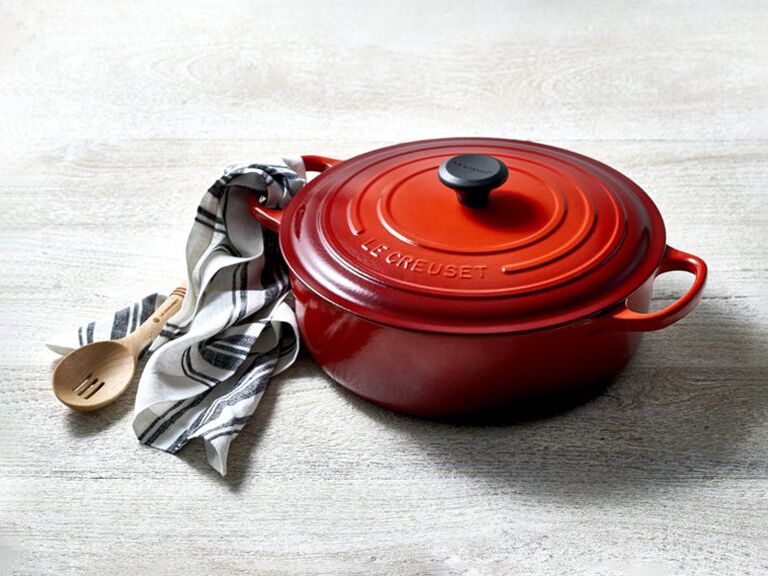 We have included third party products to help you navigate and enjoy life's biggest moments. Purchases made through links on this page may earn us a commission.
One item you'll find on almost any list of wedding registry essentials—including The Knot Registry Store's—is a Le Creuset Signature Round Dutch Oven. The French brand is known for high-quality, versatile cookware (which comes with a lifetime warranty), but Le Creuset products also have a high price tag. So, the real question is: Is Le Creuset worth it? For soon-to-be-married couples and home cooks wondering whether they should register for the ever-popular Le Creuset Dutch oven, or go with a less expensive brand, we get it. To help you make an educated decision, we're delving into the history behind Le Creuset, covering the many uses for a Le Creuset Dutch oven and breaking down the pros and cons of adding Le Creuset products to your registry. Plus, we've scoured the web for the best budget-friendly bakeware alternatives to Le Creuset and are highlighting similar pieces from four different cookware brands.
The History of Le Creuset Dutch Ovens
The story of Le Creuset (which is pronounced "luh-CROO-zay," by the way) begins in 1924 at the Brussels Fair, with the meeting of two Belgian industrialists: metal casting expert Armand Desaegher and enameling specialist Octave Aubecq. The pair set out to create a foundry for enameled cast iron cookware. In 1925, the Le Creuset brand (which translates to crucible or cauldron in English) was born and business began in Fresnoy-le-Grand in Aisne, France. That same year, the first cocotte, or French oven, was produced. The cocotte was a smaller version of what would become their famous Dutch oven, which to this day is still the most popular item Le Creuset sells.
Desaegher and Aubecq were not the first to create this kind of cookware, but they refined the glazing process that makes enameled cast iron rust-proof, easy to clean and an excellent conductor of heat. From the beginning, Le Creuset made a name for itself by creating quality, colorful cookware. Incorporating pigment into the glazing process was key to Le Creuset's early success and set the brand standard for both beauty and durability.
The first color of enamel coating, called "Volcanique" (and later, "Flame" in the US), has become the brand's signature ombré shade. Fittingly, it was inspired by the red-orange hue of molten cast iron in the foundry's cauldron. While it remains the brand's bestselling color, Le Creuset now boasts "an unmatched range of vibrant, durable colors and finishes across a spectrum of materials." The company is also known for releasing limited-edition models, including highly-anticipated design collaborations with the likes of Disney, Star Wars and the MLB.
Why Are Le Creuset Dutch Ovens So Expensive?
Since 1925, the brand has incorporated new technologies into its crafting process. In 1974, Le Creuset formed a US subsidiary in South Carolina and today, you can buy Le Creuset in more than 60 countries, including the US, UK, Japan and Australia. The original French foundry is still in use and, in 2015, the factory doubled its production capacity to meet increased demand around the world. While Le Creuset is still best known for its enameled cookware, the brand has since diversified its product lines to include stoneware, silicone bakeware, stainless steel cookware, non-stick frying pans and porcelain oven-to-tableware.
Almost 100 years since its founding, Le Creuset continues to use the hand-crafted techniques and original process of forging and casting to manufacture its cookware. For every piece designed, two sand molds are made: the first for the interior and the second for the exterior. The raw materials are melted at an extremely high temperature in a large cauldron, then poured into the molds to make the shape. Once the iron cools, it's removed from the mold for the finishing process. After use, each mold is broken and the sand is recycled, so no two Le Creuset pieces will ever be exactly the same.
After passing through several finishing processes performed by skilled human hands for cleaning and smoothing, each piece gets two coats of enamel. The first is clear and helps the second coat of colored enamel better adhere to the cast iron. Once the enamel is applied to the inside and outside, it is air-dried, then vitrified for a highly durable, hygienic and shock-resistant finish.
The fact that each piece is unique and the cast iron is never recycled from other metals or materials helps explain the cost. The company also prides itself on its quality control—in fact, every piece of cookware is inspected by no less than 15 different people to make sure nothing leaves the factory damaged or defective. Close to 30 percent of goods are actually rejected due to imperfections—when that happens, the iron is usually melted back down and used to create new products.
For fans of Le Creuset, the appeal is in both form and function. Not only is the cookware proven to hold up over time and aesthetically pleasing, but each piece comes with a lifetime guarantee that backs up the brand's longevity claim. Collections tend to be passed down to future generations as treasured family heirlooms.
What Can You Make in a Le Creuset Dutch Oven?
Think of a Dutch oven as the original multi-cooker. It can go from stovetop to oven to table and does virtually everything a home cook needs: baking, slow cooking, braising, roasting, stewing, poaching, shallow frying and deep frying. You can easily make casseroles and one-pot meals in your Le Creuset Dutch oven and, because of its versatility, it's ideal for batch cooking and meal prep. Plus, since you don't need to use other cookware, it really cuts down on clean-up time.
Depending on what you like to cook, how many people you plan to serve and whether you want leftovers, you can use just one or two Le Creuset products as your everyday cookware. Le Creuset Dutch ovens specifically have several useful features that contribute to their superior multipurpose function.
Our Favorite Le Creuset Dutch Oven
Le Creuset Signature Round 5.5 Qt. Cast Iron Dutch Oven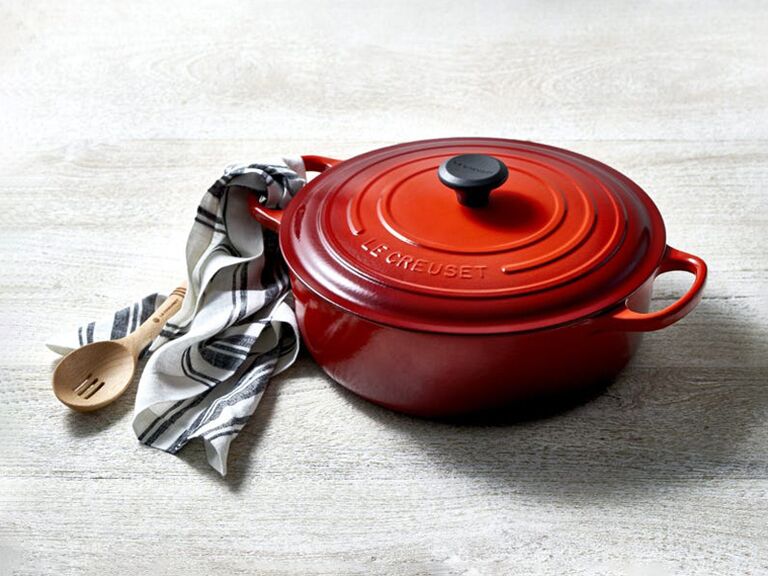 The Le Creuset Signature Round 5.5 Qt. Cast Iron Dutch Oven is one of the most popular sizes because it offers the most flexibility. It's able to fit a five-pound chicken and can cook meals that will serve between four and six people, making it the ideal choice for newlyweds who will be cooking for two (as well as the occasional guests). Like the brand says, it's "not too small, not too big, not too heavy and [fits] in most home ovens," making it the "Goldilocks" of Le Creuset's enameled cast-iron Dutch ovens.
The 5.5-quart round size comes in multiple colors, including the brand's signature Flame hue and Cerise, another one of the most popular shades. The round Dutch oven is compatible with all cooktops and oven-safe up to 500 degrees Fahrenheit. It's dishwasher-safe (although the brand still recommends washing by hand) and safe for metal utensils. The smooth enamel interior is light-colored, so you can easily monitor cooking progress, while the tight-fitting lid is designed to circulate steam and return moisture to your food. The ergonomic, stainless steel knob is safe at any oven temperature, and the large, looped handles and wide, flat bottom are made for easy lifting. Plus, it's important to note that this is the lightest-weight cast iron pot by quart on the market, so while it's heavy enough to conduct heat well, it's lighter than other brands' cast iron pieces.
Alternatives to the Le Creuset Dutch Oven
When it comes to choosing a Dutch oven for your registry, keep in mind that this kind of multi-use cookware is an investment for a reason. You want it to last, and if you plan to use your Dutch oven more than once a week, that will likely justify the cost. Your wedding registry is a chance for loved ones to contribute what they can, and there's always the option for couples or groups of friends to go in on a pricier registry item together. That being said, if you just don't feel comfortable putting a Le Creuset Dutch oven on your registry and you're looking for a more affordable option, there are alternatives out there. Below, we've chosen four of our favorites, which range from ever-so-slightly more affordable than Le Creuset (Staub, which is also made in France using a similar process), to a budget-friendly round Dutch oven from Ayesha Curry.
Staub 5.5 Qt. Cast Iron Round Dutch Oven With Lid
Yes, the price difference is fairly small, but that's because Staub's high-end Dutch ovens are quite similar to Le Creuset's. Many home cooks swear by Staub's Dutch ovens and say they are the superior cooking vessel, just like there are people who will choose Le Creuset as the winner every time—so we think it's worth putting on your radar.
Cuisinart 5 Qt. Chef's Classic Round Casserole Dish With Lid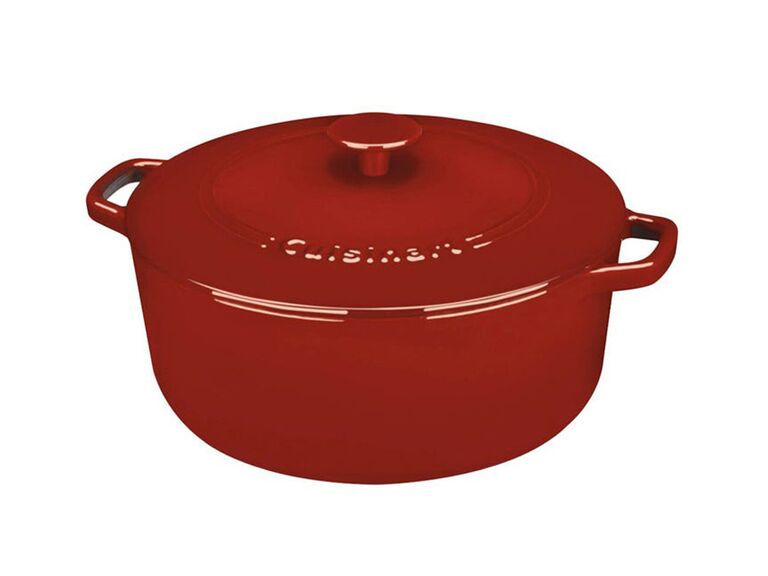 At just under $100, this more affordable pick is made of cast iron with a porcelain enamel finish in a cherry red color. Its five-quart capacity is just shy of the Le Creuset and Staub models' 5.5-quart Dutch oven size, but for less than a third of the price. There is also a lifetime warranty and the ceramic casserole dish and lid are both dishwasher-safe. The enamel knob is resistant to high heat as well, which you don't always get with lower-priced cast iron products.
Ayesha Curry 6 Qt. Enameled Cast Iron Round Dutch Oven With Lid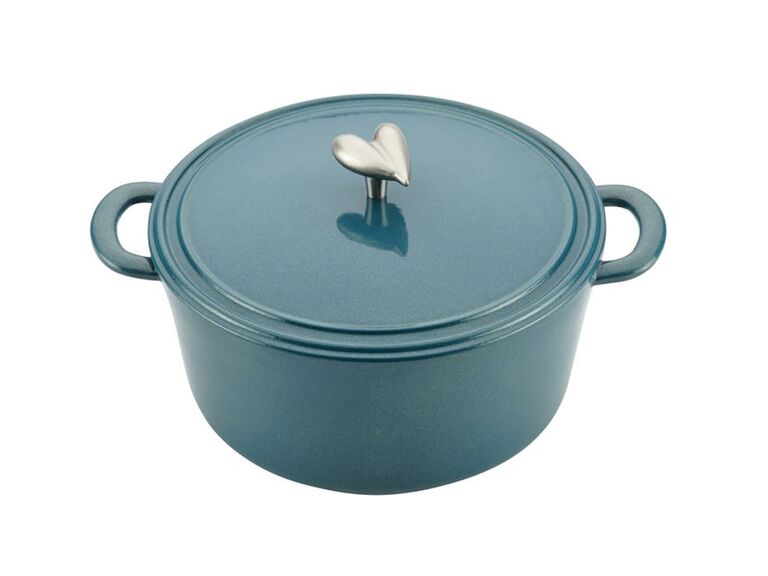 This six-quart round Dutch oven from celebrity chef Ayesha Curry's cookware line comes in four pretty matte color options: Brown Sugar, Red, French Vanilla and Twilight Teal. At just $70, why not try this beauty out? Similar to the Le Creuset Dutch oven, it features secure side handles for easy maneuvering. As a bonus, the stainless steel knob on the lid is in an adorable heart shape that will add extra personality to your countertop.
Crock-Pot 7 Qt. Artisan Round Dutch Oven With Lid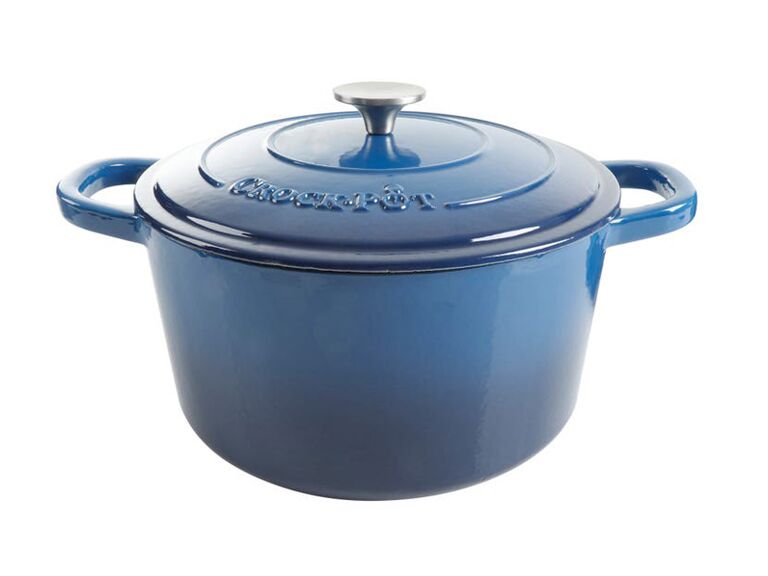 Last but certainly not least, this Crock-Pot brand round Dutch oven is visually similar to Le Creuset's, with an ombré look, looped handles and a circular knob on the lid. It's also made of cast iron and is treated with non-stick enamel for easy cooking and cleaning (hand washing is recommended.) At this price, you can opt for the seven-quart size to have more room for braising and roasting on holidays.