8 Maid of Honor Etiquette Questions You Might Be Too Shy to Ask
All your burning budget, planning and etiquette questions—answered.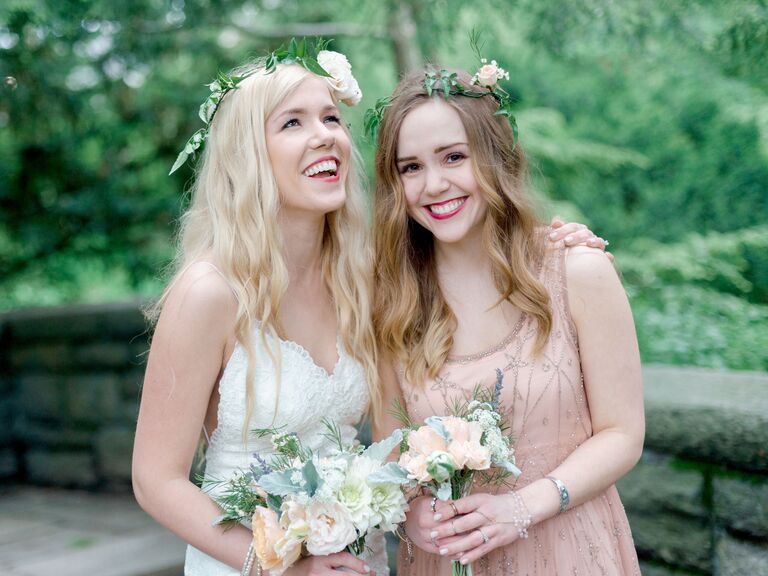 Emily Steffen
Your maid of honor is your BFF, your head honcho—your ride or die. As ringleader of the wedding party and your right hand in all things planning and prep, your maid of honor has several prewedding and day-of responsibilities. To help her help you pull off an amazing wedding experience, brush up on some of the most common maid of honor questions and frustrations she might have during the process. From inspiration and etiquette to budget and planning, we address all maid-of-honor matters so you and your MOH both know what to expect.
1. Is the maid of honor expected to pay for everything all by herself?
No, no—don't worry. The entire wedding party is definitely expected to chip in to help pay for prewedding event expenses (from the food and venue to the décor and gifts), so the bride should make expectations clear from the start. Whether you send a cheerful, but transparent email or invite your crew over for brunch or happy hour to talk budget expectations and concerns, this conversation needs to happen sooner rather than later. Explain that, if everyone's okay with it, expenses will be shared equally among the group. Everyone should save all receipts for decorations, gifts, shower invites and so on (including the bride). The maid of honor, is in charge of tallying totals and hashing out who owes what. Just think, once it's a given everyone's paying, you'll be in a better position to enjoy the experience. If money is an issue for all of you, commit to a budget your bank account allows and work from there (and dont' be afraid to tell the bride if you're concerned). The most important thing is getting everyone on the same page from the start.
2. Can the maid of honor be a man of honor instead?
Of course! Not sure what title to give him?Try honor attendant, man of honor or best person. More couples are recruiting their closest friends of the opposite sex to stand up and celebrate with them. Your man of honor can wear whatever the groomsmen are wearing or don a standout suit (if there's a groom in the picture, just make sure he's not upstaged). Most importantly, make sure he's comfortable in the role and with all relevant events—if there's an outing or bonding activity he's not thrilled about planning or attending, don't force it on him. Also let your photographer know he should be photographed as one of your attendants in group wedding-party pictures, so he doesn't get shoved in with all the groom's guys.
3. Can the mother of the bride be the maid of honor?
Absolutely. The couple's honor attendants can be anyone they feel closest to, and it's common (and so sweet!) for women to say their mom is their BFF and number-one maid of honor pick.
4. How's the maid of honor supposed to plan events and bring the group together if she isn't close (either in terms of relationship or geography) to the rest of the wedding party?
The bride might not understand or experience the awkwardness her maid of honor feels about not really knowing everyone in the group, which makes sense since they're all her closest crew. Just relax and try to take matters into your own hands—you're the maid of honor after all. Start a group chat, organize a fun outing or invite people over to your place to meet, greet and bond. If you're in one of those tense situations where no one is responding or cooperating, it's definitely okay to have a heart-to-heart with the bride about feeling left out and asking her to help bridge the gaps.
5. Is it acceptable to have two people (say, a sister and a best friend) be your maids of honor?
There's no reason you can't have two maids or matrons of honor. These are the two women you feel closest to, and you want them by your side on your wedding day. But even if you're a super-chill bride, it's wise to give them each a set of responsibilities that play to their strengths and interests. Having a bit of structure and guidance will give them a sense of the role you'd like them to play, plus, they won't be forced to divvy up responsibilities all on their own. When it comes to who stands and walks where during the ceremony, it's up to you and your two honor attendants. If you think someone will feel slighted at being asked to walk behind the other or not recruited to hold your bouquet, work out a system where both feel honored equally (maybe one does a reading while another lights a candle).
6. How do you make sure your maid of honor's dress stands out without making her outfit too different from the group?
There are lots of ways to make your maid of honor stand out. If you really want the entire group in the same gown, consider having your maid of honor have a different hairstyle or wear a special piece of jewelry. She can also wear the same dress in a slightly different style, whether it's the neckline, length, pattern or color. A more contemporary idea? Let the bridesmaids wear dresses and have your maid of honor wear a top and skirt or chic jumpsuit in a coordinating color.
7. On the day of the wedding, does the maid of honor really have to tend to the bride every second?
On game day, how "on" the maid of honor is expected to be honestly depends on how high maintenance the bride is. Have a type-A bride on your hands? Plan to be available to help her pretty much from the moment she wakes up to the moment she walks down the aisle. After that, you're on duty to be another host at the reception (fetch the groom's wheelchair-bound grandmother a glass of champagne, give confused guests directions to the reception and so on). But most brides just need some moral support from their bestie, someone to pour her a mimosa while she gets her hair done and a trusted pair of hands to do up her buttons. (Here's a full rundown of day-of maid of honor responsibilities.)
8. Is the maid of honor always expected to give a speech at the reception?
It's definitely customary for the maid of honor to give a toast to the newlyweds at the reception. It's not mandatory, but it's a great idea—especially if the best man (or other honor attendant) plans to give one too. And it's absolutely a good idea to prepare in advance (trust us, it's not a good idea to wing it). If you're way too nervous to even think about making a speech in front of 150 guests, ask if you can say a few words at the rehearsal dinner when the group will likely be smaller and more intimate and the vibe less formal.