60 Great Stocking Stuffers That'll Delight Your Wife on Christmas Day
You won't find any lumps of coal here.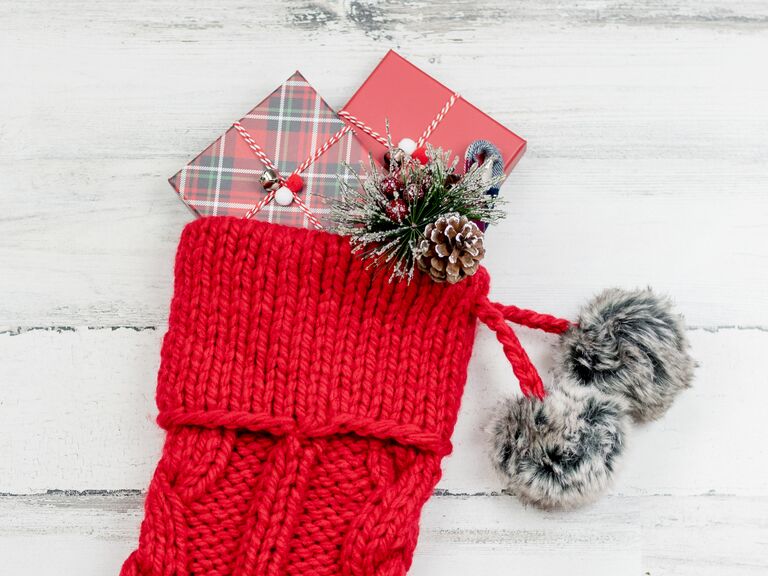 Photo: Kristen Prahl | Shutterstock
We have included third party products to help you navigate and enjoy life's biggest moments. Purchases made through links on this page may earn us a commission.
The holidays are fast approaching, and with them, gift shopping. You've made a list of everyone you have to buy presents for, and of course, finding the perfect gift for your wife is right at the top. A stocking is a sweet way to deliver her presents (and when filled with the right stocking stuffers, it's a foolproof way onto her nice list). Not sure where to find good stocking stuffers for your wife? That's what we're here for. We're sharing our expert advice for tracking down the best pocket-size presents, as well as 60 (yes, 60!) genius stocking stuffer ideas for her to enjoy. So what are you waiting for? Buying stocking fillers is by the far the most fun part of holiday gift shopping.
In this article:
What Are Good Stocking Stuffers for Your Wife?
When coming up with stocking stuffer ideas for your wife, there's plenty of room to get creative. Since you'll likely be buying more than one gift to put in her stocking, feel free to explore different themes. For example, you can choose one present that reflects her interests (think: makeup from her favorite brand) and another that addresses a need (hello, new socks). As far as stocking fillers go, size is also important. You want to find things that are small enough to fit in her stocking, but that still feel special and show her how much you appreciate her. Some good examples include personalized jewelry, a mini photo book and gourmet versions of her favorite eats.
If you're buying multiple items, one final factor to consider is the cost—those price tags add up. Here, we've rounded up some of the best stocking stuffer ideas out there under $15, under $25 and under $50, with most of them ringing in under 25 bucks!
The Best Stocking Stuffers for Your Wife Under $15
Ready to start stuffing that stocking? From cool accessories to delicious treats, we've got suggestions on our list to suit everyone (and every budget). Keep reading for lots of cute and thoughtful stocking stuffer ideas for her that definitely won't break the bank.
1. Something She Doesn't Even Know She Needs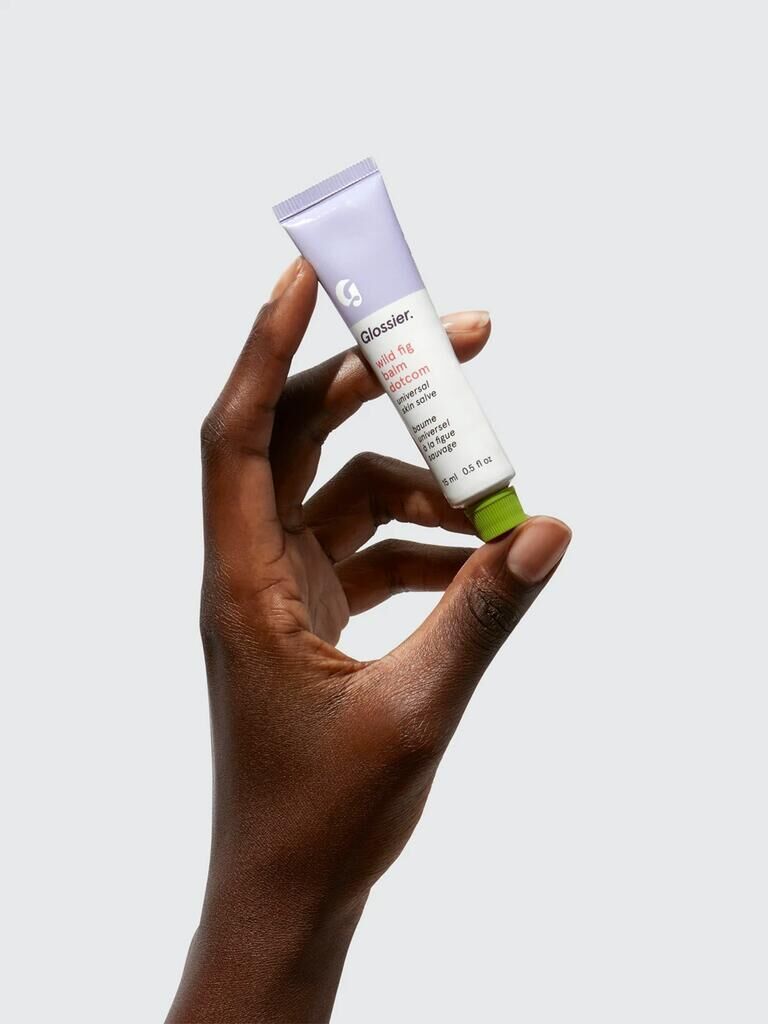 Glossier's products are cult favorites, and for good reason. This unassuming little tube can be used to solve so many things, from chapped lips to dry elbows. Opt for a tinted one for a low-maintenance lip color, or stick with the original clear formula for an all-purpose salve she'll appreciate. It's easily one of our top 10 stocking stuffer ideas for her.
2. Something to Make Her Mornings Sparkle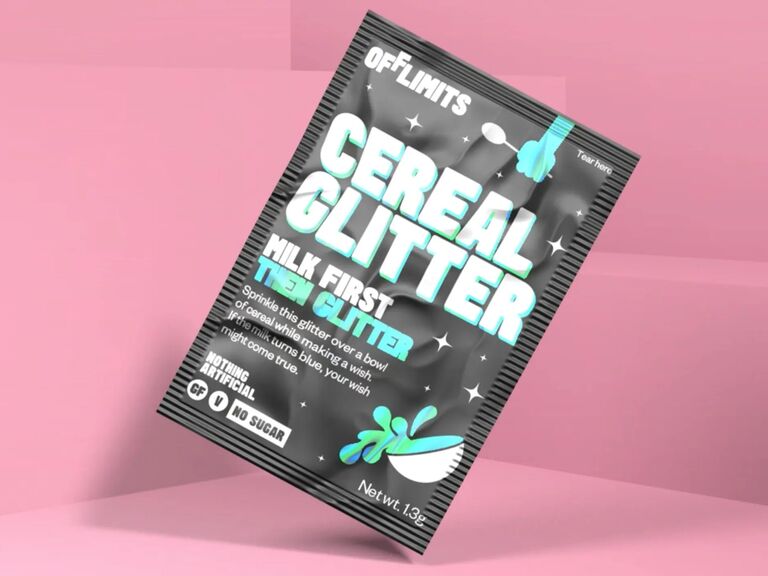 How's this for a unique stocking stuffer idea for your wife? Upgrade bland breakfasts in just seconds by adding this ingenious ingredient: cereal glitter. She certainly won't be expecting to pull this out of her stocking on Christmas morning. And nope, she's not limited to sprinkling it on her cereal. This fun condiment can add an edible sparkle to cocktails, desserts and everything in between.
3. Something for Keeping Track of Delicious Creations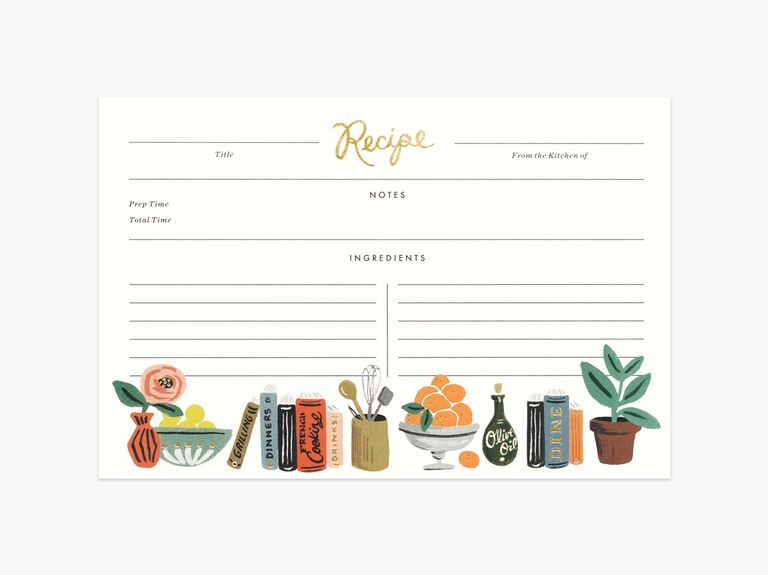 Is your wife a wiz in the kitchen? Make sure she never loses a new recipe by filling her stocking with this cute stationery. Rifle Paper Co.'s beautiful recipe cards make keeping track of her culinary creations easy peasy. There's space to jot down prep time, total cooking time, ingredients and a fun title for every dish. Each set includes 12 foil-stamped cards.
4. Something Fun for the Bedroom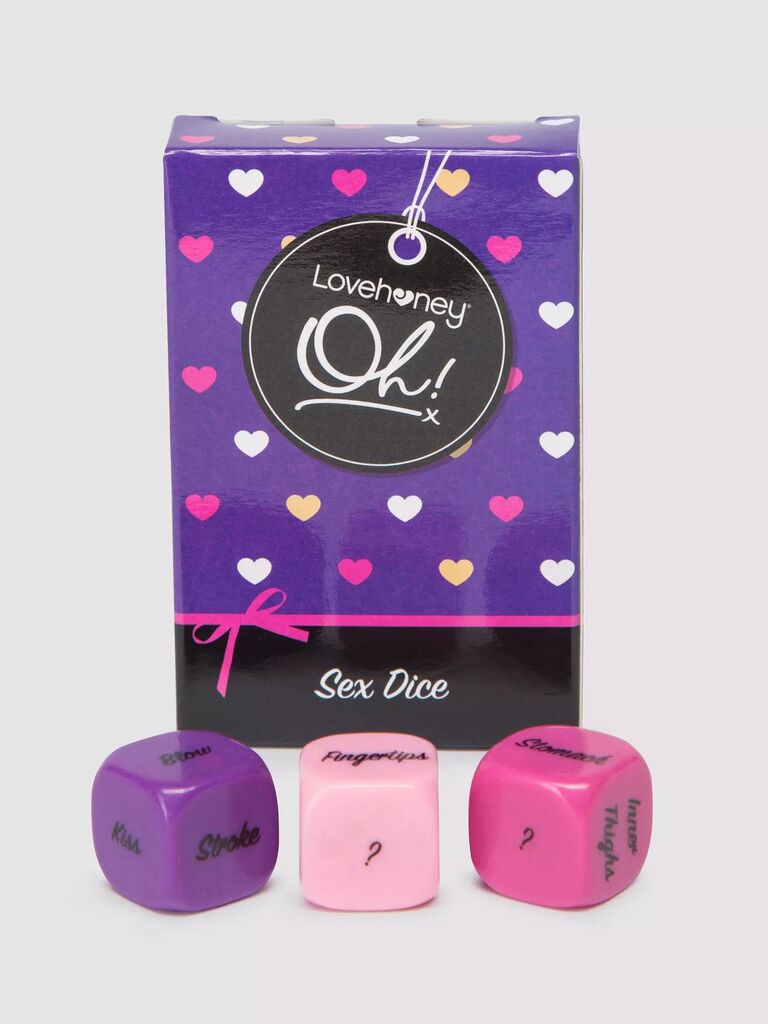 Don't be afraid to use your wife's Christmas stocking as an opportunity to spice things up in the bedroom. These cheeky dice aren't just the perfect size for a stocking filler, they're also small enough to stow in your luggage on a romantic weekend away.
5. Something to Exercise Her Green Thumb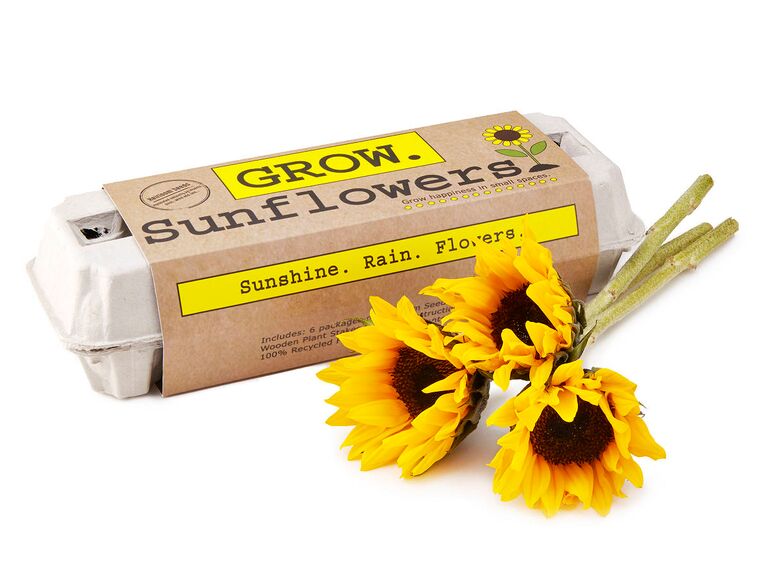 Just like your wife, sunflowers instantly brighten up any space. With this clever kit, she can grow her very own bunch of vibrant blooms. The set includes seeds for six heirloom varieties in a range of bold hues, plus a recycled egg carton for sprouting. It's a fun project (not to mention a super-affordable stocking stuffer!).
6. Something to Set the Mood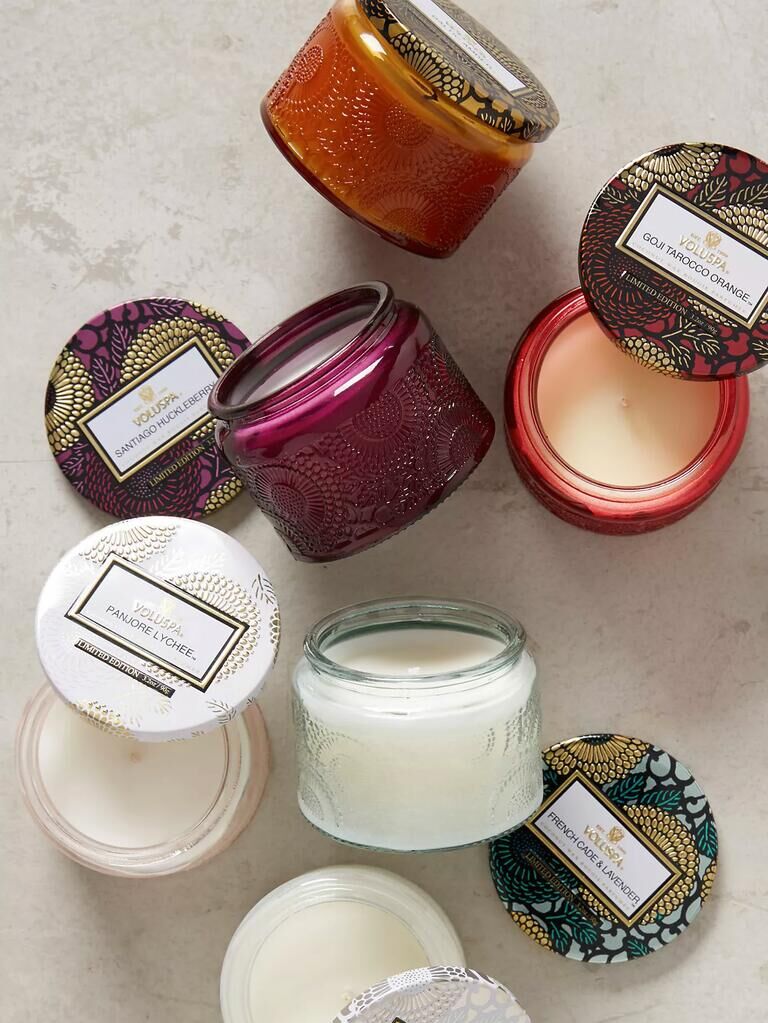 Deciding on a scent is pretty much the hardest thing about choosing this stocking stuffer idea for your wife. There are six lovely fragrances to choose from, and they all have their merits. If we had to pick just one, we love the sound of sweet and spicy Santiago Huckleberry.
7. Something to Put a Smile on Her Face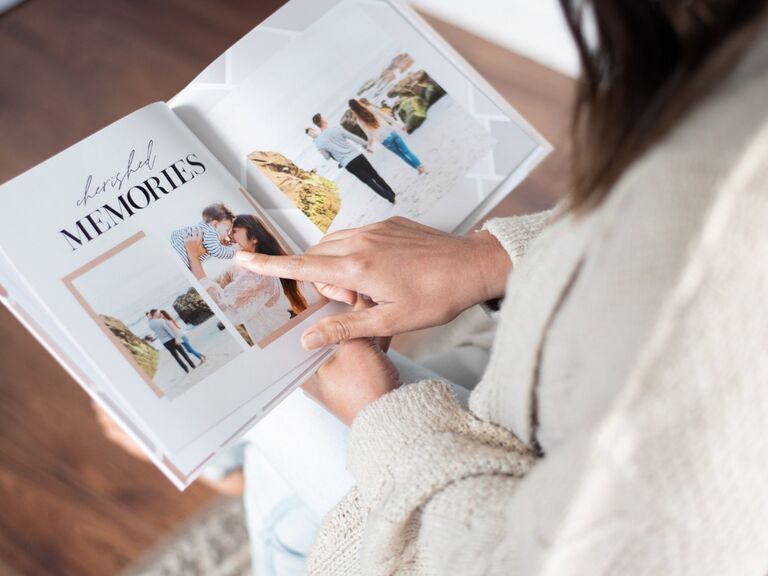 Photo gifts are such a sentimental idea, and Mixbook makes it so straightforward to design the right one for your wife. The site's mini softcover books are lightweight enough to fit in a stocking, but the pages are chock full of your favorite memories. You're sure to get brownie points for creativity.
8. Something for Her Sweet Tooth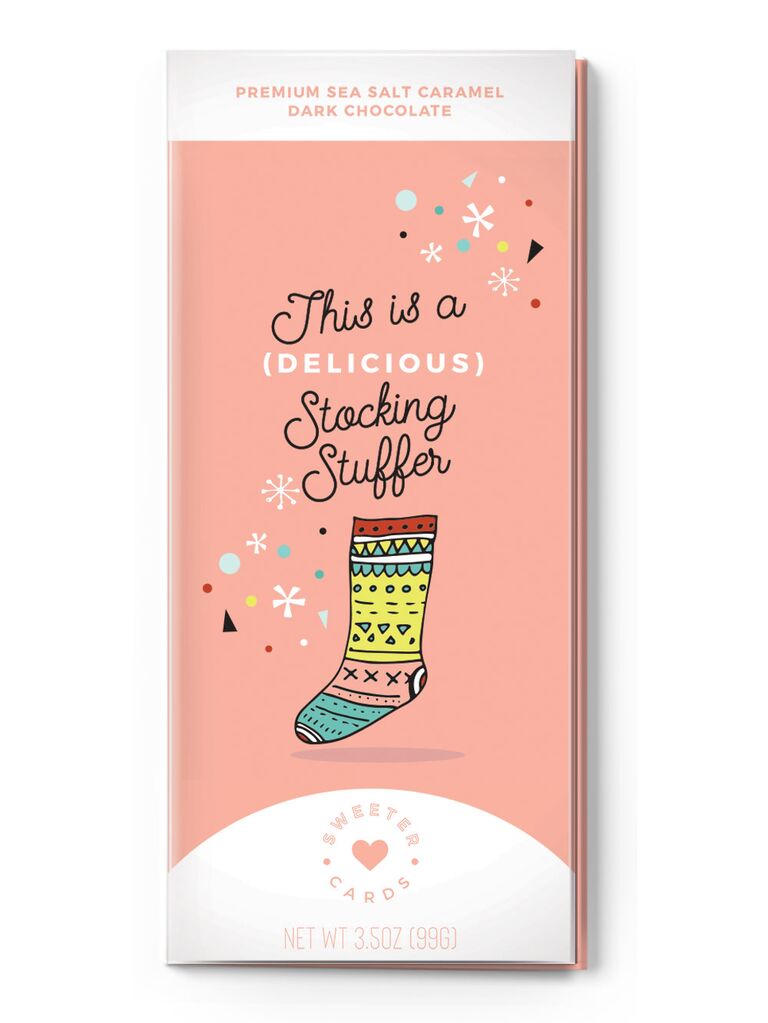 Your S.O. will want to taste this holiday-themed candy ASAP, and who could blame her? The sea-salt caramel dark chocolate doubles as a holiday greeting card, with space to write your own heartfelt note. That's another great stocking idea for your wife in the bag.
9. Something She Can Take on the Go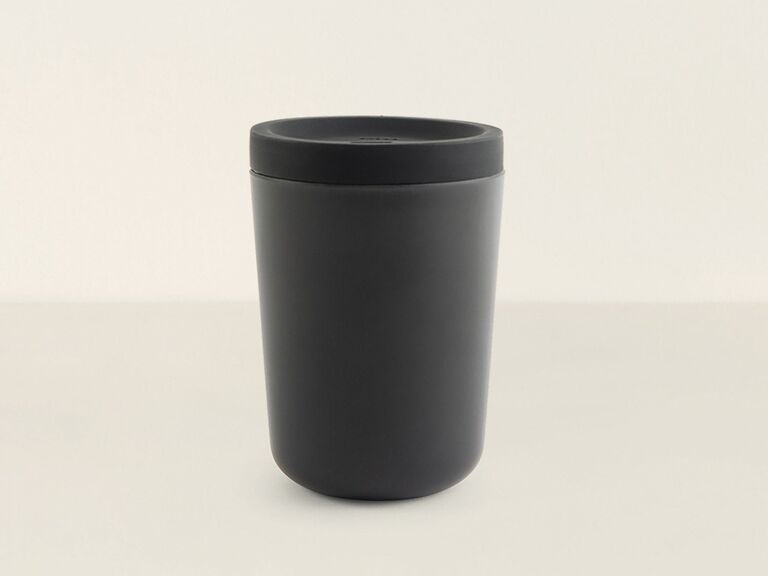 This travel cup is the perfect size to fit in your wife's stocking, and the perfect size for her to bring pretty much anywhere. The cup is made from sustainable bamboo fiber and a food-safe resin, and the lid/coaster is made from premium-grade silicone. Another great pro: Buying this stocking filler gives back to marginalized communities.
10. Something She'll Go Bananas For
Whether your wife has searched high and low for the perfect banana bread recipe or she prefers to take on the title of taste tester, we've found a genius stocking stuffer for her. Chrissy Teigen's brand-new Ultimate Banana Bread Mix is exactly what it sounds like. The Cravings founder has created an amazing banana bread recipe, and all your spouse needs to recreate it is water, oil and eggs (plus this expertly crafted mix, of course).
11. Something for the Harry Potter Fan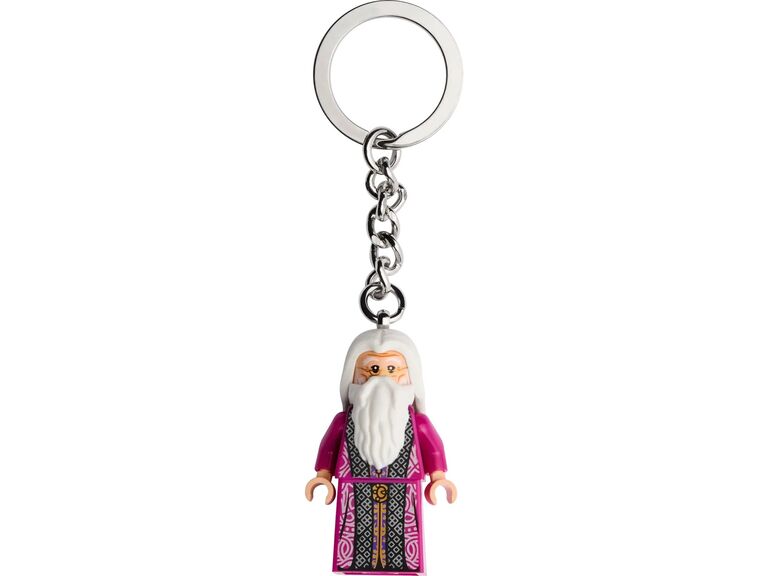 Show your wife just how well you know her with a stocking stuffer inspired by her favorite book or movie franchise. This LEGO Dumbledore key chain is a great gift for Harry Potter fans. She can attach it to her purse or keys to proudly display her Potterhead status.
12. Something for Storing Her Essentials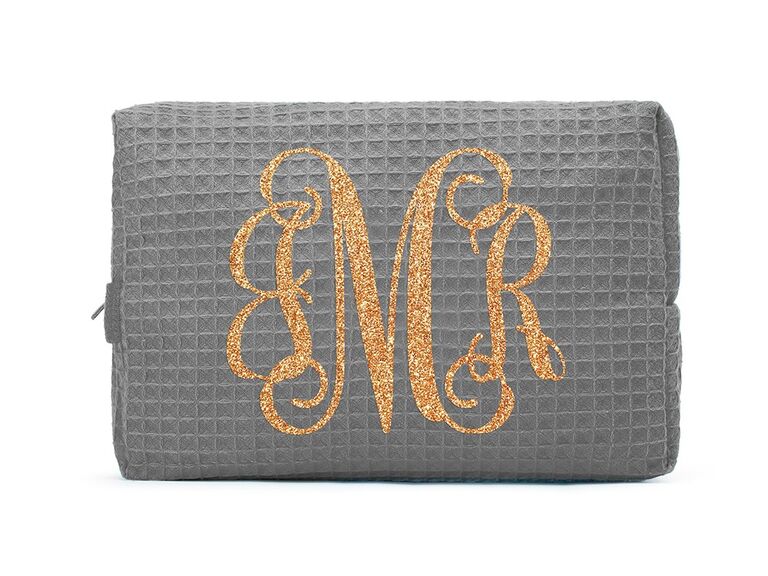 PSA: You can get personalized stocking stuffers for your wife that don't cost a fortune. Leave it to The Knot Shop to have some great affordable options, like this pretty cotton waffle makeup bag. Have it customized with your other half's monogram in glittery gold letters.
13. Something to Warm Her Up in Cold Weather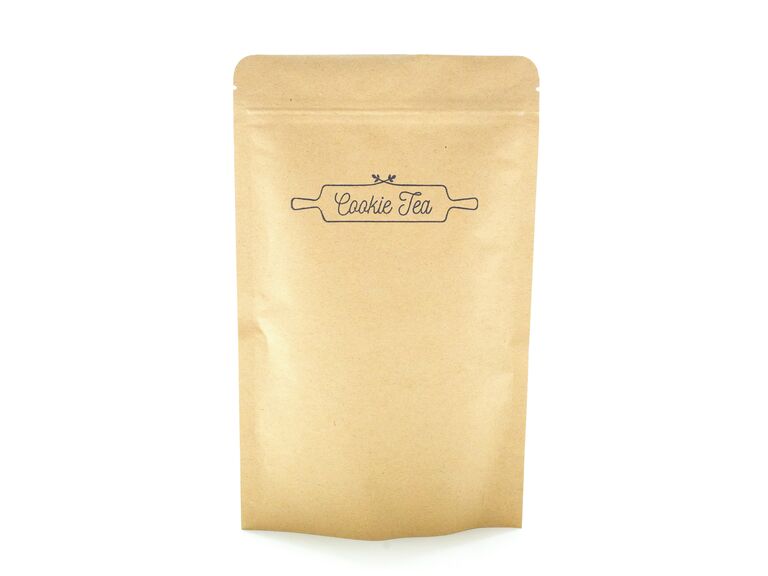 Your wife will want to wrap her hands around a hot mug of this unusual sugar cookie tea right away. What more could she ask for on a cold Christmas morning? Pink, heart-shaped sprinkles add an adorable touch to this comforting rooibos blend. Notes of vanilla and cocoa butter bring the sugar cookie element. The icing on the cake (or should we say: sugar cookie)? The 2-ounce pouch is just $14.
14. Something to Remind Her of Her Childhood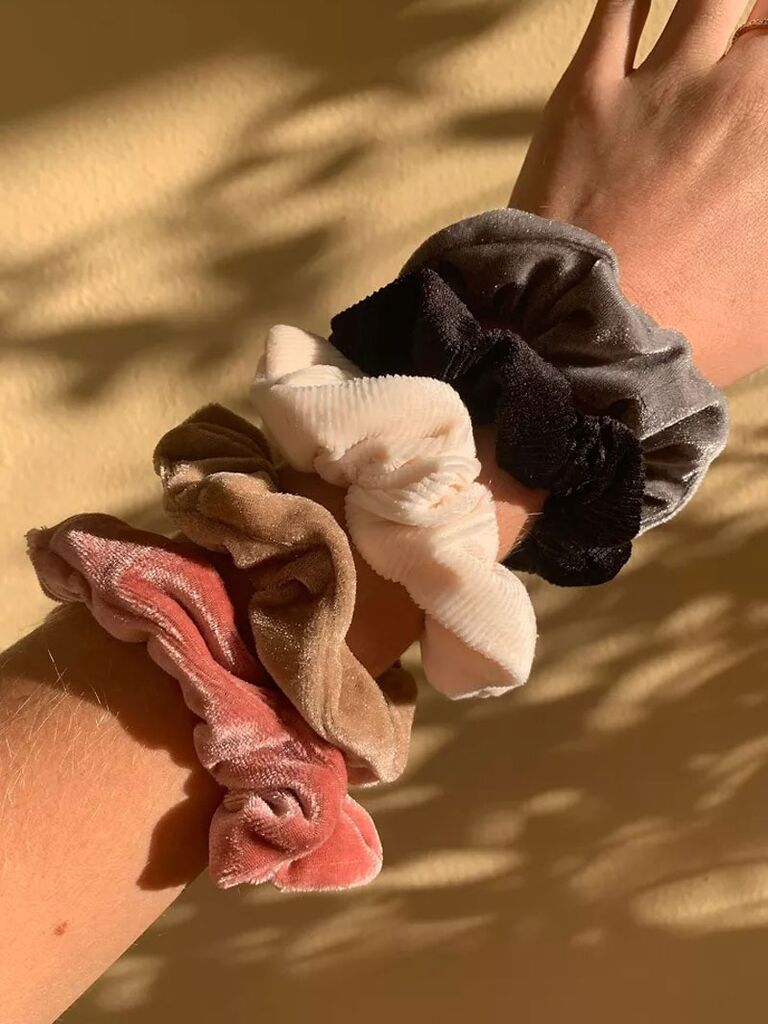 A trendy velvet scrunchie will elevate any everyday outfit. Plus, the retro vibe will make her seriously nostalgic. Each set of these cute hair ties contains five scrunchies in different colors.
15. Something That'll Leave Her Wanting More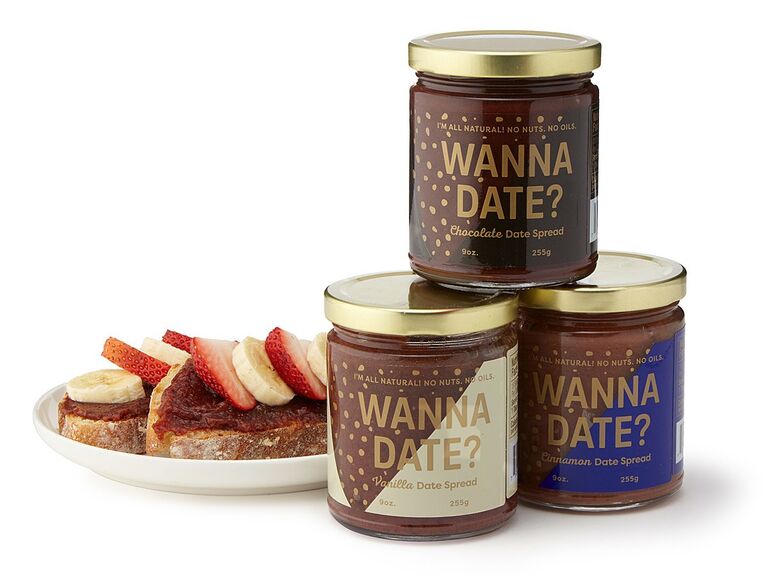 Sweet, indulgent dessert spread that's made from just four ingredients? Count us in! Melissa Bartow's all-natural spreads are made from dates, water, lactic acid and either cinnamon, cocoa powder or vanilla flavor depending on which one you pick up. What makes this an even cuter stocking stuffer for your wife is the thoughtful packaging. Each jar is labeled with the question "Wanna Date?" If you don't pick them up for Christmas, consider buying them as a Valentine's Day gift instead.
16. Something to Brighten Up the Kitchen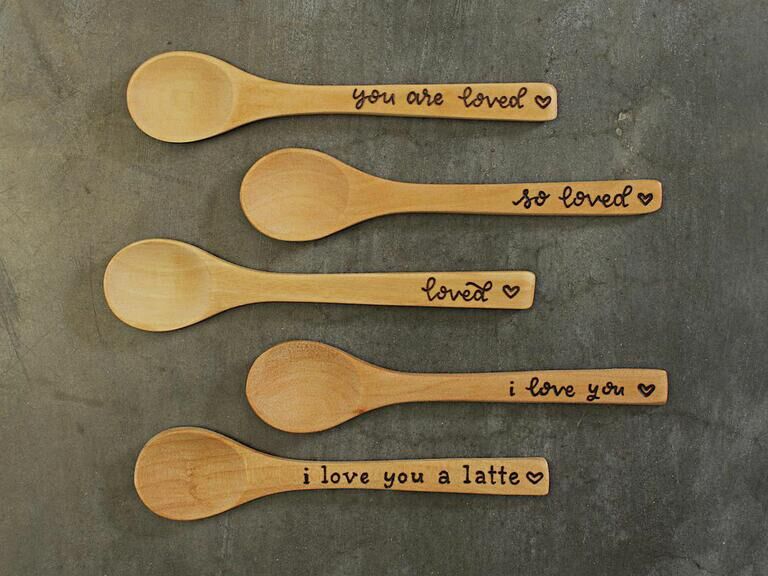 You can personalize this wooden spoon with a loving message like "you are so loved," a punny phrase like "love you a latte" or your own completely custom message. How's that for a creative stocking stuffer for your wife? It's especially meaningful if she religiously watches The Great British Baking Show or loves to experiment in the kitchen.
17. Something She Won't Want to Share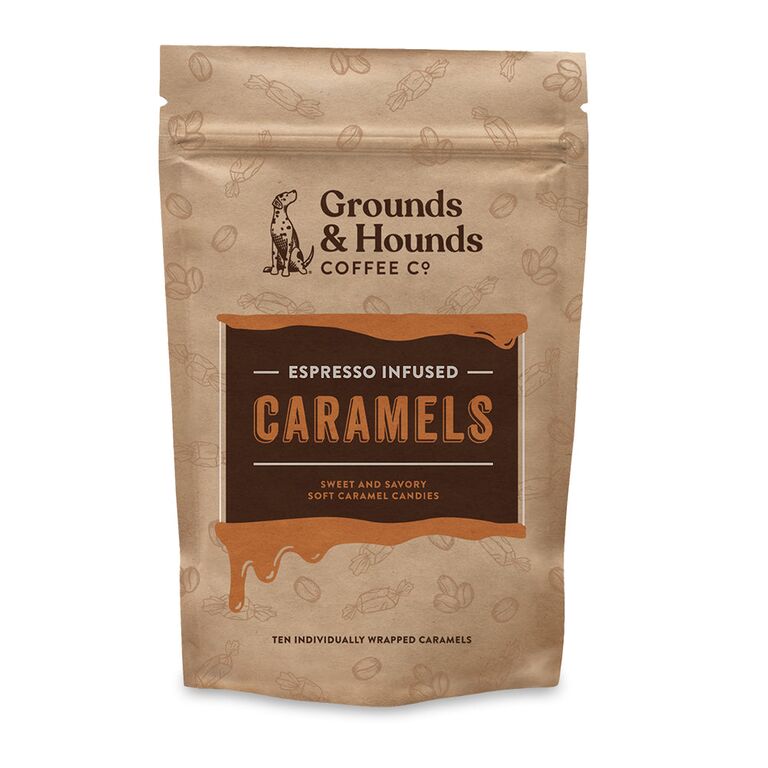 When it comes to last-minute stocking stuffer ideas for your wife, you can't go wrong with candy. Pop to the store and pick up some of her favorite treats. Or, if you've got a little time left to wait for a delivery, spring for something a tad more special. Watch your S.O.'s eyes light up when she spies these delicious espresso-infused caramels from rescue pup-supporting coffee brand Grounds & Hounds. It's a creative idea for your wife's stocking, especially if she never goes a day without coffee.
18. Something to Help Her Relax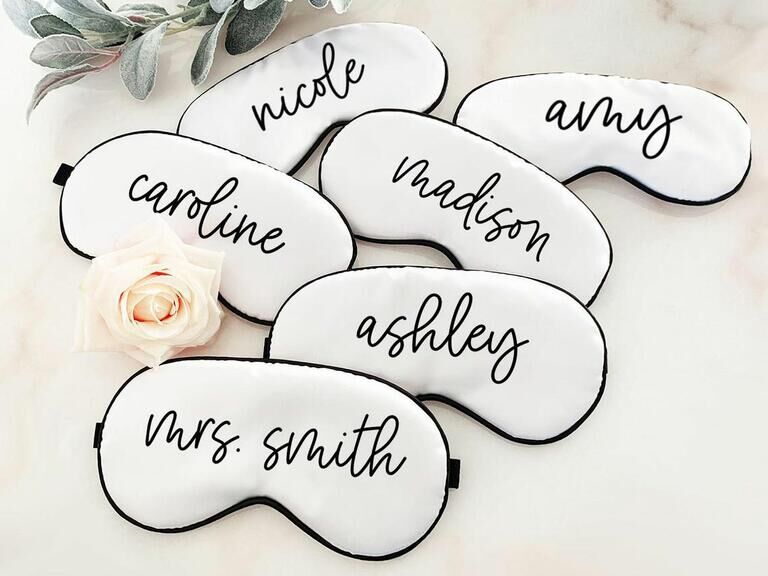 A personalized eye mask is an easy way to make her nighttime routine more luxurious (and she'll have no idea such a thoughtful stocking stuffer was so affordable). Want to make it extra special? If this is your first Christmas as a married couple, go ahead and personalize it with her new title of "Mrs."
19. Something to Spice Up Coffee Breaks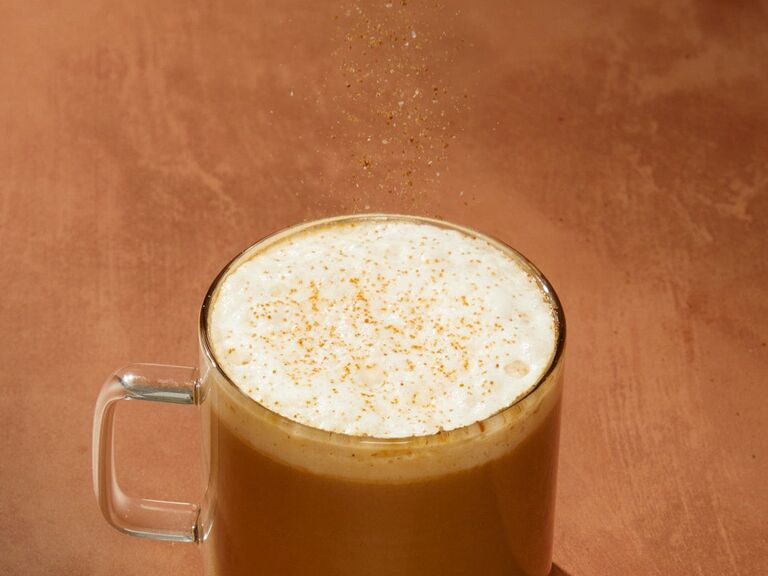 Stocking stuffers are a nice little addition to your wife's holiday gifts, just like this deceptively delicious "latte dust" is a great addition to her morning or afternoon pick-me-up. It's made from responsibly sourced ingredients including coconut sugar, vanilla and cinnamon (mmmm). And for under $10, how could you go wrong?
20. Something to Keep Forever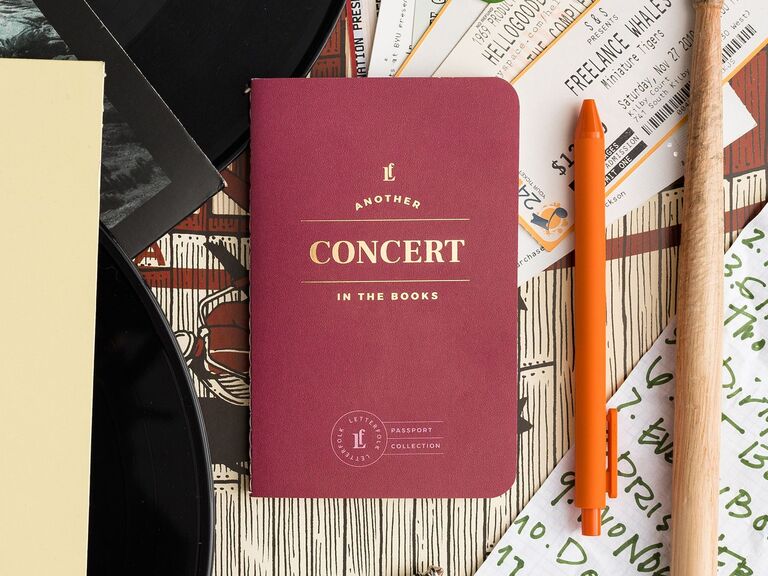 This unusual passport is about to become one of your wife's most prized possessions. It's designed to track all of her upcoming concerts, including space for ticket stubs. A clever form makes sure she doesn't forget to jot down important details like the name of the musician, any supporting acts and the best song from the night. Not much of a concert-goer? The site has passports for logging date nights, bucket list activities, sporting events, books she's reading and more.
The Best Stocking Stuffers for Your Wife Under $25
Don't fill up your cart too soon, because we have plenty more stocking stuffer ideas for your wife to come. These creative and romantic stocking fillers are still delightfully affordable at under $25 each. Who knew small gifts could make such a big impact?
21. Something to Make Mornings Easier
Socks might not seem like the most fun stocking stuffer for your wife at first, but hear us out. We all like to feel extra cozy during these chilly months, and UGG knows a thing or two about keeping warm and snug. That's why we think these fuzzy socks are actually one of the best stocking stuffer ideas for your wife. She'll want to start wearing them straight away.
22. Something Inspirational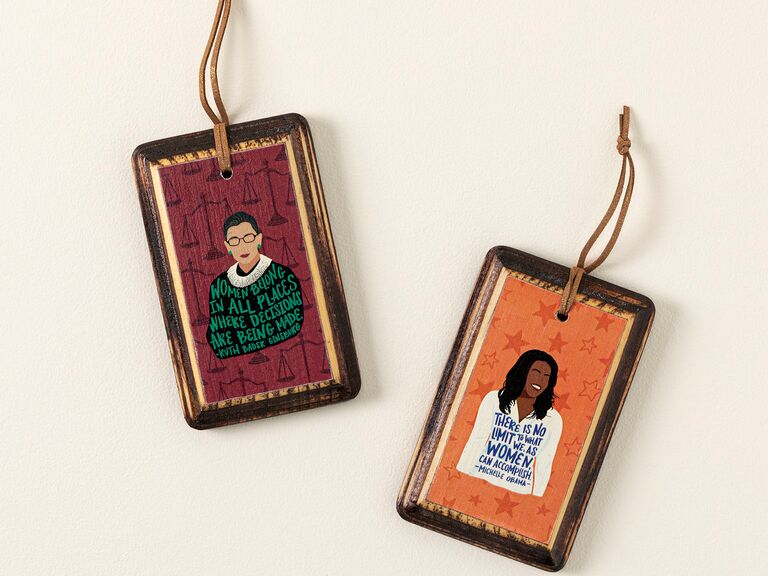 Holiday ornaments are a great stocking stuffer idea for anyone in your family. But when it comes to shopping for your wife, we're especially big fans of these creative ornaments. Each one features an illustration of an iconic woman alongside a powerful quote. Choose from Ruth Bader Ginsburg, Ketanji Brown Jackson, Angela Davis, Michelle Obama, and Sonia Sotomayor. Whichever one you go for will inspire her over and over again each year.
23. Something She Can Wear Every Day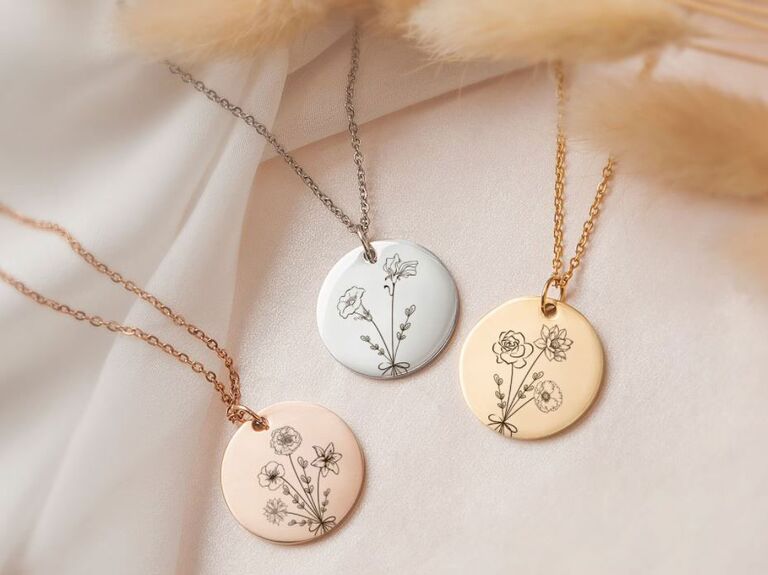 A simple necklace like this one will go with almost any outfit, meaning she can wear it every day. But that's not the only thing that makes this a romantic stocking stuffer for your wife. It comes personalized with between two and five different birth flowers. If it's just the two of you, choose the flower that represents each of your birth months. If you have children, you can incorporate their birth flowers too.
24. Something for Her Hot Cocoa
Does your wife live for all things holiday-themed? If so, she'll get a kick out of adding these adorable cookie houses to her favorite hot cocoa mug. There are two delicious flavors to choose from: gingerbread and dark chocolate cinnamon.
25. Something for Holiday Parties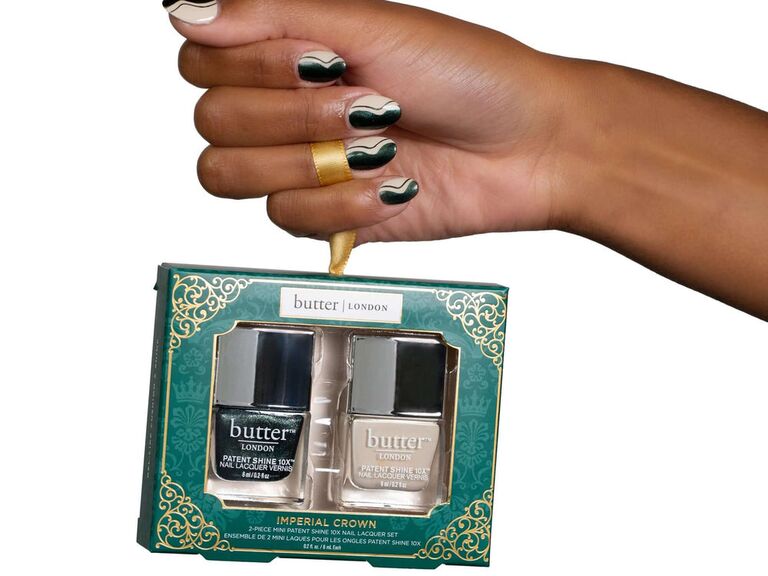 Help your wife prepare for the busy holiday season with this thoughtful stocking stuffer idea. Between the jewel-tone emerald hue and cool nude crème shade, she'll have the makings of a truly stunning manicure that's right on theme for winter. Bonus: Both of these nail polishes are 10-free, meaning they don't contain potentially harmful ingredients like formaldehyde, toluene and parabens among others.
26. Something Unexpected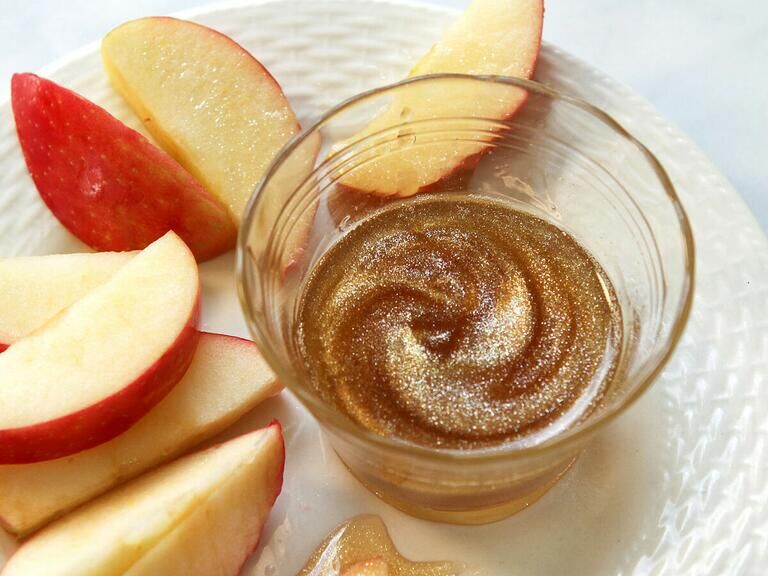 Something you know she wouldn't buy for herself makes for one of the best stocking stuffers for your wife. Add some flair to breakfast in bed with this fun shimmery maple syrup. It's made from delicious Vermont maple syrup, while the sparkly goodness comes from food-grade mica. The sparkles are flavorless, so she can just focus on enjoying her totally extra stack of pancakes.
27. Something Sexy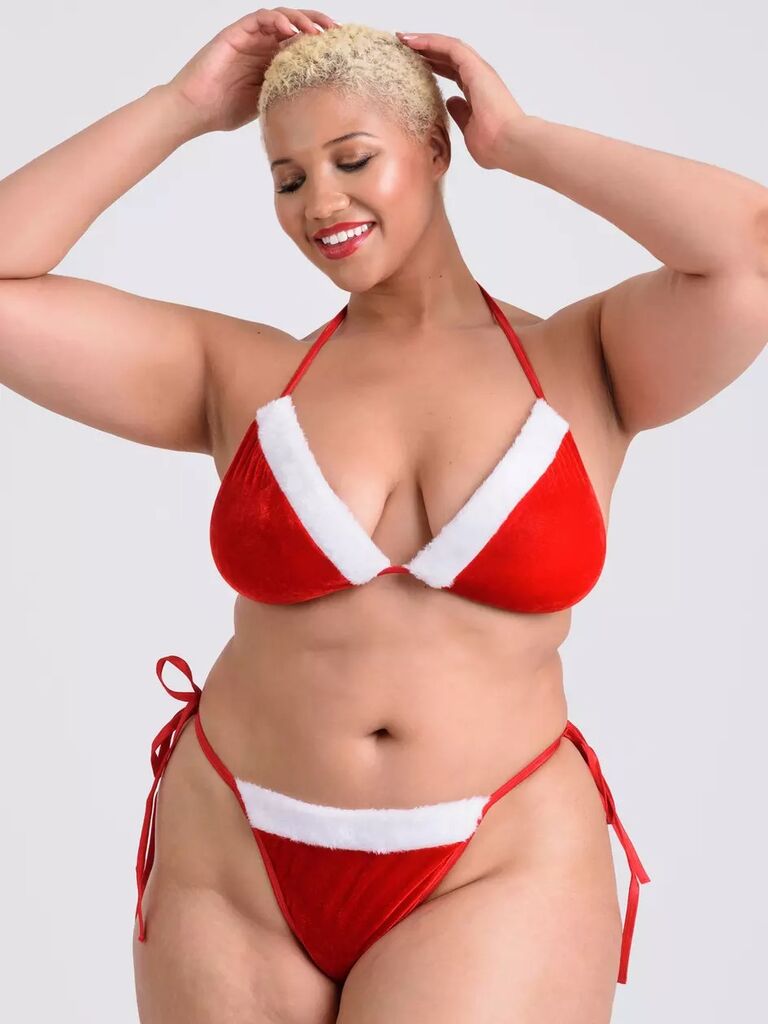 If you've been joking that your wife is on the naughty list this year, consider swapping out that lump of coal for something a little more fun (for both of you!). This sexy holiday-themed lingerie is a perfect stocking stuffer, though we don't blame you if you end up delivering it early.
28. Something for the Snack Lover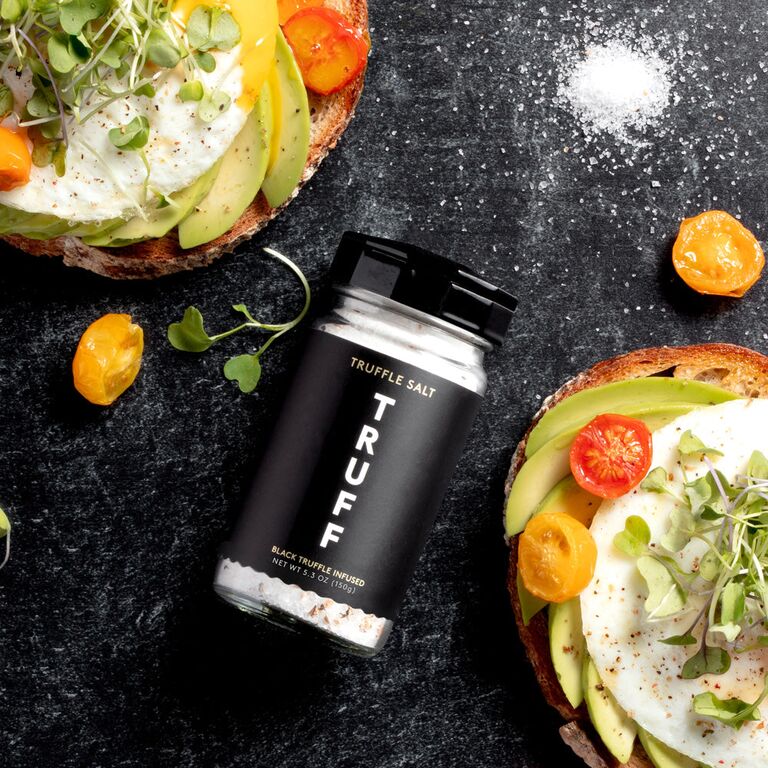 TRUFF is known for its tasty truffle-infused hot sauce, which consistently makes the list of Oprah's Favorite Things year after year. Whether or not your wife is already a fan, any savory snack lover will appreciate this delicious stocking filler. The brand's all-new black truffle salt packs a flavorful punch that goes great with popcorn, avocado toast, fries and more.
29. Something to Help Her Wind Down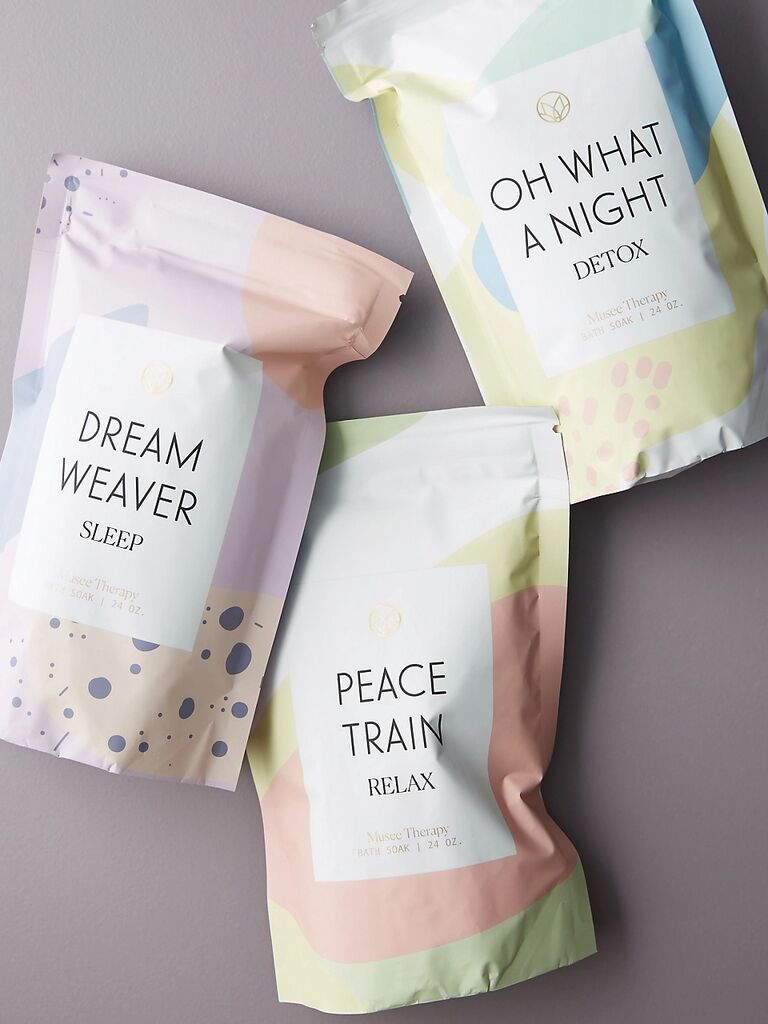 Bath salts are another thoughtful stocking stuffer for your wife that she can put to use almost right away. A relaxing soak in the tub is a great way to prep for (or recover from) all of those holiday parties. Choose from three different options, including lavender-scented Dream Weaver, spearmint-infused Oh What A Night and bergamot and frankincense-scented Peace Train.
30. Something for the Astrology Lover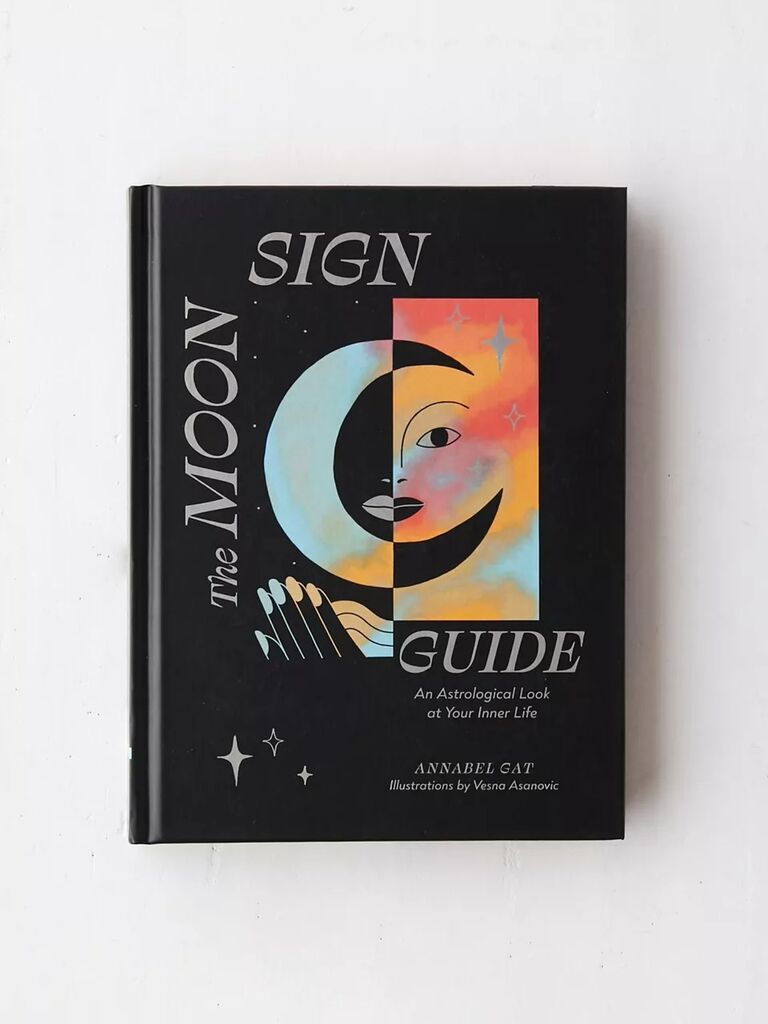 Does she spend hours scrolling through #AstrologyTok every day? For the wife who wants to expand her knowledge of the zodiac, consider this thoughtful stocking stuffer idea. The Moon Sign Guide by seasoned astrology writer Annabel Gat will take your other half on a journey through each moon sign and what they mean.
31. Something to Make Her Feel Like Royalty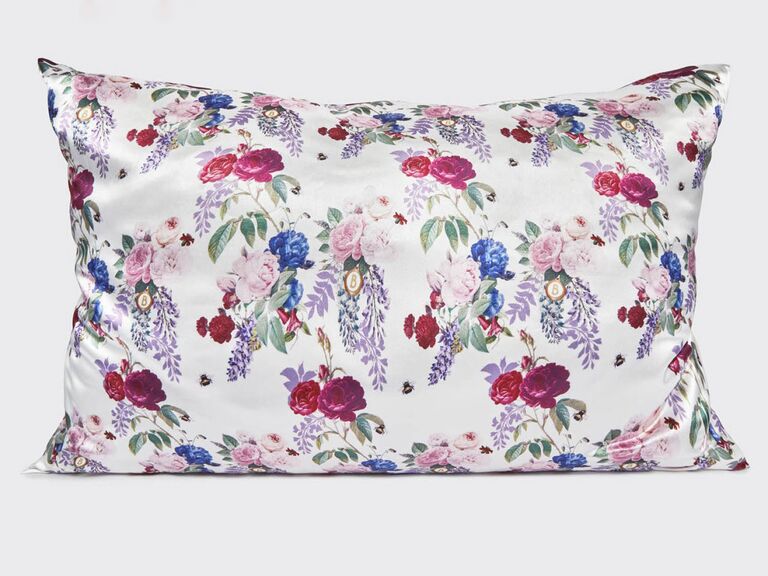 What if we told you it was possible to add a little luxury to your wife's Christmas stocking for just $15? Meet Kitsch, the brand that makes silky satin pillowcases an affordable indulgence. As if the addition of a satin pillow to her nightly routine isn't luxury enough, this one has a stunning Bridgerton-inspired floral print. She'll feel like Regency-era royalty.
32. Something Practical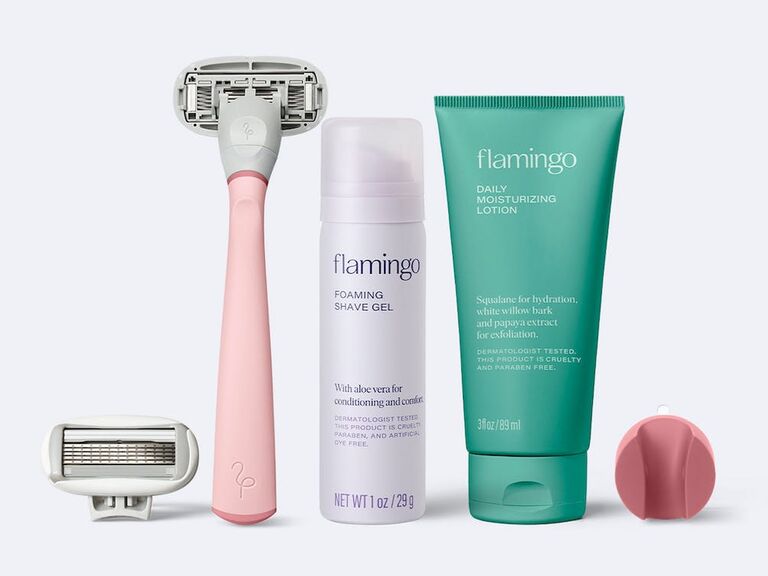 Is she always forgetting to replace that dull old razor that's been lying in the shower for months (and consequently borrowing yours)? Take this opportunity to add something practical to her stocking that's sure to be 1) used and 2) appreciated. Flamingo's simple shave set has all the essentials for quick and clean results, including a razor handle, a five-blade cartridge (plus her next replacement cartridge), shave gel, lotion, and a shower holder.
33. Something to Make Her Laugh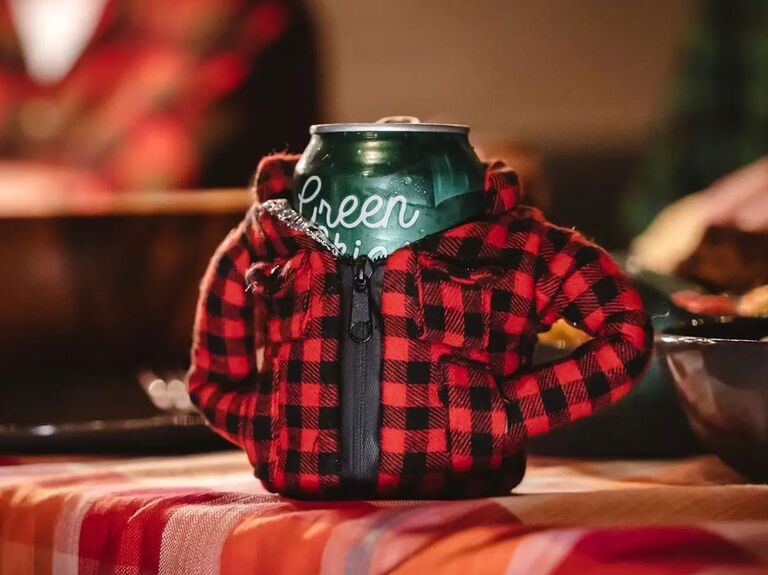 How fun is this teeny-tiny plaid jacket for her beverages? Your wife will say goodbye to that old drink koozie in a heartbeat when she sees this stylish alternative. The icing on the cake: It actually works to keep drinks cool thanks to two layers of thermal insulation. It's easily one of the top stocking stuffers to give your wife.
34. Something for Her Cold Hands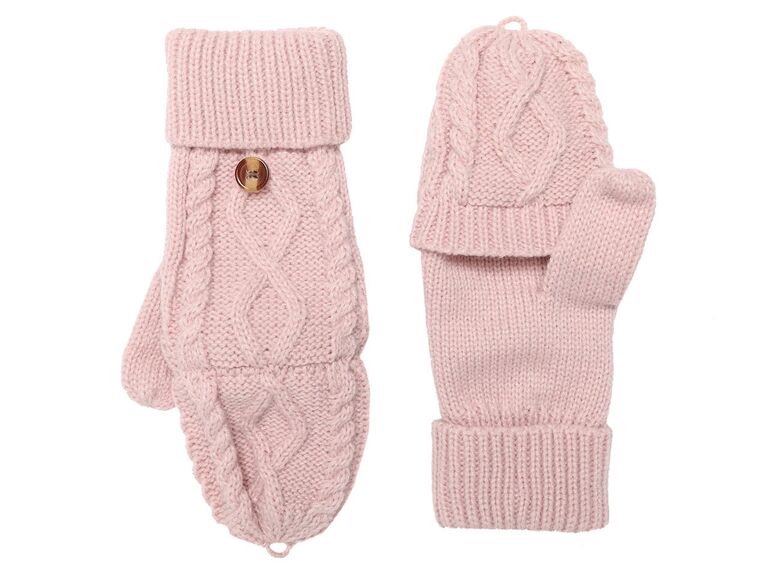 If you like to go on wintry walks together, give your wife something that'll help her feel cozy. These knit gloves come in a pretty shade of blush pink and the convertible design means she can easily release her fingers to use her phone (or even just scratch an itch).
35. Something for Her Budding Mixology Skills
As soon as she's oohed and aahed over these cool little cocktail-infused ice cubes, pop them in the freezer for a few hours to have them ready for her next drink. There are five yummy flavors to choose from, including blood orange, cucumber watermelon, peach, Meyer lemon daiquiri, and negroni.
36. Something From the Heart
Make the packaging as thoughtful as the stocking stuffer inside it with this unique idea. Greetabl gives you the opportunity to add cute packaging, a personalized message and your favorite photos together, as well as a sweet pocket-size gift. We love the peppermint-hot-chocolate popcorn as a holiday-themed present or the rose quartz heart if you're going for a more romantic vibe.
37. Something to Cleanse Her Space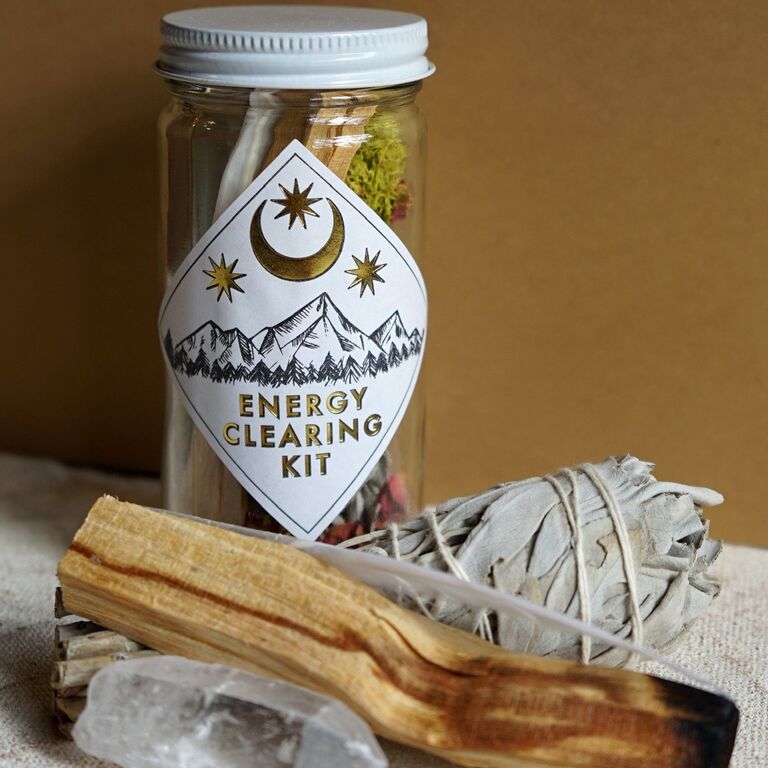 If your wife is very much interested in crystals, chakras and all that good stuff, this stocking filler is just the ticket. It's an energy-clearing kit designed to cleanse a space of negative energy. She'll get a white sage smudge stick, a palo santo sacred wood stick, dried rose flowers and a quartz crystal neatly packed in a stocking-friendly jar.
38. Something for Her Tired Feet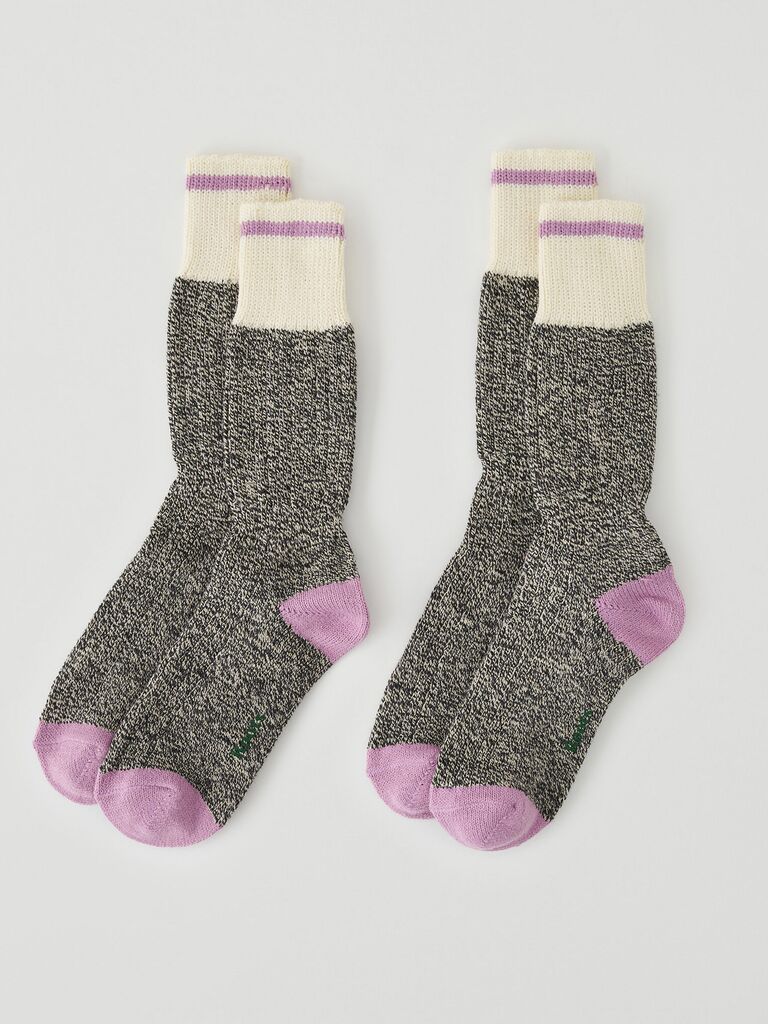 If putting on a fresh pair of socks is her favorite feeling in the world, she'll swoon when she sees this cozy stocking stuffer. It's a set of not one but two soft cotton-blend socks in a stylish retro design. That means she gets to enjoy the snug feeling of new socks on December 25 and 26. Trust us, she'll be happy you filled her stocking with this practical present.
39. Something That'll Surprise Her Later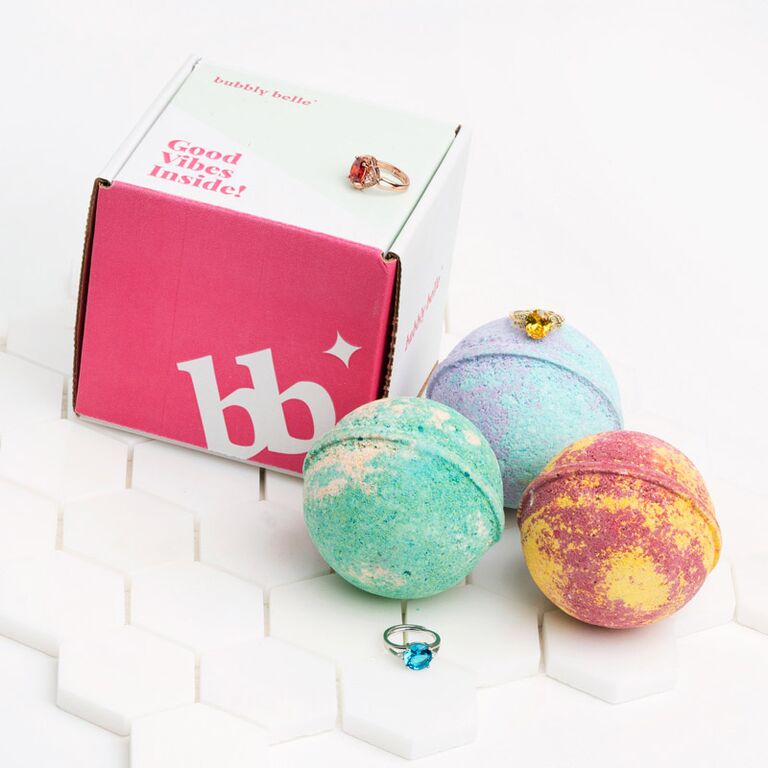 Just in case colorful, beautifully scented bath bombs aren't impressive enough when she pulls them out of her Christmas stocking, these bath bombs come with an extra little surprise. Each one contains a hypoallergenic rhodium-plated ring created by Bubbly Belle's in-house jewelry designers. Mix and match your own set of three bath bombs for your wife to enjoy over the holidays.
40. Something to Show Off Her Star Sign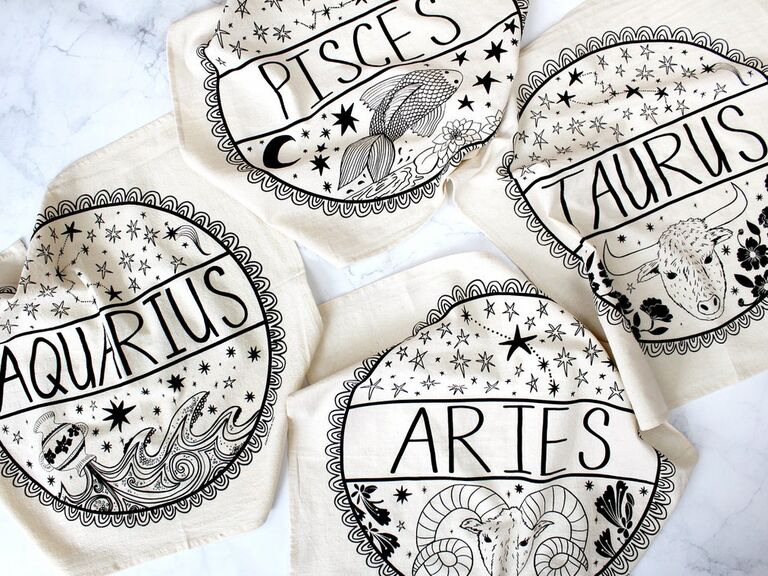 We bet you didn't think a simple-but-practical tea towel could make a great stocking stuffer gift for your wife. This isn't just any old kitchen towel. It comes printed with a gorgeous illustration of her zodiac sign on a thematic starry background. It's a sweet and subtle way to celebrate your wife's unique personality in your home.
41. Something for the Trend Setter
Pura Vida's bracelets are a must-have accessory for any trend-setting spouse, especially those with a boho sense of style. To help you fulfill your wife's wish list this Christmas, the brand has created a limited-edition holiday ornament stuffed with five of its best-selling original bracelets. It's a nice addition to your wife's stocking that'll decorate her wrists all year round.
42. Something to Help Her Relax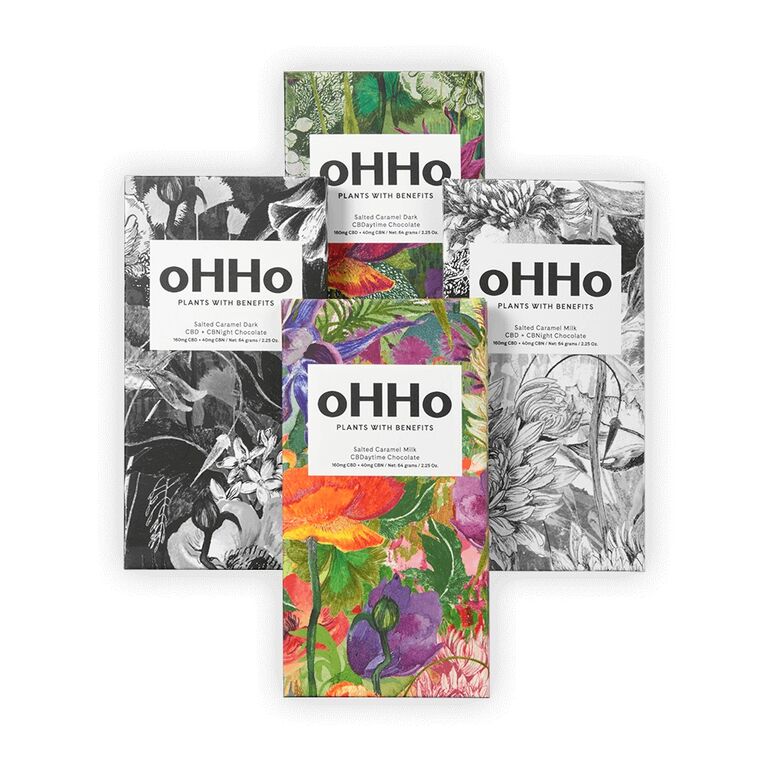 CBD and chocolate together? Say no more. This tasty treat is available with two different CBD options: one for daytime and one for the night. The site's CBDay blend boosts calm and concentration on busy mornings, while the CBNight blend promotes relaxation and restful sleep. You can also choose between milk or dark chocolate to suit your wife's preferences.
The Best Stocking Stuffers for Your Wife Under $50
As you're shopping for your wife's holiday presents, don't be afraid to splash a little extra cash on the stocking stuffers if it's within budget. For just a little extra dough you can pick up really great stocking stuffers for her. Who knows, one of these awesome picks might just win the title of her favorite Christmas present this year.
43. Something Seasonal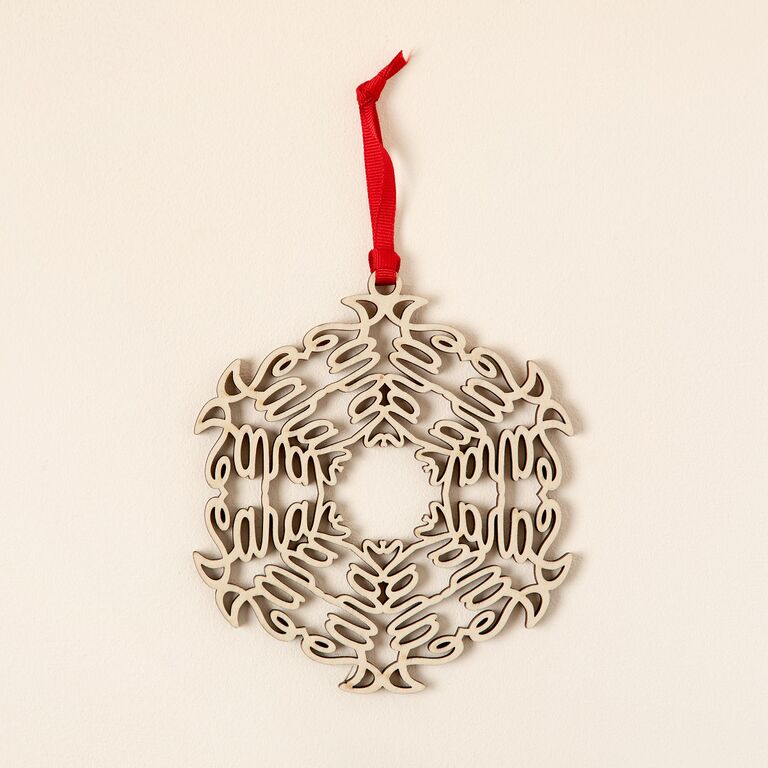 Looking for something truly special to complete her Christmas stocking? We've got you. This one-of-a-kind snowflake ornament from Uncommon Goods is made using your wife's name. The result? An eye-catching piece of holiday decor that's subtly personalized with her name in an intricate repeat pattern. Each one of these bad boys is made to order and completely unique.
44. Something to Foster Connection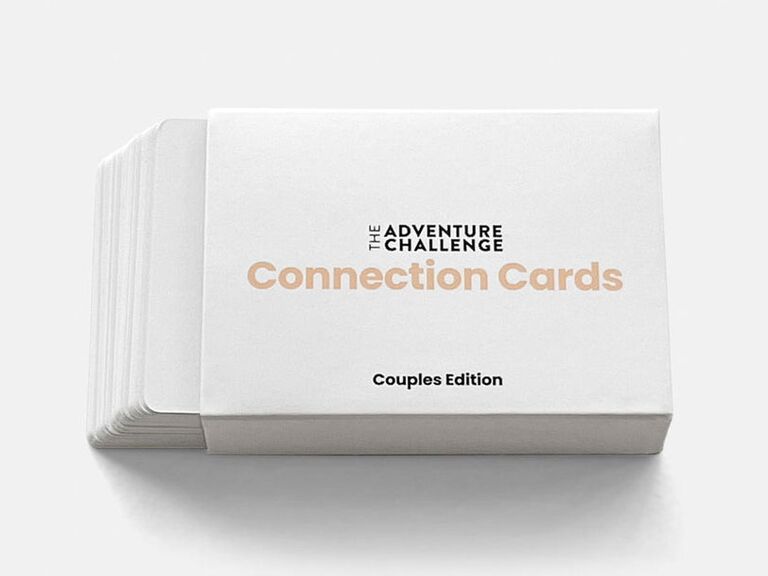 Maybe you've heard of—or even completed—The Adventure Challenge's cool book of scratch-off date ideas. Now, the company has come up with an equally impressive deck of cards that's the perfect size for a stocking stuffer. The Connection Cards are designed to spark deep and interesting conversations that'll bring you closer together. There are 50 questions and prompts in total, curated by the brand's date-night experts. Talk about a good stocking stuffer idea for your wife! Use the code THKNOT10 for 10% off sitewide.
45. Something for Her Self-Care Routine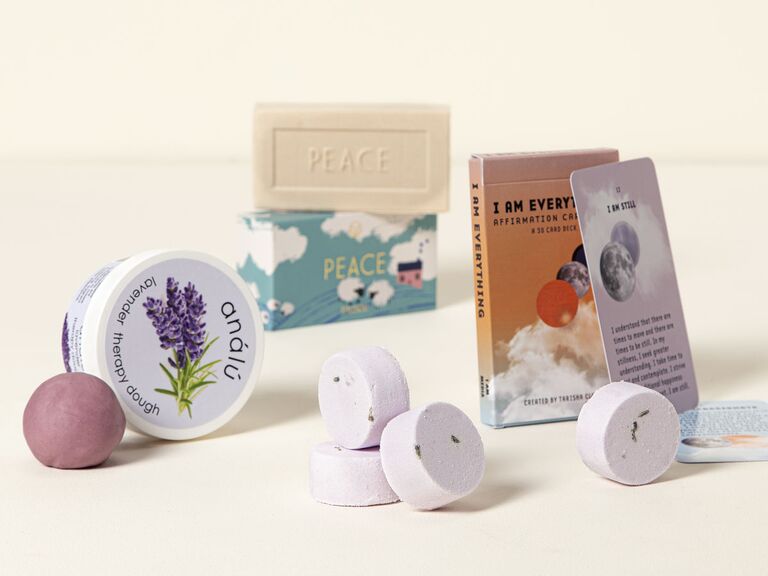 Uncommon Goods has officially won Christmas with their themed stocking stuffer kits containing everything you need to start (and complete!) your wife's stocking. This set has a self-care theme and includes lavender-scented shower steamers, vanilla soap, lavender therapy dough and an affirmation deck. It's everything she'll need for a restful start to the new year. (And if your wife is already a fully-fledged wellness warrior, we also love the stocking stuffer set for avocado-toast lovers.)
46. Something She Can Feel Extra Good About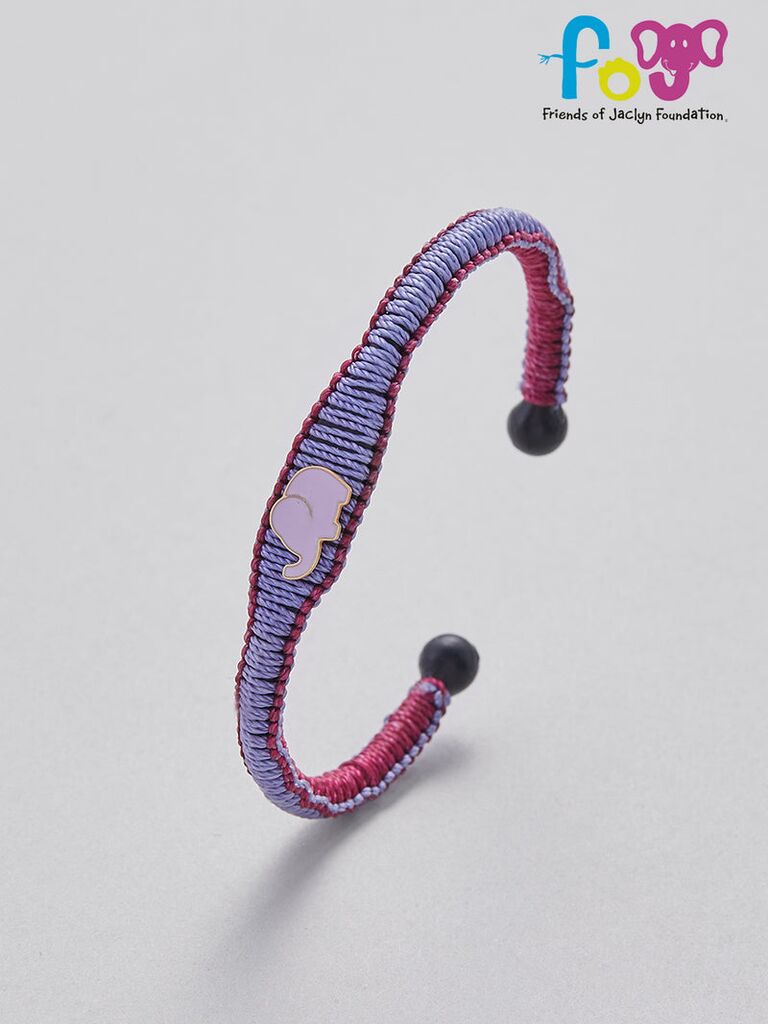 Each bracelet in Air & Anchor's Give a Cuff collection gives back to a good cause, like the Friends of Jaclyn Foundation, the National Autism Association and Blessings in a Backpack. That's what makes these cuffs such a special and meaningful stocking filler for your wife.
47. Something to Unleash Her Creative Side
Here's a thoughtful stocking stuffer idea your spouse will have to work for (just a little). This beginner's crocheting kit is accompanied by step-by-step video tutorials, and it also comes pre-started to help get the ball rolling. After all the fun of creating something new, your wife will have an adorable little penguin friend to boast about.
48. Something for the Beauty Guru
Shopping for a beauty lover and feeling totally lost? Don't worry, that's where we come in. As your resident gifting experts, allow us to point you in the right direction. This award-winning pick from clean, cruelty-free makeup brand Jones Road will immediately win her over. Miracle Balm is a versatile addition to her collection and the key to a gorgeous, natural look. There are eight color variations to choose from to suit your wife's skin tone.
49. Something for When She Loses Her Keys (Again)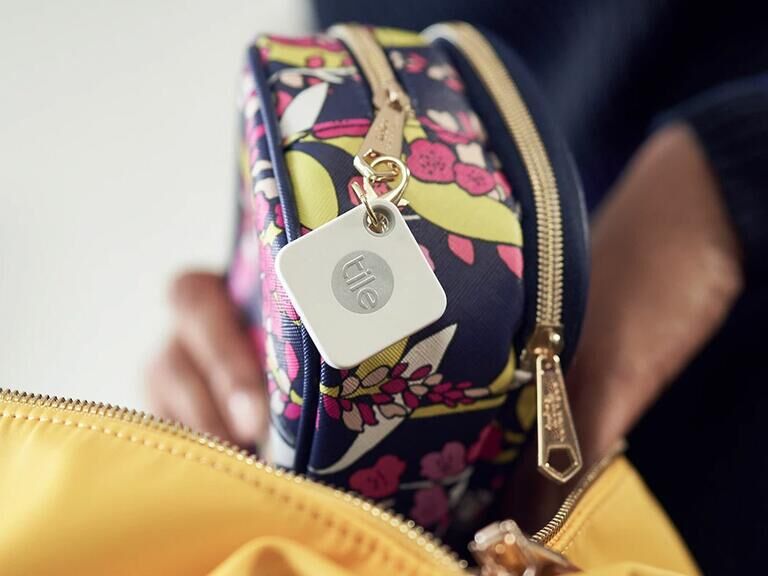 This stocking stuffer idea combines technology and functionality. If she adds her Tile to her keys and then loses them, all she has to do is open the corresponding app on her phone and ring her Tile. Or, if she loses her phone but has her keys, she can press the button on her Tile to force her phone to ring, even if it's on silent. BRB, immediately adding this to our cart.
50. Something to Sip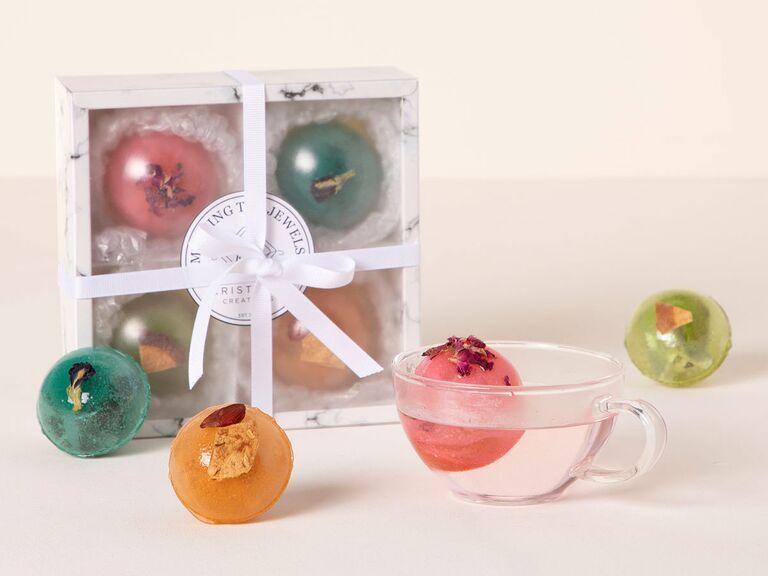 While regular old tea definitely doesn't sound like the most exciting stocking stuffer, these tea bombs are a whole other ball game. The set includes four different flavors: Tropical Sun, Youthful Rose Quartz, Peach Green Emerald and Earl Grey Jade. All she has to do is place one in a cup, add hot water, and watch the globe melt away to reveal a steeping bag of herbal tea.
51. Something to Show Her You Love Her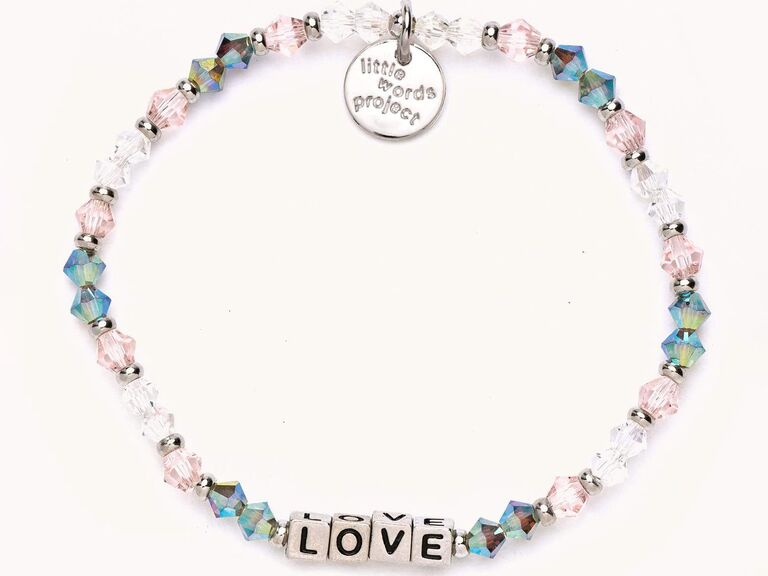 This beaded bracelet is equal parts sweet and affordable—the ultimate combo when it comes to stocking filler gifts for your wife. At the center of all those shiny crystal beads is the word "love," which is available in white, silver or yellow gold letter beads. The bracelet also comes in two different sizes, so you can choose whichever one fits her best.
52. Something She'll Use Every Day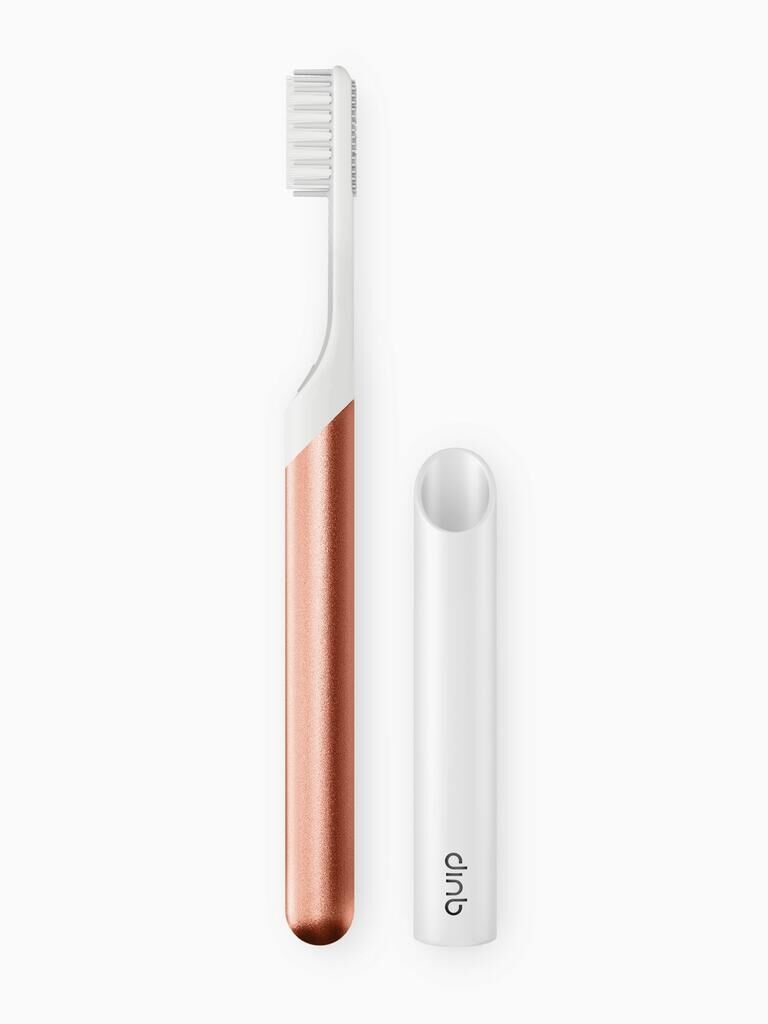 Upgrade her current toothbrush with this stylish and sleek option. If you want to spend a little extra, you can add a refillable floss pick and American Dental Association-approved toothpaste.
53. Something for the Happy Camper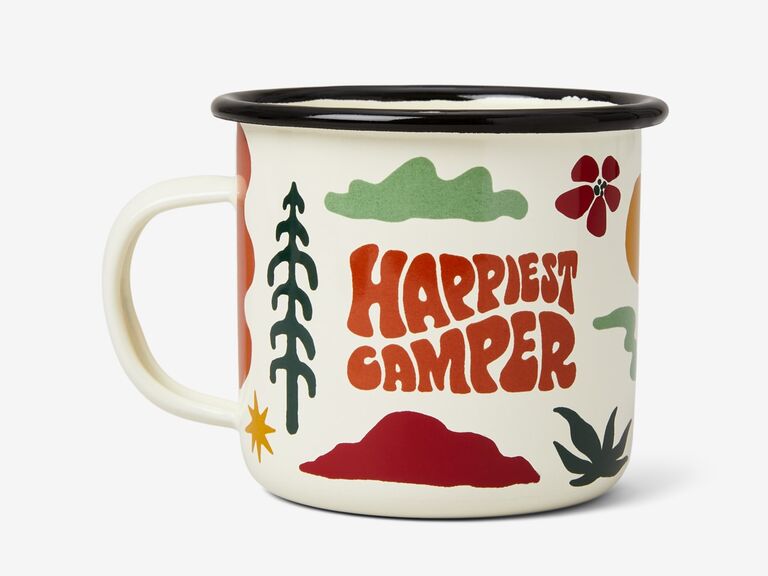 Shopping for an outdoorsy spouse? Here's a good stocking stuffer for your wife to bring on her next hike or camping trip. The enamel-coated aluminum mug is stovetop and campfire safe, making it easy to enjoy hot drinks in the great outdoors. In addition to being durable and dishwasher safe, it's also pretty to look at.
54. Something to Make Her Think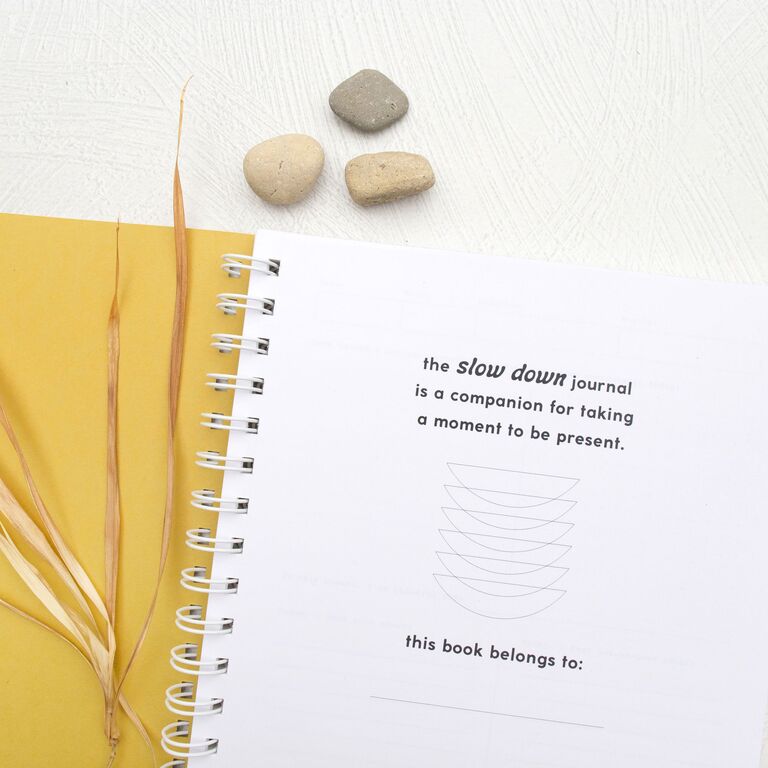 Make sure your wife takes time out of her day to have a break and connect with herself. This unique stocking stuffer offers space for her to list daily observations, plan self-care activities, track her feelings and jot down things she's thankful for (like her super-thoughtful spouse). There are 75 pages of daily prompts with additional space on the back of each page for notes and reflections.
55. Something for Her Makeup Bag
If she's interested in beauty, she probably knows all about Charlotte Tilbury's award-winning Pillow Talk lipstick already (and loves it). Known as the lipstick shade that suits everyone, you really can't go wrong no matter your wife's skin tone and preferences. Plus, it's now available in a handy travel-size set that's perfect for her stocking.
56. Something That'll Look Really Cool on Her Desk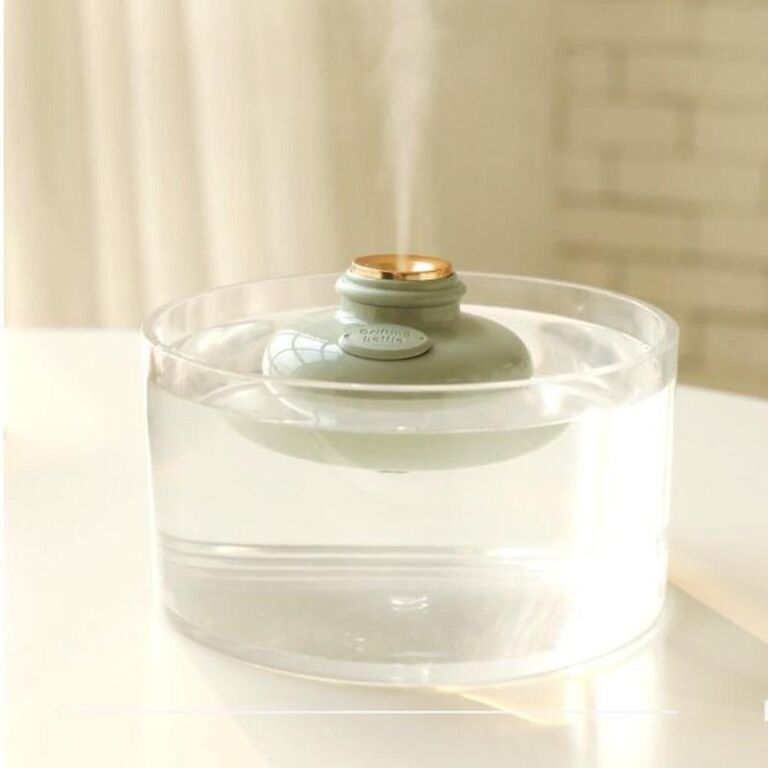 This mini humidifier is a useful stocking stuffer idea that'll help her stay zen at home and at the office. It's really easy to use: All she has to do is drop it into a glass of water and she's got a cool floating humidifier. Alternatively, she can fill this clever gadget directly with water and take it with her on the go.
57. Something Inspired by the Stars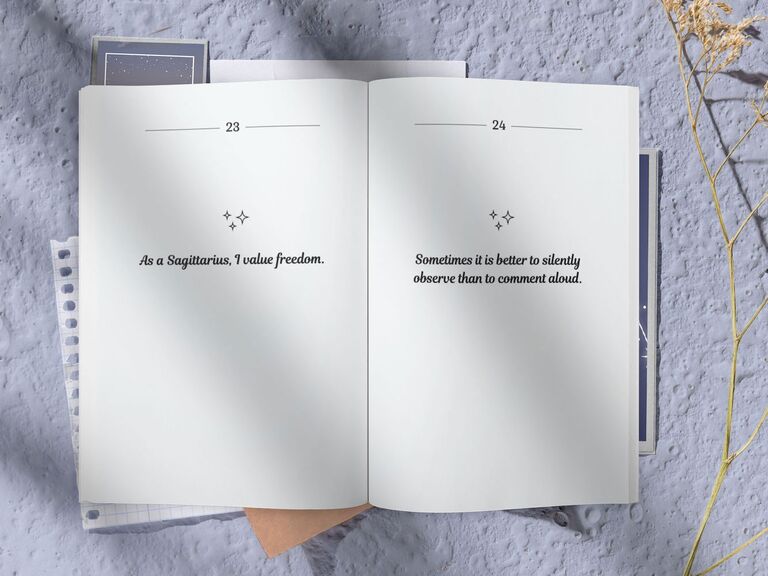 If your wife checks her horoscope on Co-Star first thing every morning, slip something in her stocking that reflects that interest. Affirmicious has handbooks tailored to each zodiac sign filled with 100 thoughtful affirmations. (And if you're not familiar with your spouse's zodiac sign, don't worry—all you need to know to figure it out is her birthday.)
58. Something to Combat Holiday Stress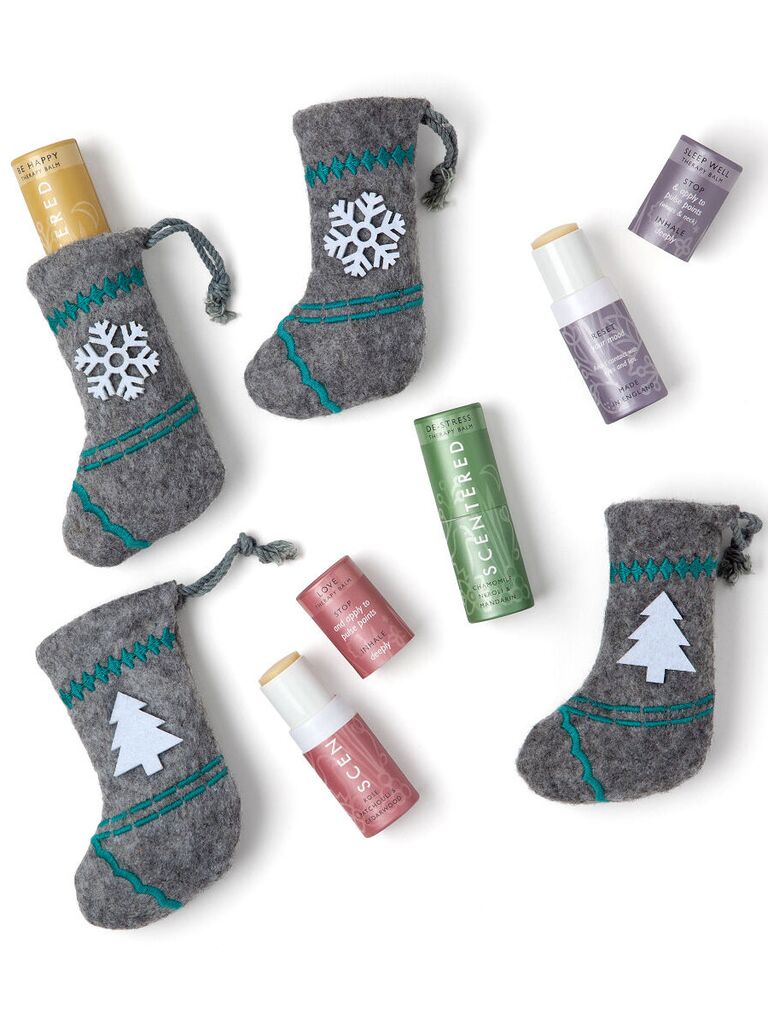 An aromatherapy balm that fits inside her purse? Yes, please! Choose from four calming essential oil blends titled Love, Sleep Well, Happy and De-Stress. Oh, and did we mention it comes in a cute miniature stocking she can hang on the tree?
59. Something (Almost) as Cute as Her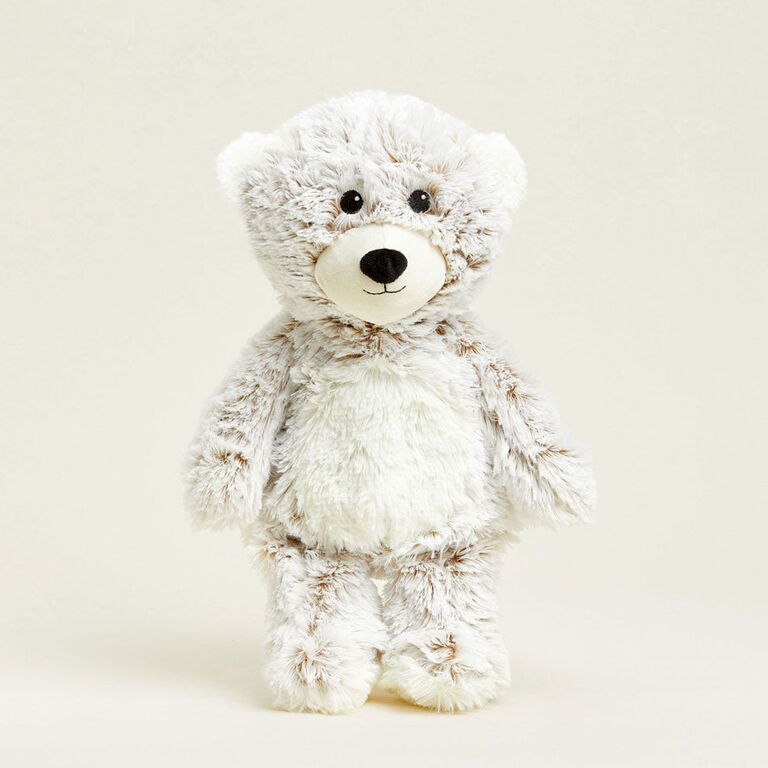 Here's another stocking stuffer so good it made the list of Oprah's Favorite Things in 2022. Warmies' adorable stuffed animals are excellent companions for anyone—kids and adults alike. This super-soft teddy can be chilled in the freezer for cooling relief or warmed in the microwave for an extra dose of comfort. Oh, and it's lavender scented too. Isn't this just the cutest Christmas stocking filler for your wife you've ever seen?
60. Something Sentimental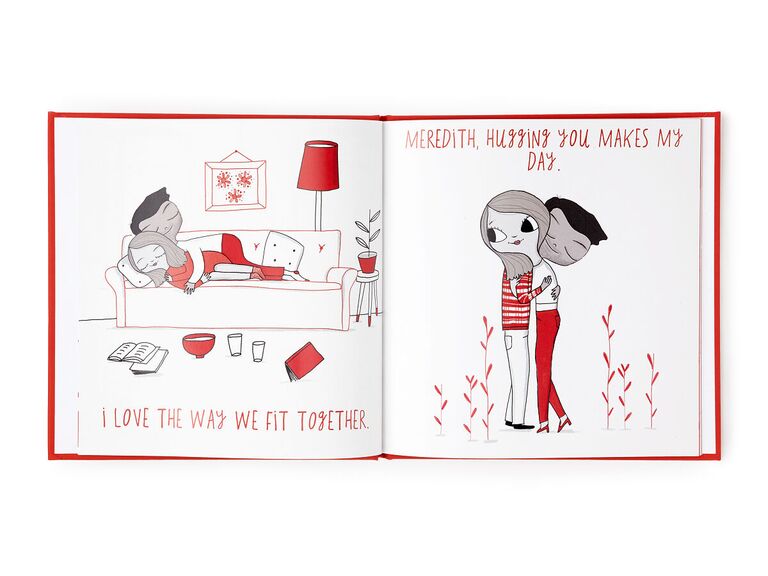 Your wife might just tear up a little when she pulls this sweet, customized book out of her stocking. You can personalize the characters to reflect yourself and your spouse, as well as the color of the book. Each page is filled with cute illustrations and reasons why you love her. How's that for a cool stocking stuffer for your wife?