The Best Honeymoons by Month
No matter when you marry, paradise awaits at one of these 12 romantic honeymoon destinations.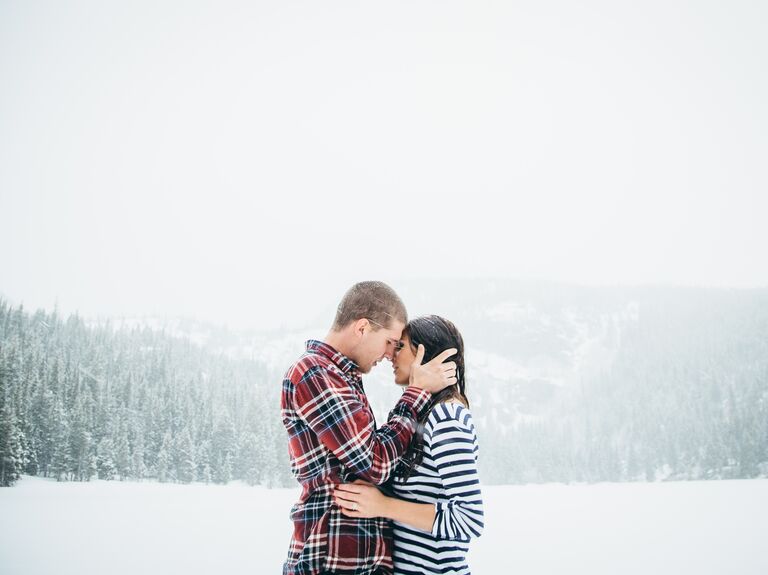 Maheux Studios Photography
Weather is the driving force in deciding on a honeymoon locale. But it's not the only factor -- number of tourists, activity availability, and changing rates all play a part in the destination puzzle. So we've pulled together the most popular and exotic honeymoon spots and the best time to go there. But above all, one fact remains: Whether you're a July or January bride, our month-by-month honeymoon guide will show you that paradise has no season.
January: Saint Barths
Why: Top-notch weather, plus if you love star-watching, it's the Caribbean haven for celebs in early January. (If not, then go in late January.)
Where to stay: Start the New Year -- and your new life together -- pampered at the Hotel Saint-Barth de France (Isle-de-France.com). All 33 rooms in this cozy French-chic resort are adorned with French decor details, whitewashed walls, and panoramic views of either their lush tropical gardens or St. Barths' best beach, Baie des Flamands. If it's available, try to reserve their Hillside Bungalow -- it has a private pool and never-ending sea views.
Honeymoon must: Take a boat or hike over to Anse à Colombier Beach. It's the hardest to get to of St. Barths' 14 beaches, so it's far more intimate than the rest.
If the date's not doable: Visit anytime between December and July. (All of the other months are their hurricane season.)
February: Argentina
Why: If you don't mind the heat, visiting the Argentine capital, Buenos Aires, in the middle of their summer offers honeymooners incredible deals, letting you afford five-star service on a three-star budget.
Where to stay: Just blocks away from the city's finest restaurants and exclusive shops is the Four Seasons Hotel Buenos Aires (FourSeasons.com/BuenosAires). This stunning 13-story, 165-room hotel features a marble staircase, a piano bar (Le Dôme), its own garden swimming pool, and a Belle epoque mansion with seven exclusive suites that are well worth the splurge. Try the Four Seasons signature massage at the hotel spa.
Honeymoon must: Step back into the 1940s for dinner as well as a truly authentic tango show at Esquina Carlos Gardel (EsquinaCarlosGardel.com.ar).
If the date's not doable: Their best weather is during the austral fall (March–May) and spring (September–November).
March: Jamaica
Why: The weather is perfectly calm and the water temperature is ideal.
Where to stay: Avoid the spring breakers by staying at Half Moon in Montego Bay (HalfMoon.com). Set on a 400-acre estate, this lavish paradise lets you choose from a variety of unique accommodation experiences, from villas staffed with your own butler, chef, and housekeeper to a beachfront suite with its own expansive patio. Either way, you're just steps away from the sand and surf.
Honeymoon must: Walk up and down the pristine sandy beaches of Montego Bay, do some up-close snorkeling with the fishes at the underwater marine park at Cornwall Beach, then sample exotic Jamaican fare at the ever-popular Pier One Restaurant & Bar -- where the menu changes with the season and the sea.
If the date's not doable: Go anytime between December and April.
April: Belize
Why: Going at the tail-end of their high season won't save you money, but it might spare you a few tourists. Plus, April falls right in the middle of the annual whale shark migration, making it one of the best times for an exciting dive. Don't let the name scare you, whale sharks may be the world's largest fish -- up to 40 feet long -- but these gentle guys eat plankton, not people.
Where to stay: Plan your Mayan honeymoon in a villa at The Placencia Hotel (ThePlacencia.com). The beachfront resort -- designed in an elegant European style -- is the perfect outpost for action (tour a jaguar reserve or kayak to a tiny island) and relaxation (spend an afternoon getting Swedish massages in the spa or swimming beneath a waterfall). Enjoy your cocktails with a view in the resort's thatched roof gazebo in the middle of the water. And dine on local Belizean Creole dishes at the hotel's ocean view Capriccio restaurant.
Honeymoon must: Leave civilization behind and sail over for an all-inclusive overnight stay on the privately owned island Ranguana Caye (RobertsGrove.com). Located in one of the best snorkeling and diving locations (it's very close to Belize's Barrier Reef), you'll have plenty of opportunities to explore life under the sea together. With only three stilt-raised cabanas on the entire two-acre island to dwell in, you'll feel like an isolated castaway as you fish, kayak, dive or just lounge all day long in their beachside hammocks.
If the date's not doable: Try between November through March to skip the hurricanes and high humidity.
May: The Greek Islands
Why: This month is just prior to their high season, so it may be pricier, but the perfect honeymoon weather and fewer tourists is worth every penny.
Where to stay: Hidden on the western end of Santorini, the tiny Katikies Hotel (Katikies.com) hangs more than 300 feet cliffside above a brilliant blue water basin. With its winding stairways, terraced verandas, infinity pools and island antiques, the place exudes a romantic glow that may rival your own. (We also love that it doesn't allow kids under 13, keeping it couples-friendly.)
Honeymoon must: The resort is revered for the White Cave Restaurant, a one-of-a-kind eatery tucked inside of a secluded cave overlooking the sea. With only three tables in the place, you'll feel the entire staff is there for just the two of you.
If the date's not doable: Try to go during the off-season in mid-September to October (the weather is just as perfect, but the prices are often much cheaper).
June: Seychelles
Why: The rates are cheaper than July and August (which are their two driest and usually busiest months), yet the gorgeous weather is still the same: cool and dry.
Where to stay: With sweeping views of the Indian Ocean, hide away at the Banyan Tree Seychelles (BanyanTree.com). This 47-villa tropical oasis located in Intendance Bay fuses simplicity with colonial luxury. With Creole and Thai delicacies making up the menu, the resort's restaurant is well worth a trip, as is the private barbecue on the beach.
Honeymoon must: Stroll through Mahe's more-than-a-century-old botanic gardens filled with nearly every exotic tree, flower, and plant on the island. Or, leave the island altogether on a chartered yacht to see Aldabra -- an atoll ring of four coral islands home to over 150,000 giant tortoises.
If the date's not doable: Plan between May and October to avoid high humidity and the rainy season.
July: Tahiti
Why: Even though it's about a consistent 79 degrees year-round, July is when the locals have their Heiva i Tahiti festival (a month-long celebration of Tahitian culture).
Where to stay: Bask yourself in cosmopolitan luxury at Le Meridien Tahiti (StarwoodHotels.com). Located along the Punaauia region, this resort is surrounded by water and architecturally stunning details, with water views in every possible direction. The rooms are colorful and spacious and their signature French dining is delicious, but we recommend trying to snag one of their 12 over-the-water bungalows. The sunset views of the neighboring island Moorea are worth the higher price alone.
Honeymoon must: Surround yourself with reef sharks, sea turtles, and tropical fish at the Lagoonarium viewing room or be adventurous and try a safari trip to the center of the island.
If the date's not doable: You'll deal with less humidity from May to October, although it's perfect to visit anytime.
August: Mauritius
Why: It's their wintertime, which means the area is drier and the lodging is modestly affordable.
Where to stay: Secluded on the private peninsula of Belle Mare, the 162-suite One&Only Le Saint Geran resort (from $840, OneandOnlyLeSaintGeran.com) prides itself on its Egyptian cotton sheets, hand selected furniture, and panoramic ocean views in every room.
Honeymoon must: If you're a water lover, rent a pair of skis -- the resort offers a complementary water ski slalom course. Or, grab your clubs and play their one-of-a-kind, 9-hole golf course designed by legendary golfer Gary Player. Afterward, swing past the Givenchy Spa and splurge for a Four Hands Massage that uses Ylang Ylang extract -- two therapists work both sides of your body simultaneously. Then finish off the night with multi-ethnic cuisine at Spoon des Îles and sample a few of their 240 wines from around the world.
If the date's not doable: July and September also fall within their winter season and offer the same perks. Think twice about going between January and April when it's humid and rainy.
September: Spain
Why: With the summer crowds gone and the weather a bit cooler, you'll soak up Spanish culture in blissful silence.
Where to stay: Forget Madrid and treat yourselves to the rustic La Pleta Hotel & Spa in Baqueira (from $225, LaPleta.com), a five-star resort located over 1,700 feet up in the Pyrenees mountains. During the wintertime, it's crowded with skiers, but in the fall, the spacious elegant and rustic-style guestrooms with Molton Brown products, goose-down pillows, and gorgeous mountain views are all yours. Order in from their decadent menu of Catalan cuisine or venture outdoors to enjoy a horseback ride.
Honeymoon must: Enjoy the outdoor adventures the resort offers in the Aran Valley, including guided tours, mountain climbing, quad racing, and archery. Afterward, treat yourself to a Val d'Arán honey massage at the resort's Occitania Spa.
If the date's not doable: October and November are also perfect.
October: Venice
Why: The charm of its Old World hospitality may be timeless, but October falls within Northern Italy's wine harvest season. That means plenty of wine events, tastings, and unveiling of new vintages.
Where to Stay: The Hotel Dei Dogi (from $254, BoscoloHotels.com) is a mix of 18th-century romance and contemporary hospitality. With 76 rooms to choose from, try for one of their 10 Junior Suites -- each one features high ceilings, Oriental carpeting, and elegant glass chandeliers. (Just be sure to ask for a room that overlooks their internal botanical garden.) Or, break away from the city and stay at the Livio Felluga winery (LivioFelluga.it), world-renowned for its delicious Picolits and Pinot Grigios.
Honeymoon must: No honeymoon is complete without a gondola ride -- so cuddle up and glide through the enchanting Venetian canals (it'll run you about $75–$100 for up to a 50-minute ride).
If the date's not doable: Go anytime but August, when the country goes on holiday.
November: Los Cabos
Why: Beautiful weather in the mid- to upper-70s (on average) creates the perfect backdrop for your Mexican getaway.
Where to stay: For the ultimate in luxury, stay at Las Ventanas al Paraiso (from $450, LasVentanas.com). It's the tiny amenities that put this hotel top of the Cabo pack: poolside Evian spritzes, aromatherapy turndown service, and in-room tequila welcome.
Honeymoon musts: By day, take a private yacht over to Lover's Beach for a picnic lunch, some sand under your toes, and panoramic views of the Pacific Ocean. By night, enjoy a private dinner and movie for two on the beach.
If the date's not doable: Go in the fall, winter or spring to avoid the crowds and storms.
December: Las Vegas
Why: Going the weeks before Christmas -- the only real off-season for Sin City -- offers more intimate excitement thanks to fewer tourists.
Where to stay: Escape the slots by heading off the strip and nestle in at the Platinum Hotel and Spa (from $189, ThePlatinumHotel.com). This brand new, 17-floor, non-gaming hotel is minus the noise and plus the amenities, where couples can unwind with everything from Swiss showers to side-by-side wasabi oil massages.
Honeymoon must: Recapture your wedding day butterflies with a tandem skydive and five-to-seven minute parachute descent over Vegas ($249 per person, VegasExtremeSkydiving.com).
If the date's not doable: It's more about the days: Sunday to Thursday is more quiet.
-- Myatt Murphy