29 Non-Floral Centerpieces That'll Make You Want to Skip Flowers
Make an impact without a single fresh bloom.
Flowers are commonly used in wedding reception centerpieces, but that certainly doesn't have to be the case. If flowers aren't quite your vibe, there are still plenty of beautiful ways to ensure your reception tablescapes are absolutely stunning. From greenery-only arrangements to designs that don't utilize any plants, there's a non-floral centerpiece idea for every couple and every wedding style.
Are you a bibliophile? Maybe a stack of your favorite books paired with pillar candles is the way to go. A fan of vintage and thrifted gems? Scour your local haunts during your next date night to curate a collection of decorative objects for your wedding tables.
If you're thinking outside the box, the sky's the limit. However, that much design freedom might feel a little daunting. To kick-start your brainstorming and wedding planning, we've curated some of our favorite non-floral centerpiece ideas. Peruse below and save the picks that pique your interest to share with your wedding planner.
1. Centerpiece With Fresh Fruit and Vegetables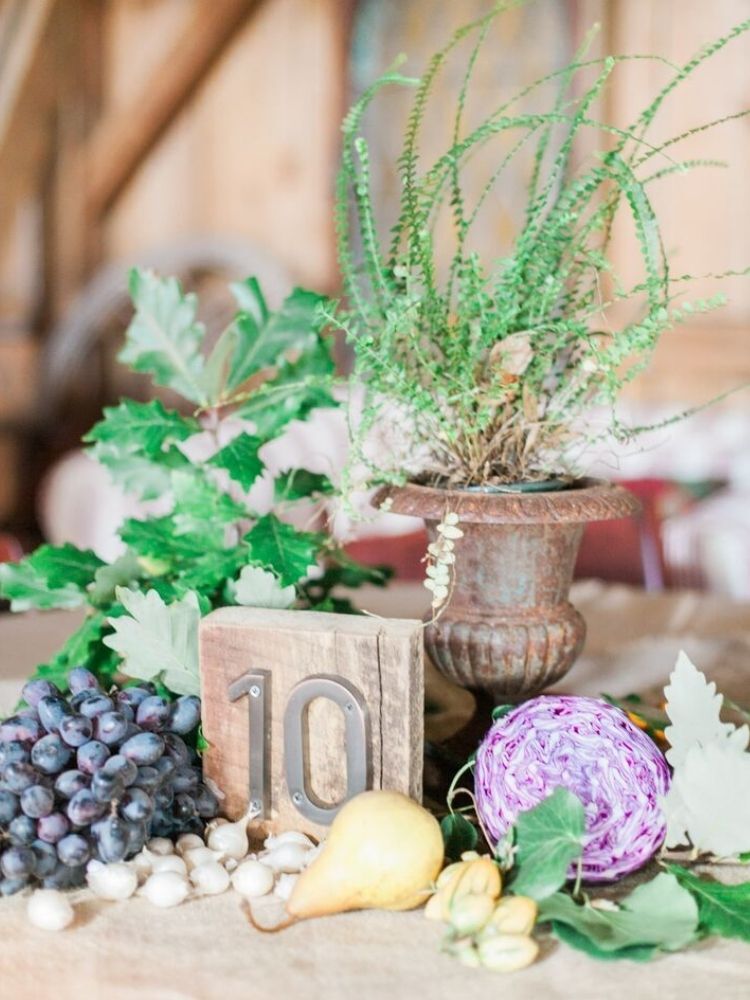 Instead of floral arrangements, a collection of fresh fruits and veggies, from purple cabbage to succulent grapes, graced these wedding reception tables.
2. Crepe Paper Faux Flower Centerpiece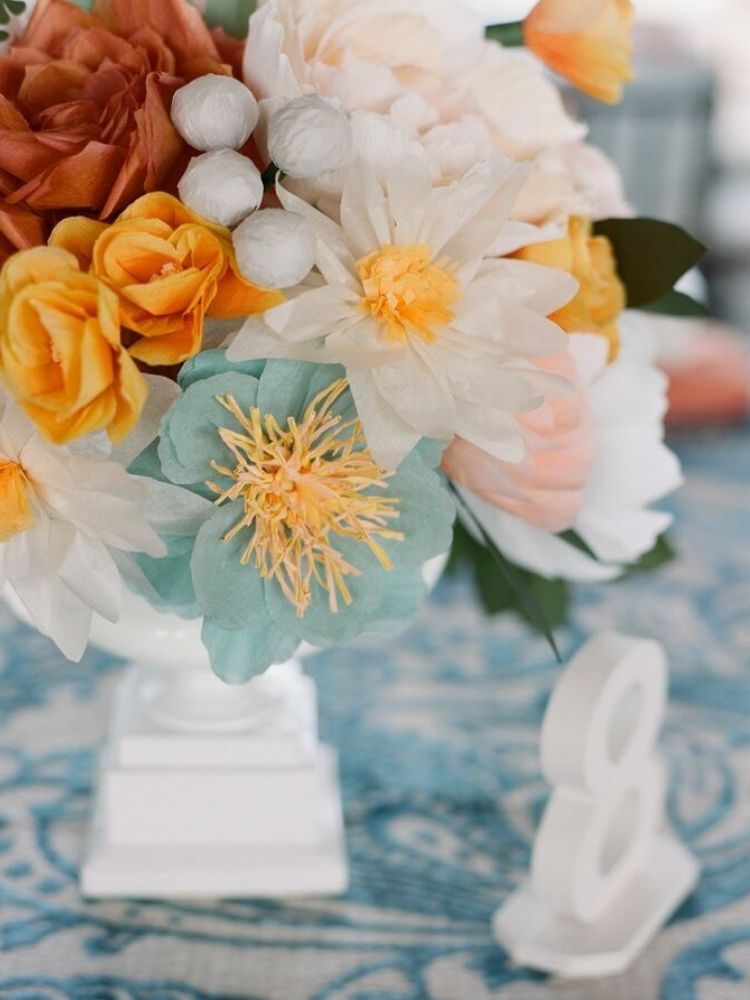 Instead of fresh blooms, this couple had faux flowers made of crepe paper set atop their reception tables.
3. Lamp With Silver Lamp Shades as Glam Centerpiece
A candelabra-style lamp with silver fringe lamp shades served as a glam non-floral wedding centerpiece atop this reception table. To further accent the look, succulents and votives surrounded the lamp.
4. Pinecone Wedding Centerpiece in Rustic Basket
The non-floral wedding centerpieces at this reception included dried pinecones gathered in autumnal wood baskets. If you have settled on a rustic wedding theme and are looking for some DIY wedding decor projects, consider gathering pine cones to sprinkle throughout the wedding day.
5. Star Wars Millennium Falcon Wedding Centerpiece
Star Wars fans, this eclectic non-floral wedding centerpiece is for you. To complement their Star Wars wedding theme, this couple had figurines of different Star Wars spaceships serve as table decor.
6. Glass Cloche Centerpiece With Moss and Calligraphed Table Number
For couples with whimsical woodland wedding themes, cloches and moss are a fun wedding decor option. Since you're skipping wedding flower arrangements, you don't need to be limited to glass vases—instead, consider unique vessels like cloches to hold your terrarium-inspired table decor.
7. Fresh Thyme Wedding Centerpiece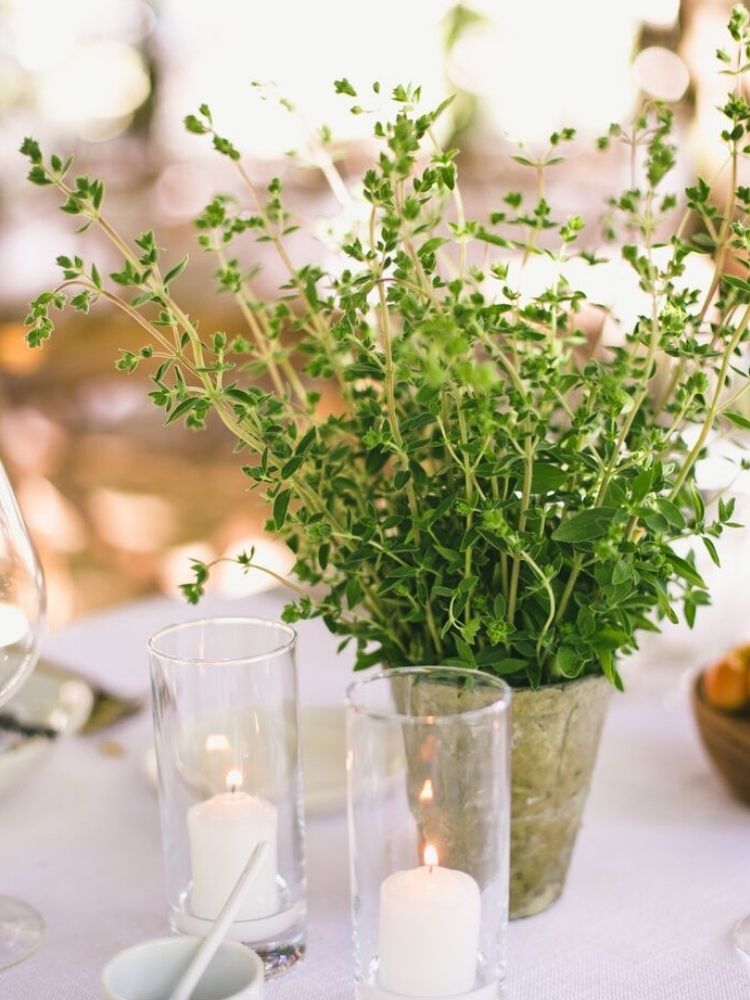 Since they're more fragrant than most standard greenery, herbs are a great choice for wedding centerpieces if you're looking for something that really makes a statement. Here, the couple placed fresh thyme in a rustic pot and surrounded the whole setup with candles for ambience.
8. Pillar Candle Centerpiece With Silver Tray
Instead of simply decorating their reception tables with groupings of white pillar candles, this couple added vintage flait to their table decor with ornate silver trays.
9. Terrarium-Inspired Succulent and Air Plant Centerpiece
Even if you don't plan to utilize flowers, it may be worth booking a florist to handle your centerpiece design. They'll be able to help bring all your wedding ideas to life effortlessly. A florist will know what greenery to add to the table and may even be able to provide other styling details, such as wood slabs, candle holders and votive candles.
10. Centerpiece With Vintage Books and Metal Tins
As a budget-friendly option for your centerpieces, consider visiting a local thrift store to find decorative books to use as decor, along with other decorative objects.
11. Bowl of Peaches as Wedding Centerpiece
We love this idea for a summertime South affair. Fresh peaches look good and smell great—what more could you want?
12. Lantern Centerpiece
Metal decorative objects, like lanterns and bird cages, make great table decorations. Pro tip: If you find a lantern you love but doesn't complement your wedding colors, a quick coat of spray paint can instantly transform the object.
13. Nautical Glass Orbs Decorated With Rope
Planning a beach wedding? These nautical orbs are a great centerpiece idea if you're looking for something out of the box and don't want to incorporate more expected seashells in your tablescape.
14. Modern Driftwood Centerpiece
Driftwood is another great option for couples planning nautical-themed weddings.
15. Fresh Peach Centerpiece With Calligraphed Table Number
A calligraphed table number sign added even more interest to this already-creative fresh peach centerpiece.
16. Persimmon and Pomegranate Centerpiece
This fall wedding leaned into the rich hues of fresh fall produce when it came to decor. The tables were laden with groupings of fresh pomegranates and persimmons.
17. Color Paper Flower Centerpiece
Instead of decorating with fresh blooms, this wedding's decor made use of delicate paper flowers in the centerpiece designs.
18. Vintage Suitcase Centerpiece With Wine Bottle Table Number
A collection of vintage decorative objects worked together to create an eclectic, yet harmonious, centerpiece atop this table. To complete the look, spray-painted wine bottles served as table numbers.
19. Globe and Book Centerpiece
Centerpieces are a great spot to highlight the interests and hobbies you and your partner share. If travel is one of those mutual interests, pay homage with globe centerpieces.
20. Colorful Lollipop Centerpiece
If you're having a kids' table at your wedding, have fun with the centerpiece design and choose something youngsters will enjoy. At these nuptials, the kids' table was decked out with a centerpiece made of colorfully wrapped lollipops to be enjoyed throughout the night.
21. Centerpiece With Collection of Potted Herbs
This herb centerpiece idea could easily double as a wedding favor moment as well. For to-be-weds with a green thumb, decorate reception tables with a variety of potted herbs and plants—then let guests know they can take one home at the end of the evening.
22. Rustic Centerpiece With Greenery, Antlers and Lanterns
Once guests found their seats with the help of lantern table numbers, eucalyptus garland accented with antlers greeted them at their seats.
23. Dramatic Black-and-Green Centerpiece
These greenery-only centerpieces utilized matte black vessels and the end result was a sleek, modern tablescape that would wow any wedding guest/
24. Up-Inspired Balloon Centerpiece
This couple paid homage to the whimsical children's movie by decking out reception tables with model houses and colorful balloon bouquets.
25. Lobster Neon Sign Centerpiece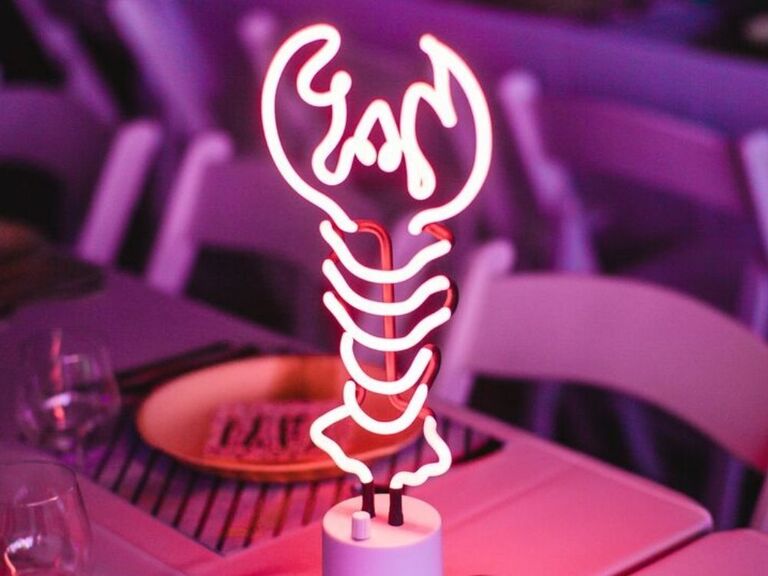 If you are a fan of the sitcom Friends, then you're sure to love this neon sign lobster centerpiece.
26. Tropical Monstera Leaf Centerpiece
Given the scale of monstera leaves, they are a great choice for couples who want a minimal-yet-tropical tablescape.
27. Tall Centerpiece With Palm Fronds and Banana Leaves
If you're concerned about wedding guests being able to chat with their tablemates throughout dinner, consider a tall centerpiece design that doesn't block guests' line of sight.
28. Elegant Fern Centerpiece
Dramatically textured ferns graced this simple table design.
29. Collection of Potted Plants and Gold Vases as Centerpiece
Gold vases were added to this centerpiece design to add a bit of drama and color to this collection of plants in terracotta pots.