16 Creative Non-Floral Centerpiece Ideas
No flowers? No problem.
Flowers and weddings tend to go hand in hand (who doesn't love bouquets, boutonnieres and flower girls?), but if you're not into petals, there's no rule saying you have to include them. While you also don't have to nix buds entirely, if you'd rather incorporate non-floral elements into your wedding décor, consider one of these alternatives for your centerpieces. We promise you won't miss the blooms one bit.
1. Love Stories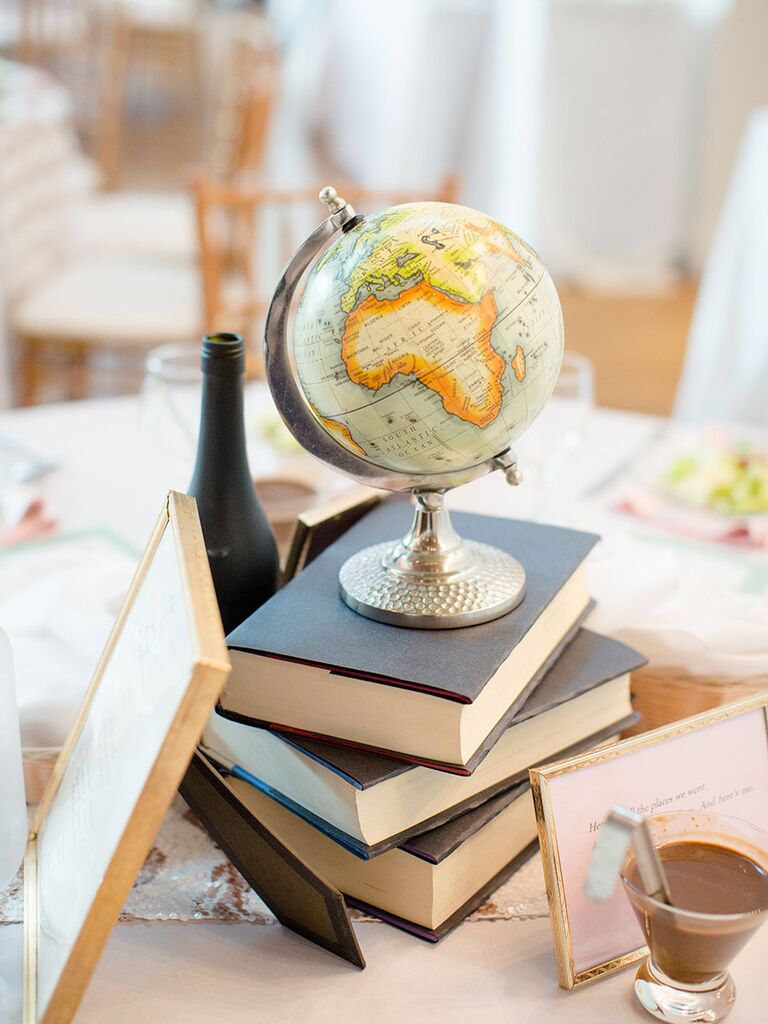 Stacks of vintage books make for great centerpieces, especially if you're going for an antique or eclectic feel. They're an easy way to add height to candles, and stacks of classics can effortlessly fill out the center of a table. Stencil an old book with a bold numeral for a centerpieces that double as table numbers.
From: A Rooftop Spring Wedding at Foundation for the Carolinas in Charlotte, North Carolina
2. Rustic Assortments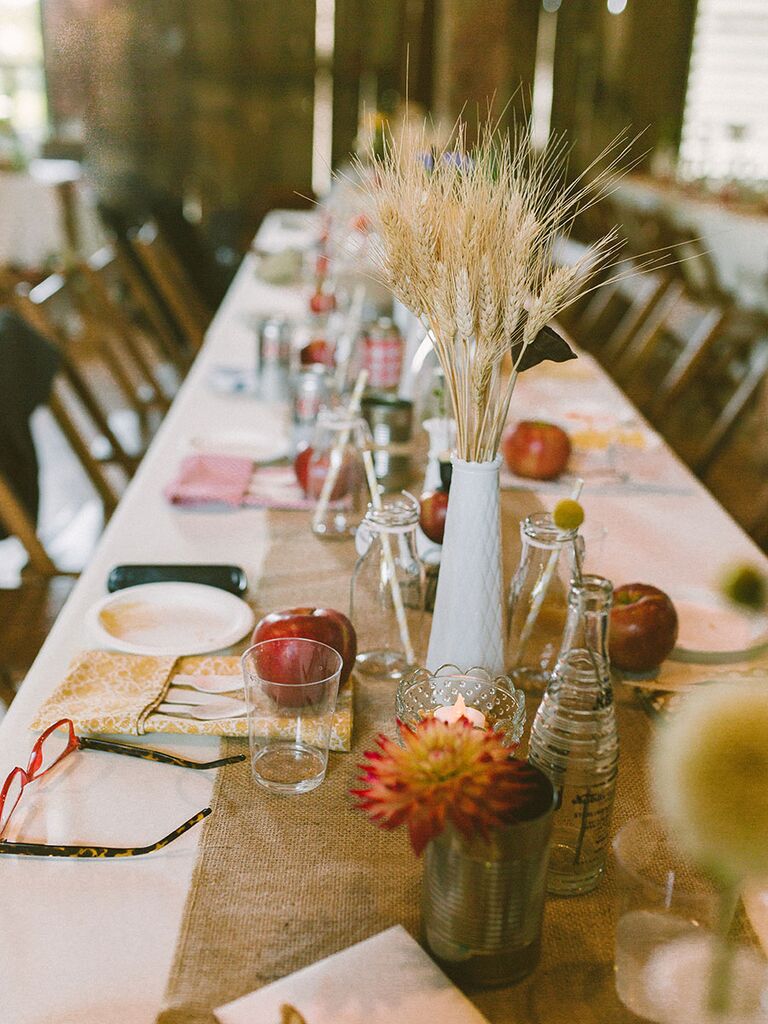 Fill various opaque vases, glass bottles and tin cans with wheat or branches for centerpieces, then set the table with handmade napkins, milk bottles and apples for an eclectic autumn fete with vintage flair.
From: A Vintage-Style, DIY Wedding at Richland Township Community Park Barn in Gibsonia, Pennsylvania
3. Fruit Filling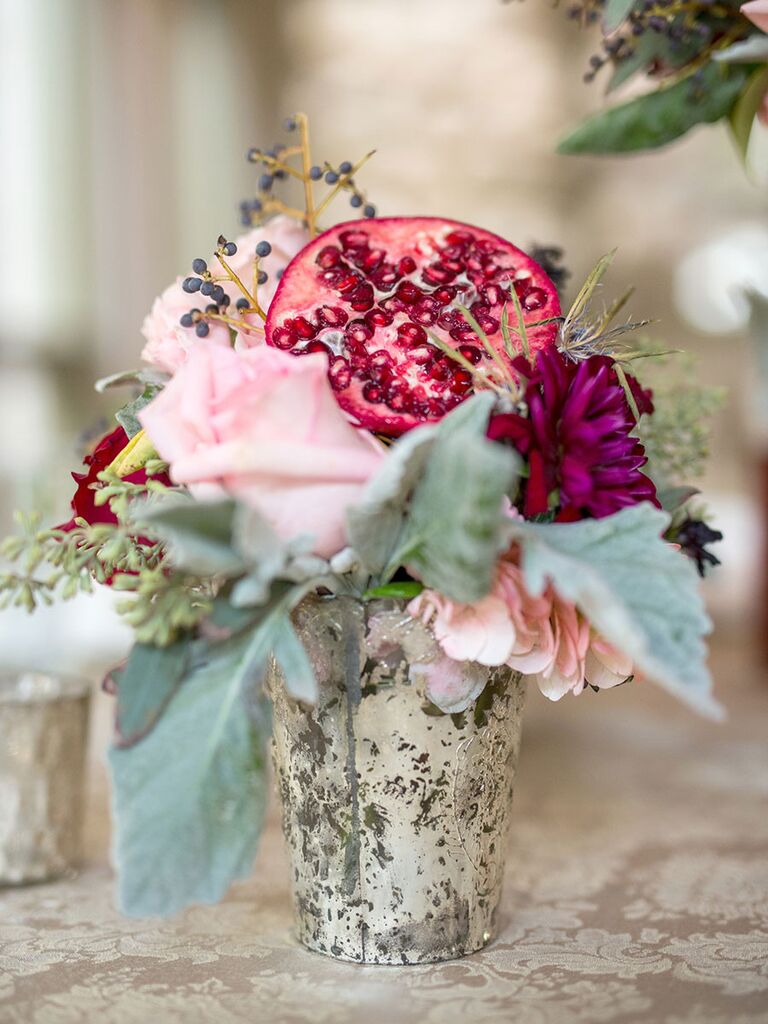 When it comes to wedding details, playing with your food is definitely allowed. Vivid red pomegranates add an unexpected element to your table arrangements.
From: A Traditional Elegant Wedding at Villa Antonia in Austin, Texas
4. Giant Palms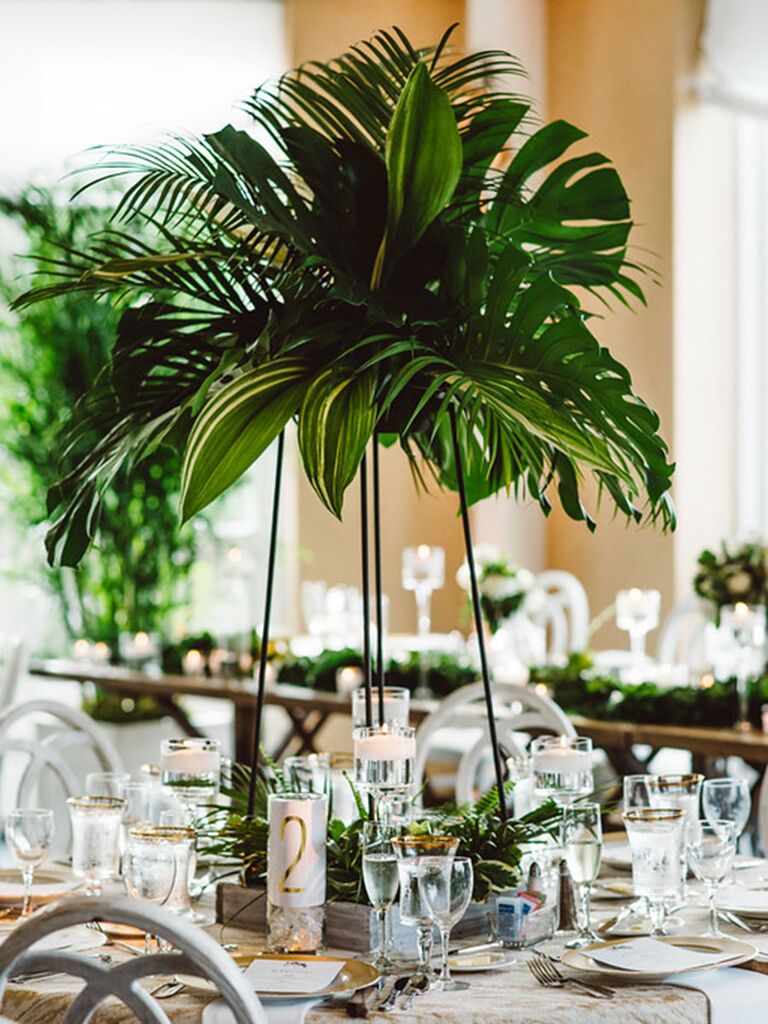 Dramatic centerpieces make an impressive statement. Try out a combination of palms and banana leaves for lush, tropical tabletops that are bold, yet refined.
From: A Yacht Club Wedding With a Modern Twist at Cleveland Yacht Club in Cleveland, Ohio
5. Under the Sea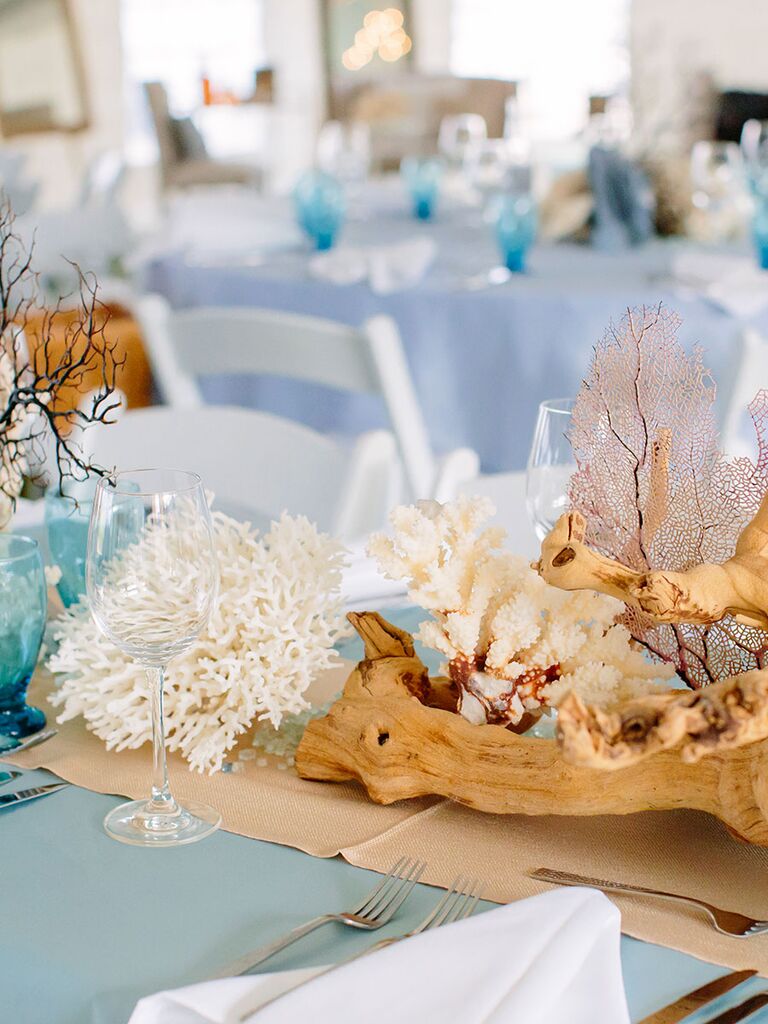 Sourcing your décor from the sea will make your guests feel like they're right on the coast. Alternate shells with different colored coral and driftwood for diversity of color, shape and dimension.
From: An Ocean-Inspired Wedding at South Seas Island Resort in Captiva Island, Florida
6. Produce, Please
Highlight the organic shapes and vibrant colors of fresh fruits and veggies. Feature grapes, artichokes and cabbages for an abundant, rustic harvest theme.
From: A Fall Harvest-Themed Wedding at Shepherd's Hill Farm in Montgomery, Minnesota
7. Quiet Candlelight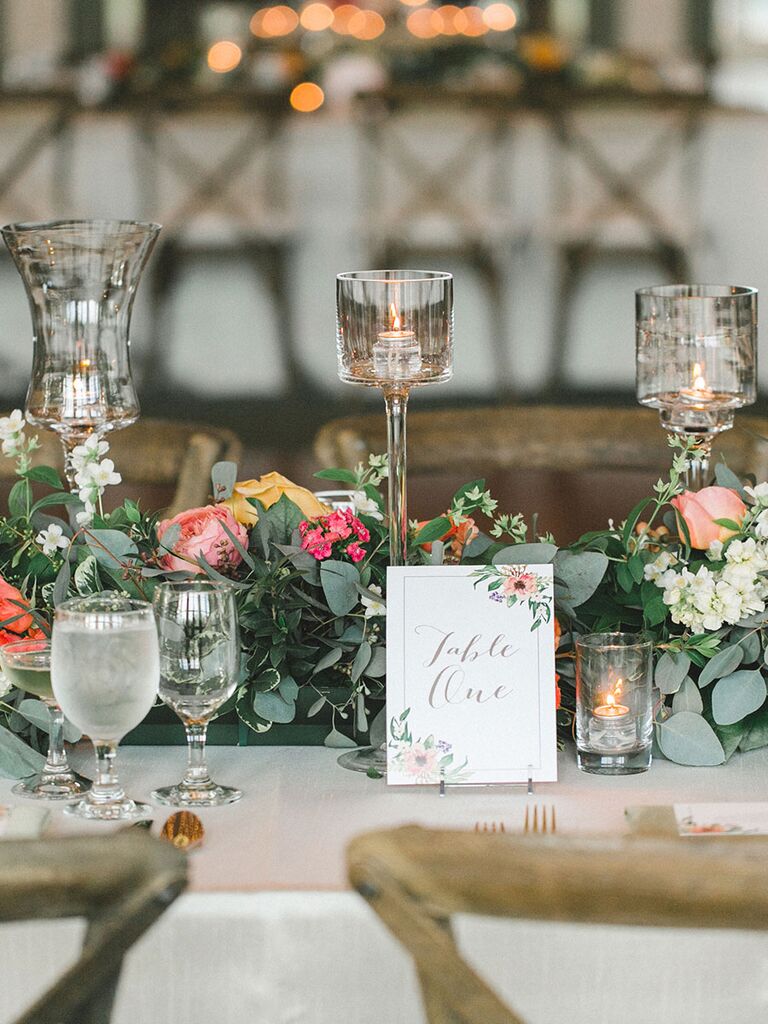 There's nothing quite like candlelight to create a warm, intimate glow and put you, your guests and your reception space in a flattering light. Opt for unscented candles so the fragrance doesn't overwhelm the room.
From: A Sophisticated Flower-Filled Wedding at Daniel Stowe Botanical Gardens in Belmont, North Carolina
8. Wine Lover
Save up all of those bottles from your Friday nights in and use them as table numbers. All you need is a bit of spray paint to make everything look polished.
From: A Rooftop Spring Wedding at Foundation for the Carolinas in Charlotte, North Carolina
9. Sail Away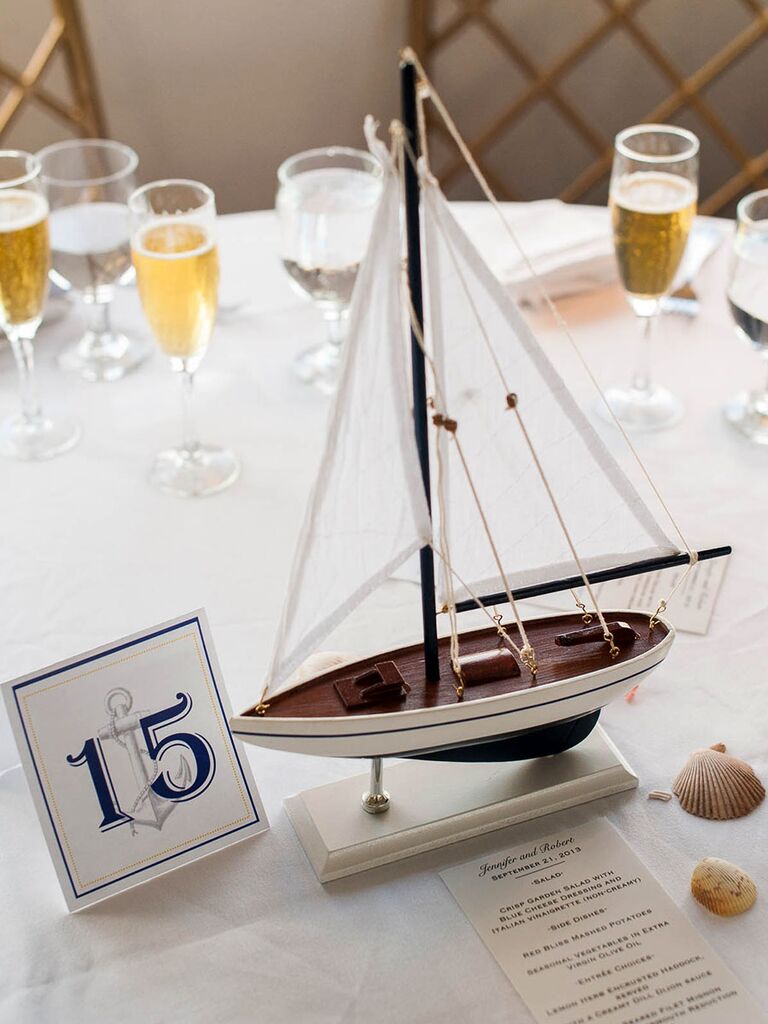 Model sailboats make the perfect centerpiece for a nautical theme wedding with a navy color scheme.
From: A Nautical Wedding at Boston Harbor Cruises in Boston, Massachusetts
10. Feathered Glam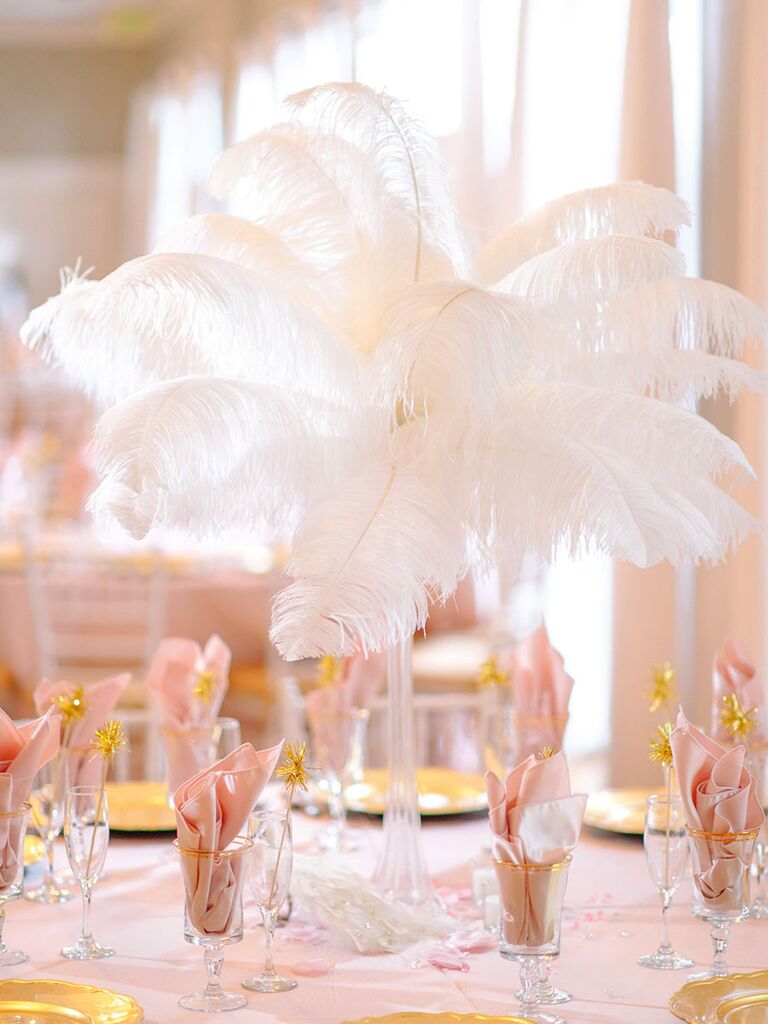 Who doesn't love the 1920s? Plush feathers bring this era to life—and will put everyone in the party mood.
From: A Pink Southern Charm Wedding in South Carolina
11. Mix and Match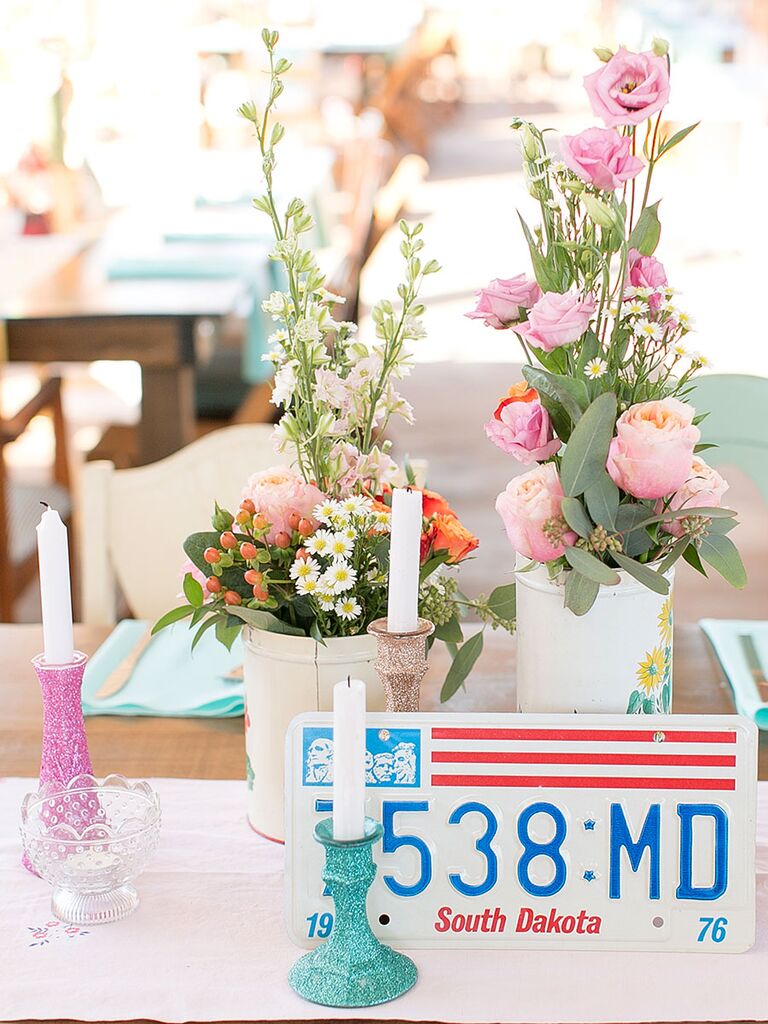 Decorate each table a little differently, mixing up coffee cans, vases and colorful candlesticks. Have a blast scouring local antique shops and DIY-ing these fun accents. 
From: An Americana-Inspired Wedding at Isola Farms in Groveland, Florida
12. Crystal Clear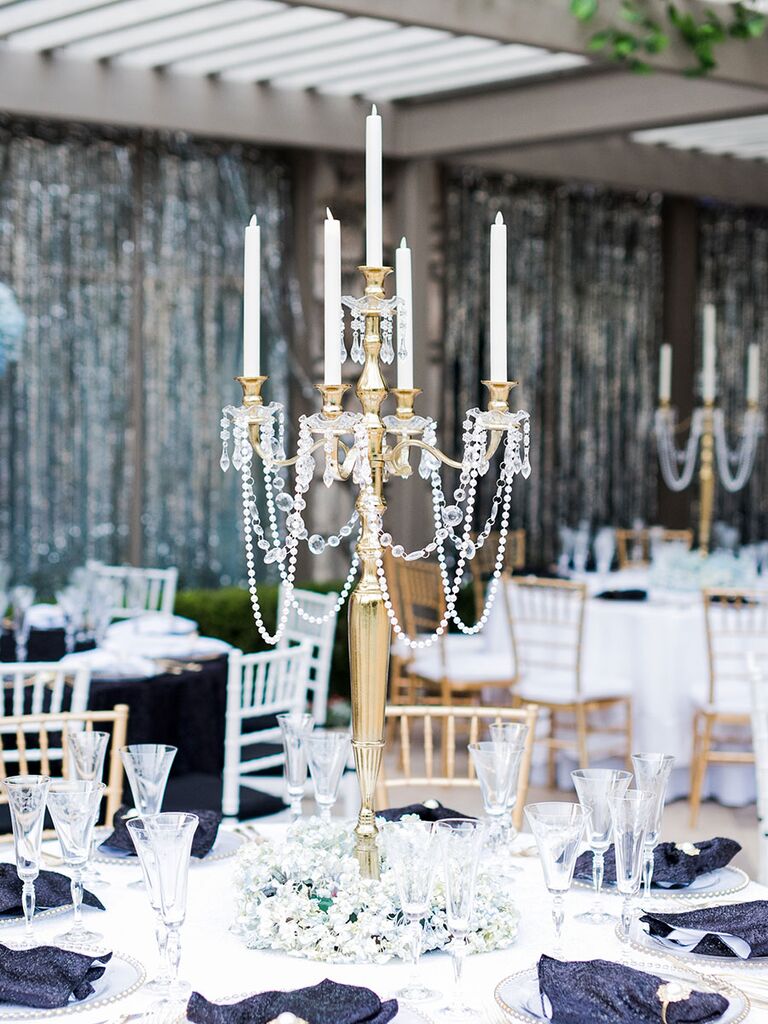 If the glitz of the art deco aesthetic is your thing, you need gilded candelabras draped with crystals on your tabletops.
From: A Glam Roaring Twenties Wedding at Westwood Country Club in Austin, Texas
13. Table Themes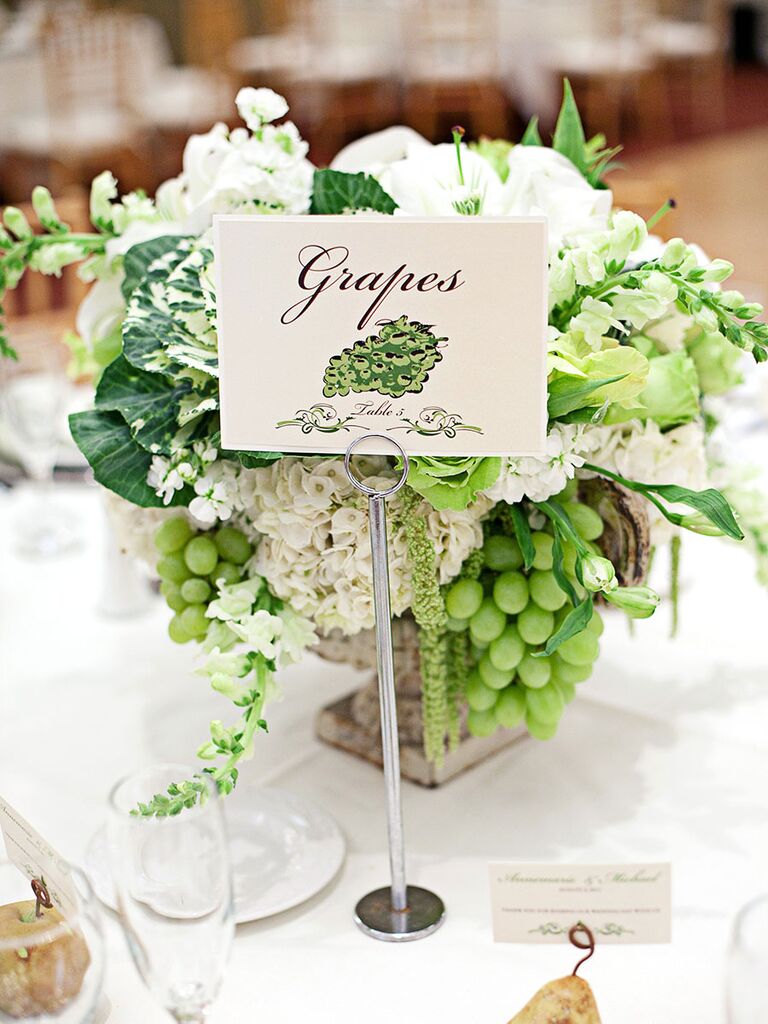 Name each table after a different fruit and work it into the centerpiece.
From: A Fresh Green Wedding in San Jose, CA
14. Edible Arrangements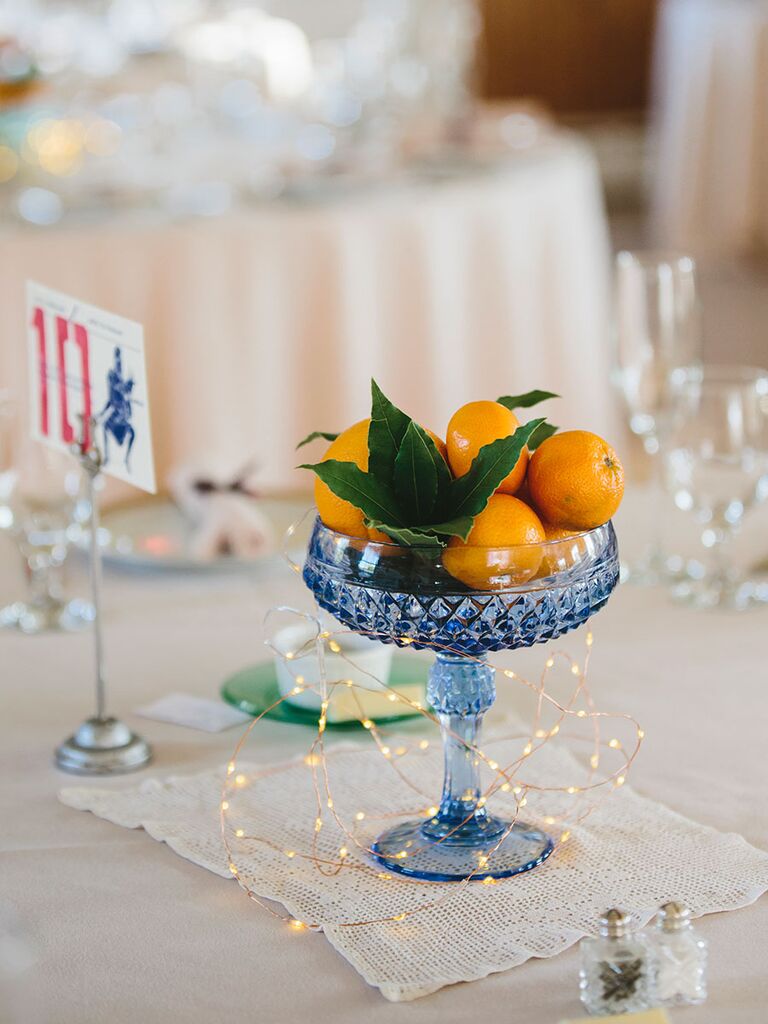 Orange you glad you didn't use flowers? (Sorry, we had to.) Fill glasses, vases or bowls with citrus for naturally colorful focal points.
From: A Vibrant Vintage Wedding at Queens County Farm Museum in Glen Oaks, New York
15. Fall Foliage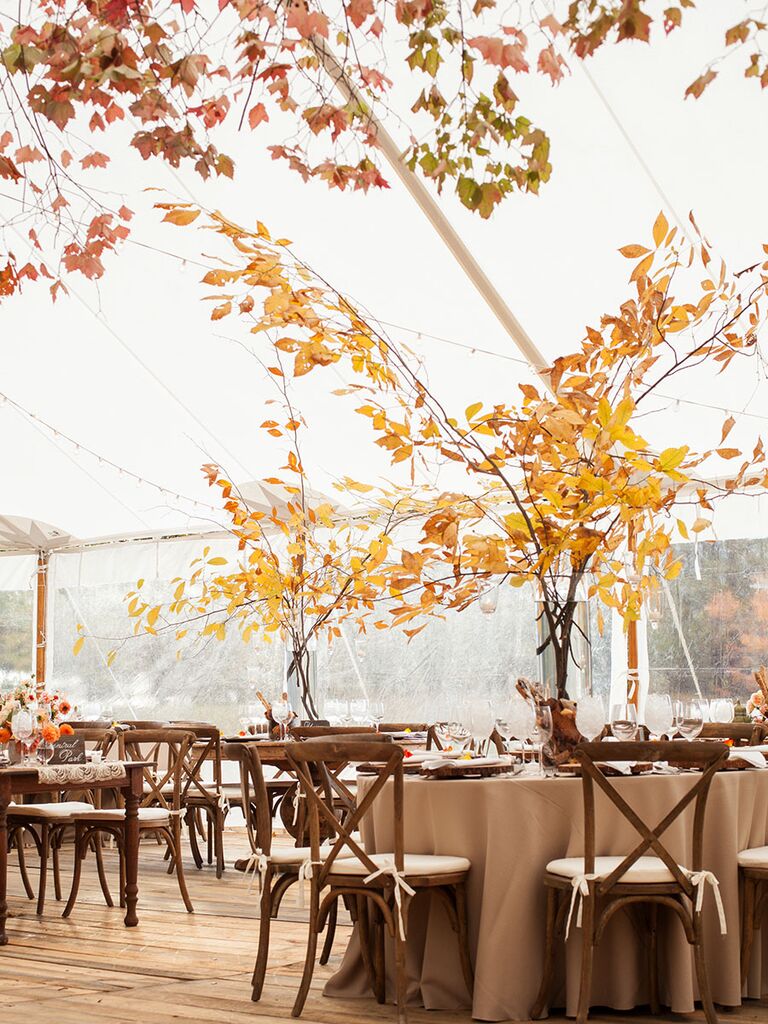 Use real leaves and dramatic branches in tall vases to create a cozy fall wonderland.
From: A Fall Wedding at a Private Estate in Germantown, New York
16. Feeling Peachy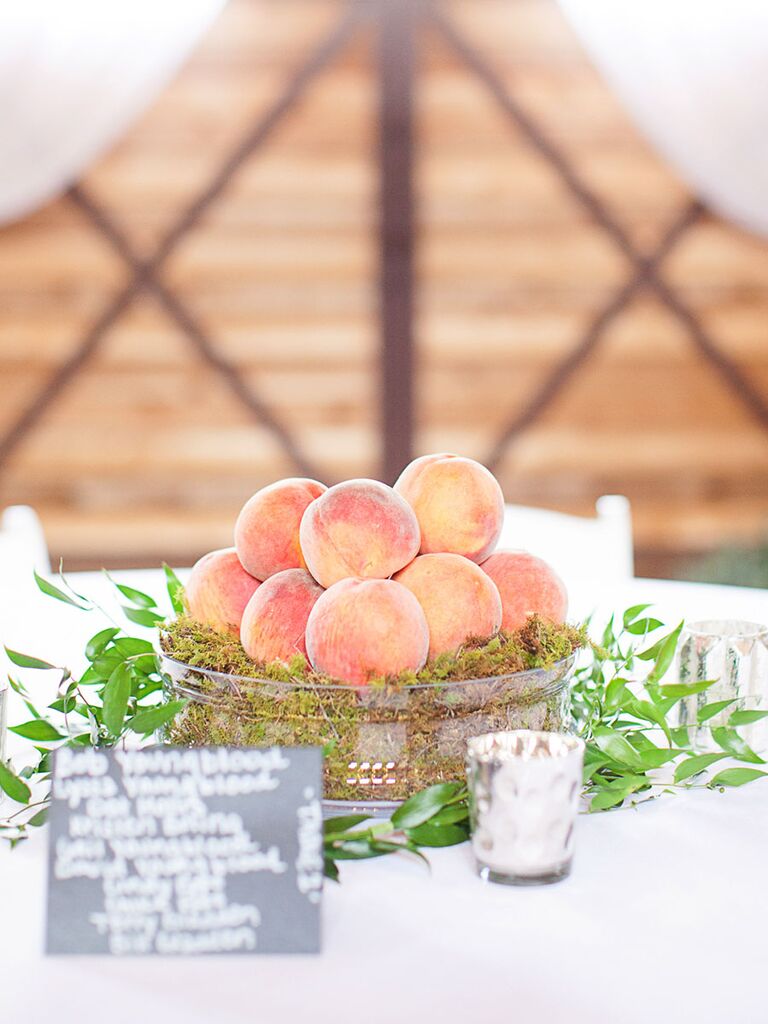 Hit up your local farmers market for fresh produce. Use tins filled with moss and overflowing vines to add volume and a rustic farmhouse effect.
From: A Peach-Inspired Farm Wedding at the Walters Barn in Lula, Georgia