A Guide to the Best Wedding Flowers in Each Season
Choosing in-season blooms will guarantee the best quality and the lowest price tag.
by Lauren Kay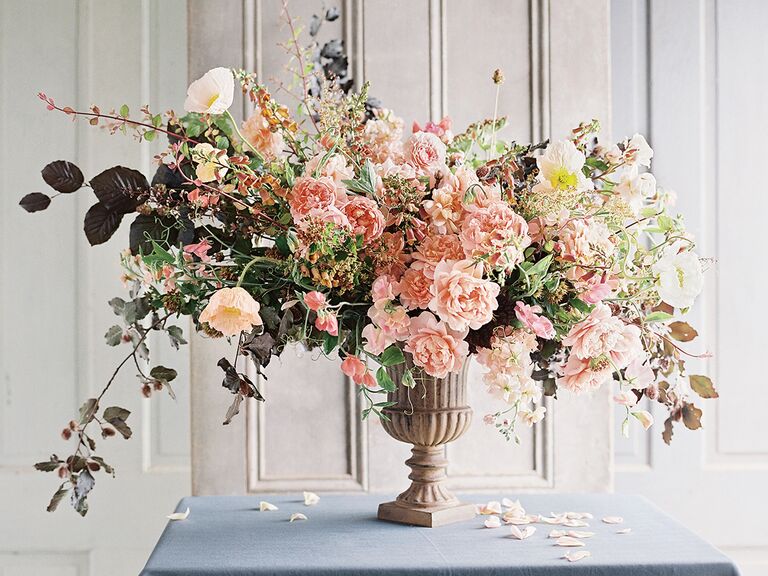 Heather Payne Photography
Locally grown, in-season flowers guarantee the freshest blooms for your wedding. To help us pick out the best seasonal stems, we asked farmer florist Erin Benzakein for her expert opinion. There are plenty of varieties to choose from all year long—maybe more than you thought were available to you. Of course, every florist has their favorite blooming season. "Late summer is my favorite season to design in. Our fields are bursting with flowers in July and August. There are so many blooms to choose from, giving me total creative freedom," Benzakein says. Want some more floral tips? Flip through Benzakein's new book, Floret Farm's Cut Flower Garden: Grow, Harvest and Arrange Stunning Seasonal Blooms.
Here are your best bets for spring, summer, fall and winter "I dos." To help you decide which stems are best for your celebration, we added color and pricing information, too. 
Before diving in, here's the breakdown of price:

$ 1–2 dollars a stem
$$ 3–4 dollars a stem
$$$ over 5 dollars a stem
Heather Payne Photography

Heather Payne Photography

Heather Payne Photography

Heather Payne Photography