23 Genius Wedding Gifts for Active Couples
Thoughtful gifts for the do-anything couple that's always on the move.

We have included third party products to help you navigate and enjoy life's biggest moments. Purchases made through links on this page may earn us a commission.
We all know (and love) a couple who lives to work out. Somehow, they muster enough energy to hop on their Peloton early in the morning and train for a Tough Mudder after work. We might not get it, but we sure do admire it—and luckily, finding the perfect wedding gift for an active couple is easier than ever, thanks to the ever-growing fitness market.
If you're just starting to brainstorm gift ideas, the options can feel pretty endless. Start whittling them down by giving some thought to each of their passions, as well as what they already own. Are they CrossFit enthusiasts? Home gym devotees? Diehard yogis? The answers to these questions can make the difference between giving the newlyweds a good wedding gift and a great wedding gift.
As always, we recommend checking the couple's wedding registry well before the big day arrives and choosing from their list of wants and must-haves if you can. But if everything's already been purchased, or you'd rather give a unique wedding gift that reflects their shared interests, say no more—we've got you covered.
Desert Pine Designs Home Gym Wall Organizer

Know a couple that's obsessed with their Peloton? (Don't we all.) This stylish wall organizer will give them both a convenient place to store all their cycling swag—from shoes and towels to water bottles—so they can keep their beloved home gym neat and tidy. We love the natural wooden design, which has a simple-yet-rustic vibe that will blend in with almost any home decor.

Gear Lit Personalized Workout Couple Campfire Mug
If you're looking to give something light and cheeky to the couple who eats, breathes and sleeps working out, this personalized mug set is it. We're willing to bet it'll give them a laugh every time they pour their morning coffee.

Bear Butt Double Hammock

Even on-the-go couples have to slow down and relax once in a while! This comfy double hammock is literally made for stargazing, and (best of all) is roomy enough for two. Customers love its superior softness and breathability, which make it comfy for all-day lounging. It also scores bonus points for durability, since it can hold up to 500 pounds.

Joby GripTight GorillaPod Stand PRO

Trips to New York, scenic drives along the West Coast... What better way for a couple to capture all their fun adventures than with a high-quality, portable camera tripod? This one has an an adjustable tilt angle and an easy-to-grip design that ensure its users capture super profesh content, each and every time. It's also universally compatible with any kind of smartphone—with or without a case!

Snarky Panda Stemless Wine Tumbler Cup

Bottoms up! This lighthearted stainless steel wine tumbler will keep cocktails nice and chilly for hours, whether the couple is entertaining at home, off on a camping trip or relaxing on their honeymoon. Plus, they're way more convenient than traditional wine glasses, since these ones are non-breakable.

Frontier Picnic Backpack

This handy picnic backpack was made for the up-for-anything couple who loves exploring the world around them (and also happen to be foodies). It sports a heat-sealed cooler on bottom and a dry compartment up top, two side pockets for holding water bottles (or wine bottles!), and everything from non-breakable plates and utensils to a salt and pepper shaker set. Whether the newlyweds are exploring new trails or camping out under the stars, it's literally the perfect outdoor accessory.

NutriBullet Pro Plus

For the health-conscious couple, having a super speedy blender is a must, and the NutriBullet is known for making some of the best protein shakes around. Its high-powered motor will pulverize tough ingredients like root vegetables, nuts and berry seeds in no time at all, and its simple design makes it easy to use, even when you're in a rush.

Personalized Black Stainless Steel Insulated Water Bottle

Staying well hydrated throughout the day is everything, and yet, studies have shown that 75% of Americans may be chronically dehydrated—yikes. This insulated water bottle ensures that drinks stay nice and chilly all day long, and will (hopefully) inspire the newlyweds to just keep chugging, no matter how busy they are.

Hatch Restore Smart Sleep Assistant

You can't get your butt to the gym at 5 a.m. if you sleep through your alarm, amiright? That's where this clever little gadget comes into play. Not only does it have a built-in sound machine that'll put you to sleep in no time, but you can also set it to wake you up with certain sounds, tones or music. Best of all, the wake-up feature simulates the sunrise, so even the deepest sleepers will be gently nudged to life.

Tinggly Just Married Experience Gift Box

For some couples, the best gifts are all about the experience—and by those standards, this one certainly delivers. In fact, packed inside this one-of-a-kind gift box, newlyweds will find 550+ "exciting, calming, and inspiring experiences" to choose from that take place around the world (think: wine-tasting tours, horseback riding lessons and even concert tickets). It's basically like a choose-your-own-adventure-style gift card, where the giftee gets to pick what they're getting.

Knack Daily Detox Spa Gift Set
Wedding planning can be stressful, but this relaxing spa gift set will help wash all their worries away. It also works wonders after a hard workout, thanks to the detoxing bath salts, refreshing bath cube and biodegradable charcoal facial puff that exfoliates and brightens the skin.

Custom No-Slip Yoga Mat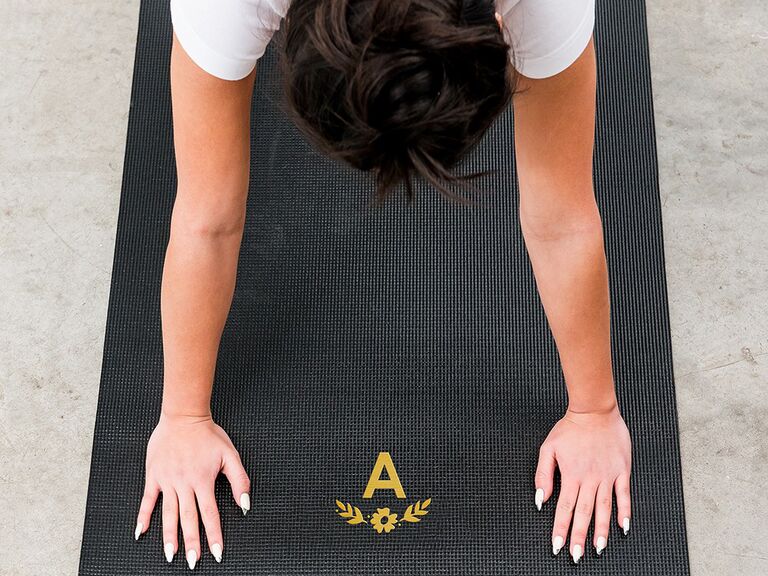 The only thing cuter than getting your favorite couple matching yoga mats on their wedding day? Getting them matching monogrammed yoga mats! These classic, non-slip yoga mats will let the newlyweds comfortably work out side-by-side. As an added bonus, you can customize each of them by color, to represent the duo's unique styles.

Blue Apron Gift Card

If you ask us, the best wedding gifts are the ones that save a couple both time and money—while giving them something fun to do together. Blue Apron gift cards offer the best mix of all three (especially for foodies). One gift card will cover a week's worth of yummy meals, which the newlyweds can choose themselves before getting them delivered right to their door. You're basically gifting them multiple date nights in a row and saving them a trip to the grocery store, which is pretty sweet.

Eola Cooler Bucket Bag

This sleek little bag looks like a standard backpack at first glance, but a peek inside reveals that it's much, much more. This insulated backpack keeps drinks ice cold for hours, whether the newlyweds are going on a hike or headed to an outdoor festival. Oh, and it sure looks good while it's at it.
Bala Weighted Bangle Set

We know what you're thinking—wearing a set of ankle or wrist weights may feel a bit passé, but we promise, this isn't your mom's '80s workout gear. This chic weighted bangle set slips on easily and adds comfortable resistance to any exercise routine, whether it's yoga, Pilates or simply just a neighborhood walk. Because they're not bulky, and easy to slip over or under your clothes, they can even be worn around the house, just to build up some extra muscle tone.

Cuisinart 12-Cup Single Serve Coffee Maker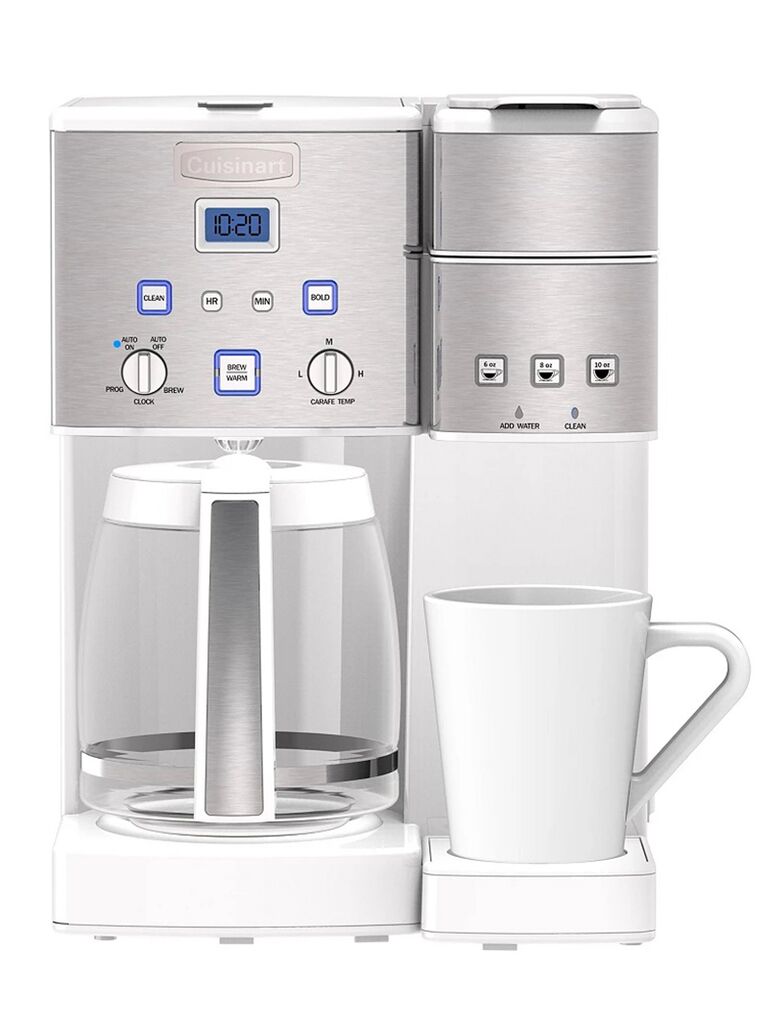 Active couples tend to be early risers, who seize the day by getting their workout in well before the rest of the world is awake. As for how they make it through the rest of the day? Well, that's where they get a little help from a guy named Joe. The to-be-weds will definitely appreciate this versatile little coffee maker, which can brew a 12-cup pot of coffee or a single cup, depending on what the day calls for.

The Knot Shop Laptop Backpack

Tell them to leave their ugly duffel bags at home from now on—this trendy faux leather backpack is the perfect gym bag for any fitness fiend and can be personalized with different colors and initials. It's roomy enough to fit a pair of gym clothes inside, and even has a special compartment that can accommodate a 15-inch laptop, just in case they have some work to do while they're out and about.

Fitbit Versa 2 Black Elastomer Smart Watch

Fitbits have sure come a long way since the tiny little gadget first hit the market. In addition to telling the time, tracking steps and monitoring your heart rate and sleep patterns, this new model can also display incoming notifications from your phone and send voice-activated messages back, play music from your favorite apps and give you real-time stats during workouts. There's also a built-in Amazon Alexa, which you can ask to start a workout and a women's health mode that can track ovulation and cycle patterns. Talk about a do-it-all gadget!

Designed for You Family Monogrammed Cornhole Set

If the newlyweds are the kind of couple that loves playing games—and dragging everyone they know into playing, too—then get ready for some fierce competition at future BBQs. This monogrammed corn hole set is a great backyard staple, and it can also double as a fun activity to have at a co-ed shower, engagement party or even a low-key dinner party.

JAXJOX KettleBell Connect 2.0

This high-tech fitness gadget is so cool, it almost seems like it could get addicting. The six-in-one digital kettlebell allows you to adjust the weight of it with the push of a button, ranging from 12 to 42 pounds. It also features real-time performance tracking and reporting, which can be accessed through the JAXJOX app.

Google Pixel Buds A-Series Headphones

Quality ear buds are a necessity for people who are always on the move... but finding good ones? Well, that's not always so easy. Customers love this Bluetooth-compatible set from Google for being lightweight and comfy—some even say they literally forget that they're in their ears.

Our Place Home Cook Duo

They say that great abs are made in the kitchen (as much as we wish they were found in a pizza box), and for ultra-fit couples, that certainly rings true. For them, eating clean is a way of life and making their own protein-packed meals is a huge part of that. Enter, the Home Cook Duo—a nonstick, premium-quality cooking set that includes The Perfect Pot and Always Pan, which are both designed to replace 16 different pieces of traditional cookware.

Cliq Chair

With this quick and convenient little chair, the happy couple can pop a squat literally anywhere. Ideal for outdoor concerts, camping trips and even backyard hangouts, the Cliq can be set up in seconds, then folded back up into a bottle-sized container for easy storage. Pretty impressive, huh?