Confessions of Wedding Planners
What they wish they could tell you -- but can't.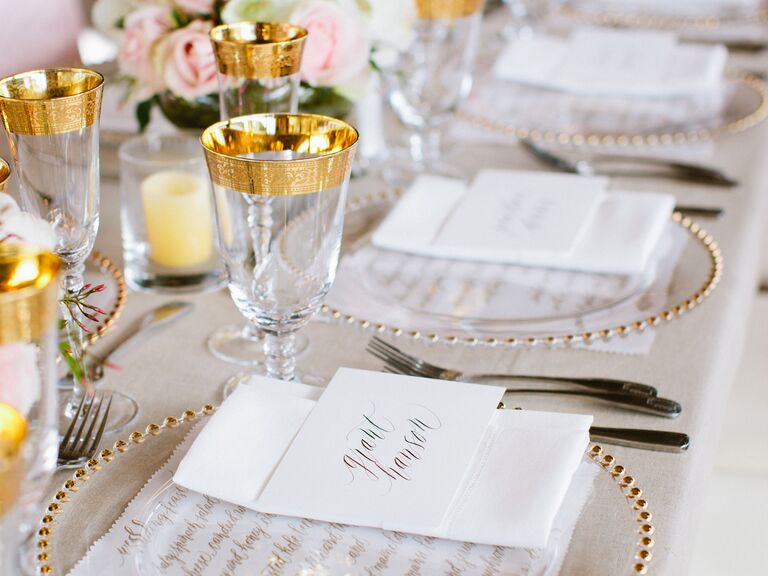 Your wedding coordinator is there to design your day, keep your bridal party and vendors on schedule, avert disasters and do it all with a smile. And while her job may look like a lot of fun, it's not all wine and roses. In fact, there are some things she'd like you to know, but she doesn't have the heart to tell you (or she's afraid you'll fire her if she did!). Here, big names in the biz dish their dirty little secrets. (Sorry, we're not going to tell you who said what...we're not gossips!)
We'd like to tell you we're not your personal slaves.
Of course your planner should make sure things go smoothly on your wedding day, but if you're expecting her to cater to your every whim for months leading up to the main event, you've got another thing coming. "I once had a bride tell me (in a bossy tone, no less) that she planned to use me as her assistant. She wound up driving all of my assistants crazy!" says one wedding coordinator. The guys are guilty of mistreating the planners too. "A groom made us carry out all of the rehearsal dinner gifts to the cars -- in the pouring rain," says another. And yet another was tasked with keeping an eye on all the kids in a separate room from the reception. "Hello, just hire a babysitter!" she suggests. Your planner can't make sure things go as they should if she's changing diapers and soothing crying kids! Appalled by these stories? So are we. So don't be those brides, k?
We don't want you to make us do your dirty work.
Weddings are hotbeds for every kind of sticky social situation, but it's not your planner's job to handle interpersonal challenges -- and they hate it when you try to make it their business. "One bride's brother had me apologize to his girlfriend during the reception because 'and guest' was written on their escort card," says one planner. "It wasn't even my fault! She and the brother had broken up when we sent the calligrapher the names." Says another planner, "A bride asked me to drive to a bridesmaid's house and bring her to the wedding if she didn't show up to the ceremony on time. I was so relieved when she arrived." A planner can't whip a renegade bridesmaid into shape, so don't bother putting her in the middle.
We won't always tell you the whole truth.
Occasionally, especially on your wedding day, your planner may hide something from you. But it's only to keep you happy: "One of my brides wanted a top baker's signature sugar flowers on her cake. When the cake arrived, I figured out that it was covered in fresh blooms instead of faux ones," says one planner. "I was worried I'd upset the bride if I told her the truth, so I just nodded and smiled as she fawned over the 'sugar flowers.'" Or she may tell you the truth...eventually. "At one wedding, the couple ran out of alcohol. I picked some up without them knowing. When they got back from the honeymoon, I told them what happened and how much they owed me." If these stories scare you, they shouldn't. On your wedding day, the less you know about what's not quite ideal, the better. The brides who say their weddings went off without a hitch aren't lying, but most likely, they just had planners who protected them from any problems that arose.
We actually want you to make your own decisions.
While flexible brides can be a planner's dream, indecisive ones can be her worst nightmare. Your planner can offer suggestions until she's blue in the face, but ultimately, most choices have to be yours; otherwise, you won't be happy with the outcome -- or your planner (and she knows that). "Some clients can't make a single decision without us! I had a mother of the bride email me asking what kind of shoes she should wear with her silver wedding shower outfit. We're not fashion consultants outside of the wedding day!" says one planner. Just like you wouldn't call your local deli for advice when you're at home making yourself a sandwich, don't pester your planner for off-topic help. And have your own opinion for on-topic things.
You're not the center of our universe.
Yes, you're important to your planner, but you're far from her only bride, even if it seems that way from the personal attention she gives you on the phone and during your appointments. Besides other clients, she likely has a family! Dragging your coordinator to more than four meetings per type of vendor you're trying to hire is taking advantage of her. "Many brides will ask me to meet bakers and caterers that they have no plans to book," says one planner. "I'll usually visit a few vendors with the couple, and if the first ones we met with didn't work out, I'm happy to recommend others. But going to a vendor just to get a free tasting is a waste of my and the vendor's time and money."
Sometimes, you do irk us.
No matter how talented your planner is, at some point, she's probably going to share an idea that you don't like -- or, more accurately, that you think is flat-out awful. But telling her you "just hate it" won't get you any closer to what you want, and it can (to put it delicately) piss her off. Coordinators have feelings too, and getting married isn't your free pass to be rude to whomever you want. Yes, planners have to develop a thick skin (after all, they deal with picky brides all day), but being disrespectful because you think they're used to it isn't okay. "If an email comes across as annoying, or if it's asking a question that I've already answered 10 times before, I'll take my time getting back to that client." And that doesn't make her a bad coordinator. Aren't you much more likely to give your favorite vendors exactly what they need when they need it, rather than the pain-in-the-butt ones who won't leave you alone?