6 Major Confessions From Wedding Planners
What they wish they could tell you—but can't.
by The Knot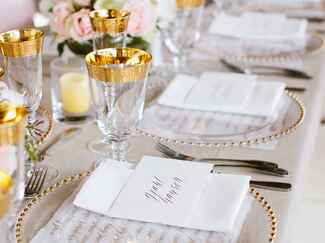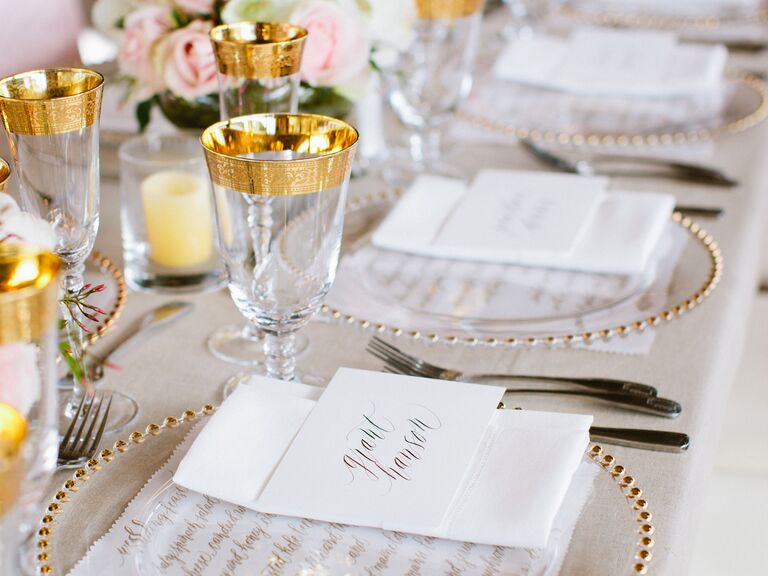 photo by
Inkspot Photography
Your wedding planner is there to help design your wedding day, keep your wedding party and vendors on schedule, avert disasters—and do it all while keeping their cool. And while that job may look like a lot of fun, it's not all champagne and roses. 
In fact, there are some things planners would like you to know but don't have the heart to tell you. So in the name of harmonious wedding planning, here are are a few little secrets that the big names in the biz shared with us.
1. "We're not your personal assistants."
Of course your planner is there to help you manage all those to-dos. But if you (or your future in-laws) are expecting them to cater to your every whim from now until the main event, you (or they) may be confusing a wedding planner with a personal assistant. "I once had a bride tell me—in a bossy tone, no less—that she planned to use me as her assistant," one coordinator shared. "She wound up driving all of my assistants crazy!" So allow us to clarify: A planner handles wedding-related tasks, timelines and coordination. She does not schedule doctor appointments, wait for the cable guy or fetch dry cleaning. It has to be mentioned, after one consultant was tasked with keeping an eye on all the kids during the reception, that your planner is not a babysitter either. Your planner can't make sure things go as they should if she's soothing crying toddlers.
2. "We don't want to do your dirty work."
Weddings are hotbeds for sticky social situations, and most planners are more than happy to tutor you on proper etiquette and offer advice for guest list drama and cake controversies. But it's not their job to handle every personal challenge. "One bride's brother had me apologize to his girlfriend during the reception because 'and guest' was written on their escort card," says one planner. "It wasn't even my fault—they were broken up when we sent the calligrapher the names." Another planner said: "A bride asked me to drive to a bridesmaid's house and bring her to the wedding if she didn't show up on time. I was so relieved when she arrived." 
3. "We won't always tell you the whole truth."
Occasionally, especially on your wedding day, your planner may hide something from you—but only if it means averting a meltdown. "One of my brides wanted a top baker's signature sugar flowers on her cake. When the cake arrived, I figured out that it was covered in fresh blooms instead of sugar ones," says one planner. "I was worried I'd upset the bride if I told her the truth, so I just nodded and smiled as she fawned over the 'sugar flowers.' " But your planner may tell you the truth—eventually. "At one wedding, the couple ran out of alcohol. I picked some up without them knowing," another planner told us. "When they got back from the honeymoon, I told them what happened and how much they owed me." 
4. "We actually want you to have an opinion."
While flexible couples can be a planner's dream, indecisive ones can sometimes be their worst nightmare. "Some clients can't make a single decision without us," one planner said. Your planner can offer suggestions until they're blue in the face, but ultimately, most decisions have to be yours. Planners are there to help you narrow down the options and make the most informed choices, but it's impossible for them to point you in the right direction if you don't have any idea what you want.
5. "Time is money."
You're important to your planner, but you're not the only client. Their time is valuable and it isn't free, so be careful not to waste it on things you could call on your family or bridesmaids to help with. "Many brides will ask me to meet bakers and caterers that they have no plans to book," shared a planner. "I'll usually visit a few vendors with the couple, and if the first ones we met with didn't work out, I'm happy to recommend others. But going to a vendor just to get a free tasting is a waste of my and the vendor's time and money." Rely on your planner to suggest vendors and help you choose between two. But if you want them to be there every step of the way, you'll have to pay for it.
6. "It's not okay to be a total bridezilla."
No matter how talented your planner is, at some point, they might share an idea that doesn't match up with your style. Instead of making a snap judgement, consider it for a minute or two before explaning why it's not your taste. While your planner wants you to share your honest opinion, it's important to be mindful of basic manners. For the best service and the best results, treat your wedding planner—and all your vendors—with the same respect you expect to be treated with. "If an email comes across as rude or if it's asking a question that I've already answered 10 times before, I'll take my time getting back to that client," one coordinator confessed. Be honest, be cooperative, be realistic, be respectful and, above all, remember that your planner is your best ally.
Still looking for a few wedding pros? Find them here.