Your Style Guide to Dapper Wedding Suspenders
Everything you need to know when shopping for the wedding day accessory.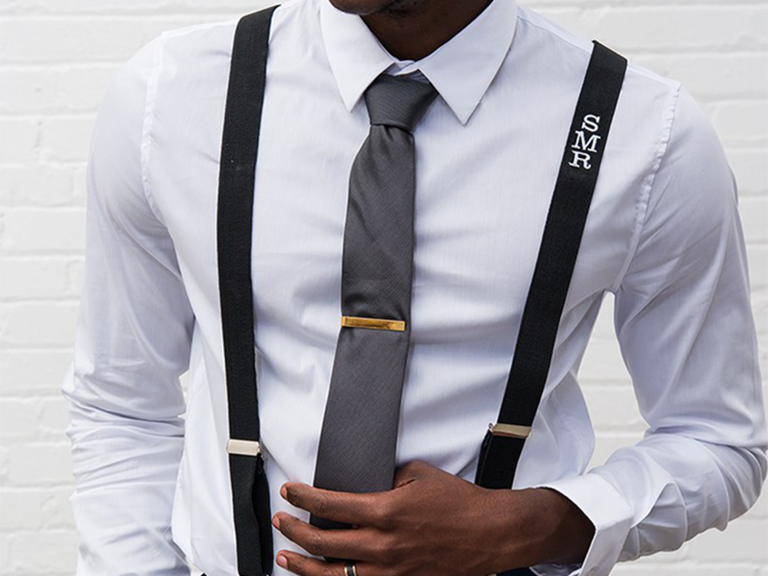 We have included third party products to help you navigate and enjoy life's biggest moments. Purchases made through links on this page may earn us a commission.
Wedding suspenders have an old-fashioned vibe that bridges the gap between trendy and timeless, making them a go-to wedding accessory for couples of all styles. The key to making the dapper accessory work? Choosing suspenders—or braces, as the Brits call them—that coordinate with your venue, your style and the overall vibe of your big day. There are a few gently-enforced rules for wearing suspenders, too—like never pairing them with a belt, making sure that the straps are not too wide or narrow for your frame and matching them to your shoes (if you're going for a truly classic look, that is). Although suspenders have been a way of spiffing up special occasion style for generations, they're having a bit of a renaissance lately and are an inspiring way to have fun with your wedding day accessories. Ready to get shopping? Here are some of our favorite styles.
Landon Jae Apparel Groomsmen Suspenders and Bow Tie Set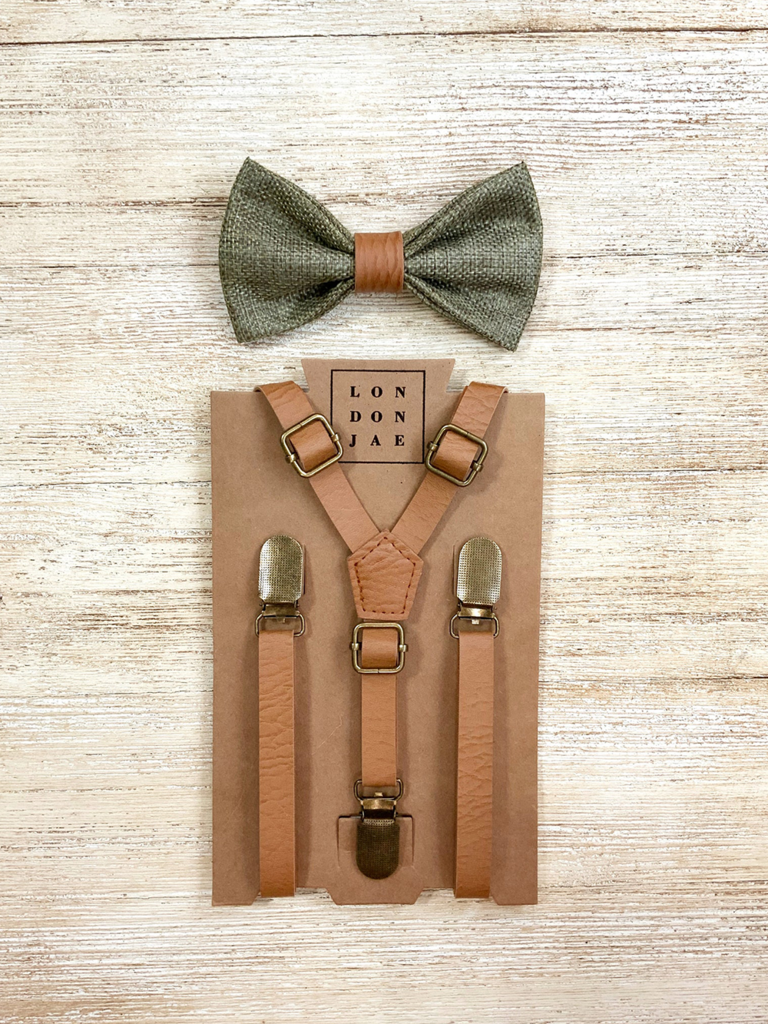 These vintage-inspired faux leather skinny suspender straps look great on slim frames of any height, but especially on children and ladies. The included olive burlap bow tie adds texture that stands out in a crowd, making it perfect for taking center stage when walking down the aisle.
Nick Leather Shop Handmade Rustic Wedding Suspenders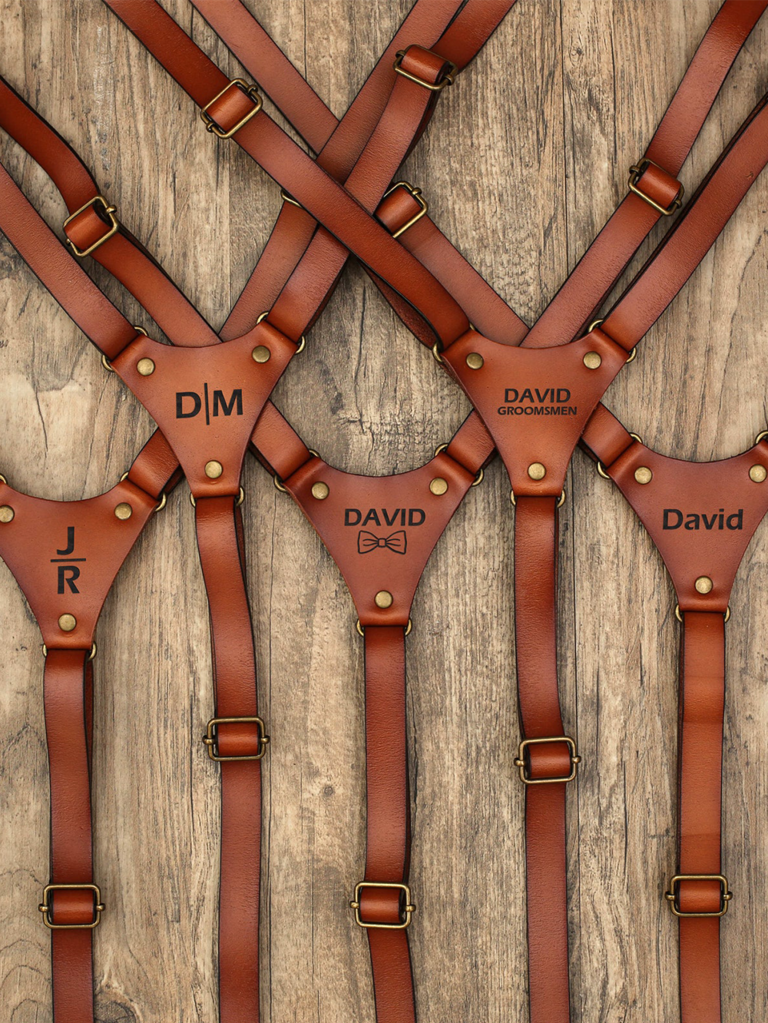 If personalized heirlooms for the wedding party are in order, look no further than these handmade stunners from Etsy. The metal clips will fit on any pants and the leather suspenders' straps are long enough to fit frames from 5' 3" to 6' 4." Choose from nine different personalization designs for the center of the back.
Drake's Suspenders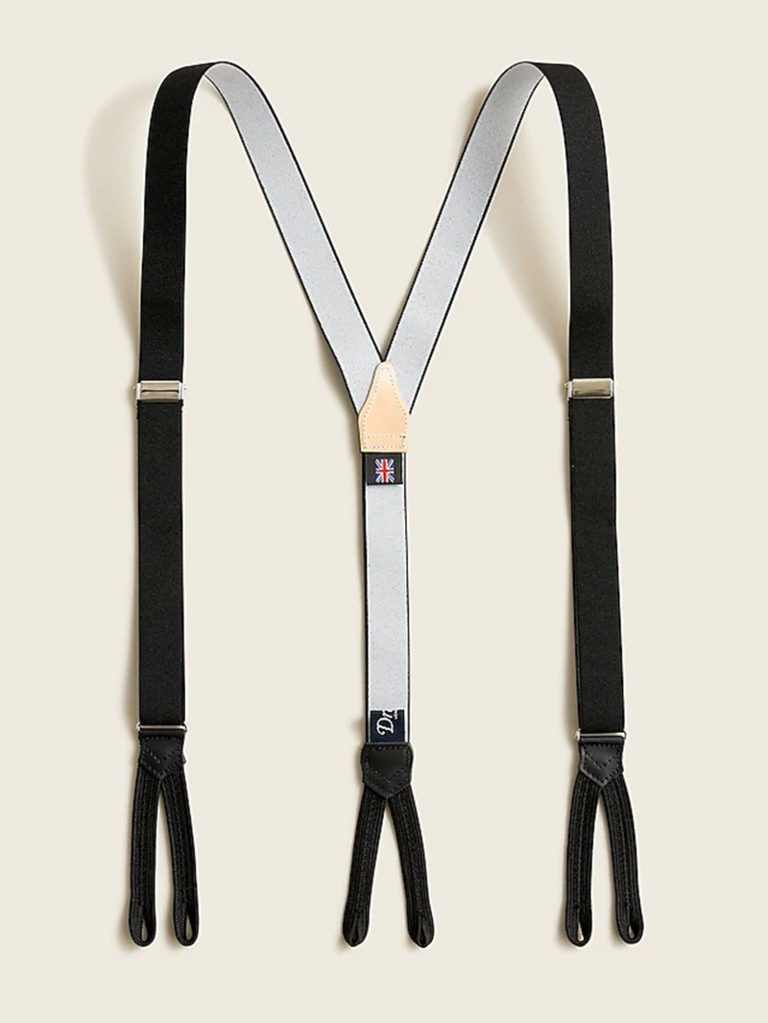 Straight from England, these classic braces cut a smidge slim—9/10ths of an inch, to be exact—for modern styling that's not over-the-top at all. They come with a button kit for sewing on the brace buttons where they will fit best and show off the gold-plated fittings and classic navy blue elastics.
AF Dezign Black and Gold Personalized Leather Suspenders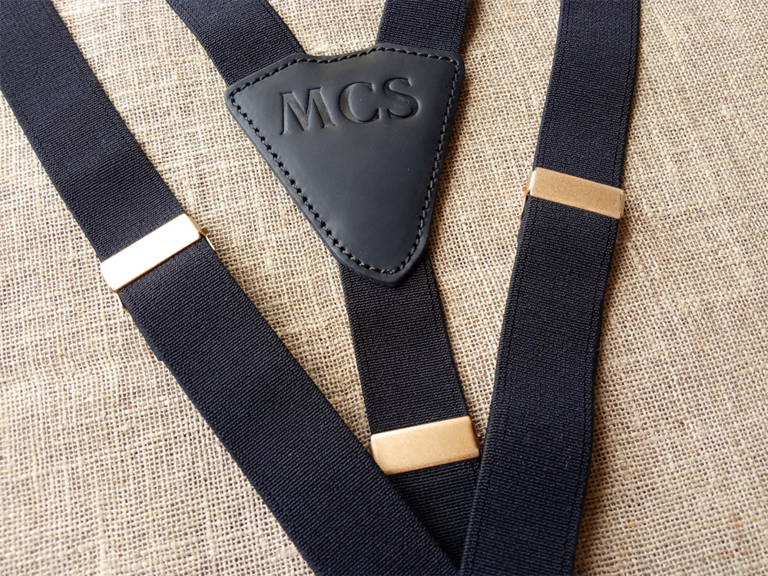 Whether you're rocking a black-tie tuxedo or trousers and no tie, these custom handmade black and gold leather suspenders work. Choose from four different fasteners—including clips, clasps and carabiners—then customize them even more with your choice of font and lettering on the back.
The Knot Shop Boy's Custom Monogrammed Tuxedo Suspender and Bowtie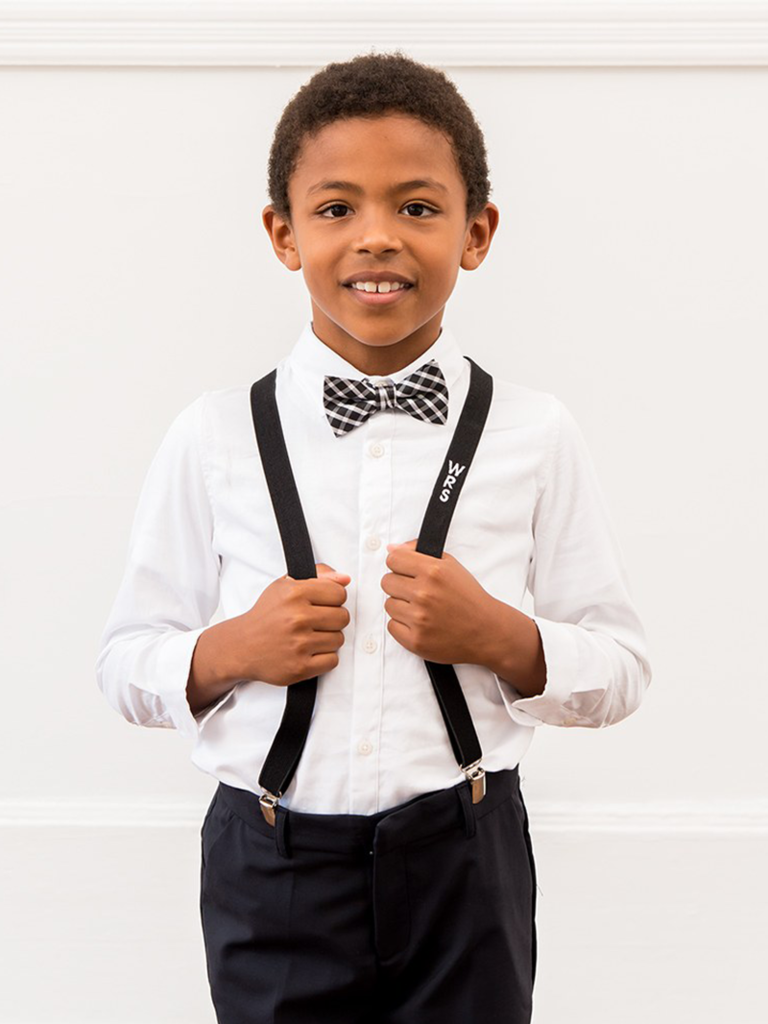 Your ring bearer will look and feel so grown up in these classic straps from The Knot's wedding shop. Choose from 15 thread colors for the optional embroidered monogram so that they can coordinate with your wedding colors perfectly. The included black and white plaid bow tie completes this adorable set.
Melody Of Cuteness Skinny Brown Suspenders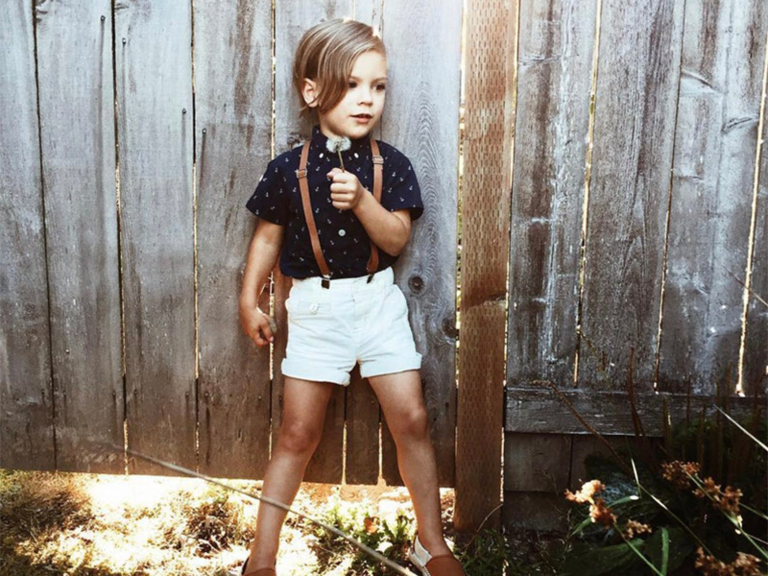 Designed for kids aged eight months to five years old, these adorable ring bearer suspenders are perfect for a rustic-inspired affair. Coordinating braces for older kids and adults are available, as well as copper hardware and three leather types. Be sure to mention any special requests in the notes when you check out.
Baboskhaa Vegan Suspenders and Bowtie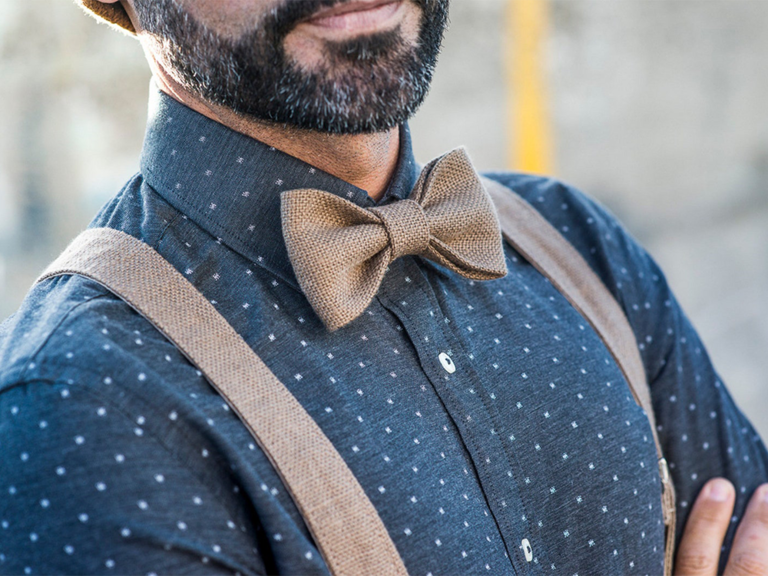 One trend that we can't stop noticing is unique materials for traditional wedding accessories, like this textured brown linen set. The straps are a bit wider than most on this list at 1.38 inches each, so be prepared for them to be a standout accessory worthy of pairing with a hefty boutonniere. The bow tie comes pre-tied with an adjustable strap, which means less stress on the big day.
Kelly Bow Belly Burgundy Bow Tie and Suspenders
Like fine red wine, this crisp cotton burgundy bow tie and suspenders set will add a dash of romance to any wedding attire. Choose from three sizes and silver, gold or rose gold hardware finishes. Reviewers say this seller is easy to work with on customizations, color changes and more, but be prepared for it to take two to four weeks for your order to arrive.
Bows N Ties Shop Golden Champagne Suspender and Tie Set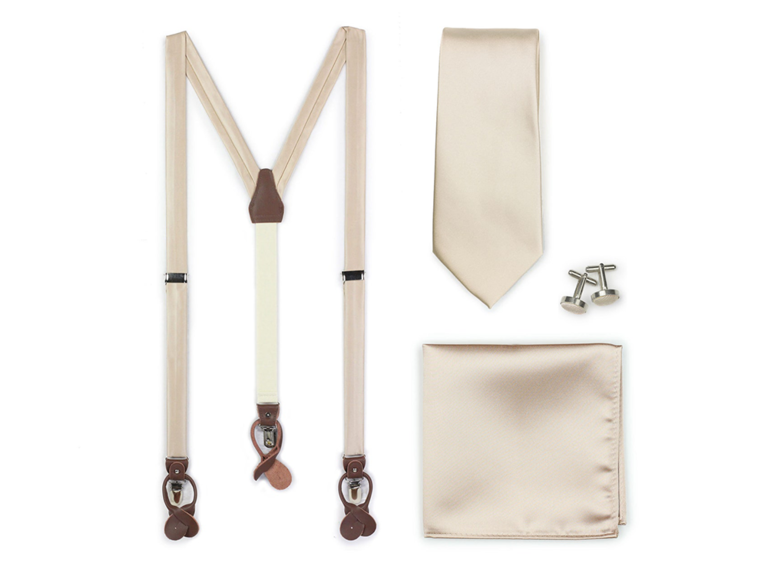 There's only one thing more formal than black tie and that's white tie. Sure, it's typically reserved for royal and presidential affairs, but this golden champagne satin number is ready to party—this is the biggest day of your life, after all. Choose from a full set (including a tie or bow tie), or just buy the braces.
The Knot Shop Men's Custom Monogrammed Tuxedo Suspenders Wedding Attire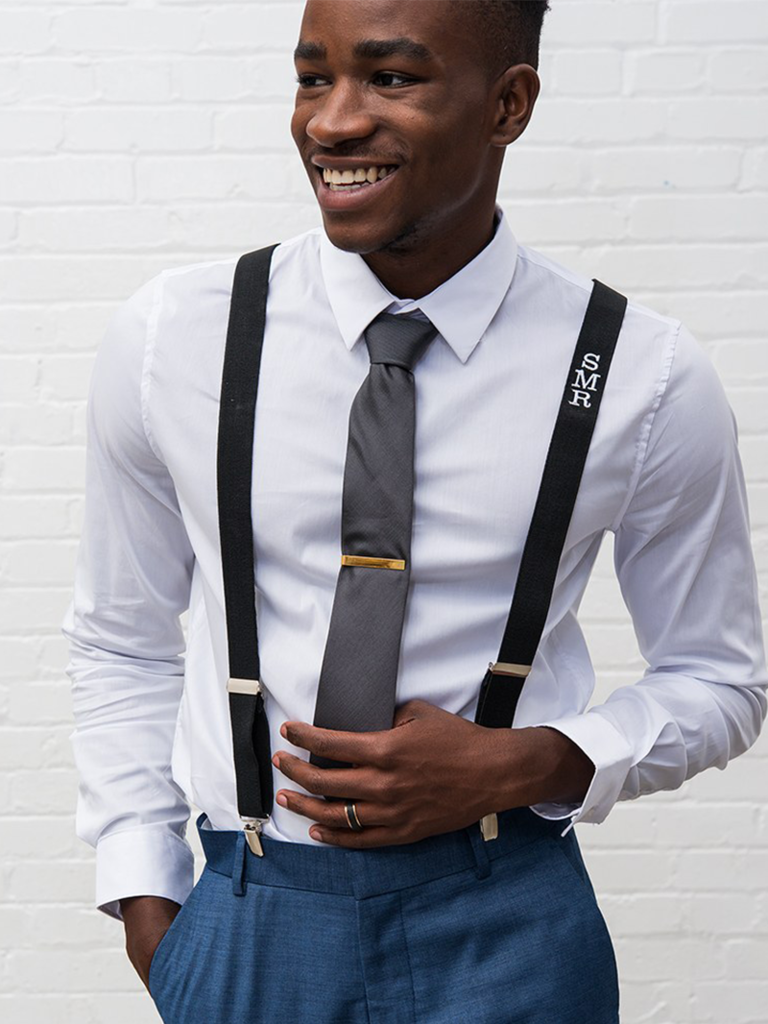 Here's the truth: Tuxedo suspenders are really no different than any other style suspenders, except that they typically only come in black or white for maximum formality. Add a snazzy monogram in a slew of colors to coordinate with the wedding party. This is a gift that can be worn on the wedding day and for years to come.
Favorite Boutique Green Velvet Suspenders Collection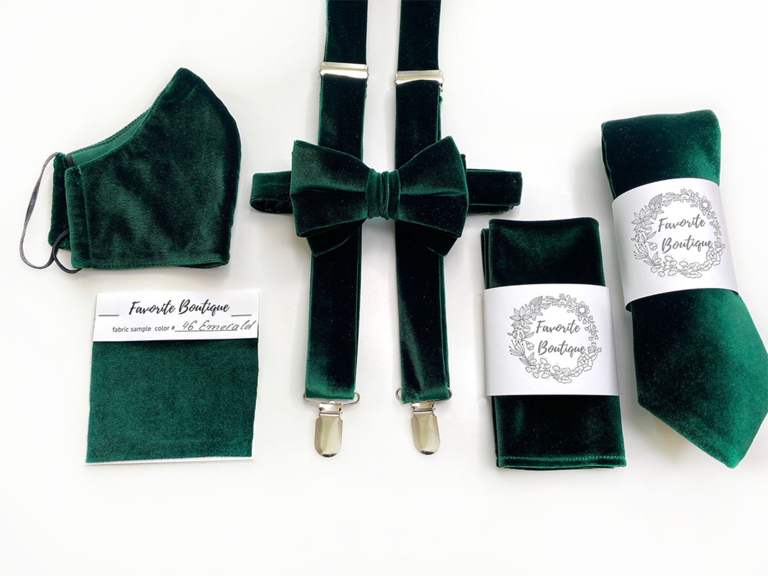 Make everyone green with envy with this head-turning set of emerald green velvet accessories. Each piece is sold separately so that you can decide whether you need the matching mask, pocket square, tie or bow tie or simply prefer the green suspenders to hold court on their own.
Hopper & Luxe Light Grey Suspenders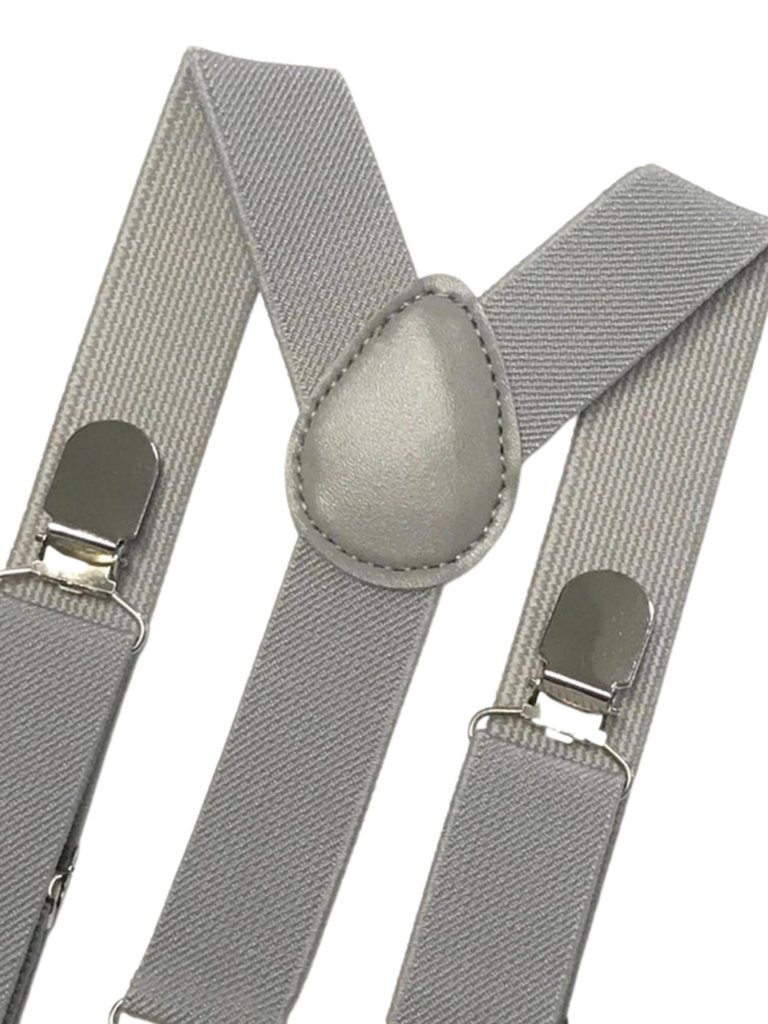 Light grey suspenders add a tone of casual class to a laid-back spring or summer ceremony, whether they're for the father of the bride, the groom or anyone else in the wedding party. Five size options mean there's a fit for just about all ages from one to 100.
JK Leather Workshop Personalized Leather Wedding Suspenders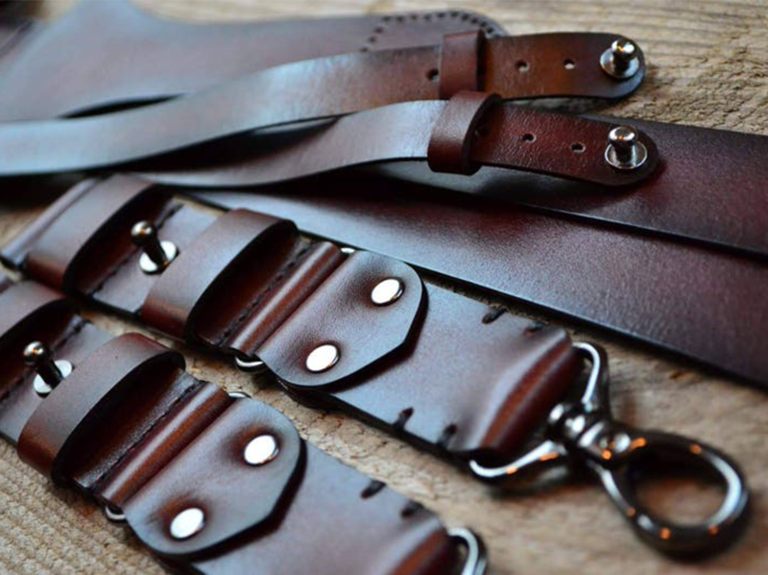 As one of the priciest suspenders on our list, these leather stunners are made to last a lifetime. They're made using genuine leather, with heavy steel metal clips that attach to any belt loops. Bonus: This Etsy shop shows you how to measure for the perfect fit and offers personalization on the back with initials or a logo.
The Bold Bow Tie Burnt Orange Terracotta Floral Bow Tie and Suspenders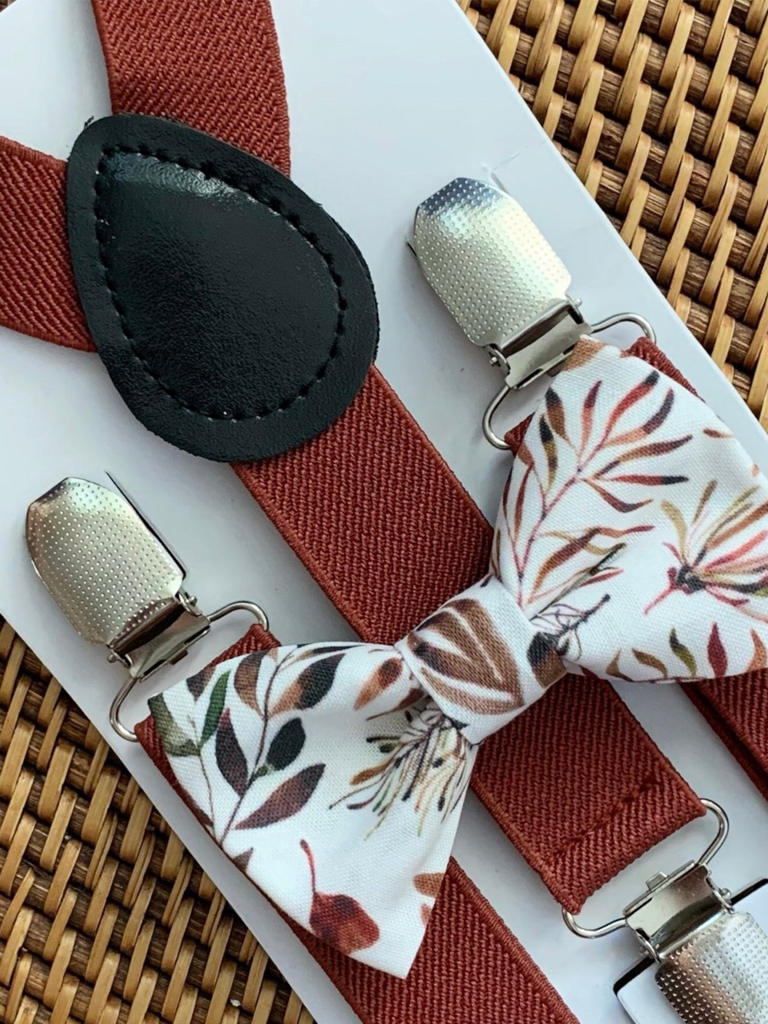 Suit up the whole gang with this set of rust suspenders and coordinating floral bow tie. It's perfect for fall or rustic weddings in any season and comes in sizes that will fit little ones as young as six months old up to adults over 6 feet tall. Don't like the tie? The braces can be bought solo, too.
SALUGA Shop Retro Dotted Bow Tie and Suspenders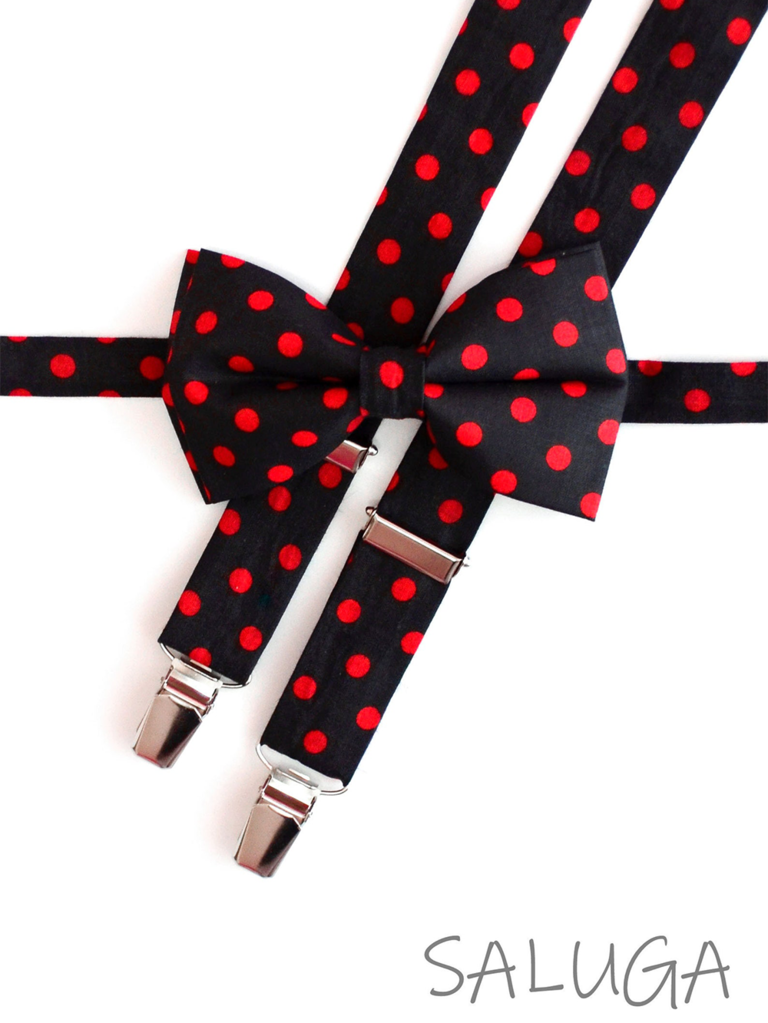 Black with red polka dots is just the splash of fun necessary for a couple that loves all things retro. Popular from the 1940s through the 1960s, polka dots have been a source of vintage inspiration ever since. This set comes with a matching bow tie for added pizzazz.
No Slip Suspenders Premium Quality Bridle Leather Suspenders for the Groom and Groomsmen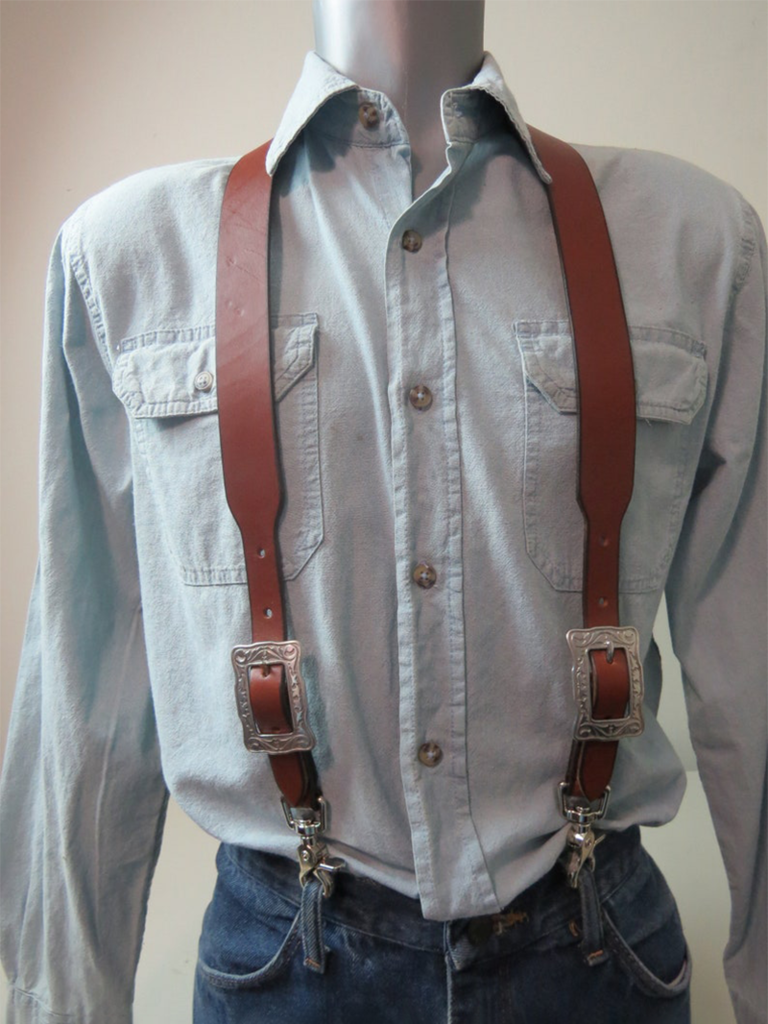 These traditional high-quality bridle leather braces with trigger snap are gorgeous for an equestrian or rustic wedding—you can even upgrade to Western etched silver buckles for a classic rancher style. The seller can accommodate requests for black or burgundy leather and can offer a discount when ordering multiple sets.
Oak Forest Adjustable Cork Suspenders
Sustainability is on full display in this set of adjustable cork suspenders. The cork comes from traditionally grown trees in the cork capital of the world, Portugal and the material is sustainable, biodegradable, recyclable and doesn't kill any trees in the process.
Trafalgar Fredrick Center Stripe Formal Suspenders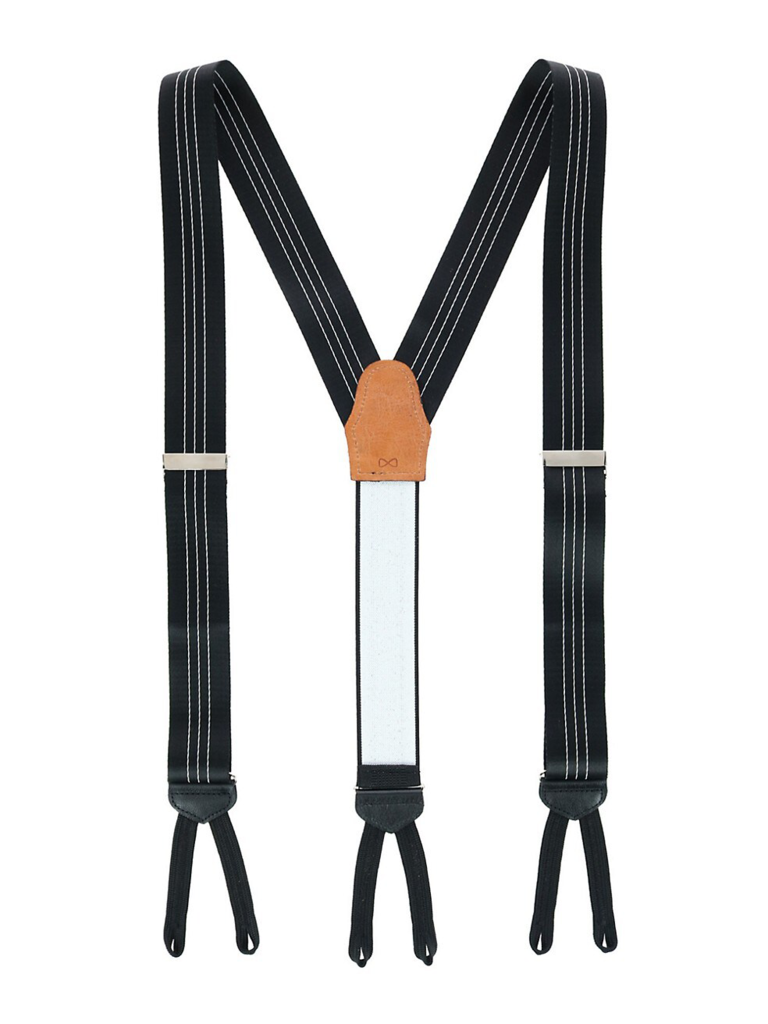 Simple stitched white stripes give an elongating look to any attire, while six sew-in buttons are included for the back button ends to fasten onto. At just over 1 inch wide, these Y-back suspenders are the widest on our list.
Village Leathers Tropical Flamingo Trouser Braces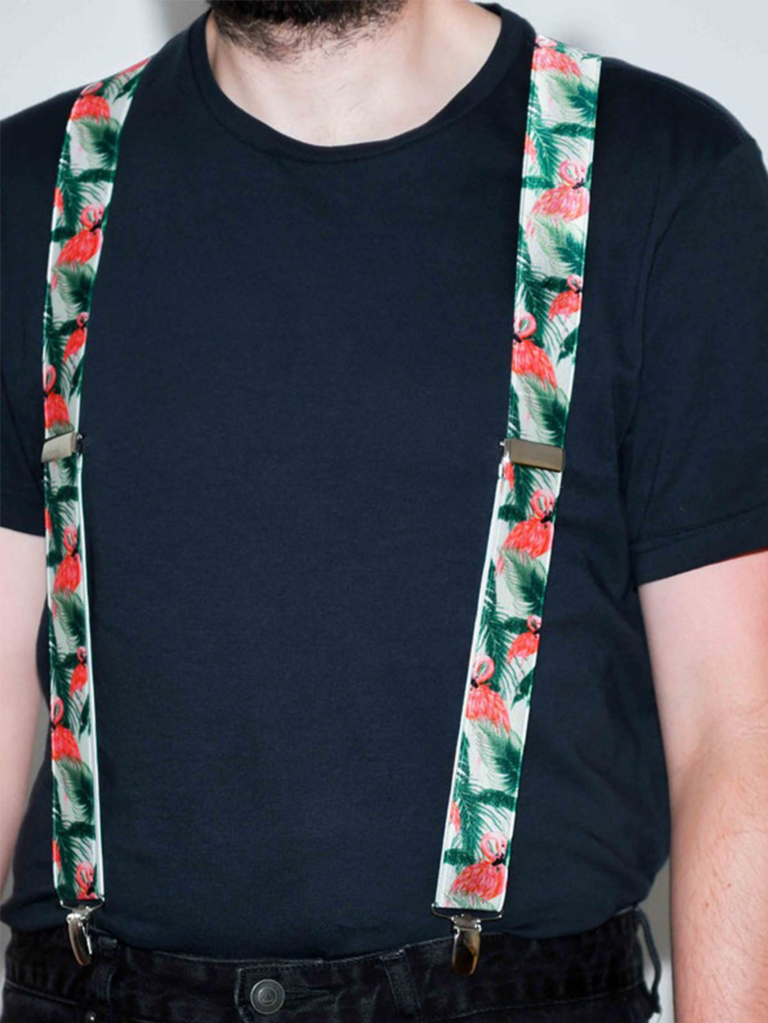 Did someone say beach wedding? Whether oceanfront or at a formal beachside hotel, these fantastic suspenders bring tropical vibes wherever they go. Take them on the honeymoon for a romantic dinner and relive all of the best memories of your wedding day all over again.
Trafalgar Sobee Button End Silk Brace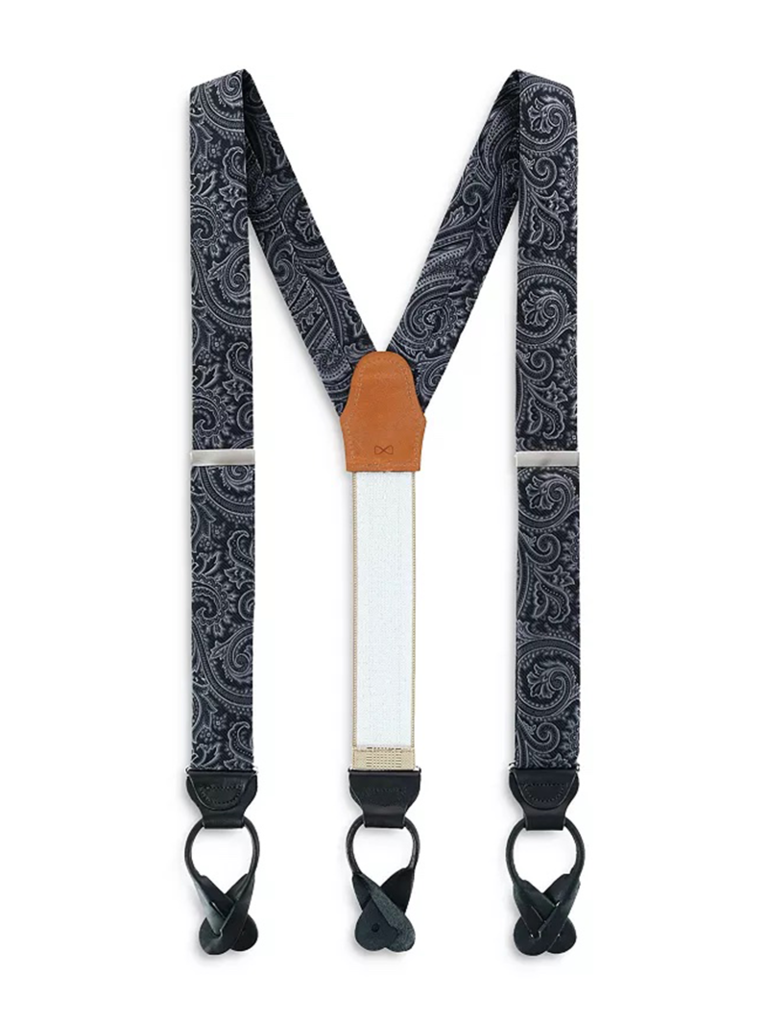 Paisley is making a comeback and we couldn't love these stylish silk and leathery-back suspenders more. The classic black is perfect for more formal or traditional types, while the light blue with brown leather accents begs for a southern summer wedding.