Wedding Card Boxes You'll Absolutely Swoon Over
These boxes are both secure and stunning for your big day.
Who says your wedding gift table has to be simple? Adding a little decor in the form of a wedding car box not only jazzes up the space, but it's also a great way for your guests to securely leave their well wishes and gift cards for you. There are so many types of card boxes to choose from, and many of them are amazing DIY projects. Let's take a look at how you can incorporate one into your big day.
What Is a Card Box at a Wedding?
Card boxes are right in the name—a place to hold all the wedding cards your guests bring. They may be filled with money or gift cards to places on your registry, so it's important to ensure these boxes are protected and secure. It's a clever way to add a little flair that's on theme to your wedding while also providing a safe place for guests to leave your card.
What Size Should a Wedding Card Box Be?
This may depend on the size of your guest list and what is on your registry. For many friends and families of the couple, it's easier to bring along a card as opposed to gift, especially if they're traveling a long way. Use this information to determine how big your card box should be on your big day. It's always better to go too big than too small.
Where Does the Card Box Go at a Wedding?
There are quite a few spots you can display your card box at your wedding, although the gift table is one of the more popular options. You can also set it near the guestbook or reception entrance so that your guests are less likely to miss it, or if it's a particularly unique display, you may want to showcase it somewhere else.
Wedding Card Box Ideas
We've rounded up some of our favorite wedding card box ideas. Take a look at these to gather some inspiration for your own big day. No matter your style or wedding vision, there's sure to be an idea here for you.
Rustic Wedding Card Box
The perfect rustic wedding requires a rustic card box to set the tone for your wedding guests. This burlap and floral accent piece is a great way to receive warm wishes from your loved ones on your best day ever.
Gold Wedding Card Box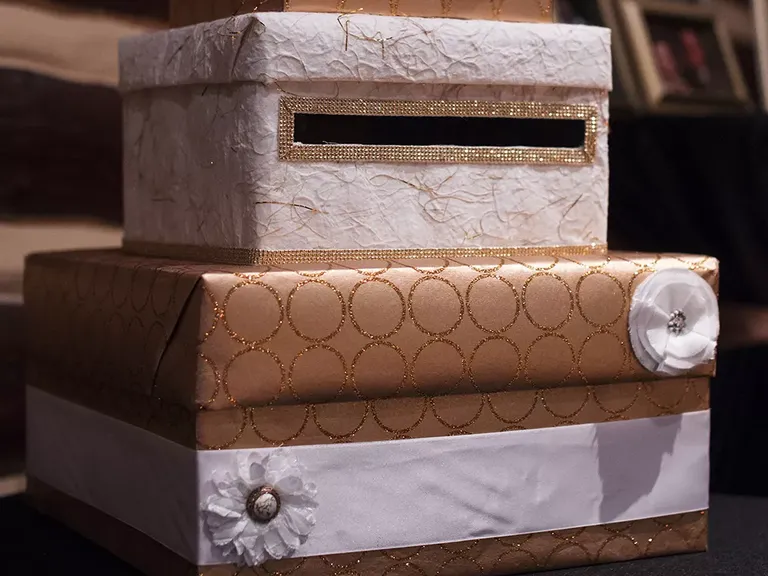 This gold card box gives "24k Magic" vibes, perfect for your decadent soiree. Plus, you can easily DIY this fabulous wedding box with the right shades of gold to match your palette.
Acrylic Card Box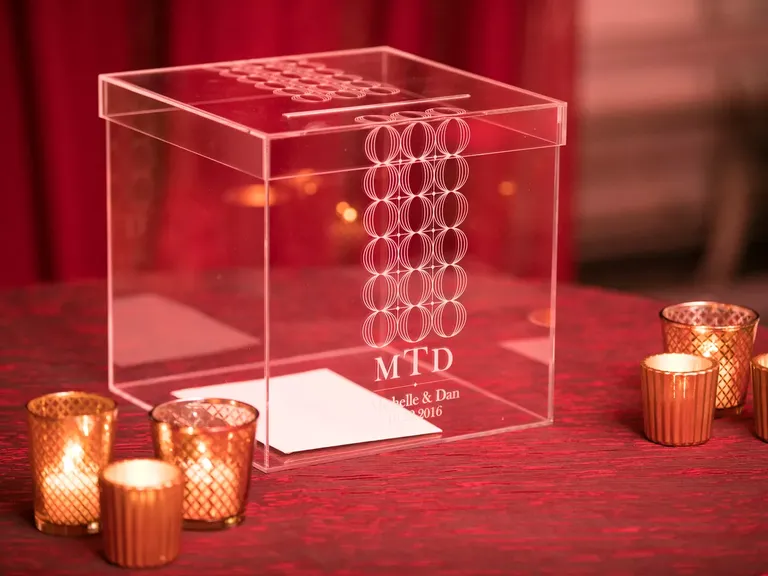 If you want a good look at your guests' well wishes all while having a modern feel, this monogrammed acrylic box is the right choice for your wedding. You can even add a special design or symbol that holds meaning to you and your spouse-to-be.
Lantern Wedding Card Box
Let this lantern light the way to your happily ever after, while also collecting cards from your wedding guests. It fits perfectly with many themes, such as rustic, minimalistic and woodsy weddings.
Whimsical House-Inspired Card Box
Add some whimsy to your wedding card box by making it a dupe of your future home together. You can even spruce it up with figurines of you and your S.O., maybe even your pets, too.
Eclectic Lego Card Box Idea
Lego lovers will swoon over this unique wedding card box. Consider adding special pieces that represent your other hobbies, or recreate what your first date looked like on top of the lego model.
Glass Wedding Card Box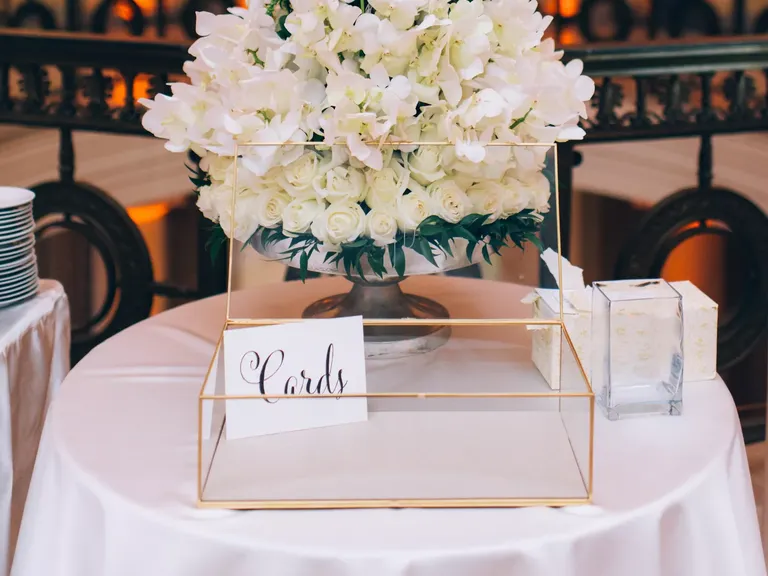 Give glass slipper vibes with a modern twist at your wedding with this romantic card box. Other fun ways to accent this is with a little shimmer, like gold, silver, rose gold or bronze.
Unique Wedding Card Boxes
A boom box card box (try saying that five times fast) is perfect for music lovers on their wedding day. You can even jazz it up by adding some of your favorite tracks on the design.
Festive Piñata Card Box for Wedding
Make it a true fiesta when you have a piñata card box, just make sure your guests know it's just for show. But if you want to make it more fun for you and your new spouse upon opening, grab the blindfold and bat to watch your cards spill out.
Card Box Idea for Book Lovers
This unique box combines a couple's love for literature while giving your guests an interactive way to drop in their cards. It also works as a lovely jewelry or watch box for after the wedding, too.
White Octagonal Wedding Card Box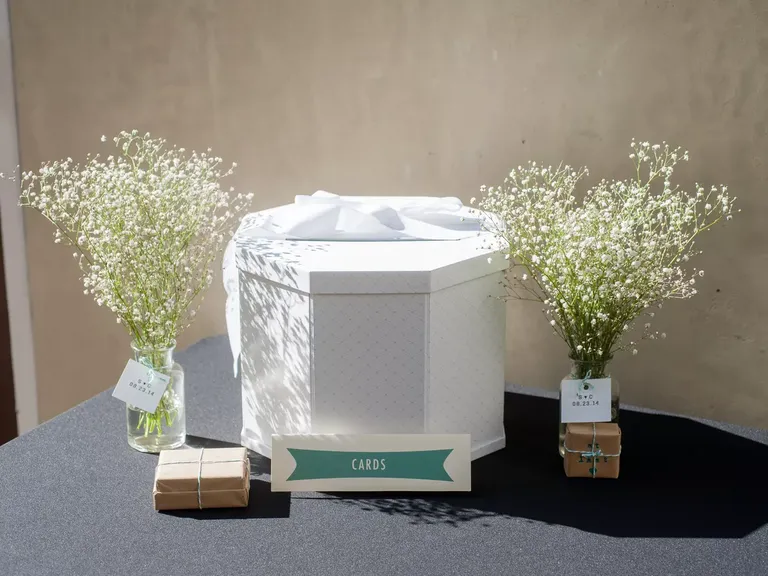 Nothing beats a classic, white wedding and a card box to match. Play around with different shapes, designs and sizes, like this octagonal box surrounded by florals.
Moss-Covered Card Box
For the couple with green thumbs, this mossy card box is one showstopper that fits in well with any "green" wedding theme. Add some other greenery around it to make it pop, like this petite succulent.
Suitcase Wedding Card Box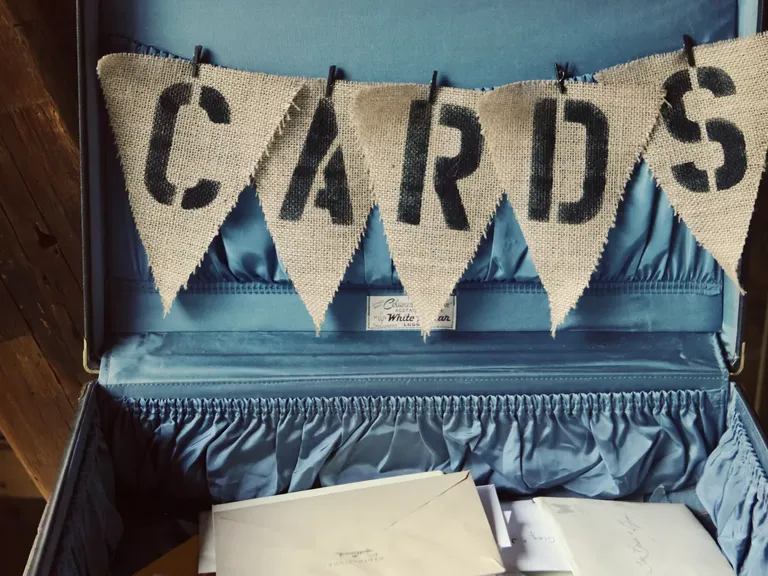 For the couple who loves to travel, a suitcase card box may be something they already have on hand. You can add some pizzazz with a banner, ribbon or other accents unique to your love story.
Beach-Themed Card Box Table Display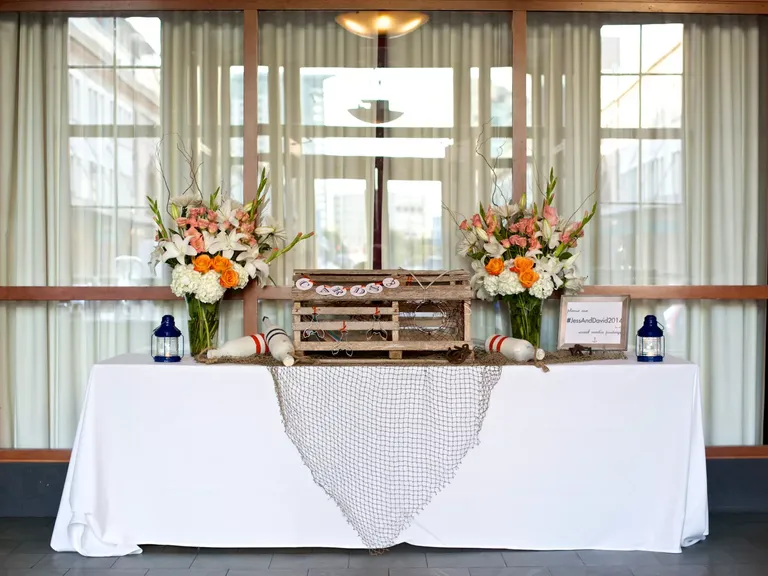 Saying "I do" on the sand gives you limitless options for a one-of-a-kind card box, like this repurposed lobster trap. For a little treat for your guests, add some fake lobsters inside that can hold their cards.
Lighthouse Wedding Card Box Alternative
This lighthouse card box has a real, working light that will guide your guests right to it. You can even display it in your home after the nuptials for a fun reminder of your wedding day.
Elegant Glass Wedding Card Box Idea
This elegant terrarium-inspired card box fits a bundle of florals and your guests' congratulations to the happy couple. Its geometric shape also adds a fun modern flair to any theme.
Birdcage Wedding Card Holder
A perfect box for "lovebirds" of all kinds, it's easy to thrift an antique birdcage for those vintage vibes. This is also is a wonderful idea for bird lovers or bird watchers who are tying the knot.
Artistic Custom Wedding Card Box Idea
For the artsy couple looking for a unique customization, this is a fun choice that uses tools already at your disposal. For an extra exciting spin, you and your betrothed can draw each other.
Modern Acrylic Card Box Idea
Looking for a modern card box idea? This simple translucent card box proves that less is often more.