3 Intimate, Adventurous Weddings That Will Make Your Jaw Drop
If you've been trying to keep your wanderlust in check, these stunning wedding photos won't help (sorry!).
by Maggie Seaver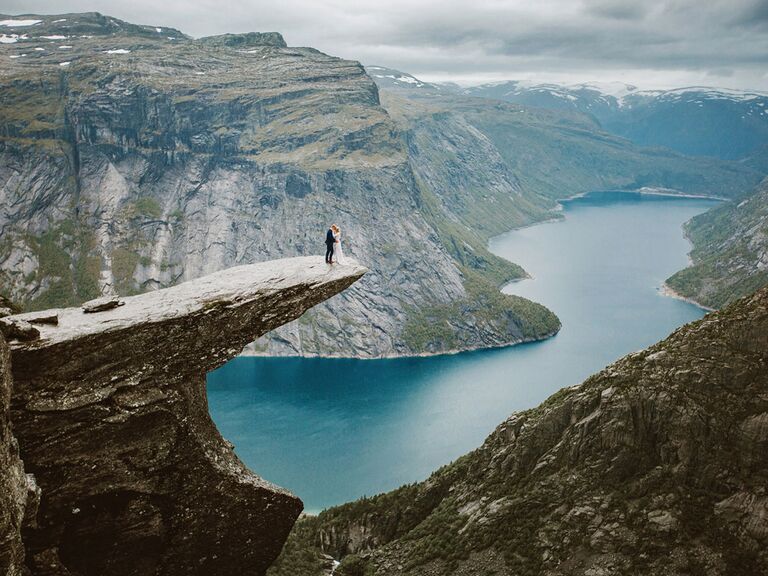 Ever wish you could pack your bags, jump on a plane and escape to an exotic destination to say your vows? Sounds kind of dreamy, right? Okay, a destination elopement isn't realistic for everyone (and you might miss having a dance party too much), but a tiny affair surrounded by nature was exactly what these three couples wanted—so it's exactly what they did. If you need destination wedding inspiration, and elopement incentive, here are three beautiful ideas for an out-of-the-box elopement.
1. An Epic, Mountaintop Vow Exchange
Location: Trolltunga rock formation in Odda, Hordaland, Norway
Their Story: Los Angeles–based couple Kylie and Tim wed in California, but it rained on their wedding day, which left them without proper wedding photos. Instead of feeling sorry for themselves, they used the opportunity to do something insanely cool and different. "[Kylie and Tim] decided to remarry and break the tradition by enduring a gruesome 14-hour hike in Norway that would lead to the most epic photos ever taken at the Trolltunga (Troll's tongue)," says their photographer Priscila Valentina. If you can conquer a hike like that with your partner, and still look as beautiful and happy as Kylie and Tim when you get there, you know you're meant to be.
2. A Romantic Waterfall Elopement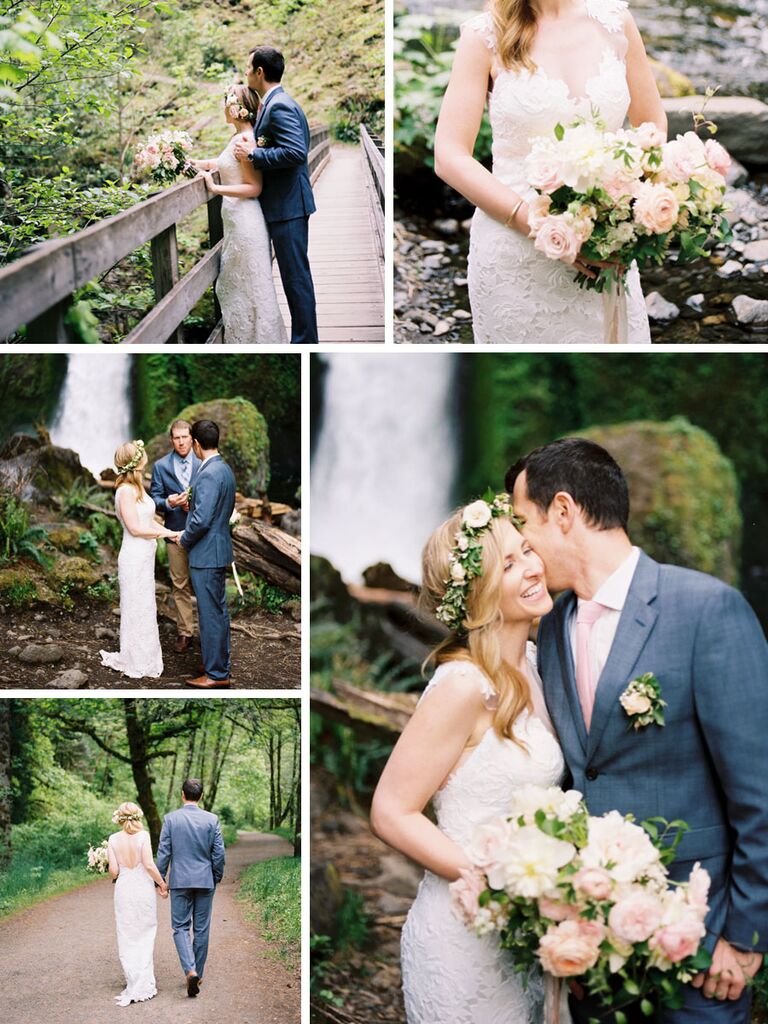 Location: Wahclella Falls, Oregon

Their Story: Nature-loving couple Casey and Evgeniy started planning a small wedding in Virginia, but the whole process became too stressful and less and less about the love they were trying to celebrate. The solution? An elopement in the great outdoors, in front of the Wahclella Fallsoverlooking, a river gorge in Oregon. They decided to hit two birds with one stone: Explore a new state together (they've been to 22!) and tie the knot there too. Scroll through the rest of their gorgeous wedding album right here.
3. A Rainy, Sailboat Microwedding
Location: Orange Beach, Alabama

Their Story: These two chose to wed in a super-intimate ceremony on the water, accompanied by their maid of honor and best man. "We started by doing a first look on the beautiful beach, then went onto the dock to board their sailboat for the ceremony," says their photographer Mandy Young. "Right as the sailboat was pulling into the dock afterward, the rain started. Naturally, we took photos in the rain—one word: dreamy!"