22 Ways to Decorate the Chairs at Your Sweetheart Table
Because you deserve a VIP seat upgrade.
Your wedding reception will involve lots of mingling, dancing and imbibing, but most importantly, you'll get to snuggle in the arms of your new spouse, basking in that one-of-a-kind newlywed bliss. If you've decided to add a sweetheart table to your reception, you'll also need sweetheart chairs that complement the rest of your decor—and make your wedding photos all the more memorable. Your dining chairs might not seem like a major detail, but by finishing them with custom signs, fresh flowers and other details, they can actually serve as a reflection of your personalities and relationship. Get started with this wedding sweetheart chair roundup featuring our favorite ideas from real couples.
1. Rattan Wedding Sweetheart Table Chairs
Peacock chairs—an instant nod to retro '70s style—will make a statement at your sweetheart table or head table. The oversized, throne-like chairs are made of woven rattan and can typically be found in a variety of colors, including natural wood and white.
2. Celestial-Inspired Sweetheart Chair Signs
Perfect for anyone interested in astronomy or astrology, celestial-themed signage is a sweet way to pay homage to the universe for bringing you two together. These laser-cut wedding signs read, "My sun and stars" and "Moon of my life," inspired by Game of Thrones.
3. Monogrammed Wedding Sweetheart Chairs
You'll love this classic sweetheart chair idea if you're planning a formal or Southern-themed wedding. Personalize the backs of your chairs with your custom monograms—and then repurpose the chairs into your home decor after the wedding.
4. Burlap Wedding Sweetheart Chair Signs
We know burlap can sometimes have a bad rep for looking too rustic, but with the help of a little calligraphy, you can make it feel more elevated. These burlap "Mr." and "Mrs." signs bridge the gap between laid-back and chic for an outdoor reception.
5. Wedding Sweetheart Table with Velvet Chairs
Not big on signage or other wedding chair decorations? Choose eye-catching chairs instead and let them do the work for you. A pair of sage green armchairs add color to this pastel blush and white sweetheart wedding table.
6. Denim Jackets on Sweetheart Chairs
As if you needed another excuse to get matching jackets for your wedding day, here's proof that they can double as sweetheart chair decor. Once you've finished wearing your jackets for portraits, simply hang them on the backs of your chairs for a cute photo op.
7. Magnolia Wreath Wedding Sweetheart Chairs
Greenery wreaths are a gorgeous way to decorate your chairs for a classic wedding theme. Add optional signs with your nicknames or titles to personalize them even more.
8. Dried Palm Leaf Sweetheart Chairs
Dried grasses are popular for boho wedding bouquets and centerpieces, but you probably haven't thought about using them on the backs of your chairs. These sleek gold chameleon chairs are dressed up with pink sashes, pampas grass and bleached fan palms for a modern-meets-earthy vibe.
9. Wedding Sweetheart Chairs with Pressed Flowers
For a more subtle way to incorporate dried flowers into your sweetheart chair decor, take a cue from these delicate hangings. The pressed flowers are showcased between translucent vellum layers and tied with raw silk ribbons for added whimsy.
10. Simple Sweetheart Table with Ghost Chairs
Balance out busy linens (like this metallic silver pattern) with clear acrylic ghost chairs that won't overpower the look of your sweetheart table.
11. Upholstered Loveseat with Floral Garland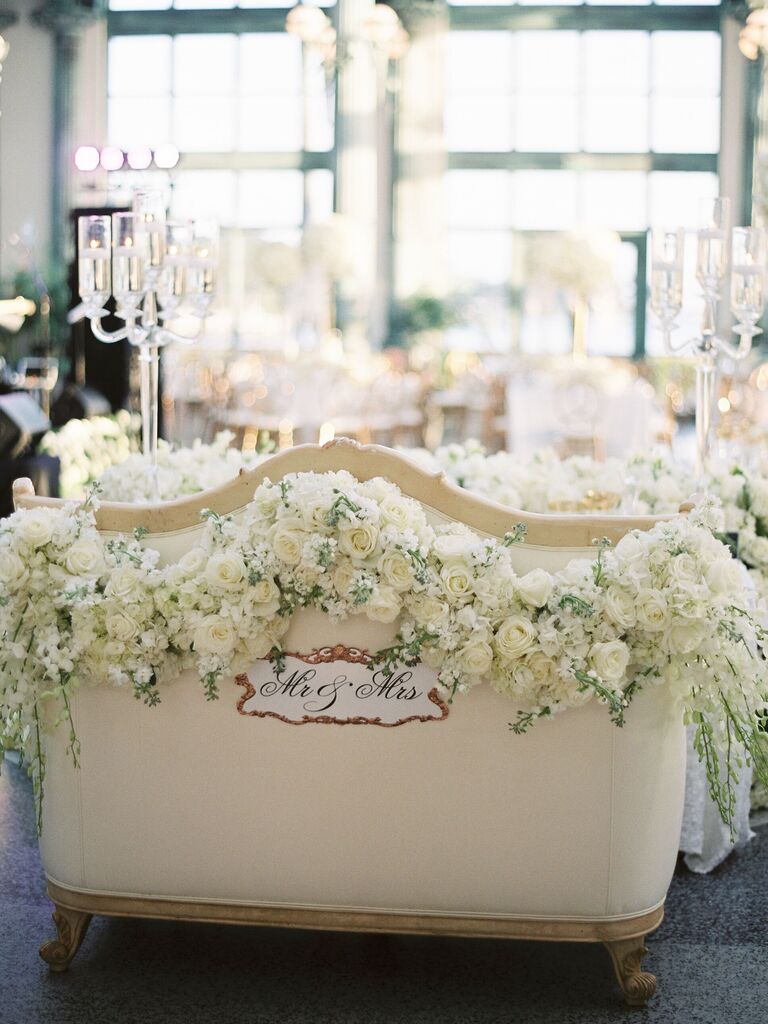 Want to stay as close as possible to your brand-new spouse on the wedding day? Forgo a matching chair set in favor of a decorative loveseat instead. You'll love snuggling up with each other once you sit down to eat.
12. Sweetheart Chairs with Wooden Signs and Greenery
Share your enthusiasm about finally being married by decorating your sweetheart chairs with a cheeky set of wooden signs that say, "Oh yeah."
13. Cane-Back Sweetheart Chairs
Upholstered Louis XVI chairs were made for a garden party wedding theme. Reminiscent of the French monarch they're named after, these cane-back chairs are sophisticated and regal—splurge on renting them for your sweetheart table to make your decor even more luxe.
14. Greenery and Citrus Fruit Sweetheart Chairs
There are (surprisingly) so many ways to decorate with fresh fruit on your wedding day, including the sweetheart table chairs. For an unexpected, playful effect, add citrus fruits to bunches of greenery.
15. Cross-back Wedding Sweetheart Chairs with Floral Swags
Going for a romantic aesthetic? Elegant floral wedding swags will easily dress up the backs of your chairs. Use dreamy blooms like roses, ranunculus, peonies or dahlias alongside fresh greenery to build out the arrangements.
16. Last Name Sweetheart Chairs
Your wedding chairs are a great place to incorporate your last name if you're opting to share it with your partner. Ask your wedding stationer to create custom signage that matches your wedding invitations, like these watercolor calligraphy signs.
17. Hand-Painted Sweetheart Chair Signs
If one or both of you speaks another language, why not add that part of your personality to your wedding decor? These "Bride" and "Groom" chair signs are written in Arabic, but you could do something similar with any language honoring your own heritage or interests.
18. Greenery Garland Sweetheart Chairs
Versatile and always stylish, it's nearly impossible to go wrong with greenery garland decorations. Weave or drape fresh greens on the backs of your chairs, then add small clusters of flowers to match your wedding colors.
19. Sweetheart Chairs with Faux Fur Throws
Decorating your chairs with faux fur throws looks cool in wedding photos, but on top of that, they can double as cushions or provide warmth if you get a little chilly. We'd choose this option for a winter wedding or rustic theme.
20. "Better Together" Sweetheart Chairs
If you're always finishing each other's sentences and can't get enough of each other, a pair of chair signs that read, "Better together" are an adorable way to remind guests that you're two peas in a pod.
21. Vintage Record Sweetheart Chair Signs
Whether you're having a music-themed wedding or simply love going to concerts together, repurposed vinyl records are one way to get creative with your wedding signage. You can hang them on the backs of your chairs or in front of your table, depending on the look you want.
22. Sweetheart Chairs with Macramé Accents
Try your hand at DIY wedding decor by making macramé hangings for the backs of your chairs. The loops easily slip over the top rungs on Chiavari chairs or can be discreetly attached to other types of chairs using clear fishing line.