Why Crowdfunding Your Wedding Is Not Okay
More couples are turning to crowdfunding sites like CrowdRise, GoFundMe and IndieGoGo to help pay for their weddings. Some say it's a genius tactic to funding the wedding, others say it crosses the line. We side with the latter. How about you?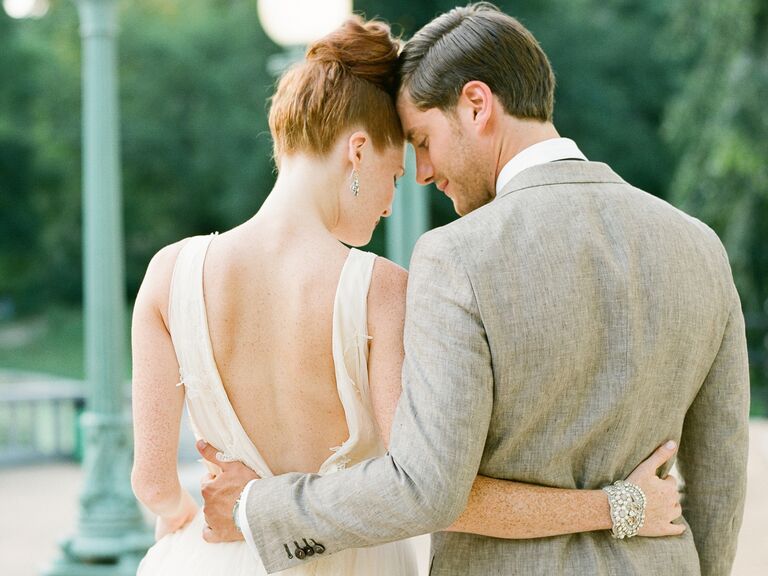 KT Merry Photography
Don't get us wrong. We love breaking the so-called "wedding rules"—from blue wedding dresses to friends officiating the wedding, tattoo wedding rings and ceremonies in the round. But as attractive as it may seem to simply crowdfund your flowers, dress and cake, it's not a good idea. Here are five big reasons.
1. Crowdfunding Sites Started as Charity Fund-Raising Sites
If your wedding matches up to the likes of a child with a life-threatening disease, non-profit hunger organizations or state-of-the-art scientific research, feel free to fund it via one of these sites. If not, it probably doesn't belong there.
2. Crowdfunding Your Wedding Leaves a Lot Up in the Air
Planning a wedding involves deposits (namely on the venue and catering) up front. In other words, you'll have to have the means to pay for your wedding before the actual day-of. And if your fund doesn't go viral, it's not likely to get much traction or garner lots of cash from anyone other than family members. Also, crowdfunding sites take a percentage of the total earnings. See what we mean?
3. You Might (Read: Probably Will) Offend Some Friends and Family
Going to a wedding is an expensive undertaking as it is (from the flight to the hotel accommodations and gifts). Suggesting a guest contribute money to the party they've been invited to is simply asking too much.
4. There Are Plenty of Other Ways to Save
If you haven't already, take a look at our list of ways to save on the wedding. (Hint: You don't have to skip the cake in order to save. There are plenty of tricks.)
5. You Can Always Add More Time to Your Engagement
There's a very simple reason that most people don't put on a wedding in three months—they're taking the time to save money so they can afford the things they want. You might not want to hear this one, but adding a few more months, or even another year to your engagement can help you put away a little more and afford your favorite flowers, or book your dream venue.
On that note, we'll leave you with our three big wedding budget mantras:
1. Plan the wedding you can afford.
2. If someone (like your parents) offers to help pay and you take them up on it, they get a seat at the planning table.
3. Never assume that your parents or anyone else will help you pay for your wedding.
Agree or disagree? Discuss it on our community boards!