12 Farmers Market Ideas to Inspire Your Wedding
Your local farmers market offers more fresh inspo than you think for your wedding's rustic theme.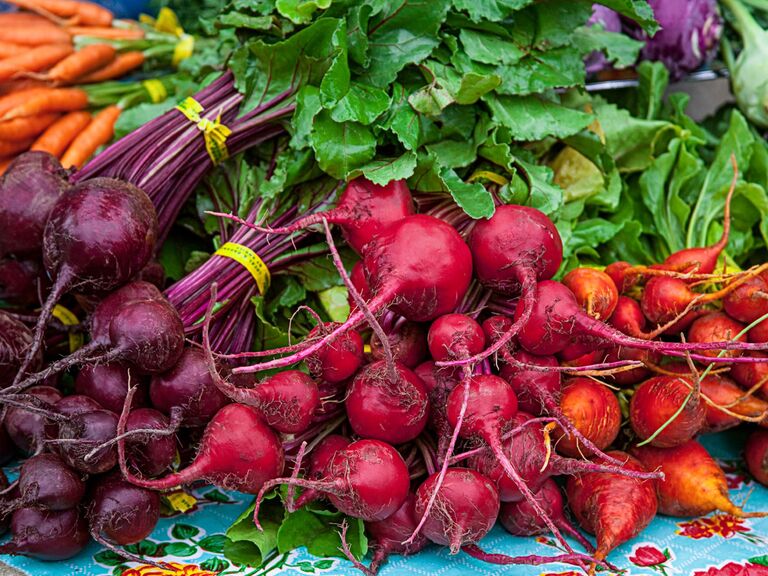 iStock
If you're going for a rustic, vintage vibe for your wedding, there's no place more pastoral to gather inspiration from than your local farmers market. Filled with bright blooms, a variety of vegetables, colorful fruits, state-made treats and more, your nearby market has a bounty of ideas for adding fresh touches to your event.

1. Edible Bouquet
Flower stands may be the norm at most markets, but instead of building your bouquet from just-picked blooms, play up healthy fare with a bundle of beautiful veggies.
2. Peachy Keen
Get inspired by bushels of pretty peaches and adorn your invites with a similar design.
3. Flavorful Favors
Skip the chocolates and treat your guests to jars of nature's candy: farm-fresh jam.
4. Gourmet Grazing
Farmers market finds are a mix of fresh produce and homemade fare. From cheeses and fruits to breads and spreads, create a casual buffet with treats offered by different vendors.
5. Casual Dining
Serve up sliders and other comfort foods you'd find at the market to avoid a formal sit-down dinner and keep the laid-back vibe alive all night long.
6. Produce Props
Pick a fruit that's in season and create small crates for a ripe table number idea.
7. Gingham Gathering
Checkered tablecloths, like those covering the vendor and picnic tables at the market, make for a whimsical touch to breezy outdoor eating.
8. Floral Décor
Fill metal tubs with bundles of farmers market flowers for simple table centerpieces or wedding day décor with bright pops of color.
9. Snack Station
A custom trail mix bar adds a DIY delight for guests to create their own snacks to munch on while celebrating your marriage.
10. Nature's Dessert Bar
Crates and bowls of fresh fruit work as both eye candy and a healthy sweet treat for your guests.
11. Wedding Pie
Crumble, cream or lattice-topped, skip the cake and go for homemade pies made from locally grown fruits instead.
12. Vendor Vibe
Turn an outdoor open space into a farmers market–inspired venue. Invite different vendors and food carts to come and park, allowing your guests to tour them all and try the best of what is locally available.