What Monica and Chandler's Wedding Registry Would've Included
The one with their newlywed nest.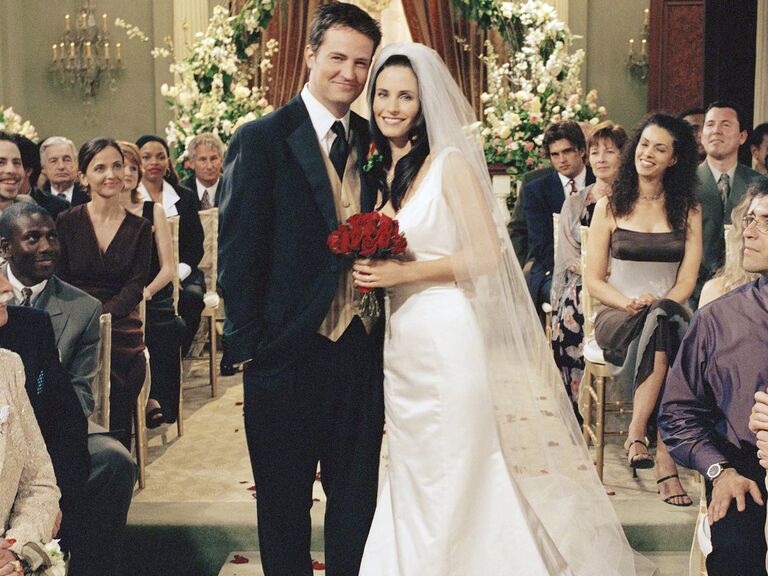 NBC / Contributer / Getty
We have included third party products to help you navigate and enjoy life's biggest moments. Purchases made through links on this page may earn us a commission.
There's nothing quite like watching a fairy tale-like love story unfold on-screen. Take Monica and Chandler from Friends, whose romantic journey is not only filled with plenty of "awww" moments and humor. After years of knowing each other and ending up as neighbors, the friends-first pair jetted off to London, where they finally ended up together. While Monica and Chandler kept their romance a secret at first, eventually they announced it to their friends—and then later, in front of friends and family at their wedding. Swoon.
If you're wondering what their nuptials would've looked like in real life, we have the answers. As creating a wedding registry is one of the most fun parts of the wedding planning process, we've imagined what the Bings would've registered for IRL. The pair's love story is unique, so we can't help but think they would personalize their registry to reflect just that. From cookware for Monica to luggage for a trip back to London to a mini foosball table (if you know, you know), here are all the things Monica and Chandler would've registered for. And if you're in need of some wedding wishlist inspiration, consider adding a few of the Bing's items to your own registry.
Le Creuset Cookware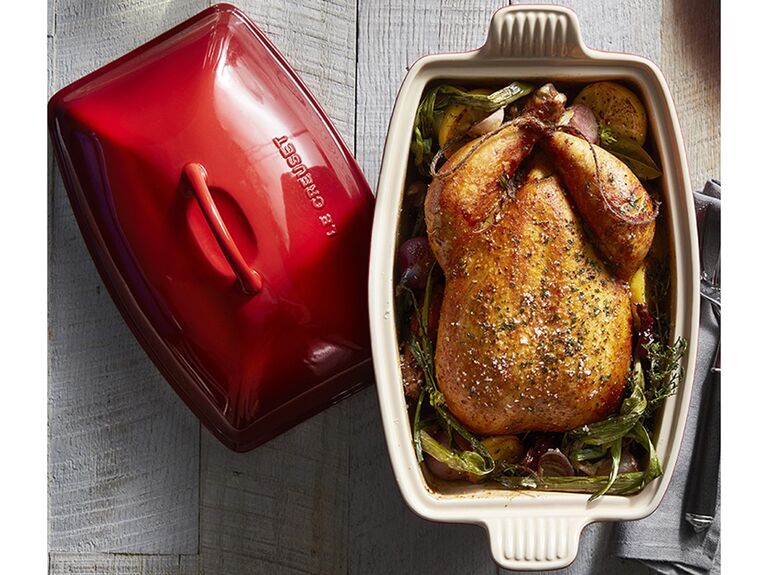 Given that Monica is a professional chef, cookware seems like an obvious registry choice. But these Le Creuset pieces will especially come in handy when she inevitably hosts Friendsgiving over the years. A full turkey for Joey? No sweat. Three kinds of mashed potatoes for Phoebe, Ross and Joey? Easy. They're also beautiful enough to double as serving dishes, eliminating extra dishes and extra stress; plus, they come in an array of hues too… to help Monica with her presumably color-coordinated cookware.
Le Creuset Heritage stoneware deep covered baker, $100, Williams-Sonoma.com
KitchenAid Stand Mixer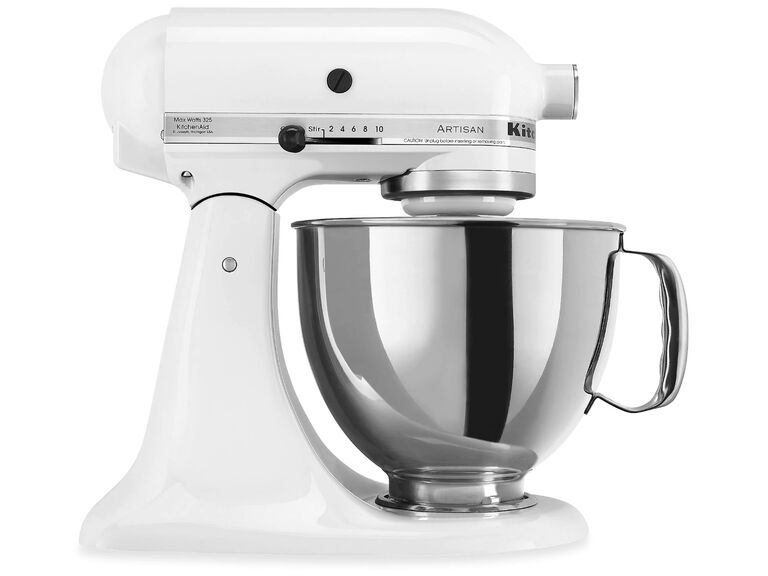 According to Bed Bath & Beyond, kitchen electrics are the most popular registry items for to-be-weds. We can see why, as they speed up meal prep, allowing couples to spend more time enjoying their meals together. A KitchenAid mixer would help Monica with future baking, whether that's making cookies for her building's super, candy for her neighbors or a Thanksgiving dessert (so Rachel never makes her infamous Trifle-Shepherd's-Pie concoction again).
KitchenAid Artisan 5 qt. stand mixer in White/Silver, $400, Kitchenaid.com
Luggage Set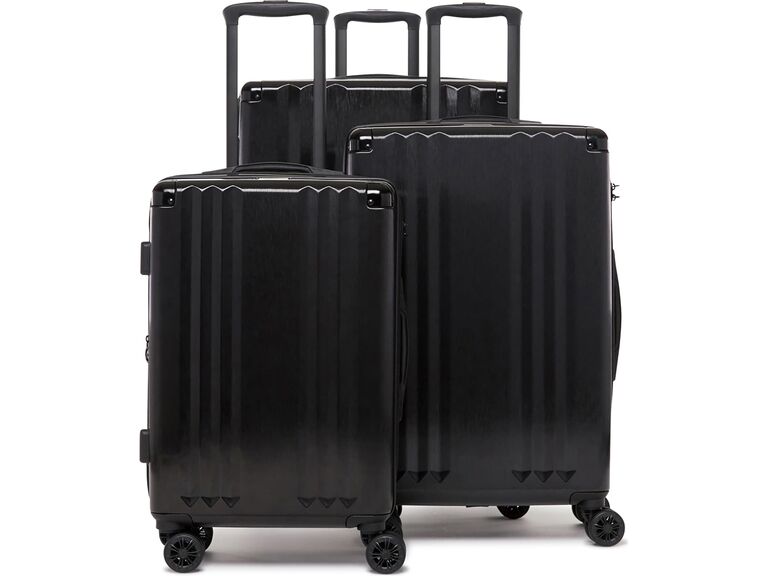 Monica and Chandler's love story began at Ross's wedding in London. Sad about her romantic situation at the time, Monica turned to Chandler for comfort, and the rest was history. Given their romantic journey started abroad, they'll inevitably re-visit the location again (anniversary trip, anyone?), which means this luggage set will hold everything they both need for a romantic and relaxing trip across the pond.
Calpak Ambeur 3-piece metallic luggage set, $425, Nordstrom.com
Cash Fund
We're certain the Bings would include a cash fund in their registry, as it's a useful and versatile gift. The pair could put it towards honeymoon snorkeling sessions or boat rentals—or those first-class tickets they just barely missed out on. The couple could also get tickets to see The Swing Kings (the band they saw when Chandler first realized he loved Monica), to get more food to feed Joey or to start a fund for a new home.
Coffee Mugs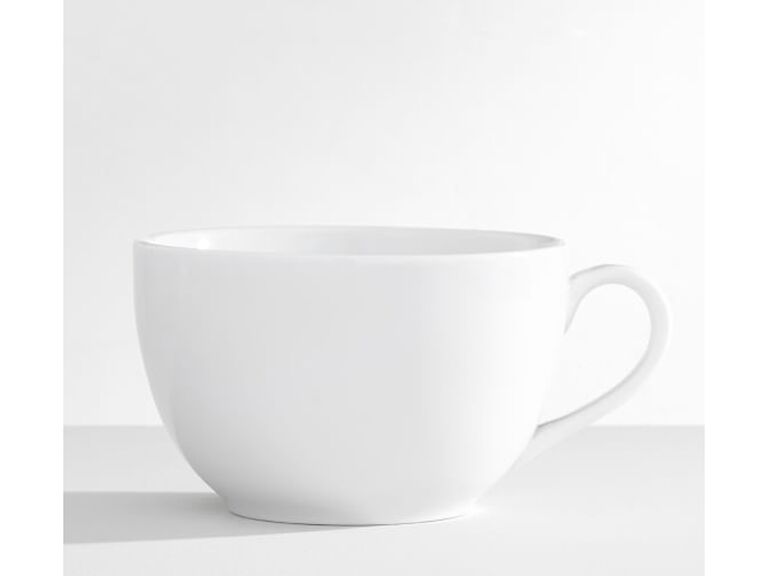 It's no secret the Bings love coffee. Their entire friend group loves to hang out at Central Perk, the coffee shop directly below their apartment. But if Monica and Chandler want to enjoy a cup of joe in the comfort of their own home, these oversize mugs are perfect.
Pottery Barn PB classic coupe porcelain mug in Set of Four, $20, PotteryBarn.com
Bath Caddy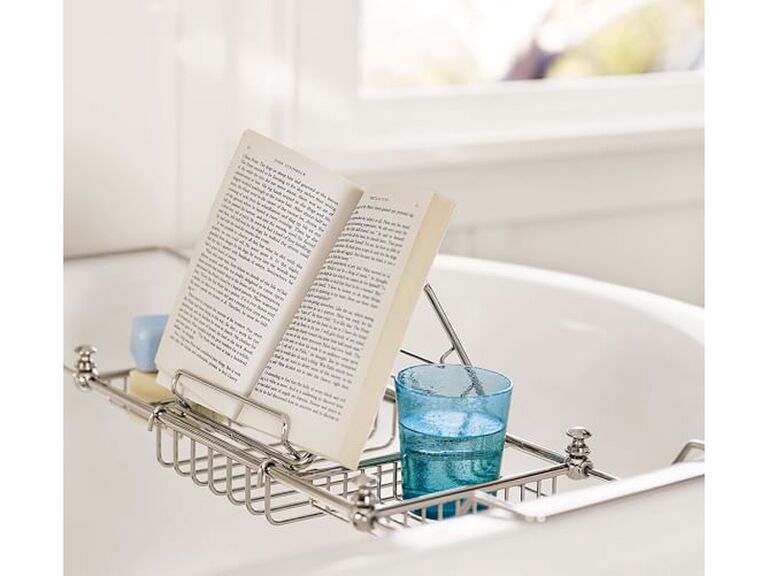 Who can forget the hilarious moment when Joey catches Chandler in a bubble bath with a glass of champagne? To make bath time even more relaxing, we know the couple would register for a table tray that could hold books, candles, phones or a glass of wine.
Pottery Barn Mercer bathtub caddy in Polished Nickel Finish, $90, PotteryBarn.com
Custom Sign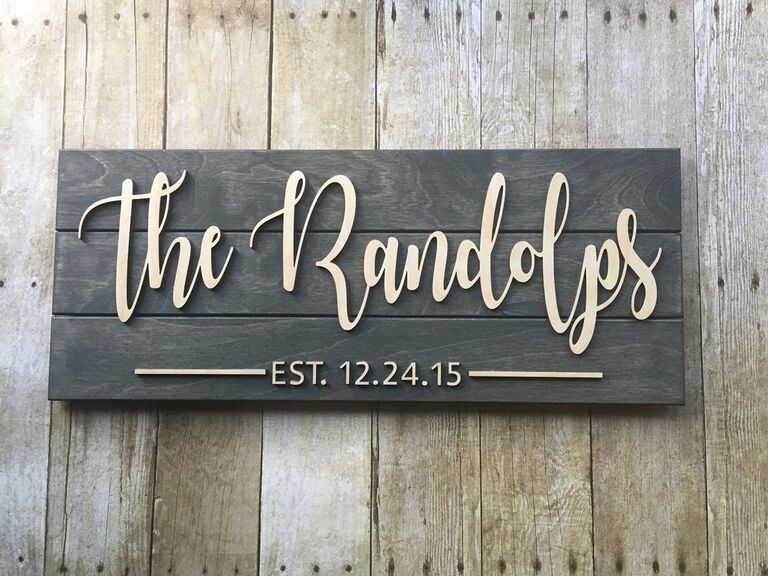 While Monica initially feels anxious about officially being "The Bings," she eventually realizes how excited she is to be Chandler's wife. To celebrate the pair's union—and Monica overcoming her fear—the couple would register for an adorable custom sign they could hang in their newlywed nest. To-be-weds looking for even more personalized pieces can create an Etsy registry.
My Custom Gallery Pallet sign, $34, Etsy.com
Weekender Bag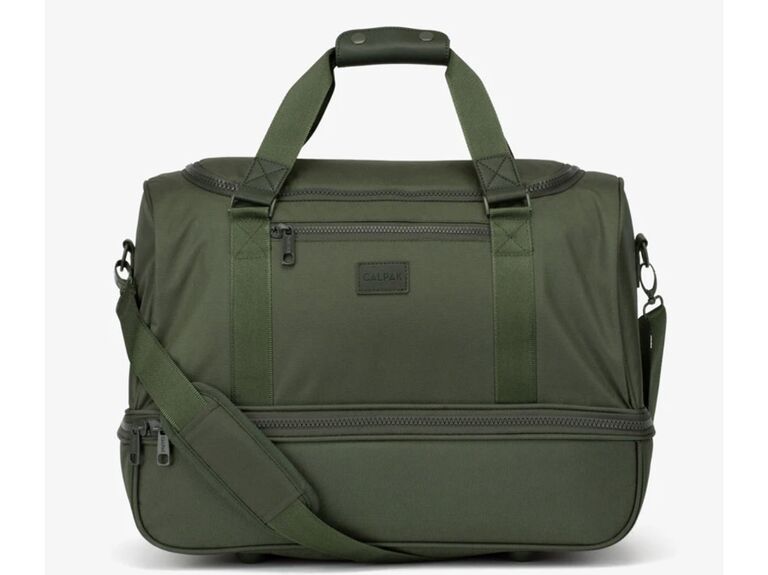 Early in the series, one of Phoebe's clients has a beach house, and the whole gang goes there for a weekend. It was there that Chandler and Monica joked about getting together (which was seemingly impossible at the time), and Chandler even attempted to woo Monica… to no avail. We all know how things eventually turned out.
Now together, they're likely to take more weekend trips together to make up for lost time. This duffel bag can fit four pairs of shoes in the bottom compartment and has plenty of room for clothing, swimsuits, towels and other beach necessities.
Calpak Stevyn duffel in Moss, $68, Calpak.com
Mini Foosball Table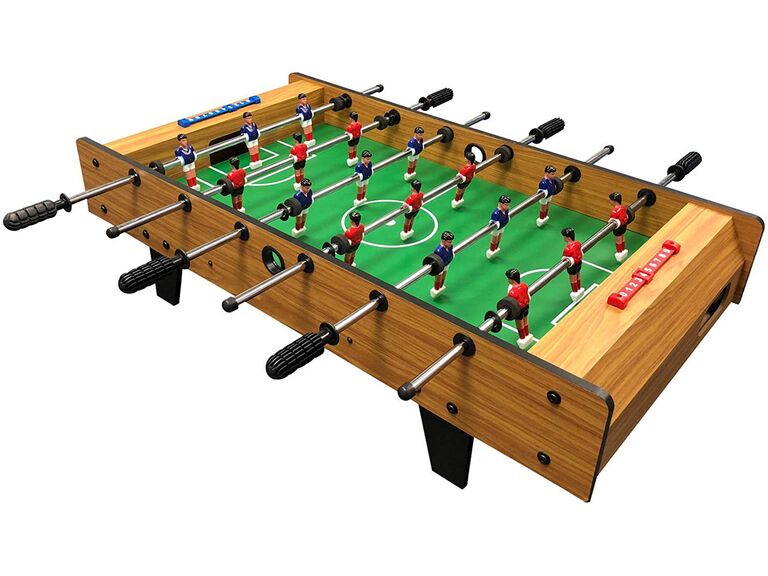 When Chandler and Joey lived together, they had a full-size foosball table that they often used. While Monica won numerous times, a miniature version of the game could keep things light and fun. It's a funny memory and a way to engage in a little healthy competition (which we all know Monica loves).
Playcraft Sport Free Kick 40" foosball table, $35, Amazon.com
Candlesticks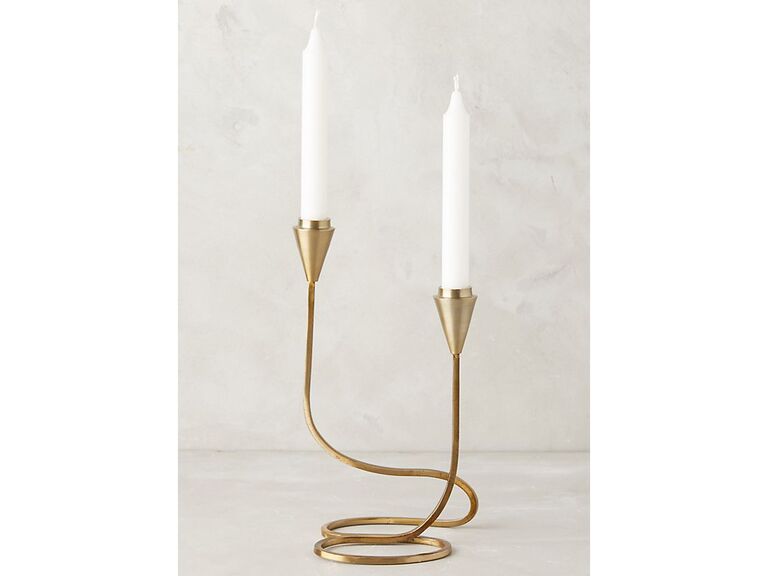 When Rachel moves out, she and Monica fight over a pair of candlesticks. In the end, they decide to each take one. But now that Monica and Chandler are decorating their newlywed nest, we think the couple would register for a pretty matching pair that would look lovely on their kitchen table.
Anthropologie cursive candlestick, $32, Anthropologie.com
Bathroom Towels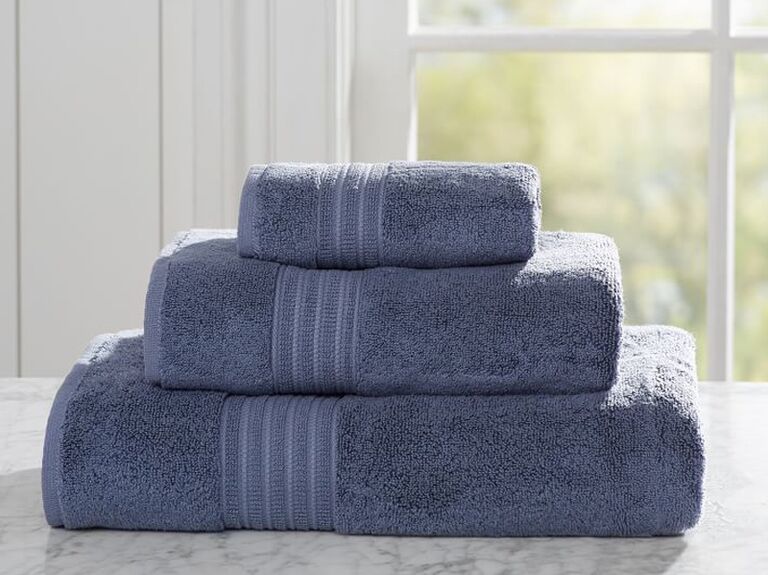 As we learned during the trivia game episode, Monica categorizes her towels. She currently has 11 categories (think: everyday use, fancy, fancy guest). But now that she's married—and has in-laws—she's going to add a few more categories. These super-soft tencel towels will be perfect for when her parents come to visit.
Pottery Barn cotton TENCEL organic towels in Blue, $37, PotteryBarn.com
Dyson Vacuum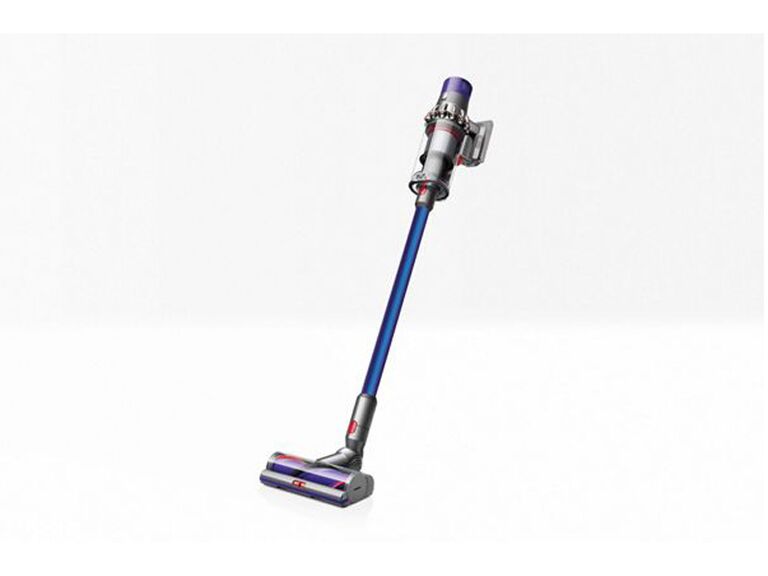 It's no secret Monica loves to clean, so what better gift to register for than an upscale vacuum? This cordless model will help her and Chandler keep their apartment sparkling clean.
Dyson Cyclone V10 Absolute, $600, Dyson.com
Diffuser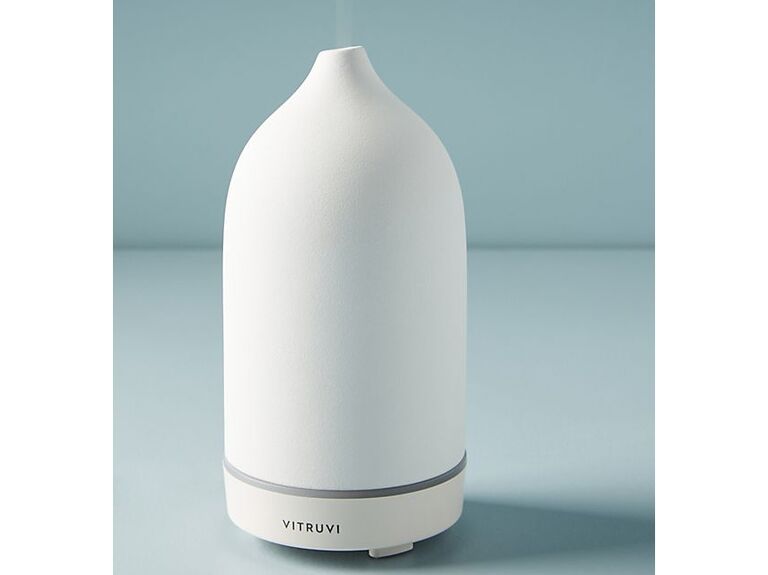 While Monica may not want to admit that she gets sick, it does happen. To help prevent any wintertime colds or stomach bugs, we think the couple would register for a diffuser. They could use essential oils that boost the immune system, like lemon, peppermint and eucalyptus.
Vitruvi white stone essential oil diffuser, $119, Anthropologie.com
Bedside Caddy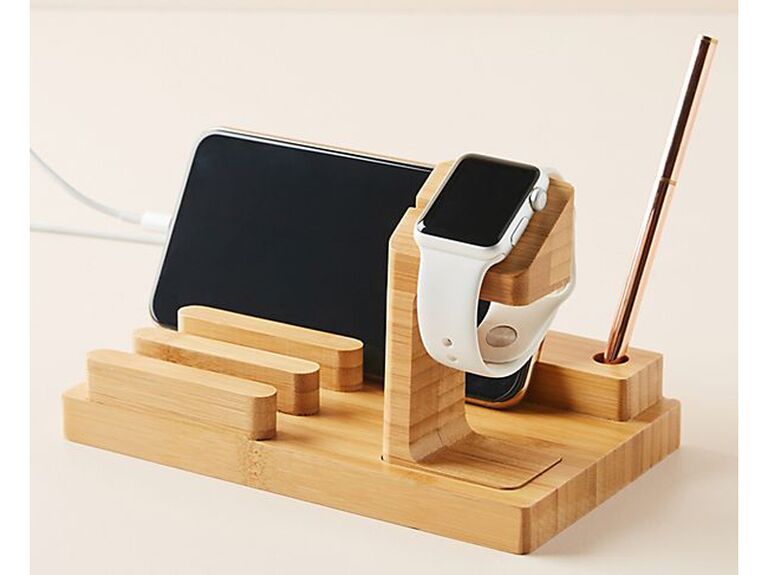 Even though the gang doesn't realize Chandler has glasses, he does use them later in the series. To help him keep track of his new spectacles, he can use this bedside caddy, which has a spot for all of his essentials: watch, phone, glasses, pen and paper.
Anthropologie desktop charging station, $36, Anthropologie.com
New York City Throw Pillow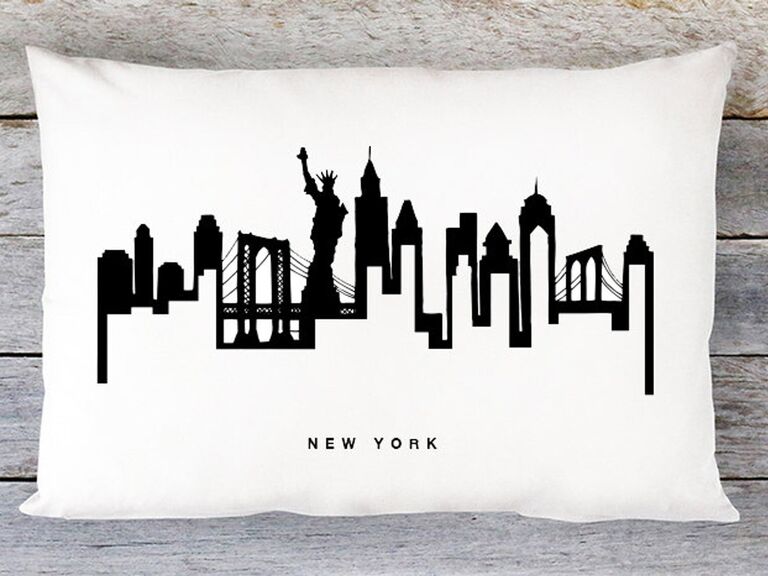 Even though the Bings' love story technically began in London, it blossomed in New York City. To commemorate this special place, Monica and Chandler would definitely put a special NYC throw pillow on their wedding wishlist.
Aldari Home New York City skyline pillow cover with insert, $45, Etsy.com
Vow Art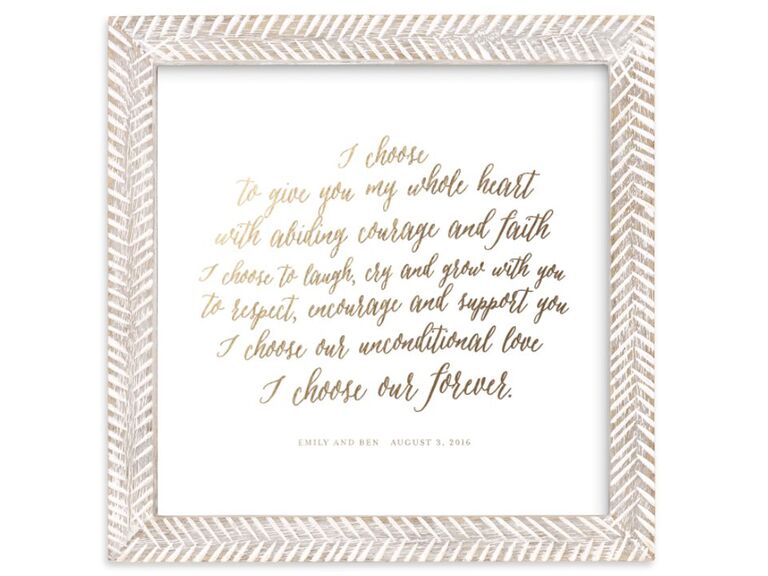 Writing vows can be stressful, and both Monica and Chandler struggled with saying the perfect thing on their wedding day. While Monica's thoughtful speech was on a notecard, Chandler made his vows up on the spot. To commemorate the tear-jerking words, the couple could get their wedding vows made into gorgeous wall art.
Minted Your Vows as a Foil Art Print, starting at $115, Minted.com
Knife Set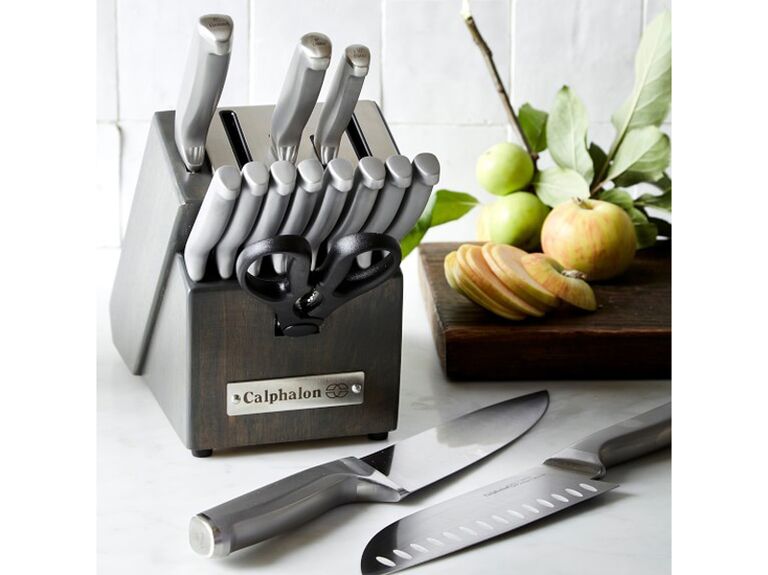 Of course, no chef's kitchen would be complete without a great set of knives. With this 15-piece set, Monica can create any dish in the world. She'll just have to be careful not to cut any other toes off Chandler's feet!
Calphalon classic sharpIN stainless steel 15-piece knife set in Grey, $220, Williams-Sonoma.com