24 Green Wedding Decor Ideas for a Lush Color Palette
There's a reason why it's one of the most popular wedding colors of the year.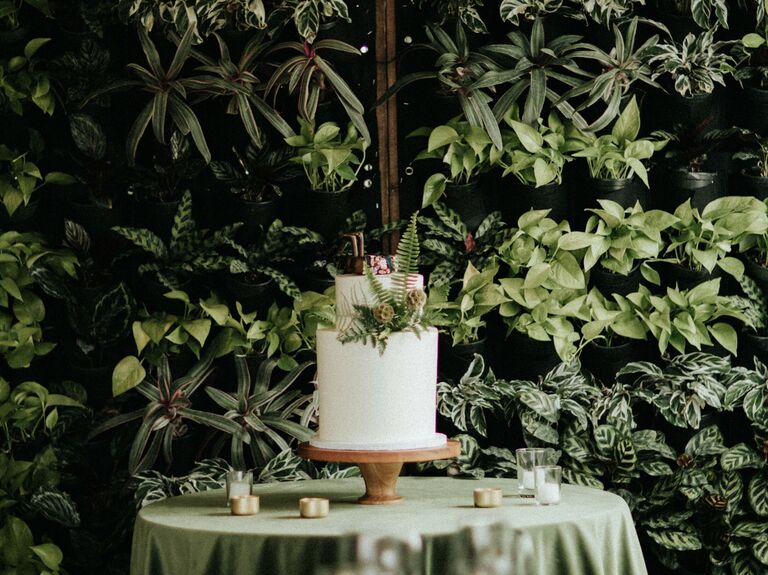 As the color that symbolizes new life, freshness and growth, green is a fitting choice for your big day. From greenery centerpieces to seasonal palettes, there are so many reasons to choose a green wedding theme, and we're sharing some of our favorite ideas from real weddings to prove it. Keep reading for our tips on how to make the most of a gorgeous greenery palette, whether you're into pastel sage green, rustic olive green or rich emerald tones. (And if you want to give an entirely different meaning to the phrase "going green," tap into some of these eco-friendly wedding ideas.)
In this article:
Sage Green Wedding Ideas
This soft, understated shade of green is an elegant option if you love pastel wedding colors but want something a little unexpected. Having a springtime garden wedding? Sage green looks gorgeous when paired with other light hues, such as blush, peach and lilac. If you're having a fall or winter wedding, pair it with neutrals for a minimalistic, chic vibe.
1. Wedding Invitations with Laurel Wreath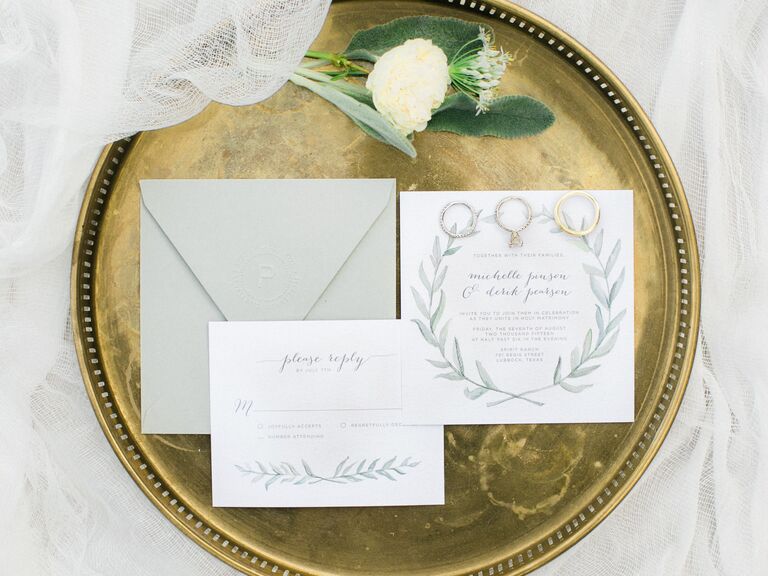 Watercolor laurel wreath motifs bring an ethereal undertone to an otherwise classic white stationery suite featuring calligraphy and an embossed envelope.
2. Velvet Engagement Ring Box
If you don't have a ring box (or if you want to add another to your collection), snag one that matches your wedding color palette. It's a small detail, but your photographer can use the box for their flatlay photos before the wedding—it makes all the difference to have a decorative one that complements the rest of your wedding theme.
3. Wedding Bouquet with Sage Green Ribbons
Your bouquet might include actual greenery as part of the design, but you can incorporate your green wedding theme even further by adding delicate ribbons to the arrangement. Ask your florist to keep the ribbons long and loose like this for a whimsical, romantic effect.
4. Sage Green Bridesmaid Dresses
Cool tones are trending for bridesmaid dresses, and that includes soft sage green. This subdued color is a great pick for your bridesmaid dresses no matter the time of year—have your 'maids carry certain types of bouquets (like pastel blooms for a spring wedding) or wear specific accessories depending on your wedding season.
5. Escort Cards with Tassels
Looking for ways to give your wedding decor a boost? Consider a custom escort card display. These sage green wedding escort cards are adorned with tassels in a contrasting dark green hue.
6. Gold Place Setting with Green Napkin
Silver and gold are both gorgeous accent tones for a green wedding color scheme—it all depends on your preference. This elegant wedding place setting features a chic, gold-rimmed charger plate and matching cutlery that pop against the cool sage green napkin.
7. Rosemary-Infused Signature Cocktails
If your signature cocktails happen to match your color palette, even better. Glasses of rosemary-infused vodka lemonade (complete with a pale green hue and striped straws) are a refreshing summer wedding drink.
Find your kind of venue
From barns to ballrooms, discover reception venues that feel like you.
8. Sage Green Cake Pops and Popsicles
Your wedding cake, cookies and other desserts are all opportunities to play up a green wedding theme. This spread of cake pops, popsicles and macarons looks amazing on display, adding to the overall vibe of the wedding.
Olive Green Wedding Ideas
Perfect for boho and nature-inspired wedding styles, olive green is inviting and warm. Adding fresh greenery to your wedding decor is a no-brainer for this aesthetic—balance out the rest of your wedding color palette with neutrals, like taupe, gray, ivory and terracotta to play up the earthy look.
9. Olive Green Calligraphy Ink
Using green calligraphy ink throughout your stationery suite gives your wedding guests a sneak peek of your theme as soon as they open the invitations. Other airy design accents, like deckled edge paper and vellum, complete the look.
10. Eucalyptus Wedding Ceremony Aisle Decor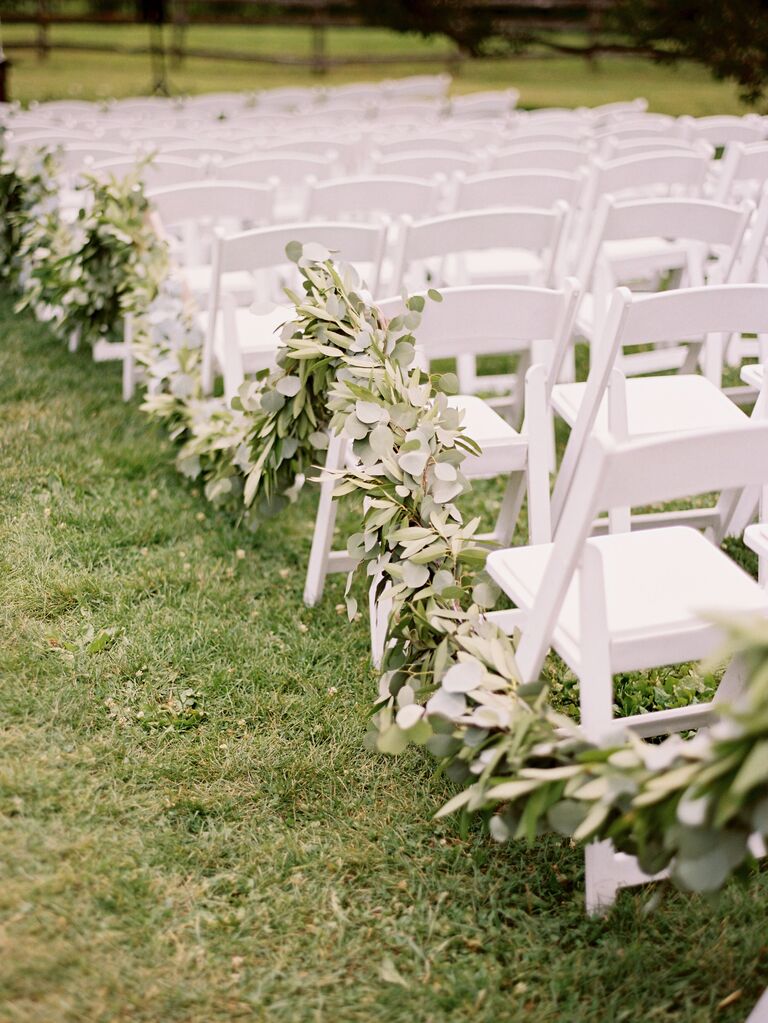 We love when something so simple can look so pretty, like this full eucalyptus garland draped along the ceremony aisle.
11. Greenery Wedding Table Centerpiece
If you love Old World style, you can pair oxidized brass and tarnished silver pieces with greenery as an easy, on-theme way to decorate your tablescapes or other areas throughout the venue.
12. Greenery Escort Card Display
Using mini clothespins, clip escort cards to a garland made from bay leaves, willow eucalyptus or olive branches. The end result: An eye-catching display that won't require too much effort (or break your budget).
13. Olive Green Table Linens
You can't go wrong with bare wooden tables or classic white linens, but there's something to be said about colorful tablecloths, especially if you want your decor to make an impact. Olive green linens take this tented reception space to the next level, with the white centerpieces and chair cushions popping against the tables.
14. Wedding Centerpiece with Olive Green Candles
Looking for a more subtle way to incorporate your green wedding theme into your table decor? Try using green pillar candles or tapers instead (and if your venue doesn't allow open flames, the candles look just as nice in glass vases).
15. Terracotta Pots with Greenery
Recreate this unique seating chart by sourcing green glass vessels (like antique olive oil jugs), antique terracotta pots and mismatched wooden serving boards from thrift stores. All of the natural textures and colors will complement your boho or rustic wedding. Alternatively, you can use this idea on a smaller scale by doing something similar for your table numbers.
16. Wedding Favor Jars with Olive Green Ribbons
When displaying your wedding favors alongside the rest of the decor—either at each place setting or on a table in the reception space—try to choose items that fit the aesthetic, like these jars finished with olive green ribbons.
Emerald Green Wedding Ideas
As one of the most saturated shades of green, emerald is popular for glamorous, dramatic wedding themes. This jewel tone becomes even more eye-catching when paired with colors like fuchsia, orange and purple, resulting in a modern wedding color palette that's fun and lively.
17. Watercolor Emerald Green Wedding Invitations
Wedding invitations with watercolor accents are popular for romantic themes and beachy color palettes, but an emerald green design is unexpected and immediately stands out. The geometric envelope liner on this invitation suite is extra playful.
18. Emerald Green Wedding Suit
Break away from the basic black, gray or blue suit for a dazzling emerald green option instead. It's a perfect fashion-forward look for a fall wedding, and you won't need to add much else to look sharp.
19. Sequined Emerald Green Bridesmaid Dresses
Emerald bridesmaid dresses are especially popular for fall and winter weddings, whether you choose a luxurious velvet fabric or go for something more glamorous, like these full-length sequin gowns. They pair nicely with both black and navy blue groomsmen suits.
20. Wedding Welcome Sign
Decorative signage is one way to dress up your wedding venue, but it also provides helpful information for your guests. We're loving the copper and jewel tone floral accents on this display.
21. Velvet Wedding Reception Chairs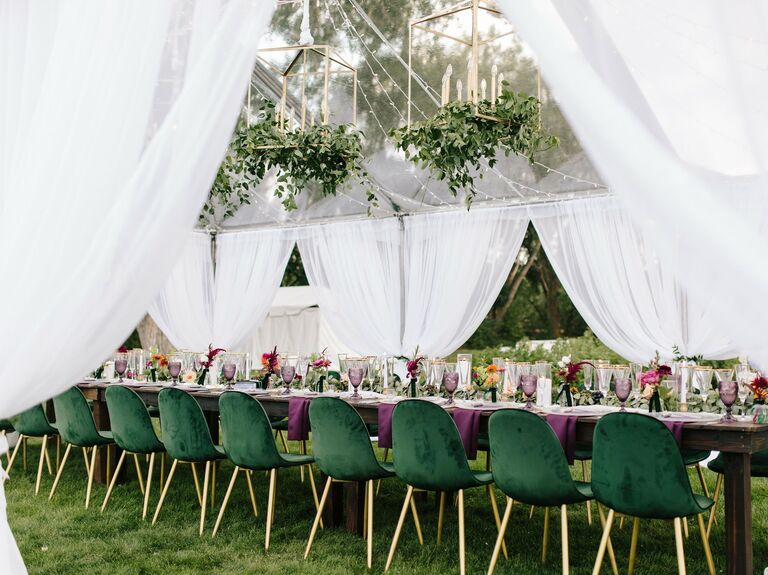 Investing in stylish chairs is just one way to upgrade your wedding rentals. Use velvet chairs in an emerald green hue to create a regal setting—rent them for all of the guests in bulk if you have the budget, or use them solely for your head table or sweetheart table.
22. Emerald Green Table Linens
If green chairs aren't your thing, consider emerald green tablecloths instead. Paired with black infinity chairs and a simple greenery table runner, this tablescape is the epitome of modern chic.
23. Table Setting with Monstera Leaf
Having a tropical wedding theme? Incorporate Mother Nature's version of emerald green by using monstera leaves as part of your place settings.
24. Candle Wedding Favors with Velvet Ribbons
It's scientifically proven that memories and scents are closely linked, which is why custom candles are an amazingly unique wedding favor idea. The smell will remind guests of your wedding day every time they use the candles, and you can add mini matchboxes with the help of emerald green ribbons.