18 of the Best Ranch Wedding Venues in the U.S.
Revel in these romantic wide open spaces.
From the Midwest to the West Coast and beyond, expansive ranches captivate locals and visitors alike—and, throughout the year, transform into outstanding rustic wedding venues for couples' big days. The appeal of a ranch wedding is obvious: Namely, these beautiful venues provide plenty of space for your wedding ceremony and celebration. Plus, because you'll be surrounded by so much natural beauty, your wedding photos are guaranteed to be next-level.
Whether you and your spouse-to-be are urbanites looking for a rural getaway or countryfolk wanting to wed in your homeland, the perfect venue for your special day on the ranch is within reach. (Depending on where you live, you may just need to head west to your wedding destination.) Here, we've broken down 18 of the best ranch wedding venues nationwide to assist you in the wedding planning process.
Flying Horse Ranch in Larkspur, Colorado
Flying Horse Ranch in Colorado's Front Range is a bucolic 1,400-acre cattle and equestrian ranch featuring miles of rolling hills and a 39,000-square-foot indoor riding arena. The greatness of this venue, of course, starts with its landscape and is made better by the 12-hour, all-inclusive event package . You can hold an outdoor ceremony and reception or get married indoors at the barn or the Ranch House. There's also a getting-ready suite with everything you'll need on your big day (a steamer, a mini fridge, multiple vanities) and the Groom's Quarters, an area with enjoyable amenities like a pool table, a poker set, a shuffle board, basketball and back hunter arcade games, and more.
Texas RoadRunner Ranch in Ferris, Texas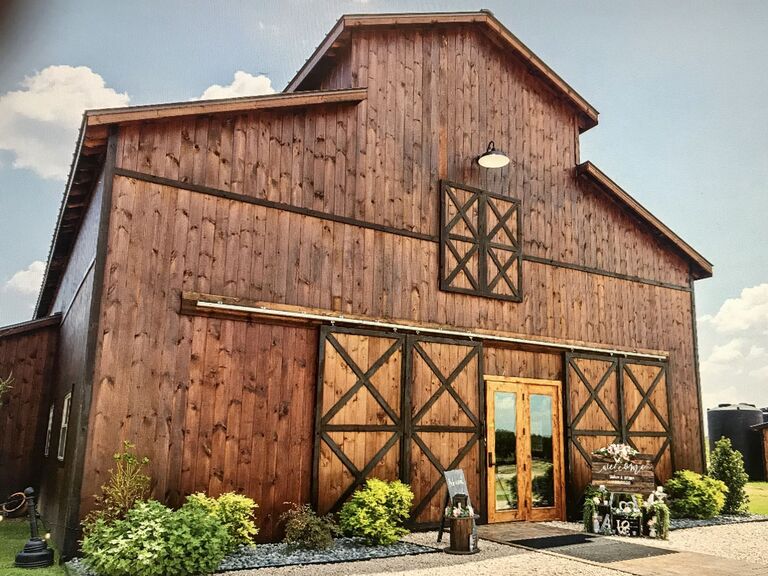 Head to Ferris, Texas, and you'll find the Texas Roadrunner Ranch. (It's also a short drive from Downtown Dallas.) Even if you're from the area, Texas RoadRunner refers to itself as a destination wedding venue and a romantic getaway. The family-run establishment has all the makings of a lovely ranch wedding venue, such as 100-plus acres of rolling hills, a rustic-chic venue barn, green pastures, a biergarten pavilion perfect for an outdoor wedding under the stars and a "Floating" Veranda fit for a romantic wedding ceremony on an island in the middle of a large pond.
Redwood Ranch in Three Rivers, California
California's Redwood Ranch sits four miles from the southern entrance of Sequoia National Park, close to hiking trails, mountain meadows, sequoia trees and a river. It's a ranch in the wilderness—and a truly enchanting one at that. Here, you'll host a beautiful wedding outdoors, utilizing the ranch's 190 acres as a blank canvas to bring your perfect wedding to life. A cool aspect here is that, rather than acting as an event space, the renovated barn has two units. The upstairs unit features a king bed, a full bathroom, a children's nook, a kitchen and a family room, and the lower unit has three queen bedrooms, a bunk-bed room, a den, two full bathrooms, a kitchen and a game room. You can also camp on the property.
Circle S Ranch & Country Inn in Lawrence, Kansas
Circle S Ranch & Country Inn is located in the Midwest, in Lawrence, Kansas. Saying "I do" here means saying "I do" at a charming pastoral location steeped in history: The venue was established in 1860 and has been a working ranch for six generations. For your wedding day at Circle S, you'll have your choice of outdoor ceremony sites or the indoor wedding chapel, and your reception will take place in the 3,000-square-foot party barn or the Inn's great room. There's also an on-site bed and breakfast for overnight guests. Regarding pricing, Circle S offers three different wedding packages—Modern Ranch, Elegant Country and Rustic Luxury—so you can choose what works best for your needs and vision.
Deer Creek Valley Ranch in Bailey, Colorado
Back in Colorado is Deer Creek Valley Ranch, a much-loved and award-winning family-run establishment, ranch and barn wedding venue located 45 minutes from Denver. The special events venue was inspired by the owners' own love story, and the on-site barn was originally built in 1862. Accommodating up to 180 guests, Deer Creek Valley ranch offers both venue package pricing and all-inclusive package pricing. The venue also offers three outdoor ceremony spaces (Pine Cathedral, Mountain Bridge Meadow, Lakeside Gazebo) and three cocktail hour sites (Duke's Terrace & Hearth, Fireside Patio, Gazebo Game Site). There's also the elegant Homestead Tent Ballroom for your reception.
The Ranch at Lake Sonoma in California
The Ranch at Lake Sonoma is a popular barn wedding venue located in California's Sonoma Wine Country. What's great here are the views—look ahead, and you'll see delightful mountain vistas; look down, and you'll see the beautiful Lake Sonoma. Wedding events at the ranch run from 5 to 10 p.m., but you have the option to extend your special event until midnight. What's more, the inclusions here play into the rusticity of the venue: natural wooden chairs and round tables, five Adirondack chairs, eight oak wood barrels, eight teak outdoor chairs, an antique wagon for photos and so much more.
Blame Her Ranch in Ribera, New Mexico
Forty-five minutes from Santa Fe, you'll find Blame Her Ranch—a luxury ranch with a 7,900-square-foot main lodge home that sleeps up to 24. The gorgeous property is also home to an 18,000-square-foot great lawn that can become the scene of your outdoor wedding. Two other wedding spaces include a 1,750-square-foot converted party barn (it's a lovely rehearsal dinner spot) and a 1,500-square-foot covered gazebo. Back to the main lodge, it's really a knockout feature. Fit with a great room with a 28-foot stone fireplace, a game room, a home theater, an outdoor patio kitchen, a gym, an office and so much more, it's perfect for a family-friendly wedding weekend. Oh, and there's an outdoor pool for even more fun.
River Bottoms Ranch in Midway, Utah
River Bottoms Ranch is a family-run sanctuary featuring a picturesque farmhouse wedding venue in Midway, Utah. The venue is located just outside of Park City and 45 minutes from Salt Lake City. The splendor of River Bottoms Ranch starts inside the white gambrel barn, with its rustic-modern charm and black-and-white color scheme. At the barn, you can host 200 for a seated event and 300 for a free-flowing reception. In typical ranch fashion, the wonder continues outdoors, with 360 degree views of Mount Timpanogos, valleys and rolling hills. There's also a pretty 2,200-square-foot pavilion for you to take advantage of during your big day.
California Ranch Events in Livermore, California
Northern California's California Ranch Events offers so much magnificence about an hour from the San Francisco Bay Area. Formerly home to the Muwekma Ohlone tribe, the ranch was sold to the current owner's family in 1884 by the 22nd mayor of Oakland; it was then used as a wheat and cattle ranch and, in 1900, won the Grand Prix Gold Medal for the world's finest wheat. You have two options here: a single-day celebration or, as described by the venue, a "magical and transformative experience," such as a weekend retreat. California Ranch Events wants to help you create your ideal wedding, so they provide a list of suggested in-house vendors—including unique vendors like a yoga and meditation guide and a healing and communication expert.
Van Dickson Ranch in Skull Valley, Arizona
Arizona's Van Dickson Ranch is a dreamy 600-acre ranch that was once owned by rodeo champion James Van Dickson. (It's also one of Arizona's oldest ranches.) There's many natural delights at this historical property, including oak, cottonwood and walnut trees, large expanses of grass and mountain views. Van Dickson's wedding offering includes a ton: a wedding dinner of beef and chicken, a covered reception pavilion, an oak-tree lined ceremony space, tables, chairs, benches, flatware, getting-ready casitas and cabins, security personnel, parking attendants and air-conditioned bathroom facilities. The venue is also BYOB, and you'll have use of the property from 9 a.m. to midnight, with music ending at 11 p.m.
Diamond Cross Ranch in Jackson Hole, Wyoming
Diamond Cross Ranch in Jackson Hole, Wyoming, has so many covetable country features: horses and cattle grazing on pastures; the Grand Teton Mountains in the distance; bison, elk and other animals in sight. Plus, you have room here to envision the wedding day of your dreams because there's plenty of space for a tented outdoor wedding as well as a 12,000-square-foot barn that can host events for up to 300 people. Another fabulous aspect of this venue is the signature horse release; horses will gallop in the pastures behind the altar during your ceremony and reception. Fun fact: Kanye West held a record launch party at Diamond Cross Ranch in May 2018.
Stemple Creek Ranch in Tomales, California
Host your wedding ceremony in a hilltop eucalyptus grove at California's Stemple Creek Ranch. The family-owned facility is just five miles from the Pacific Ocean, in Northern California, occupying more than 1,000 vibrant acres. At Stemple Creek, you'll host a farm-to-table event surrounded by natural beauty. In addition to the eucalyptus grove, other ceremony sites include underneath a redwood tree and within the event space's red barn. The red barn will also be your reception site; the wood-beamed interior looks amazing when embellished with twinkling lights and lush greenery, and it has an outdoor deck overlooking the West Marin hills.
Spruce Mountain Ranch in Larkspur, Colorado
Spruce Mountain Ranch is another wonderful Western ranch venue located in Larkspur, Colorado. The ranch occupies 450 acres and features two properties—the Lower Ranch and the Upper Ranch—located over a mile apart. The Lower Ranch is home to Albert's Lodge, the Colorado Room, the Courtyard, Grace's Chapel, and the Mountainside ceremony space. The Upper Ranch has the Ponderosa Room, the Spruce Room, the Courtyard, the Lakeview Terrace and Trey's Vista. Each outdoor event space is as beautiful as you could imagine, and the indoor spaces are decked out in Colorado style. With so many indoor and outdoor options, the private estate can be your wedding oasis.
Summer Star Ranch in Helena, Montana
Montana's Summer Star Ranch is a Best of Weddings Hall of Famer, and it's clear why: The luxurious Wild West venue is located within the Helena National Forest, boasting views of the Rocky Mountains, horse pastures, valleys and forests. The venue also offers horseback riding, has a cabin and a glamping tent, and provides you with an experienced day-of coordinator who can assist with all of your special event needs. Vintage party rentals—dessert plates, assorted wooden crates, a large bird cage, cowboy boot vases, wine barrels, European mount horns, and a lot more—are also available for a low price to emphasize the American West atmosphere.
Rockin' S Ranch in Johnstown, Colorado
Rockin' S Ranch is a ranch and farm wedding venue in Johnstown, Colorado. The former dairy farm has transitioned into a stellar lakeside wedding venue near the Rocky Mountains. Of its 35 acres, eight are used for events. Your ceremony options include a courtyard for up to 200 guests, a lower field adjacent to the lake for up to 200, an upper covered barn for up to 100, and a lower covered barn for up to 150. The courtyard and upper and lower covered barns are also used for receptions. Rockin' S Ranch's inclusive fee gives you exclusive use of the area, a 10-hour rental period (three for setup, six for your event and one for cleanup), tables and chairs, a day-of coordinator, a bridal suite, a one-hour rehearsal and more.
Besler's Cadillac Ranch in Onge, South Dakota
Besler's Cadillac Ranch is the type of venue that looks like it belongs in a movie. Located in the Black Hills of South Dakota, the venue sits on over 1,000 acres and boasts a two-story barn, lodging, camper hookups, fire pits, a gazebo, a chapel, and a covered bridge. The reception barn is not your average barn; it comes equipped with a loft, a dance floor, a full-service bar and a kitchenette. On your wedding night, you and your new spouse can enjoy the on-site honeymoon suite, and your guests can take advantage of the farmhouse, cabins and RV area. With gold, silver, bronze and micro-wedding packages, you'll find exactly what you're looking for at this spectacular ranch wedding venue.
Sunset Ranch Hawaii in Haleiwa, Hawaii
Does anything sound dreamier than a Hawaiian-style ranch wedding? Sunset Ranch Hawaii, a 30-acre private estate in Haleiwa, Hawaii, makes that dream a reality. Head here, on the North Shore of Oahu, for a destination wedding like no other. There are multiple venues within Sunset Ranch, including Charlie's Pond, an intimate venue with ocean and mountain views; Sunset Stables, a 9,600-square-foot indoor venue adorned with large barn doors, white walls, wood beam and crystal chandeliers; Sunset Meadow, a five-acre venue with a eucalyptus tree and views of the mountains, ocean and northwestern side of the island; Fern's Garden, a botanical garden; Sunset Vista and the Courtyard. Choose Sunset Ranch Hawaii for a wedding getaway like no other.
Greengate Ranch & Vineyard in San Luis Obispo, California
Rounding out our list, we head back to California to San Luis Obispo's much-loved Greengate Ranch & Vineyard. The event venue is situated on 140 acres in the heart of Edna Valley Wine Country. Like many other ranch venues, there's much to love here: Weekend wedding packages include two to three nights of lodging for up to 26 guests in four on-site vacation homes and full access to the site's grand lawns, Pool Arena, Willow Pond and Wood Barn and Courtyard. The various settings provide you with many options for your rehearsal dinner, wedding ceremony, cocktail hour, reception celebration and next-day brunch. It's more than a venue—it's an experience.