22 Saucy Bridal Shower Gift Ideas
Shower her with a gift that's a little bit naughty. Here are 23 titillating gift ideas.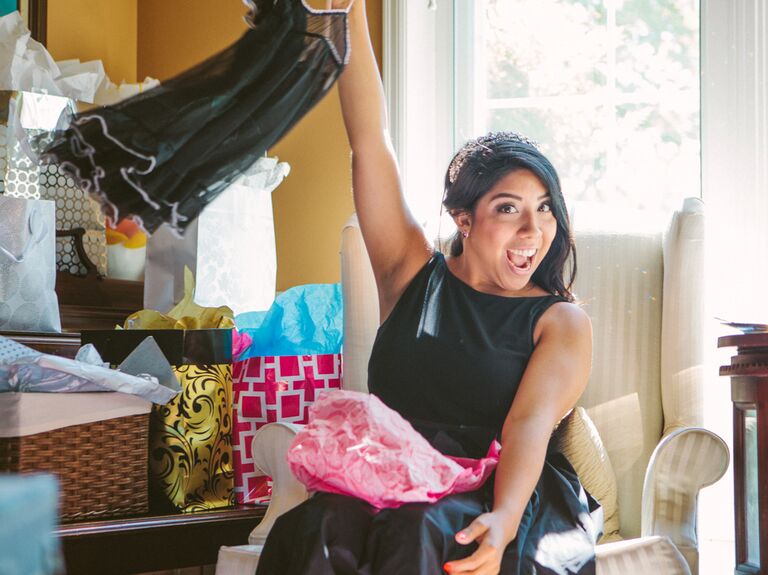 Melissa J. Soule Photography

Looking for a shower gift that the bride (and her man) will really go wild for? Think sexy thoughts! Here are ideas that are sure to heat up their nights.
1. A Little Lingerie
Tiny silk nighties, lace-up corsets, satin garters -- every girl needs a little something sexy to slip on.
2. Plush Prints
There's something about animal skin that makes folks want to growl and roar. Consider leopard-print panties or zebra-print pillowcases.
3. Shower for Two
No more taking turns -- let the lovebirds shower together with a chrome-plated double shower head.
4. Robes to Disrobe
Nothing's more comfy than wrapping your birthday suit in a luxurious velour robe after a hot, steamy shower.
5. Sensual Scents
A basket of bubble bath, soaps, shampoos, conditioners, lotions, and home fragrance seduces the senses. Jasmine, vanilla, cinnamon, sandalwood, and lavender are the some of the sexiest scents.
6. The Dance of Desire
Buy her belly dancing lessons at a local dance studio or fitness center. Want to get them moving together? Consider buying them tango lessons for two or a season pass for yoga classes.
7. Pamper and Prep
Treat the lover girl to smooth, sensual skin with a pre-wedding spa treatment complete with body wrap, skin scrub, and bikini wax. For fun at home, give Bloom's Aromatherapy Pamper Pack or the Jaqua Girls Japanese Bath Kit for the ultimate shared sensory experience.
8. Irresistible Elixir
Chartreuse, a green after-dinner liqueur, is rumored to have aphrodisiac properties. Or give a book of cocktail recipes so they can stir up a Sex on the Beach and other steamy libations. Complete the effect with a sophisticated martini set.
9. Wet 'n' Wild
The sound of the ocean is always a turn on. Give them a sound machine that churns out rhythmic waves or cool tropical rain soundscapes. For a more meditative gift, consider a small Japanese fountain.
10. Make-Out Music
Get personal and burn a CD with sexy songs (starting off with "Let's Get It On") and favorite bedtime tunes. The Verve Story 1944-1994 2-CD Boxed Set, will get them in the mood for love.
11. Sex Kitten Kit
Give her the ultra glam gift: a vixen make-up kit -- cigarette case with holder, fake eyelashes, fire-engine red lipstick, red nail polish, and a brown pencil for drawing a beauty mark, all in a foxy make-up case. Toss in body shimmer to make her sparkle.
12. Treats They Can Eat
Sex and food go hand in hand. Consider giving edible body paints, erotic fortune cookies, or edible underwear. Or just head to the grocery store and pick up chocolate syrup, honey, or whipped cream.
13. Love Is in the Air
Incense, scented candles, and perfume. Tests have shown that the aromas of cucumber and black licorice (for her) and pumpkin pie (for him) are the top aphrodisiac scents. (It sounds random, but that's what the experts say!)
14. Strike a Pose
Present her with a video camcorder or a camera for high-tech hanky panky. Or give her a certificate for a photo session with a local wedding photographer or a specialized photographer who sets up and shoots boudoir portraits.
15. Light the Love Flame
Set the mood with curvaceous candlesticks and ruby red candles.
16. A Room With a View
Spring for a one-night stay at a nearby hotel and let the newlyweds be tourists in their own town. Or act out the final "window" scene from the movie.
17. Decadent Dining
How about a dinner-for-two gift certificate at a romantic restaurant? (Hint: sushi is super soft, sensual, and slippery).
18. Fresh-Air Frolic
A picnic basket with a really big blanket serves hours of outdoor fun.
19. Wanton Words
Make your literary gift a lascivious read. Some of our favorites: Intercourses: An Aphrodisiac Cookbook, Hot Sex: How to Do It, and The New Joy of Sex.
20. A Passionate Performance
Tickets to the local ballet, opera, or cabaret. La Bohème is known to bring opera goers to tears, and Carmen features lots of slinky, sultry scenes.
21. Deep Rub
Help the couple relax with a massage for two at a spa. Or treat them to an assortment of scented massage creams and oils, so that they won't have to leave their bedroom. To guide the lovers, think about giving a The Art of Sensual Massage and wooden massage accessories.
22. Rev Up Their Room
Give them the props to turn their bedroom into a bordello. Silk or satin sheets and piles of velvet pillows ought to do the redecorating trick.