What David and Patrick From 'Schitt's Creek' Would've Registered For
Simply the best (registry picks).
We have included third party products to help you navigate and enjoy life's biggest moments. Purchases made through links on this page may earn us a commission.
There's nothing like watching your favorite on-screen couple finally get together. Whether they've been friends for years (like Monica and Chandler from Friends) or on-again, off-again for years (like Cece and Schmift from New Girl), it's so gratifying to watch their journey. For example, David and Patrick from Schitt's Creek were unlikely lovebirds who started out as business partners and eventually become romantic partners. While the series depicts the couple's wedding planning process (trips to the venue, suit shop and caterer), there's one key part it misses: their registry.
The couple's story is unique, so we know they'd personalize their registry to reflect the important moments of their relationship. We pulled inspiration from every part of their journey together—and we encourage you to do the same while building your wedding wishlist. See what Schitt's Creek power duo David and Patrick would've registered for (and add a few times to your own registry), below.
Espresso Machine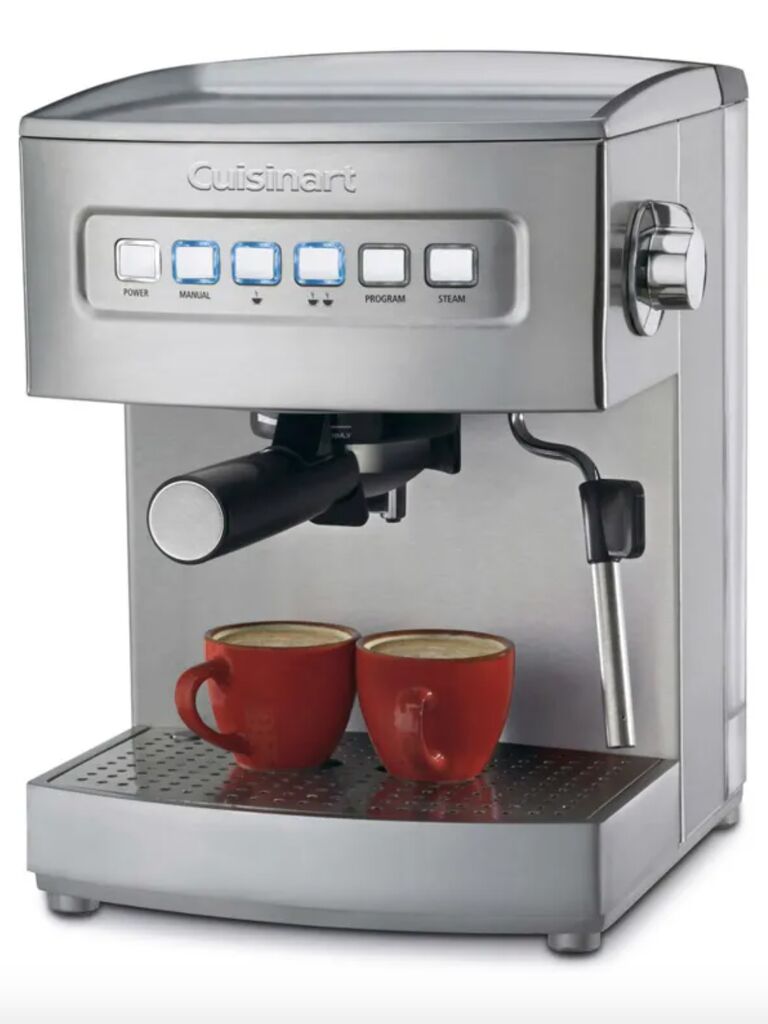 Who can forget the Christmas episode where David says he won't be able to contribute to holiday party decorations because he's saving for an espresso machine with Patrick? After Mr. Rose gets upset and leaves the motel, the couple decides to forgo their coffee machine to transform the room into a winter wonderland. Now that their wedding day is approaching, they'll likely add an espresso machine to their wedding wishlist.
Cuisinart programmable espresso maker, $220, TheKnot.com
Extra Towels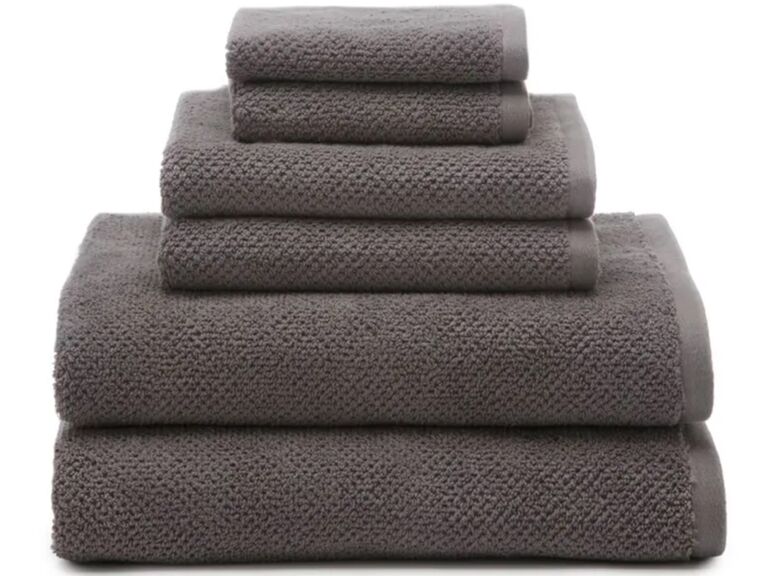 After moving into the motel, the Rose family seems to never have enough towels. To ensure the lack thereof of a future towel shortage, David, most likely, will request extra towels for his registry.
Martex Oasis 6-piece towel set, $42, TheKnot.com
Hiking Boots
Patrick's thoughtful, post-hike proposal to David made us all tear up. But before they got to the summit, Patrick stepped on a stick that went through his shoe and into his foot. The couple will likely return to this hiking trail to relive the romantic moment, so they'll want to be prepared. These top-rated hiking boots will keep their feet safe whenever they take a trip down memory lane.
Timberland Mt. Maddsen waterproof hiking boot, $115, Nordstrom.com
BBQ Set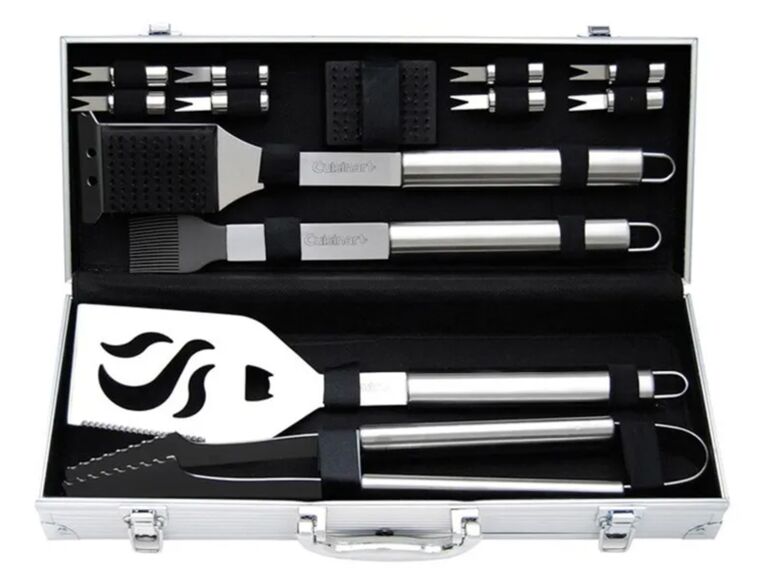 The Rose family decides to host a barbecue in honor of the couple's fourth-month anniversary, but Mr. Rose doesn't know how to grill burgers. Luckily, Patrick comes to the rescue. With this set, Patrick will be prepared to take the lead at any future cookouts.
Cuisinart 14-piece stainless steel grilling set, $38, TheKnot.com
Cookware Set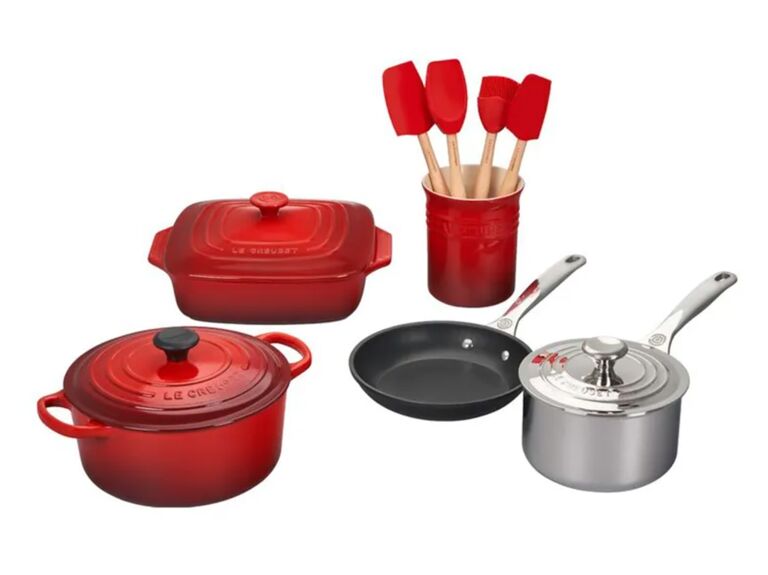 As fans learned early on, David doesn't have much experience in the kitchen. This starter set would give the couple everything they need to create their favorite dishes, including Moira's famous enchiladas and Patrick's weekend pancakes. Plus, if David Rose is going to be cooking in the kitchen, he's going to be using the best of the best—which is why we think the couple would opt for this chic Le Creuset set.
Le Creuset 12-piece cookware set, $500, TheKnot.com
Heart-Shaped Cookie Baking Pan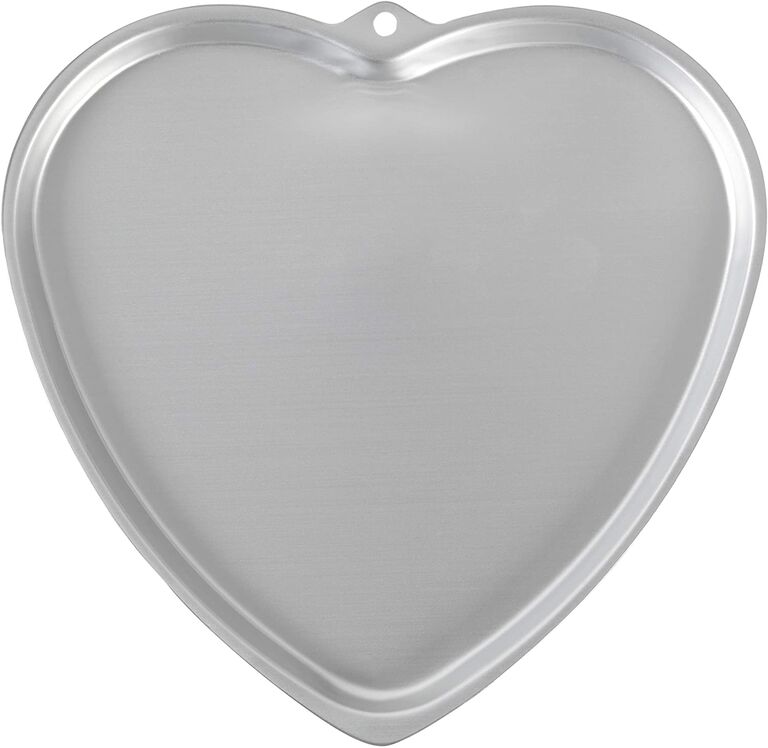 To celebrate four months together, Patrick sends David a giant cookie that says "4 months!" We know the couple will likely keep this sweet tradition going, so they'll definitely register for a heart-shaped baking pan. They can make a giant cookie for all of their future anniversaries.
Wilton giant heart-shaped cookie pan, $9, Amazon.com
Set of Luxe Bed Sheets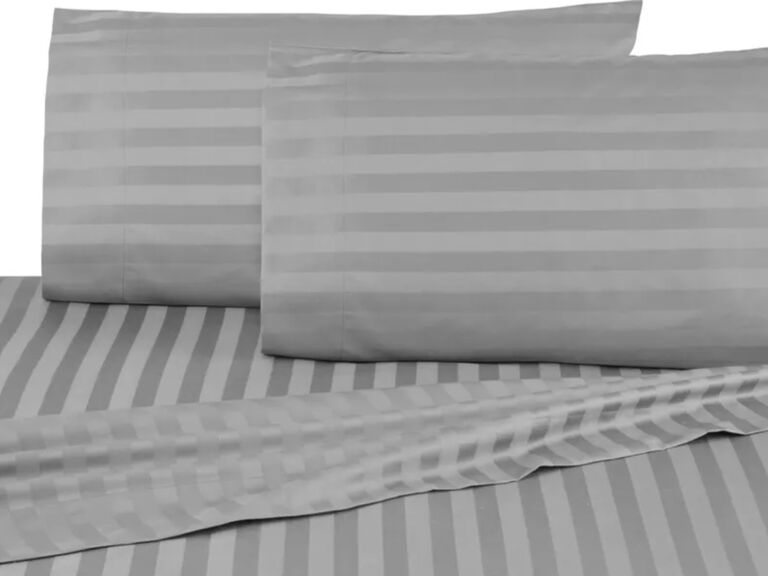 During his time at the motel, David lands a job at The Blouse Barn and expenses many different items to his company card. After learning the true meaning of a "write-off," he ends up returning most of the products. However, he keeps his Egyptian cotton sheets. Since luxe bedding is so important to him, we think the couple would register for Egyptian cotton sheets for their new bed.
Martex Egyptian certified 500-thread count sheet set, $92, TheKnot.com
New York Trip Fund
Towards the end of the series, David is trying to convince Patrick to move to New York. Spoiler alert: While they ultimately decide to stay in Schitt's Creek, we know a trip to the Big Apple (and a visit to Alexis, of course) is on their future schedule. With their cash fund on The Knot, they could explore the city, devour Joe's Pizza, and see Kinky Boots on Broadway.
Speaker for Open Mic Nights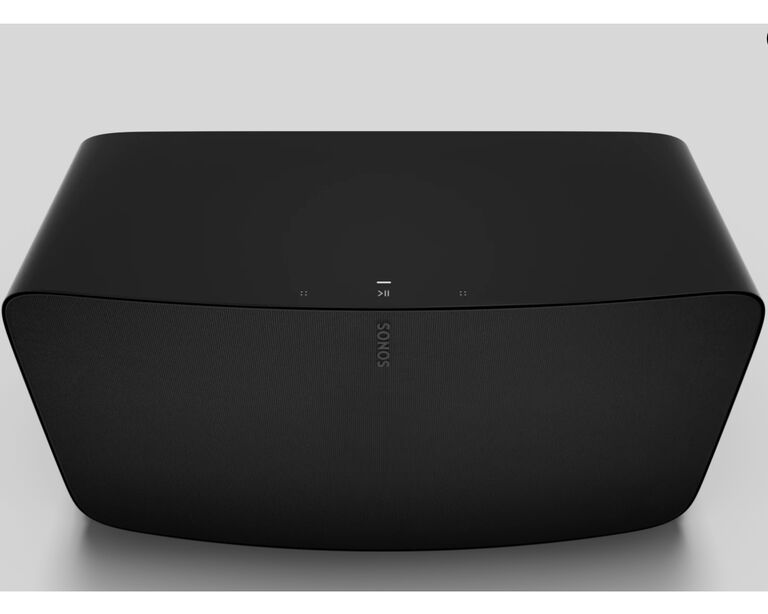 We're still not over the "Open Mic" episode, where Patrick serenades David at an event for Rose Apothecary. Given the positive reaction to Patrick's acoustic performance, we imagine there will be more open mic nights in the future. As such, an upgraded speaker is an absolute must.
Sonos Five, $500, Sonos.com
Custom Illustration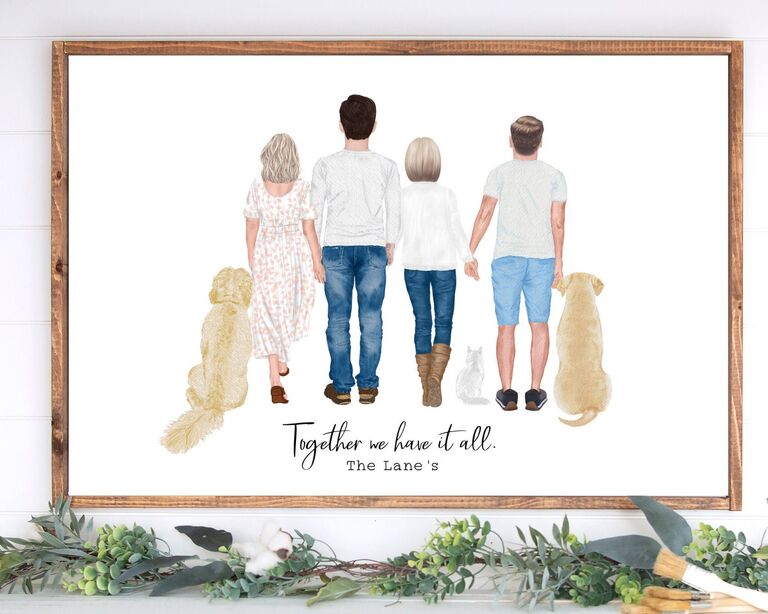 After they lost everything, one item the Rose family got to keep was a giant family portrait that used to hang in their house. When it's delivered to Schitt's Creek, the family realizes it doesn't fit into their lifestyle anymore, as they aren't the same people. Because of that, they decide to discard the giant painting. However, the couple could ask for a custom (and appropriately-sized) illustration with everyone in it. They can hang it in their new house.
This Love Filled Life personalized family portrait, from $16, Etsy.com
Slim Hangers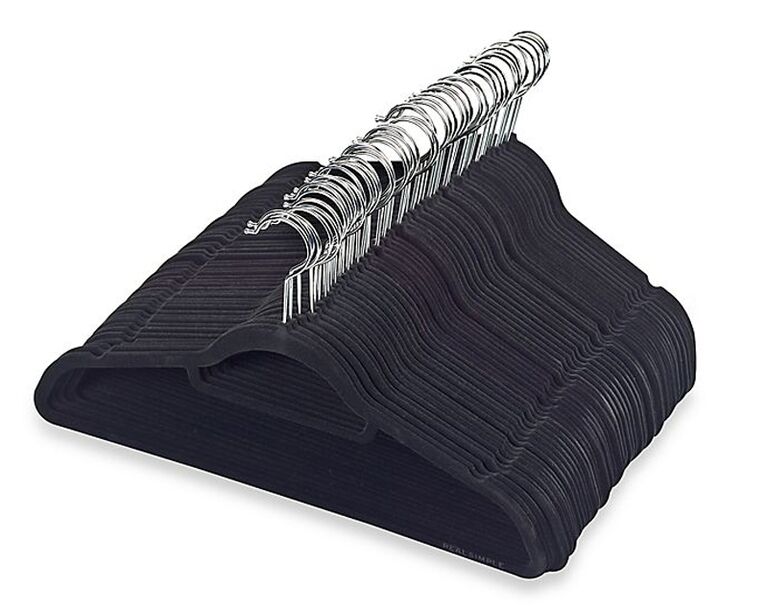 It's no secret that David's clothing collection is extensive. He even has to use his parents' closet because his own closet couldn't hold everything. To keep his new home organized, we think the couple would love these slim, no-slip hangers. They save space in the closet so he could hang more clothes up.
Amazon Basics slim, velvet, non-slip clothes hangers, $18, Amazon.com
Juicer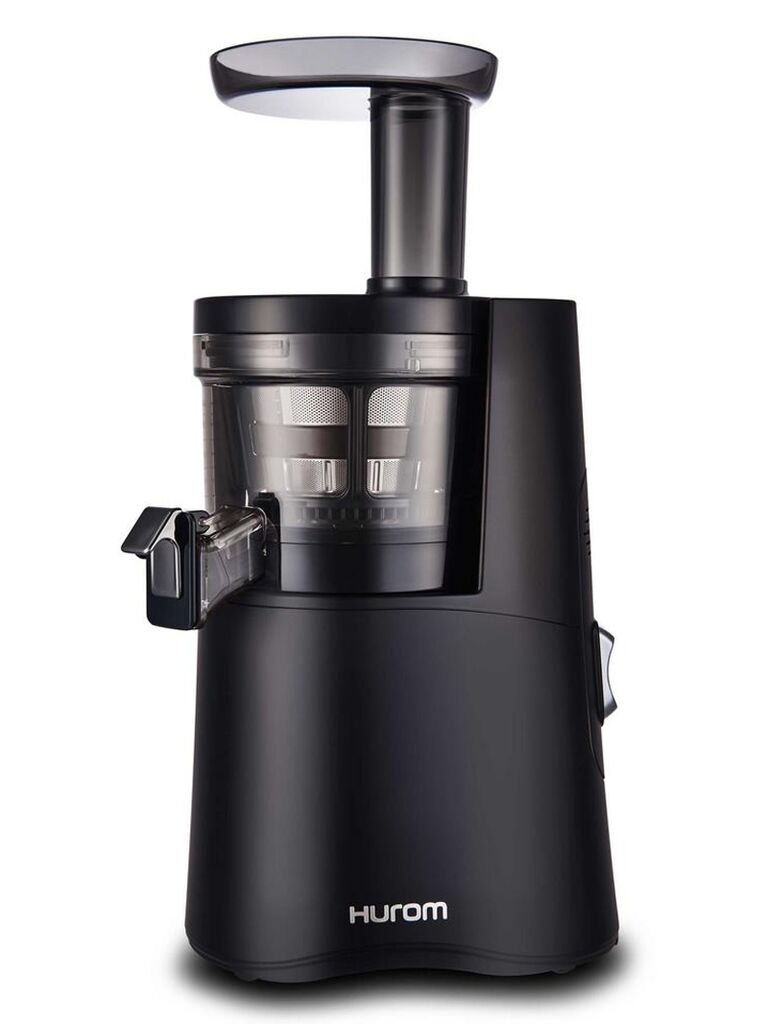 Over the course of the series, David and Alexis (his sister) grow extremely close. In fact, Alexis actually walks David down the aisle (while accidentally rocking a wedding dress). Given their strong bond, we think the siblings would make time to see each other. It's no secret that Alexis loves juice (Ted even buys a juicer for her while he's in the Galapagos). When Alexis visits from New York City, we think David and Patrick could use this juice to make her a cup of her favorite drink.
Hurom H-AA 16.9 fl. oz. matte black slow juicer, $440, HomeDepot.com
Song Soundwave Art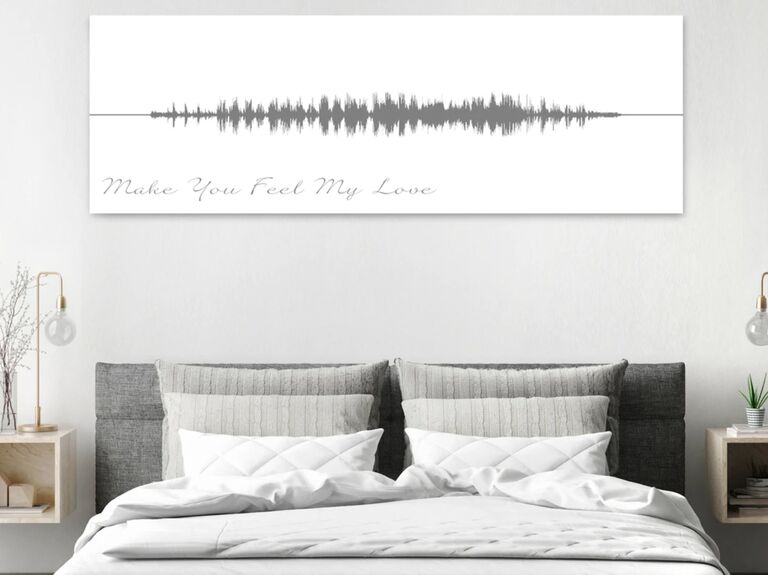 Given Patrick's history as an art curator at New York galleries, he'd be particular about what to hang in their home. However, we know the couple would absolutely adore this song art, which displays the sound wave of any chosen tune. The couple would definitely register for this item set to "Simply the Best" by Tina Turner, which was their wedding song. Since The Knot has a universal registry, the couple could easily add it to their wishlist.
Canvas Vows song sound wave art, from $50, CanvasVows.com
Cedar Chest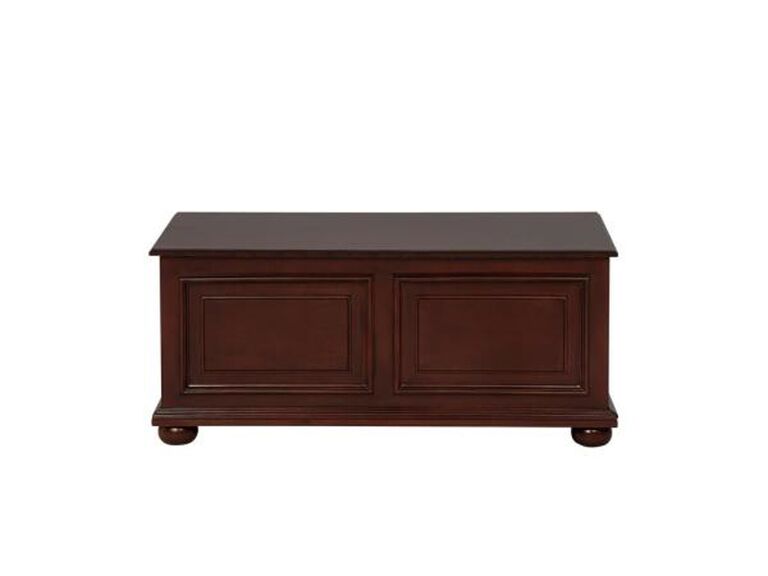 In an early episode, David's cashmere sweaters are eaten by moths, so he tries to build a cedar chest. It's clear he has no idea what he's doing, so Mutt steps in to help David. However we think once David moves into his new home, he'll want to give his older chest an upgrade.
Powell Company Rockland cedar chest, $300, HomeDepot.com